Why Are Eames Chairs So Expensive? Identify The Real One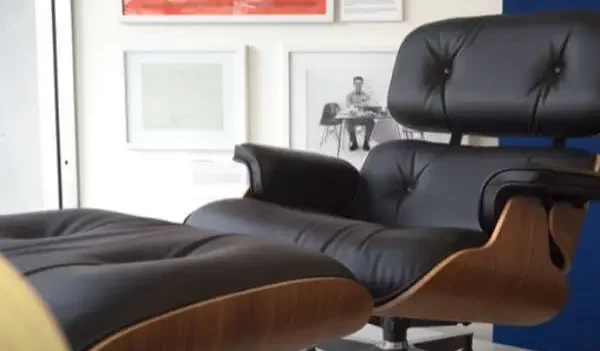 Have you been watching Shark Tank lately? Or, binged watched House MD? If you did, you must have noticed the fancy chairs the sharks seat in or the posh lounge chair Dr. House has across his desk. If you know your furniture, you might have recognized it instantly. Yes, we are talking about the famous Eames chairs.
These chairs did not take long to catch the eye of consumers when they first appeared in the market in 1956. They presented an exquisite blend of leather and wood, making them a highly-desired piece. The timeless design of Eames chairs has kept them in high demand to this day. Not to mention, they are incredibly comfortable too.
Unfortunately, they come at staggering prices. You will have to fork out a couple of thousand dollars to bring home one of these beauties. You might wonder why Eames chairs are so expensive when you learn about their prices for the first time.
We have tried to answer that question here, alongside some relevant queries.
Who Made Eames Chairs?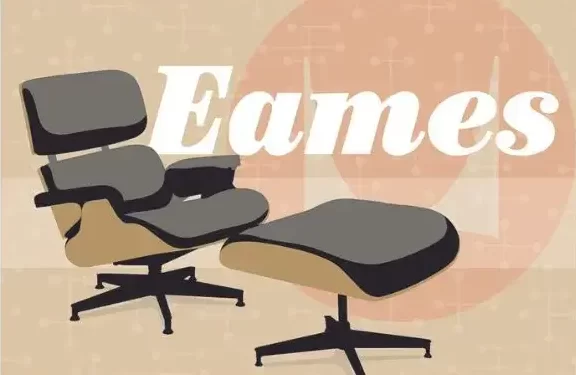 The story of Eames chairs began in 1940s Michigan when Charles Eames met his would-be wife Ray in the Cranbrook Academy of Art. After graduation, the Eameses relocated to Los Angeles and started making furniture with plastic and plywood. Initially, they focused on making affordable, low price furniture.
The Eames lounge chair was their first foray into luxury pieces. The chair features a bent wood construction. The Eameses used a unique technique to process the wood for the chair. They would press thin layers of wood veneer together with the "Kazam!" machine, a tool which they had also invented.
The chair is a rethinking of the classic English club chair. Leather upholstery adds a touch of luxury to the design, which is tailored to provide ideal ergonomics and comfort. Ray and Charles marketed the chair through Herman Miller like some of their earlier products. The company still produces and sells Eames chairs.
If you want to learn more about Charles Eames and Ray's super motivating Journey, read An Eames Primer. You will love it.
What Makes Eames Chairs Special?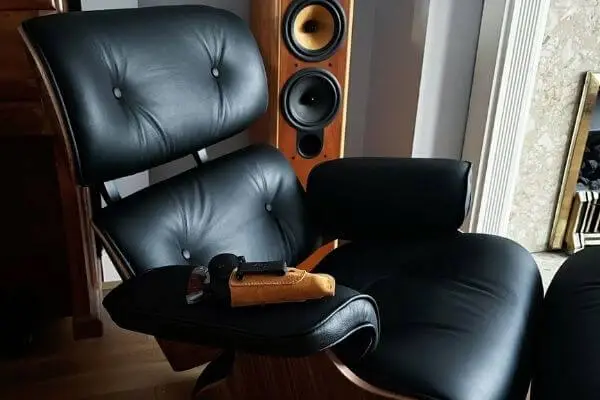 The ergonomics and the comfort Eames chairs have to offer make them highly sought-after pieces of furniture even today. The chair is constructed of three hollow wood shells, each comprising many layers of plywood and a distinctive grain on the upper veneer layer.
Numerous reviewers say this chair is just as comfy as a regular club chair, despite its smaller dimensions and reduced weight. The chair's basic, beautiful form has made it a popular choice for both residential and workspaces.
Eames chairs highlight a vintage, midcentury design. But, its dateless appearance allows it to blend into any setting. Whether you are angling for a Boho look or a classic one, the Eames chair will complement your décor ambitions.
Most importantly, the craftsmanship of Eames chairs makes them stand apart from the crowd. The Eameses passed away years ago, but Herman Miller has held on to their legacy. The company made minor changes to the manufacturing process, like modernizing the wood bending process, but the attention to detail is unchanged to preserve the original vision.
Why Are Eames Chairs So Expensive?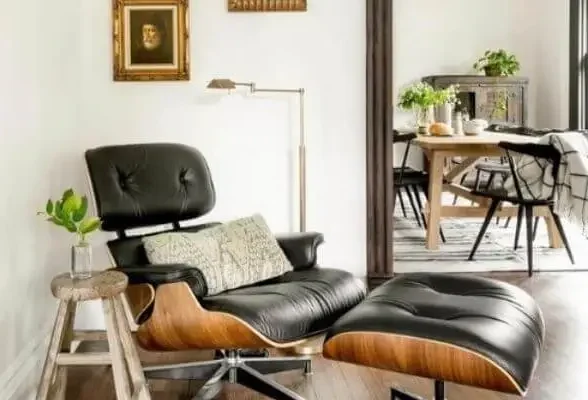 You might be thinking that these chairs are so costly to make. Hence, the high price. While manufacturing Eames chairs does require premium materials and technical finesse, we can assure you that Herman Miller is not spending half the money they charge for an Eames chair to make one in the factory.
Over the years, Herman Miller has branded Eames chairs as a statement piece. The company's brilliant marketing campaigns spotlighting the unique and comfy design of the chair made it the most coveted piece of furniture in the US. Eames chairs became the furniture equivalent of wearing a Rolex or driving a Porsche.
But, you are not only paying money for the hype. The Eames chair oozes quality. A chair could last you decades! Also, these chairs are incredibly stylish. It's a great investment to consider to transform the visual appeal of a room without making too many changes. These chairs facilitate the right posture and keep you comfy without compromising your spinal health.
Midcentury furniture are one of the hottest trends in the world of interior décor, and no piece is as emblematic of midcentury furniture as the glorious Eames chair. It's the right balance between vintage and contemporary you would want. With the demand for midcentury furniture soaring, it's understandable why Eames chairs go for such astonishing prices.
How Much Resale Value Do Eames Chairs Have?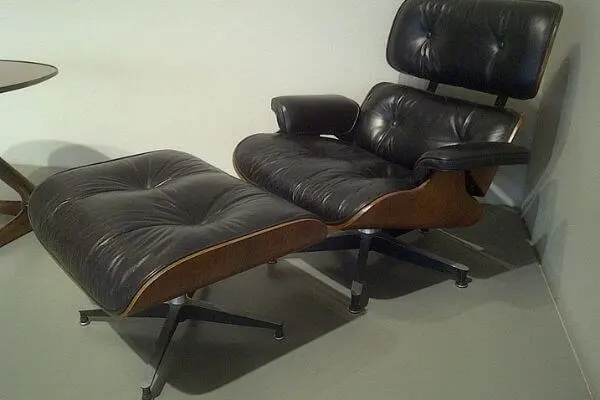 Eames chairs retain their value pretty well. If you have an old Eames chair that dates way back to the '60s/'70s, collectors can offer you way more money than the chair's retail value. However, for later editions, you can expect to get around $3000-$4000, depending on the materials and condition.
What's The Weight Capacity Of An Eames Chair?
You can expect the Eames lounge chair to take in as much as 300 pounds. For ottomans, the weight threshold is 200 pounds. These are very good numbers compared to other options in the market. Herman Miller uses top-grade materials to make these chairs incredibly sturdy. It features a durable seven-ply veneer shell and premium aniline leather.
How To Identify An Authentic Eames Chair?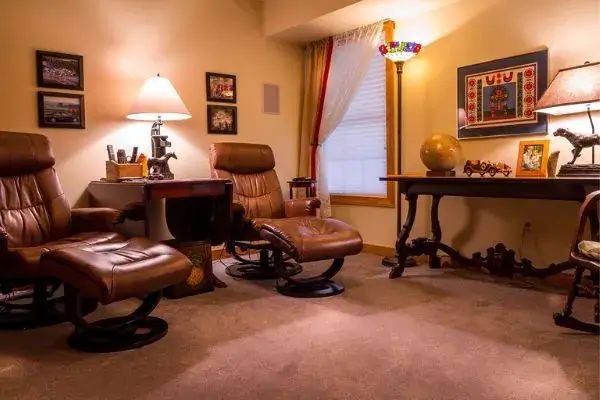 Unsurprisingly, there are a lot of knock-offs in the market. So make sure you are paying the price of an authentic Eames chair for an actual Herman Miller-produced Eames chair. Here are some of the factors you should look out for:
The chair tilts back automatically to suit your back's position. If the reclining feature is not fluid, it's a major red flag.
The height between the floor and the top of the headrest of an original Eames Lounge Chair is 32 inches. It is not uncommon for many replicas to be ten inches or even taller than the original.
There will be no screws awkwardly protruding from the external plywood shells.
There should be five or seven layers of plywood in the chair. Older models will have five or more recent Eames chairs will have seven layers.
Closing Remark
Eames chairs are statement pieces that stood the test of time. But, are they worth the price? Considering the glamor, comfort, and longevity they have to offer, we are inclined to say they do.