Ashley Recliners Reviews: Why Should You Buy Ashley?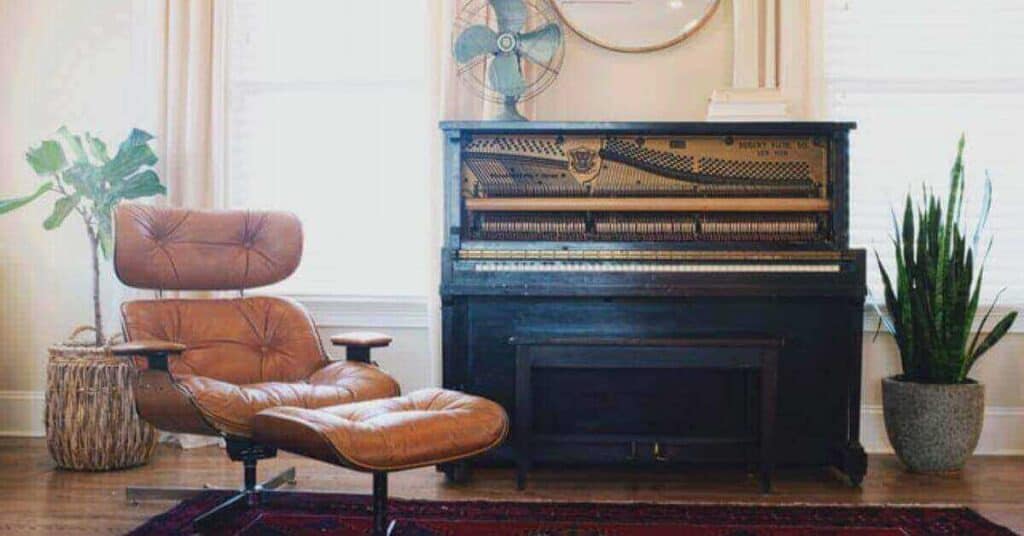 Having a recliner chair in your living room can enhance the overall look of it. You can change your plain and boring house to a beautiful and classy one by investing in a gorgeous recliner.
But there are way too many in the market now, so it can be pretty hard for you to go for only one. But we don't want you to worry too much about that, as we have compiled a list of the top Ashley Recliners reviews for you here today!
In this post, we will be introducing a bunch of amazing signature designs of Ashley's furniture pieces to invest, while noting down their pros and cons as well. So without further ado, let us get into it right away!
1. Signature Design By Ashley Altari Rocket Recliner (Best Modern)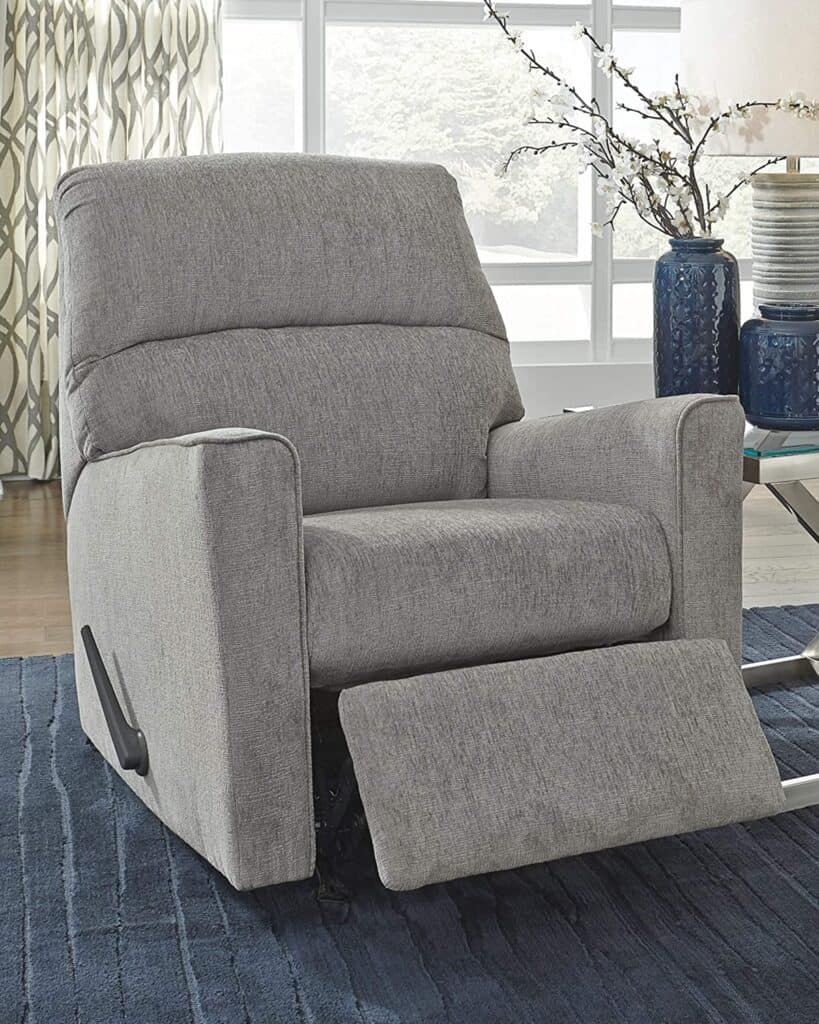 The first product on this review is this incredible modern style recliner chair by Ashley Furniture. Although not as fancy as the other recliners on this list, this Ashley recliner chair is still very gorgeous and unique, thanks to the grey color it sports.
Available in grey color, this modern chair is constructed with PVC material, and comes with a smooth finish and rocking feature that gives this bad boy a beautiful and classy look.
The seat and backrest on this chair is super soft and cozy, therefore being the perfect furniture to retire onto by the end of the day. The wide legs of the chair coupled with the black shade gives the chair its unique appearance.
Whether you use the chair for sipping your coffee on, or for reading a book or two by the window, this budget-friendly Ashley signature designed chair can enhance the entire mood.
Pros
Very soft seat and backrest.
The product comes with wide legs.
High quality PVC material fabric has been used.
Budget friendly.
Cons
The recliner is not returnable.
2. Ludden Contemporary Recliner By Ashley (Best Rocker)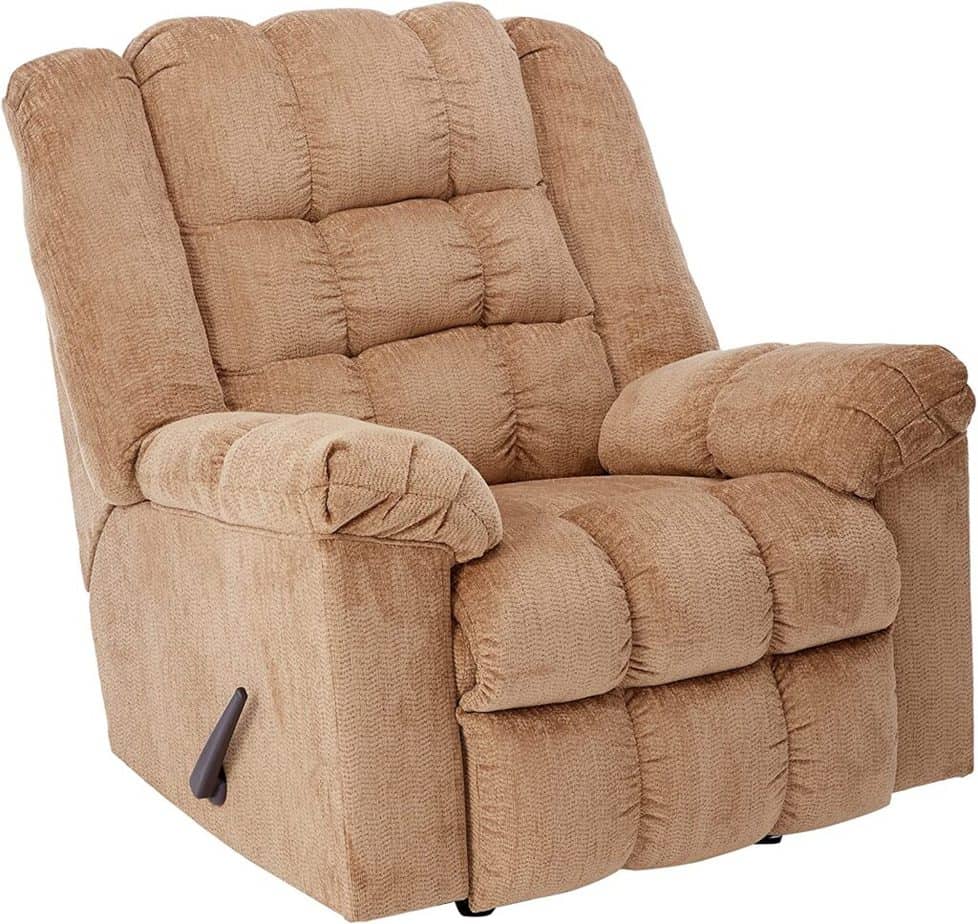 This tan-colored Ludden recliner chair is the one to invest in if you want something a tad bit cheaper than the previously reviewed ones, but just as fancy and exceptionally pretty.
Available in two other colors to choose from, this high-quality chenille material recliner has a lightweight of only 94 pounds. On top of that, the plush upholstery done on this baby makes the product super soft and comfy to sit or lie on for long hours on end.
Soft and bouncy cushioning has been done throughout the entire furniture, therefore making it ideal for those dealing with sore muscles and joint pain.
On the other hand, the puckered stitching that has been done on this recliner gives it a rather classy look. All you need to do is pull onto the bar placed on the side of this recliner, and fall into an abyss of comfort level and softness.
Pros
Durable, and soft chenille material.
High quality stitching done throughout the recliner.
High quality PVC material fabric has been used.
The corner blocked frame is glued and together.
Cons
The recliner is apparently noisy at times.
3. Yandel Contemporary Recliner (Best Power Lift)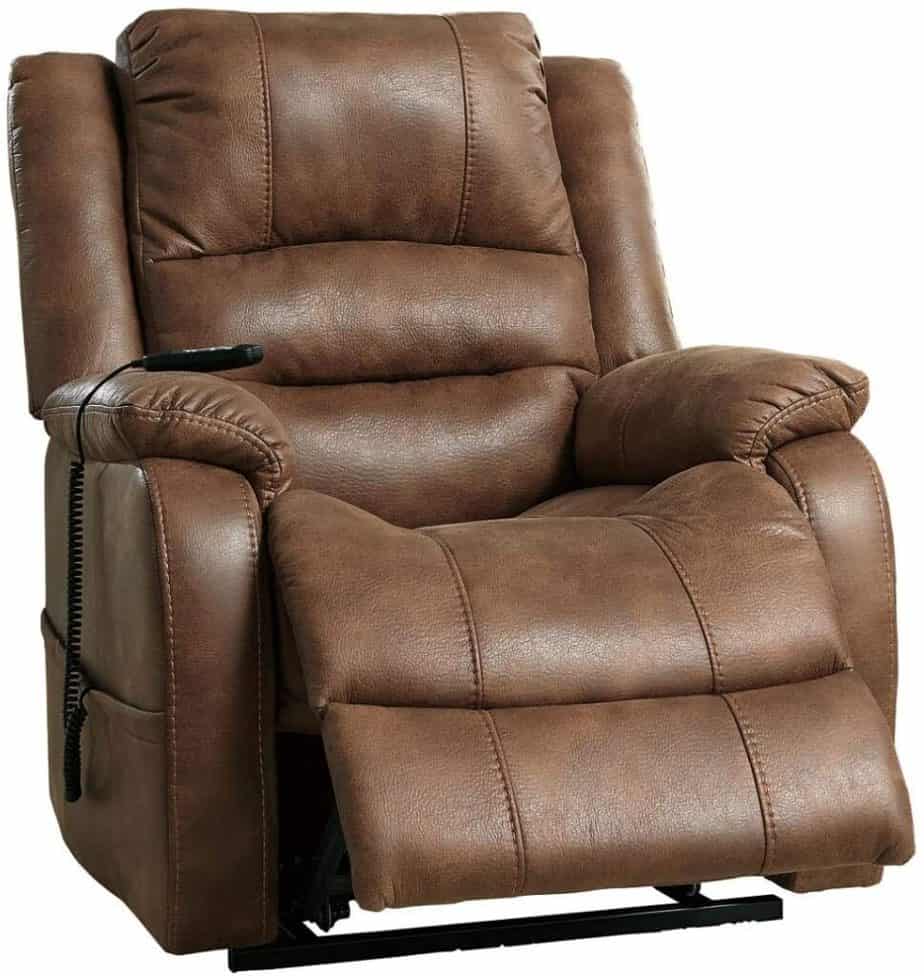 You can take a look at this brown-colored Ashley recliner chair if the previous one wasn't your cup of tea.
This Yandel upholstered recliner is made of poly-fiber material, which actually looks a lot like leather sofas. In this case, you will be getting the visual deal of leather but for half the price! How cool is that?
On top of that, the recliner is soft and very easy to operate as well, as all you will need to do is press a button to recline the backrest.
The entire recliner comes thickly cushioned from all sides in order to make the entire product even more comfortable and cozy than it already is. However, note that this recliner does not come with any Bluetooth, USB ports, or charging features, so that's a bummer.
Pros
Very soft cushioning done throughout the recliner.
Poly-fiber material looks like leather, but the cost is not high!
One-touch button system to recline the seat.
The Comfort level is unbeatable.
Cons
The product does not come with Smart features.
Pricey.
4. Signature Design By Ashley Wilcot Patterned Chair (Best Cozy)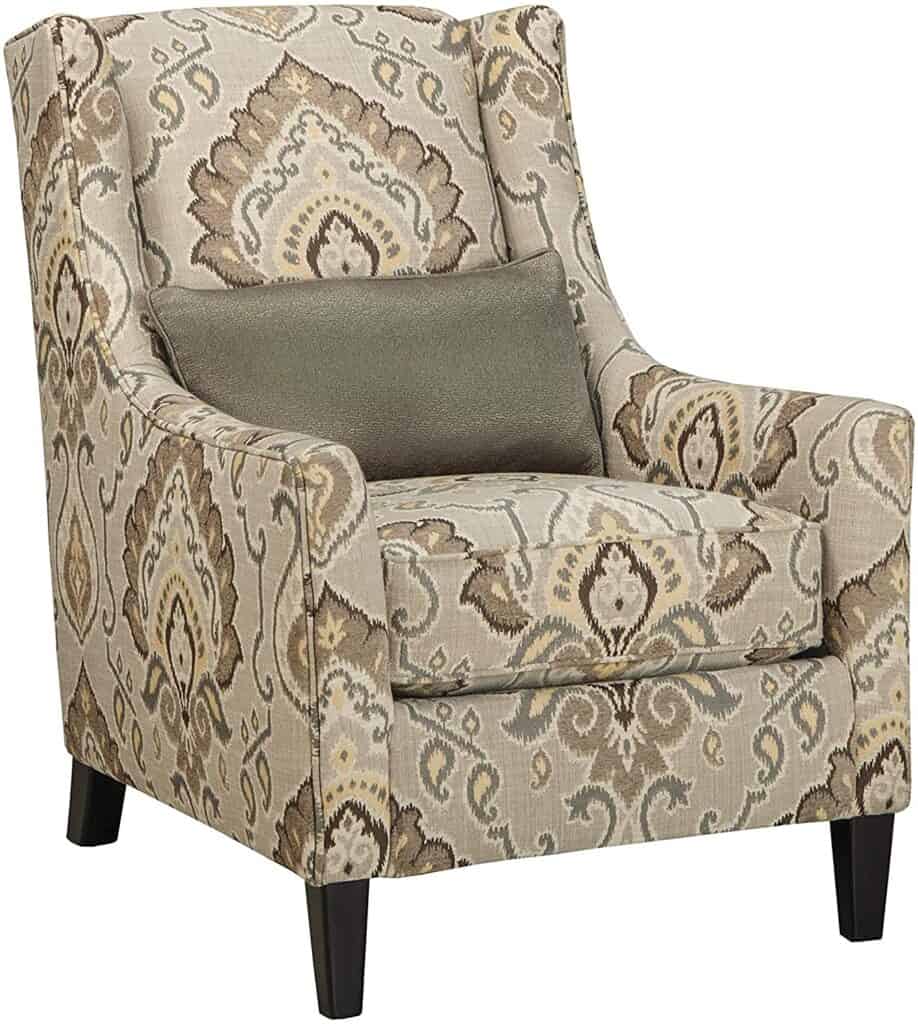 If the previous model was just too expensive for you, you can take a look at this classy chair. Sporting a beautiful Wilcot pattern on all sides and corners, this gorgeous chair is a must-have living room furniture if you love everything vintage and aesthetically pleasing.
Sporting a pretty beige color for the textile, this product is available in two other shades and prints as well. The accents on this recliner chair makes it come off as a statement piece in the home, therefore enhancing the look of your abode by many folds.
The cushion that comes with the chair is soft and sports a satin casing, which only makes the entire package better and sweeter. The armrests are sloped, hence making the chair comfy for those with joint pain.
Does Beige Furniture Go With Gray Walls? We wrote an article about it. If you want to know about combining grey walls and beige furniture, you can check this.
Pros
The chair is constructed with 70 percent polyester material, and 30 percent rayon material.
Long lasting and soft seating.
One-touch button system to recline the seat.
The chair has a very unique pattern as well.
Cons
Extremely expensive, albeit for all the right reasons.
5. Signature Design By Ashley McCaskill Reclining Loveseat (Best Overall)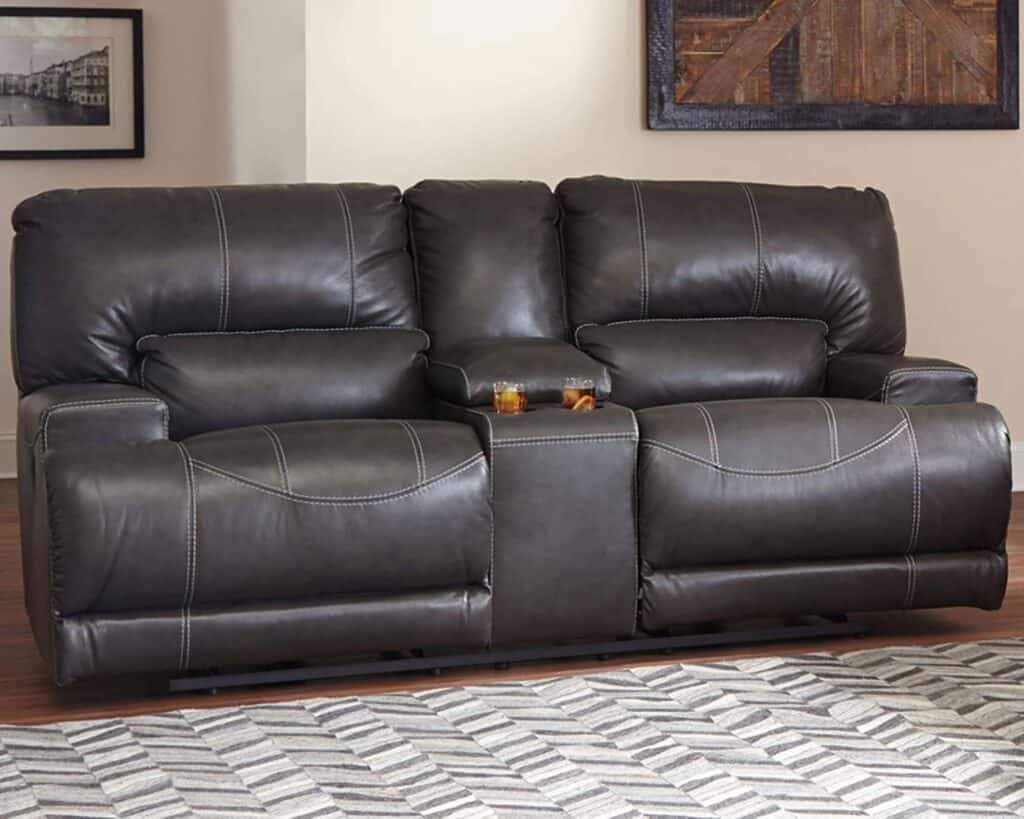 The final product that we have on this Ashley recliners review list is this amazing Signature Design recliner loveseat. This high-quality product is constructed with soft and long-lasting leather material, with foam filling on the inside.
This incredible product comes with a wrapped cushion and real leather that allows you to adjust the headrest as you please. It gives a luxurious feel to your living room.
Glass Holders are also equipped in this bad boy, therefore making it one of the most sought-after items by users. You will definitely enjoy spending quality time reading a book or simply chilling on this recliner.
Pros
The recliner sofa is very soft and comfortable.
100 percent leather has been used.
This amazing product comes with two glass holder.
Durable and sturdy construction.
Factors To Look Out For When Purchasing Ashley Furniture Recliners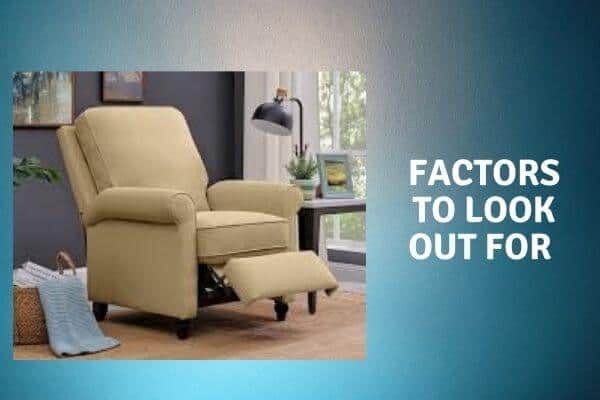 Now that we have reached the end of our product reviews, let us take a look at a few factors that you definitely need to consider to shop for your next best recliners.
There are many things that differentiate a soft and comfy Ashley furniture recliner from a poorly made one, and in this section, we will be covering all about it.
Room Size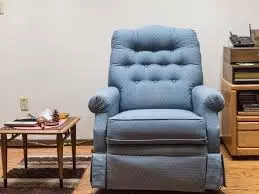 First and foremost, you need to take the size of your space into consideration before placing an order for any power recliners, and this does not stay limited to the Ashley Furniture products only.
You will want your recliner to have adequate space in the room, as it will be required to, well, recline properly. Unless you want to spill all the coffee from your mug by hitting the coffee table with your rocker recliner, we would suggest you to place the new furniture a good distance away from the rest of the items in the room from the get-go.
You should also carefully note down the size and measurements of the recliner itself, so that you do not have to go around shifting your entire room and its furniture just to make space for a mere recliner (although one that packs in a mighty punch).
Compliments Your Body
If you want to experience and enjoy the benefits of owning a recliner to its full extent, take our word for it and measure your body as well before you directly purchase a recliner.
You will want to feel comfy and relaxed when sitting or lying on a recliner, so the entire thing will be pretty much useless if you cannot even fit into it properly.
We would suggest you to always get a recliner at least a size larger and wider than your own body, in order to make sure that you fit just right in it.
Construction
A good recliner will be built with materials such as heavy screws and even motors to some extent. But this does not mean that the recliner should creak or be super noisy when you try to get up from it, or simply enjoy its various features.
The best recliner in the market will be noise-free or at least produce minimal noise when you recline it.
On top of that, the handle or lever should also be built onto the side of the recliner, although not being hard to reach. Instead, it should be within arm reach, and be easy to pull down onto, as that way you do not have to stress your entire body in order to make the furniture do what you want.
Your Preferences
The main thing that will allow you to invest in the best deal of the year is if you pay attention to what you really want or need in your new house, rather than getting something that fancies you from the get-go.
If you lack space in your house, we would suggest you to go for a smaller recliner, or simply a chair, as that will leave a lot of space to walk around in your home.
However, if you have the money to splurge and the area to cover in your home, then investing in a large and wide recliner with many other features will not be a bad idea either.
In the end, it all comes down to what you really want, and how you wish to use the recliner in the near future.
But if you had to take our word for it, we would advise you to first take a look at your own space and figure out where the recliner would look best, and why. This way, you can easily buy furniture for your needs, without splurging an unnecessary amount of money on the product.
Related Read: Ikea Ektorp Sofa Review
Frequently Asked Questions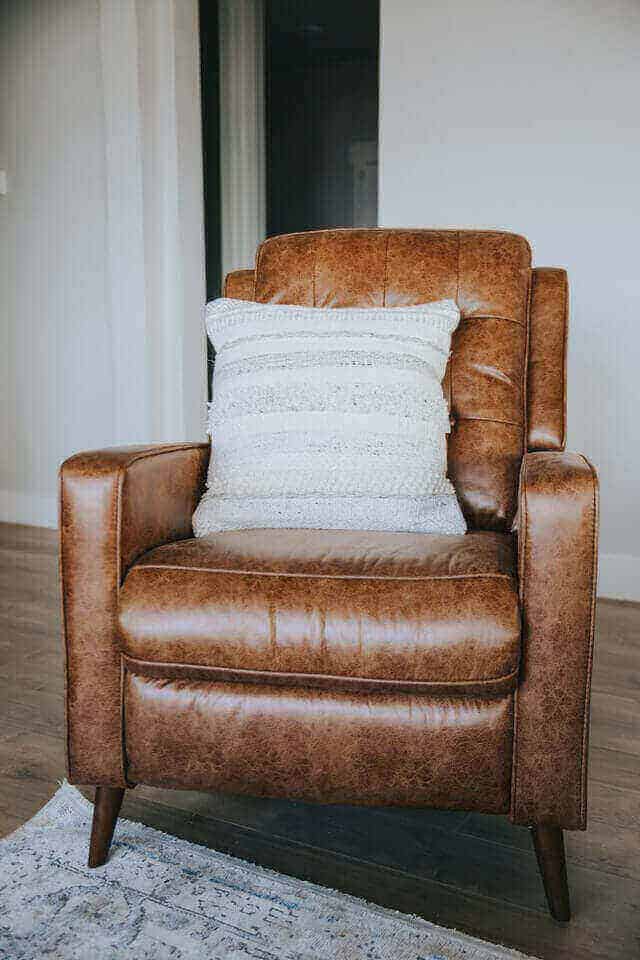 Let us take a look at some questions of most people and many other customers in general have when shopping for Ashley furniture recliners for their beautiful homes.
Are Ashley Furniture Recliners Good Quality?
Yes! signature design by Ashley Homestore furniture recliners are made of amazing leather, or poly-fiber, both of which are incredibly soft and comfort level is great to sit and lie on.
Their recliners are a very convenient and perfect choice for those with allergies and infections as well, as the fabric material is usually hypoallergenic and easy on sensitive skin types.
Who Makes The Best Quality Recliner Chairs?
If you had to take our word for it, then know that Ashley Furniture store, Homall, Esright, Catnapper, La-Z-Boy, etc., make one of the best recliner chairs out there. Our main pick here would be Ashley Furniture as their products are quite unique, and gorgeous, although sporting a somewhat expensive price tag.
Where Is Ashley Furniture Manufactured?
This Ashley Furniture Pieces is manufactured and based in Arcadia, a corporate office in Wisconsin, America. The company is operated and handled mainly by the father-son duo Ron and Todd Wanek.
Although based in the United States of America, Ashley Furniture ships locally and on a worldwide basis as well.
Does Ashley Furniture Use Real Wood To Build Their Recliners?
It depends on the kind of recliner chair you are shopping for, as some recliners are made with metal frames and leather cushioning, while the rest are made with engineered wood and textile material.
Conclusion
That brings us to the end of this Ashley recliner's reviews! Now that you know which recliners are the best in the market right now, we hope you will not face any issues when actually shopping for one.
Thanks for sticking around with us, and we wish you all the best with your next Ashley Furniture shopping spree. Have a great time decorating your home!