Does Beige Furniture Go With Gray Walls? Make it work!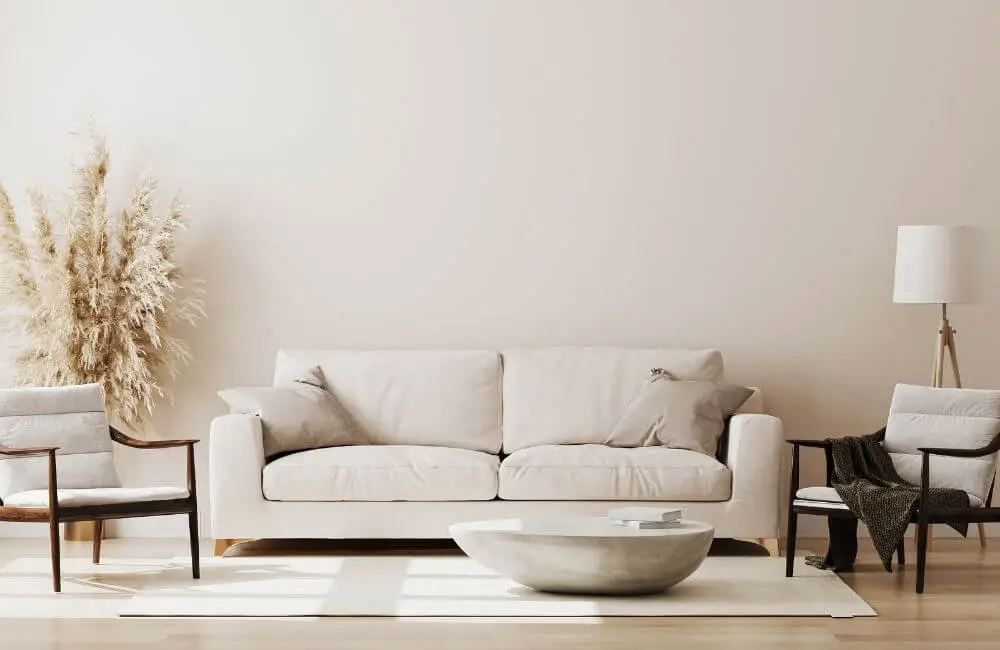 Many people seek to utilize gray paint on their house walls with beige furniture, rugs, and ceramic tiles. You may also worry that the beige furniture will not go well together with gray walls. However, if you furnish the space with contemporary furniture and give it a distinctive theme, you may make it work.
Beige furniture can go very well with the gray walls of your house. Since beige is a sunny color and gray seems to be a cool shade, people think these two colors won't go well together. Combining different materials and patterns with vibrant color accents is one smart approach to utilize these colors together.
With adequate planning, you may decorate your home such that the beige furniture with gray walls seems to be a purposeful choice. In this article, we will discuss how you can combine these two shades and make them look amazing. Keep reading till the very end to learn everything about it.
Combining Beige Furniture With Gray Walls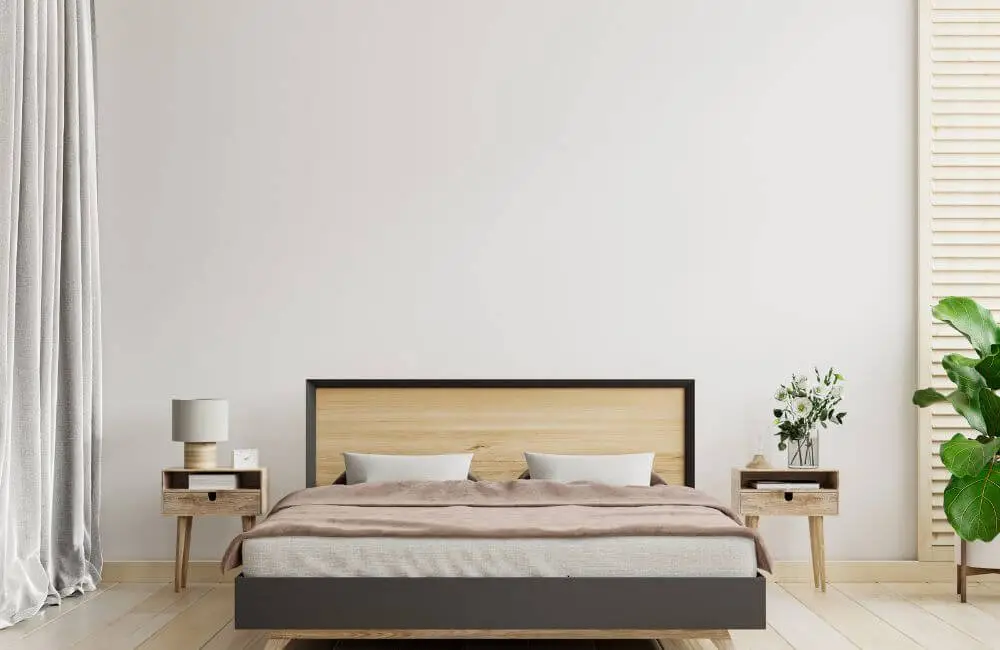 Beige furniture works nicely with gray walls since it is a balanced color and beige tends to be warm. If you've got beige furniture and gray walls, the atmosphere will be cooler thanks to the gray walls. Beige and gray walls will blend in nicely with one another if the room is organized properly.
Among the most crucial aspects of designing your house is choosing furniture and wall colors that coordinate. This will improve the color and attractiveness of your home and make it appear more inviting.
Because of this, you must be cautious while selecting the ideal color for your home so that it harmonizes with the furnishings. If you're thinking of painting your walls gray, you may want to consider pairing them with beige-colored furnishings.
Placing beige furniture against gray walls will produce a cool contrast that will improve the attractiveness and richness of your home since gray is a balanced hue and beige is a warmer shade.
You may try combining your beige-painted furniture with gray walls. It will fill the space with softer earth tones because the neutral color scheme is conducive to adding colorful accent colors.
Most design specialists recommend going with gray color for your walls due to its place as one of the most beautiful neutral tones. It also has great compatibility with any type of wall and texture.
Additionally, painting the walls a shade of gray will make it easier to add furniture in various colors to improve the attractiveness of your house. Utilizing beige furnishings with a gray wall produces a stylish, contemporary color impression.
Because of this, you might utilize the color gray on the walls to complement the beige furnishings. Because over time the gray will help the beige by adding a warm and calm shade and helping the space seem larger.
Why A Beige Couch Can Go With Gray Walls?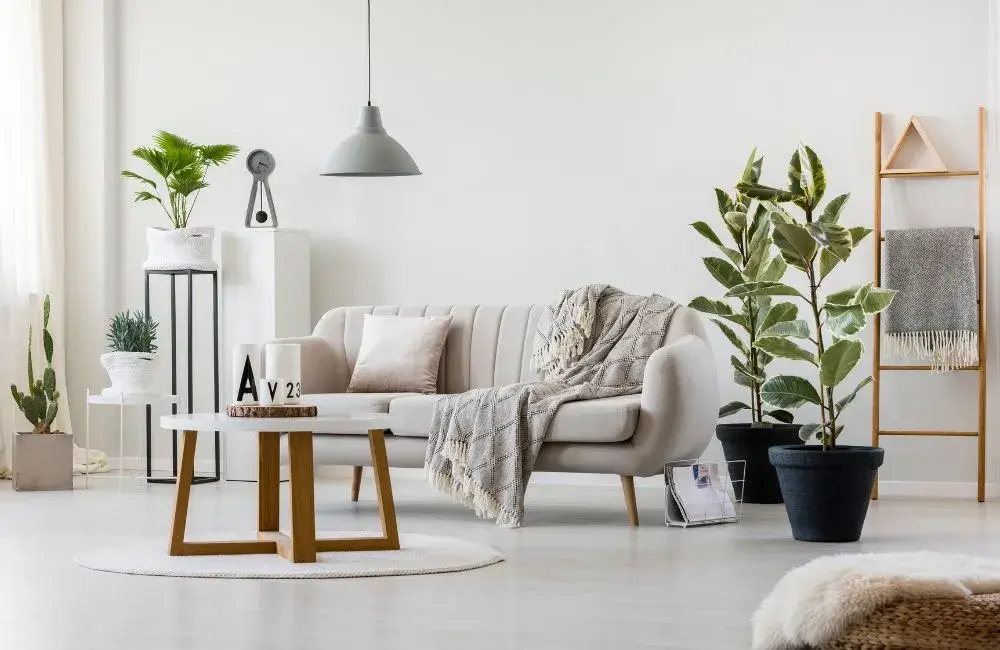 Because it is an earthy tone with a somewhat cold undertone, gray is the color that is most often utilized in residential areas. As it is a neutral hue, it will automatically highlight the tones of any new furniture that is introduced to the space. This is because the color combination fits well with any style of furniture.
Additionally, a beige-colored couch might be appealing and eye-catching when combined with a gray color scheme. For this reason, furniture in a grayish tone is a wonderful choice that may improve the attractiveness of your area.
As a result, the combination of gray and beige (which is known as greige) will produce a mellow tone and integrate seamlessly with the surrounding environment. Here are a few reasons why a beige couch can go very well with gray walls:
We have an article about 30 Super Cool Grey Couch Living Room Ideas. if you want to get modern and cozy living room styling ideas with a grey couch, you can check it out.
1. Almost Everything Can Go With Neutral Color
Pairing gray walls with beige is a good idea because practically any color may look good when combined with a neutral shade. Beige is one of those colors. Because of this, most people use Gray as an accent color to bring out the elegance of beige furniture.
2. The Beige Blends With Gray Well
The beige color provides a warm tone. The warmer shades have a greater propensity to merge with the cooler color.  Because of this, a couch in a beige hue will blend in well with the gray walls while still providing a pleasant contrast.
3. A Contrast Between Different Colors
The use of natural tones in a room helps to provide a calming atmosphere, which in turn helps the area seem larger.  On the other side, the beige produces a warmer tint that complements the mixture. With the chilly tone, it is good at maintaining a steady temperature.
How to Decorate A Beige Couch With Gray Walls?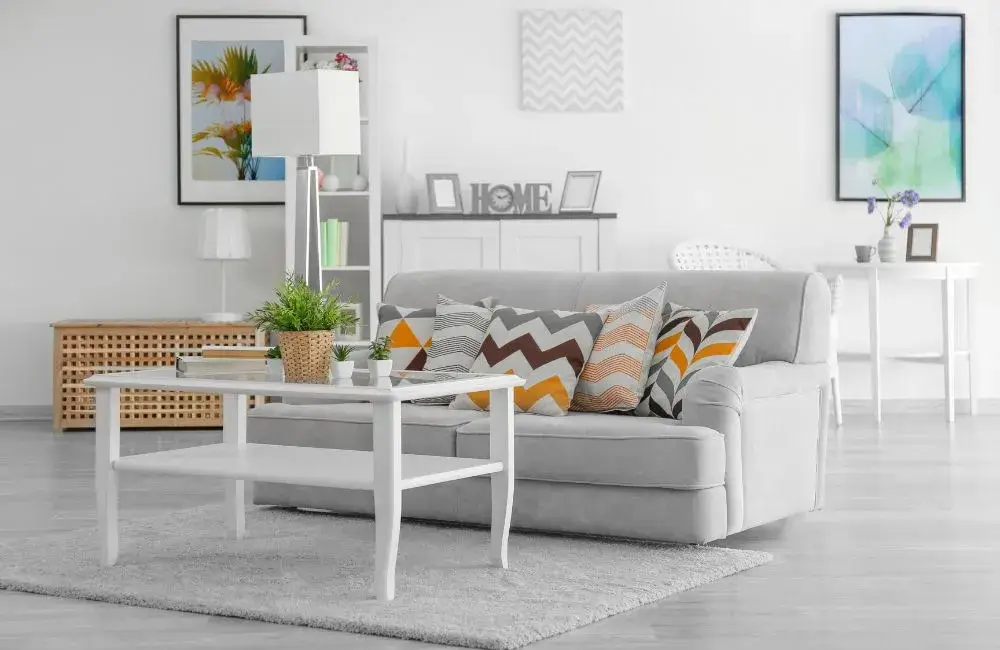 People who are thinking about integrating beige-colored pieces in a gray-colored space could utilize beige rugs as well.  Because of the necessity for the beige to have a warm tone to complement the gray walls, it may be challenging to find an appropriate color combination for your home.
Therefore, it is essential to remain cautious concerning the tones and colors that you are utilizing. Here are some tips on how you can decorate a beige couch with gray walls:
1. Include The Appropriate Lighting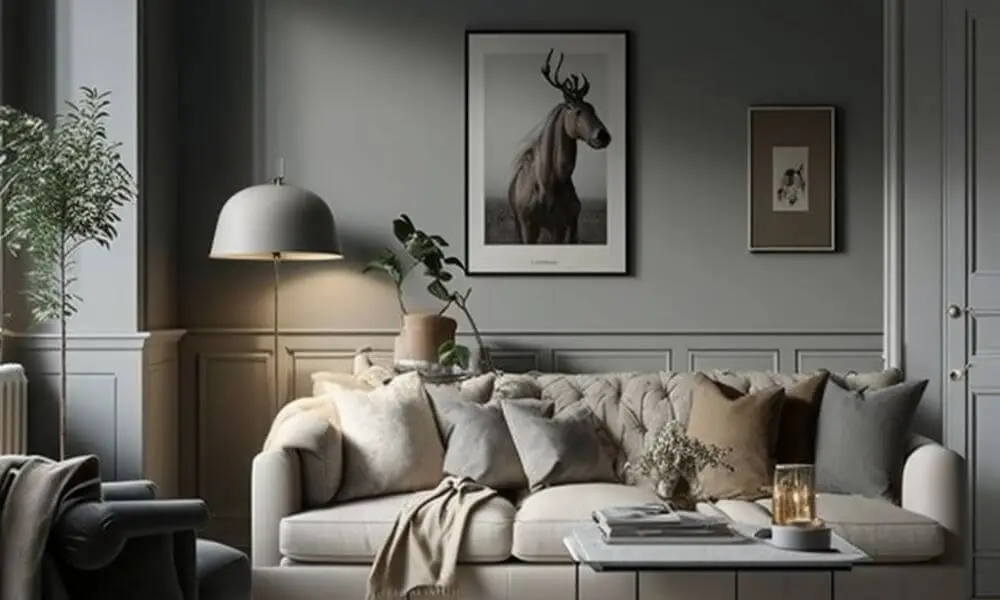 You must take the time to ensure that the area has enough lighting. If you don't do this, the beige and gray hues in your space won't distinguish themselves from one another.
2. Include Some Plants And Coffee Tables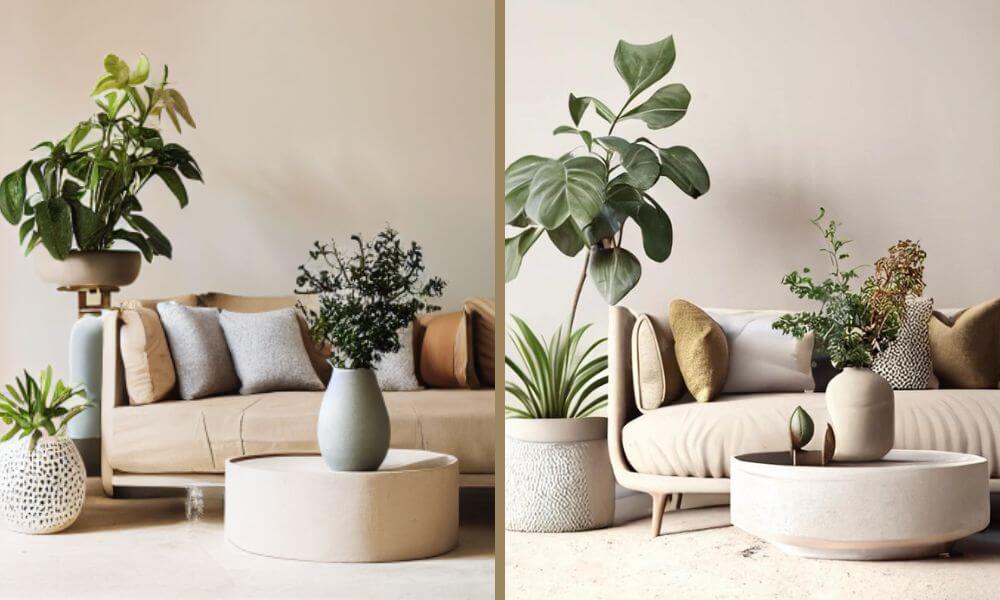 The addition of a beige sofa might make the area seem uninteresting. You may add some putting plants on a pot and surrounding a sofa with coffee tables may make the space seem more put together and tastefully furnished.
We have listed the 12 Best Coffee Tables for Sectionals. if you are looking for trendy and cozy coffee tables, you can check them out.
3. Add Pillows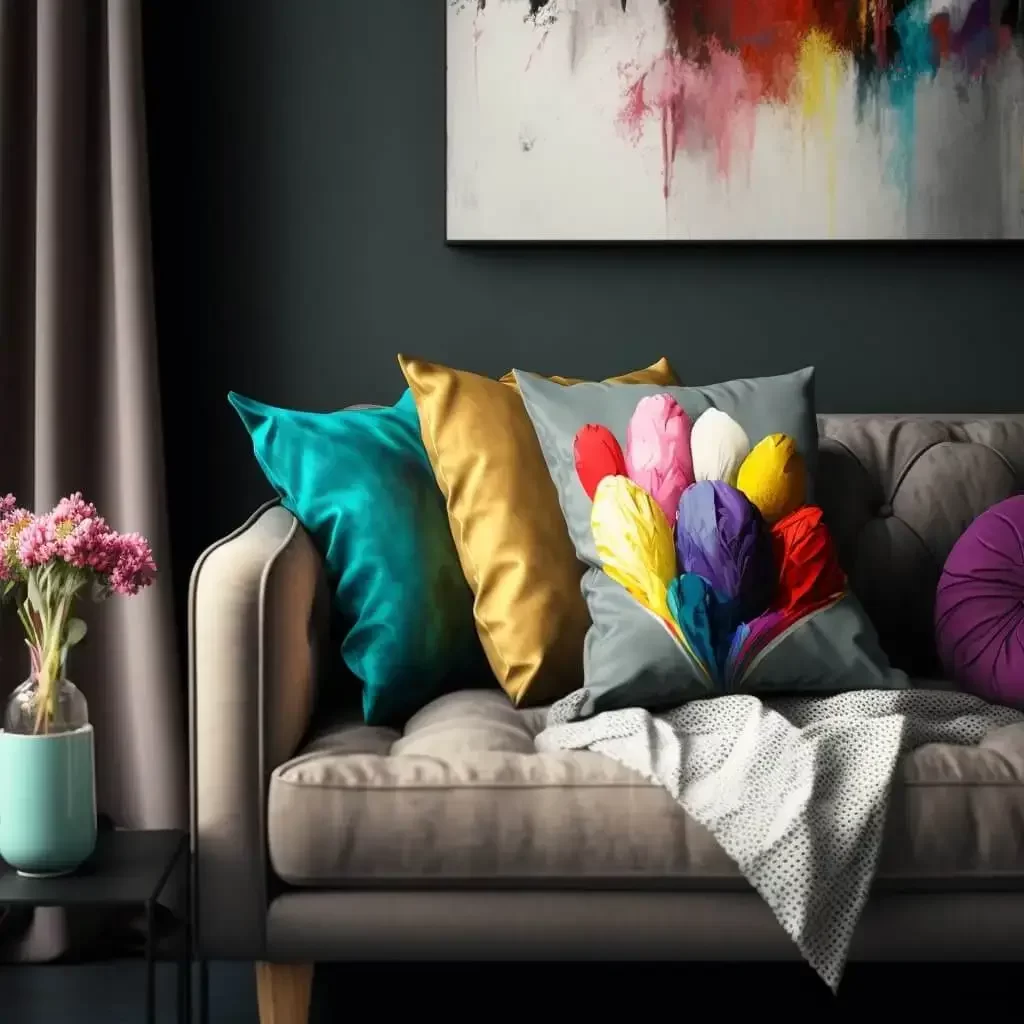 If you wish to avoid using two different tones and use a layer of these colors instead, then you have a very creative mind. You may create a striking contrast by adding some cushions to the living space. You will be able to make a great match between the walls and the couches with the help of some pillows. It will add more comfort to your home.
Frequently Asked Questions
Does gray go well with beige?

Because gray and beige are both neutral colors, they are complementary to one another. This also means that you have the option of adding a color that is more dominant or striking to the combination, depending on your personal preferences.

What effect do gray walls have?

When you have furniture with a warm tone, traditional gray walls exude classiness and have the potential to make a room feel more alive. If you want to create an atmosphere that is cozy and welcoming, you might want to think about painting the walls in a greige color, which is a combination of gray and beige.

Are gray walls outdated to put with modern furniture?

You don't have to worry about your house being outdated even if you choose to decorate it with beige-colored furnishings. Gray is still one of the most fashionable neutral colors you can find for your walls.
Final Say
Since beige is a warm shade and gray is a universal neutral color, the two should complement each other nicely. Beige furniture set with gray walls provides a pleasant contrast that will boost the beauty and richness of your house.
You could want to try adding some cushions and textured textiles to the beige-colored sofa to establish a layer that is suitable for the gray walls in the room. This will also considerably contribute to the room's overall aesthetic appeal.
With enough planning, you can set up your home so that your beige furniture and gray walls look like they were made to go together. It will give your home a theme that is both bold and soothing.