30 Super Cool Grey Couch Living Room Ideas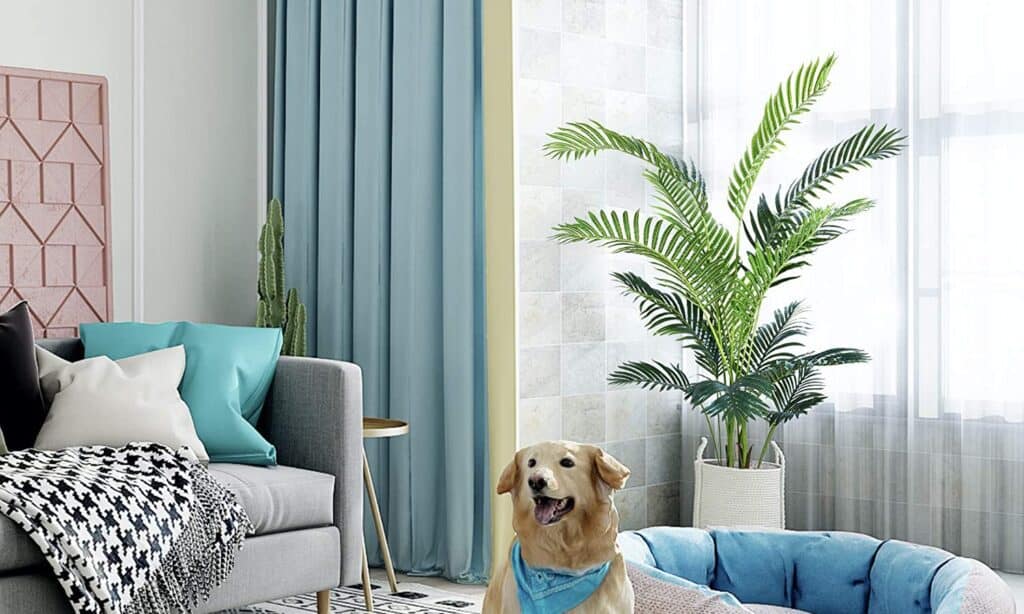 Couches are a prominent feature in the living room design; which is why it's important to choose the best one possible. With gray couches, you'll have plenty of versatility in the design as it matches a plethora of décor styles. We have come up with 20 super cool grey couch living room ideas to help you with the decoration.
Before you get ready to incorporate a grey couch in your living room, you should get some inspiration, some ideas on how to maintain the balance of the living room design with the couch. However, even with gray couches, you'll face some obstacles while designing the living room. So, we're mentioning some ideas which we think can help you get some inspiration for the best approach:
Accent With Muted Pinks Or Purples And Metallics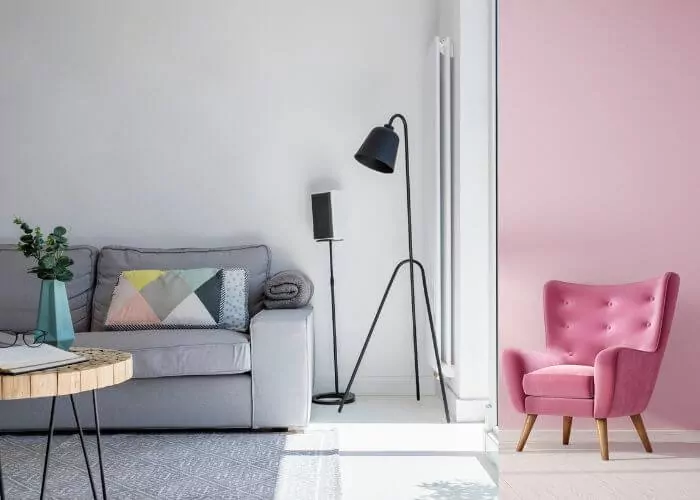 Soft pinks and purples like dusty rose and blush pink, pair up with gray beautifully. The muted hues add a hint of femininity without overwhelming the design. Moreover, metallics can often complete any color palette. In short, they add a glamorous chic touch to the overall appearance.
Choose A Cozy Area Rug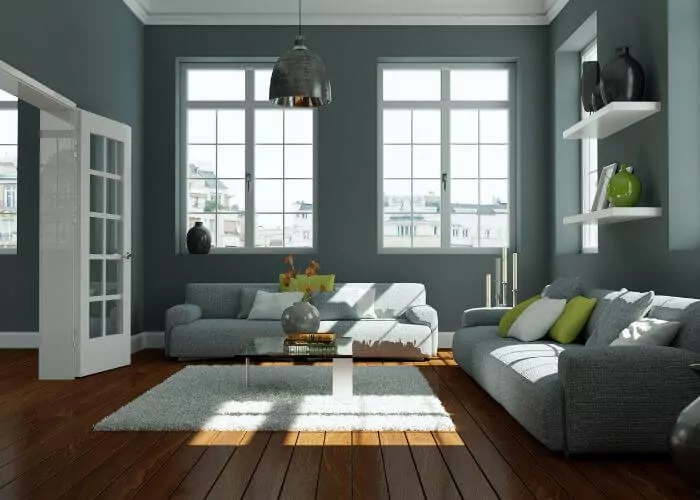 Cozy rugs are the only thing that can make the design of a living room feel more welcoming and lived-in. In this case, pick out rugs in neutral tones, like cream and white. They'll blend well with your grey couch.
Mix Patterns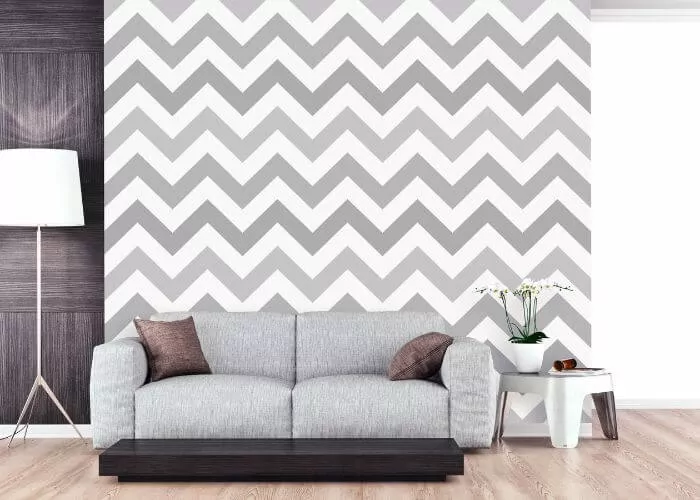 Gray is a friendly neutral color. So, you should go for high-contrast patterns like black and white wallpaper. The combination of these patterns will help you bring out the dark and light tones of your couches' shade of gray. Just make sure you're sticking to a general color palette when you're mixing patterns.
Embrace Warm Wood Tones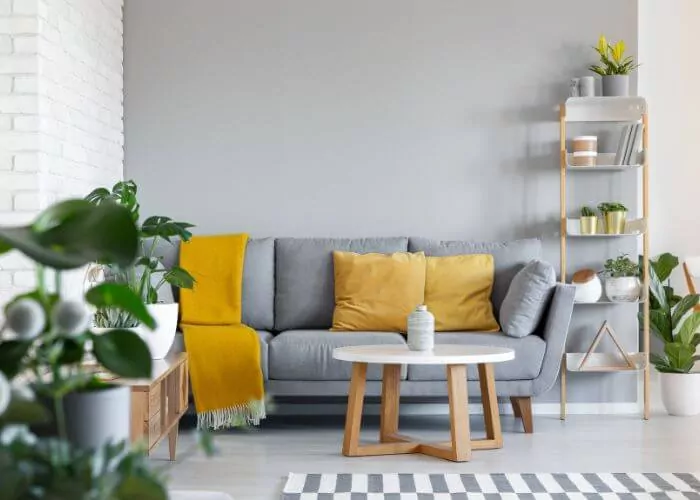 Use warm earth tones like rusty orange, red, and yellow with your grey couch. These tones were born to accompany a gray couch.
Add Vibrant Splashes Of Color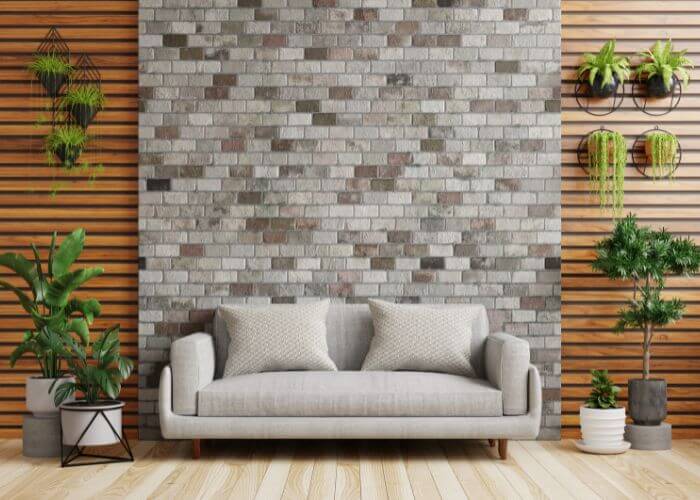 Gray color serves as the perfect, idealistic backdrop for bold, vibrant color. In this case, you have to balance loud color with practical pieces, such as an acrylic coffee table.
Buy A Houseplant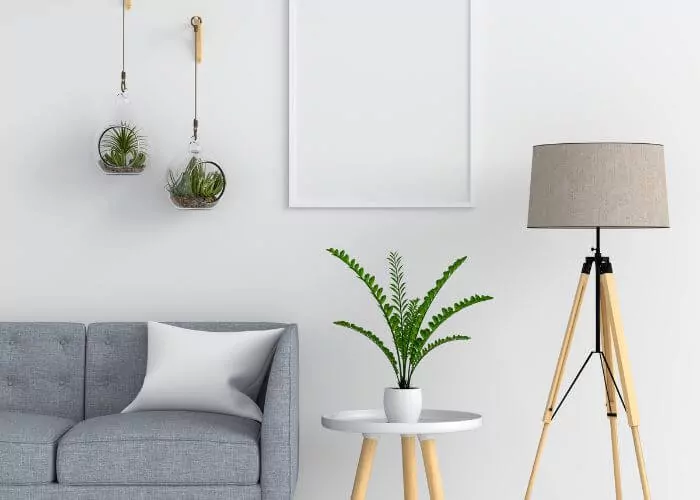 Grey couches usually offer cool shades of grey which can have a calming effect on interior space. You can enhance it further by adding a houseplant. By combining grey and natural green together, you'll be creating a fresh look.
Choose A Powerful Backdrop For A Low-Profile Sectional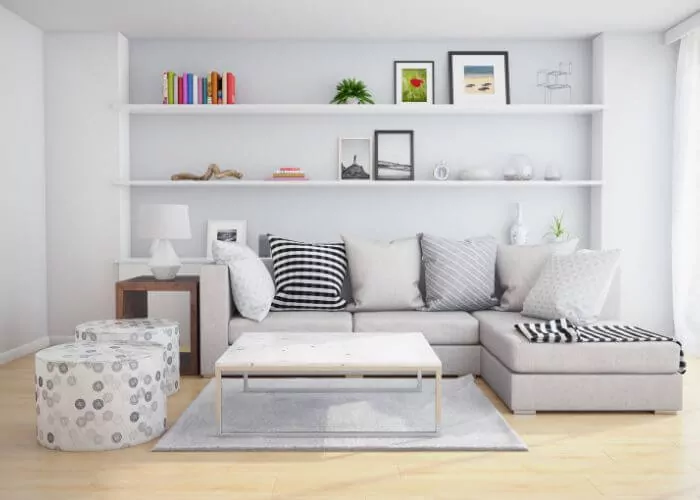 The best way you can give attention to the interesting, sophisticated features of a low-profile gray couch is by standing them out against powerful backdrops.
Pair A Charcoal Hued Sectional With White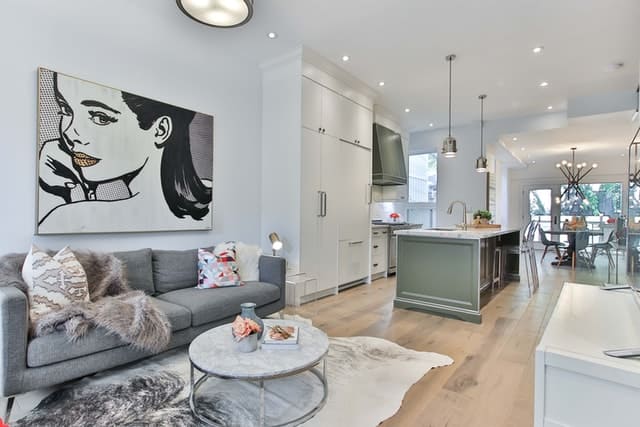 If you own a charcoal grey sectional couch, you should opt for a high-contrast look by associating it with bright white-colored things. Walls and shelving of white color can help you achieve the look you're seeking to create.
Incorporate Modern Shapes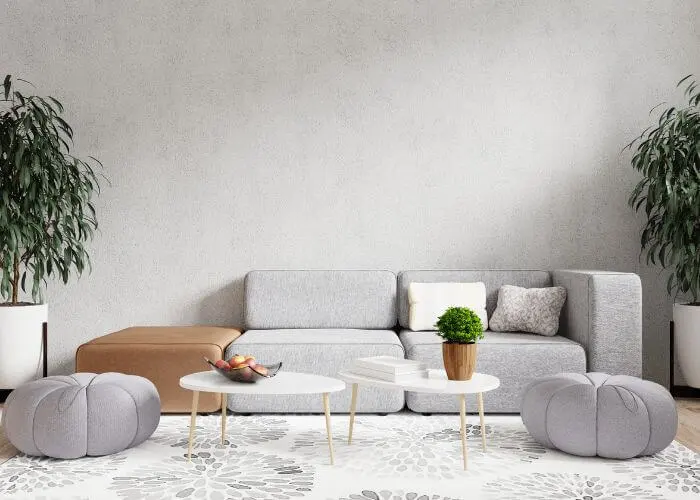 If you love modern aesthetics, you should pair up your sleek sectional with other sculptural pieces like chairs, ottomans, coffee tables, or light fixtures in interesting modern shapes and sizes. If you're able to give your concentrated focus on one or two of these statement pieces, you'll be able to keep your desired look clean and fresh.
Design With You In Mind
There's no point in decorating a living room in accordance with a grey couch if it's not being done on your own accord. So, before you start decorating, ask yourself for what purpose are you designing it, what kind of features you would like to add while designing. With this set, you'll have a clear idea about the design and decorations.
Get Creative With Lighting
Gray is one of those colors that can completely change under the presence of different lights. So, it's important that you choose the perfect lighting for your space. When it comes to grey living room ideas, there's a general rule you must remember: the cooler the tone, the warmer the lighting.
If you want to feel cozy and welcoming with no regard for the cool gray color scheme, you should pick out lampshades that will illuminate a yellowish glow and go for warm, soft white bulbs. You should also pick out different sources of light too. For any living room, it's typical of you to consider having some different sources that can do different sorts of jobs.
Opt For Meaningful Artwork
Gray sectionals are capable of working as the clean backdrop you'd need in order to display meaningful artwork or family treasures that have sentimental value. Since the living room is frequently the hub of family gatherings and occasions, it's a great place to do that.
Add Instant Warmth And Luxury To Your Living Room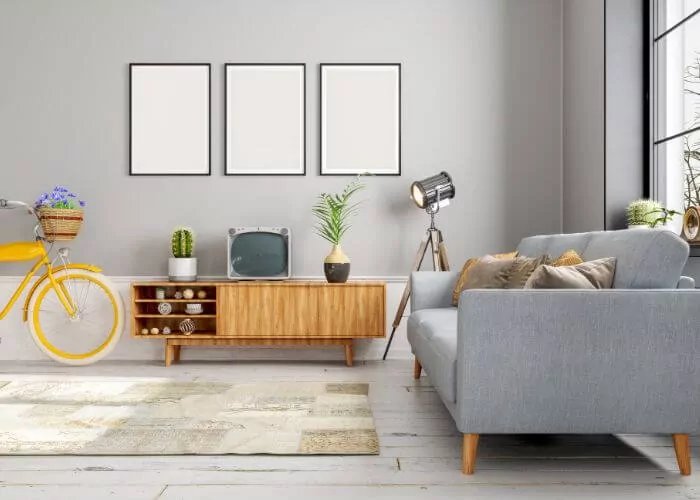 If you want to include instant warmth and luxury to your living room, you should add blush cushions, hang up old shutters on the wall, and include a vintage trunk. They'll resonate cozy, warm, and luxurious tone; which would make the space perfect enough to snuggle and cuddle.
Pillows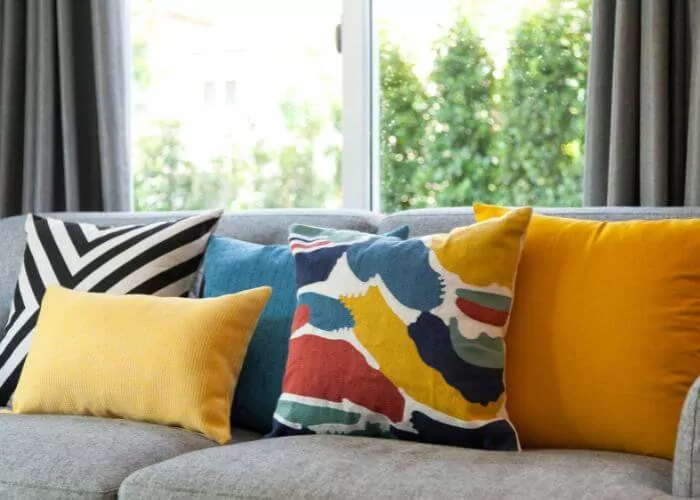 The first step should always be associated with pillows when it comes to decorating couches. In the case of decorating gray couches, it's recommendable to choose a layer of high-sheen pillows and another layer of pillows that are covered with more matte fabric. For high-sheen pillows, you should go for those that can echo colors found elsewhere in the room. Also, make sure to add a statement-making a central pillow so that it can work as a focal point.
Throws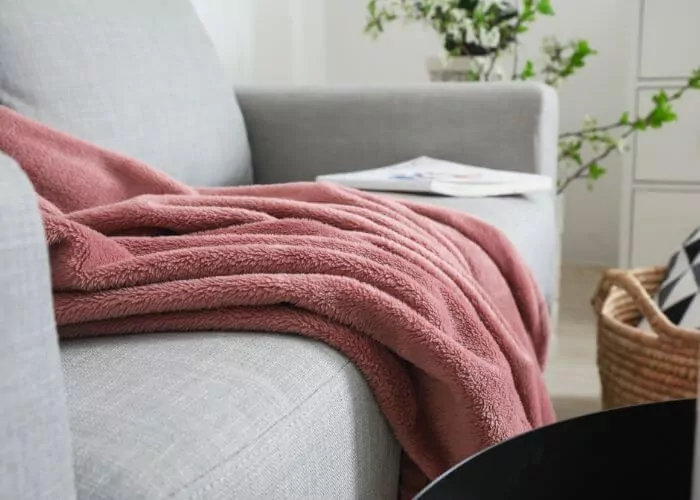 When warmer seasons arrive, you should opt for thin and fine knit patterned and printed throw blankets. With these blankets, you'll be able to revive spirits and energize the rooms. As for cold weather, it's time to pile on plus comforting throws so that you can keep yourself warm and cozy.
Inexpensive throw blankets are pretty much easy to swap out as seasons and trends change. So, it's better to try out unexpected combinations and see which one suits you the most. You should also remember to pick a color or material that can contrast against the fabric of your sofa.
Coffee Table
It's important to consider the shape and contour of furniture pieces, no matter what kind of interior scheme you're opting for. If your couch is square in shape, you should consider getting a coffee table that has a bit of a curve.
If you're working with a small space, it's better to invest your money in purchasing glass-topped coffee tables. Nothing can beat these tables. They're really amazing at helping you prevent visually bulky alternatives while being easy to use.
End Tables
Styling and decorating a grey couch is all about creating contrasts that will strike visually. In order to make that happen, you should place matching pieces on either side of your sofa and then lay out a few coasters while you're at it.
Baskets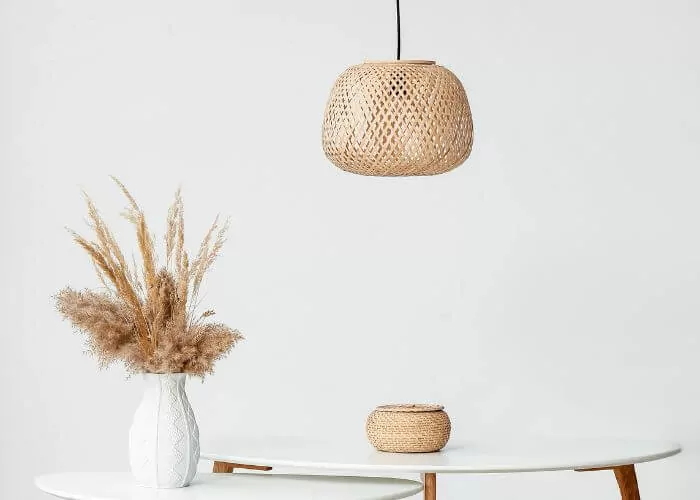 If you don't want your couch to look haphazard and chaotic, you must corral and store everything together with a few bamboos-made baskets. You must place them on either side of the couch.
Artwork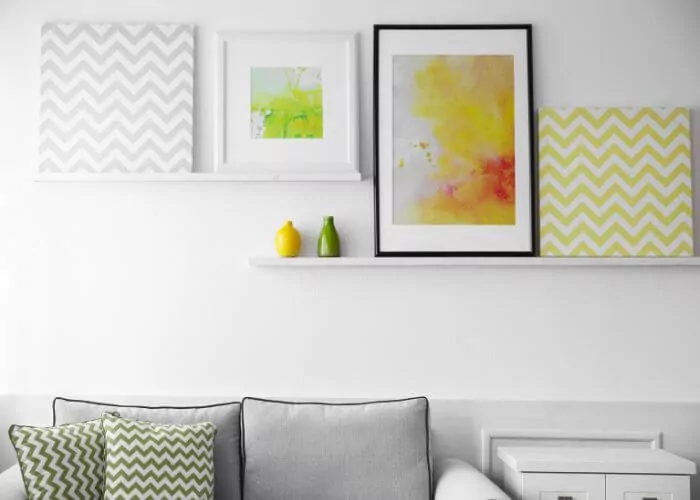 The integral part of any living room is undoubtedly an artwork. So, when you're about to decorate your grey couch, you must make sure that the accessories you're going to use are completely capable of referencing the colors in your artwork.
Lighting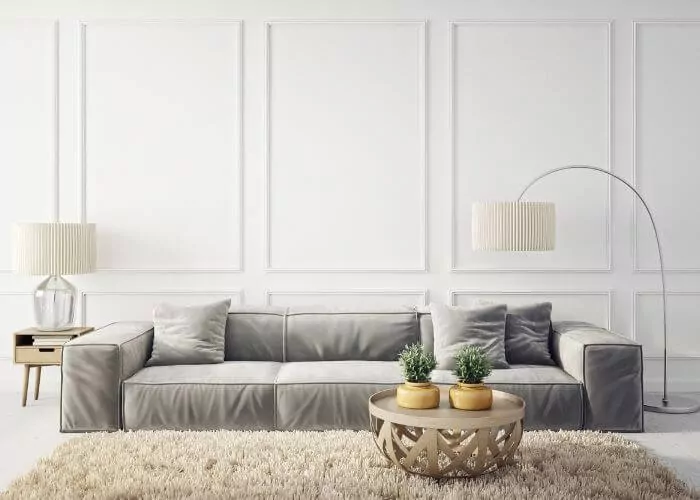 Lighting is another essential part of living rooms; which is why it's important to at least have one source of lighting meant to be paired with your gray couch. You can try putting two lamps on either side of your couch: a larger lamp for a base layer of lighting and a table lamp for reading.
This kind of approach will help you avoid only using clinical and cold overhead lighting exclusively. It'll also help you create a compelling and inviting lighting scheme.
Plants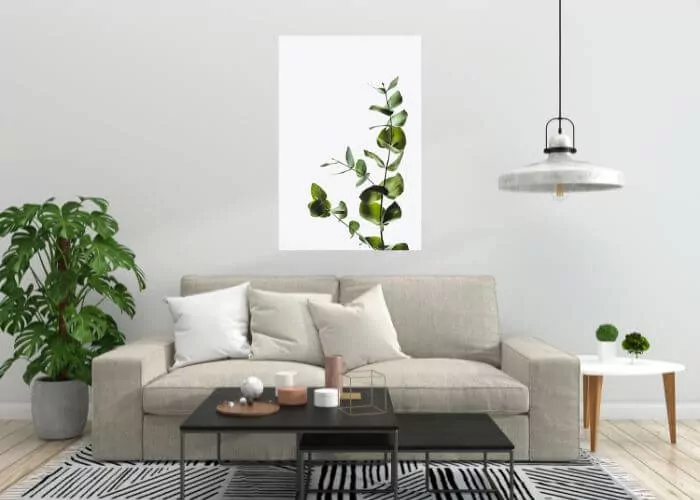 When you're about to stylize your couch, you must remember to add some vertical design elements to bring light to the horizontal layout of your couch. One way to do this is to embellish the couch with tall plants.
There's also another way and that is bringing in large-scale pieces of room-defining botanical artworks. With these botanical artworks, you'll be able to make a memorable natural statement in your living room.
Area Rug
Area rugs are an amazing way to include some needed texture or pattern in the living space. If you want to make your space feel more cohesive, opening, and spacious, you should pick out an area rug that can incorporate colors found elsewhere in your design scheme.
One thing you should remember when you're laying the rug out in your living room is to place the couch along the perimeter of the area rug. Otherwise, the room would end up looking more chaotic, disorganized, and tumultuous.
Unexpected Color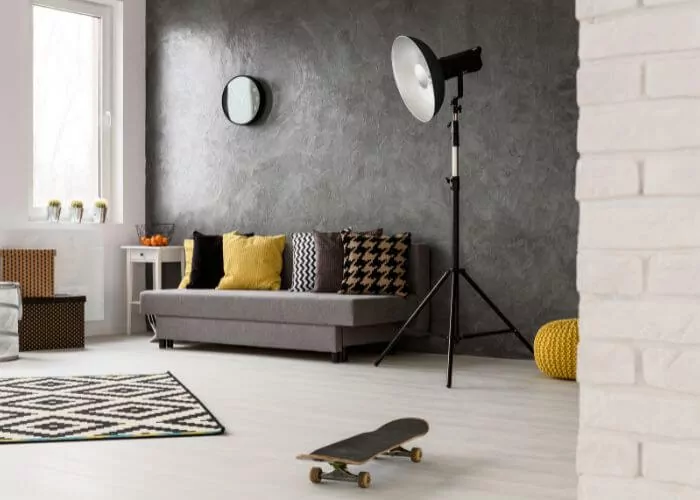 You should try adding a sense of the unexpected. You can do that by bringing in indulgent pops of color even in the smallest of doses. The unexpected popping of these colors contributes to the overall elegance and allurement of the living room; which makes it all more memorable and unique.
A Vibrant Mix
It's essential that everything, every feature blends well with the gray couch. If one of them feels out of place with the couch, the room would gradually lose its overall appeal.
Get Playful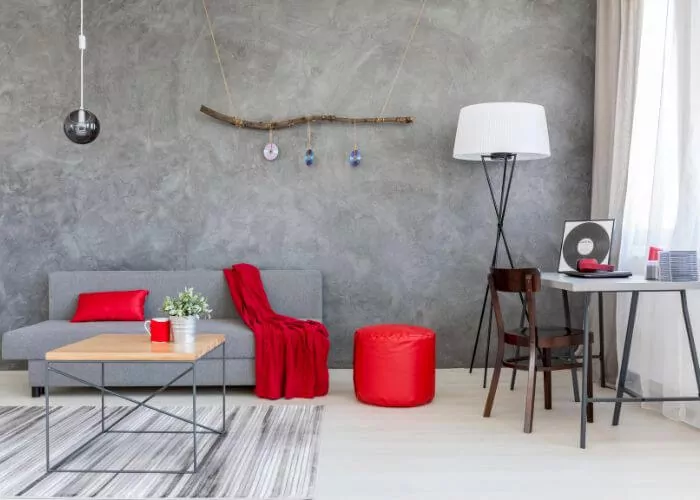 Whoever said that a gray couch only indicates business and doesn't refer to play is absolutely wrong to say that. Gray couches have the ability to do double duty as an anchor for all of the various elements they can play with. They're completely capable of withstanding stains better than a lighter-colored sofa can.
Stick To Symmetry
Gray has the ability to evoke a sense of balanced strength; which is why when you're styling your gray couch; you should take it up a notch and go symmetrical with the layout in order to create a soothing, uniform feel. As a result, you'll have a much easier time decorating the couch. The main key here is to find ways you can incorporate visual interest without being distracting.
Keep It Simple
Try to strike a chord with your couch by keeping the entire room simple and decorated with a light hand to keep everything easy on the eye while you're still stimulating.
Layer A Tonal Color Palette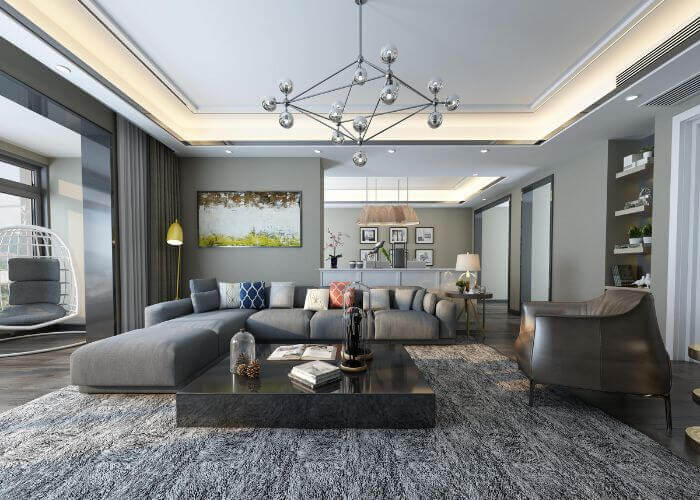 Since gray couches are a standard fixture in any minimally designed home, you should amplify its Spartan appeal up by using a wide range of tonal gray hues. These hues can spread about to create a comforting take on warm minimalism. To make things short and easy, try mixing grey-toned blues and warming oranges together. This combination can form a soothing foundation while adding energy to the scheme.
Create A Sanctuary With Slate And Wood Accents
When you combine slate grey walls with rustic and natural woody furniture accents, they'll look anything but cold. Try to fill the room with plenty of textures like a fluffy Berber rug and straw basket to store blankets. In this way, you'll be able to complete the relaxed living room scheme you've envisioned without facing any difficulties.
Cocoon Yourself With Deep Grey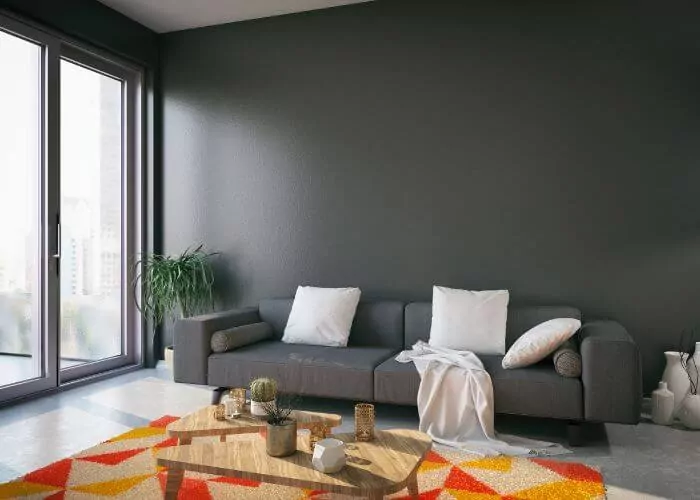 Colors that whisper instead of shouting are must choices for rooms designed that can offer and promote relaxation. So, go for deep grey colors. They gently cocoon and aren't visually distracting; therefore letting you concentrate your focus fully on a film or good book.
You can also try experimenting with stable grey colors. They can work as well with terracotta or blush as it does with a pale or stonewashed blue or forest green. This kind of versatility can help you out a lot if you like to switch up soft furnishings on a regular basis.
Give Florals A Sophisticated Twist
Florals can give regal vibes to a grey couch living room. You can make it feel more regal by adding your own personal twist. Try using floral printed curtains on a dark backdrop. It'll bring out bright tones and make the curtain look more edgy and modern by exposing its colors out.
Start With A Feature Wall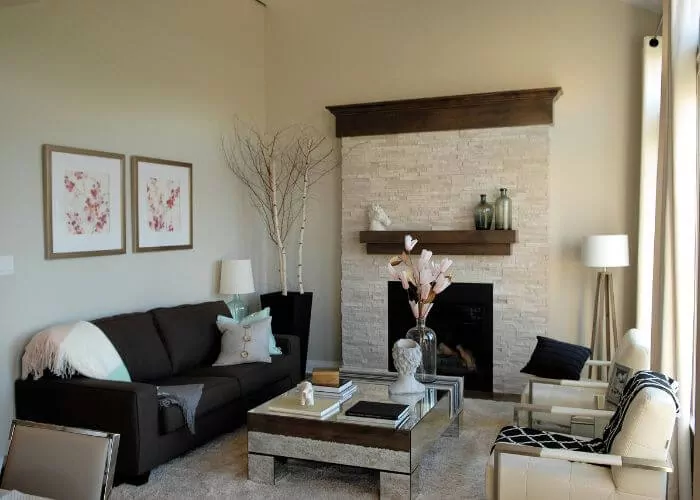 Feature walls are always a good place to kick things off if you're nervous about working with a new shade. You can start by painting a chimney breast or taking it to the next level by getting commission built-in furniture from a local carpenter and then, finish it in a deep grey color. Make sure to coordinate with carpets and upholstery in a paler shade.
Create A Contemporary Grey Living Room
If your living room has a breathtaking, calming, serene view, make the most of it instead of leaving it covered. Use sheer curtains in the room. They'll shade the sun at peak times while still letting you enjoy the view at free times.
Make It Modern Beach Style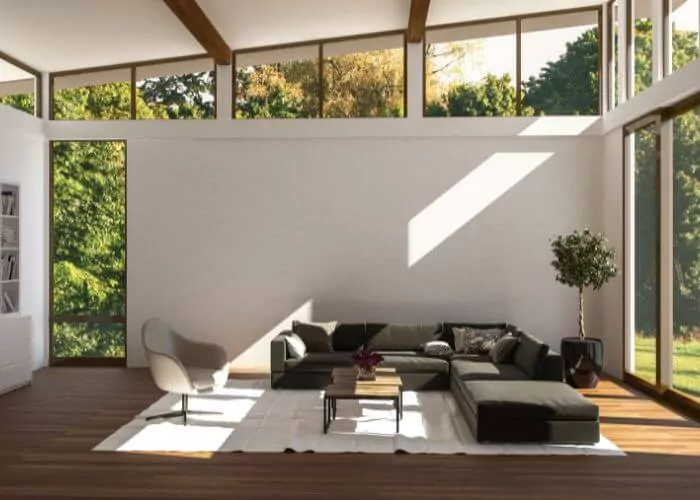 If your house resides near the beach and you simply want to create a coastal vibe, you should embrace the coastal style with a white, bright living room. Place a large grey couch in the space and incorporate a square coffee table big enough to fit a tray and drinks for entertaining.
Make Your Grey Living Room Warm And Cozy
If you want to convert your grey living room into something cozy and warm, add lots of dark grey for depth and then combine it with a fireplace. That'll make for a great cozy space for your family to enjoy movies and other sorts of entertainment stuff.
Hang A Tapestry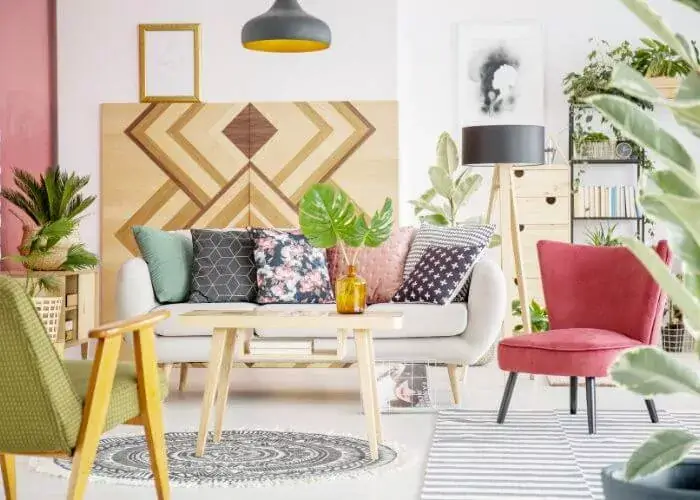 If your living room has a blank white wall unused, don't leave it bare. Instead, you need to cover it up with a striking piece of art. For example, a tapestry. By hanging a tapestry, you'll be adding a lighter dimension to the room; which will go well with the grey couch.
Add a Daybed
If you have some spare time in your hands to lay back and relax, you must simply include a day bed in your living room. This is a practical addition to your home and you can use it to read a book or as a spare bed if your house doesn't have enough rooms for extra guests.
Build Your Color Scheme With A Grey Rug
When you're unsure about how to start designing a living room, you should start with the floor. It's often the best place to begin when you're building a color scheme. Moreover, it's a great place to get started if you're going to incorporate grey. Choose a larger grey rug as a centerpiece or layer your rugs on top of each other to create a more laid-back, casual approach.
Embrace Hampton's Style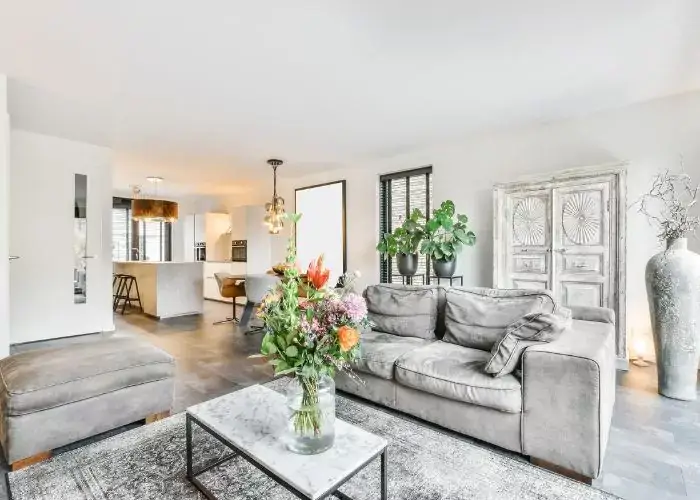 For an elegant grey living room, you should choose furniture that has a coastal feel. You can do this with lots of grey shades and hints of white. While you're doing this, don't feel afraid to go all out. With enough confidence, paint the walls grey and afterward put dried flowers on top of the mantelpiece; which will add height and detail to the room.
Final Words
We really hope that the grey living room ideas we've mentioned above will be able to give you the necessary inspiration you'd require to start designing your own grey living room makeover.