The 11 Best Futon Bed For Small Spaces (Functional, Stylish)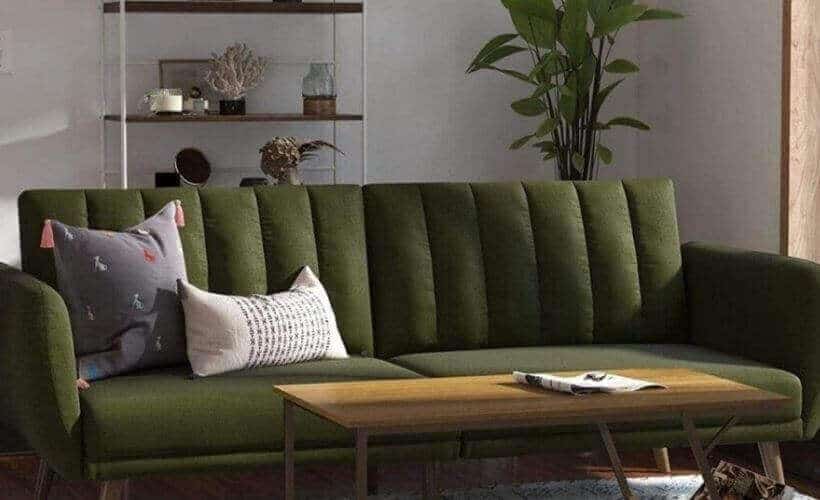 Multifunctional products are preferred in this fast-paced, space-starved city life. Instead of traditional bulky furniture choices, the emphasis is more on new, efficient, and highly functional furniture pieces.
Futons are a great alternative for an extremely comfortable bed cum sofa. Not only does it stand out and make the space elegant, but it also provides you with ample support for a good night's sleep. So, get out there and find the best futon bed in the market.
They are inexpensive and come in a wide variety of sizes and types. Although they may not be as spacious or comfortable and stylish as a pull-out sofa, they may act in a pinch as a sleeping spot.
We brought you a list of the 10 best futon beds when you're running out of space at your home but don't want to miss out on owning a great futon. So, come on and follow us on our hunt for the best futons for small spaces!
1. Best Overall: Best Choice Products Convertible Folding Futon Sofa
This is a beautiful futon that serves multipurpose use with 3 adjustable positions. It checks off all your prerequisites placing it in the best overall position from easy assembly to quality design.
This convertible futon sofa fuses functionality and elegance with natural linen and 4 chrome metal legs.
You can assemble this futon rapidly and conveniently with a zip-up pocket in its base for storing legs and hardware.
Take advantage of the removable arm cushions and flexible back when you need room for your guests and have a guest bed ready in seconds. This trendy futon sofa has a 300-pound weight cap that allows you to sit in good company using a fold-down armrest in the middle and comfortable cupholders.
This double-duty versatile piece comes in three nice cool-toned colors with linen fabric on the body. It is about 30.5 inches tall and 66 inches in width.
The whole futon assembly process takes about 20 minutes, consisting of screwing the legs on and sticking the Velcro armrests onto the seats.
You can enjoy the versatility of a full-size sofa in small apartments or dorm rooms without excessive bulk, or make it a comfortable addition to the bonus room of your home. With a 64.4-pound weight, you can move it around your house without any help.
What I Like
Armrests are removable
Good quality fabric
Comes with side pillows.
What I Didn't Like
Upholstery might feel a bit gritty.
2. Best Convertible: DHP Twin-Over-Futon Convertible Couch and Bed
DHP's Twin-Over-Futon Bunk Bed's simplistic style and stability make it the perfect pick for space-saving sleep choices.
The bed has a reassuring build with signs like a guardrail showing that plenty of thought was put into safety when this bed was designed. The minimalistic black color palette makes this suitable for any home décor theme.
The top bunk has a standard twin mattress size, while the bottom side carries a standard futon mattress size. In addition to the elegant, space-saving design, it is also straightforward to assemble and comes in one convenient package.
The top bunk bed has a 200-pound weight limit, and there is a 600-pound limit on the bottom futon. This twin-size bed measures 78″ W x 56.5″ D x 61.5″ H.
It seems like a great choice for kids, but it also handles adults if you maintain the given weight range.
Twin-Over-Futon Bunk Bed from DHP offers users choice and freedom on how they want to use it as it can be both sat on and slept on. The multi-purpose nature and universal color options make it an easy decision for people looking for flexibility and impeccable usability.  
What I Like
Very sturdy
Saves much space.
What I Didn't Like
Some customers got faulty products.
Related Read- Microfiber Couches Review.
3. Best velvet: DHP Ivana Futon
This velvet futon sofa bed simplistic look that pairs an old-school style with modern style clean lines. The casual easy-on-the-eye design makes it suitable for any home setup.
It is made with soft velvet upholstery, and the back cushions have an elegant button-tufted pattern. The unit is well padded and is comfortable for both sitting and everyday sleeping. This futon sofa has many options allowing buyers to customize it according to their taste.
The sofa bed- along with the packaging- weighs a total of 124.5 pounds on delivery. When unpacked it comes in at a hefty 109 pounds. There are cushioning on the legs which make sure the floor is not damaged by this extra bed. However, this mammoth weight does mean that assembly is cumbersome and is preferably a multi-person task.
The fabric is soft but vibrant and simple to clean. You get firm but surprisingly comfortable padding where you can rest and watch some TV.
Multi-functional piece with the split back configuration for multiple positions is suitable for limited living spaces, and padded armrests providing extra seating support.
What I Like
Reasonable price
Super comfortable.
velvet cover
4. Best Sleeper: JUMMICO Futon Sofa Bed
This is the most unique-looking futon on our list that doesn't compromise its quality and comfort while focusing on its outlook.
This folding futon sofa bed has specific features, and your diverse needs can be fulfilled by the adjustable backrest. You can instantly transform the sofa into a bed if you have a guest at home.
The sofa adopts the artistic theme of black with subtle lines and its elegant form, which will complement your home style perfectly and add your home to a modern design and trendy atmosphere.
The sofa is fitted with a backrest, movable armrests, and two pillows capable of safely putting all your body parts. Rational size design is helpful to relax your muscles and can effectively alleviate fatigue. So, even if you use it for a long time, you won't feel any pain.
100% faux leather fabric with a high-quality sponge pad is used for this sofa. The metal legs have enough durability and the sofa comes with two cup holders too.
For compact living spaces, like dormitories, this small sofa is a great idea. Not only does it offer comfort, but it saves space as well. But if you want to buy a sectional sofa, you can check out our other guide about the best quality sectional sofas for family.
What I Like
Worth the price
Easy to clean.
What I Didn't Like
It might not fit tall people properly.
5. Best Durable: Divano Roma Sleeper Futon
The Divano Roma Linen futon has a 'ribbed tufted cushioned back' that allows for optimal using comfort.  The futon is also fitted with extra legs that provide adequate support for your overnight guests when in a sleeping position.
The futon has a curvy design signature which might appeal to certain buyers looking for a specific or a more out-of-the-box style.
Further appeal is added by the classy linen upholstery and oak-like legs that suit any home theme.
Crafted with a split-back multi-position, the futon independently converts with a simple push-and-pull movement between a sitting, lounging, and sleeping position.
Available in numerous trendy solid colors that either add a color pop to your room or provide a neutral statement piece to create your decor around.
The sturdy wooden frame construction is stable and durable and can carry a maximum weight of 130 pounds.
You don't need to put together this Divano futon as it already comes all built up. Even though it may look lackluster and has a sleek finish, it is a good compromise given its longevity.
What I Like
No tools required
Budget-friendly
Nice clean style.
What I Didn't Like
The seating area is low
Only one lay down.
6. Best Design: Kodiak Furniture Phoenix Futon Set
This traditional futon has a hardwood frame with tray-style arms that can be extended or lowered for your convenience.  This distinctive and flexible full-size futon sofa can be easily transformed into a bed. Available in 6 beautiful finishes that fit in with many types of decoration easily.
The mattress cover is made of fabric-grade upholstery and has a velvety-like finish that feels very good to the touch. You can find a layer of cotton beneath the sleeping surface that makes the mattress a little bit softer. After that, you find some high-density foam that adds to the mattress more strength and comfort.
The innerspring mattress has top-notch features. Both for longevity and style, the upholstery grade fabric is tufted to the mattress. Thirteen gauge Bonnell springs are used in this mattress. In a layer of Bonnell springs, the center of the mattress is intended to provide stability and a bit of bounce to make it easier for you to move from one sleeping position to another.
You will find two drawers underneath the futon frame, each of which measures 37 x 18.5 x 4.5 inches. The solid hardwood construction converts into a full-size bed.  The conversion from sitting to the sleeping position is made easy with this unique hinge system. The hinge provides proper sitting and sleep positioning and keeps the futon mattresses in place while sitting.
What I Like
Converts to a full-sized bed mode
Comes with two storage drawers.
7. Best Value: Novogratz Brittany Sofa Futon
Now, we have the Novogratz Brittany Sofa futon on our list, but their camel faux leather color is the most popular among the customers this time. It attained popularity mainly because of its durability.
The faux leather upholstery adds another layer of sophistication, making this a perfect statement for any living room. It features supportive polyester and foam filling, with slanted oak-colored wood legs.
The Brittany, built with a split-back multi-position, converts individually between a sitting, lounging, and sleeping sofa position with a simple push-and-pull movement.
The wood frame's solid structure is stable and sturdy and can bear a maximum weight of 600 lbs.
What I Like
Aesthetically pleasing design
Strongly built framework for rigid support.
What I Didn't Like
One person can use the sleeper at a time.
Related Read: Ikea Ektorp Sofa Review With Pros And Cons.
8. Best Minimalist: Mainstay Memory Foam Futon
If you live in a tiny apartment and you're in dire need of more space, check out the Mainstay futon that can be folded and stored right away.
It is the most effective and convenient choice for limited space. When you fold the futon regularly, you get a bed without removing the cushions or placing extra futon mattresses.
The futon's upholstery blends beautifully with its chrome legs, enhancing understated minimalist style in black faux leather. It gives off an aura of luxury and is suitable for most rooms. As it has a leather fabric, stains and blotches are not absorbed by the material.
The thickly cushioned back and adjustable handrest allow you to lean comfortably on this surface. And the firm padding provides maximum support on your back whether you're sitting down or lying.
This futon is remarkably easy to assemble in less than 15 minutes from the box and install in your room. You don't need any professional assembly for this good futon.
High-quality responsive memory foam provides more consistent support than innerspring, molds better to the shape of the body, and quickly snaps back into place.
It is excellent for entertaining the occasional out-of-town guest due to this cushion-firm feel. Guests have different preferences for sleeping, and a medium-firm futon bed guarantees their content for sure.
Also a perfect choice for individuals who want to complete a stylish and chic game room/living room. This practical sofa will add essence to their everyday comfort.
What I Like
Great for the price
Unique layout
No assembly is required.
What I Didn't Like
The bed is not very comfortable for sleeping.
9. Best For Small Spaces: Kodiak Furniture Futon Lounger
The Spacely Convertible Futon Lounger and Mattress from Kodiak Furniture blends both functionality and elegance. To complement your furniture, it features a trendy and contemporary style.
The set includes a 5″-6″ mattress, two pillows, and a metal powder-coated black frame. Wood slats support the mattress that provides rigid support to the bed.
The fabric used for the mattress and pillow covers are 100% polyester blend, and mattress fill is 80% blended cotton and 20% polyurethane foam.
With almost any decor, the many fabric choices will fit and add character to a room. The smaller size is great for just about any room, and the 5′-6′ mattress is exceptionally comfortable. For the best comfort, it is personalized recommendations to place it against a wall.
Width of the lounger when in the seating position is 60 inches. Comes in various different colors to accentuate your small apartment more.
For a longer lifespan, this Kodiak furniture futon has a solid steel framework. The mattress is sturdy enough that the bars beneath you don't sink or aren't felt, but not heavy enough to be painful. The sides have a great mechanism that allows you to position them at various angles that vary to fully flat from straight up and down.
There is space for two individuals to sit and lay down comfortably. As a place to relax and watch movies, nap, or read a book, it is perfectly convenient despite not being squishy like a cloud.
What I Like
Comes with two pillows
Powder-coated finish
Sturdy metal frames
What I Didn't Like
Comes in a small size rather than standard size.
10. Best Queen: Arden Futon Frame
A traditional hardwood frame with tray-type arms is the futon. This special and durable full-size futon sofa can easily be transformed into a bed.
This queen-size futon has solid hardwood construction that is grown from the plantation.  18″ distance is recommended between the wall and the futon. The dimensions are about 80.5″ W x 36″ H x 32″ D.
The Arden Futon Frame has a built-in tray arm that can be unfolded on either side. For people with limited space, or for people who want concise furniture packaging inside their house, this cool little trick makes this futon a great choice for them.
What I Like
Comes with 5 year's warranty
Sofa height seating.
What I Didn't Like
Frame only. You have to buy extra mattress, pillow etc. separately.
11. Best Easy-to-Fold: DHP Lodge Convertible Futon
Despite not being the most comfortable futon for a night's sleep, it is surely easily foldable to store away. It can be folded and used in various positions according to your comfort. The remarkable split-back feature lets you use the lateral side of the futon individually. You can conveniently sit on this surface with an adjustable handrest and a thickly cushioned back. With just a weight of 51 pounds, you can shift it to different locations easily. The upholstery of PU leather makes it easy to clean and preserve.
What I Like
Easy To Assemble
Easy To Clean
Elegant and perfect for small rooms, dorm rooms, and guest room
How to Buy a Futon?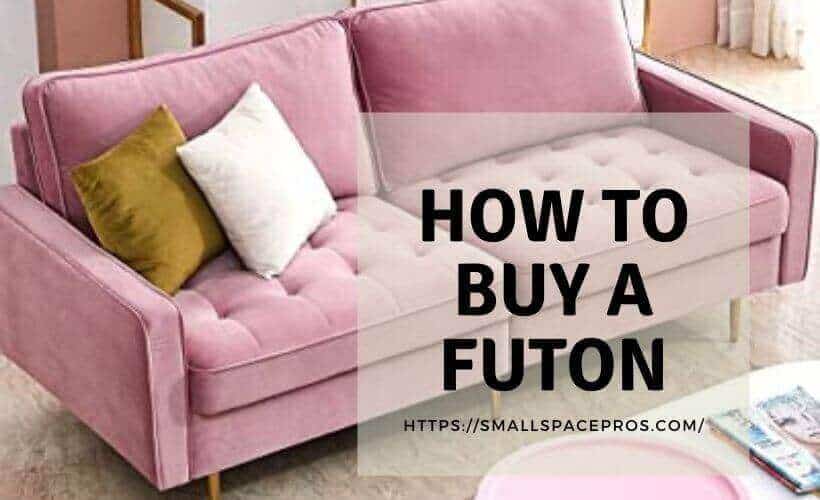 Shopping is never boring and almost always impulsive. But when you are buying furniture as an investment, then you need to look into certain factors. Modern Futons are always the best option for people who are not into big bulky furniture or have abundant space.
First of all, you need to know why you are using the futon. The purpose of your futons will bring out its placement and what type of futon do you actually need.
According to that, you should choose the right futon frames by determining their size, shape, and materials.
 Finally, you need to choose a mattress that fits your frame and provides comfort for a sound sleep. 
3 Best Futon Beds
Firstly, for the top three futon beds, the BCP Convertible folding futon would again come at first because of its sturdy structure with the sleek-looking body.
Then comes the Novogratz Brittany sofa futon that is very popular among most people because of its vivid color that catches everyone's eye. The third position on this list goes to the JUMMICO Futon Sofa with a backrest, armrests, and two pillows to comfortably settle your body.
Best Futon Bed Ratings: Factors To Consider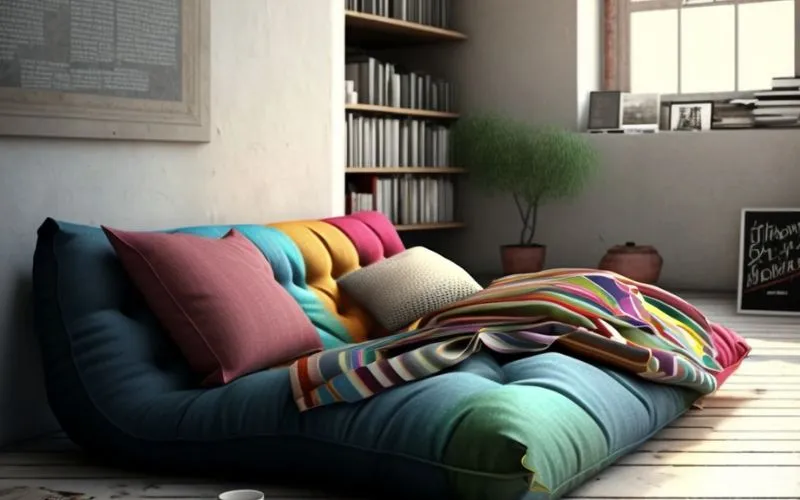 In order to distinguish a lousy futon from a good futon, you need to know about its overall performance. A futon shouldn't only give off good service as a good sleeper or a lounge chair. It should manage both and be a topper as a furniture piece in our place.
The following properties can be used to explain a futon bed mattress: weight, firmness, rigidity, and flexibility.
As long as it provides the comfort you want, a lighter futon bed mattress is a good option. If you want to use your futon solely as a bed, then heavier futon mattresses would typically be the better choice.
Firmness indicates how much comfort you want from your futon beds. And rigidity holds importance if your main plan is to use the futon as a regular sofa.
The flexibility of a futon is notable when you are frequently folding the futon or its mattress.
Best Futon Bed for Sleeping
The Appropriate Size Design helps relax the muscles and can relieve fatigue effectively. So, you won't feel any pain even though you use it for a long time. It can provide you the comfort for a sound sleep that other futons cannot offer properly. The seats have a pocket and curved springs that don't focus too hard or a bit firm in your back.
Which One Should You Choose?
This comes first on the recommended list because of the overall performance it showed regarding all the factors that must be present. This is a beautiful futon with 3 adjustable positions for multipurpose use.
This convertible futon sofa blends comfort and modern style, which will last in your living space for years to come, with sturdy tufted linen and 4 chrome metal legs. You get to enjoy the full-size sofa versatility without the excessive bulk that can convert into a comfy bed too.
Frequently Asked Questions
Can You Sleep On A Futon Every Night?
If a futon mattress gives your back enough support and relieves your pain, you can sleep on it every night just as you would usually do on your regular bed.
However, we would actually suggest you not do so, as it might cause chronic back pain. In the end, it does depend on your preferences, and how compatible the futon is for your body. But if you had to take our word for it, then we would suggest you sleep twice a week at first, and then eventually increase the amount till you get completely comfortable with the product.
Are Futons Better Than Beds?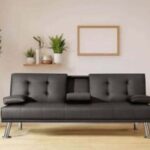 The best futons are usually designed to be on a rugged surface, so they are made more firmly. Even though because of cultural teachings, we presume softer beds to be more beneficial, but in fact, scientific research says firm beds are helpful for our backs. So, in that context, comfortable futons are said to be better than beds.
Where Is The Best Place To Buy A Futon?
You can find futons everywhere now. From physical shops to online stores, it is very much available on the market.
You can look into some trustworthy places to get the best futons: Amazon, Walmart, Wayfair, IKEA, The Futon Shop, The Futon Planet, and Target.
Final Words
The compact and comfortable memory foam futon mattress or an innerspring substitute is an affordable way to add some extra sleeping space without much trouble. Despite being inexpensive, the aforementioned products provide tremendous comfort, support, and fitting aesthetics.
So whatever reasons you have for buying a futon, be sure to consider who will sleep on it, how much it will be used, and where it will reside in your house. It will make sure you know how much to spend, what you would want it to look like, and the mattress's comfort level and thickness.
However, the final call falls on you and solely on your own interests and preferences, so just make sure to shop accordingly.