5 Best Microfiber Couches Review: Should You Buy?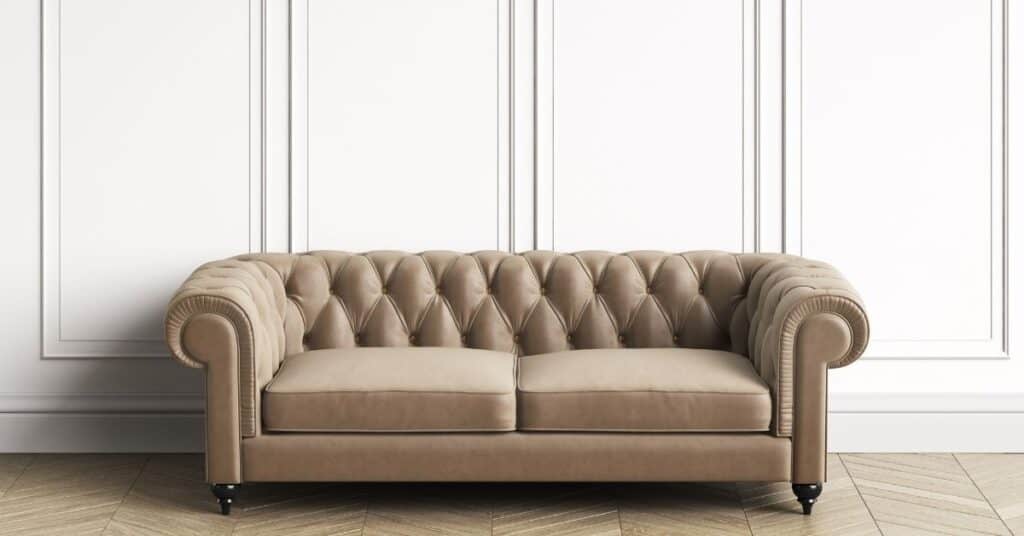 When it comes to choosing a couch, you need to take into account the comfort and durability of it. There's no point in investing in a couch if all it does is give you back pain and allergies. Just don't waste your time there.
Instead, take a look at this microfiber couches review where we discuss all the stuff you need to know before investing in a high-quality microfiber couch, and some great picks that we specifically chose from the lot for you.
1. HONBAY Convertible Sectional Sofa Couch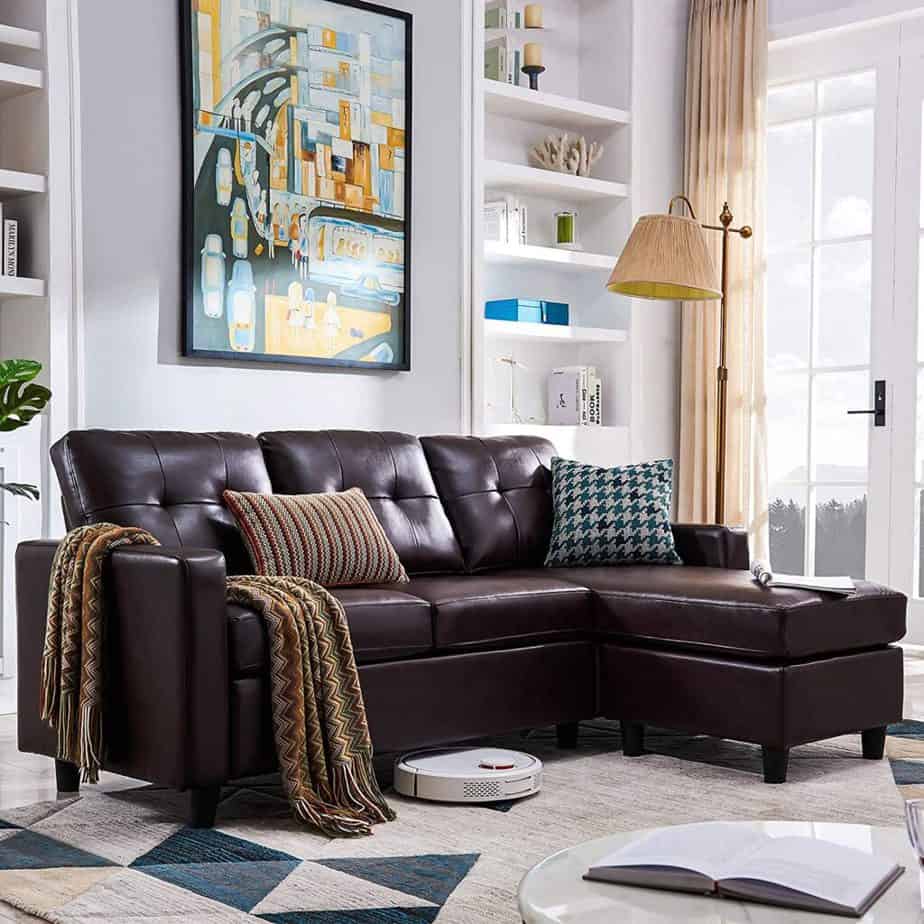 Up next, on this list is this brown-colored sectional sofa couch by HONBAY. Such an incredible product is too hard to go past, and we just had to include this pick to our review!
Made of 100% polyester microfiber material, this bad boy comes with a zero-lock feature, therefore allowing you to simply slide when clicking the open button of it.
Whether you live in a small room or a large house, simply click on a button to convert this great couch into a full-blown bed! The 10-inch pillow seats are soft and come equipped with coil systems. The dimensions of the product are 78.5 x 30.3 x 35 inches.
What I Like
Assembly takes no time at all.
The brown color is neutral.
Durable polyester microfiber material.
What I Didn't Like
Some people don't find the couch "soft" enough.
You can go for the futon also. Read our best futons for small spaces to get the idea.
2. Easy Going Microfiber Sectional Sofa Recliner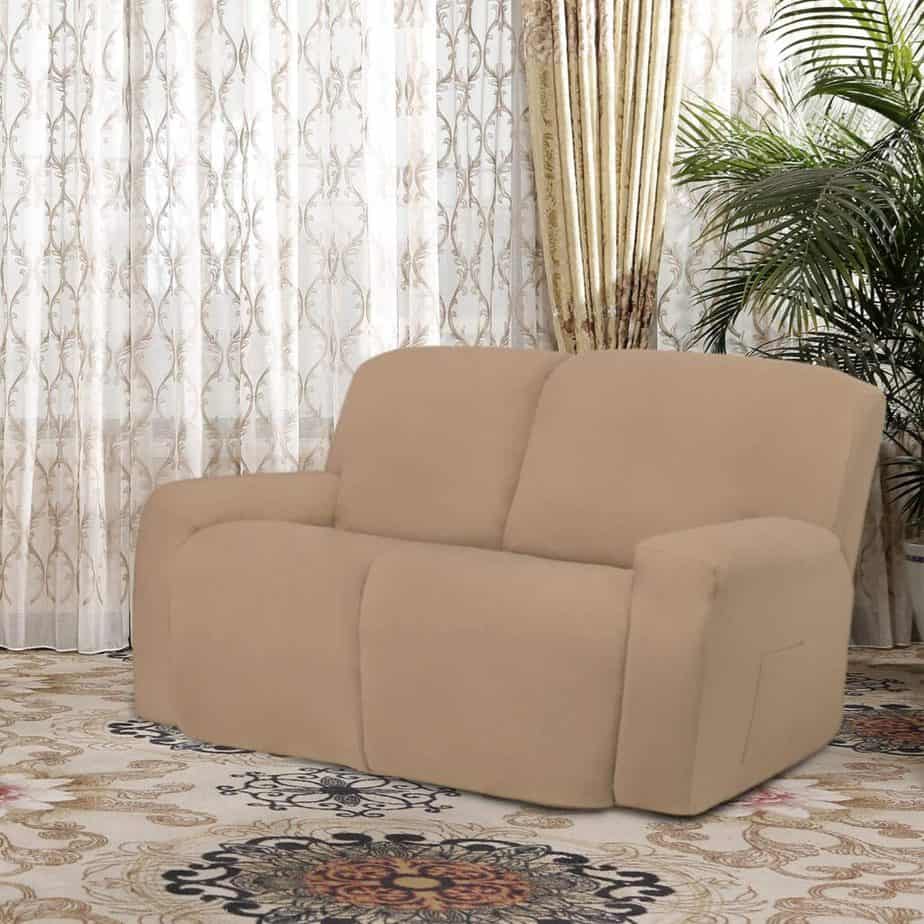 The next product on this list is this incredible recliner-type loveseat sofa in chocolate color. The product is medium-sized and can house two people at once.
This high-quality product is constructed with microfiber material for the upholstery, therefore being safe for those with allergies and inflammations. At the same time, you can find this amazing couch in more than 10 other shades as well.
You can recline this couch for both seats as well. The best part about the product is its easy installation and the fact that it is machine washable.
What I Like
Chocolate colored loveseat looks great in any home
High-quality microfiber material used
The seats are super soft and bouncy.
What I Didn't Like
The elastic bands of the cover tend to slip out very easily.
You Might Like: Ikea Ektorp Sofa Review
3. Lifestyle Solutions Collection Micro-Fabric Sofa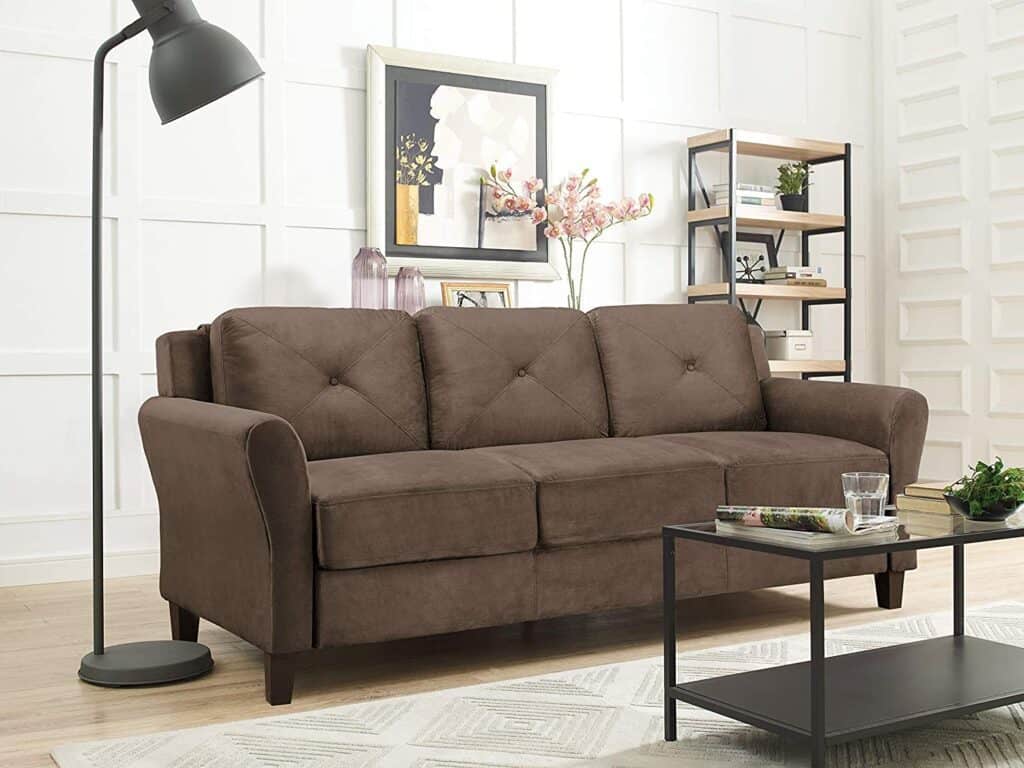 If you are looking for a really simple couch only to entertain your occasional guests, then this Lifestyle one might just be the one for you.
Sporting a matte black shade with 100% polyester construction, this settee-type couch is soft, comfortable, and can easily accommodate 3 people at once.
On top of that, the legs and frame of the entire couch is made of solid wood, therefore making it super durable and reliable. The couch can withstand a weight of 790 pounds at once, thanks to the large dimensions that it has (80.3 x 31.5 x 33.9 inches).
What I Like
Simple, matte black shade is chic.
High-quality polyester material.
Durable, wooden frame and legs.
What I Didn't Like
The product does not come with extra cushions.
If you are looking to buy a great sectional sofa for your family, check out our 15 Best Quality Sectional Sofas For Family: Newest Additions. This may help you.
4. Stendmar Contemporary Microfiber Sectional Sofa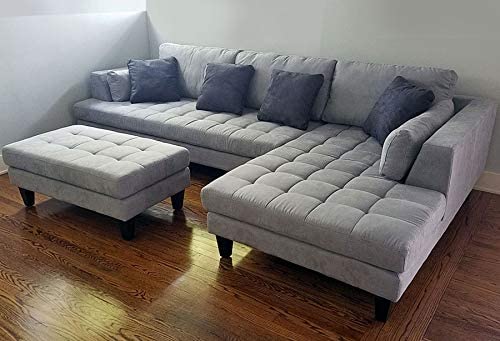 Further down the list, we have this incredible 3-piece ottoman included grey colored couch by Stendmar.
This baby comes with a right-sided chaise as well, so the seating capacity is actually not limited to 3 people only. On top of that, the light grey color coupled with the sleek black legs gives this couch a rather modern and neutral look that any homemaker would die for!
What I Like
Large dimensions of 120 x 72 x 34 inches
High-quality microfiber upholstery
The color is neutral and chic.
What I Didn't Like
The product is quite heavy (300 pounds).
5. Casa Andrea Milano 3 Piece Tufted Micro Suede Sectional Sofa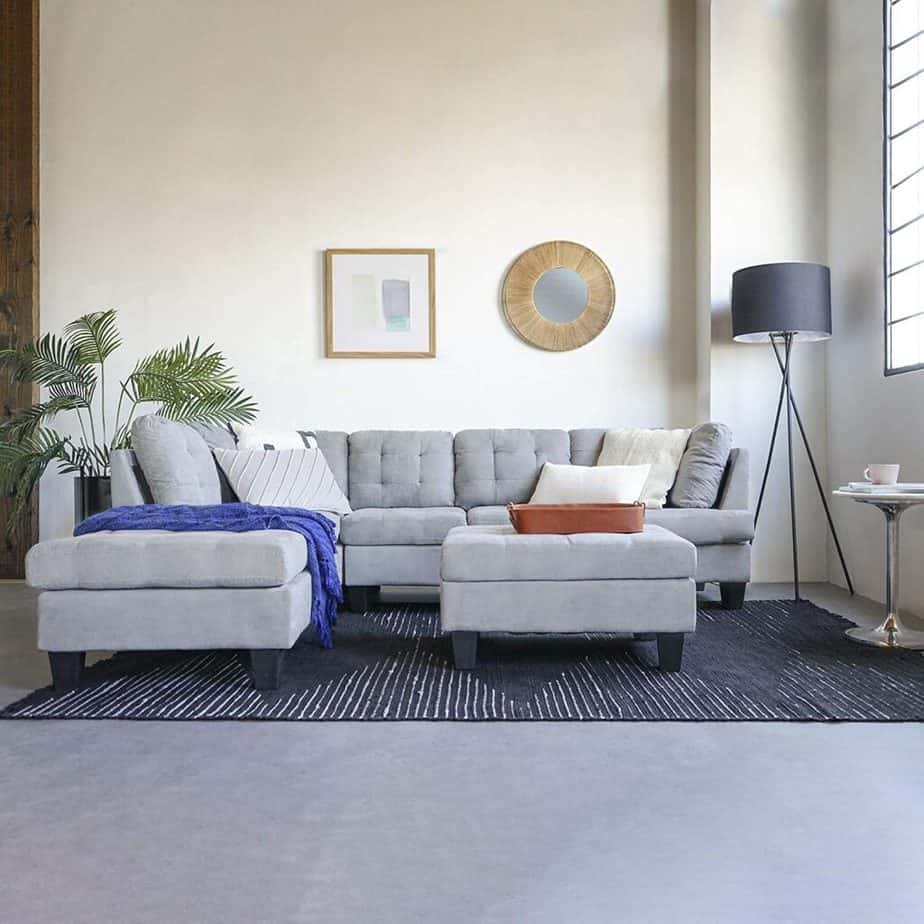 The last product we have on this list is the incredible Casa Andrea Milano reversible and sectional sofa set. The product features a beautiful ash color and comes with a leather ottoman as well.
Right from the get-go, we can see that the couch comes with 2 very unique pillows. The pillows are soft and complement the neutrality of the sofa set well. On the other hand, we have the amazing construction of this product.
With a high-quality poly-fiber filling, this baby is comfy, bouncy, and definitely hypoallergenic to say the least!
The chaise is reversible to any side as well, so you can always decorate your house around the sofa. The dimensions of the product are 81 x 103 x 35 inches.
What I Like
High-quality tufted microsuede construction.
Leather ottoman included.
Unique pillows.
What I Didn't Like
Apparently, the sofa takes a lot of work to fluff up.
FAQ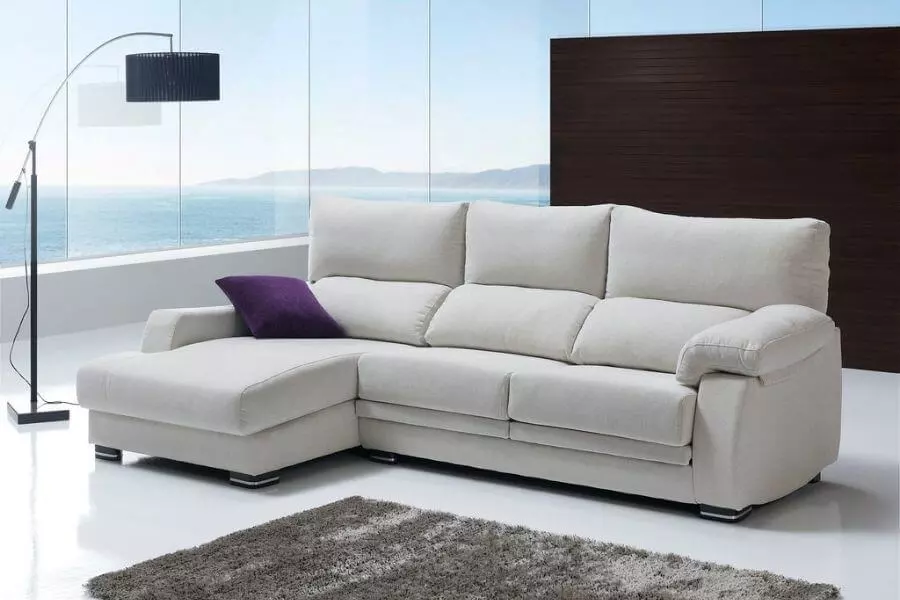 What is Microfiber and What is it Made Of?
Microfiber is mainly from synthetic characteristics, therefore being lighter than cotton, but not as allergic at the same time. Microfiber has a really fine diameter and is usually accompanied with polyester material in fabrics.
The Advantage of Microfiber Couch
A microfiber couch does not dirty that fast, as the fabric does not collect dust too often. This is why many homeowners who tend to be in a rush usually opt for microfiber couches for their living rooms.
The Disadvantage of Microfiber Couch
A lot of lint can appear in a microfiber couch, which can be pretty annoying to deal with on a daily basis, so that's the only downside of it.
Microsuede Should be Considered While Choosing Microfiber Couch
If you want to forego purchasing a traditional microfiber couch, you can consider investing in a microsuede one, which is actually man-made and finer than microfiber.
Microfiber Couch Cleaning And Maintenance
You can easily clean and maintain your microfiber couch by vacuuming it every day. Make sure to get rid of lint quickly as well.
We have done a comparison between Microfiber and Velvet Couch. If you are interested you can check it out.
Final Words
If you are allergic or have loved ones who suffer from rashes, then getting a microfiber couch will be your best bet. We hope you liked our picks for the day and found them incredible in their own rights as well! Thanks for sticking around with us, and we wish you all the best with your shopping spree!