Green Velvet Sofa Styling Ideas: 3 Key Factors To Consider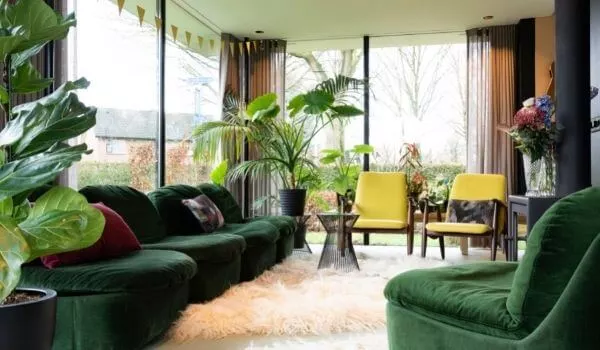 Bold-colored velvet sofas have been one of the biggest furniture trends in recent times. Green can be a fantastic color choice for your living room centerpiece and add a sophisticated touch to your space.
Today, we will explore some green velvet sofa styling ideas that can elevate your home décor to a whole new level.
Why Pick Velvet Sofas?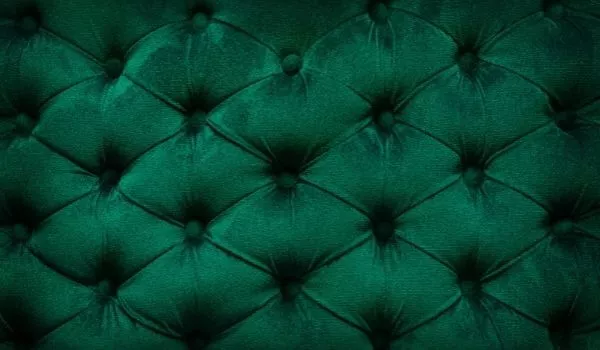 You should pick velvet sofas because they are fashionable, long-lasting, have incredible color depth, and have an exquisite feel.
A piece of velvet furniture can do wonders in improving the appearance of any room in your room. We can't think of any interior style where velvet sofas will look out of place. Besides their stunning looks, velvet sofas put a host of functionalities on the table.
Here are the reasons you should consider a velvet sofa for your home.
1. Velvet Sofas Are Gorgeous
A velvet sofa is a superb choice for freshening up the look and feel of your living room. Velvet instantly lends a sense of luxury to a room because of the fabric's inherent qualities.
A velvet sofa's color has more depth than a flat cotton or linen fabric would possess. Reading our green velvet sofa styling ideas, you will learn how to make velvet sofas even more elegant.
Velvet fabrics specialize in capturing and reflecting light, making the color brighter and more exciting to our eyes. A velvet sofa looks stunning against a dark wall or confined space because velvet upholstery bounces off light rather than taking it in. A variety of finishes, from sleek brass and matte black to shiny gloss and chrome, look fantastic with velvet.
2. Plush & Cozy
Velvet fabrics are a joy to touch! It's impossible to resist your urge to brush your fingers against the fabric and enjoy the soft texture. Therefore, velvet furnishings represent luxury and comfort.
A velvet sofa is the missing piece of the puzzle in your cozy, modern living room. Complement it with plush ottomans and cushions to further push the comfort factor.
3. Fit For Day-To-Day Use
You may wonder if velvet sofas are a good investment. They are not the cheapest furniture to buy, so it's practical to consider their regular usability. Sure, they're eye-catching, but can they withstand everyday use and the ravages of time? Many people tend to believe velvet sofas are a nightmare to maintain. Is that true?
Thankfully, it's not! Velvet made of high-quality polyester shows high resilience to fading, staining, and tearing. You are not only paying big money for the looks, but you are also investing in a durable piece of furniture.
Unless you want to try out a new living room setup, you won't have to think about buying a new sofa anytime soon.
We have done a comparison between Microfiber vs Velvet Couch and Velvet vs Linen sofa. If you are interested you can check it out.
What Goes With Green Velvet Sofa?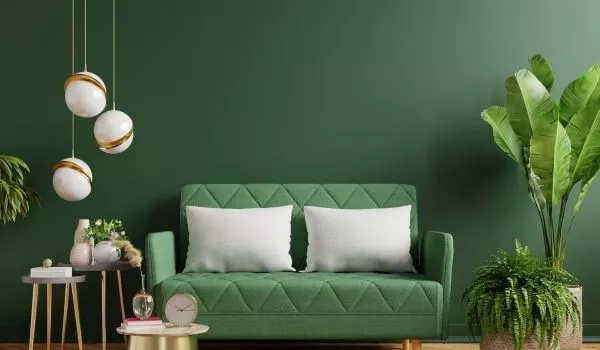 A green velvet sofa goes well with colors and details that accentuate it rather than overpower it.
Sofas in green are a great way to add a dash of character and luxury to any room. But while decorating your space around this one piece, you might run into a lot of confusion. A green sofa is a statement piece, so you should match it with the right accessories.
We have lined up some green velvet sofa styling ideas to help you come up with the perfect layout.
Settle On Minty Green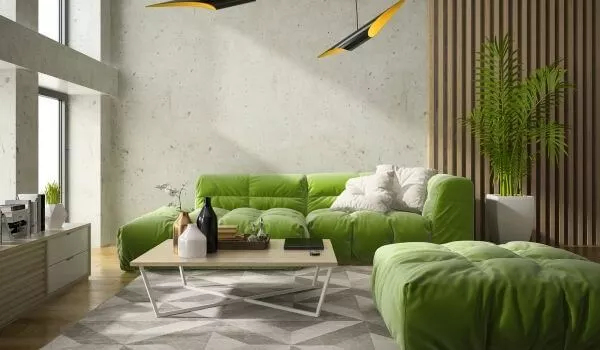 There are various green shades to choose from, and as our first suggestion, we would like to recommend the minty green shade. Minty green velvet sofas have a lovely, subdued green hue that doesn't overwhelm the space. Thanks to the subtle nature of the hue, there is a copious amount of accent color options.
For example, the combo of minty green and icy blue is the interior designer's prescription for creating a serene indoor environment. Pairing up minty green with green strikes a tonal consistency.
 Yellow? A bit adventurous, but it sure makes a statement. Minty green also works surprisingly well with bold colors like red and black.
A Concrete Wall Provides A Perfect Backdrop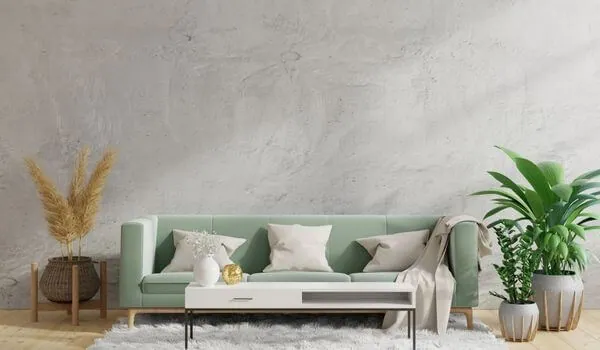 In general, concrete gray can go with almost anything, making it a good background. Concrete has a unique texture that lends itself to creating depth in a room. Your furniture and textile choices can be much more fascinating when concrete walls surround them. Place a chic green velvet sofa in front of a sleek concrete wall to achieve a tasteful contrast.
To perfect the setting, lay an ivory rug on the floor. Alongside the background wall, it will balance the cool colors of emerald or forest green furniture. The ivory rug and the concrete-effect wall will make the green sofa the star of the show in a neutral style arrangement.
Keep It Simple With A White Rug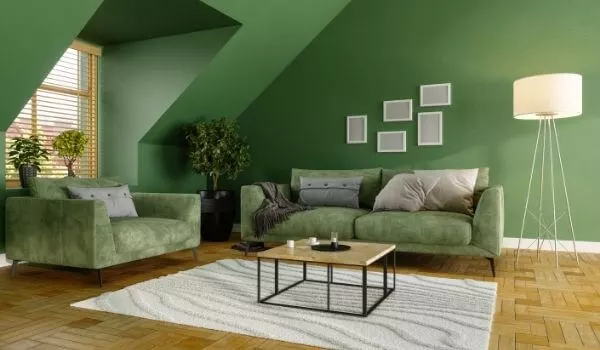 A white rug and green couch are great pairings for those who prefer simple and neutral decor. A plain white shag rug will highlight your green velvet sofa or couch instead of overshadowing it.
Like the concrete effect wall we talked about earlier, a white carpet is a safe bet since it's a universal fit for any interior décor setting.
Spark Life Into Your Living Room With Beige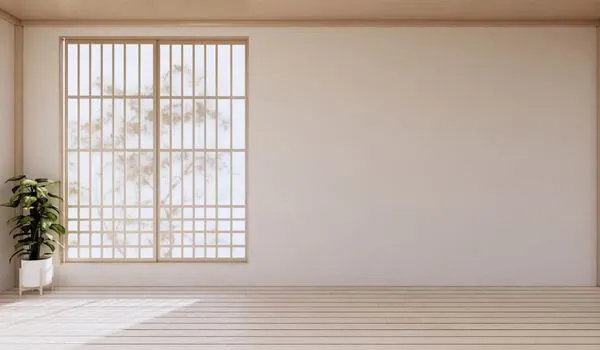 Furniture in warm green tones looks magnificent with beige walls. Adding a beige rug and a green sofa to your living room will instantly create a relaxing and peaceful atmosphere. A shag beige rug will look great in a contemporary space.
However, if you prefer a simple and clean look, a standard synthetic rug is good. Jute rugs go well with beige and green.
Inspire A Natural Look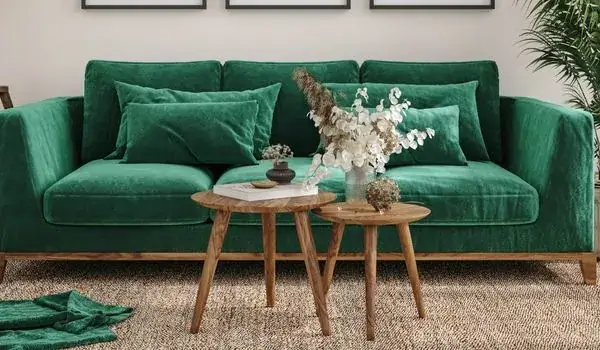 Brown can help you create a more natural atmosphere in your home. You can achieve a warm, earthy, and uncomplicated look with a brown shag rug or a brown border rug. Match the hues of your pillows to the couch's green fabric for a unified appearance. Overall, this will give a rustic look to your living space.
Alternatively, you can get a natural woven jute rug beside a green velvet sofa to create a natural-inspired living room. The carpet adds a rustic, earthy tone to the place. Jute rugs will click with any form of green.
Adding plants to the area around your sofa will make it look even more natural. Choose large leaves with brilliant greens that complement your sofa's color palette for a more tranquil and pleasant atmosphere in your living room.
Highlight The Sofa In An Open Room Setting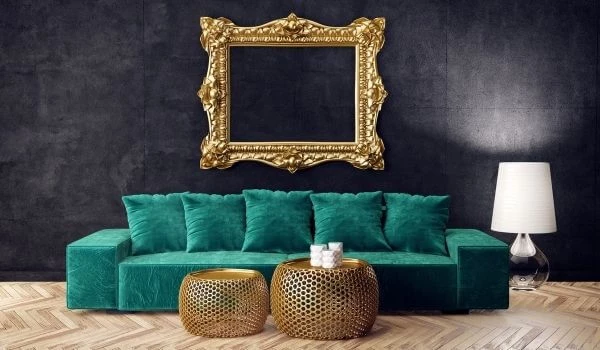 It is possible to make a room appear much larger and brighter by using an open room concept. This type of room concept makes the green couch the center of attention in the room. If you hang a piece of art over the sofa, it can significantly impact the look and feel of the space.
Get A Boho Look With Pink Accents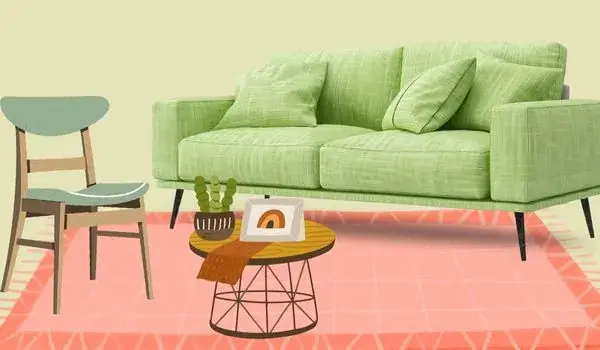 Adding dark, dusty pink carpeting to a room with a mint green sofa or couch can give it a bohemian vibe. You can choose a plain or patterned rug with matching colors depending on how you want to decorate the living room area.
For lime green sofas, a brighter tint of pink will do the trick. It will impose an upbeat and vibrant feel.
Accentuate With Bright Colors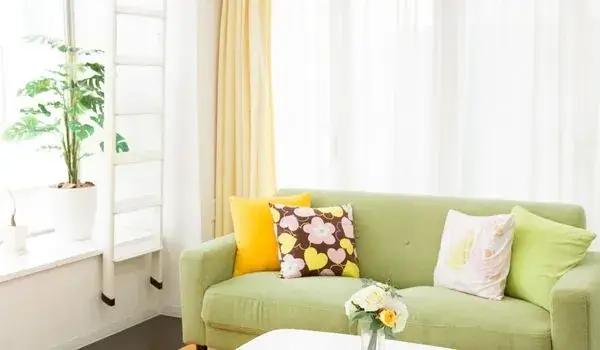 Many green velvet sofa styling ideas shy away from bold color accents, but the truth is, green sofas can appear quite gorgeous next to a splash of vibrant colors. With a green velvet sofa as the foundation of your living room, use colors like tangerine, canary yellow, and cerise pink to create the furniture color scheme.
Don't go overboard with the color combination and prevent it from becoming overpowering by keeping the walls neutral and light in tone. Beige and white can be ideal candidates in this scenario. In this arrangement, the target is to keep the walls and the furniture separate instead of merging in a cohesive style so that they can revel in their own elegance.
Floor Lamps Can Be Great Accent Pieces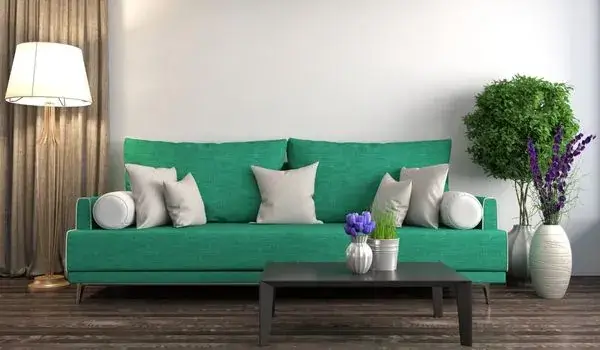 An eye-catching floor lamp will go great with your green sofa. This adds some much-needed verticality to the space and floods it with a softer, cozier light. While buying a floor lamp for putting beside your sofa, ensure the shade is positioned at or below eye level to avoid glare.
Spruce Up With Artwork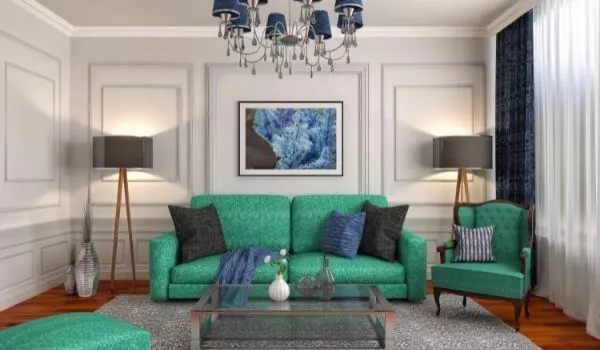 A sophisticated piece of artwork can heighten the glamor of your green velvet sofa significantly. Of course, you need to consider the color scheme of your living room, including your sofa, to select the perfect artwork to grace your walls. Stick to a single piece instead of opting for a home gallery. Otherwise, it will draw the focus away from the sofa.
Dazzle In Dark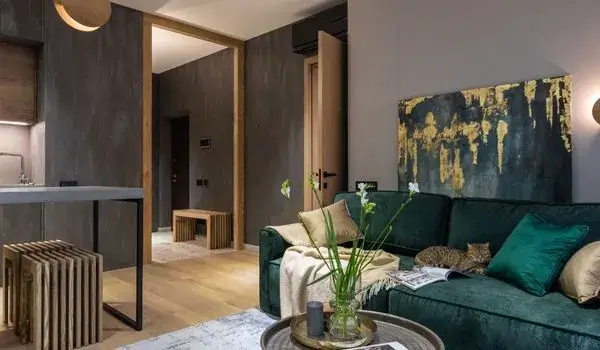 If you have a bright green couch, you may want to add some darker accent furniture and decor to help reduce the visual noise and create contrast in the room. You can achieve this with dark wooden panels or black carpets. They all work great! The room's design works better when the dark colors are mixed with the light ones.
Gray & Green Is Evergreen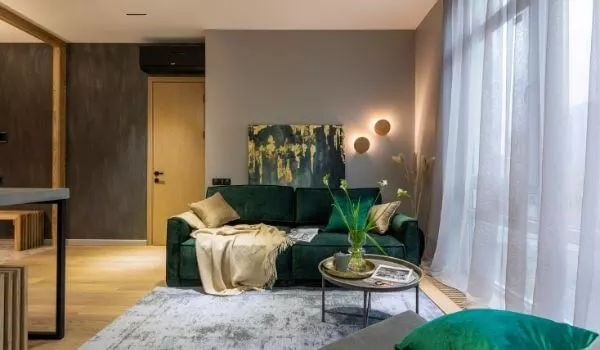 Putting a gray rug in front of a green sofa transforms the space immediately. Gray is a fantastic accent color for green. So, a gray rug can be a wonderful way to accentuate your green velvet sofa. It pops against a dark gray carpet and creates a more formal and refined atmosphere.
Patterns look fantastic on a gray rug. Geometric, floral, or Middle Eastern motifs and modern abstract patterns can all be used based on your personal preference and the room's layout. Pick gray carpet shades that harmonize with your sofa color. Mixing up cool and warm tones is an effective decorating strategy.
Decorate With Throw Blankets & Throw Pillows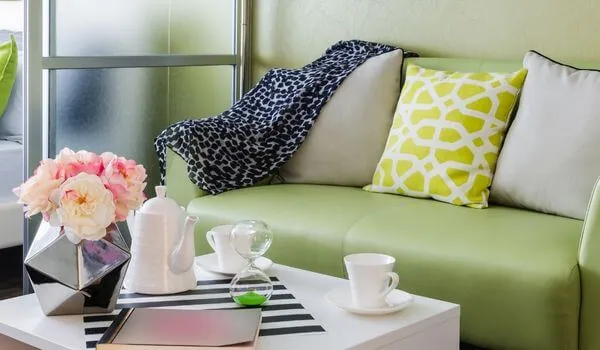 Using throw blankets is one of the most effective green velvet sofa styling ideas you can take advantage of. Because of the softer texture, it won't have a stark contrast. Throw blankets are both practical and beautiful. Throw blankets are great because they can be swapped out as often as you like, giving you an abundance of design alternatives.
Throw pillows also offer an effortless way to fancy up your green velvet sofa. You can use as many pillows as you want to make the couch more comfortable. However, too many pillows might make the space look a bit cluttered. You don't necessarily have to stick with matching greens for pillow colors.
If you want to go for different colors, which most experts recommend, you can draw inspiration from other living room elements. The wall, rug, and curtains can influence the color scheme of the pillows you should buy for your sofa. To maintain a cohesive look, you can mix and match different patterns and colors in your pillows.
Matching Or Non-Matching Accent Chairs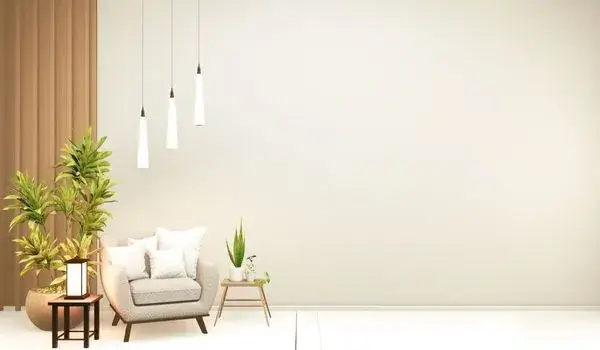 Sofas are not usually the only seating arrangement in a living room. You should have at least two accent chairs to go along with it.
You don't need a matching set of couches and chairs. It's nice if you do, it could also be great if you don't! Mixing and matching your furniture can help you achieve a unique look that perfectly reflects your personality. If you want contrasting colors, check whether or not it integrates with the setting.
Last But Not The Least, The Curtains!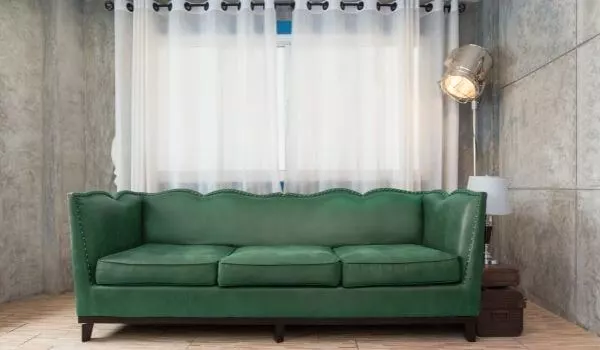 Curtains play a vital role in setting the tone of the living room. Ideally, the color of your curtains should match the rest of your décor, including your living room sofa. You can either match or contrast the decor with your choice of drapes. The curtains will accentuate the green velvet sofa perfectly if you get the combination right.
Frequently Asked Question
What Colour Rug Goes With Green Velvet Sofa?
The green color brightens the room and gives a natural vibe. If you like neutral shades, beige, white, and, tan colors look best with a green velvet sofa. The warmth and coziness of velvet are enhanced by these neutral tones and the room looks sophisticated.
Vibrant colors like tangerine and yellow tones also look good with the green couch. But the options are never-ending. You can use different shades of green also.
But, the tan color jute rugs are timeless and classy. If you are confused about choosing the right color rug, you can go with a tan jute rug by closing your eyes.
Is a green couch a good idea?
A green couch is always a good idea. This color is related very close in nature. It makes you feel surrounded by nature. Green also gives a peaceful atmosphere to the home. For several years, emerald green sofas are so trendy. You can pair your green couch with other color accents and create a versatile look according to your taste.
Final Say
Make your friends green with envy applying our green velvet sofa styling ideas and transforming your living space into something truly special. Green and velvet are just the blends you need to bring luxury with a pop of color to your interiors.
Whether you need your living space to feel casual or upscale, a green velvet sofa will get the job done.