Best Corner Desk Ideas For Small Spaces: A Complete Guide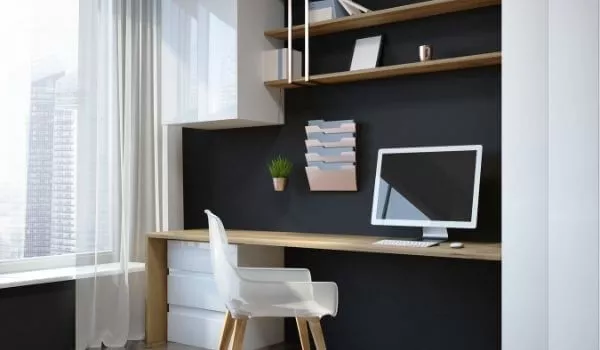 You can make room for a workstation in your small apartment by intelligently planning the layout. Corner desks can be a great idea to set up a designated workplace without taking up much of the floor real estate.
Here are some corner desk ideas for small spaces that you can deploy to effectively carve out a working zone in your house.
But, before getting to corner desk ideas, we would like to address some frequent questions. Can a corner desk free up space? How does it compare with a straight desk? Is it better?
Let's find out!
Does A Corner Desk Save Space?
A corner desk can save space because of its compact shape and ample storage utility.
Floor economy is one of the key reasons to choose a corner desk. If you are starting a new office with restrained space or want to use an unused nook at home, a corner desk is a sensible option.
Since you can't fit a traditional desk in the corner, a corner desk helps you to free up the middle of the room, where you can put other furniture pieces.
Is A Corner Desk Better Than A Straight Desk?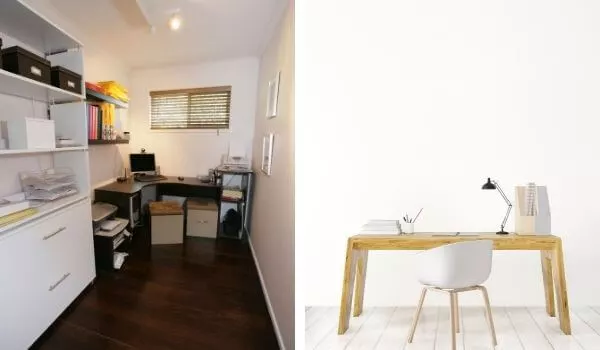 There's no straightforward answer to this question. In some scenarios, a corner desk is the best pick. But a corner desk is not a smart choice for all situations. You will have to weigh up the pros and cons of both and decide which caters to your needs the most.
Corner Desk Pros
Corner desks occupy minimal space. If space-saving is your priority, going for a corner desk makes more sense.
Corner desks are more ergonomic. Since everything is at your arm's length, you can easily reach for things you need, like your phone or notebook, without having to get up. Combine the desk with a befittingly efficient chair and you are good to go.
L-shaped corner desks have two work surfaces, making them more suitable for organizing your stuff. You can keep your computer on one side and other paraphernalia on the other side. Since everything is so well organized, you can expect more productivity from such a setup.
Corner Desk Cons
Corner desks can get cluttered quickly. Since they are compact, you would often end up with a tangled web of cables. Also, the overall work surface is smaller than straight desks.
Corner desks will compromise your privacy since the computer screen will be visible from other parts of the room.
Straight Desk Pros
Straight desks offer more surface area. If you need to keep a lot of stuff nearby and don't have space constraints, buying a straight desk would be a wiser choice.
Straight desks don't look out of place in any indoor scenarios. It will blend in no matter where you put a straight desk inside the room. The same can't be said about a corner desk. For instance, a corner desk would look out of keeping with the room's environment if you place it right in the middle.
Straight Desk Cons
Takes up a lot of space. Not the one to go for if you are running low on floor space.
Now that you know the advantages and disadvantages of straight and corner desks, you can choose the one that suits you the best.
9 Best Corner Desk Ideas For Small Spaces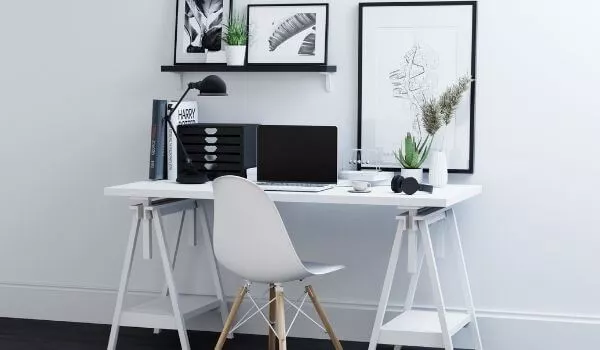 1. Standing Desks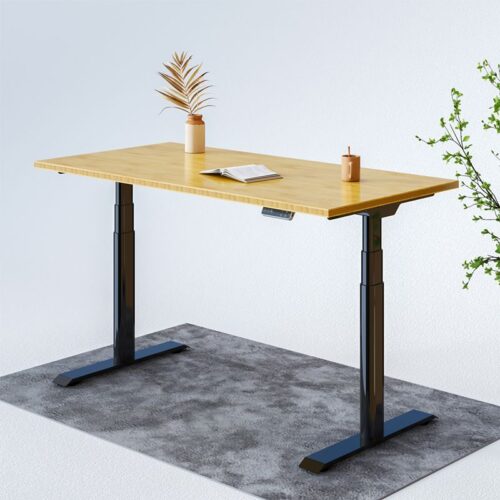 Standing desks are getting more and more popular. Society of Human Resource Management reports that shifting to standing chairs is one of the most prominent trends in the US office culture. Sitting for prolonged periods has been linked to multiple health disorders. So many people consider standing desk workstations as a healthy lifestyle change.
Opting for a standing desk can be one of the best corner desk ideas for small spaces. It will help you make the most out of your limited floor space and offer some health benefits. You can find many well-made desks that will last you for years. Despite their compact sizes, standing desks can facilitate a clutter-free workspace.
2. Low Rise Desks
We understand that low-rise desks are not universal favorites. But, if you happen to like eating sushi on a Chabudai in a fancy Japanese restaurant, you might give it a go for your home workstation. A low-rise desk would be a perfect fit for small spaces. You can sit on the floor and work in a laidback manner.
3. Transform An Alcove Into A Work Desk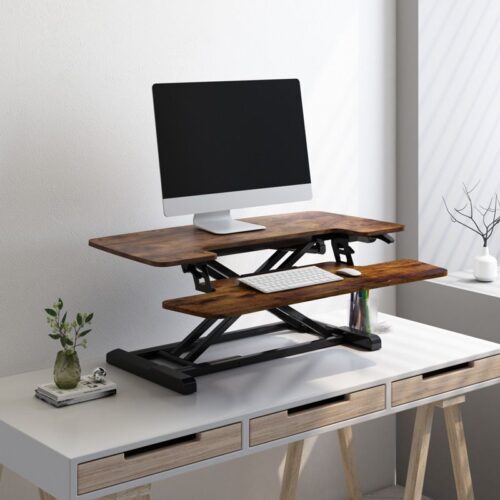 When living in a small space, it can be difficult to make every square inch count. If you are struggling to find the right spot to set up a desk, why not think about the alcove? It's possible to fit a corner desk into this space if the wall's width allows for it.
If you find enough space, installing a desk in an alcove would be a piece of cake. It's a fantastic way to grind out some space in a small-scale living area. That said, such a space might not suit all home offices. Assess whether or not the alcove is sufficiently spacious to accommodate a desk fit for your work.
4. L-Shaped Desks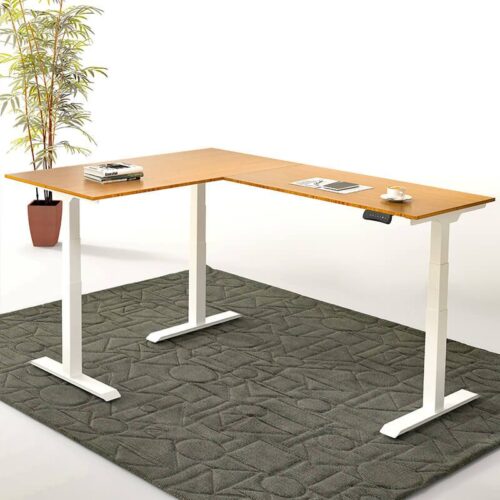 Is your room not big enough to have a regular desk, and straight corner desks interfere with your functionality? L-shaped desks are here to save the day! These desks offer a superior approach to making use of the available space. With two sides and an L-shaped corner, these desks have two different work surfaces, allowing multiple screen placements and more storage.
L-shape desks are a pretty good hack to navigate around space confines. Also, these corner desks look pretty fashionable. The downside is that L-shaped desks are costlier than straight corner desks. L-shaped desks can be the best pick for your corner space if you don't mind the price.
5. Acrylic Desks
When space is at a premium, using acrylic or a Lucite desk is a practical and elegant solution. Lucite desks add a dash of glamor to the room because of the material's lavishly transparent nature. Besides the functionalities you would expect in a regular corner desk, acrylic desks can significantly boost the interior décor.
6. Wall Folding Tables
Looking for corner desk ideas for small spaces that require zero floor space when you are not using the space? Mount a folding table on the wall that only comes out when you need it to come out.
There is hardly a better, more adaptable solution to a limited amount of floor space than a wall-mounted table. Drag a folding table to the spot when you intend on working at the table. It's an easy-to-do DIY project that anyone can undertake in their free time. However, such a table might not have enough room for all of your work essentials.
7. Floating Desks
Floating desks are another wall-based solution we would like to pitch you for setting up your low-space corner workstation. With a floating desk, you can work on top of the drawer while keeping all of your supplies organized inside.
It can be a little overwhelming when you have an entire desk and chair at times. So it doesn't even need to look like a workspace when you sit down to work at a floating desk and then remove the chair when you're done.
Floating desks fly under the radar in work desk considerations, but they can be exceptionally ergonomic, specifically in tight-spaced areas. What makes floating desks even more desirable is that you don't have to put in much effort while mounting them. They are quite easy to install.
Floating desks come with the same limitations wall folding tables do. They are not suitable for an extensive work setup. For instance, it would be challenging to have a desktop on floating desks. Only consider this if you are a minimalist.
8. Ladder Desks
Ladder desks borrow from the idea of ladder bookshelves and presents a stylish workspace solution that can be tucked away into a corner of the room. These desks feature a set of vertical shelves that gives you sufficient storage space besides ample work area.
Ladder desks are multipurpose pieces of furniture because of the upper shelves, which can be used for keeping books, accessories, and showpieces. The main desk area often has under-shelf compartments for keeping desk essentials besides a free desktop space.
9. Custom Desks
Instead of buying a readymade desk that might or might not blend into your room's theme, why not go for a customized desk? It will allow you to dictate how much floor space you are willing to concede for a corner table. Assess the spot where you want to set up the desk and determine the correct dimensions to make the table fit right in.
The space factor is not the only reason to go for a customized design, you will also get to pick what material to use and the appearance of the desk. Want a rustic vibe? Settle on a wooden desk. Want a more modern-looking setup? You can get that done too. Shelves, drawers, built-in lighting-you can personalize every single detail.
How To Buy The Best Corner Desk?
To buy the best corner desk you will have to focus on the size and ergonomics, alongside other considerations.
There are many advantages to having a corner desk, including saving space and maximizing the utility of the available floor space. What factors should you look at while buying or DIY-ing a corner desk for your home or office? Here are the primary details you need to chew over.
How Much Space Do You Have?
Many corner desk ideas for small spaces involve the use of corner desks. Usually, buyers look to find a desk that will fit into a room corner. However, ''small'' is not an absolute term. What's small to you might be oversized for somebody else. So, have a clear understanding of the space available to you and buy the corner desk accordingly.
L-Shaped or Straight?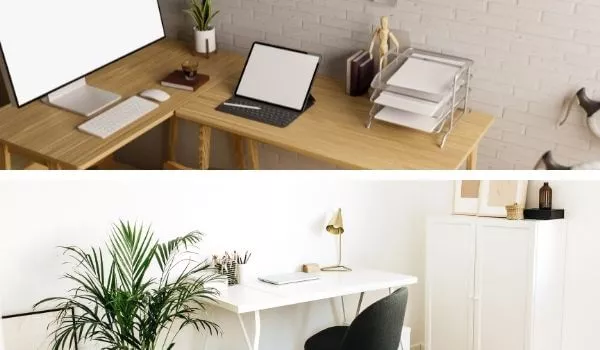 What shape would be ideal for you? A classic straight work surface or an angled work surface like an L-shaped desk?
Earlier, we had differentiated the key aspects of L-shaped and straight desks. For corner desks, L-shaped tables appear more pragmatic since they offer spread across the wall and consume a minimal amount of floor space. Straight corner desks often have a smaller work area, but for many users, it's sufficient.
So, the choice comes down to user preference and price. L-shaped tables are often more expensive. Also, many users feel comfortable using the old-fashioned straight desk layout. Therefore, you will have to make up your mind by closely scrutinizing the boons and banes of both types.
Are You A Gamer?
If you are looking for a corner desk to set up a gaming nook, you need to shop for desks with a larger work surface. Corner desks are all about space-saving, but the table needs to be a bit larger since it will have to accommodate two/three monitors, the CPU, mouse, and other peripherals when it comes to gaming.
You might also like a desk with built-in RGB lights to create the perfect gaming ambiance in the dark. Yes, you can always custom-fit LEDs, but if you don't want to go through the trouble and want to buy that comes with RGB lights, you would be happy to know there are plenty of options in the offering.
Does It Complement Your Layout?
Keep the door and window locations in mind while buying a corner desk for your home or office. It's even more important if the room is not so big. Take note of the placement of other furniture pieces in the room and measure the total available space. If the corner desk appears oversized, it will mess up the room's overall layout.
Additionally, take into account any natural light coming from windows in the room. Will the desk fit underneath the window? Or, do you want a desk facing the window? The size and shape of the corner desk are crucial for these considerations. Ensure that the door is far away from the desk so that it doesn't hit the desk when opened.
Are You Terrible At Cable Management?
Tangled-up cables can be a nightmare situation for anybody. In an office, tripping over cables lying on the floor might lead to severe accidents. To avoid such an unfortunate incident, buy a desk with space underneath to put away the cables.
How Much Storage Do You Need?
You can't overlook the storage features of a corner desk you want to buy. Storage options on modern corner desks range from the built-in to the pull-out, making it easy to maintain your workspace neat and orderly while you're working.
Desk drawers and cabinets are now standard on the majority of corner desks, making it easy to organize your important files and documents. You'll have less room to work if you keep your desk cluttered.
Keeping these items in the drawers keeps your work area tidy and speeds up the process of getting things done. As a result, multi-drawer/cabinet workstations should constantly be on your radar.
What Type OF Work Will You Do?
While browsing corner desk ideas for small spaces, you must keep in mind what type of work you intend on doing in your corner workstation. Corner desks vary in a handful of parameters, utility being one of those factors.
Writing desks tend to be more open in their design, with a wide work surface taking precedence over a wealth of drawers and shelves. It's the best option if you need a workstation to switch between writing and using a laptop, but they aren't designed to handle large PCs.
Computer desks are ideal for a modern office environment because of their layout, including convenient features such as keyboard trays and storage for large computers. Those who have to stare at the computer screen for prolonged periods will prefer this model because of its emphasis on usability and convenience.
An executive desk is somewhat of a fusion between a writing and a computer desk as it embraces the best features of both of those desks. It may not be the best choice for rooms that already feel crowded since they tend to be a bit large.
A credenza desk is a perfect solution for those requiring a computer and a pile of documents and stationeries on their work table.  It combines present-day functionality and a classic design with plenty of cupboards or drawers.
Is The Price Reasonable?
How much should you spend on a corner desk? High-utility desks like a gaming-dedicated desk will not come cheap. The price of a desk rises in direct proportion to its features and build quality. However, there is no need to splash out money on a high-end desk if you only intend to operate a laptop on it.
There are many reasonably priced desks in the market that many customers will find up to snuff. But, if you need a lot of storage and other functionalities, you should invest in a premium corner desk that will last you a long time.
Final Say
You can take advantage of all these best corner desk ideas for small spaces to optimize the use of scarce space in your apartment or office. Corner desks are incredibly productive and an excellent addition to the interior glamor of a room.
So, don't forget to get one if you are planning to refurnish anytime soon.