50 Small Apartment Bedroom Ideas: Organize and décor guide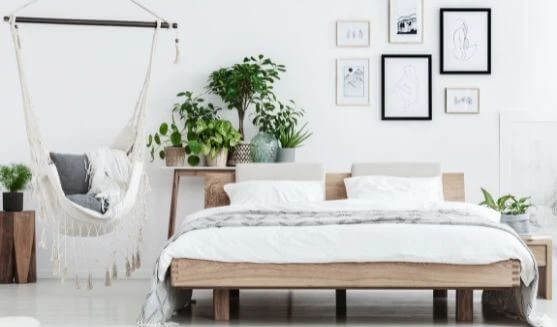 Have a small apartment, small apartment bedroom, or live in a studio apartment and feel like your everyday living is quite constricted and uncomfortable? Well, you came to the right place!
Your imagination and creativity are the only limits to what you can do to your room and we are here to help stimulate a few creative ideas out of your mind. These small apartment bedroom ideas are not only going to make your life more convenient but also comfortable and efficient.
Not only that, we will help you keep things stylish and something presentable so you'll be loud and proud of your place especially if you expect company. Read on!
We have an article about men's small bedroom ideas. If you are interested you may check it out.
1. Give attention to layout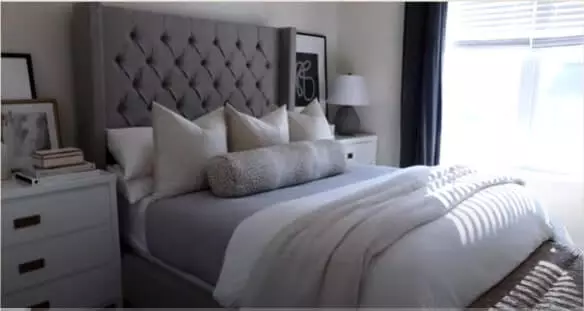 Our first piece of advice has got to also be one of the most practical ones we have on this list. If you have a small apartment bedroom then keep things simple.
How? Well, think of the things that you can't live without first. Prioritize the needs from the wants. Study table, bed, clothes cabinet, and what else? Deciding to have all the things that keep your life functioning also leads to comfort. And you always want a comfortable day-to-day living situation.
2. Stay Organized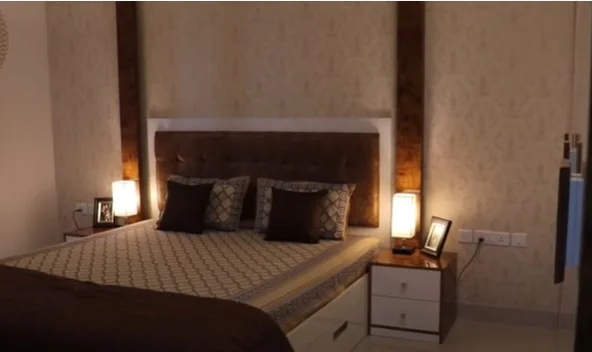 Again, keeping it simple at this stage of our article. Sometimes, it's the disorganized room full of stuff that's just cluttering around that makes your day-to-day living uncomfortable.
Your room may not be as small as you think it is if you try and clean it. We get it and we're not judging at all. We just need to change our mindset and be a little bit diligent here.
Start by having a cleaning schedule and organizing your stuff and you'll be surprised as to how much room will get freed up.
3. Be creative in lighting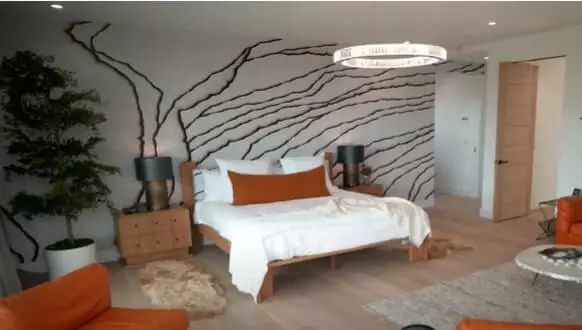 Sometimes, bedside desks or standing lamps occupy a lot of space. So, we're not entirely saying here that you live in darkness but try to be creative in how to get lighting into your room.
There are a ton of choices and they are quite stylish too.
4. Try to get natural light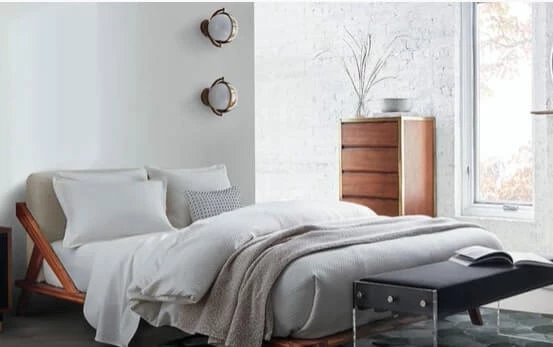 Make use of your bedroom window and get natural lighting in your room. While not really going to free up a lot of space, it will spice things up in your bedroom. Let the sunshine in, it can even create a good mood for you.
Also, the moonlight is lovely and inspiring.
5. Make it livelier by adding color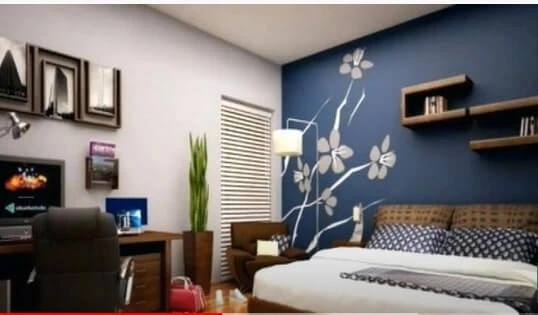 Live in a boring small bedroom apartment? Well, make it livelier! And what better way to do that than to employ bright and futuristic colors but also you can go the modern route.
Neon colors always give a boost of energy but simple shades of grey, blue, and white can also infuse vigor into your life.
6. Think different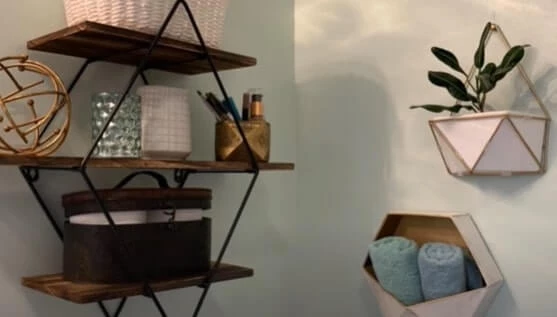 We really think that a nightstand is just occupying space that you can relegate to something else more useful. Ditch it and find a way to not use a lamp at your bedside. Be creative with your lighting and also, find a different way to hang or place your phone, eyeglasses, and etc. on.
7. Choose furniture carefully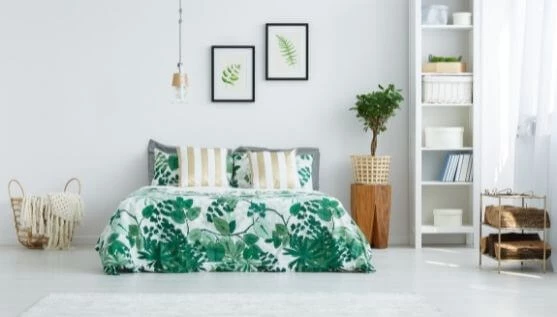 We're definitely not talking about magic here but what you have to do is to really think about the furniture that you need or want to get and don't waste space on something useless.
Think long and hard, do I really need such furniture or will this fit in my room? Maybe go for furniture that is designed for smaller bedroom apartments with the right shapes and efficiently fit into your room.
We talked in detail about Small Bedroom Furniture Ideas in our blog. You can check this out to know more about it.
8. Throw away unnecessary things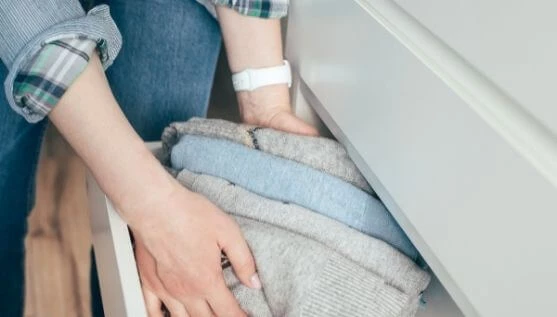 Once again, we urge you to declutter your stuff. Throw away trash or give away the things that you no longer need. It can be both easy and hard to do especially if you are now dealing with stuff that has sentimental value but no longer use.
But if these things are just lying around and occupying too much space in an already cramped bedroom apartment then it's time to let them go.
9. Hang indoor plants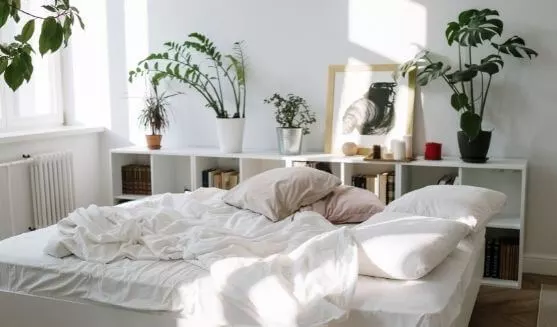 Spice up your bedroom room by bringing nature into it. Hang some indoor plants, they won't only make your tiny bedroom apartment livelier but at the same time improve air quality inside your room.
You'll also have something to care for which of course, disrupts the monotony of your day-to-day routine.
10. Go for platform bed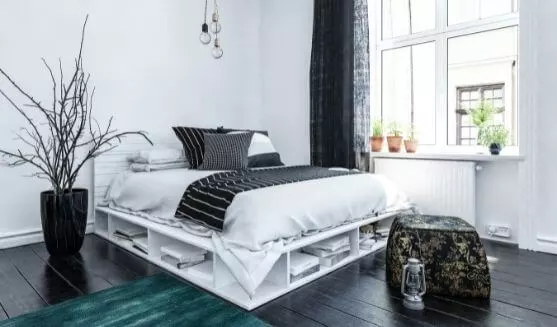 There are a ton of bed designs to choose from nowadays and you can definitely make good use of them especially if you have a small bedroom apartment.
Do away with large beds with non-functional bases or support. Instead, go for a platform bed or a bed that doubles as a cabinet for additional storage. Underneath your bed is one of the largest areas where you can store stuff in your tiny bedroom so make good use of it.
11. Hang your lights and lamps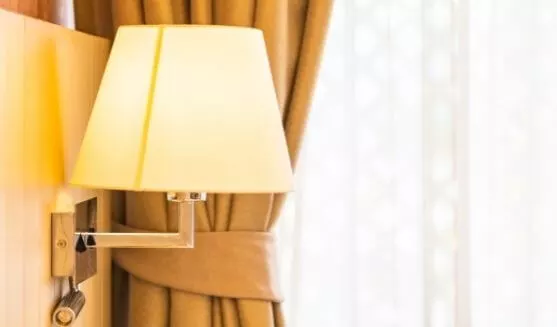 We already got rid of the bedside table so find a way to just go ahead and hang your lights and lamps by the wall. Like beds, there are a ton of lights that would give your room the perfect ambiance but won't occupy much space at all.
Go rustic, industrial, or maybe even mid-century.
12. Try to choose decor that has own function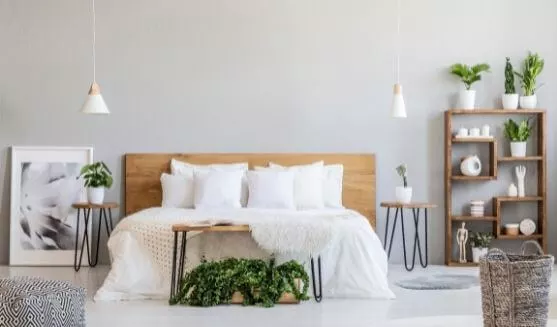 Not just your bed but you may also go for décor that is not just there in your room for aesthetic purposes but also to serve its very own function.
Wallpapers that may serve as lighting, an organizer for your study desk, and magnetic key holders are just a few brilliant ideas that you can employ.
13. Have stuff that take care of your mood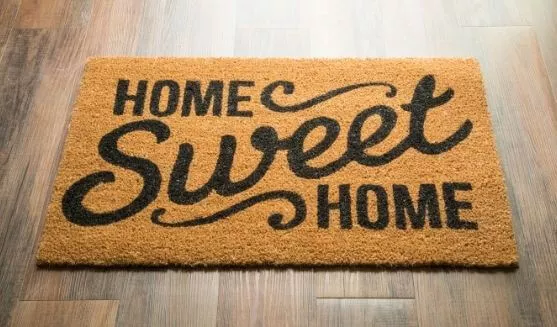 We're not really talking about things that will motivate you to be the best employee or something but things that can help you get in a good mood and do your best.
Maybe a witty yet inspiring doormat should get you started and some other things that will inspire occasional visitors too and brighten up their day.
14. Store stuff inside your bedroom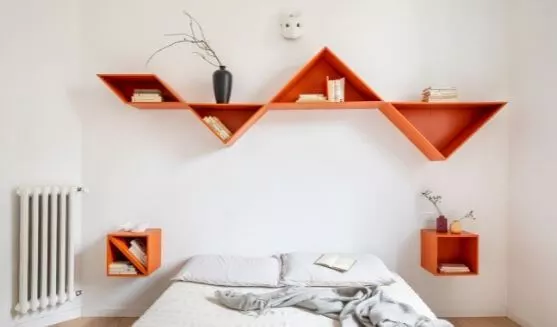 Hurray for floating shelves! Like creative lighting, you most certainly can and should get creative with how you store stuff inside your bedroom apartment too.
While you have your clothes tucked away safely and neatly underneath your bed, you can have your personal necessities or belonging hanging safely and accessibly on floating shelves. They look stylish too!
15. Put plants on your window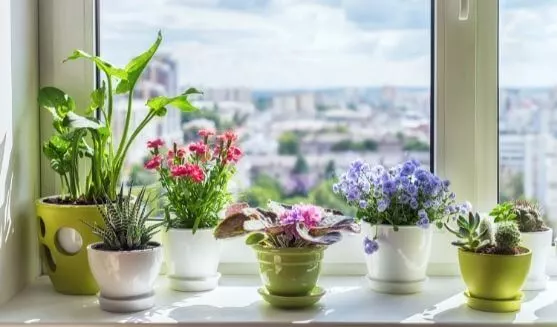 We did say to bring the outdoors in earlier and now we are reinforcing that idea. There are lots of indoor mini-plants that you can just put by your window and not only are they cute but very low-maintenance.
16. Wall pegs galore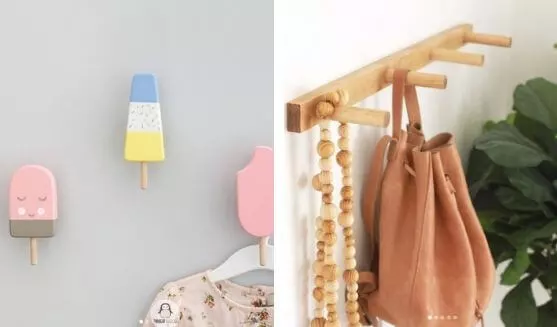 Wall pegs are also quite stylish, easy to install, and very convenient. Nowadays, things get smaller and can be hanged on them. Keys, headphones, bags, etc. can be conveniently and efficiently placed on them so they won't occupy space at all.
17. Go minimalist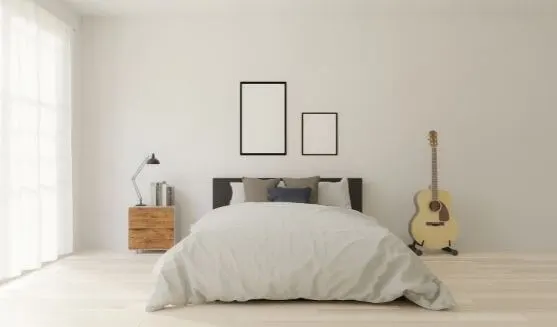 Lots of the suggestions we've had so far touched upon some minimalist practices. But please do remember that minimalism is not mechanical but a lifestyle. Most of the best small apartment bedroom ideas stem from this lifestyle.
Live it and be it. Go with furniture and things that only bring joy into your life and stop buying things that you don't really need. There have been studies suggesting that too much materialistic stuff leads to depression, so be sure to not go that route and stay healthy physically and mentally.
18. Window privacy film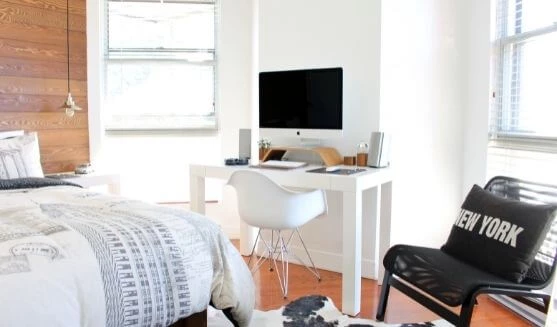 If you think that you don't have enough privacy like your windows are too transparent then you can buy a peel and stick window film if you want. They are easy to install and even block 96% of UV rays that can be harmful to your health.
Also, it can let a little bit of natural light in so you're not completely blocked off from the outside world.
19. Prism frames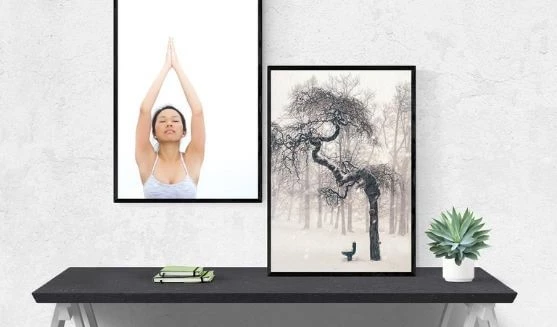 If you're the sentimental type and want to have pictures of yourself, family, friends, or even vacation trips to inspire your all the time then you may hang around some prism frames that are super stylish.
20. Multi-tiered trays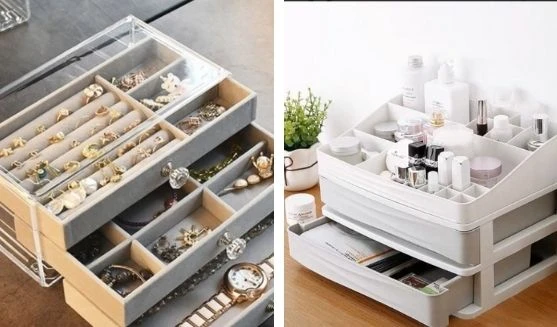 If you're going to make use of trays then make sure that it's got at least two tiers for your personal stuff. They are perfect for placing your pieces of jewelry, accessories, phone, and glasses on.
Make them accessible to you maybe at the side of your bed or by your study table.
21. Multi-functional bedside table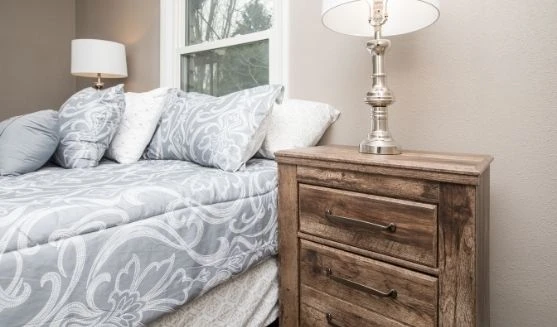 If you're indeed going to have a bedside table in your room then make sure that it's multi-functional. Just don't use it to put your lamp on but try to at least have some storage room within it. Better yet, a small cabinet that doubles as your bedside table or nightstand is also ideal for smaller bedroom apartments.
22. Make use of bowls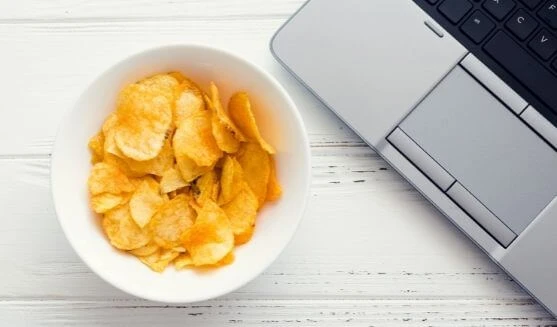 Bowls are very versatile, stylish, and comes in all shapes and sizes. You may use it to put your belongings in that you use daily or maybe use it to put food in. Some healthy snacks such as fruits if you work from home for a quick grab as you go productive for the day.
23. Have stylish coasters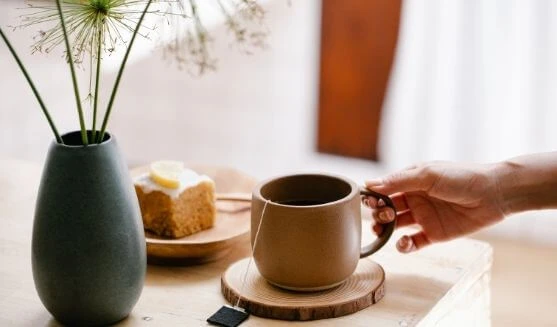 Don't you just hate it when what little furniture you have suffers from water spots and stains? That's why it's important to always have stylish coasters handy or always by your table. If you live in an apartment bedroom, you almost always eat either in your bed, by your bed, or at your study table. Make sure you keep things clean and mess-free by having coasters or placemats at all times.
24. Always have cleaning materials
Straightforward and practical. Always have cleaning materials at your disposal so you can immediately clean the clutter and all forms of dirt.
25. Multifunctional table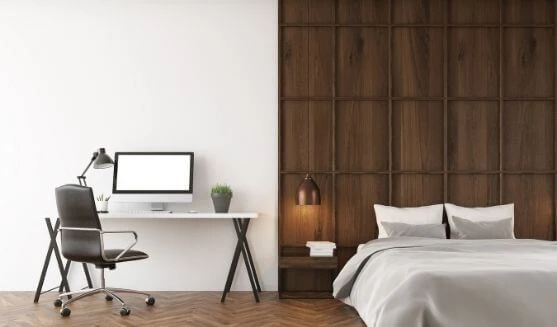 Having a multifunctional table always pays off. Make sure to choose the appropriate table for your bedroom apartment. Make it ergonomic so you may use it for dining, studying, and working.
26. Ergonomic chair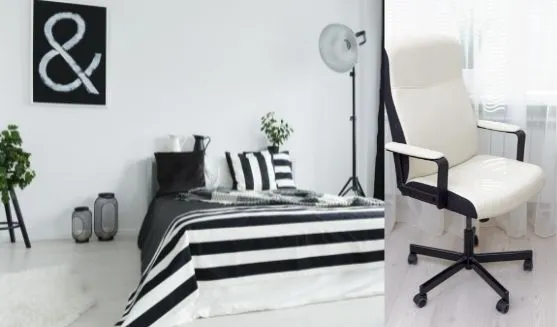 Whether you live alone, have occasional people over or not, you're going to need some really good chairs if you have a small apartment bedroom. These are chairs that are designed to be ergonomic and flexible.
Gaming chairs are actually the best ones to have as they are meant for long hours of sitting plus they are very durable and comfortable not to mention ergonomic.
27. Nesting tables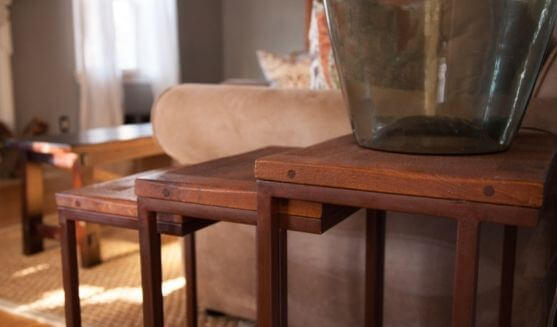 How about nesting tables, huh? They can be tucked away neatly but at the same time, if you're going to need them, they will provide a lot of space to put things on top of especially if you have visitors around and it's time for chow.
28. Fold-down tables and beds
Fold-down tables and beds are extremely helpful if you really have a tiny bedroom apartment as they will give you a lot of space the moment you don't have any use for them in the meantime.
They can be installed and stored neatly on your wall and you may use the space they occupy when in use for something else.
29. Hang appliances in your wall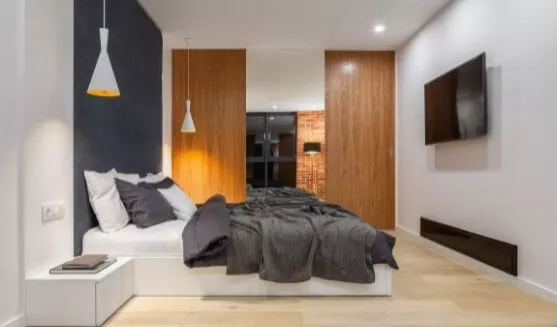 TVs nowadays are pretty convenient as they are not only flat and can be hung on the wall but are also large enough so you can see what's on at all angles at all times.
So, if you live in a tiny apartment bedroom, be sure to get appliances designed to be space savers.
30. Setup a surround sound system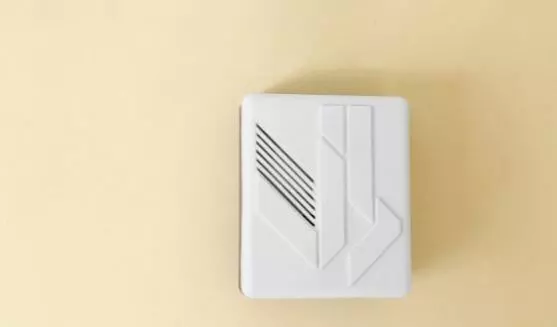 Speakers occupy space too and if you are the kind of person who enjoys their music in full blast but doesn't want to wear headphones at all times then setting up a surround sound for your audio system is the way to go.
You can set up your wirings neatly on your walls and put up your speakers on ceiling corners for maximum effect. Now, you can watch TV, play video games, or listen to music as you work like a boss.
31. Install lamps at strategic places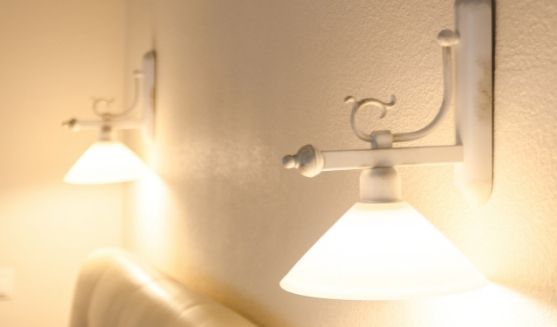 Instead of putting your lamp on a desk that will in turn occupy space, try to install your lamp above your study table or by your headboard. This way, you'll get ample lighting if you're about to doze off but want to read or check your phone beforehand.
32. Storage ottoman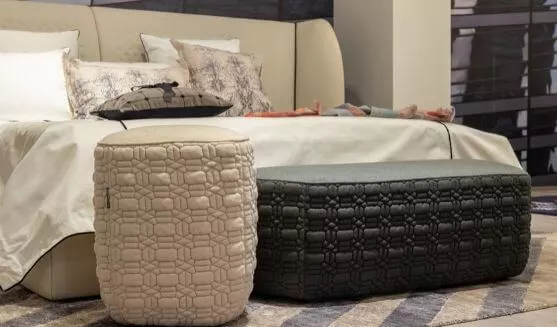 You can either get a seat/couch that doubles as a storage ottoman or get an ottoman bed for more storage capacity. These are not only stylish but also comfortable and will save you a lot of room.
33. Blanket ladders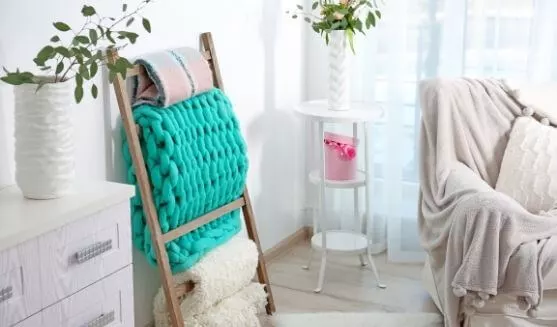 Blankets ladders are cool, aesthetically beautiful, and space savers. They won't occupy much space at all and at the same time, you can hang a lot of things on them and not just blankets. They are also quite eco-friendly as they're made from sustainable wood material and not something like plastic.
34. Buy beautiful baskets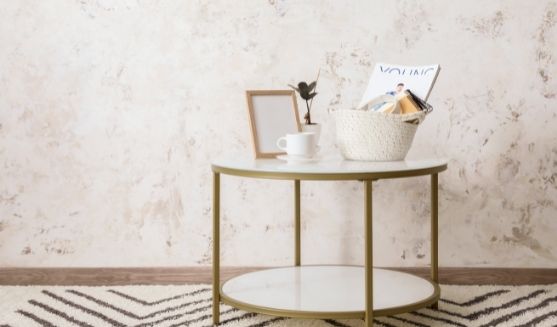 Baskets are cool, lightweight, compact, and efficient. Depending on the size of the basket you'd need it can carry a lot of your things from clothes to toys, to books, and anything else you need in one place.
And, like your blanket ladders, you can also buy beautiful baskets with lively colors and designs made out of sustainable materials.
35. Style with Bookends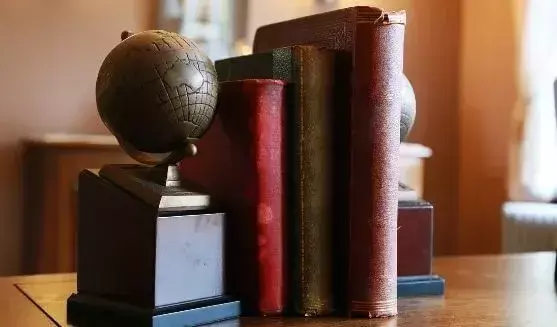 If you are a book lover or just read a lot then you may spice up your desks or shelves a little bit with stylish bookends. There are a lot of aesthetically pleasing bookends available today especially online.
36. Multifunctional lanterns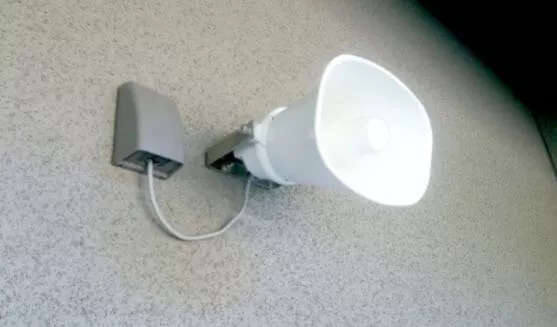 There are a whole lot of stuff nowadays that can double as something else. That's why if you have a tiny bedroom apartment then you should opt for these devices.
Take a speaker lantern, for example, it's got the right design to still provide good sound quality but also illuminate your place with style.
37. Magnetic shelves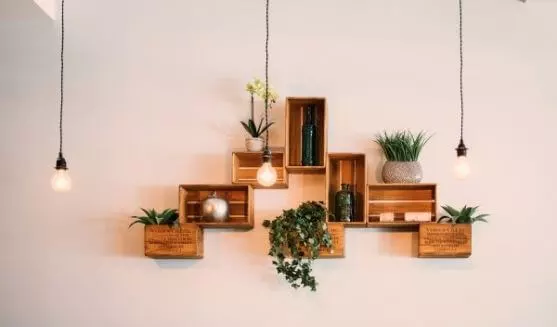 A kind of hanging shelf but is a lot easier to install and also quite easy to move. They can be hung on to your fridge if you have them inside your bedroom apartment and you can put all of your essentials in it.
38. Buckets
Storage buckets are also quite stylish and sturdy. They also come in a lot of sizes so depending on how much storage space you need you can always buy one and it will protect your belongings effectively.
39. Storage racks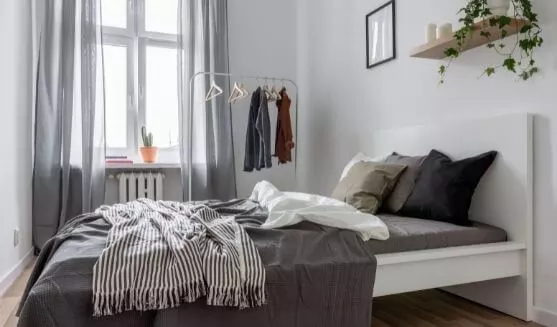 The thing with storage racks is that you may use them to store stuff efficiently and it's a space saver. Also, you may use one to store similar stuff in like books or maybe even get a wine rack if you like drinking wine regularly.
It's neat, elegant, and can be made out of a variety of materials if you want it to match the aesthetics of your place.
40. Tiny fridge and oven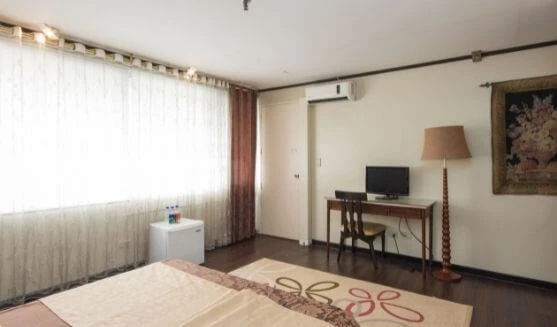 To ensure that you always have access to fresh food and warm meals. These two appliances are pretty useful if you live in a small apartment where cooking is not an option.
41. More bed storage
If you think that you can only store it under your bed then think again. Think about having a foot of the bed storage too as well as utilizing the headboard.
These areas have a good amount of room and they are always accessible to you from lying down.
42. Accent your walls
Reinforcing the idea of creating the illusion of space, you may go ahead and actually use paint for it. Paint the area by your bed a different color and the area by your study table another one.
This should create the illusion of space and while that won't give you additional physical room, it will be beneficial for your psychological wellbeing especially for people who work and live in their tiny bedroom apartment at the same time. Plus, it should look really good and lively.
43. Narrow cabinets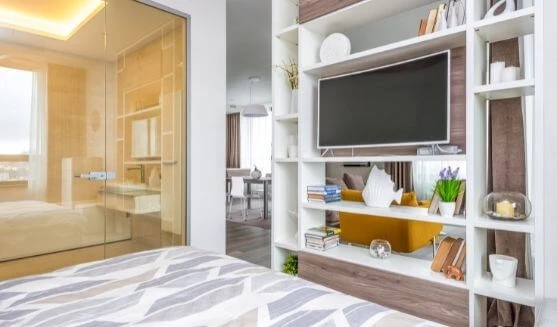 There are narrow cabinets available to you can place on the corners of your room. And, while we are on the subject, corners are oftentimes the most underutilized and wasted spaces even in a tiny bedroom apartment.
So, make sure to make use of it and go for tall and narrow cabinets instead of wide and bulky ones. You can just store as much stuff inside.
44. Use your vertical space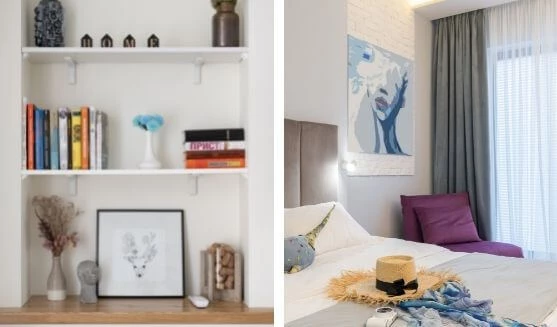 Speaking of tall cabinets, notice how buildings as of late are getting taller and taller? Well, that's because there's not much room in urban jungles anymore and there's nowhere else to go but up.
You should take this concept and make sure to utilize your vertical spaces instead of going wide as you buy décor, furniture, and other stuff.
45. Measure your room
This might sound meticulous but if you measure your room, you'd know exactly the dimensions of the furniture that you need to get and that means efficiency.
46. Get a folding chair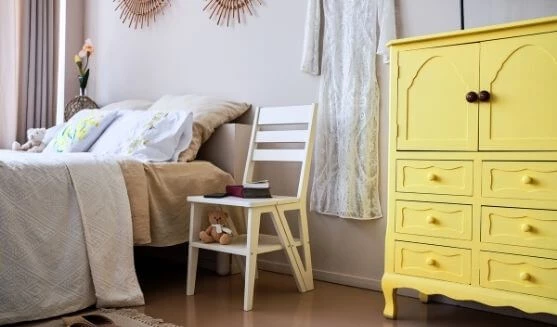 A folding chair can be kept away neatly and won't occupy space anymore after you've used it. It can also be tucked under your desk too.
47. Utilized what's underneath your desk
Speaking of desks, like your bed, there's so much space underneath it too. Pick a desk that does not require support that would occupy what's underneath it so you may have more room.
48. Use a divider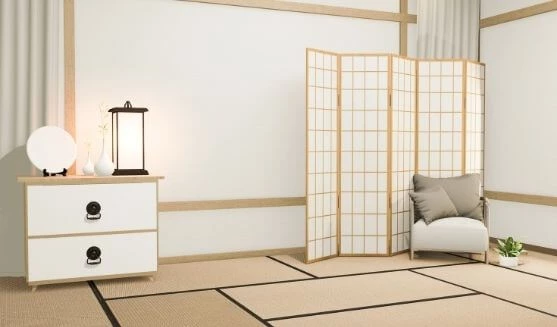 A divider is perfect for giving you all the privacy that you'd need especially if you have someone else in the room with you and it works both ways.
49. Hanging racks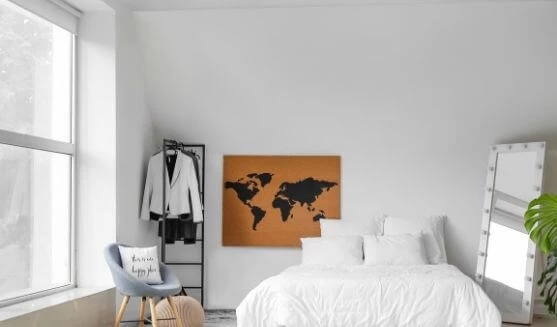 Hanging racks are almost a must-have for people living in small apartment bedrooms. They are hip, efficient, and you can, of course, hang almost anything on them.
50. Moving desk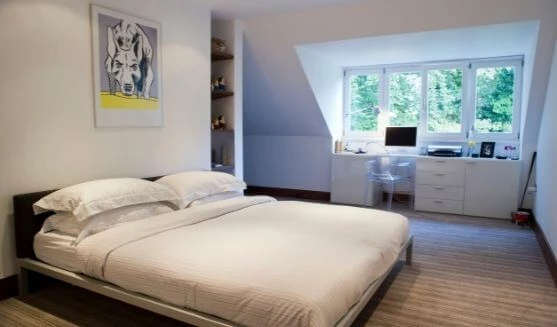 If you want to keep things mobile and convenient then why not get a desk with wheels on it. You may use it wherever you want anytime in your tiny bedroom apartment.
After all, that's said and done, the general rule here is just to keep things simple yet stylish and functional. You don't have to spend a fortune to spice up your small bedroom apartment and all you need is some help and creativity.
Be you, make it personal, let your imagination shine, and design like a pro!