These 7 Small Living Room Big Couch Ideas You Can Implement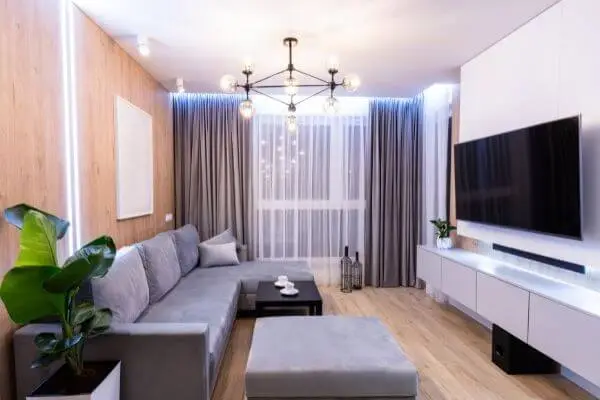 Putting an oversized couch in a small living room sounds counter-intuitive, right? Shouldn't you try to bring in something that is more in line with the limited space you got? Yes, going for small couches in a small living room is a great strategy. But that's not the only option! Big sofas do work in small living rooms, and we will talk about some layouts that work.
We often avoid big couches because of space restraints. It will make the living room appear more cramped than it already is. That's not necessarily true! If you are smart about it, you can work your way around the space limitations without compromising the visual appeal.
How do you do it? We will have that conversation today.
7 Small Living Room Big Couch Ideas
1. Don't Hesitate To Take Up Space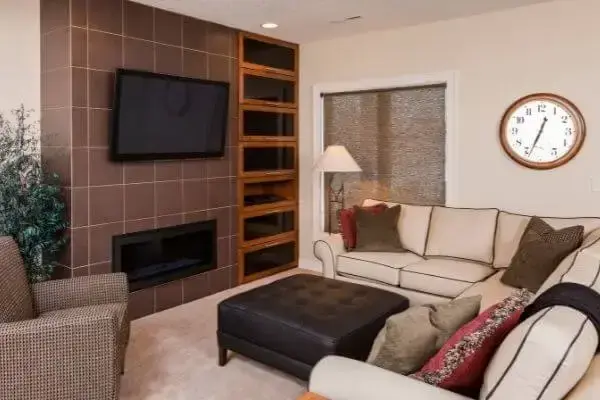 Instead of cramming your space with multiple small pieces, you can decide to go all out with a statement piece. A bigger sofa will accommodate more people and provide a greater level of comfort. You might be concerned with its enormous footprint, but a big couch will solve your seating problems completely. So, you shouldn't mind giving up most of the real estate.
Allow the sofa to dominate the room. Keep enough space to place an ottoman. Would you have room for anything else? Probably no, but you will have everything you need for a cozy hangout spot. Since the TV goes on the wall, you won't require much space for your entertainment gears as well. You can make wall nooks to keep your gaming console and other items.
2. Think Multipurpose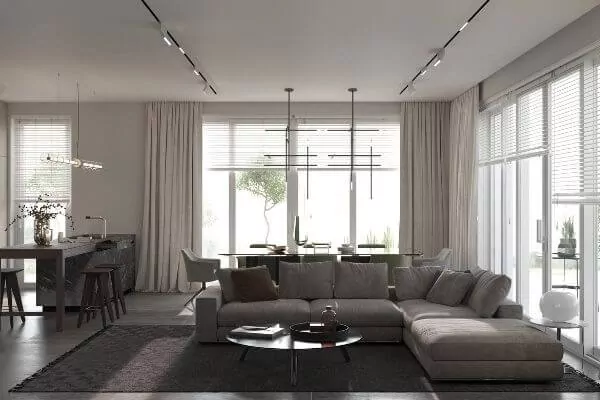 When you're short on space, you have to be innovative about how you use the house. There are no steadfast rules that force you to stick to designated spots in your home. Who says your living room can't function as a bedroom at night? If you need an extra bedroom, getting a big-sized sleeper sofa will be the smartest thing to do, even if you have a small living room. 
This is the best solution for studio apartments. A single piece of furniture will give you the option to lounge and sleep together. In an open floor space, the couch will not look out of place at all. For a small apartment, put the couch in such a position that it does not interfere with the room's traffic flow.
3. Sofas With Legs Appear Lighter To The Eye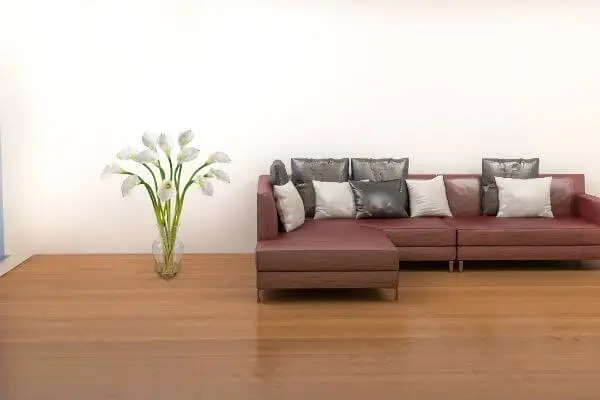 When decorating a small space, you can't magically push the boundaries and actually make it bigger. You will have to create the impression of space, and here's a sofa hack that's perfect for the job. A modern sofa is far bulkier than a similarly sized vintage wooden frame sofa. The footprint is basically the same, but the vintage one seems more compact.
A large contemporary three-seater, for example, will take up a lot of room, whereas a long midcentury design on slim wooden legs will feel much lighter. Lifting it through narrow doorways should also be easier. So maybe you can fit a big sofa in your house if it has a wooden frame and an elegant design that leaves the floor visible underneath its structure.
4. Stay Away From The Walls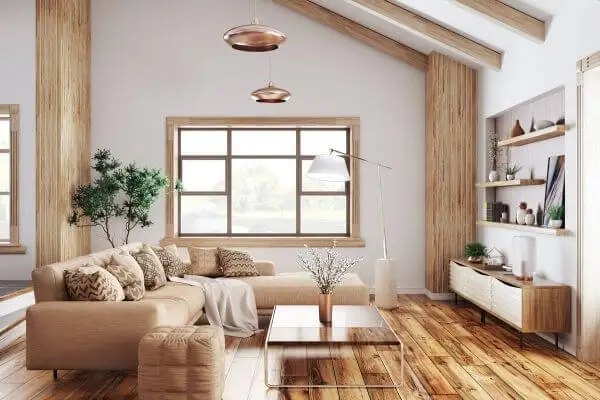 One of the most common decorating mistakes we make when space is at a premium is shoving the furniture against the wall. The idea is to free up space in the middle of the room, but it doesn't work out in most cases. A more practical solution is to move towards the center of the room and leave enough space between the couch and the walls.
Resting the sofa against the wall could also restrict access to the room. Since we are talking about small living spaces, chances are you would obstruct a door or windows when placing the sofa by the wall. You can simply get rid of this problem by moving the couches away from the wall.
5. Make Use Of The Corners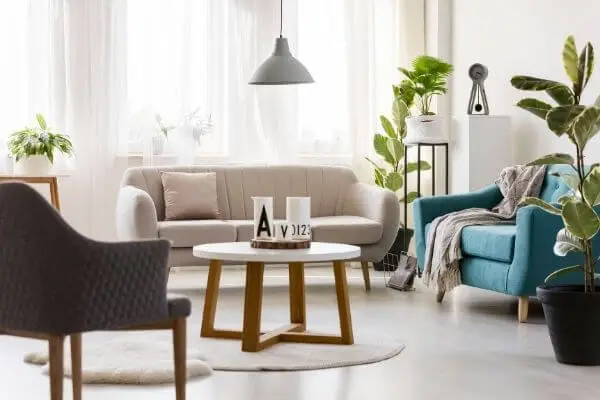 If you still want the couch to stay close to the walls, take advantage of the corners with a sectional. With a 2-seater sectional sofa, you may create a welcoming and intimate space. An L-shaped sectional is ideal for tiny rooms since it provides adequate space whether you're entertaining friends or relaxing alone.
By tucking a sectional against the walls, you may make room for an accent chair or a flowering plant while also utilizing those awkward corner spaces. Not sure how your living room will look with all those angles? You can ease up the atmosphere using a round accent rug and coffee table.
6. What About Built-in Benches?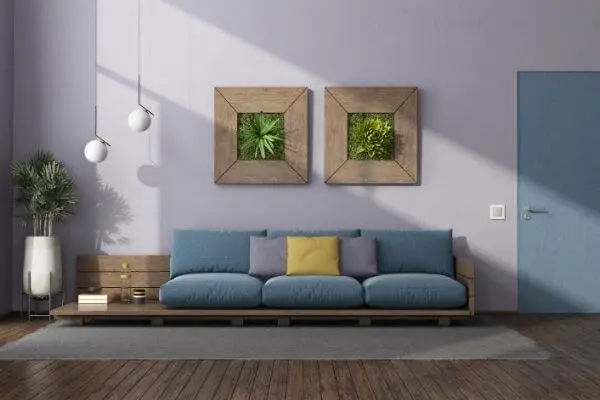 Built-in benches might sound like a strange idea at first, but once you give it a good thought, it could be an excellent solution to your living room's seating problems. You would frequently see build-in benches in boats and yachts. They are ideal for making seating arrangements in tight spaces and won't feel out of their element in a living room setting.
You can make some modifications to make these benches more homely and functional. You can arrange for extra storage underneath the seat. Just lift the seat, put away your stuff in the cavity, and put the seat back again. Carving out this extra storage space will give you a lot of flexibility. To compensate for jumbo sofa backs, use cozy back pillows against the wall.
7. Other Living Room Pieces Should Complement The Couch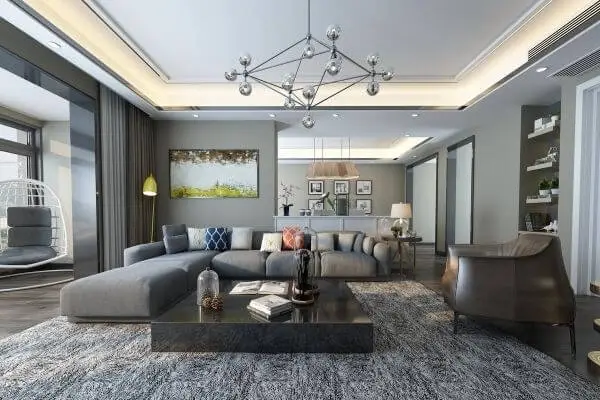 Let's say you still have sufficient space in the living room to slot in a few more pieces after placing the couch. The other furniture may also influence how the sofa works in the room. Large rectangles or square tables, for instance, take up a lot of space, and it's easy to bump into the sharp corners in a small setting.
Instead, a couple of bunching tables or an oval cocktail table will suffice. If you don't have enough space for traditional end tables, try narrow, rectangular pedestals or wine tables the size of plant stands, and substitute regular table lamps with lamps that can be wall-mounted. Rather than putting space-consuming club chairs next to your couch, pick armless slipper chairs.
How Important Is Size While Choosing A Sofa For Small Space?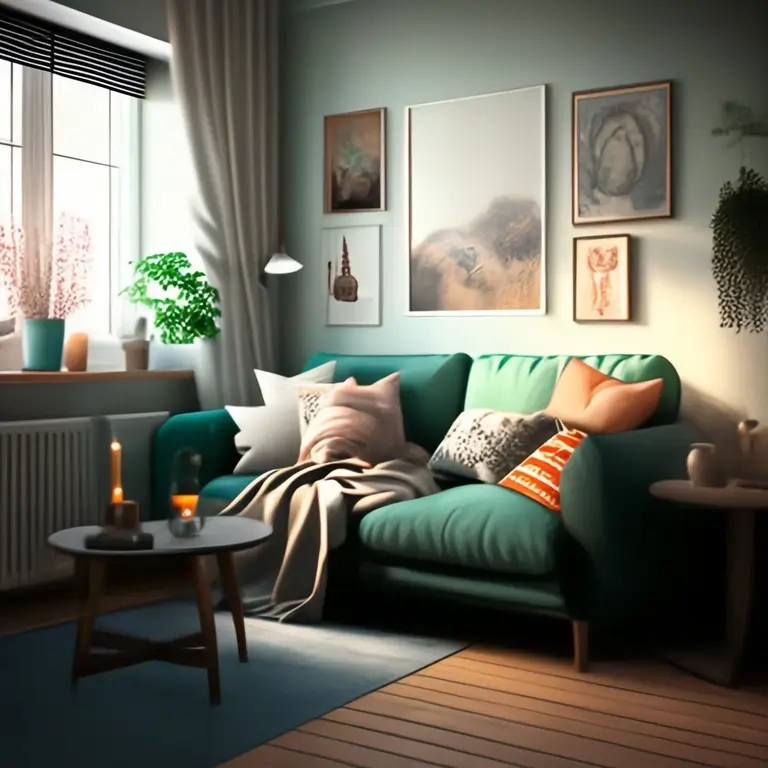 Regardless of the size of your living space, the size of the sofa is always an important consideration. It becomes even more critical when you don't have much floor area to work with. But, we would like to stress once again that having a small space should not stop you from having a big-sized couch.
The first thing you need to do is clear up the living space. Evacuate the room and determine how much space you have at your disposal. Don't forget to measure the doorway as well. The couch has to fit through the door. Otherwise, you won't be getting it in. Yes, you can always take it apart and get it in, but that's way too much hassle!
After getting the dimensions, calculate how much space you can allocate to the sofa. If the design is gorgeous, it won't hurt to dedicate as much as 70% of your space to the couch. Throw in an ottoman or a coffee table, and there won't be much room left. But the functionality and glamor the couch will bring are well worth it.
So, size definitely matters. But don't be under the impression that you will have to settle for less. The seating capacity and coziness will be the key determinants of your decision. If the couch hits high on these benchmarks, you should be okay with it occupying the lion's share of your living room.
You might come across some posts online that recommend you try out online simulation tools like Wayfair and Modsy. These applications allow you to create a simulation of your room and put digital furniture there. This will give you an idea of scale and let you decide which furniture size you should be settling on.
But since you are reading this article, it's likely that you have already made up your mind about buying an oversized couch. So, these platforms will not be of much help to you. You need to have a clear idea about the maximum area you can designate for a couch and buy a purposeful sofa that covers that area.
How To Buy An Oversized Couch For A Small Living Space?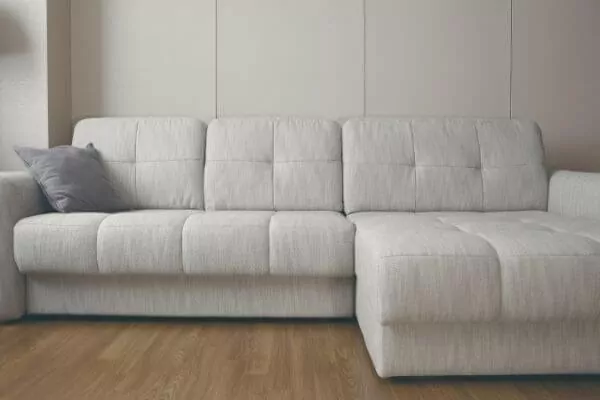 When you buy a big couch for a small space, it means you have a high seating demand. Smaller pieces won't do since you entertain many people or you have a big family living in a small house. So, your priority has to be the seating area. Maximize the seating area and compromise on other details.
Steer clear of spread-out back and arm styles. Consider a tight-back sofa to save space instead of slack or semi-attached back cushions. Choose slender arms to reduce width. Modern interiors benefit from rectangular track arms. Armless couches would be more convenient to fit in, but those won't be ideal for lounging.
Advantages Of Oversized Couches
You Can Entertain More Guests
Living in a small apartment doesn't mean you have a small circle as well. If you decide to have some friends over or host the family Thanksgiving party this year, you wouldn't want your guests to cram together in tiny chairs. A big-sized sofa gives you extended seating capacity and makes the living room the perfect hangout zone in the house.
The Couch Will Serve As Your Anchor Piece
When it comes to decorating small spaces, one of the most common misconceptions is that you need equally small furnishings to fill them up. Even though you need to find functional furniture that lets you move around your room quickly and safely, it doesn't have to be small. Indeed, the more small items you have, the more congested your space will appear.
A smarter strategy would be to select a larger piece to anchor your space. In a living room, that is the couch. Remember that it's never a competition to see how much you can squeeze into one space! The fewer pieces you have in the room, the easier it is to integrate them into a common theme seamlessly.
Create An Illusion Of Spaciousness
What's the argument for small sofas? They occupy minimal space and don't appear overwhelming. A larger one, on the other hand, will command most of the floor space and leave little to no space for other furnishings. But, as we have pointed out above, a bigger couch minimizes the need for accessories in the room.
In fact, larger couches often make the space bigger than it really is, compared to smaller ones. This is down to the fact that when people look at the sofa, they see how big it is, and their subconscious deduces the space has to be big enough for this couch to fit into. So, they perceive the area to be larger.
They Are More Comfortable
Larger couches are more comfortable because you can spread out your hands and legs as much as possible. They are also suitable for use as makeshift beds. You can buy bigger, plushier throw pillows if you have a bigger couch, which definitely kicks the comfort factor up a notch. We love tiny throw pillows, but they are nowhere as comfortable as the larger ones.
Some giant couches have a deeper seat, which is ideal for tall people who want a more comfortable couch. Deep seating helps you fully lounge, which is important while attempting to unwind at home. These couches are particularly great for taller people as they provide the perfect seat depth, back height, and seat height to properly relax.
Final Words
A big-sized couch offers a host of functionalities. So, you should not rule them out even if you feel your living room is not large enough. As long as the couch physically fits and the access points and windows remain unobstructed, you should consider buying an oversized couch for a tiny-sized living space.