Where To Place Couch In Small Living Room: Tips, Layout Plans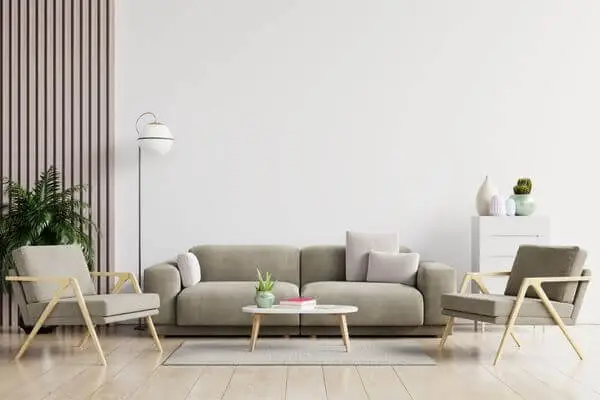 Balancing a small living room layout is not easy. You have to figure out a way to make the space inviting and cozy, but you have to make do with limited space. To avoid a cluttered look, you have to position every piece of furniture in the room strategically. Since the couch is the most imposing piece in the room, you have to decide where it should go carefully.
So, where should you place the couch in a small living room? There is a range of possibilities. Other items in the space will influence your decision further. Besides the ideal position of your couch, we will also explore some relevant small living room layout queries.
Not sure how to work around the space constraints and find the best layout? We might be of help!
Where To Place Couch In Small Living Room?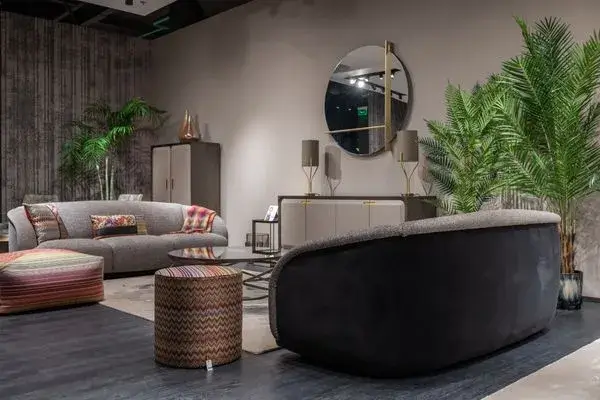 There's a common misconception that fitting a couch in a small living room can be quite a hassle. That's not necessarily true! Knowing exactly where to put it incredibly simplifies the task.
The primary objective of all small living room layouts is to make the room appear bigger. It's impossible to achieve that without placing your sofa in the right position.
Interior décor relies heavily on perspective. So, there is no universal arrangement that will please all people. Some people like to float their furniture, so they move the couches to the center of the room. You would find many homeowners who prefer to cover the corners with a sectional. As we said before, you can approach this in several ways.
Having said that, we will ask you to keep in mind these three rules to place your couch efficiently:
Rule 1: The minimum distance between the couch and other furniture should be three feet.
Rule 2: After placing the couch, there should be enough space for people to move around. You won't bump into anything while passing through the room.
Rule 3: You need enough space to stretch your legs freely while sitting on the couch.
A sofa should be situated near a wall or at the far end of the room so that it's easy for you to move when you get up from it. The couch should never block your view of the rest of the room or any entrances or windows.
No matter what layout you try, you have to make sure that the couch position adheres to the rules we have mentioned.
If you want to fit two couches, check out a guide to combine two couches in a small living room. This may help you.
How To Arrange Your Couch In A Small Living Room?
The couch is central to our living room décor. For this reason, we must optimize its position to successfully implement a layout plan. Figuring out where to put the couch is the most important piece of the puzzle. Once you take care of that, the rest will sort itself out. Here are some ideas we have in our minds:
Layout 1: Utilize The Corners
We have made a lounge area with a corner sofa and an armchair in our first arrangement. A corner sofa is perfect for tight spaces as it makes use of the corners, which are left unutilized by other sofa types. A corner sofa helps you define the space, and it provides ample seating for a large group of friends and family members. 
Put a coffee table or an ottoman in front of the sofa. Everyone can easily reach it from the sofa and the armchair. So, it will be easy to reach for refreshments while enjoying a movie together or having a conversation. You can keep a mirror in the opposite direction of the window so that light can bounce off and add depth to the room.
Layout 2: Go Traditional
We will use a traditional sofa for our second layout instead of a corner one. You can choose to go for an oversized one that dominates the space. Or, you can settle for a smaller one with accent chairs. Using your space horizontally in a square-shaped living room is a great trick to create an impression of grandeur.
Whether you pick the bigger sofa or the smaller one, it will define and highlight the lounge space. Hang a nice piece of artwork or add any other wall decors per your taste. The artwork will stand on the back of your sofa to make an impact. You can also use a bold wallpaper to decorate the wall behind the sofa to make a statement.
In this setup, the sofa will maintain a good distance from the wall. We would suggest the background wall to be free of windows so that you can use the entire wall to highlight the sofa. You can create a different zone in the room by adding a bookcase and an armchair in the corner. You can also use the corner wall to exhibit your showpieces.
Layout 3: How About A 2-in-1?
This arrangement is more appropriate for those who have a rectangular living room. A rectangular area gives you the chance to create more visual divisions. So, it's easier to make a rectangular room seem bigger than a square one. Instead of decorating in a horizontal line, we have gone for a vertical approach to create the illusion of extra space.
Take advantage of the room's shape and establish two different zones. One would be your lounge area, of course. The other could be a reading nook or any other area that you would like to designate for a specific purpose. We strongly recommend putting a big sofa in your lounge area.
If you use a small couch, you will have to bring in accent chairs as well. Since the width of your area is already tiny, utilize it entirely with an oversized couch. Multiple furniture pieces might make the space look cramped. So, stick to one big, cozy piece of furniture for your lounge area and make it look spacious. Pair it with a big, chunky coffee table.
Let's move on to zone 2. You can put your TV in the middle to separate the two parts of the room. We have already suggested it could be a reading nook. Alternatively, you can set up a dining area there. You can also put a small console on the side. Since we are using vertical space, there should be enough room for the console to fit in.
This can be great for families, as you will have two separate zones. When your kids watch TV, you can spend time in the reading nook or have a cup of coffee at the dining table. At first sight, it might look impossible that you can do so much within such a compact space. But once you try out this layout, you will be surprised.
Layout 4: Too Small? There's Still Place For A Couch!
We have conjured up this layout for narrow and linear spaces. For narrow rooms, we would advise homeowners to stick to horizontal designs all the time. If you try to arrange furniture pieces on vertical lines, it will not work. If you don't believe us, have a go at it. But, we are telling you, it's a waste of time!
In this layout, we will place one linear sofa on one side. Since it's a very narrow space, we will advise to go for a floating arrangement. So, pull the couch away from the walls and move them into the island of furniture in the middle. It would be best if you mount the TV on the wall to save some precious floor space.
Position the sofa on the side of the wall that has no windows or doors. Put a pair of accent chairs in front of the couch that faces each other. Put one chair on one side of the wall and the other on the opposite end. An ottoman or a coffee table will sit halfway between the two chairs. If the space is too small, you can ditch the ottoman and settle for two side tables.
Layout 5: A Corner Sofa Can Get The Job Done Too!
So, you think layout 4 is more up your alley, but you would prefer a corner sofa over a standard couch. We don't see people float a sectional often, but don't be afraid to try it in this setup. Place it around the edges of the area rug. You wouldn't need two confronting accent chairs since the corner sofa has an extended part. One would suffice!
Put a coffee table or an ottoman in the center. Side tables don't go well with sectionals. The accent chair should face the couch in a diagonal position. This won't be ideal for viewing television, but it would seem more natural during conversations. Also, an angled chair will look better with a sectional.
Final Say
Never underestimate the potential of a small space. You can spruce up the smallest of spaces with some clever layouts. And the success of a living room layout lies in the perfect positioning of the couch. If you mess that up, you will never get the clean, roomy vibe you were gunning for.