Teenage Bedroom Furniture Ideas: For Boys & Girls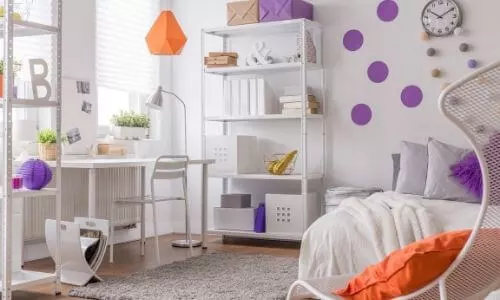 If you have teenagers in the house, you would know how challenging it could be to design the bedroom of a teenager. Of course, you would want the bedroom design to reflect the taste of your kids. But in doing so, are you making it too conflicting with the rest of your house?
Here are some teenage bedroom furniture ideas that can help you strike the right balance.
What Should A Teenage Girl's Bedroom Include?
A teenage girl's bedroom should have all the necessary items to make her comfortable. The bedroom design must also reflect a subtle feminine touch.
Before we get into teenage bedroom furniture ideas for teenage girls, let's talk about the bedroom essentials.
1. A Cozy Bed
The first item on our list is a snug, lovely bed! Surprise, surprise! Usually, the children's bedroom is not the biggest bedroom in the house. So, you have to think about the space when decorating it. Remember the golden rule of decorating bedrooms, anything that makes the room appear cluttered should not be welcome.
Daybeds can be a great choice. At first thought, you might not be overly thrilled by the idea, but once you browse the options on the market, you will find some fashionable daybeds to put into your daughter's bedroom. It will free up a lot of space inside the room and make it feel less stuffed. Not to mention, these beds can be extremely cozy.
Use a lot of throw pillows to make the bed your daughter and her friend's most favorite hangout corner in the house.
2. Quilts/ Faux Fur Rugs
While designing your daughter's bedroom, you have to think as much about the looks as you do about the comfort. We are talking about young girls here, who are more fashion-conscious than ever. The pillow talks we talked about earlier, will not only make the room cozier, it will add a decorative value to the room as well.
Consider how you can mix and combine materials, shades, and designs. You don't have to limit yourself to matching colors and textures. For instance, you can layer a delicate quilt with thick blankets to achieve a bedroom demeanor that will impress all girls. Throw pillows, as we mentioned earlier, will be a great addition to this setting.
Want to take it a notch further? Get faux fur for the pillows and carpeting. Faux fur can be an excellent inclusion if you feel the room is lacking in texture and warmth.
3. Hanging Chairs
Hanging chairs have always been incredibly popular among girls, and recently, you would find them in many boys' rooms too. These chairs are not just fun to sit in, they can be wonderfully relaxing.
However, make sure the one you are buying is not too big for the room. You wouldn't want the chair to block out the moving space.
4. String Lights
A lot of girls love having string lights hung across their rooms. If your daughter loves the idea, go for this chic wall décor strategy. This will add extra lighting to the room and make it livelier.
5. Full-Length Mirror, Nightstand & Dresser
Instead of dressing tables, go for a full-length mirror inside the room. The nightstand can serve as the storage unit for cosmetics and other belongings. The clothes will go into the dresser. You can choose to install wall cabinets to save some floor space and eliminate the need for a dresser.
But if you want to put a small dressing table, please read our another article about vanity ideas. This may help you.
6. A Study Space
Many teenagers love doing their homework on their beds, but that shouldn't stop you from creating a dedicated study area in the room. A study nook is a must-have aspect of a teenage girl's bedroom.
A chair and a desk should be the bare minimum. The desk should have enough space for a computer, notes, books, and a table lamp.
8 Best Teenage Girl Bedroom Ideas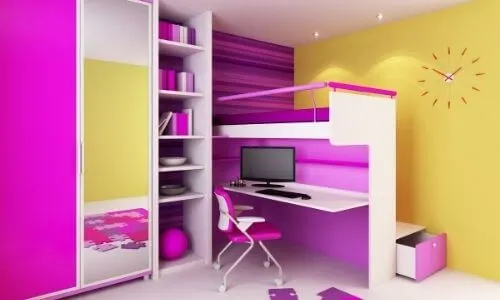 1. The Headboard Can Add Utility And Style
An oversized headboard in the bed can serve as storage space. Add cabinets on the headboard so that your daughter can store her essentials there. Even if you don't need the extra storage, going for a big size headboard can be a good idea as it will add decorative value to the room's arrangement.
To make it more visually appealing, cover the headboard with rich upholstery. Leather will look really elegant, but you can choose to go with microfiber or other fabrics if you want to transform the headboard into a pinboard to attach photos. There are some good-looking and durable fabrics that you can consider for this purpose, and they won't cost you a bunch.
2. Masking Tape Can Transform The Walls
You can create some intriguing graphic wall patterns with masking tape in your daughter's bedroom. This would create a funky atmosphere inside the room, which is more in line with the mood you would expect in a teenage girl's space.
For the perfect execution, we would recommend pairing up the tape with terracotta or dark backgrounds.
3. Furniture Color Can Be Bold
Many teenage bedroom furniture ideas revolve around bright-colored pieces. If the walls have neutral colors, you can create a good contrast with bright-colored furniture like a red chair or an orange dresser. These vibrant pieces will stand out as statement pieces in the subdued setting of the room.
4. Have Fun With Splattered Colors
Teenage girls love colors, and they could love splatter-painted walls in their bedrooms. Of course, we wouldn't advise you to splash the colors on the walls for real. If you want a remodeling afterward, it would be a nightmare getting the paints off. So, go for wallpapers for creating a splattered paint effect inside the bedroom.
5. Or, Go Subtle
Vibrant is not the only way to go designing a teenage girl's bedroom. Mild color schemes work equally well if done the right way. If your daughter prefers the room to not look overly girlish, you can go for a mixed palette of pink, beige, white, and even some floral patterns.
6. Make A Statement With The Lighting
Lighting can drastically change the feel and looks of a room. A poorly lit room looks depressing and devoid of life. Hang a pendant light in the middle of the room. Apart from being the primary lighting source, it will bring a dash of glamor into the room. Layer it with string lights to produce a radiant ambiance.
7. How About A Boutique Hotel Look?
Implementing some nifty teenage bedroom furniture ideas, you can style your daughter's bedroom like a boutique hotel room. Boutique-themed bedrooms are widely in vogue these days. So, we believe your daughter will love the overall concept.
We will start with the color schemes. Go for relaxing shades of greens and blues to bring about the peaceful ambiance of a posh hotel room. Boutique bedrooms do have a common design structure, but there is enough room for personalization which makes them fascinatingly unique too.
Begin by introducing the bits of personal details, such as Bohemian furniture pieces or a big mirror to boost the interior lighting. You can make it as plain and elegant or as crazy and unconventional as you desire.
Lighting is a crucial step to set the mood of the room. Dimming the lights prepares you for a restful night's sleep. If the only lighting in the room is a bright bulb overhead, it will be tough to loosen up. Overhead bulbs should be always low-wattage, and if you don't like it at all, you can settle for side lamps on your nightstands or corner lights.
The bed should be the centerpiece of any bedroom. So, don't hesitate to spend the money to make the bed as much comfortable as possible.
The mattress should be top-notch with plenty of springs for proper body support and comfort. The bed linen should be of premium quality as well to complement the mattress.
Staying close to nature is the best thing you can do to attain mental peace. The psychological effects of nature in our lives are now scientifically proven, so keeping some plants and flowers inside the bedroom will not only make your daughter's bedroom aesthetically tasteful, but it might also help her get a good night's sleep before a big day in school.
And finally, make the room spacious. You might not realize it right away, but your perfect hotel stay would not have been as enjoyable if the room had made you feel claustrophobic.
No teenage bedroom ideas should make the bedroom feel cluttered. Don't make any changes that will take away the spick and span nature of the room.
8. Bunk Beds Can Save Precious Space
If you have two teenage girls living under your roof, you should consider a bunk bed instead of buying two different beds. The bunk bed leaves space in the room for other furniture pieces, like a dressing table, study table, or a dresser. This is a gender-neutral bedroom strategy. You can do the same for teenage boys as well.
But, if you need to put two beds in one room please check the article about how to fit two twin beds in a small room.
What Should A Teenage Boy's Bedroom Include?
A teenage boy's bedroom must include the things that make his bedroom his true refuge in the home.
Like girls, boys also spend a considerable amount of their adolescent lives in their bedrooms. It is their personal space growing up, and often, the teenage bedroom will leave a lasting impression on them.
So, let's find out what are the indispensable parts of a teenage boy's bedroom setup.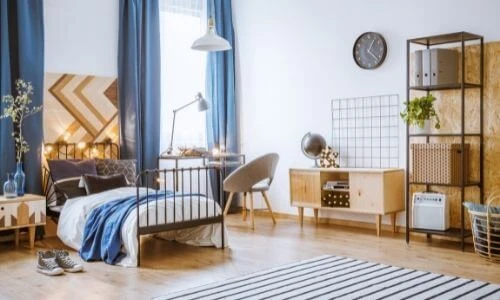 1. A Gaming Corner
Even though more and more teenage girls are getting into gaming these days, gaming still remains a male-dominated scene. In 2021, a National Center for Biotechnology Information study revealed that 96% of the teenage boys in the US are serious gamers.
So, having a gaming corner in the room will allow your son to blow off some steam in his free time and invite some friends over for a gaming session or two. A couple of beanbags, a few chairs, or a floor mattress would be perfect for the gaming lounge arrangement.
2. Study Space
The teenage years can be quite demanding with an increasing number of tests and a hectic academic routine. To cope with all this stress, it is essential to have a neat and tidy reading space where your children can focus and sharpen their minds.  So, you have to have some teenage bedroom furniture ideas to set up the perfect study nook.
Buy a solid desk and a comfy, adjustable chair to go with it. Having the right chair-desk combo is important for making those excruciatingly long study periods as comfortable as possible. The desk should be spacious enough to accommodate the study materials, lights, computer, and other paraphernalia.
3. Adequate Storage
There should be adequate storage space in your son's bedroom for keeping all of his belongings. Consider shelves, a chest of drawers, baskets, or a floor-ceiling cabinet beside the bed.
Storage convenience is likely to skip the list of priorities of your son, but he will thank you for the orderly arrangement of his things once the storage organization has been done.
4. Bed With Good Linen And Mattress
No teenage bedroom furniture ideas discussion would be complete without talking about the bed. The bed is the focal point of any bedroom layout, so invest in a high-quality bed with up-to-the-mark beddings and linens.
Bed and pillow covers can present an excellent option to your son for displaying his interests and sense of fashion.
The logo of his favorite NFL team, for example, emblazoned across his bed and pillow covers will make him feel more at home. The color choice can also represent his panache.
Be prepared to spend a decent amount of money to get satisfactory bed, linen, and mattress quality. You would regret penny-pinching, in this regard.
5. Space Efficient Furniture
A teenager's bedroom serves three purposes altogether. It's a place for your kids to sleep, study, and socialize with their friends. So, the smartest teenage bedroom furniture ideas would suggest using multi-utility furniture pieces for saving space. Think upholstered ottomans with internal storage space or beds with storage compartments.
4 Best Teenage Boy Bedroom Ideas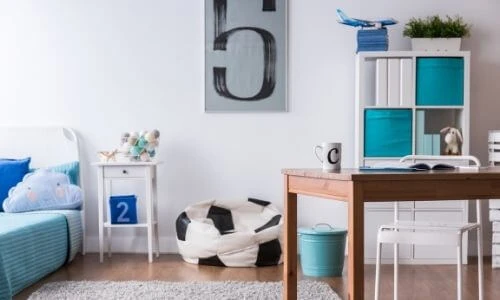 1. Get Some Street Cred
This particular bedroom layout for teenage boys gives off a hip, modern vibe with its skateboard racks on the wall, up and over style window, and a dresser that closely resembles a school locker.
To give it a more urban look, you can take off some plaster at one end and go for a partially bare wall. If an exposed brick wall sounds like a step too far, you can use wallpapers to get that desired effect.
2. Get Creative With Expressing The Personal Taste Of Your Kids
We understand why you don't want to draw a rapper's face on your walls, but you can encourage your kids to express their admiration in a bit more discreet manner. In doing so, you can get your kids to talk to you about their likings and help you understand their tastes and learn more about them.
So, what would be a more subtle approach? You can ask your kids to get posters of their favorite artists, you can paint their walls with the color schemes of their favorite superheroes or sports teams.
Let them personalize their rooms, but make sure it remains easily changeable. We all grew past our Blink 182 posters at point, right?
3. Liven Up The Room With Some Graffiti Art
We can't exactly tell you why, but teenagers sure love graffiti. Maybe it symbolizes the rebellious nature of youth, or perhaps it makes them feel more conscious about the world around them.
Whatever the reason is, graffiti is cool, and bringing them indoors can be an excellent bedroom decoration strategy for teenage boys.
Placing graffiti-inspired artwork in a child's room is a quick and easy way to make it feel more grown-up without having to completely renovate, and it can be a terrific addition as your child approaches adulthood.
4. A Cabin Theme Would Be Relevant For Years
Hunting trips in a cabin in the woods is the most American pastime activity for adult men. So, a cabin-themed bedroom is the most masculine theme you can go for while designing the bedroom of your teenage son.
A bed with a giant upholstered headboard, far rugs on the floor, and some taxidermy on the walls, perhaps, to perfect the look.
While some teens would love the grown-up ambiance, it might be a bit too mature for some. Make sure your son likes the setup before completing the makeover. It's a timeless arrangement, and once you set it up, you might not need to change it in a long, long time.
Final Remarks
Teenage bedroom layouts, for both girls and boys, are difficult to get right. This is the time of their lives when your kids start to develop a sense of self-identity. So, they should have a say about the final design, but you have to intervene if their ideas are a bit too impractical.
In this article, we have tried to talk about some teenage bedroom furniture ideas that will help you address the personal preferences of your kids without compromising pragmatism and style. We hope our ideas will inspire the perfect bedroom setups for your teenage children.