Under Loft Bed Ideas: Key factors you should have in mind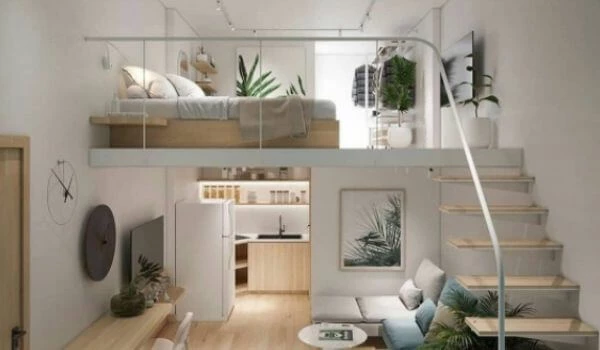 Even though loft beds are quite comfortable and inviting, we don't usually think of these beds as adult bedroom items. But, loft beds can be the perfect space-saving solution for your bedroom, and, if done right, they can be part of a modern, tasteful bedroom for a single adult.
Here are some under loft bed ideas that can transform your bedroom.
How To Style A Bedroom With An Under Loft Bed?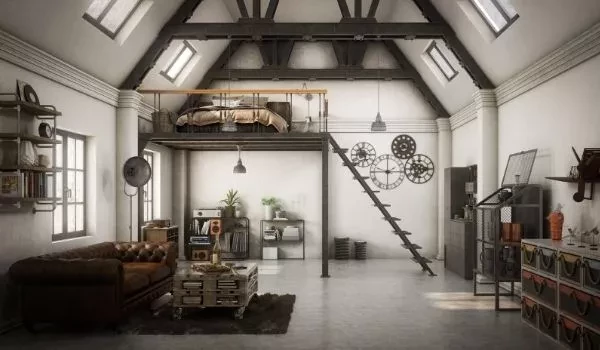 You can apply some nifty interior decor hacks to style a bedroom with an under loft bed efficiently and elegantly.
If you are considering a loft bed, look at this list of under loft bed ideas. It will help make the best out of a loft bedroom.
Is Your Bedroom Ready For A Loft Bed?
Before getting into loft bed layouts, you have to ensure that it works for you. There are many things to think about before you choose a loft bed for the bedroom. It's indisputable that a loft bed is a great way to address space constraints in a compact bedroom.
However, there are some drawbacks to their unusual design that you should keep in mind.
One of the primary concerns you need to rule out is the build quality of the walls. Are your bedroom walls strong enough to support a loft bed? You should seek professional advice before mounting a loft on the wall. Once you get the green light, move on to the following considerations.
Wall features like alcoves and windows can complicate the installation process. You would need uninterrupted free space on the wall to put up a loft bed. A regular mattress is about 70 to 85 inches long. So, you would need that amount of free area for successfully mounting a loft bed on the wall.
Another aspect to consider is the ceiling height. The loft bed must have enough space between the ceiling and the floor, so you can stand under it on the floor and get up from sleep without bumping your head.
Don't Think Of It As A Temporary Solution
Some people might feel that the loft bed is a transitional piece of bedroom accessory because you plan on moving or renovating soon. But that's not a good enough reason not to make some snazzy changes around the room.
Put up some art on the wall. A wall shelf just by the bed can be a thoughtful addition too, as it will serve as a nightstand.
Hang The Bed From The Ceiling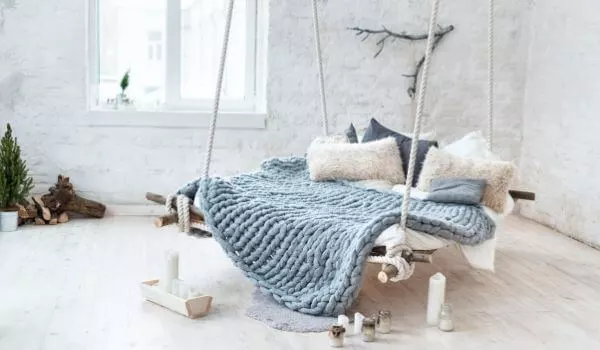 To give your bedroom a different look, you can suspend the bed from the ceiling instead of the conventional sidewall installation. It makes the room bigger and boosts air circulation. However, make sure your ceiling can support the bed weight before going down this route.
Pick A Mattress Smaller Than The Bedframe
Since the bed will not be on the floor, it's not possible to have a nightstand by the bed. You can install a floating shelf to keep your bedside items. If you don't want to go through the trouble of installing a shelf, pick a mattress that is smaller in dimension than the bed frame. The surrounding space will give you an option to store everyday objects.
The loft bed should have a mattress chamber to accommodate a regular mattress to its full depth. There should be ample room to put your phone, glasses, and watch in the frame enclosing the bedding. In a nutshell, the surrounding space should hold everything you would expect to keep on a bedside table.
Avoid Ceiling Fans
Ceiling fixtures like fans and lightings can be a potential safety hazard. Therefore, you have to position your loft bed far away from such objects. Ceiling fans are not a good fit for loft beds since the airflow doesn't efficiently reach the top half of the room, where your bed is located.
The Ladder Isn't Essential
Don't like climbing up a ladder every time you want to go to bed? Ditch it, then! If you don't mind spending a bit extra, you can go for a set of stairs instead of a run-of-the-mill ladder.
In doing so, you will feel like you are just heading upstairs in your upper-floor bedroom rather than getting into a loft bed. Stairs also make your room appear far chicer.
A Thick Mattress Might Not Be The Best Option
Thick mattresses are comfortable, but they might not be the ideal choice when it comes to loft beds. You would want to maximize vertical space above the bed. A high-foam mattress will deprive you of the perfect headspace.
So, settle for a bit more trimmed-down option. Invest in premium quality sheets to compensate for the comfort factor.
The mattress density won't matter, of course, if you already have a lot of space on top of the bed. It's meaningless to sacrifice the comfort of a plush mattress if there is a sufficient amount of ceiling space available.
Wall Lights And Shelves Complement The Setup
To get the feel of a spacious bedroom without taking up a lot of room, hang some lights on the wall and put up some shelves. Lights focused around the bed area create the impression of a different room. Also, having a light beside the bed vastly reduces the necessity to get out of bed at night.
If you want a reading lamp by the bed, a floating shelf can help you out. You can place the lamp there and also keep your nighttime reads. As mentioned earlier, a floating shelf close to the bed will count as a nightstand.
How Do You Use The Space Under A Loft Bed?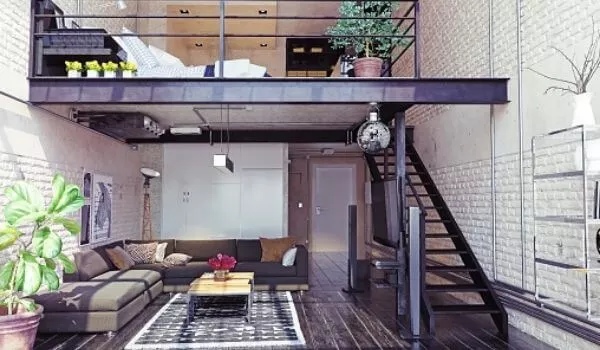 You can use the space under a loft bed in both utilitarian and decorative ways.
Lofts beds are multifunctional furniture pieces. Because there are so many fascinating ways to arrange a room with a loft bed, it is tough to determine what to do with the space beneath the bed. Here are some under loft bed ideas that might be of use.
Create A Workstation
Even if you don't work freelance, you should consider creating a workstation in your bedroom. In this day and age, we all need to get some work done from home, and what could be a better space to set up your home office other than your bedroom?
We recommend converting the space underneath the loft bed as your away-from-office workplace.
All you need is a desk and a chair, and you are good to go. Some loft beds come with a built-in desk. You can think about buying those as well. Too much of a minimalistic approach for you? If you need to have more office supplies, make some room to set up some storage options like file boxes and shelves.
Throwing in a comfy sofa to one of the vacant corners of your space might help balance out the rest of the furniture in the room. Place sofas and an end table in a larger space to create a full-fledged sitting area.
We have an article about the best corner desk ideas for small spaces. You can check it out. It may help you to set up a modern workstation.
How About A Pet Zone?
Do you have pets in the house? If you do, you can dedicate the under-bed area to them. It could be the perfect place for your furry buddies to hang out. You can set up their bed there. This will give you the chance to stay close to them without having to worry about dander getting into your linens.
To make sure that your pet knows where his designated sleeping area is, you can allure him with treats. To put your pet to bed, turn on the light under the loft bed, give him a treat, and then switch the light off.
By doing this repeatedly, you're letting your pet know that the area under the loft bed is a secure place to sleep at night.
It Could Be Your Personal Library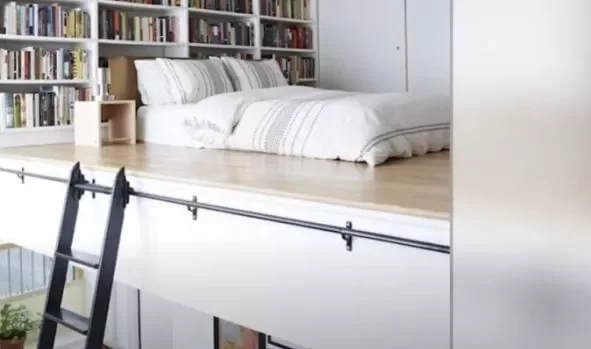 A bedroom library is one of the not-so-crazy under loft bed ideas you can implement. Under your loft bed, you can simply set up some shelves and spruce up with some decorative details.
If you enjoy reading a few pages before calling it a night, you would love to have a collection of books right below your bed. That's every bookworm's dream!
Dedicate It To Decoration
Another good option is to use the under-bed space to add some ornamental accents to your room. This opens up a host of possibilities, and none of it involves the hassle of repositioning your bed. Decorate the walls around the loft bed with open shelves and load them with your favorite showpieces.
For example, suppose you were a college athlete back in the days, and you feel proud whenever you lay eyes on your medals and trophies. In that case, you can mount some floating shelves where you can display your trophies and other memorabilia. Figurines, vases, indoor plants, and other decorative pieces can also be there.
That said, we would recommend you to keep the rest of the room décor as minimalistic as possible if you have a beautifully decorated loft bed. Otherwise, it will feel overplayed, and the room will appear cluttered. If you have a decked-out bed, you should keep it as the centerpiece of your bedroom decoration.
Install Curtains
With a bit of imagination, you can use the extra space beneath your loft bed to set up a private zone or storage compartment by installing curtains. This will be a great idea if you have been wondering where to put away some stuff you don't regularly use. If you share the room with someone, the curtains will give you some much-needed privacy.
Create A Hangout Zone
If you share the apartment with other people, you might have always felt the need for your own living space, where you can entertain your guests and spend some quality time alone.
Here's one of the most popular under loft bed ideas: get a comfy sofa and set up a chill hangout spot in your bedroom.
It's also possible to add extra seating and a TV to the space under your loft bed. Create a mini snack bar with a portable fridge and a microwave to make it the ultimate R and R zone. You can also make room for a small bookshelf if reading is one of your favorite pastime activities.
Adding bean bags beneath your loft bed can give the bedroom more of a laid-back feel. The color of the bean bags can match the loft bed you have or you can go for accent colors if you feel like layering contrasting colors in the room.
Install Shelves Under The Bed
It's not uncommon for bedrooms in older houses and apartments to be severely lacking when it comes to storage. One of the possible remedies to this problem is converting the area beneath your bed into a large enough closet to accommodate all of your belongings.
Adding shelves under the loft bed is not a popular idea. But, this simple DIY project can make quite a difference if you are in desperate need of storage. Build shelves on all sides of the bed and turn it into a stunning walk-in closet. Put some cabinet lights on the shelves to make it seem even more beautiful.
Hang A Hammock
Nothing can be as relaxing as having a shut-eye on a hammock. Yes, it's possible to have a hammock indoors, and you can hang it right under the loft bed in your bedroom. By introducing a hammock into your house, you will create an additional space where you can relax and unwind serenely.
A hammock will effortlessly make the spot your most favorite section of the house. Add some soothing lighting and comfy accessories; it will become your very own paradise.
Do You Need A Laundry Room?
Consider converting it to a laundry room if you want to do something unconventional yet practical with the space underneath the loft bed. It won't be the easiest and cheapest home modification since you would need to do some extra plumbing work. However, it's worth a shot if you need a laundry room in your house.
Build A Personal Gym
We often don't have enough time for physical exercise in our busy urban lives. Set up a mini gym in your bedroom and burn some calories. The space beneath your loft bed can be perfect for this. You can also use the area for meditation and dance practice.
Design Your Gamer's Cave
You can easily transform your bedroom into a gamer's layer. Gaming setups require considerable space, but you will find that the space under your loft bed is enough to accommodate your gaming rig and other paraphernalia. You can buy bunk beds aimed at gamers that come with built-in desks.
How To Buy The Best Loft Bed?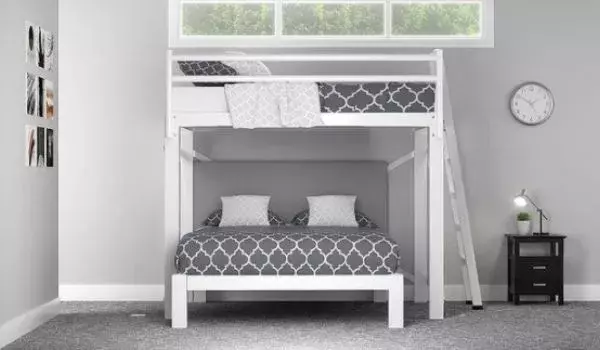 You can buy the best loft bed by properly evaluating some key factors.
Buying a loft bed for your bedroom is not an easy task since loft beds come in various sizes and vary in terms of functionality. What key factors should you have in mind while shopping for loft beds? Let's find out.
Size
You have to buy the right-sized loft bed for your room; otherwise, you won't be able to mount it. Take exact measurements of your room and also have a look around. Pay close attention to doors, closets, windows, and other wall features.
After giving your room a once-over, you will better understand the loft bed size you need to buy.
The age of the user is also a major consideration since there are different sizes of beds aimed at different age groups.
In the traditional sense, adult loft beds are only available in full- or twin-size variants, though some loft beds for adults may offer a queen- or king-sized sleeping space. In general, twin loft beds are more suited for younger children, while full loft beds are better suited for older children and teenagers.
Under-Bed Offerings
Some under loft bed ideas above mentioned loft beds with built-in shelves, drawers, or desks. If you don't have any plans for the space underneath the bed, you can go for these models. These beds will cost extra, but they are a worthy investment, considering the added utility they provide.
Material
The materials used in the construction of a loft bed impact the product's lifetime and quality of service. Wood and metal loft beds are the market leaders for a good reason. Plastic beds offer cheaper alternatives, but those can't provide the same level of functionality as their wood and metal counterparts.
Wood and metal have their unique sets of pros and cons. Therefore, the decision will rely on user preference.
Final Say
Loft beds are no longer restricted to college dorm rooms. They have become an interior décor norm in micro-houses and even in many spacious living quarters. You can take advantage of the under loft bed ideas we highlighted throughout this article to maximize floor space, no matter how small your apartment is.