How To Arrange Furniture In Living Room Dining Room Combo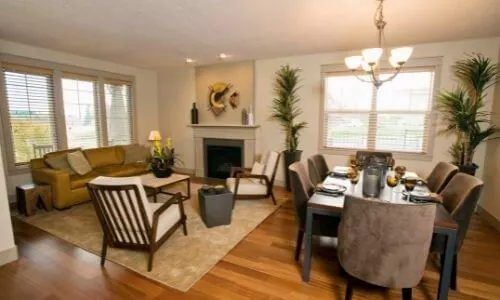 The interior design of your home sweet home is like an extension of your being. Whether you decide to collaborate with a professional interior designer or do it all yourself, it takes creativity to bring out the best of your home and your personality.
Some want things really simple but others want it luxurious. Well, it all depends on you as you're going to be the one living in it so you get to decide how it would look and feel like living in it.
Furniture arrangement is not all for show or style but also enables us to live comfortably. Here are some fashionable yet practical ideas on how to arrange furniture in the living room and dining room combo. Enjoy!
25 Smart living dining combo Ideas With Images
1. Parisian Style Living And Dining Combo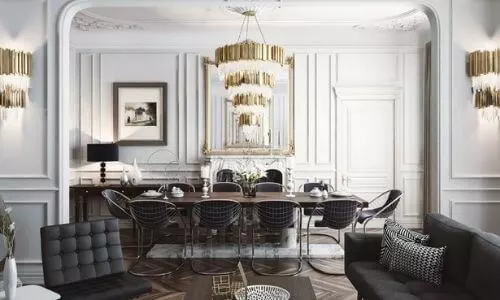 So, where to start? Well, where else but inspiration from the mecca of fashion, culture, art, and style, Paris! The name itself reveals its identity and you can bet that the Parisian style of furniture arrangement is purely 100% French.
It is quite luxurious but the core concepts of the Parisian style might surprise you being modern and minimalistic. It's mostly just one to two shades of color including the accents. The furniture is described as rarely distressed with few blemishes.
It's regal, it's minimal, and it's sophisticated.
2. All-White Living Room and Dining Room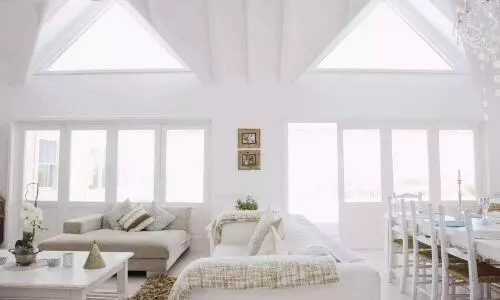 White screams pristine, purity, and calmness. Whether it's for your lake house, beach house, or apartment in the middle of an urban jungle and an all-white living and dining room combo is always a good idea if you want to have that peace of mind.
White will seamlessly connect your living and dining rooms especially if you have limited space. It's cozy, clean, and also conducive for work-at-home setups. There's not a lot to it either, it's affordable as all you need is to go secure minimalist white furniture and you're all set.
3. Back-to-Back Living Room and Dining Room Combo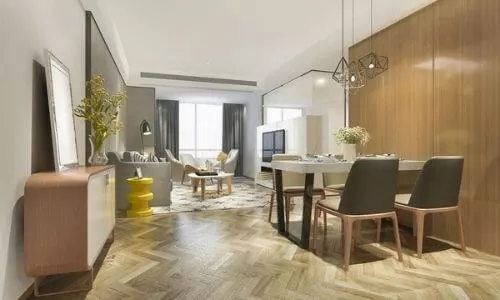 If you're someone who doesn't have the luxury of living in large spaces then a back-to-back living room and dining room combo should be perfect for you. All you need to do is to arrange your furniture neatly that in such a way it won't look like clutter.
You not only live conveniently but efficiently too with your dining and living rooms just a couple of steps away from each other. It's quite fun actually and will bring your family closer to boot.
4. Farmhouse Living and Dining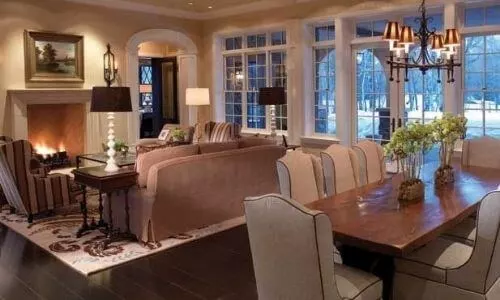 We're not kidding, farmhouse living and dining furniture arrangement style scream "steak" when you set your eyes on it. It's characterized by wood accents, a lot of browns, and a dining table that's meant to be shared with a whole lot of family members for a heavy metal that's greatly anticipated.
Farmhouse designs are laid back yet generous and if you think that matches your personality then you're welcome to try it. You can taste the farmlands or the country with this furniture arrangement.
5. Modern Luxe Combo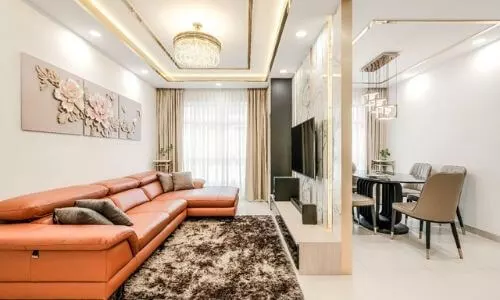 Knowing how to arrange furniture in living room dining room combo means you're going to have to be a bit versatile on your taste. Take a look at this modern luxe combo.
It does not skimp on colors and while it looks modern it's got a hint of mid-century style. No restrictions in color whatsoever but still looks really good if your living room and dining room are back to back.
6. Cozy Cottage Living Dining Combo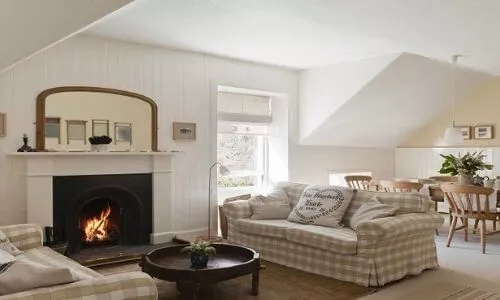 Nothing else screams family and nostalgia more than cozy cottage furniture arrangement designs. It's like the farmhouse style that it's also laid back and homey but we can say that it's much more traditional.
Accented by a fireplace maybe and cozy couches that are meant to be the place where you cuddle with a loved one or a pet. And can you just imagine the food on the table? We know we can, scrumptious!
7. Warm and Modern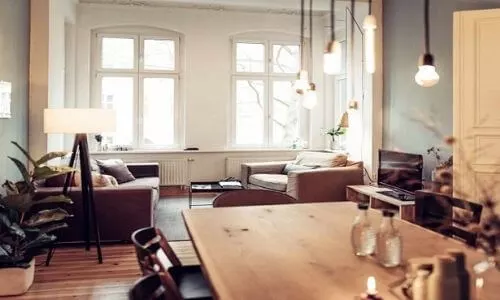 Warm is oftentimes characterized by bright yellow, orange, or red lights and if you're the kind of person that always wants a warm tone in your living and dining room then go for it.
You can go for wood as far as your furniture is concerned but the lighting is everything. There will be a lot of gradient colors here so it's definitely not going to be just black and white.
8. Cozy Neutrals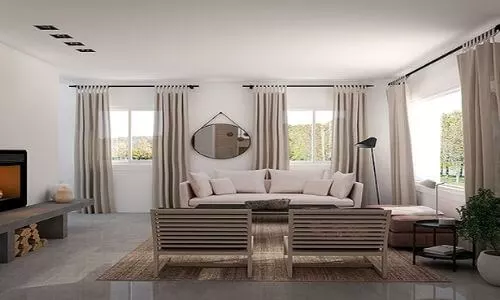 Cozy means that it's warm, comfortable, and well, a place where you can just stay for days without missing on anything out. Neutral refers to the colors contrary to a warm color scheme where everything is muted and limited to just 2 to 3 shades.
Don't get us wrong, neutral does not mean boring but it's just a way of designing your living and dining room furniture where your eyes can rest with the simple yet elegant colors.
9. Scandi-Style Open Plan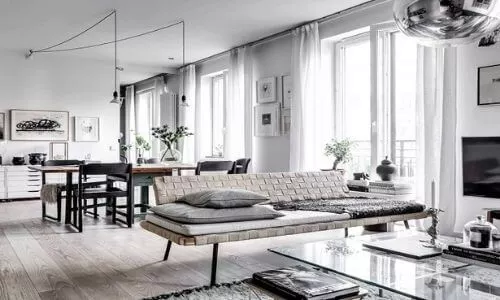 Scandi-style open plan living and dining room furniture arrangement combo is one of those very distinct styles that are also characterized by minimalistic and muted color schemes and modern furniture.
This style may look like a combination of a lot of elements like mostly metallic, some wood accents, and even glass. It's perfect for suburban living and dining room designs.
10. Classic Décor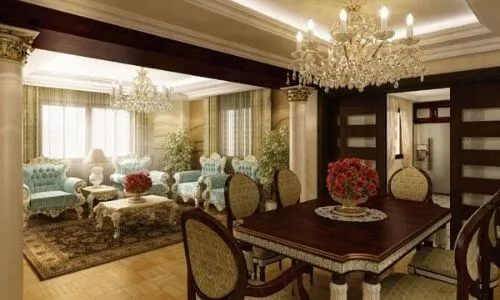 Whoever said that you can't go classic if you have a small house or a small space? Of course, if you want to go classic then it's not in any way minimalistic in colors and furniture.
You can go all out here and also this style is characterized by chandeliers for your lighting. A carpet and a centerpiece that's going to be eye-catching for sure. Your chairs aren't only chairs but need to be regal and take you back in the mid-century palaces.
11. Living Room Dining Room Combo by Beachside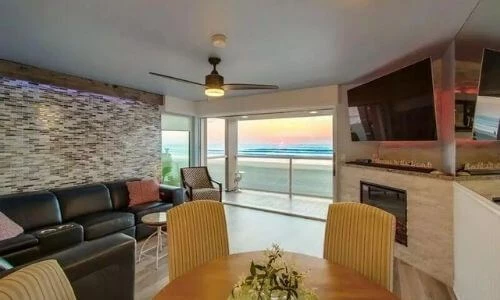 Of course, the beachside home is characterized by windows that are ready to welcome the fresh air from the shore anytime. Lots of glass and furniture that can withstand the salty wind.
And of course, you're going to have a lot of sand in it for sure as you have fun. Hey! The beach is a fun place and always should be. Your living and dining room furniture should accommodate friends and family. There should be lots of chairs almost like a lounge.
12. Deluxe Living Room Dining Room Combo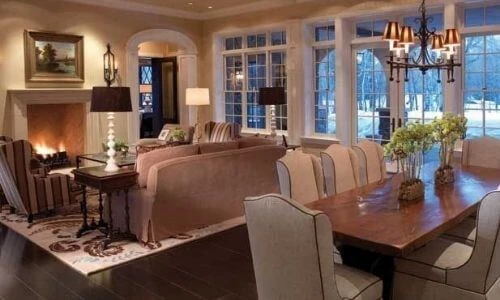 Nothing screams deluxe living and dining room combo more than wood. Wooden floors with carpet and a nice wooden dining table. Warm lighting and cozy furniture with a fireplace should wrap it all up.
This may be luxurious but don't let that discourage you from having a deluxe lifestyle.
13. Living Room Dining Room Combo Ideas for Apartment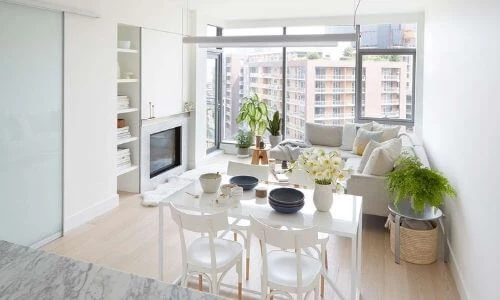 Live in an apartment? Well, apartments or small living spaces are actually what living and dining room combo furniture arrangements are made for. We really think that this style is meant for minimalistic ideas and for people who want to incorporate creativity in their interior design.
Your couch and your TV could just be placed by your window and your dining set is just a couple steps away from where anyone sitting in it can still watch the TV and have a nice view of the cityscape outside the window.
It's not just efficient but also convenient and quite affordable. You can play around with a lot of designs especially with your furniture or the lack of it. Your imagination is the limit too when it comes to the colors. Minimalistic shades like white, grey, and even black are top choices.
14. Simple Living Room Dining Room Combo Style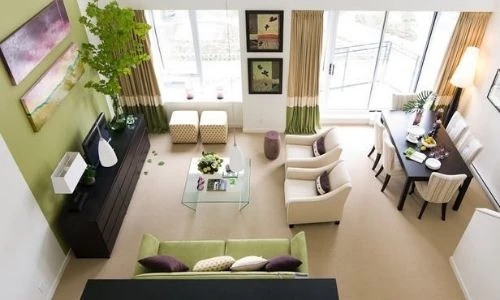 Simple does not mean that you can't put on the colors that you want nor have the furniture that you desire. Simple is a concept and not a mechanical step to follow. It's the feel of your house that matters. If it's simple for you then go for it.
A simple living room and dining room combo also veers towards the minimalistic side of things. It's functional, stylish, and has everything that you need anytime and anywhere.
15. Elegant Country Inspiration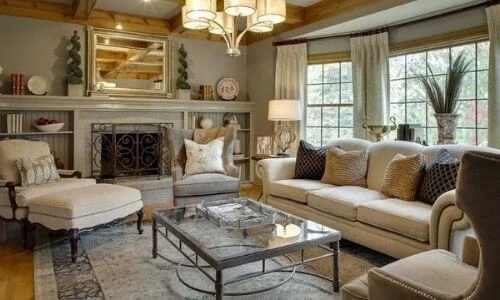 The country-inspired living and dining room furniture design combo is pretty diverse. For one, a country can mean and look a lot different from any part of the world.
But, in general, the country is always defined by a cozy and elegant home environment. Lots of greens and browns on the color schemes with relaxing couches and warm lighting plus a large window that would let natural light in effortlessly and relaxing nights with the family with a fireplace as the centerpiece.
16. Traditional Living Room Dining Room Combo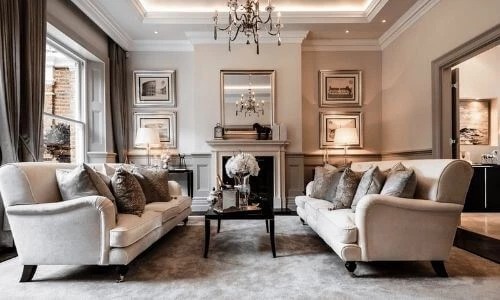 Traditional just means that you have a taste for the classic. May not be a 15th-century classic but it would feel like going home to your ancestral house ever since you left it 15 to 20 years ago and it hasn't changed one bit.
We love the traditional living and dining room combo as it's not only laid back but also quite stylish and sophisticated. Lots of greys, beiges, whites, and even shades of green on your furniture with enough room for a big family reunion.
17. Minimalist Living Room Dining Room Combo Model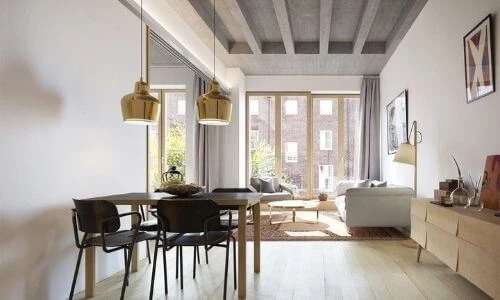 You would think that there's not a lot of thought put into designing a minimalist living and dining room combo but think again. Minimalism is not just an interior design style but a lifestyle and a movement.
It's living your life as efficiently as you could and throwing everything away out of the window the things that do not give you happiness or at least, not anymore. These are the exact philosophy that you should have as you design your furniture to fit in your place.
18. Industrial-Inspired Living Room Dining Room Combo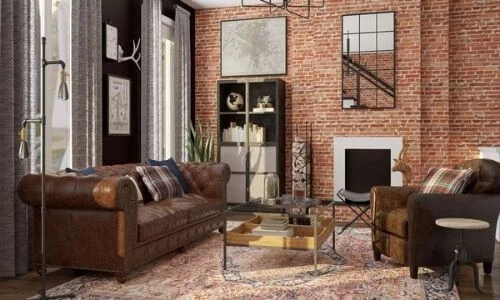 There's just no way that we're going to leave industrial-inspired ideas out of this list. Industrial design can have a lot of colors. It could be red dominated with all the bricks or grey and black with all the metallic furniture around.
High ceiling, rustic lighting, and minimalistic furniture are some of the characters of an industrial-inspired living and dining room set. It's one great bachelor's pad if you ask us but can also be a place that screams intellectual and post-modern.
19. Fascinating Ornaments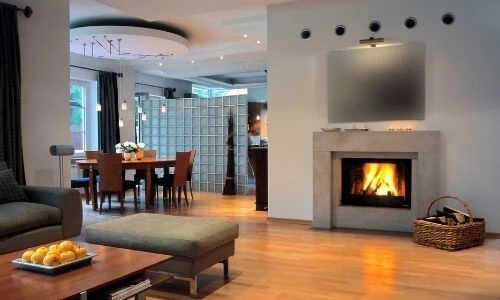 Trippy, hippy, progressive, you name it. There's no better way to spice up your living and dining room combo than to make use of your imagination and filling it all up with fascinating ornaments is a good direction to take.
Whether it'd be your actual chairs, lighting, or fireplace, your imagination is the limit. It should though not only be all aesthetic but also function and should make your life more convenient, now that's good interior design if things make your life more comfortable.
20. Grey Living Room Dining Room Combo Sample for Apartment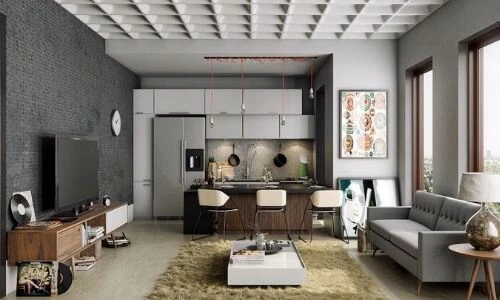 How often do you see grey when it comes to interior design color schemes? A lot, right? That's because grey is more than just a color but it's a concept in itself. Some might not like it for it's a bit gloomy but it really isn't.
It's actually very sophisticated and it's got a lot of shades more than just 50 to be sure. Men love it for sure as it's a great masculine color for their bachelor's pad.
21. Colorful and Modern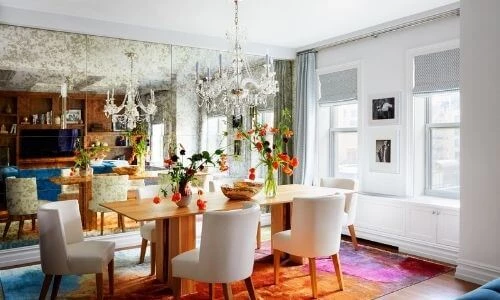 Bold colors, strokes, and ornaments. People with colorful personalities can't just ignore the need for lively tones and absurd elements. It's who you are so let it out on your interior design.
Chairs aren't just chairs, tables are multifunctional, and everything inside the house is a product of one's imagination. Obviously, with this style, there wouldn't be any limit when it comes to colors nor furniture.
You can mix and match whatever you want. It would feel like your interior would be something out of a Sci-Fi movie or futuristic shows somewhere in the 22nd century that's for sure. So don't let anything hamper your style and go for furniture that is fun and screams life.
22. Formal but Romantic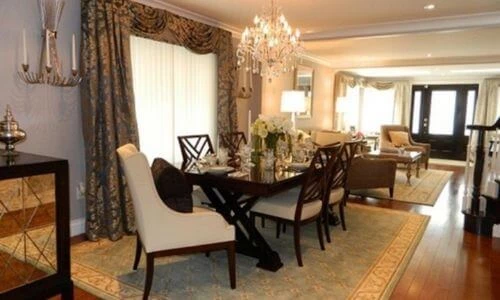 To make something romantic, it doesn't have to just rely on the lighting or the colors or the furniture. It's all in the arrangement and someone who knows how to arrange furniture in living room dining room combo knows this.
It's all in the concept and say, for example, the proximity of the furniture. It should be intimate yet respects the individuals' privacy. That's why a romantic setting still being formal is highly recommended.
The feel or the color scheme can be warm, can be blue dominant, or maybe even pink or green. It's really up to the personality of the people living in such residence. Being romantic in your home arrangement especially in your living and dining room does not have to rely on whether you are married or still single.
It should be a lifestyle much like minimalism. So go all out in your furniture or be modern or minimal, it's up to you.
23. Cute, Innovative Furnishing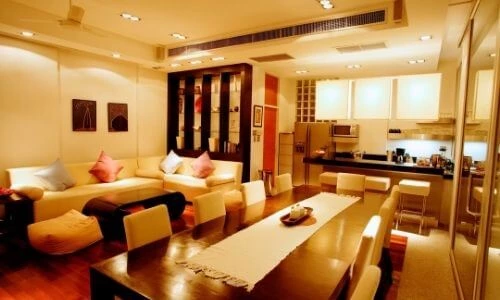 Cute is hip, cute is joyful, and cute is stylish. It's a bit hippy-ish too but for those who's got a free yet cozy spirit, you should think about letting all of that ideas out of your mind and execute them to make your house's interior lively.
Armed with handicrafts, paintings, and innovative furnishings and ornaments, you should just be expressive and bare it all to the world. Of course, being innovative does not only mean in the aesthetics department but also function.
Hip houses are accommodating for artists, work-from-home individuals, and those who need a multifunctional space to live in with pets or not with kids or not.
24. Open, Hanging Garden as Partition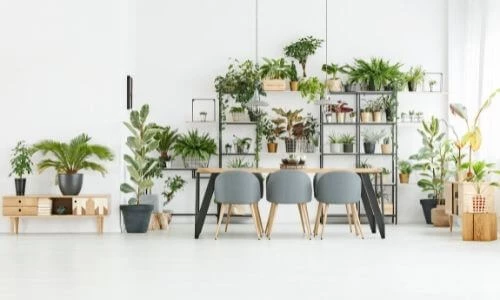 Another modern and innovative idea is to have a hanging or vertical garden inside your house. It's not just all for show too and a vertical garden with actual plants in it can help a lot when it comes to the air quality in your humble abode.
This design style is always found and meant for those living in small spaces and in the middle of cities where air pollution is quite the norm but don't let that limit you from having a garden in the middle of your house to separate your living and dining rooms.
25. Light Color Scheme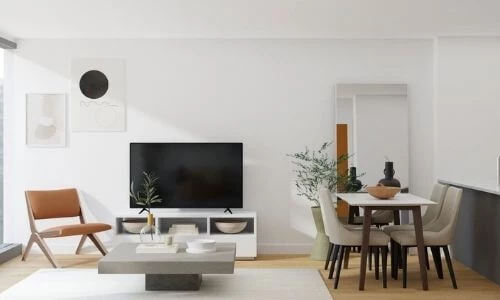 Light doesn't mean that your furniture and ornaments should all be white but it can be any color but on the lighter side of the color spectrum. It can be yellow, green, pink, blue, or whatever your heart desires.
Lighter shades just have a way of relaxing or calming your soul, well really your eyes but as they say, they are windows to our souls and you should not discount what that may bring to your day-to-day living.
It can be a bit minimalistic too but also luxurious.
Common Living Dining Combo Mistakes and Tips to Fix
Let's watch a great video about this topic.
Final Say
Liked what you saw so far? Well, we sure did enjoy preparing this list for you. Mix and match, try what best showcases who you are, and make your everyday living more comfortable. Take your pick from these fashionable furniture arrangement ideas and live life to the fullest. Cheers!