Where To Put Entryway Tables? 8 Decorative Ideas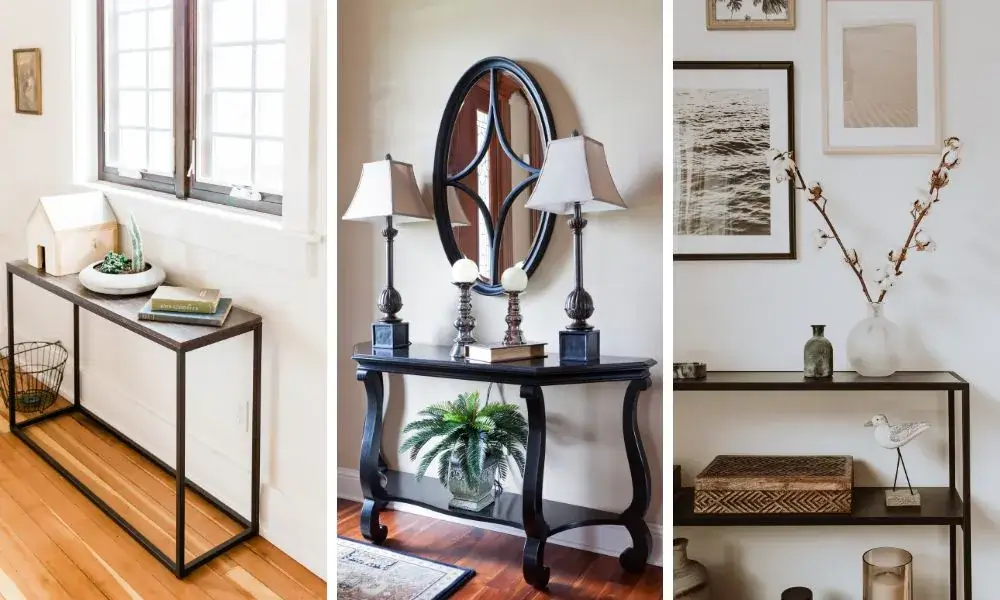 Entryway tables are great for keeping essential items nearby. They can also give the room a much-needed sense of freshness by means of lively furnishings. But where to put entryway tables in a manner that makes the most sense?
Storage facilities, eye-pleasing furnishings, and proper use of space – these are the conditions to fulfill when it comes to placing an entryway table. It's best to place it somewhere where guests and inhabitants can see and access it easily. 
Today, let's go over a plethora of entryway table decorating ideas for both traditional and contemporary households. Great things can happen when a pinch of creativity bumps into functionality, and that's precisely what we're after today.
8 Stylish Entryway Table Placements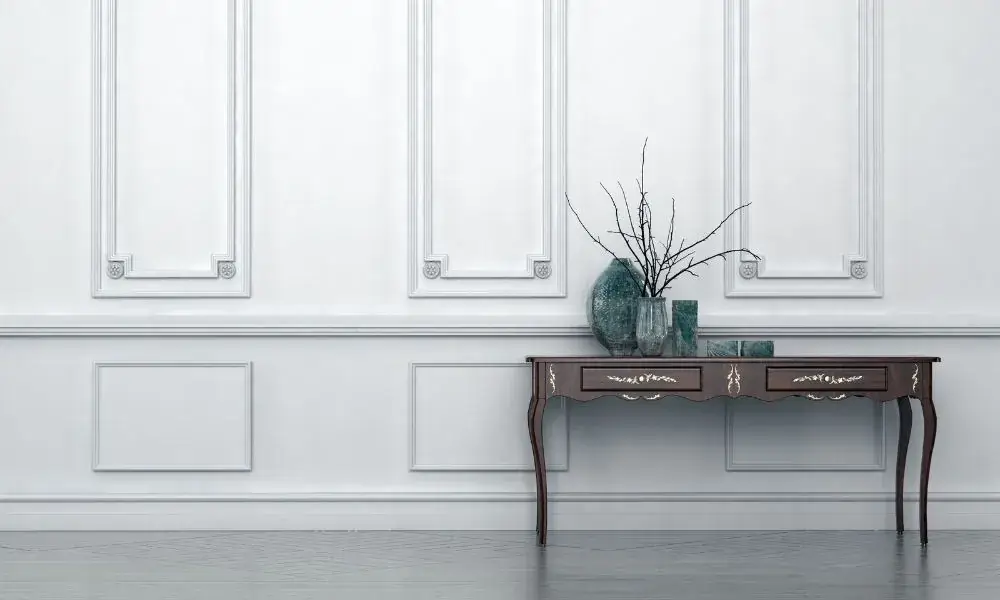 Here are the ideas to try out for stylish entryway arrangements!
1. To-The-Point Tables
If you're prioritizing functionality over fanciness, go for a simple hardwood table with a few drawers. Place them opposite the doorway and fill up the drawers with important keys, mail, magazines, etc.
2. Floating Cabinets
An entryway table doesn't necessarily have to include a *table* all of the time. To save space, you can install low-cost Macramé hangers and wall cabinets by the door.
You can keep the average items in these floating cabinets. The only downside is that you can't fit a lot of items in such a scattered arrangement.
3. Right Behind The Door
Despite popular opinion, it's actually not a bad idea to place an entryway table behind the doorway.
You can even use this as a secondary entryway table to store important but irregularly used items. Such as – winter boots, golf clubs, fishing gear, extra umbrellas, etc.
4. Backdoor Entryways
If you've got more than one entryway, go for purpose-specific entryway tables to cover all of the exits. For instance – if the backdoor opens into a garden, you can place a spacious entryway table there to store the gardening tools & resources.
5. Hallway Tables
In a big apartment, long hallways or corridors can also count as entryways into multiple rooms, don't you think?
To make the best use of space, you can place stylish entryway tables in these hallways for a pseudo coffee table arrangement. You can place beanbags, small stools, etc., nearby so people can sit down to try out the magazines there!
6. Plant-Focused Entryway Tables
Who says entryway tables and plants don't go well together? You can use Macramé hanging pots to store various herbs and flower plants to liven up the entryways.
However, it's better to stick to desert plants such as cacti since it's better to avoid muddiness in the area. Don't place plants that will require too much water or sunlight to survive.
7. Hollow Entryway Tables
For a basic set-up, place a simple, hollow, and low-cost partex table across the door. You can place cardboard boxes under the table to store the scattered items throughout the house. From kids' toys to lost socks, these boxes can work like mini lost and found stalls right by the door.
8. Artistic Entryway Tables
If you've got a taste for fine arts, then you can decorate the entryway tables with statement vases, antique lamps, etc. However, in these cases, you have to keep the entryway tables slightly away but on the same side of the doorway.
That way, the artwork will stay safe from direct sunlight and moisture, and it also won't accumulate dust as easily. You can use scented candles, integrated LED bulbs, etc., to draw focus to the sculptures and paintings, if needed. 
Placing An Entryway Table: Things To Consider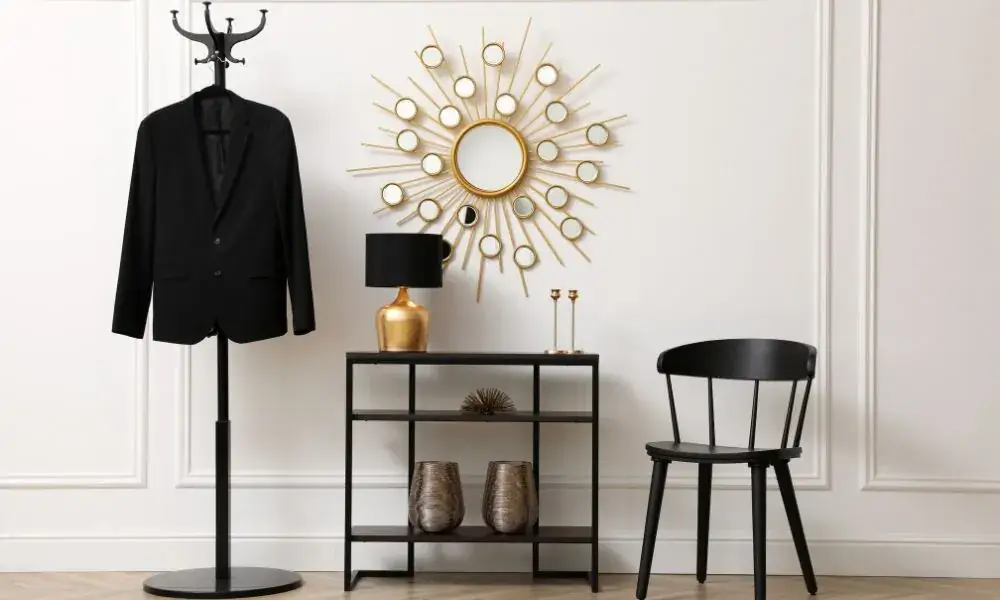 While placing an entryway table, keep an eye out for the following factors to expedite the overall process –
Shape Of The Room/Hallway
If it's a narrow hallway, steer clear of elongated entryway tables. Make sure they hug the wall as much as possible.
Alternatively, avoid placing circular tables in a room that's not wide enough to complement the arrangements.
Table Material
Hardwood, partex, metal, glass – whichever table material you choose, make sure it's durable and sturdy. If you're using hardwood tables, make sure it's laminated to avoid decaying.
Intended Purpose
You can place multiple entryway tables systematically, if you've got enough space to cover all intended purposes. For instance – use the one with spacious cabinets just to store the day-to-day stuff like keys, newspapers, earmuffs, etc.
Again, use the fancy decorative ones to place eye-pleasing furnishings and to show off your achievements to visitors.
Wallpaper Color
If the wallpapers are dark in nature, go for a lighter color wood/framework in the entryway tables. This way, they would have increased visibility. Alternatively, use tables with a darker undertone to complement the light beige walls.
Frequently Asked Questions
Can you do without a table in the entryway?
If the entryway is too small, then there's no point in placing an entire table to make it even more crowded. In these cases, it's better to use hanging cabinets, hooks, etc., instead of hanging the essential items by the doors.
Is it a good idea to put fresh flowers on entryway tables?
If you can change the water periodically without making the area muddy, then definitely go for fresh flowers. Otherwise, it's best to change the flowers daily/weekly i.e., before they start to rot. Or, you can keep plastic flowers for decoration. 
Can you use a coffee table as an entryway table?
Coffee tables are usually centerpieces, but you can use them as entryway tables as well. You can use the rectangular coffee tables in a manner that they hug the walls to free up more space. And if it's a circular one with drawers on all sides, you'll need to find a way in the middle of the hallway/room.
Get More Ideas
Final Verdict
So, how and where to put entryway table arrangements in a functional and aesthetically appealing way? Hopefully, the efforts we put together in this article more than helped you to find the answer to that overbearing question.
Over everything else, prioritize the design of the entryway tables. Make sure they're coherent with the space and overall ambiance throughout the rooms and the hallways. Durability, spaciousness, and stylishness – you can never go wrong with a combination of these three traits in an entryway table.