Will A Futon Fit Under A Loft Bed? [Maximizing Space]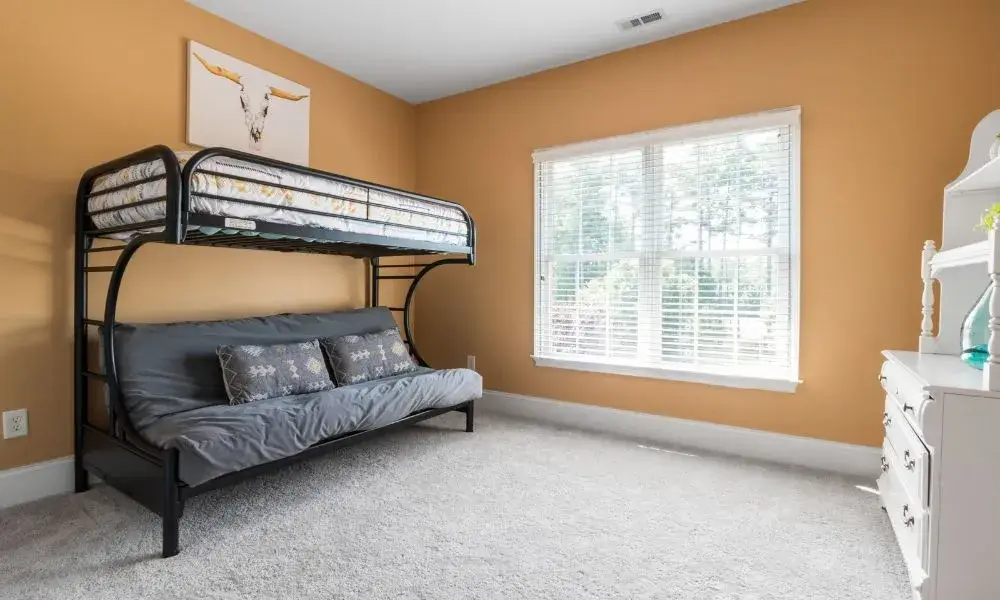 Loft beds are both fun and practical. And you can use the space underneath for multifunctional purposes. From computer tables to mini bookshelves, you can fit so many furnishings to decorate the area properly. But will a futon fit under a loft bed?
Yes, with ample space, you can totally jazz up your apartment with a combination of a loft bed with futons. It's actually more practical to place futons instead of queen beds or twin beds in a loft system. Within 50-60 inches or less, you can comfortably place a futon or two, whereas, with bed frames, it'd take a minimum of 70-80 inches for proper breathability.
Today, let's figure out whether it's possible to fit futons under a loft bed. We'll also go over several strategic ways of decorating the area under a loft bed with futons.
Can A Futon Fit Under A Loft Bed?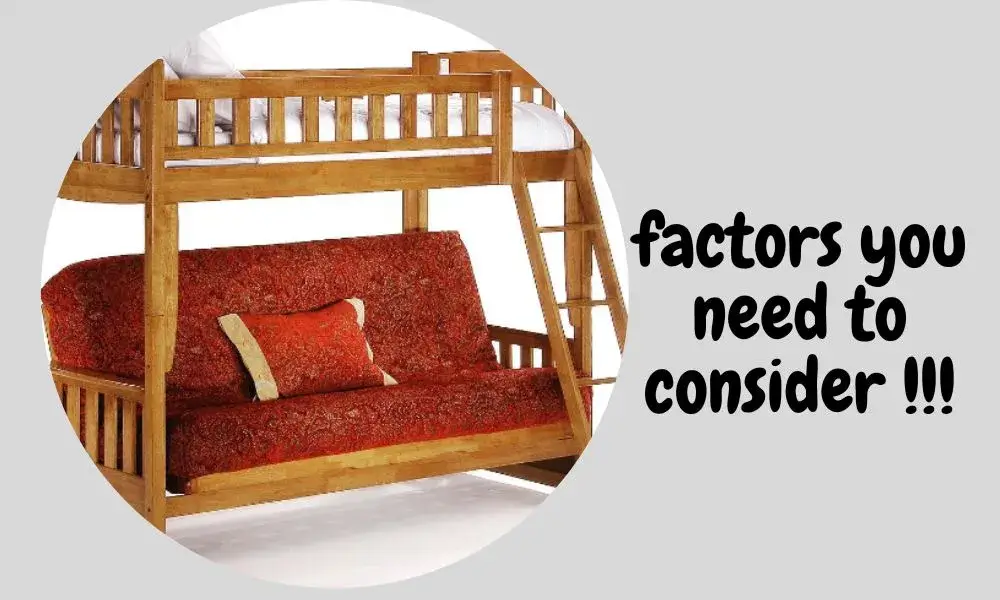 Given the structure of a loft bed, you can even fit a queen bed under it if the height requirements are met. Here are the factors you need to consider if you want a futon to fit under a loft bed –
Vertical Space
Even though you'll place the futons on the ground, you still need enough vertical space to make the arrangement work. Otherwise, you might bump your head into the upper frames and railings while getting into the futons at night.
Again, you shouldn't feel any obstructions while getting up from the ground. A distance of 4-6 feet should be enough. Any lower and you might feel too crammed inside the space. 
Horizontal Space
Are you looking to place the futon in a parallel or perpendicular manner? If you place it parallel to the loft bed, then you'll save space outside the loft zone. And this is a great idea if the room is super small and you don't even have enough space to walk comfortably.
Again, if the room is spacious enough, you can place the futons perpendicularly and achieve that criss-cross status. This way, you'll save space on both sides where you can keep small tables, workstations, mini bookshelves, etc.
You can place 2 or more futons side by side if you need more sleeping spots. We'd recommend not doing that since it'll only make the area a lot more crowded. But you can always resort to the *emergency* futons in the closet if need be.
Will A Futon Match A Loft Bed?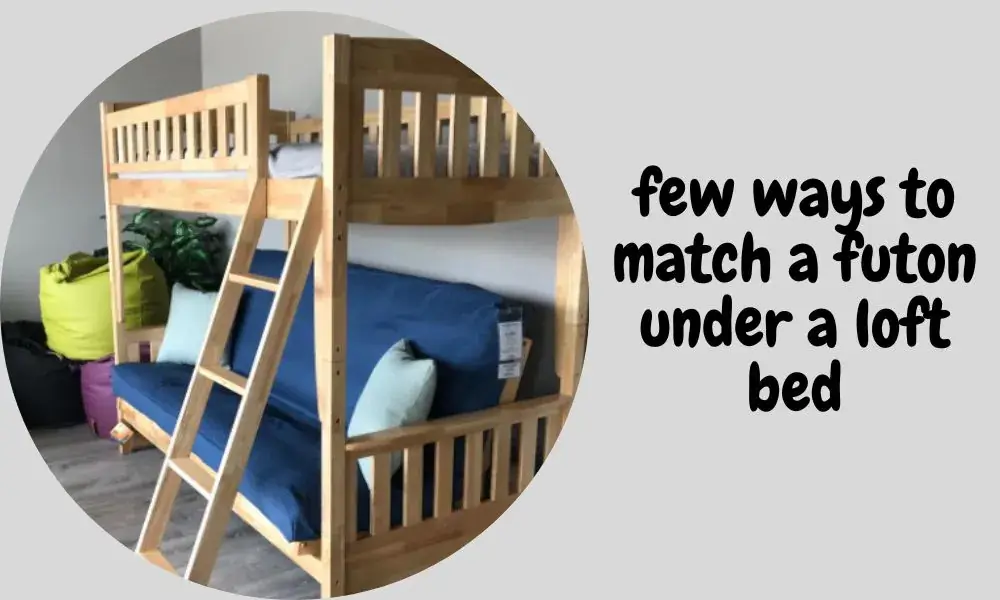 Design-wise, a futon can look really great when paired up with a loft bed. The arrangements give off a minimalist yet soft look – which is perfect for small houses and apartments.
Here are a few ways how you can accentuate the match-up of a futon with a loft bed –
Use One Big Futon
If you're prioritizing comfort while sleeping, get one of those large futons with a heavy mattress to fill up the space under the loft bed. For aesthetic purposes, you can choose similar colored mattress covers on both of the beds.
Use Multiple Small Futons
If you're looking to create a fun hangout spot instead, use multiple small futons in the loft zone. You can watch TV, play video games, play cards, and even have a sleepover with your friends with such an arrangement. In cases like these, often the cozier it is, the better.
Makeshift Sleeping Spots
The beauty of a futon is that – you can easily wrap it up and store it someplace else. So, if the apartment is really small, you can use the area under the loft bed in different ways.
For instance – you can store the futons away during the daytime and place a desk there to study, work out, etc. Afterward, clean out the area and roll out the futons to have a good night's sleep in peace. 
When Should You Not Place A Futon Under A Loft Bed?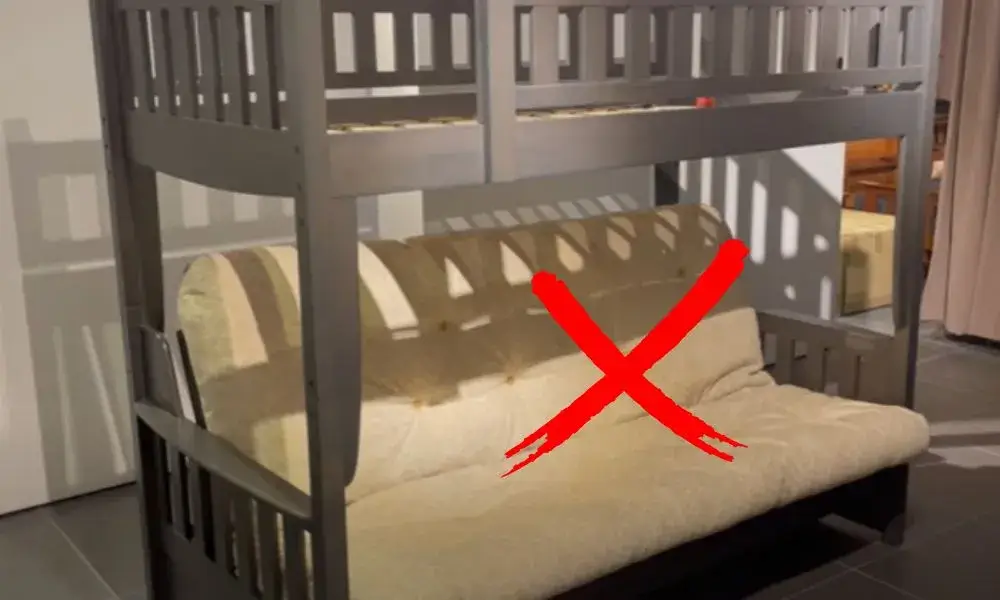 Just because you can do something doesn't mean you should actually do it sometimes. Here are a few instances where placing a futon under a loft bed would be a bad idea –
Height To Weight Ratio
If you've to constantly crouch to get out of bed every morning, it can affect your backbone and overall physique. You'll start to experience constant back pain, which can just as easily become a chronic condition in no time at all.
Hence, it's best not to place a futon under a loft bed if you can't even stand upright enough after waking up. Again, the loft bed above should have a corresponding weight capacity. If the framework is too fragile and if the posts can't handle the constant friction, avoid sleeping in a futon underneath.
Lack Of Cleanliness
If the loft bed is near a window, water or dew can seep easily. The wooden posts can start to rot from within, and the foam inside the futons will trap in the excess moisture. Again, it can get muddy if the area is super dusty.
In cases like these, it's best not to use futons under a loft bed. The area should remain squeaky clean, and dry at all times so you can sleep or take rest comfortably.
FAQs
What are the minimum height requirements to place a futon under a loft bed?
To make sure it doesn't feel crowded, there should be at least 50-60 inches of space under the loft bed. Alternatively, the ceiling and the loft bed should have a minimum of 30-40 inches of space between them for proper breathability.
Can you place multiple futons under a loft bed?
Depending on the placement and size of the loft bed, you can place one or more futons under the same loft bed. If you decide to keep the futons in a perpendicular manner, you can likely place up to 2-3 futons side by side.
Final Verdict
So, will a futon fit under a loft bed? If you've got ample space, you can definitely place one and enjoy the comfort. However, make sure to place the futon on protective sheets or rug pads, as the area under a loft bed can get dusty easily.