Fitting a Queen Bed Under a Loft Bed: Possible?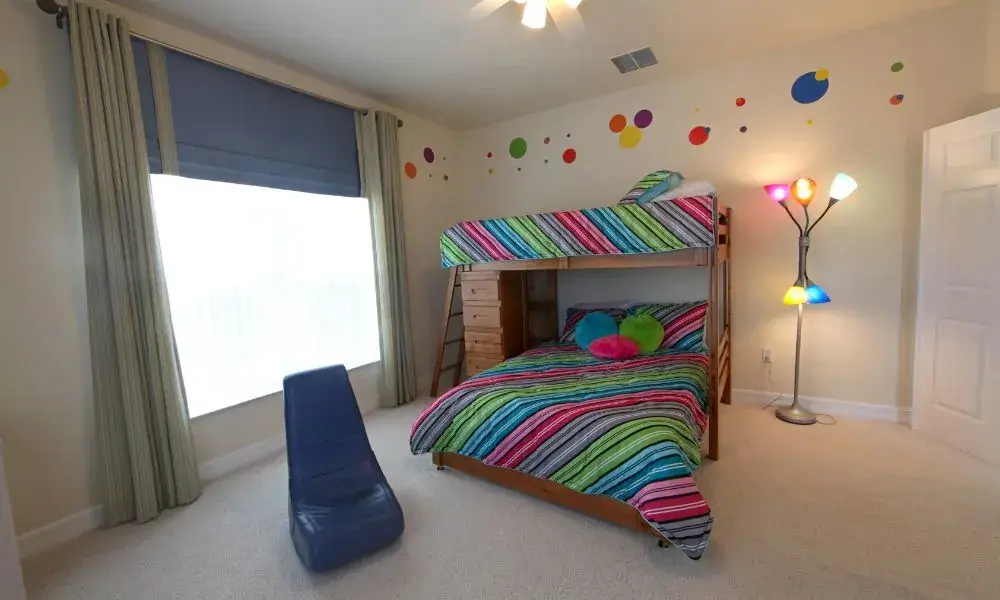 Unlike bunk beds, loft beds take up space both vertically and horizontally. Instead of both beds facing the same direction, they are placed in a crisscross position by the wall. But what if you wanted to place a spacious queen bed on the bottom? How would that work out?
Fitting a queen bed under a loft bed is possible if you have enough horizontal space to pull it off. Otherwise, the room will feel overwhelmingly crammed. Also, if the perpendicular bed is a queen bed, the parallel one i.e. the loft bed will require soft bedding compared to the queen one.
Size, comfort, and functionality – all three factors will have to be considered aptly if you want to pair up a queen bed with a loft one. And today, we'll attempt to teach you just that.
How Can You Fit A Queen Bed Under A Loft Bed?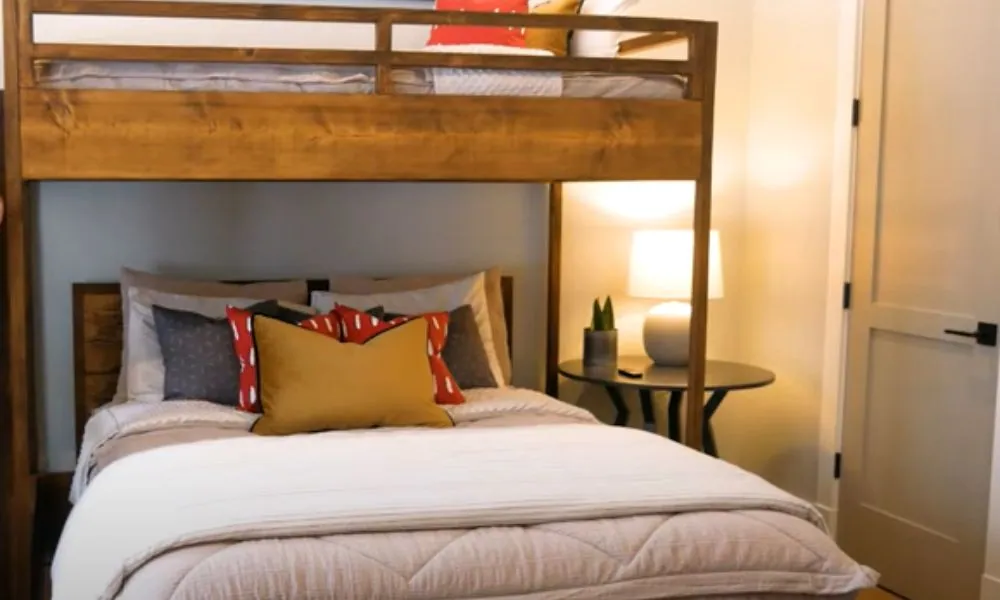 If you're interested in fitting a queen bed under a loft bed, it's best to first come up with a proper diagram. That way, you'll be able to anticipate the potential fallacies before they occur.
Here are a few ways how you can place a queen bed under a loft bed. Use these ideas to help your creativity flow along!
Basic Set-Up
If you don't have any preferences, you can simply go for a one-on-one set-up. Place a queen bed as you'd normally and then attach the stairs and beams by the side for the loft one.
That's it. Nothing too extravagant or gorgeous. Decorate the beds normally and now you can use them as intended.
Modern Set-Up
In a modern set-up, the framework is usually custom made and you'll have designated railings for both beds. The framework is to the point and leaves room for additional furnishings alongside the beds.
The modern one utilizes more metal bars and stairs than the traditional hardwood ones. Hence, it's important to check the quality of the used metal to prevent premature rusting.
Kid-Friendly Set-Up
Many parents like to fit a queen bed under a loft bed so that their child won't have to sleep alone. It's more frequent in parents with single kids.
That way, the parents can sleep on the queen bed underneath while the kid can use the top bunker. It's a super-saving idea for one-bedroom apartments inhabited by nuclear families.
Work-Friendly Set-Up
If you run a corporate household, you can include a desk, computer table, bookshelf, etc. within the framework. Alternatively, you can use the loft bed as a makeshift drop zone to store important files, discs, books, etc.
With the right mindset, you can increase your productivity infinitely in such setups. It's the perfect solution for people who work from home with small apartments.
Fitting A Queen Bed Under A Loft Bed: Benefits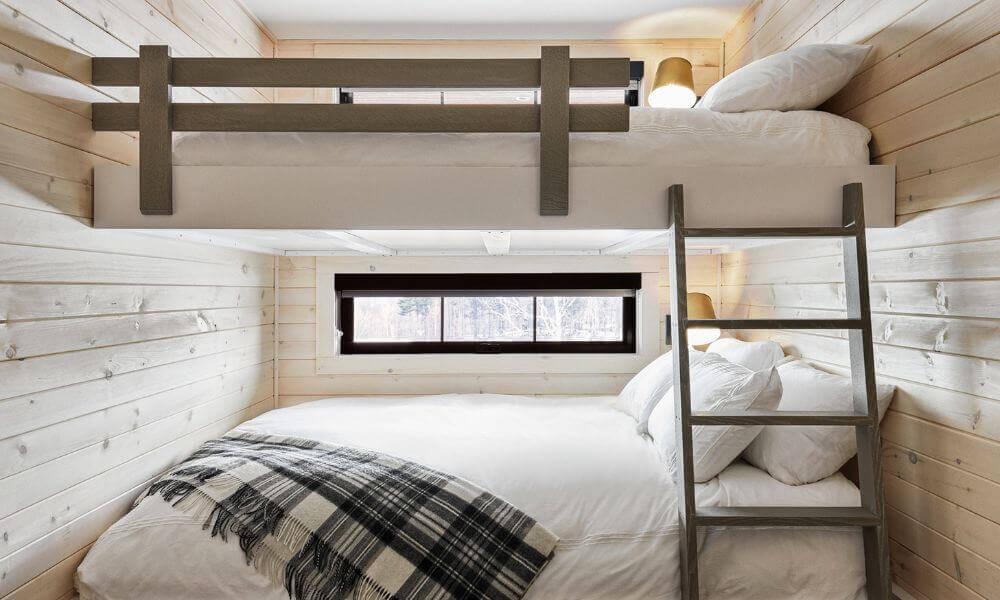 There are way too many benefits to fitting a queen bed under a loft bed, especially in today's fast-paced world. Such as –
More Usable Space
By placing two beds in place of one, you can create more usable space for yourself. You can use the empty space to place important furnishings such as sofa sets, TVs, etc.
Variable Sleeping Positions
You can alternate between the beds to try out variable sleeping positions. If the loft bed starts to feel too compact, you can switch to the queen one for a few days. Again, if you like sleeping high up, you can use the loft bed instead.
Desk-Friendly Design
Due to the unique positioning of both beds, it's easier to fit a desk or two right by the beds. If you've got a habit of staying up during the night, you can use a similar design to amplify your productivity. You can work from home, read books, or work on personal projects right by the bed all night long.
Fitting A Queen Bed Under A Loft Bed: Drawbacks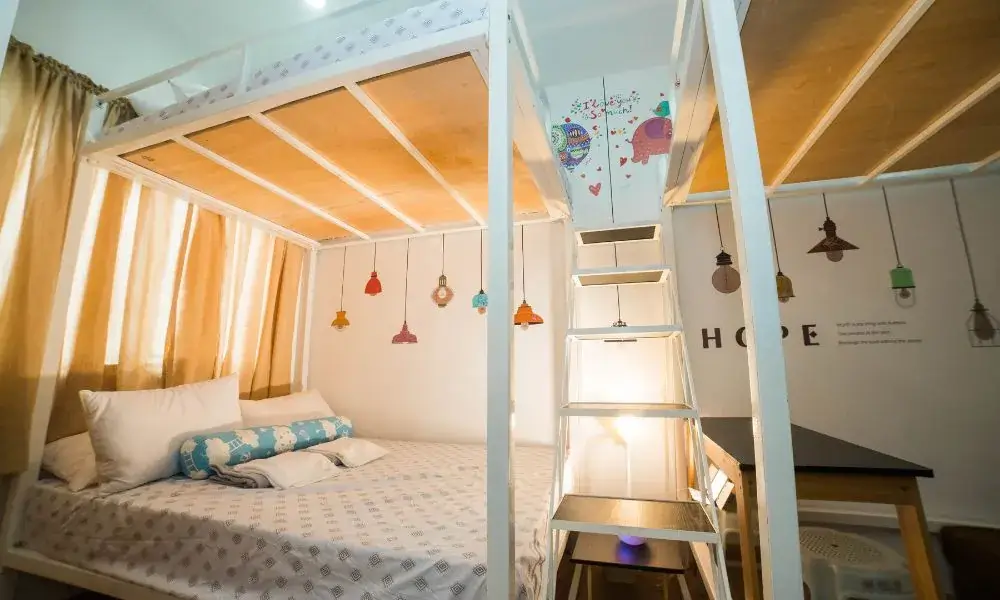 Here are a few drawbacks of the proposed framework –
Harder To Clean
Due to the perpendicular positioning of the beds and their size differences, these bedding systems are harder to clean. Often, the nooks and crannies will accumulate lots of dust because it won't be easy to reach those spots effortlessly.
Requires Tall Ceilings
If the upper loft bed is too close to the ceiling, the inhabitants will have a hard time sleeping. They'll have a hard time breathing and moving properly.
Hence, if the ground is too close to the ceiling, it's best to avoid bedding systems such as these. Comfort should be your topmost priority no matter how badly you need to save space.
Safety Hazards
While it's certainly a space-friendly idea to place a loft bed over a queen bed, it's not always the safest one. If the loft bed is placed horizontally across the wall, the queen bed will make a right angle since they're placed perpendicularly.
As such, if you use poor-quality materials or if the supporting beams aren't too sturdy, then the loft bed can collapse. Considering the perpendicular positioning of the bed, the person on the loft bed can fall directly on someone's face underneath – resulting in life-threatening injuries.
FAQs
Can you only use queen beds under a loft bed in the kid's room?
The concept of bunk beds isn't limited to kids or teenagers any longer. From bedrooms to guest rooms – you can use this bedding system anywhere to save precious space and energy.
DIY-ing a queen bed under a loft bed vs. purchasing the beds separately – which one's more affordable?
If you've already got the materials for the loft system at home, it'll be easier to go down the DIY route. It'll cost significantly more if you have to buy the corresponding instruments for the DIY project. For instance – miter saws, measuring tapes, wood panels, supporting beams, legs, etc.
Final Verdict
So, fitting a queen bed under a loft bed – is the idea worth the execution? Well, we sure do think it is!
This specific bedding system doesn't only help to save space around the house but also makes the room look more functional and aesthetically pleasing. However, make sure to keep a track of the weight distribution throughout the beds. Without a stable structure, the system won't last many days.