10 Entryway Drop Zone Ideas To Keep Your Entryway Organized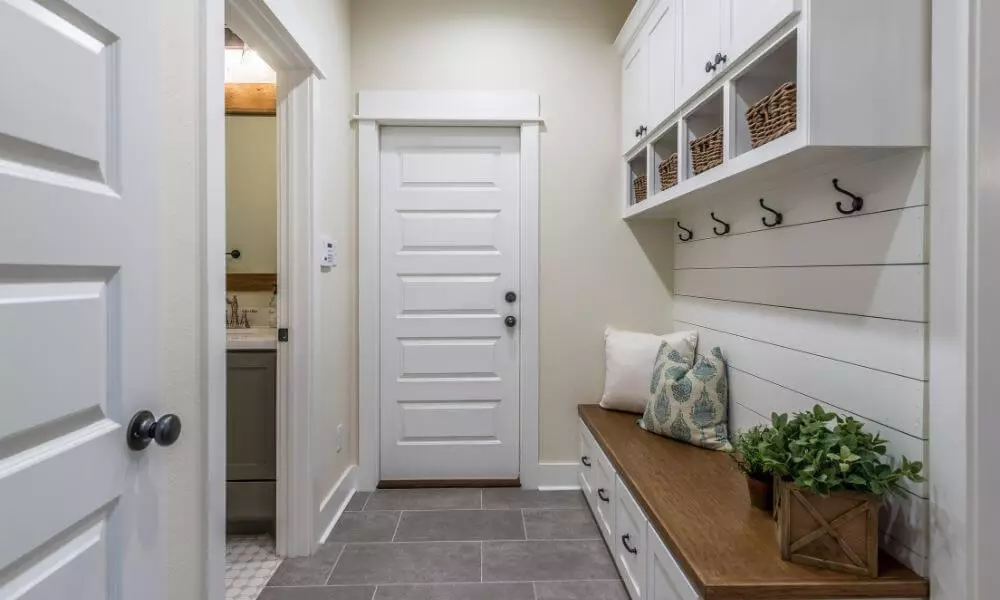 Back in our teenage days, we all used to throw our stuff just anywhere upon returning home. Some of us even had dedicated chairs/sofa sets in one corner, forever condemned with a huge pile of clothes, books, sports gear, etc. on them.
Drop zones are similar calculated spaces within a house or an apartment. You can quite literally 'drop' your stuff in these spaces before relocating them to their rightful places. Alternatively, you can use the area as an organizer itself to achieve both better-looking and high-functioning entryways.
Today, we'll attempt to provide 10 stunning entryway drop zone ideas to revitalize the dead-open spaces within your apartment. Use these ideas to unleash your inner creativity and gorgeously organize your entryways like never before! 
10 Entryway Drop Zone Ideas For Maximum Functionality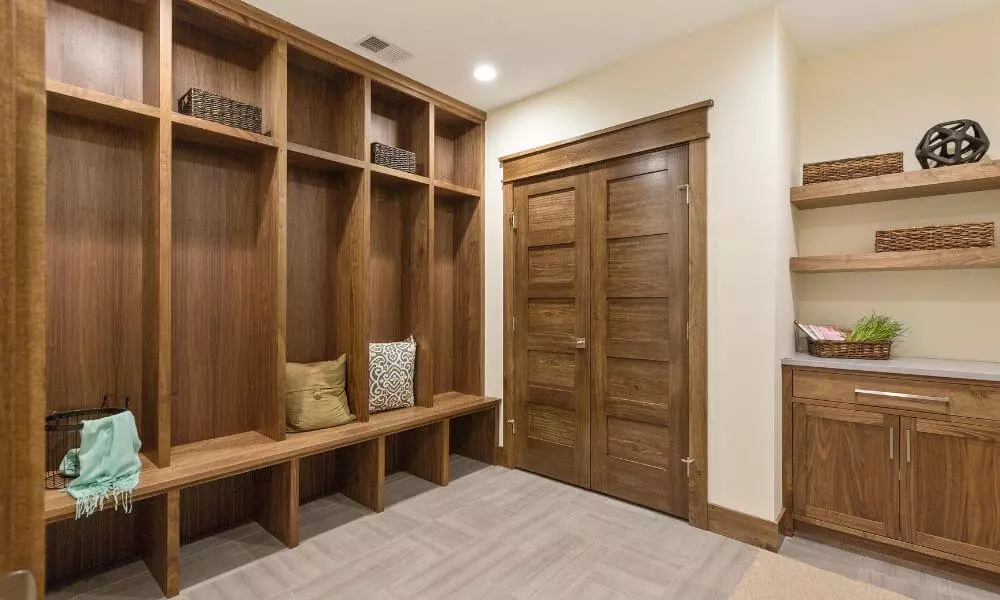 Functionality often demands availability, and you can't have either without a little bit of creativity and innovation. Entryways shouldn't feel cluttered, and similarly, drop zones shouldn't feel too detached. 
To jumpstart the creative decor thoughts in your head, here are 10 superb entryway drop zone ideas for maximum functionality and maneuverability within the house –
1. Defined Area: Creative Personalization
If the drop zone space is roomy enough, then you can treat it like a separate area in itself. For instance – if it's a square-shaped small but definite space, you can place closets or cabinets alongside the walls to keep the accessories.
In this case, the drop zone will separate the entryway from the innermost living room, dining room, etc. You can place coat hangers and small lockers so the guests can leave their valuables there safely before getting inside.
Thematic dissociation isn't a bad idea either if you want to treat the drop zone as a distant passage entirely. You can use vibrant patterns and colors, so the room doesn't feel gloomy. And if the zone is spacious enough, you should arrange for benches or similar seating arrangements to provide comfort.
2. Defined Area: Deconstructed Drop Zones
You don't always have to follow the rule book to the T, especially within the parameters of your own home. Nowadays, many homeowners prefer deconstructed drop zones over traditional resourceful ones.
If you occupy a one-bedroom apartment and don't have to bother about guests coming in frequently, this idea is for you. Don't invest a lot in specialized closets, cabinets, etc. just to make the drop zone look more composed and resourceful.
Instead, use what you have around the house. Such as – random baskets, extra clothing hangers, curtains, and even discarded sofa sets, bookshelves, etc., to double as organizers. They may not always thematically complement each other, but you'll have a low-cost & purposeful drop zone altogether.
3. Defined Area: Drawer-Based Setup
If you don't like to keep everything out in the open, you should go for a drawer-based drop zone space. If the area is spacious enough, you can customize high-quality wardrobes with purpose-specific built-in drawers inside.
While this setup will cause you to burn a hole down your pocket, it's perfect if you want a mysteriously obscure-looking drop zone by the entryway. You can use drawers of different shapes and colors to indicate their use.
Using funky colors will help you to achieve that high-school locker look. Alternatively, rustic drawers with wooden beams will help you to score that vintage cottage core theme.
4. Defined Area: Shower Curtains With A Twist
You can use shower curtains or bamboo dividers to create a safe space within the drop zones for quick makeovers. If the area is spacious enough, leave a corner where the guests can privately put on their jackets, cardigans, etc.
You can also keep a body mirror with some essentials in front of it, such as – a comb, body spray, face powder, etc. That way, you won't have to go all the way up to your bedroom to put on a finishing touch. 
5. Ambiguous Spots: Drop Zones On-The-Go
Can't come up with a definite area to use as a drop zone? Worry not. Place a few hanging cabinets on either side of the entryway and keep the essential items there. Such as – house keys, car keys, important letters, umbrellas, etc.
You can also hoist a simple stand to hang your coats and cardigans upon returning home. Make sure to keep a shoe rack on one of the sides as well. Place a good-quality mat in front of the shoe rack so that none of the dust gets inside.
6. Ambiguous Spots: Extended Hallway Zones
Make use of the long passageways if you can't provide a defined area for drop zones. The extended hallway zones can work perfectly as drop zones with the right furnishings.
Place benches or sofa sets on either side of the hallway so people can take the time to rest. Place designer cabinets, hanging bookshelves, plants, etc., on the walls.
Instead of one single coat stand, you can use multiple hangers side by side to arrange the clothes, hats, etc. Similarly, you can place multiple artworks to make the area look prettier. Use soft-toned lights to make the hallways seem spacious.
7. Minimalist Drop Zones: Racks & Hangers
Not looking forward to spending on drop zones at all?
Well, we've still got you covered. Simply clean the area up and strategically place sturdy strings all over the place.
That's it. You can now use the leftover hangers from your pre-existing closets and organize the clothes there. You can also use unused racks, baskets, etc., from around the house to fill them up with the remaining items.
It might not look the prettiest, but it'll do the job. You can place some fairy lights or night lights here and there. That way, the drop zone wouldn't look completely appalling.
8. All-In-One Drop Zones: Storage Inclusive Design
Drop zones aren't only for collecting scattered stuff. They also should have ample storage spaces for heavy items. Additionally, you should leave closet space to store brooms, mops, cleaners, winter boots, sports gear, etc.
To achieve this, you can invest in big storage boxes and stack them up behind the cupboard and the closets. You can keep the items that you rarely use in these storage boxes.
Again, if the drop zone is near the kitchen space, you can use some of these shelves or boxes to retain seasonal items. Consequently, you can store heavy utensils and unused kitchen equipment as well here safely.
9. Defined Drop Zones: Kid-Friendly Edition
Got a house crawling with kids and pets? It can get difficult to keep track of the littlest things around the house then.
It's also not as logical to maintain an intricately designed drop zone in such circumstances. Instead, you should go back to the basics and keep things simple and easy to understand.
For instance – if you've got three kids, you can assign three specific drawers or baskets to them. You can even write their name on the baskets to help them categorize their stuff.
By doing this, the kids will learn to take care of their things and lose things less often. You can also dedicate designated boxes or baskets to the house pets. 
Afterward, you can teach the kids to keep their toys, pet food, etc. in those baskets specifically. This way, they'll develop a sense of responsibility toward other living beings as well.
10. Backside Entryways: Mudroom-Style Drop Zones
A mudroom is a classic drop zone idea, especially if the drop zone and the entryway are mushed in together. But what even is a mudroom?
A mudroom is an area you can use to clean yourself up upon returning home during turbulent weather. 
Let's say it's raining cats and dogs outside. And hence, your boots have gotten all muddy and dirty. Now, you surely can't enter the house wearing those boots, can you?
This is where a mudroom comes in handy. Instead of keeping just a shoe rack, you can keep separate rugs, tissues, wet wipes, etc., to clean your feet. 
You'll also need to maintain a separate shoe rack to store the dirty boots before cleaning them further. The mudroom drop zones should strictly be sanitized every couple of days. And if you're storing other items in the same zone, be sure to place them far away from the dirty shoe racks.
Things To Consider Before Decorating In-House Drop Zones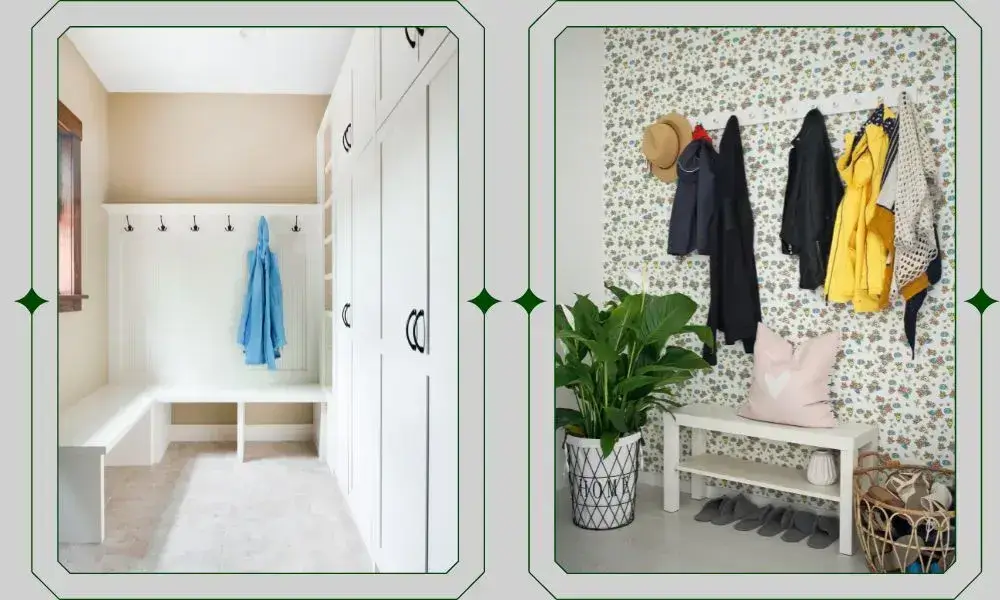 Drop zones can double as anything to achieve maximum practicality and sustainability. However, there are still a few key factors that you shouldn't forget if you want a well-defined and well-designed drop zone for yourself.
Spaciousness
The sole purpose of a drop zone is to reduce clutter from the surrounding areas, especially near the entryways. Hence, it'll do you no good if you try to use an already chaotic workspace as a makeshift drop zone.
Before decorating the area, make sure that you have enough space to do so first. Remove the existing furniture in the area and rearrange them for better maneuverability.
Again, if you're thinking of placing custom-made lockers, cabinets, etc., figure out their positioning in advance. Remember to maintain a clear passage from the entryway to the living room, kitchen, etc. 
Place all of the furnishings in a way that they don't collide with the existing setup. If you're working with a small space, stack the baskets, cabinets, etc., on top of each other.
Or, you could get full-length closets with multiple drawers and dividers instead. That way, you can keep the things you rarely use in the top drawers. Consequently, you can use the bottom ones to easily access the day-to-day items.
Color Coordination
While the primary purpose of a drop zone is to reduce clutter, the carpet should still match the drapes. As in, the theme should complement the rest of the home decor.
For instance – if there's a window in the zone, you can use the same curtains that you use in the living room. Choose the color of the cabinets, closets, etc., wisely as well.
If the rest of the house follows a rustic theme, avoiding colors like hot pink, magenta, etc., might be a good idea. Choose minimalist colors in shades of brown, beige, etc., to keep everything color coordinated.
But then again, a little pop of color can really bring about some much-needed life into the space. You can decorate the drop zones with plants, mats, paintings, etc., to achieve that. 
Maximum Storage
Sometimes, drop zones can double as your primary go-to storage shelter. With built-in cabinets within the walls, you can store all the essentials in one simple place altogether.
So, if you're going for some serious renovation projects within the house, this might be an idea worth looking into. Install additional spacious cabinets within the walls where you can store your winter clothes, boots, blankets, files, etc.
After you've freed up space within the house by filling up the innermost cabinets, you'll immediately notice the differences. Use the rest of the cabinets to comfortably organize everything left in the day-to-day itineraries. 
Hygienic Conditions
Keep naphthalene balls, cedar shavings, etc., within the closets and the innermost cabinets to prevent pests, rats, etc. Clean the drop zones frequently, especially if the entryway opens up to a muddy or dirty area.
If there are shoe racks nearby, make sure the dust doesn't go into the permanent storage spots in the drop zones. Otherwise, you'll have to deep clean the blankets, winter clothes, etc., within those spaces as well.
Negative Spacing
You should want to avoid negative spacing as much as you can while designing a drop zone setup. By negative spacing, we mean the little gaps in-between closets, hangers, benches, etc., that you lose access to after placing the furniture. 
With too many negative spaces, you'll lose overall usable space inside the drop zones. Plus, since reaching these spots will be harder, they'll get dirty soon enough. And in turn, these dusty spots will affect the tidiness of the entire drop zone.
Adjust the closets, cabinets, shoe racks, etc., in a systemic way to reduce the negative spacing as much as possible. Alternatively, if you can't avoid them entirely, make sure to move the furniture and thoroughly clean them now and then.
Final Word
Hopefully, you guys enjoyed going through the entryway drop zone ideas in today's write-up. Because we sure loved experimenting and coming up with them in the first place!
Before setting your heart on one of these ideas, try to picture the setup in your real-life apartment first. The drop zone decor must complement the overall apartment decor so it doesn't look too off-putting or abrasive. 
Hence, don't be shy to make adjustments to figure out the best ideas! Best of luck!