11 Entryway Shelf Ideas For 2x Space & Efficiency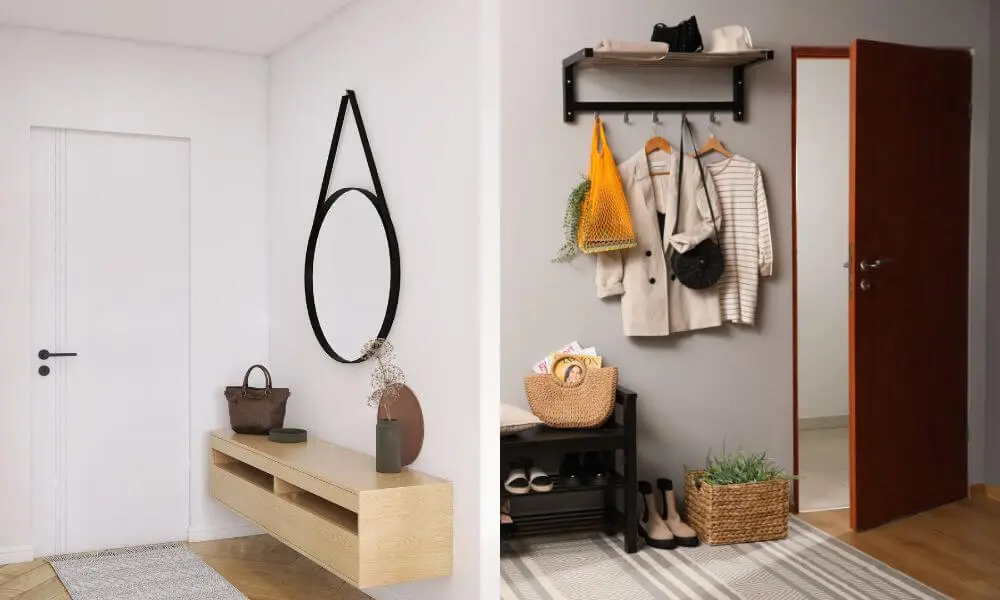 The interior design of a home represents the owner's taste and personality. You can show a slide of your preference with an eye-soothing and pleasant entryway shelf decoration. But for that, you need proper planning. So how do you successfully implement space-efficient strategies and make the best use of your space?
Entryway shelves are widely used to add elegance and a homely feel to the interior design. It offers both style and functional value. You can also use an entryway shelf to make the best use of your space and lighten up the environment.
I'm thrilled to be back with some fantastic and clever entryway shelf ideas for 2x space and efficiency. If you are looking for some ideas for your entryway shelf, this article is going to be a treat for you. So stay tuned till the end.
11 Amazing Entryway Shelf Ideas
An entryway is the space people notice first. So keeping an organized and stylish entryway shelf will definitely add more value to the space.
Organizing is our need, but for a classy person, this need must be fulfilled with elegance. So, an entryway shelf should meet our needs with a stylish touch.
An entryway shelf gives the freedom to be organized and, at the same time, display a slide of our preference. An organized and welcoming shelf creates a homely and cozy environment.
Here are some amazing entryway shelf ideas to make the best use of your space effectively:
1. Entryway Shelf Organizer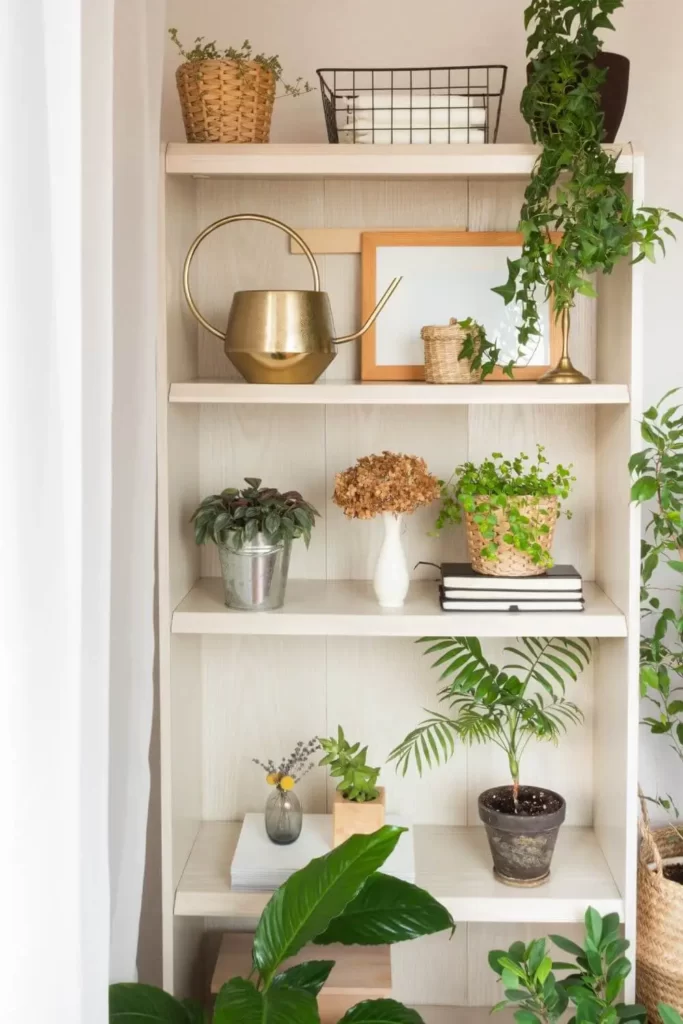 Entryway shelves have multiple functional uses that assure optimal use of your space. If you are using this organizer as a storage shelf, this space can be used as a drop-zone for all the members of the family.
All the daily used items can be put here altogether, like keys, bags, glasses, umbrellas, shoes, jackets, and much more. Besides, you can use it as a display shelf to exhibit your crafts, creative works, or any kind of decor.
2. Entryway Floating Shelf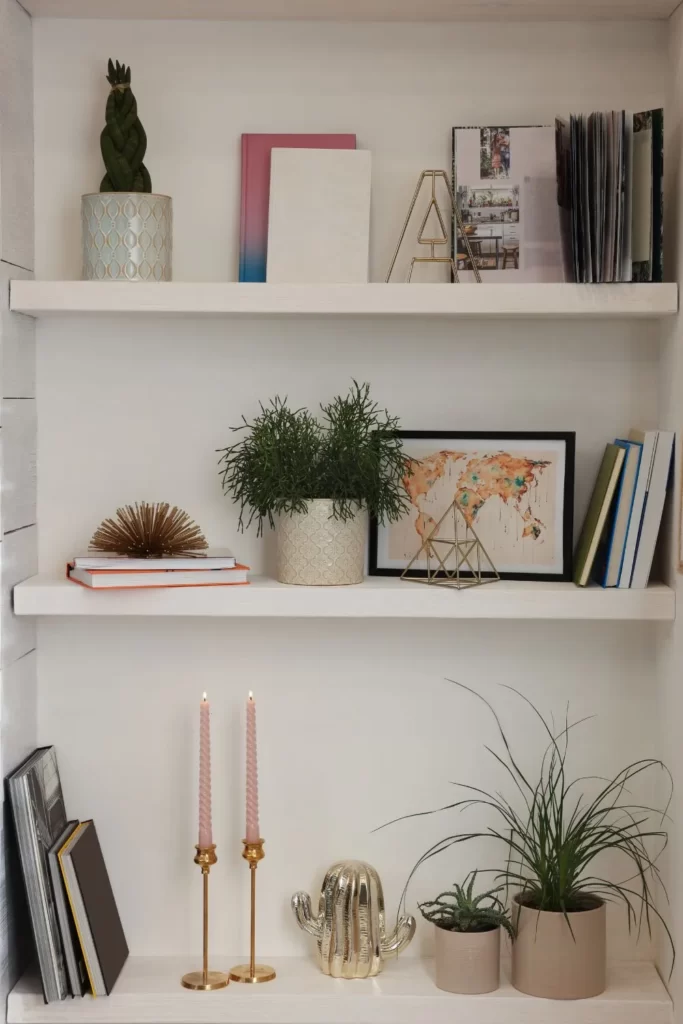 When you want to make the best use of your space, adding an entryway floating shelf has no comparison. If you have a small entryway, you can use your walls to organize your staff.
Entryway floating shelves double the space of your entryway and give a stylish finish to your home decor. It provides both an exciting display space and daily essentials organizing solution.
Display Space  
A floating shelf is a modern solution to showcase your preference and taste. Adding an entryway floating shelf gives you the freedom to display anything that you like.
For example, a nature lover can decorate the shelf with his best plants and vase collection. A book lover can display his best collections through the shelf.
Daily Essentials Organizer
We always struggle to find our daily essentials. An entryway floating shelf can make this easy for us. We can organize all our daily essentials in one place.  
In case, you want a precise idea about entryway organization, you can check out our 10 Entryway Drop Zone Ideas To Keep Your Entryway Organized, where we discussed some really helpful organization tips in detail.
Does floating shelves sag over time?
Floating shelves are meant for lightweight items. Manufacturers usually determine a certain weight that the shelf can hold. If you don't follow the manufacturer's instructions and put excessive weights, sooner or later, your shelves are bound to sag.
Something only the screws gets loosen and the shelves sag on the heavy side. If you are neglecting this sagging, eventually, the shelves will fall off.
3. Over The Door Entryway Shelf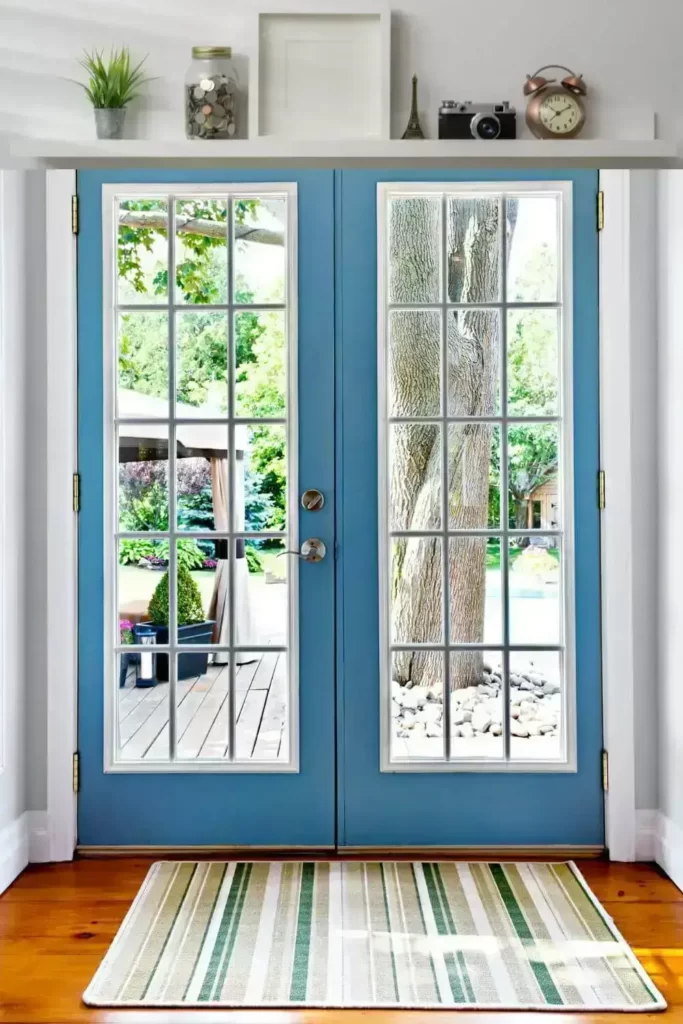 As we are talking about entryway shelf ideas for more space, over the door shelf is one of the best concepts. When you have a very small entryway or even no entryway, you can use the door as storage or display space.
Most of the time, doors stay closed. This unused space can be put to very good use. Hanging a shelf over the door will give huge accessible storage space.
How to style an over-the-door entryway shelf?
You can style an over-the-door entryway shelf with the things you need going out like keys, coats, jackets, shoes, sunglasses, hair bands, etc. Besides, you can add some decoration items like photo frames, small plants, crafts, etc., to make the space stand out.
4. Entryway Shelf With Key Hooks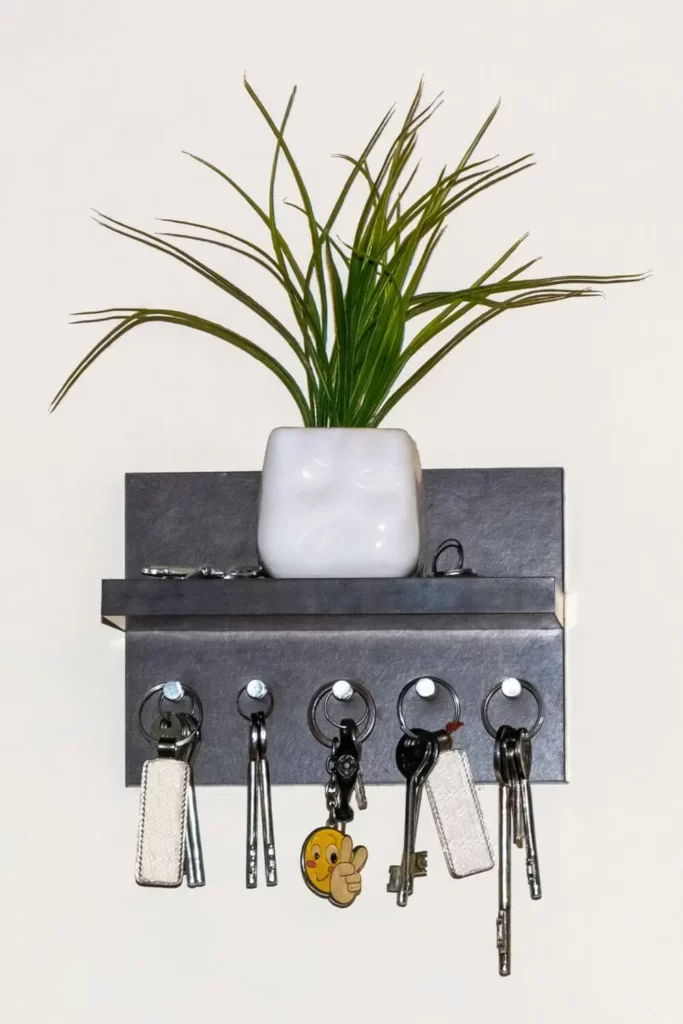 Keys are something we always struggle to find. You can solve this problem by adding an entryway shelf with some key hooks. It's a great way to keep all the keys right in front of your eyes. There are some stylish and durable key hooks. 
These beautiful hooks save your valuable time and, of course, energy.
5. Entryway Shelf With Hooks And Cubbies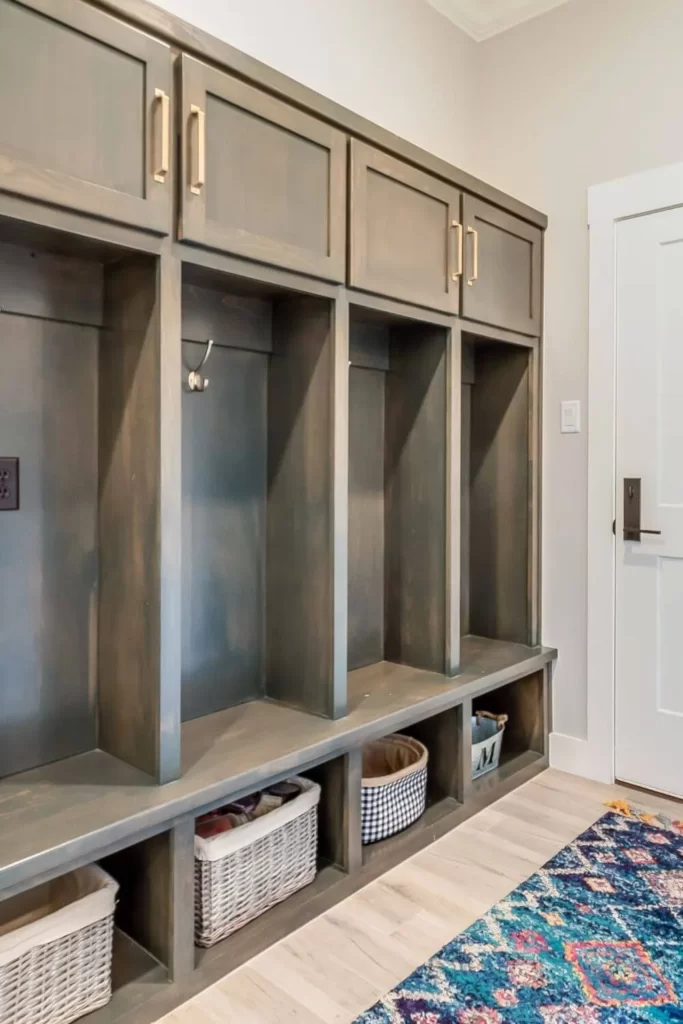 Hooks and cubbies are a great option to ensure optimal use of space. These budget-friendly cute littles give you extra space without using the floor.
An entryway shelf with hooks and cubbies allows you to be organized and keep your necessary items just where you need them. It also gives the opportunity to display your favorite small decorative items like craft products, small art, or paint.
Besides, you can hang daily essential items like bags, hats, jackets, raincoats, hair bands, gloves, umbrellas, coats, dog lashes, and so on. So an entryway shelf with hooks and cubbies simply completes your entryway look.
6. Entryway Shelf With Drawers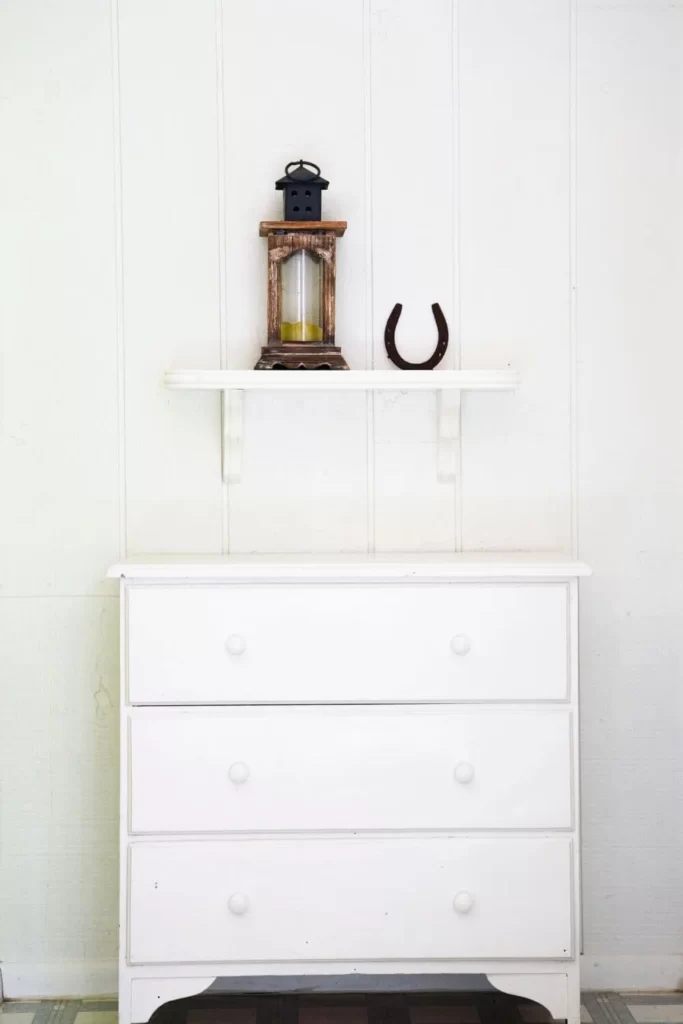 Entryway shelves with drawers make an intelligent storage space and keep the entryway neat and clutter-free. You can organize all of your needs in it without massing the simple and clutter-free look of your entryway. You can also make a smart move by adding a mirror above the drawer.  
7. Entryway Shelf Table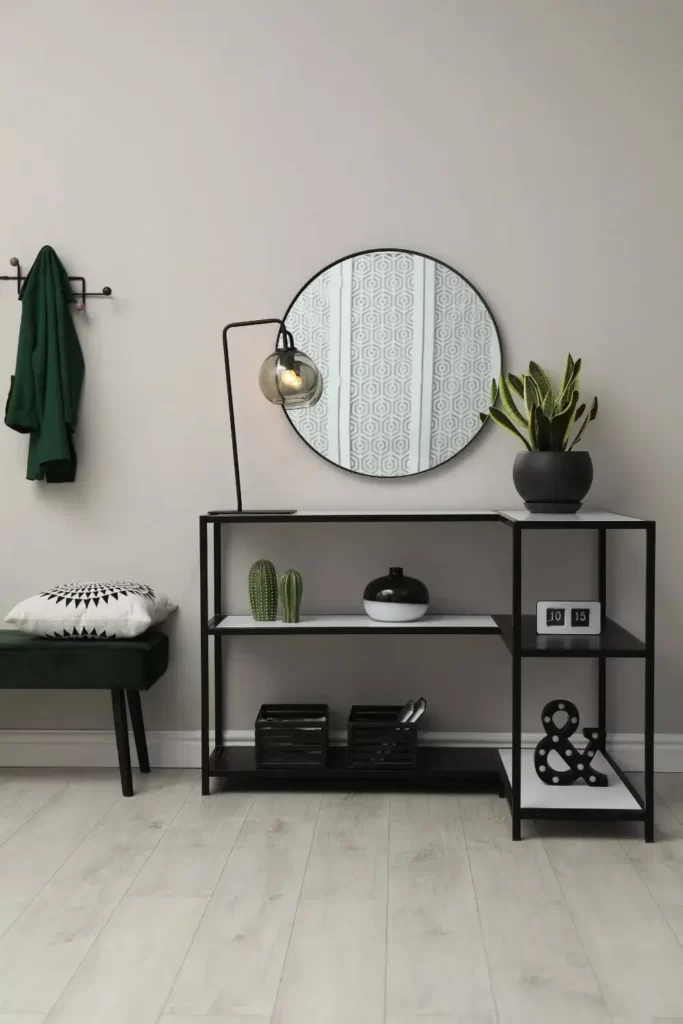 An entryway shelf table adds a lovely stylish accent to your entryway. They are often called console or sofa tables. These are long and slim, surfaced, and are usually set against the wall.
They add additional storage and display space without minimizing the entryway.
You can use the surface to display crafts, plants, or any other décor. You can also use the lower part of the table as storage to store shoes, bags, or any big object.
How to choose an entryway shelf table?
Choosing the perfect entryway table is very important as it is the first thing anyone will notice.
Here are a few things you have to do to choose the best entryway shelf table:
Measure the entryway space and figure out what size of the table will best fit there.
Keep in mind for what kind of function you will use the table.
Choose a table that reflects your style or personality.
How high should an entryway table be?
It actually depends on the purpose of your entryway table and the height of the ceilings. Usually, 30 to 40 inches in height is ideal for entryway tables. But if you have a high ceiling, you have to choose tables with more height.  
8. Entryway shelf with closet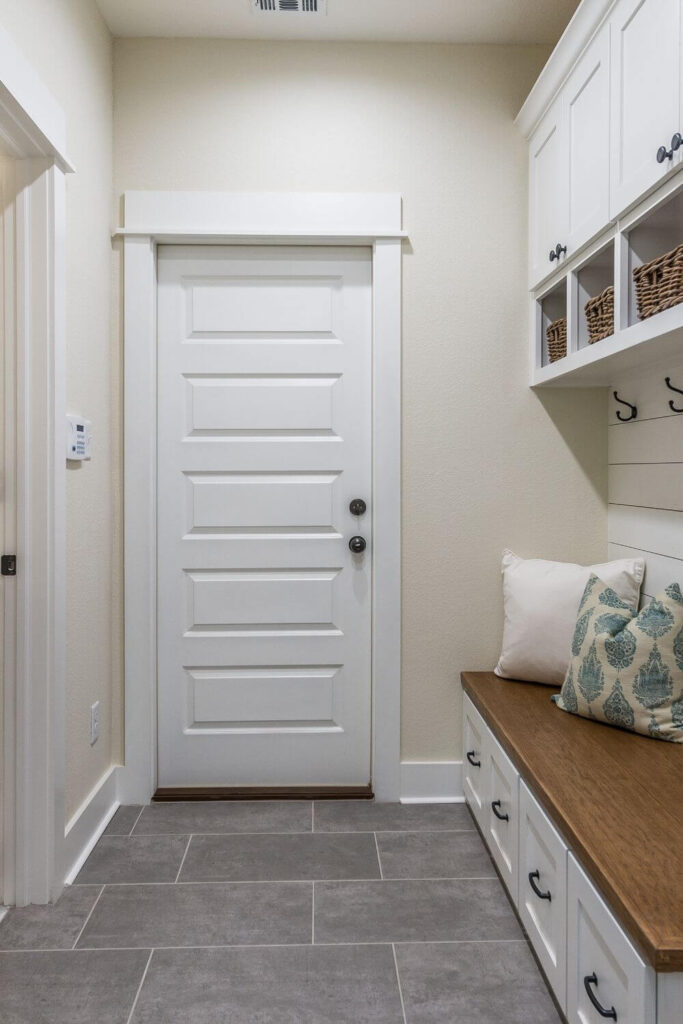 An entryway closet is a great idea to keep the space stored, good-looking and clutter-free. For a busy family, an entryway closet is the perfect solution to keep all the way-to-go items altogether.  
A well-organized entryway closet adds accents and complements. Whenever you step in or out of the house, this closet gives a smooth and satisfying experience.
How to organize an entryway closest?
Organizing the entryway closet is essential because it's the thing every time we notice when stepping out and into the house.
Put the daily used thing first.
Make different spaces for every family member.
Add hooks to create additional space.
Leave space for shoes in the bottom of the closet.
9. Entryway Shelf With Baskets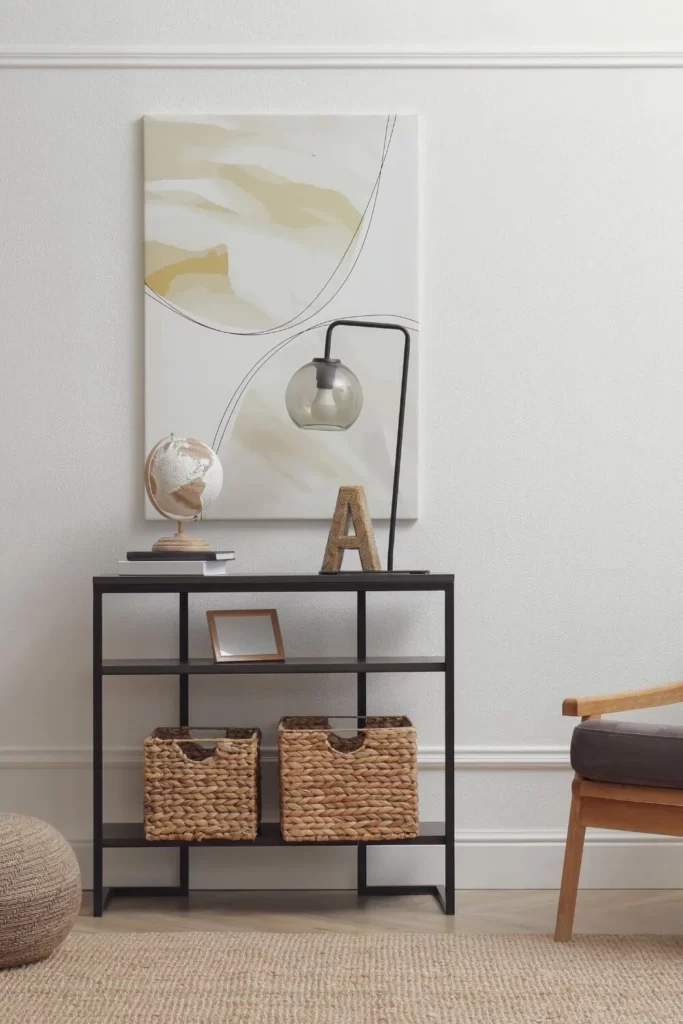 You can use baskets to store almost everything. Small fashion baskets can be used on the entryway shelf to store small objects like keys, sunglass, hair bands, gloves, masks, hats, animal lashes, etc.
You can use square baskets as a file or mail organizer anywhere on a floating shelf or on the entryway table.
Baskets are a game changer when it comes to storing unusual or big objects, especially sports equipment or kids' toys. Generally, this odd doesn't fit anywhere and makes a mess.
You can place the baskets below your entryway table or under the floating shelf. Using baskets will make the space neat and organized.
Do baskets look odd on the entryway shelf?
Not at all. In fact, you can add style and elegance to your entryway shelves with modern fashionable baskets. Baskets break the formal appearance and give a homely and comfy feel.
Using large baskets brings extra storage for odd-sized items.
 10. Entryway Book Shelves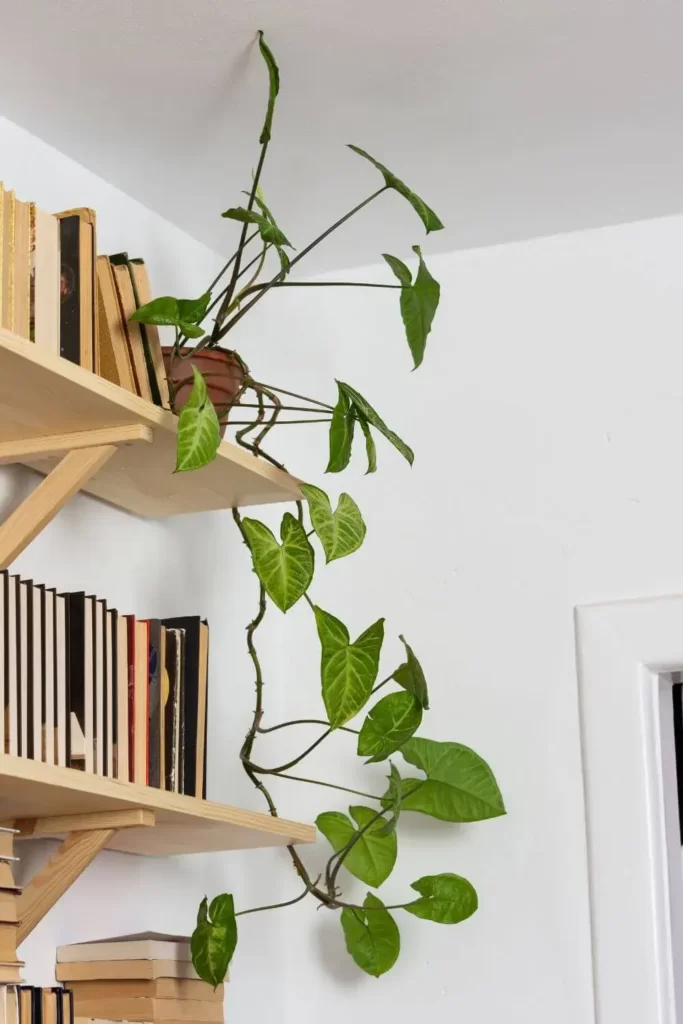 Adding a stylish entryway bookshelf is a smart and efficient storage solution. It also offers a sleek and artistic touch to your entryway.
Book lovers seem to have a passion for collecting books. Every individual keeps different preferences. An entryway shelf gives them the opportunity to display their best collection and make the best use of entryway space.
How to organize books on shelves?
There is a right way to do everything. When you are organizing your books on the shelves, there are a lot of options. Here are some ways to organize books on shelves:
Organize the book in alphabetical order.
Put all the same colored books together.
Show off your favorite or most-read book in a noticeable spot.
Separate the worthy one and put it in a noticeable position.
 11. Entryway Shoe Shelf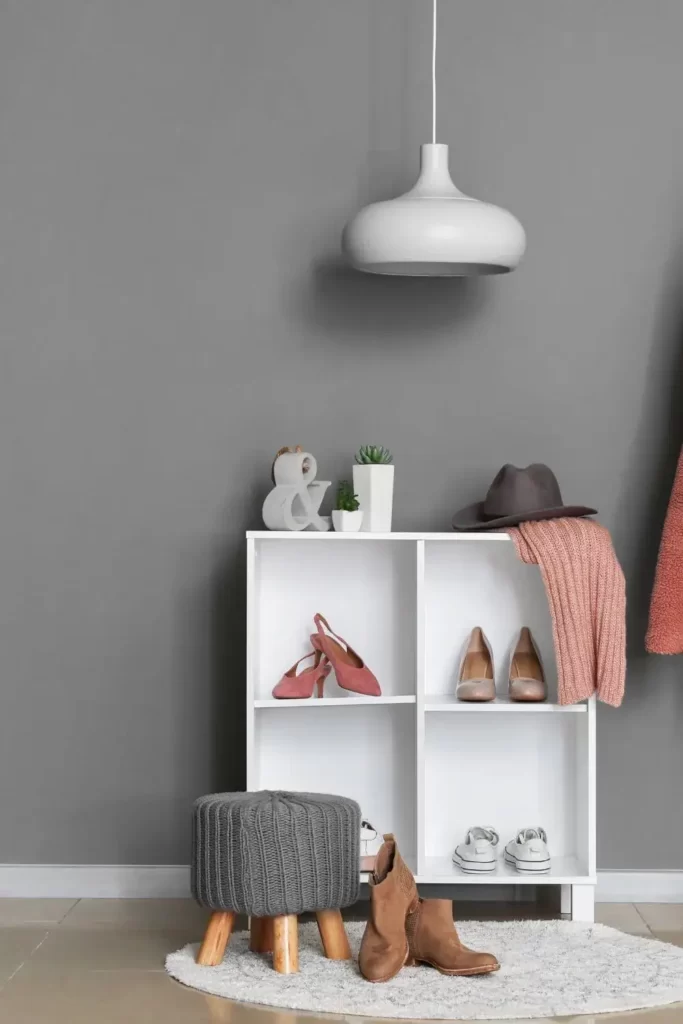 Shoes always need to be kept at the entryway. To keep them organized and make the best use of your space, an entryway shelf is a must. Choosing a long and less width shelf will save your space.
You can consider a vertical shoe cabinet to make the best use of your space. It is a practical space-saving solution. It will take minimum space to organize your shoes.
How to store shoes in a small entryway?
There are a lot of options to store shoes, even if you have a small entryway. Here are some options. Choose the one that best suits you.
A small DIY bench with a rolling bin under it to store shoes is the perfect solution for a small entryway.
Use the lower part of the floating shelf or table and place small shoe shelves under them.
Hang an over-the-door shelf and use it as a shoe store. It will not take up any of your entryway space.
The Most Common Problems People Face With Entryway Shelf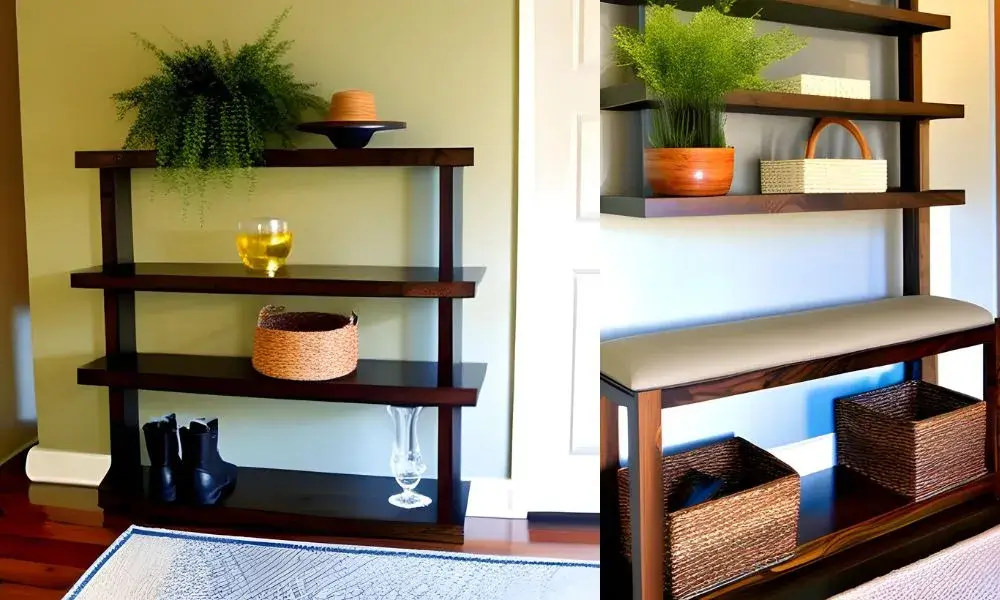 When you are decorating your entryway or any interior design, it's very common to face problems. Of course, you don't have any architecture degree.
Here I have discussed some common problems people face during decorating entryway shelves. Check them out so that you don't get into these troubles.
1. Floating Shelves Sagging
Floating shelves are a great solution to add additional space. The shelves are usually attached to the wall through screws. When you put excessive weights, the screws can't hold the weight and get loosened. Eventually, making them sag. Sometimes it may fall off, including everything that it holds.
Here comes the question:
How to fix a floating shelf sagging?
There are several options to fix a shelf sagging. Let's do it in the easiest way.
Firstly remove all the items from the shelves.
Unscrew the screw to pull off the shelf from the wall.
Pull out the screws and fill the hole with a drywall filler.
When the filler dries out, input a new and strong screw.
Now install the shelf again.
2. The Wall Drilling Problem
Using screws by drilling the wall is the safest way to install shelves. Screws are strong enough to hold a certain weight. So most of us don't want to compromise walls to install a floating shelf.
Besides, interior designs are always changeable. This wall drilling issue is one of the common problems in installing entryway shelves.
If you want to install an entryway shelf without drilling, follow the process below.
Sticky tapes can be an alternative to screws or nails. Grab a Scotch, Command, or Velcro strip that is strong and durable. Install the shelf with these strips.
Note: Double-check the capacity of strips or tapes. Only if they are strong enough to hold the weight of your shelf, use them to install your shelves.
3. Budget
One of the main problems in decorating or organizing entryway shelves is budget. It happens due to the lack of proper idea about design and budget.
Actually, it doesn't take much to buy organizers or shelves for your entryway. You can easily bring an elegant and fancy appearance with simple and affordable things.
Before buying any furniture, you just need to do some research. If you shop smartly, you can easily cut off extra expenses.
4. Over Decoration Issue
When we are talking about making the best use of space, sometimes we end up decorating every inch of it. But we have to remember nothing extra is beautiful. So you have to be careful not to overdo things. Over decoration is the worst thing you can do to your entryway appearance.
For a cozy and warm welcoming entryway, decorate your entryway shelf wisely. Choose items that make the space attractive, and at the same time, don't clutter the space.
A shelf with a few hooks for the daily necessary items and a small plant or photo frame is enough to create a perfect welcoming environment.
5. Ignoring Personality And Preference
During decoration, sometimes we seem to follow others' advice blindly. But this may create too much formal environment. Home is meant to be comfy. It should also reflect your personality.
When you are implementing any entryway shelf ideas, consider your personality and preference first. It will make the environment light and express your individuality.
Frequently Asked Questions
How high should an entryway shelf be?
Most of the home's walls are 10 feet in height. Shelves should be placed a little below the middle of the wall. So the ideal height to hang an entryway shelf is 4-4.5 feet above the floor.
If your wall height is higher or lower than this measurement simply divide the height by 2 and hang the shelf in the middle. And if you want a mirror above the shelf, you have to install the shelf a little lower.
Does floating shelves damage the wall?
Modern floating shelves don't need any screws or nails to hang on the wall. They can be attached to the wall through brackets. So they won't damage your walls.
You can also use adhesive strips like Scotch, Command, or Velcro to attach the floating to the wall, this won't disturb your walls at all.
How high should an entryway table be?
An entryway shelf table adds a lovely and stylish accent to your entryway. But for that, you have to place it at the right height. It actually depends on the purpose of your entryway table and the height of the ceilings.
Usually, 30 to 40 inches in height is ideal for entryway tables. But if you got a high ceiling, you have to choose tables with more height.  
Final Words
To complete a fresh and elegant entryway look, an organized shelf has no comparison. It gives an eye-soothing and welcoming appearance.
This article has covered some effective and amazing entryway shelf ideas for 2x space and efficiency. Hope it helps.