Small But Mighty: Transform Your Entryway Corner With These Decor Ideas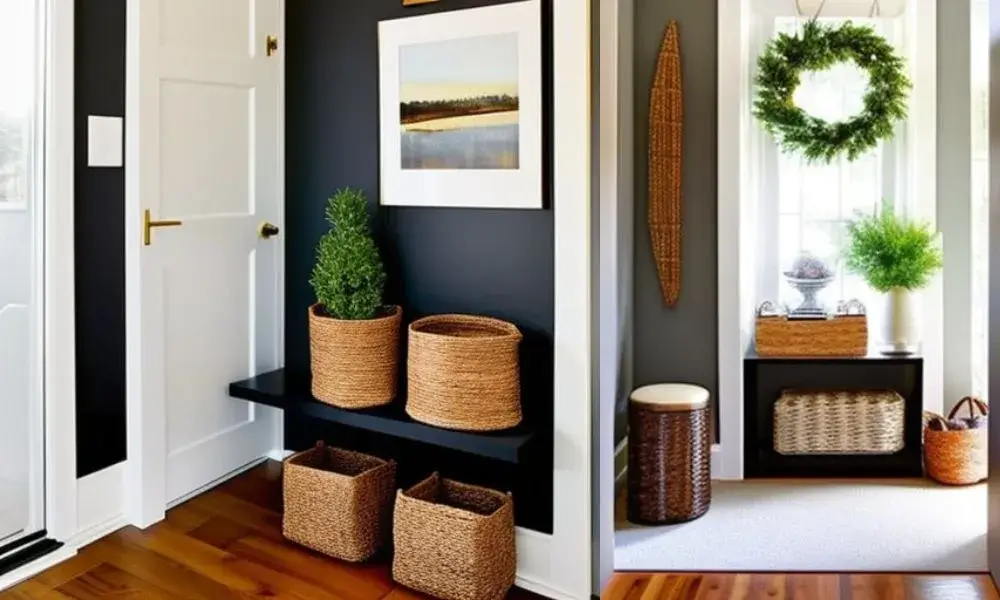 Entryway is the first place that guests can see when they enter your home. So give some attention to decorate it nicely. We often overlook the small corners of our entryways. But these tiny corners can be transformed into a functional cozy space with the right decoration. 
In this article, we will introduce some of the most popular small-corner decoration ideas for your entryway. Such as indoor plants, wall art, bookshelves, floor lamps, accent chairs, mirrors, and more. 
Let's proceed to the decor ideas and tips.
Indoor Plants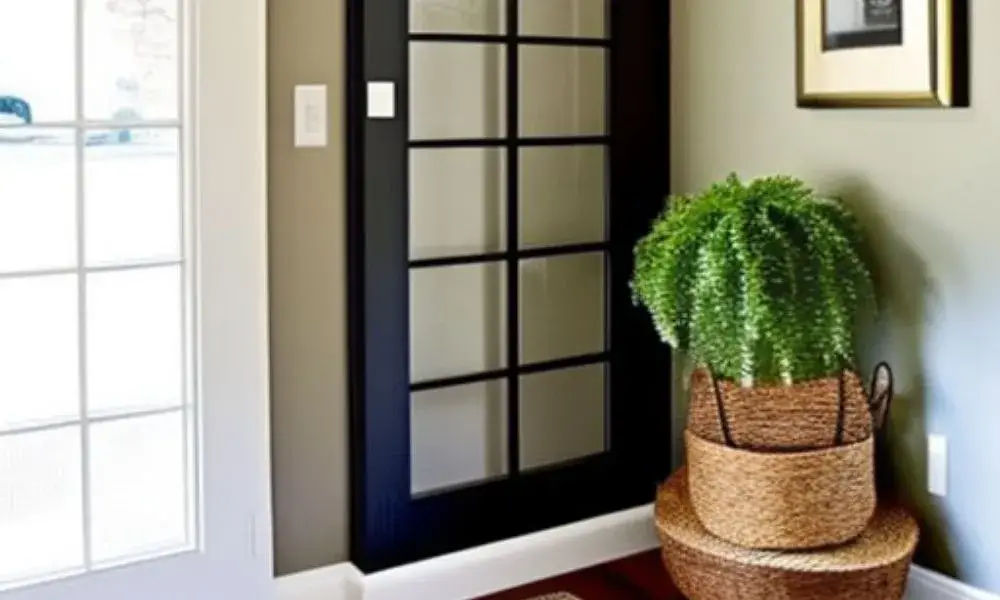 Indoor plants are a great way to jazz up any place. Plants can give an instant boost and are able to add color and life to any corner of any place. So for an unused small entryway corner, indoor plants would be the best choice.
A small potted succulent, a hanging fern, or a grouping of miniature herbs can brighten up the space and help to purify the air. Placing a small plant on a stand or hanging it from the ceiling can draw the eye upward and create the illusion of more height in the room.
Before choosing plants for your entrance corner, keep in mind some factors. Such as-
How much natural light does the area receive
The size of the pot 
Size of the plant
The outlook you want to achieve
Wall Art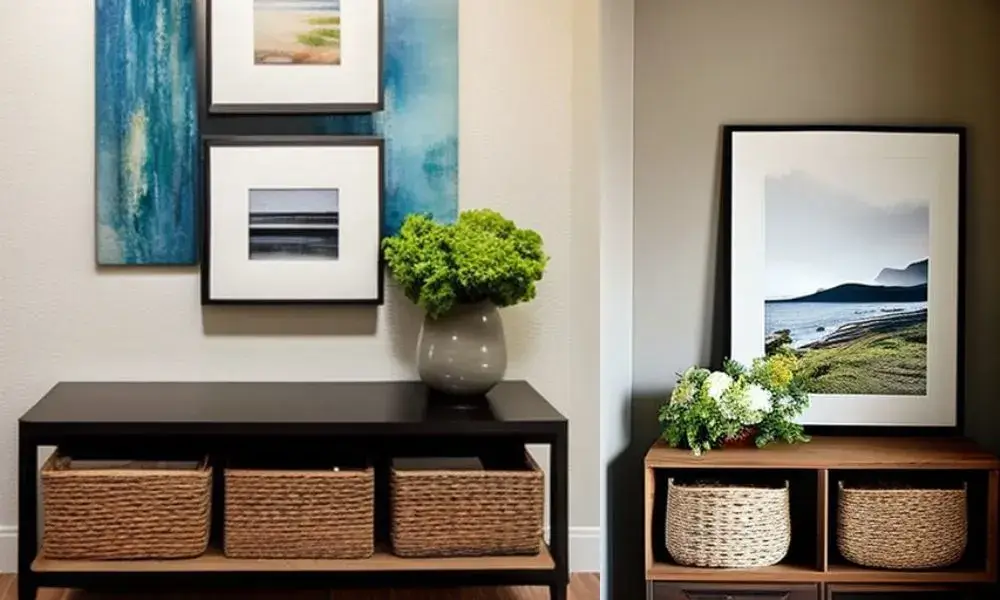 Hanging a piece of wall art in a small corner of an entryway can make a big impact. Wall art can add color, pattern, and interest to a blank wall. Hanging a piece of wall art like a painting or tapestry can make a statement and draw attention to the corner. It can be a focal point in the entryway or draw attention to a particular piece like a staircase or window.
When choosing wall art for your entryway corner, select a piece that complements your place and not contradictory to your decoration style. Consider the size of the wall and art before selecting. A large piece of art can be a bold statement. On the other hand, a group of smaller pieces can create a gallery wall effect.
In case you want to know more wall decor ideas for your entryway, check out our Top 14 Small Entryway Wall Decor Ideas: Aesthetics Vs. Functionality.
Bookshelf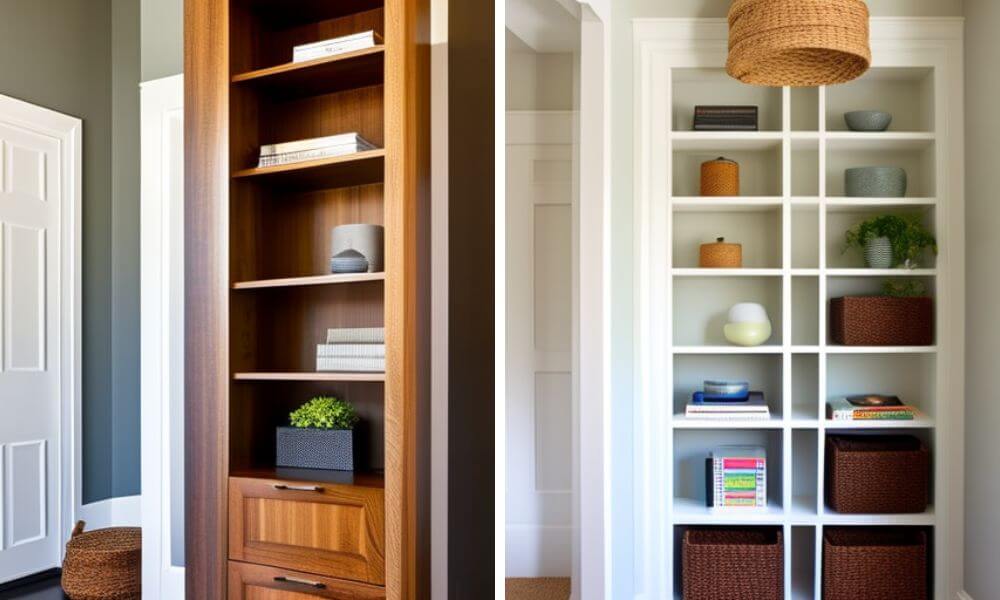 A small bookshelf can be used for both storage and decoration purposes. Consider the corner height before selecting the piece. With the books, put some decorative pieces like vases, photo frames, candles, and small potted plants to show your personal touch. Bookshelves are also a great place to show items that are important to you. Such as family photos, mementos, etc. 
You can also make some DIY for your entryway corner bookshelves. Put some floating shelves and use them like a bookshelf. This will save a lot of places and you will be able to keep some decorative pieces like a tall flower vase or a tall indoor tree and you will get an aesthetic corner.
Floor Lamp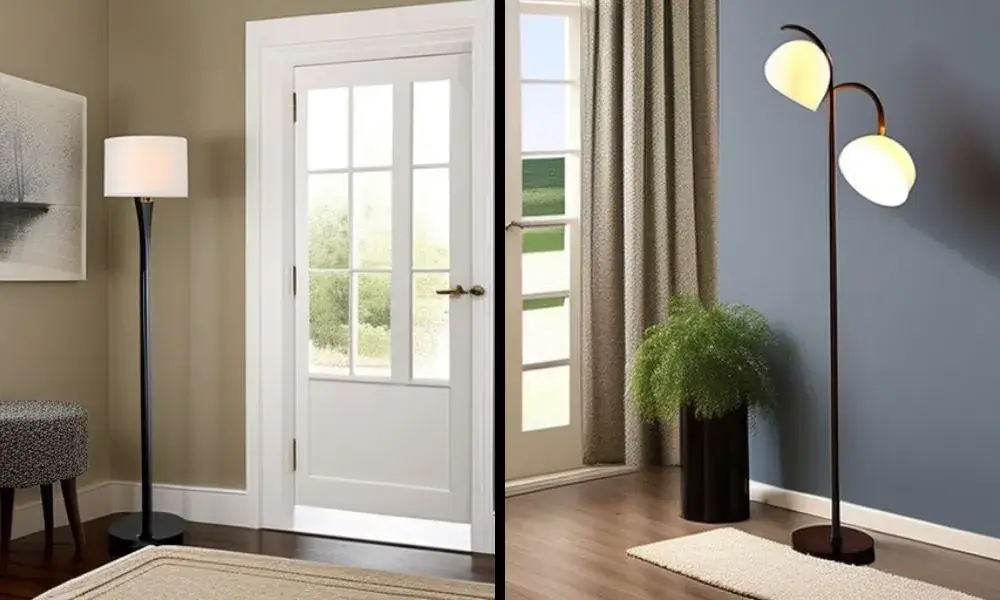 Floor lamps are also a great way to create a cozy and inviting atmosphere in an entryway. Choose lamps according to your decoration style that goes well with your corner. Keep in mind the ceiling height and bulb type before you pick a floor lamp. 
A tall skinny floor lamp can add illumination and provides style to a small corner of your entryway. These types of floor lamps look more stunning if you pair them up with a widow seat or an accent chair. You can also put a tall wooden lamp that contains a shelf. Put a vase or greenery on the shelves. These types of lamps give farmhouse vibes to entryways. You can go for a Turkish-style lamp or tripod lamp for a vibrant entryway corner. 
Through different varieties of floor lamps, choose one that matches your style and the overall aesthetic of your home. Consider the placement of a lamp in relation to other furniture and decor in the place so that you can create a cozy nook.
Window Seat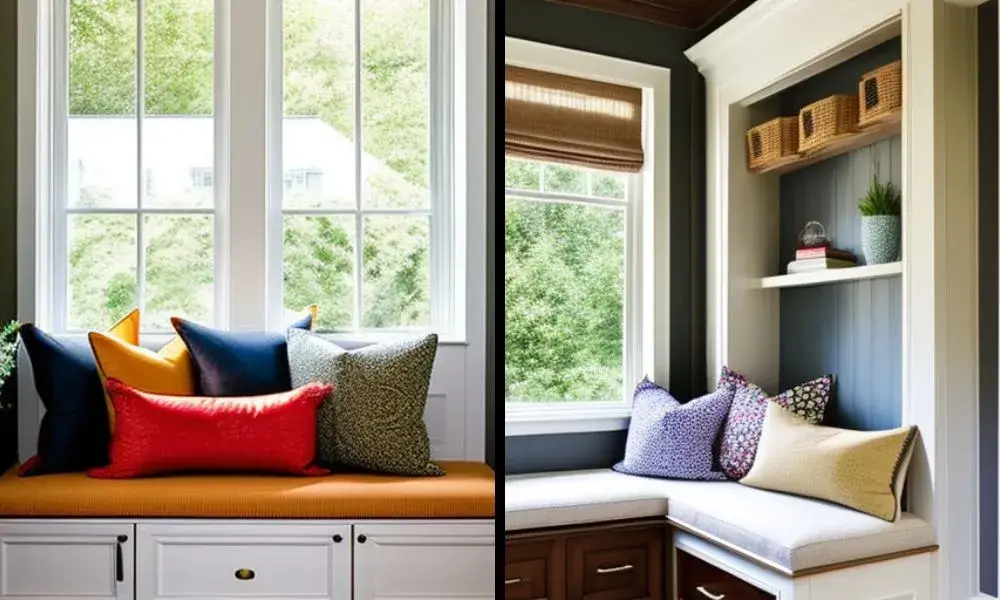 Installing window seats in an entryway corner provides a relaxing, cozy, and functional spot in a home. Consider the size of the window, the amount of natural light, the height of the ceiling, and the material when designing a window seat. 
A built-in seat will be a good option for a permanent addition. On the other hand, a padded bench or a cushion on the windowsill can be a great flexible option. Consider the placement of the window seats according to door and window. It can be your favorite spot to enjoy the view. 
Customize your window seat with cushions and decorative pillows and blankets for more comfort. You can create a simple reading nook for your unused corner of the entryway. This place can be used to store items like umbrellas, shoes, and hats. But when decorating, incorporate every element into other decorations like matching curtains, cushions, etc. Accessorize the seat with a few items like a vase, or a stack of books to create a stylish and functional focal point.
Accent Chair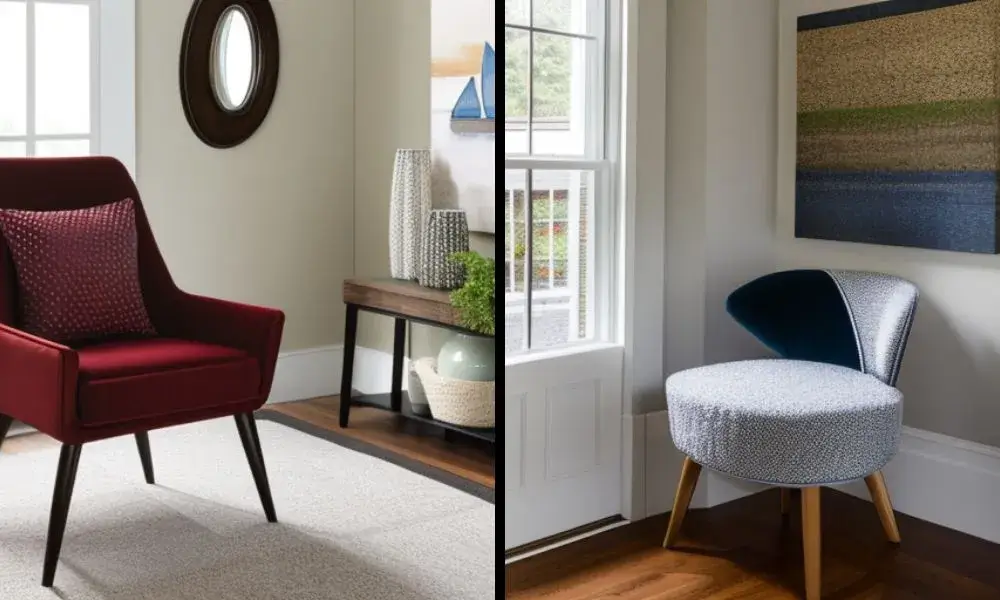 Accent chairs are a great option to add a personal touch to an entryway. It provides a stylish and functional touch to your entryway corner. It can be a convenient place to sit, put on shoes, or relax before leaving the house. 
Before choosing accent chairs, consider size, style, color, and the overall look you want to achieve for your entryway. Pick an accent chair that is sturdy, comfortable, easy to clean, and frequently usable. Add a side table or stool to create a complete seating area. But make sure there is enough space to move comfortably.
Accessorize the chair with a small rug, throw pillow, and wall art. But they should match the rest of your decor style. Choose a chair with bold colors and different patterns to create a statement and add interest to the corner. If you want a more visual place in the corner, go for low back or no back chairs.  
Decorative Storage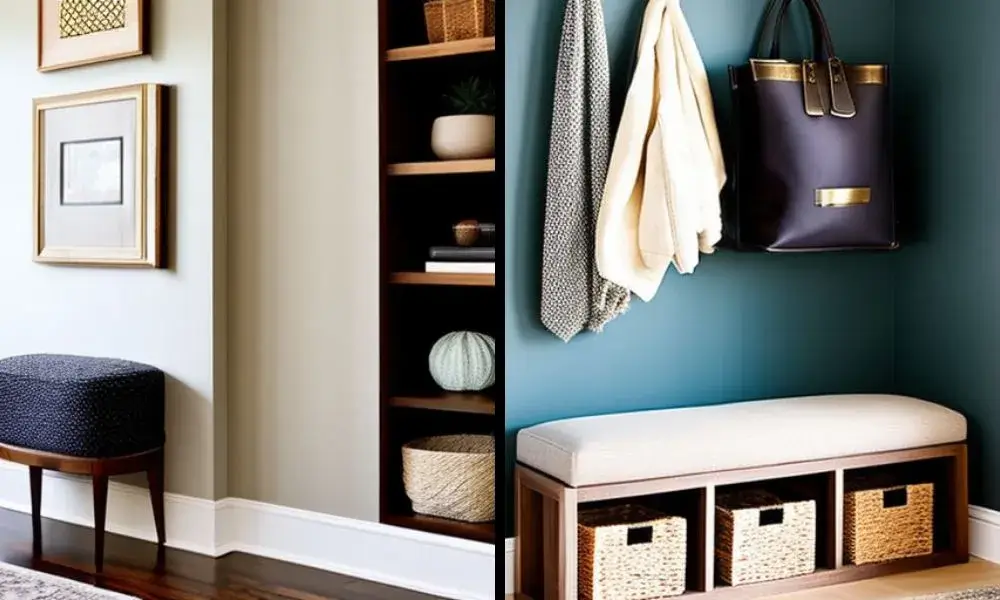 Decorative storage solutions are essential to make the most of your entryway corner in an artistic way. Consider the size, style, and material of the storage pieces that match the existing style and the items you need to store. Look for multifunctional pieces like a bench with a lift-top seat and or wall-mounted shelves with hooks. Glaves, Scarves. Hats and Shoes can be organized in decorative baskets, jars, and boxes in a mannered way. 
A small entryway corner, every inch of space matters. So choose pieces that maximize storage and add visual interest.
Gallery Wall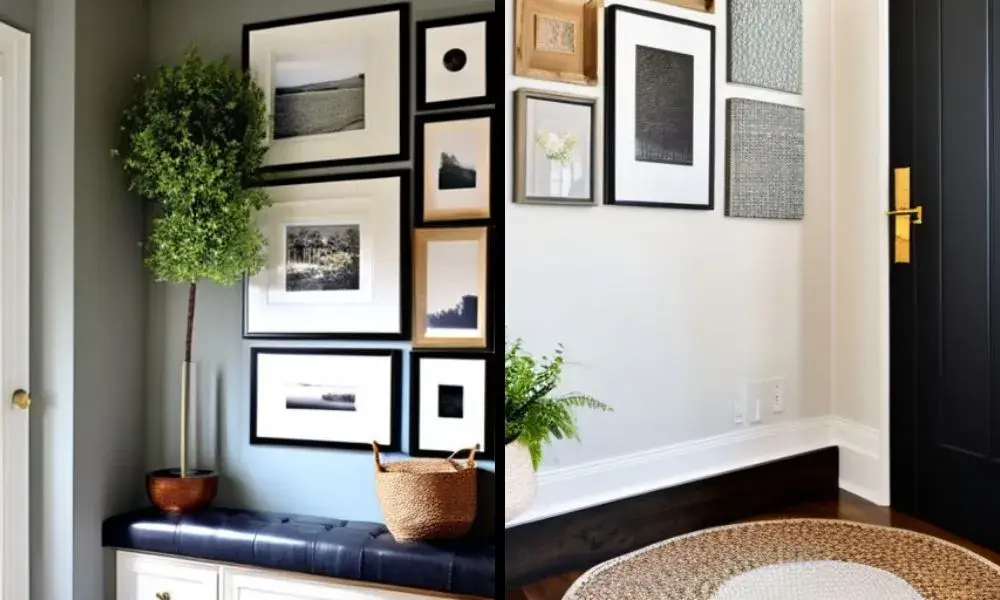 A gallery wall can be a great way to add visual interest in an entryway corner. Consider frame and art size and material before creating a gallery wall. Plan the layout and use a level and measuring tape to ensure a balanced and centered display.
Mix and match the different sizes of frames and different types of art to create an eclectic display. Incorporate a variety of prints, paintings, photographs, and art to create an interesting gallery wall. Don't forget to look at the theme, color, subject, and texture to create a stylish look.
Final Words
The Entryway corner is an often-overlooked place. With the right furnishing and decoration, you can create a welcoming and stylish entryway that sets the tone of the rest of your home. From indoor plants to decorative storage ideas, pick any one that reflects your personal style.
Whether you prefer a minimalist one or a more stylish one, there is sure to be an entryway small corner decor idea that is perfect for your home. So, don't wait. Start planning to give a makeover to your entryway corner and enjoy a beautiful place every time you walk in the door.