How Do You Store Shoes In A Narrow Entryway? [14 Hacks]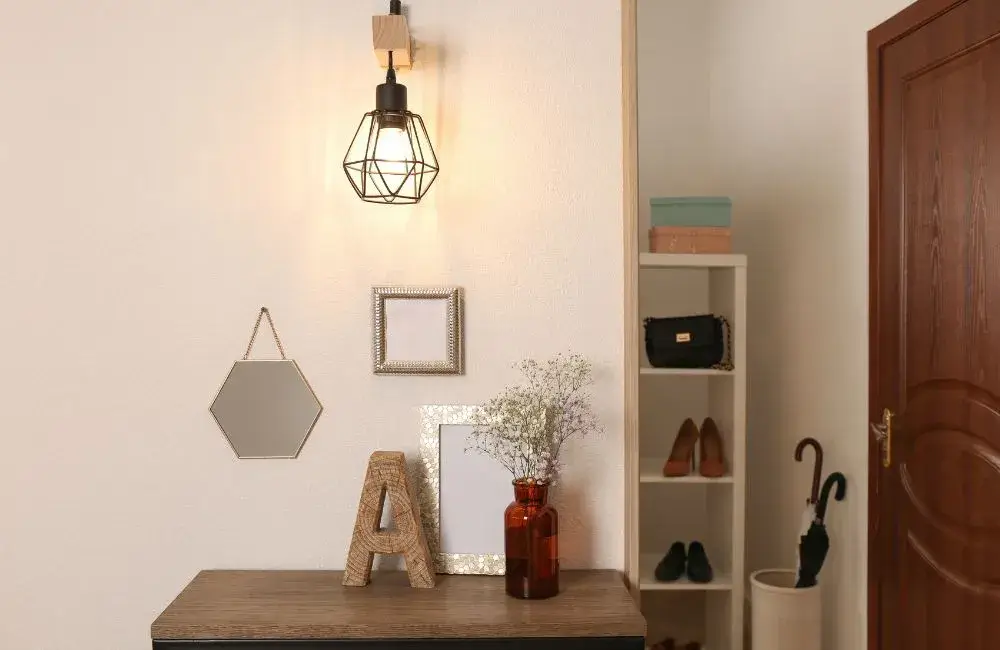 The challenge of finding a place to store your shoes when the doorway is on the narrow side is a serious one. You need to be creative to deal with such narrow access spaces. To resolve this issue, there are several different options available to you. But how exactly can you store shoes in a narrow entryway?
A bench with storage space is the simplest solution to store your shoes in a narrow entryway. It includes a seat for you to sit on while you take your shoes off or on. It also offers drawers, boxes, or bins in which to keep your shoes. The shoes are easy to get to, but they can't be seen.
In this article, we will cover some creative shoe storage ideas you can apply if you have a narrow entryway. I suggest you read this article till the very end to find out which idea suits your home foyer best.
How Can You Store Shoes In A Narrow Entryway?
Your entryway is the first thing people notice when they enter your house. If that space is not organized correctly, it can provide your guests with a negative vibe. Keeping your shoes properly organized should be one of your priorities here.
Here are some genius small entryway shoe storage ideas to suit your home:
1. DIY Shoe Shelf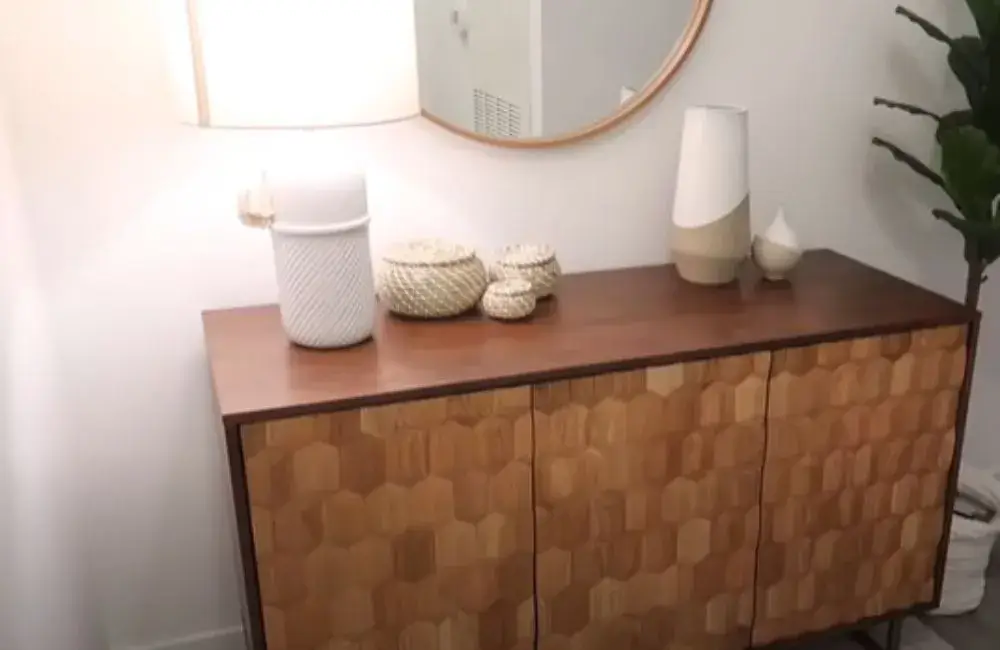 A do-it-yourself shoe rack will fit into your narrow entryway even if there is only a little bit of unused room within one of the tiniest corners. This one-day project, which is constructed from plywood and is suitable for novice builders, can be completed with ease.
If you line the inside with some adorable contact paper that coordinates with the rest of your décor, then it is ready to be put to good use to get the shoe mess in control.
2. Shoe Cabinet With A Tilt Out Drawer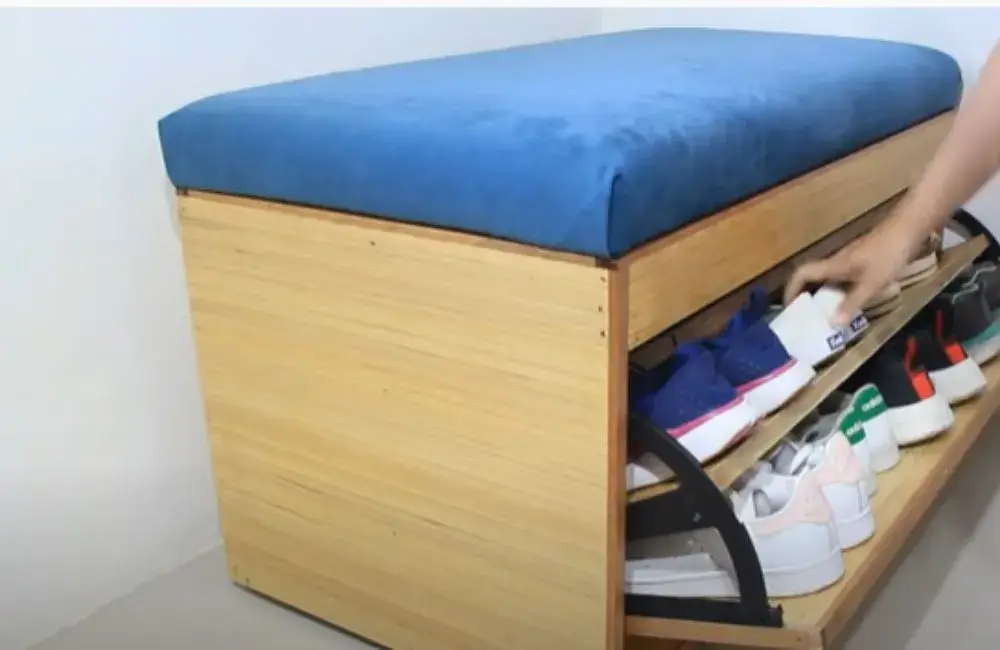 A slim cabinet that contains tilt-out drawers that you can use to store your shoes so that they are not visible. They do not block the passage of doors or the circulation of traffic into a narrow entryway. With a little bit of do-it-yourself work, you can give them the impression of whatever you wish.
3. PVC Pipe Shoe Organizer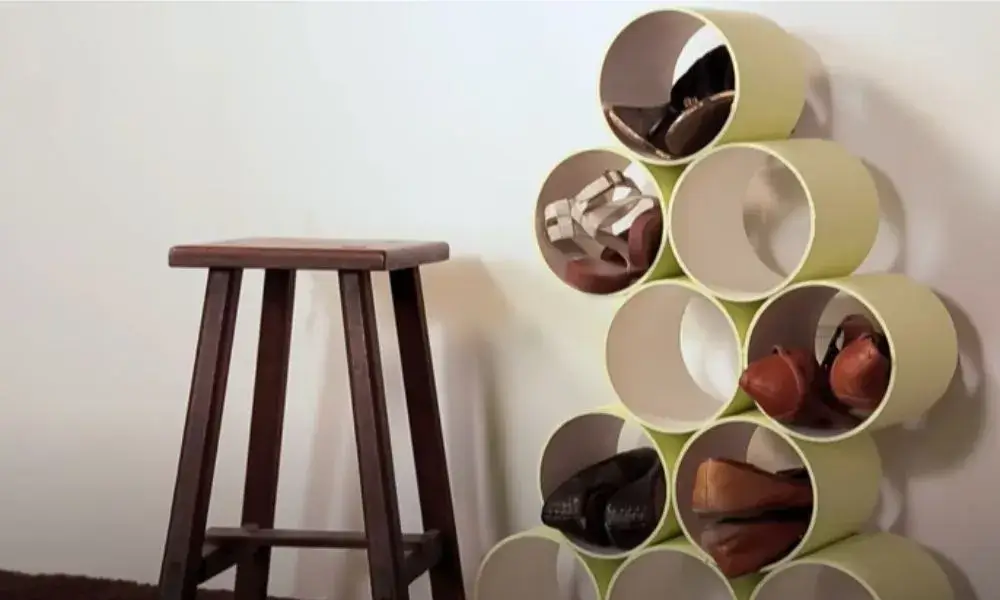 A PVC pipe that is 6 inches wide and 10 feet long is used to create an artistic vibe in your home. Depending on how large you would like the shoe holders to be, you may make either ten or twelve of them.
After you have glued the pieces together and covered them with wallpapers, they will have a great completed appearance that will work well in your narrow entrance.
4. Bench With Shoe Storage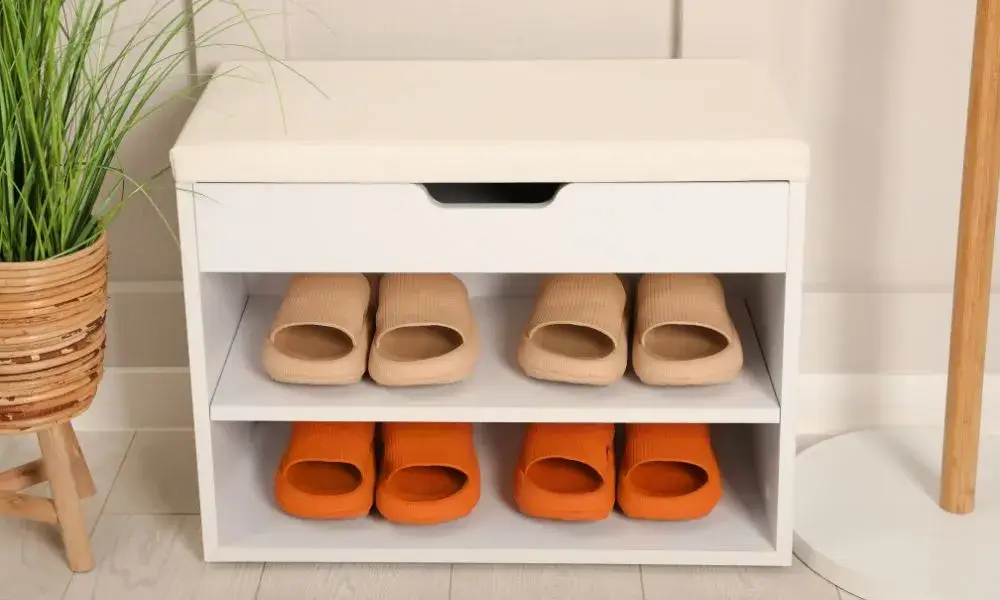 One of the most effective ways to make use of the limited space in your entryway is to install a storage unit that has been constructed specifically for the area. It gives you the ability to construct it such that it fits the available space and adds the storage that you need.
This entrance bench is created by the homeowner, and it has built-in storage space for shoes. Door installation makes it possible to stow these items out of sight, making for a neater entryway.
5. Modern Stainless Steel Shoe Rack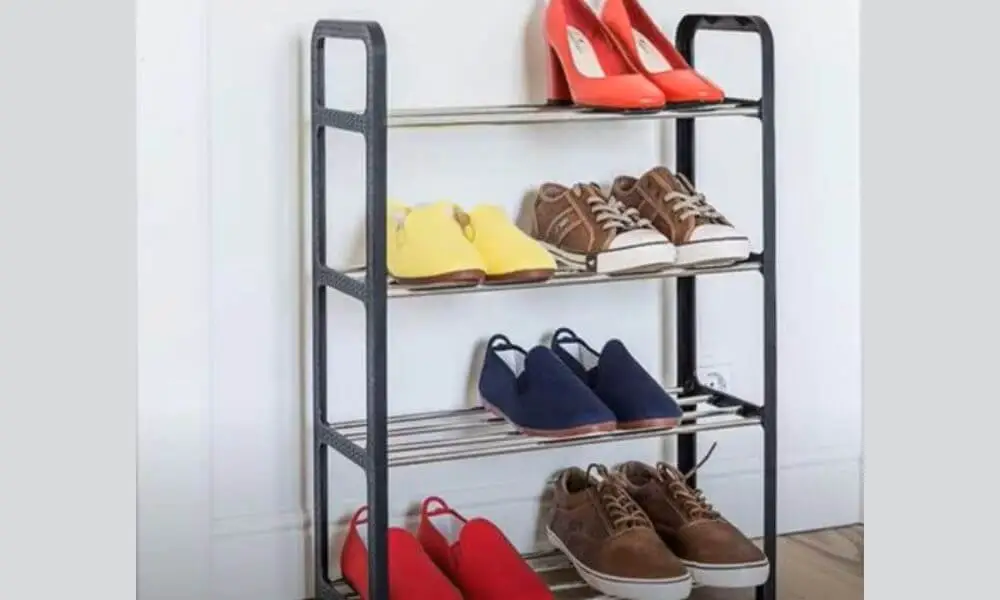 A wall-mounted shoe rack is a perfect method to keep shoes out of reach of dogs that like to nibble on them. Additionally, the rack's style functions as a modern piece of artwork on your wall.  Your shoes, boots, sandals, and sneakers may be held in place by it in such a manner that they seem to be hovering off the ground.
6. Use Apple Crates Or Boxes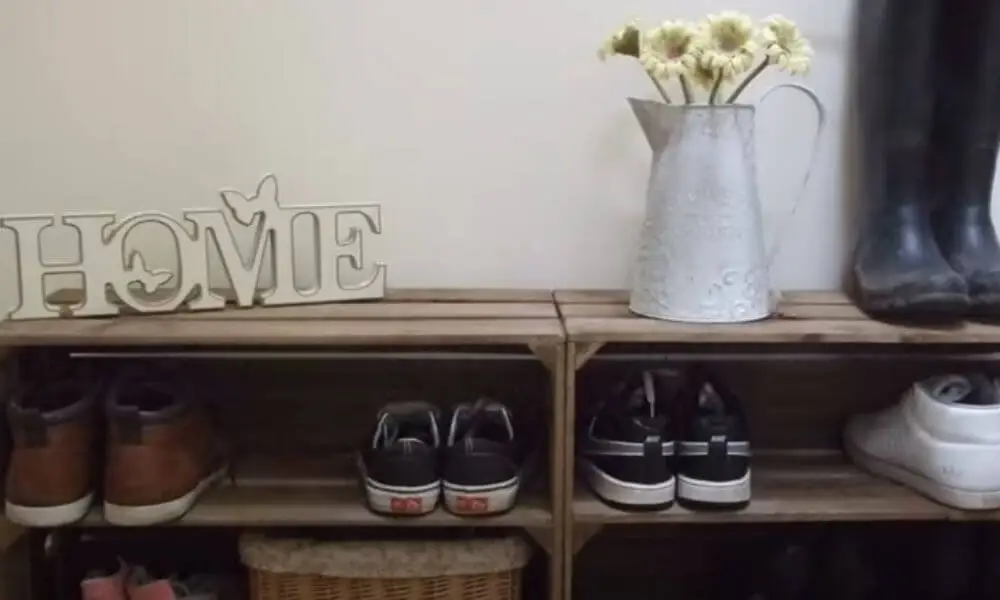 You may keep your shoes inside apple crates or other types of wooden boxes. As far as the boxes are strong enough, you may decorate them in exciting or subdued colors and arrange them next to each other. You can also utilize the tops of the crates to rest on when you are putting your shoes off or on.
7. Stick-On Shoe Holders
These shoe hangers that attach to the wall are excellent for keeping your shoes in position while also ensuring that your entryway is sleek, well-organized, and spotless. They are made of premium plastic that will not slide. These shoe racks are also very lightweight and waterproof. You can buy them in a pack of four.
8. Industrial Pipes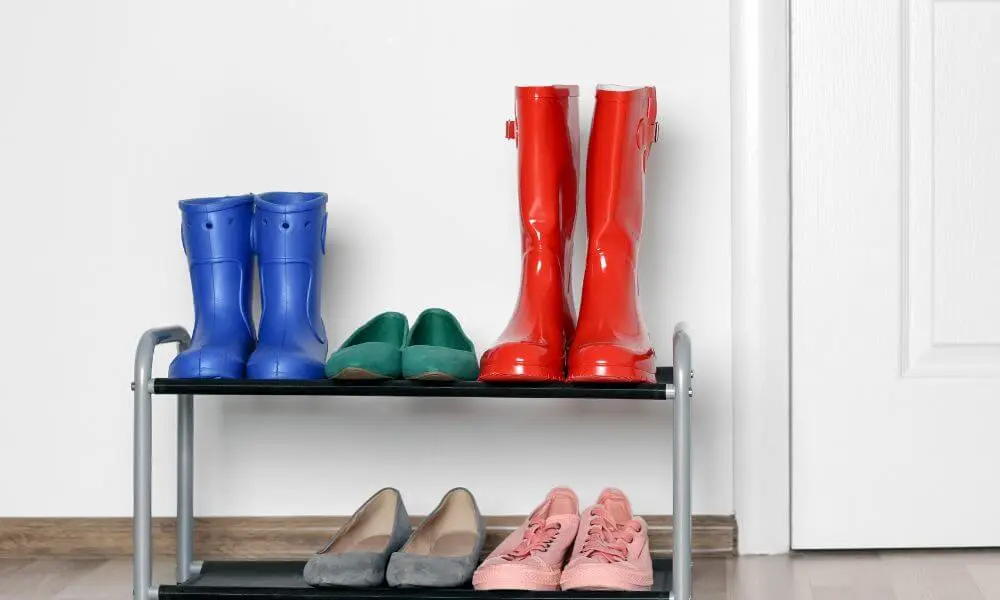 This storage unit with industrial pipes has an aggressive look while still being very useful. It takes a less conventional approach to the task of arranging your shoes. The twisting flow of the tubes creates a practical shelf unit that you can install in your foyer to keep shoes without filling up an excessive amount of space.
9. Shoe Carousel
Another creative solution for displaying and stowing away shoes in the foyer is the usage of a shoe carousel. This piece, which functions similarly to a lazy Susan, has the capacity to store 30 shoe pairs at a time and is big enough to accommodate most men's and women's shoe sizes.
10. Install Wall Hooks For Shoes
Installing a rack that has clips for your shoes at the ideal distances apart will keep things straightforward and organized. Purchase an additional one to mount it higher for your hats in order to keep your entryway stylish and neat.
11. Boot Tray
Boot trays make a mess seem more organized and confine it. If you install wheels to the trays you can hide this when it is not being used. Boot trays can hold a lot of shoes at a time. They are also very inexpensive.
12. Keep Your Shoes Outside
Think outside the box, very literally. If you lack sufficient room in your house to accommodate all of your shoes. Put away some of the shoes outdoors. To prevent having them stolen from you, just make doubly sure they are always stored in a secure location.
13. Shoe Bins
If your entrance is on the smaller side, storing your shoes in shoe bins may be the best solution. It is one of the finest methods to keep shoes at the main door and entrance because these bins can be put in any cabinet or beneath a bench based on their size.
They may also be divided and categorized for each person to use. In this manner, shoes won't be jumbled up, and every member will be accountable for keeping that part of the front entrance area nice and tidy.
14. Wicker Shoe Baskets
If you've benches in the foyer, you may want to think about putting unique baskets for every member of your family's shoes. Everyone will be able to readily locate their shoes, and they will also be aware of precisely where the shoes are supposed to be placed. With these adorable storage baskets, you won't have to worry about messy entryways anymore.
Final Say
Think about how big your entrance is, as well as the space just between the main gate and where you put your shoes. This will allow you to choose which of the available options is going to be the most suitable for your needs.
Also, consider that you will require a shoe storage system that is not only useful, practical, and simple to use but also robust and long-lasting. It is essential to include these items to guarantee that your home's entrance or front door will never get congested or dirty because of the shoe mess created by you or your guests.