How To Decorate A Small Entryway? [10 Stylish Hacks]
When thinking about giving your home a stylish decor, don't forget about your entryway. After all, it is the first thing anyone would notice after entering your home. But if the entryway is a small one, decorating it becomes a tricky business.
You don't want to clutter it. But you can't just leave it blank, either. So, it means you have to get creative while decorating a small entryway. 
However, creativity sometimes needs a little bit of motivation and inspiration. I can help you with that. In this article, I have described 10 amazing stylish hacks for decorating a small entryway. So, stay with us and find out which decorating style suits you the most.
10 Amazing Stylish Hacks For Decorating A Small Entryway
As with everything in life, the first impression of your home is also very important. A well-decorated entryway gives people an idea of what to expect in the overall style of the house. So, the decoration of the entryway of your house should be well thought-out and brilliantly executed. 
Here are some ideas on how to decorate a small entryway of your home:
1. Install A High Shelf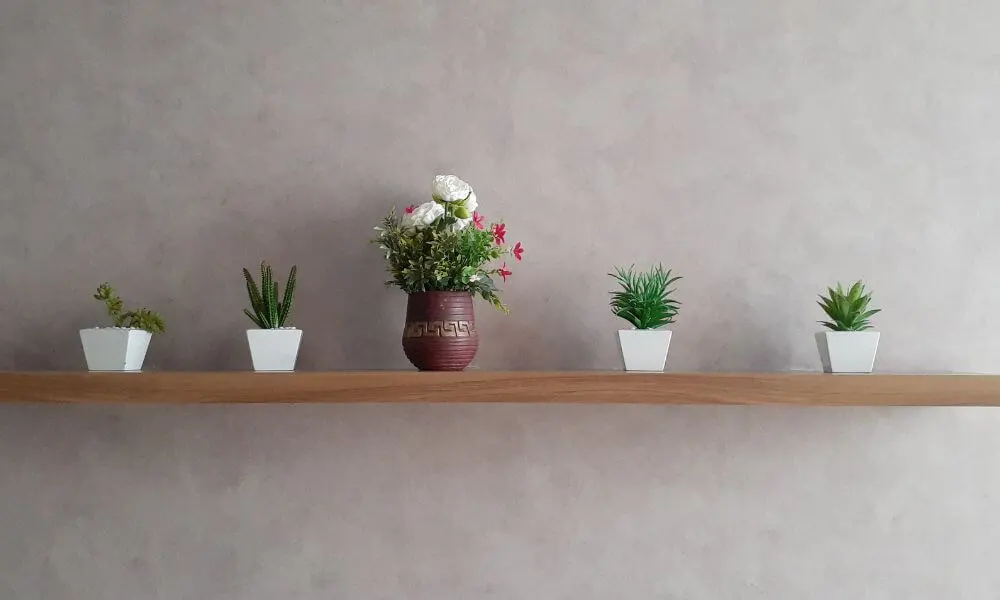 Let's start with a functional and practical design. Installing a high shelf in your small entryway is the perfect way to make the best use of your choice. It is a simple design. A small floating shelf and maybe a basket below are all you need to complete this decoration. 
You can use the shelf to organize your essential staff. You can also use it for displaying decoration pieces. With this decoration, you can easily double the usable space of your small entryway as well as give the entryway a stylish, practical look.
In case, you want a more precise idea about entryway organization, you can check out our 10 Entryway Drop Zone Ideas To Keep Your Entryway Organized, where we discussed some really helpful organization tips in detail.
2. Interesting Wall Paneling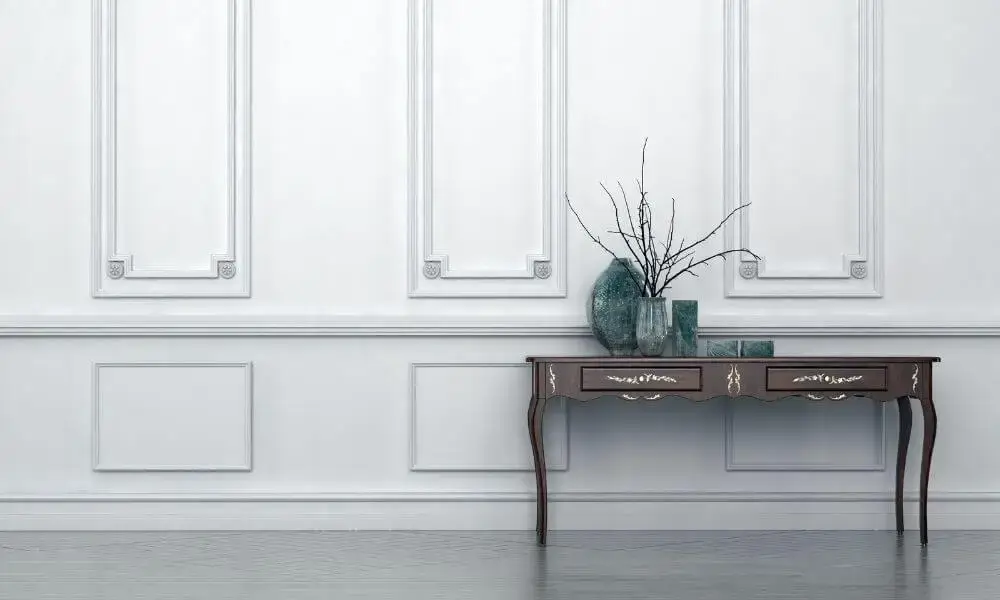 Wall paneling is an affordable, versatile, and eye-catching way of transforming the look of your small entryway. After all, why only color the walls of your entryway, when you can add beautiful and classy texture to them?
If your home is newly built, wall paneling your entryway can add to its character. And if it is old, wall paneling can really enhance the old-time grandeur of the place.
Vertical wall paneling is a great technique when decorating a small entryway. It makes your small entryway appear bigger, as this makes the eyes go upwards. 
3. Chic And Functional Entryway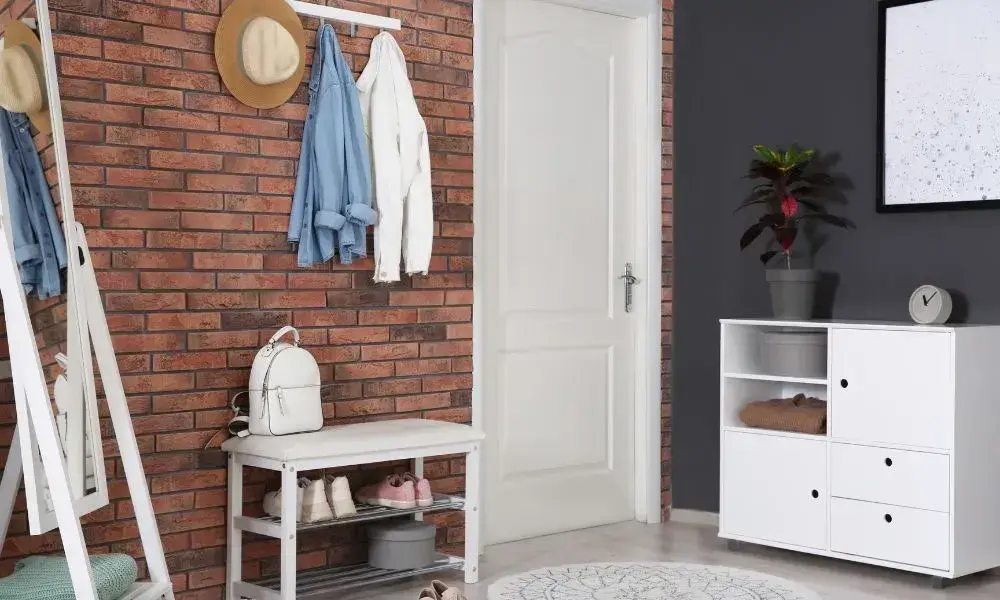 Here is another idea for a practical and functioning entryway. After all, despite having a small entryway, it is still possible to use it to have adequate and stylish storage space.
You can create this decoration by hanging a small peg rack on the wall to hold your coats and purses. You can add a smaller dresser on the side. This will allow you to have plenty of surface area and drawers to store your other staff. 
Complete the look by installing some wooden shelves behind the dresser. You can use the shelves for a more aesthetic purpose, like displaying small potted plants and other ornamentation. A round mirror may help in tying the whole look together.
4. Boho Vintage Entryway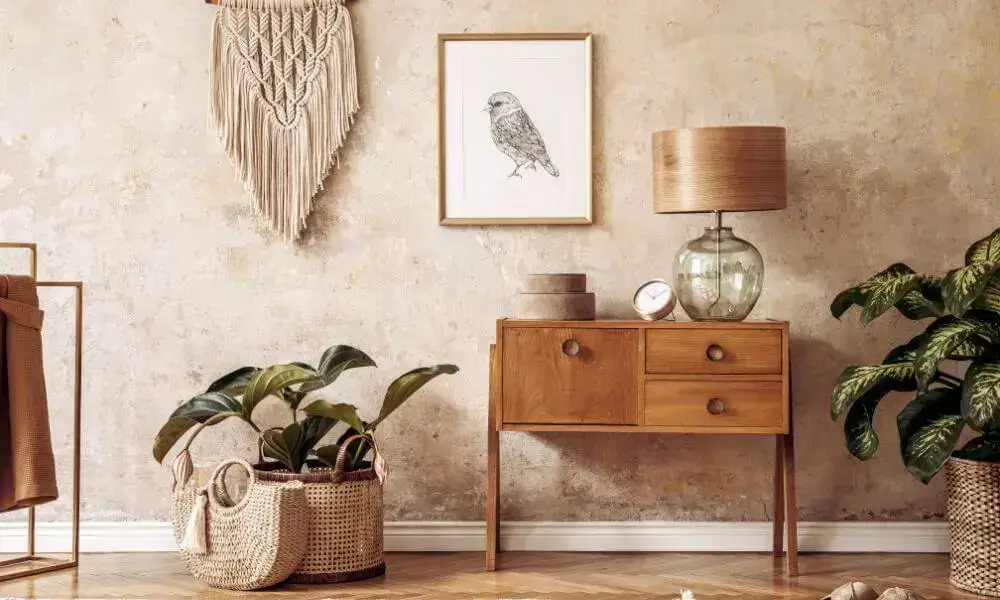 If you want a decoration style that will never age out, well, you might consider the Boho Vintage style. Vintage styles are always timeless. They can be a great decoration choice for your small entryway.
A small entryway decorated with Boho Vintage style will feature various natural materials, earthy shades, and hippie-influenced patterns. If you have the space, you can get a wooden bench and decorate it with a few natural textured throw pillows.
This look can be made even better with a combination of an accordion coat rack and some wicker baskets. Now your small entryway is equally functional and naturally stylish.
5. Unique Entryway Bench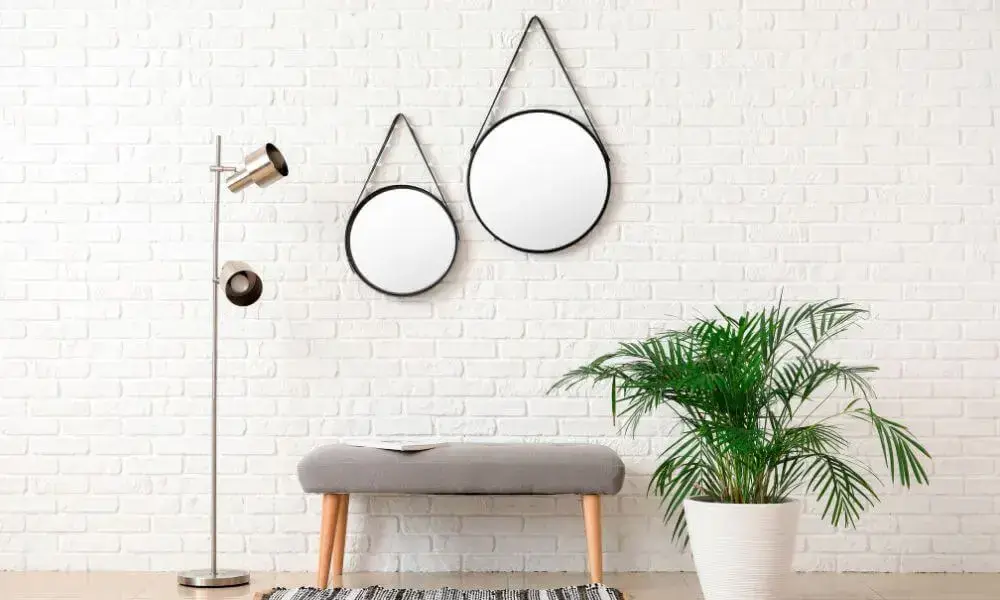 Getting a bench for your entryway is a functional choice. But who says it can't be a style statement as well?
If you are looking for an idea that is both stylish and practical, you should choose a unique-looking bench that also serves a practical purpose as well. To complete the look, you can get small mirrors or pretty pictures that match the tone of your bench to hang on the wall.
6. Entryway In A Tiny Space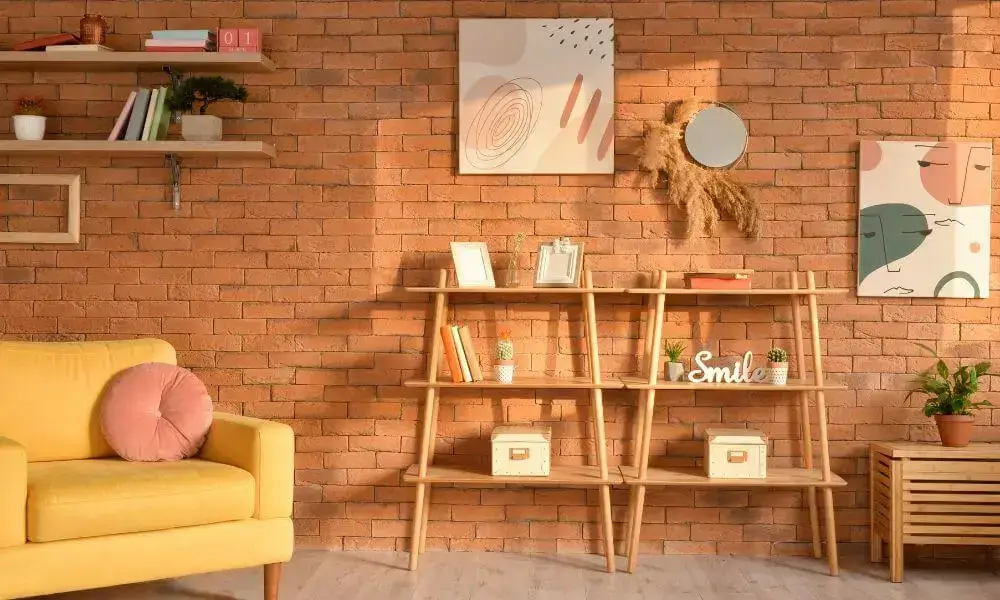 So far, we have been talking about small entryways. But what if the entryway of your home is basically non-existent? Well, you have to work with what you have, even if the non-existent entryway leaves you starved for storage.
With such tiny spaces, it is wise to make use of the wall space. You can add a simple floating shelf underneath a gorgeous gold mirror. Try installing a few flower-shaped wall hooks as well. They will add a whimsical look to the place as well as serve practical purposes.
7. Right Use Of The Rug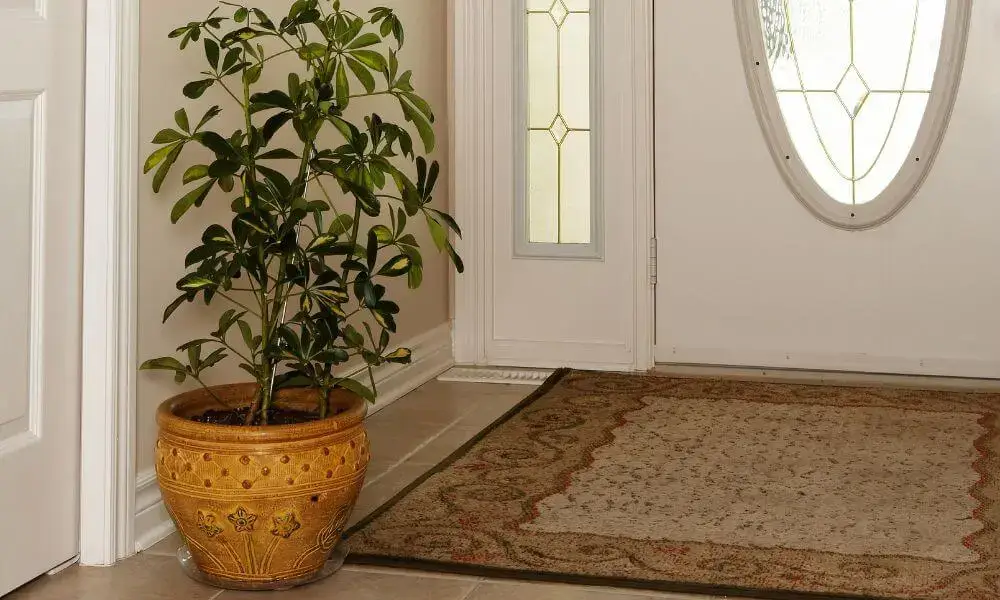 When dealing with a small or tiny entryway, the right use of the rug can make a huge difference. Especially when you don't have enough floor space or wall space for other decorations.
The good thing is you can highlight your small entryway with a strategically chosen stylish rug. Get yourself a beautiful area rug or maybe a runner. This could be used to set the tones for the color palette of the rest of the home. 
You might be wondering what type of rug to get for your entryway. Well, you can't go wrong with jute and sisal rugs. They are popular for their durability. They can easily catch dirt and moisture, and cleaning them is just as easy. A good shake and a round of vacuuming are all you will need.
Though if you are going for a more stylish and colorful approach, I would recommend going with wool or synthetic fiber rugs. They are often stylishly made with vivid coloration. If chosen right, a beautiful rug is all you need to bring liveliness to your small entryway.
8. The Wall Is Your Canvas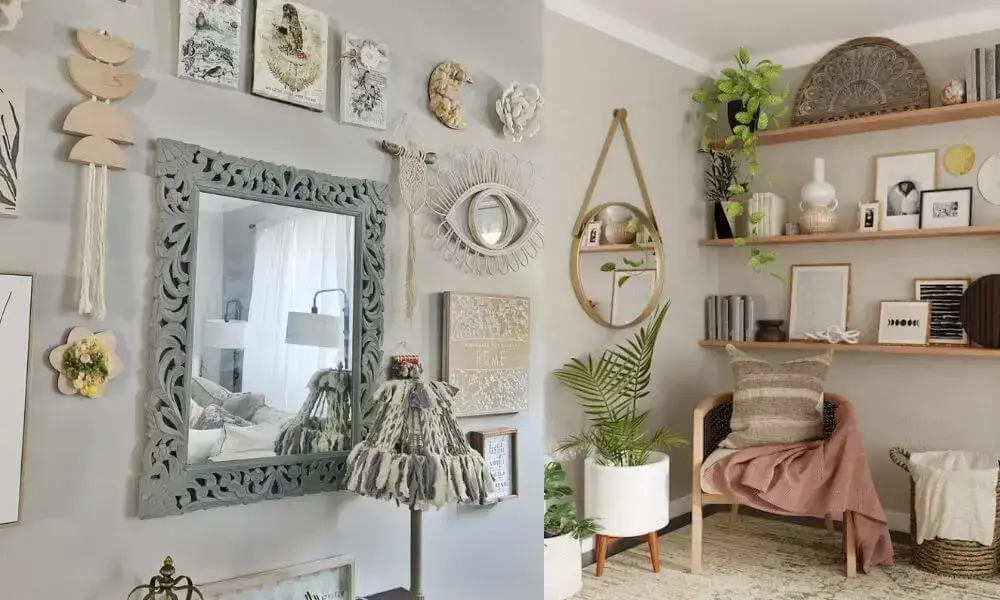 By now, we have seen many different ways of making use of the walls of your small entryway. We either talked about using the wall as a storage space or as a space to hang or install decorative pieces. 
But instead of adding one or two pieces of wall art, why not turn the entire wall of your small entryway into a work of artistic display? 
You can go about this in various ways. In fact, the options are limitless. You can go with colorful and classy murals and paintings. Or you can consider minimalistic hand-painted doodle-style art. You also have the option to go with the removable wallpaper if you are looking for something less permanent.
Anyway, no matter which style you decide to go with, the results are all brilliant and beautiful. You can then complete the decoration by adding a simple table or dresser on the opposite wall to have space for any personal items.
9. Steal Your Stairway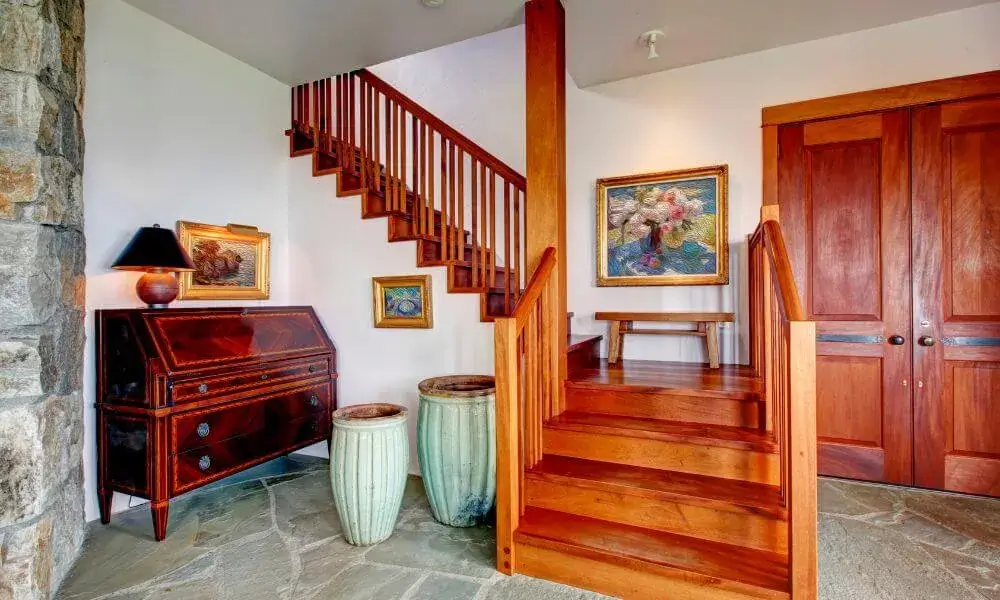 Well, not literally. But when you have a small entryway, you have to get creative and try to use all that is available. So, if you have an entryway that leads straight to the stairs, you might want to use this to your advantage.
Think about what you can do with the empty space below the stairway. This often-neglected space underneath a stairway can be a great place for dressers or cabinets. Just coordinate the decoration a little bit to match the entryway decoration. 
This way, the place beneath the stairway will become an extension of your entryway, both practically and aesthetically.
10. Use The Magic Of Mirrors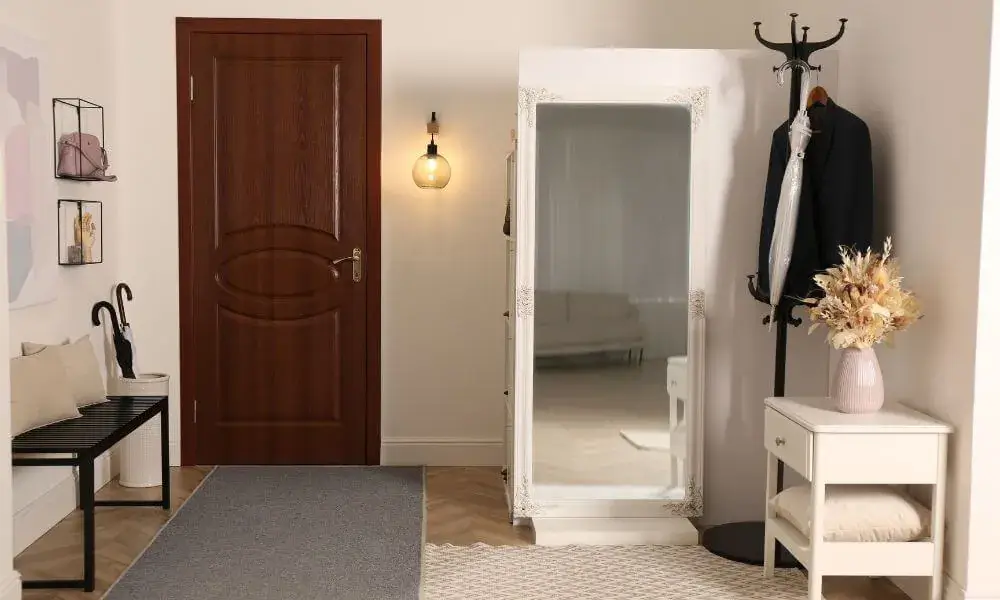 When you have a small entryway, there is no better way to open up the space than by adding a big mirror. This won't actually make your place bigger. But it will certainly create the illusion of it. We all know this little magic trick of mirrors.
So, consider investing in a large full-length mirror rather than installing a smaller mirror, as we have discussed in some of the previous ideas. This will make your small entryway seem bigger and less constrained than it is. 
Plus, having a full-length mirror will give you the opportunity of checking your whole outfit one last time before leaving the house. This way, the mirror has practical value as well as aesthetic value. 
Anyway, finish this decoration with a floating shelf or maybe with some small hanging plants. Remember to keep it simple and functional.  
Common Problems People Face While Decorating Small Entryways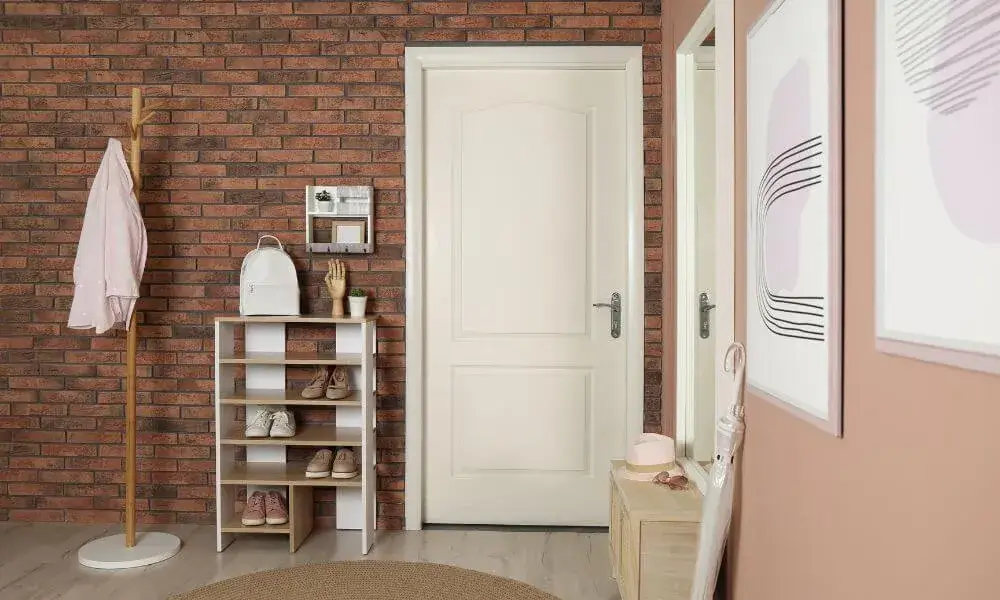 The entryway is probably the most important space in your house. After all, this is the place where your home makes a first impression on people. So, decorating this space properly is of vital importance. 
However, decorating a small entryway is a challenging task. You might face various problems while you are at it. But don't worry, you are not alone. I am here to tell you how to solve some common problems you might face while decorating small entryways.
1. How To Stay On A Budget?
This is one of the most common problems that everyone faces while decorating their home. 
We all want choices when we are decorating. But some choices may go way over our budget limit. So, it is important to be aware of the budget limit and plan the decoration accordingly. 
One of the easiest ways of staying within budget is to get crafty with recycling. If you look carefully, you might find that you already have the particular item you are looking for to decorate your small entryway. Or maybe you have something similar that can be used as an alternative. 
However, in case you don't, my advice would be to get furniture or objects that can do double duty. This means they should serve the functional purpose as well the aesthetic one. 
Another thing to keep in mind is that expensive does not always mean good. So, keep yourself open to all options. Look properly, and you just might find a decorating gem for a price of a stone.
2. How To Organize Clutter?
Clutter is very common in an entryway. This becomes more of a problem when you have a small entryway and space is already scarce. That is why while decorating a small entryway, it is very important to think about how to organize the clutters. 
My advice would be to use decoration. While pondering about potential decorating ideas, take a few minutes. Consider how the decoration style will handle the inevitable clutter of a small entryway. 
The decoration style of your small entryway should be practical as well as stylish. Don't compromise with an item's functionality just because it may look aesthetically pleasing.
As we are on the topic, make sure that you don't go overboard with your decoration. Remember, in some cases, less is more. Try to keep your decoration simple yet stylish. Don't put any unnecessary decorations in your small entryway. This will just make the small space even more crowded. 
3. How To Solve The Lighting Problem?
Your most amazing decoration ideas can get ruined because they might be missing one crucial element. Yeah, I am talking about lighting. 
When contemplating the decoration ideas of a small entryway, people often forget to take lighting into account. Not all decorations will look good in all types of lighting. So, you need to make sure that your lighting and decoration complement each other properly.
Besides, an entryway should provide a feeling of warmth and welcome. To accomplish this, your entryway should be well-lit. Wall lights, sconces, chandeliers, or lamps are good options for lighting your small entryway in a stylish way.
Final Words
I believe having a properly decorated entryway is vital for the overall design of your home. However, if that entryway is a small one, the task becomes a bit harder, though not impossible. 
In this article, I have shared some amazing stylish ideas on how to decorate a small entryway. If you have read so far, I hope it helped you in finding the perfect decoration for your small entryway.