How To Decorate A Curved Wall? [Design Ideas]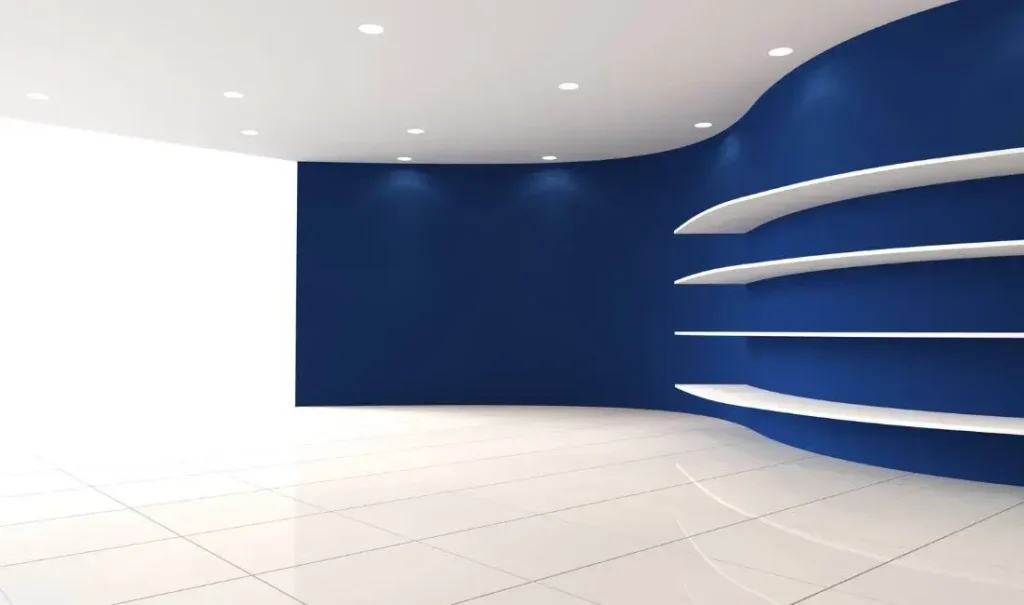 Curved walls give an aesthetic look to your house. Making a trendy and elegant home with curved walls might be difficult because most of the furniture is intended for flat walls.  With a suitable design, this curved wall shape becomes unique and attractive.
To decorate a curved wall, make shelves where you can put decorative accessories, crafts, souvenirs, etc. Keep a spotlight to make it look incredible at night. You can also put paintings and photos on a curved wall. Based on how big your curved wall is, you should decide how many photos should be there.
Curved-wall rooms often provide an aesthetic vibe, thanks to their unique design. If you want to know more about decorative ideas for your curved wall, I suggest you read this article till the very end.
How to Decorate a Curved Wall?
Curved walls look very pleasing in a fairy-tale palace or around a curved staircase. To achieve a pleasing outcome while decorating your curved wall, you must work within the limits of the curved nature. With proper planning, a curved wall could be the most interesting thing about your house.
Here are some great tips you should consider before decorating a curved wall in your house.
Explore Your Options
Designing the desired outcome can be made more accessible by looking at many possibilities for your curved wall. With a high ceiling, vertical series of unframed photos might fill up the bare wall space with visual interest.
When you look at a wall with a bunch of small photos or other wall decorations, your eyes go horizontally down the sides. Large photo frames might not fit on slightly curved walls, but slender or small frames might look far better.
You can get ideas from the styles and colors of the furniture and decorations adjacent to the curved wall. If you choose to paint or put wall art that goes with what you already have, collect samples of those colors with you when you shop. These could be samples of leather, carpet, wood finish, cushions, or flaking paint.
Paint The Wall
Curved walls may be easily decorated with only a coat of paint. Color saturation that matches your décor will give the curved region additional depth. Which will heighten the architectural intrigue. Paint that looks like stone or concrete may transform an otherwise plain wall into an eye-catching feature.
Spray paint with a matte look may be used as a substitute. If you want to minimize the effect of the curve, paint the wall similar to the ones around it. In addition, it may be painted with wide stripes or plain patterns. A readymade mural gives you an idea of where the wall treatment would appear before it's installed.
Curved Wall Art
Curved walls adapt themselves well to the use of photos, whether they're framed or not. To bring together a wide collection of photos, matching mats are recommended. Because they are frameless, photos and paintings may be attached to a curved wall using double-sided sticky tape specifically developed for poster hanging.
According to Houzz, an image-matted wall creates a gallery effect on the curving wall. Curved frames for wall art are also an option. If you want the room to seem formal or classic, you should place a huge painting in the middle and surround it with sconces on each side. A curving wall may be given a more relaxed feel with a collage made up of random photos.
Eye-Catching Accessories
Lighting may be used to highlight the curved wall treatment. Wall-mounted track lighting or recessed lighting illuminates the space. Wall sconces are available in various types to complement your interior design. On the curved wall, this will be simplest to place sconces with thin bases.
A chandelier illuminates the curving walls of a curved stairway. On a curving wall, hanging vases, also known as wall pockets, are useful for displaying red roses or dried bouquets. Big plant pots on the carpet or flower stand next to the curving wall give depth and transform it into a background.
Shed Light On The Wall
Interior lighting will help your eyes along your curved wall's curvature, as runway lights do for a pilot. You can install a series of recessed lighting spots or a movable, roof track with several movable lights aligned to the curved wall for an aesthetic impact. Set the separate lights in their corresponding areas of the wall.
Recurring Appearance
Occasionally, artists utilize repetition to bring attention to certain components of an artwork. Even though the curved walls are not similar, the repetition of curved furniture adjacent to the wall has the same attention-grabbing impact.
It is much more difficult to find curved furniture that matches your curved wall's contour. You could build a custom curved sofa if you're competent in carpentry.
Use Mirrors To Trick The Eyes
Mirrors not only provide more light, depth, and elegance to a space but also be a lifesaver when placed in an area with odd angles. Mirrors may make a room seem larger than it is. If you put a mirror on a curved wall, it will contribute to the creation of the illusion of symmetry.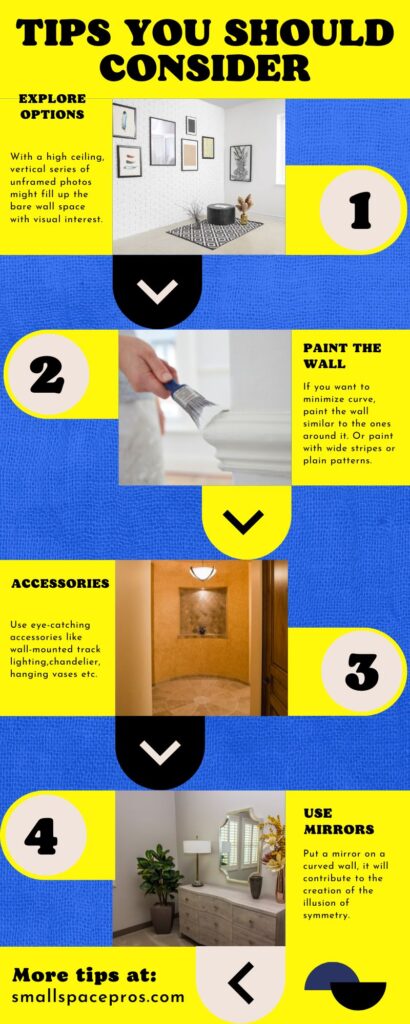 Share this Image On Your Site
How to Decorate a Curved Wall Entryway?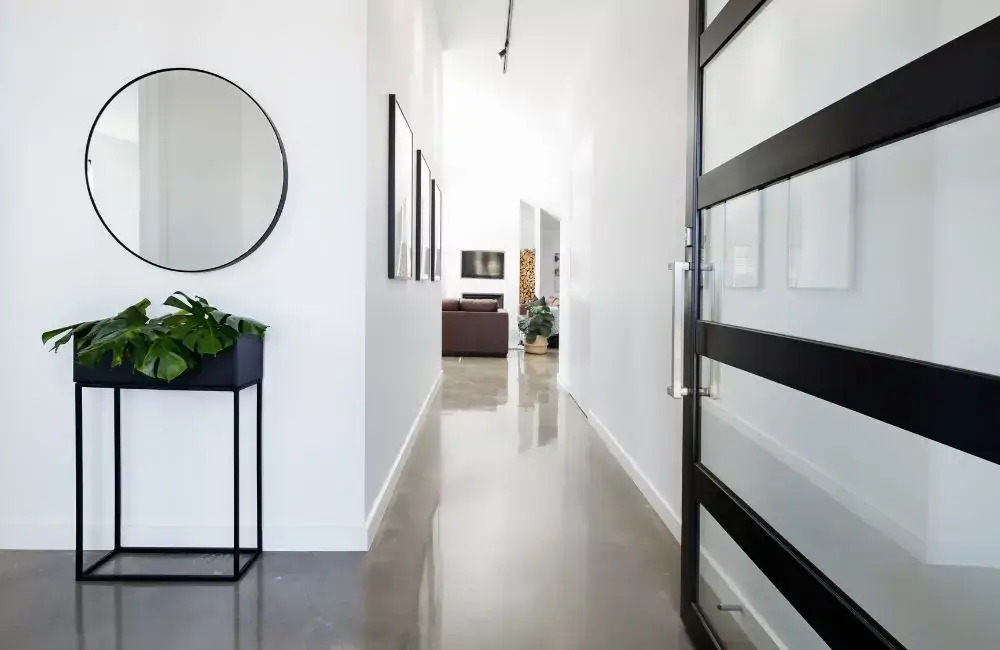 A staircase often creates a curving entrance wall. It's a terrific way to decorate your house. But it also presents a difficulty. Curved walls are rarely decorated since they aren't common in other rooms of the home.
A few suggestions for what you may hang on a curved entryway wall:
Your family gallery
One big symbolic painting
Vintage accessories
Mirrors
How to Finish a Curved Wall?
As previously said, curved walls in interior decoration may serve a functional purpose or be only aesthetic. A curved wall provides uniqueness to your home. This feature should be appropriately highlighted and accentuated and make sure to give attention to it.
If you need to highlight a curving wall, it is advised that you utilize elements that are distinct from other walls. Designers mostly use textured materials, such as real or imitation stone, wood, mirrors, ceramics, metal tiles, etc. Various colors and textures inside textiles, such as velvet or simple materials with glossy inlays, are also trendy options.
Final Say
A curved wall is very attractive naturally, so don't add too much more decoration to it. Avoid bold and eye-catching shades if it does not suit your style. Choose a neutral color finish to provide the perfect background for your decorations.
Curved walls naturally give a house a feeling of fluidity and vitality, even though they are not very common. Give your curved wall the attention it deserves.