How To Decorate A Round Entryway: 5 Trendy Ideas
We often see people struggle with decorating an entryway, especially when they are round shaped. See, round entryways somewhat limit the options to glorify them and it's a lot more difficult to get suitable furniture for round entryways.
But don't worry, if you don't know how to decorate a round entryway, we'll help you.
The trick is to get proper furniture first. But even pieces of furniture aren't enough to make your round entryway more attractive. So, you need to decorate those pieces of furniture also. If that's also not giving you satisfying results, throw in some expensive and luxurious items.
The problem is that sometimes it would go a little overboard with the prices, so tune in with us to know how you can easily decorate your round entryway with the space you have.
5 Attractive round entryway ideas to follow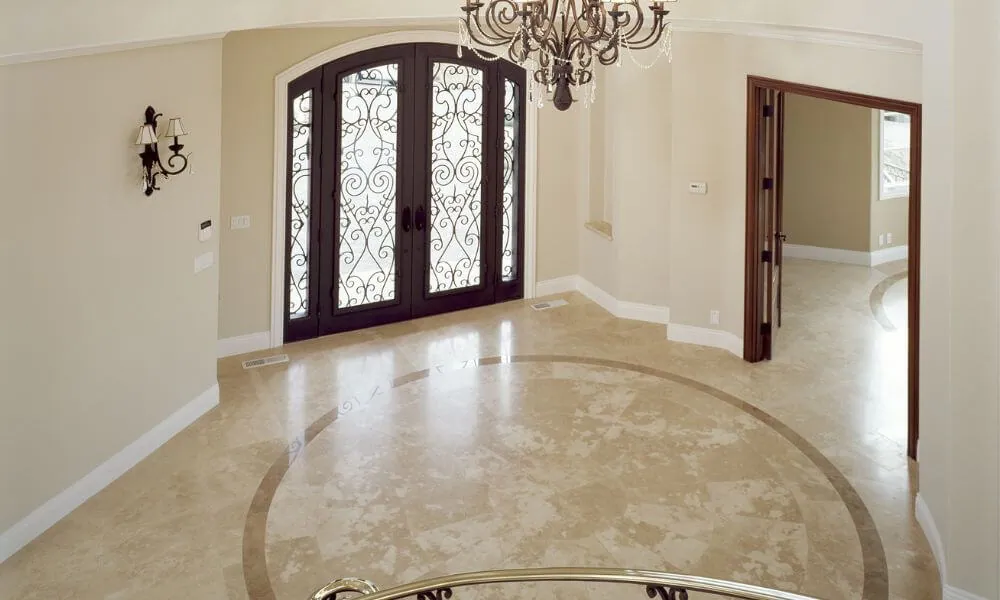 It's hard to come up with an idea equally stunning and easy to makeover but difficult to find when it comes to round entryways. So, we've come up with some ideas cherished and designed by various architects and designers, they are even recommended by the renowned Gensler architects.
Most of them are just placing some furniture because you know that furniture enhances the beauty of a room. And your entryway should be decorated the most as the guests might judge your place just by taking a look in your entryway.
So, below here are some of the ideas we've gathered for your round entryways.
If you have an open floor plan entryway, check out this guide- How Do You Style An Open Entryway? [4 Quick Hacks]
1. Placing round sofas
This is one of the most common pieces of furniture you'll ever watch to get a place in a round entryway in celebrity houses. Celebrities like Kendell Jenner, and Kim Kardashian have some luxurious round sofas placed in their entryways.
But keep in mind that only round-shaped sofas are going to look stunning in these types of areas. If you put a rectangular, square, or even oval-shaped sofa there, the entryway ought to look out-shaped. Color choice is solely dependent on your room color. Just try to match the color of the sofas with the color of your room, and even if you can't match it completely, try to match the shades for the least.
2. Placing a round table
Now, it's the most crucial piece of furniture to put in a round entryway. Nothing has ever replaced it in decades. And you can get a lot of variations with this table compared to round-shaped sofas.
But why is it so versatile to put in a round entryway? Round-shaped rooms tend to attract all our attention to the center of the room. As a result, we need to decorate the center more as it's highlighted the most. Round sofas look dull if you can't get enough height in the center. And high sofas aren't comfortable at all.
What a round table does here is that you can make it tall enough to get people's attention. You can decorate it with various showpieces to make it more beautiful. You can choose whatever material you want to give to your table. It's the most flexible accessory to go with a round entryway.
What do you put on an entryway table?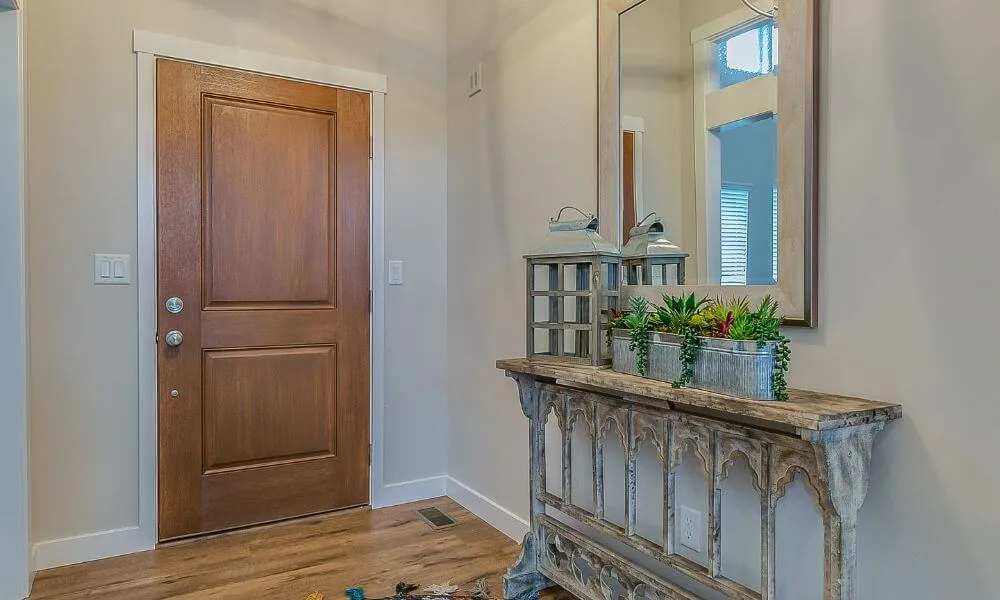 Now you know that a round table is the most flexible piece of furniture to go with the entryway we're talking about. But how can you make it more attractive? How to decorate a round entry table?
There are a lot of other things you can put on there as you prefer. Placing a fish jar is also adorable. A sculpture would give a feel of engaging entry. You don't have to put on a large sculpture. Any textured sculpture would amaze your guests and even it will be welcoming when you get home.
A vase would look charming. The best way to decorate your round table is by putting on a tall decoration. Placing a vase with a tall, green, and alive plant on it would enhance the beauty of your round entryway more than you imagine.
A pile of two or three books would also look just fine. You can't only put a few books on a table and make it look great. Use the books as a secondary decoration with your primary decorations, which are tall accessories.
A fruit basket may not seem a great choice as a primary decoration either. Only a fruit basket would look nice if it wasn't an entryway. Placing foods and fruits in the doorway might look a bit tedious.
An antique could be the simplest way to accessorize your round table. Just an old showpiece could enhance the beauty of your entire entryway.
Photo frames are a great indicator that you value your decorations as well as your life. Photos of your loved ones, pets, and family will do. And if you want to place photos of other things, you can. It's up to you totally.
Table lamp alone is going to be very monotonous. Always add a tall accessory to avoid an unorganized round table for your entryway.
A beautiful bowl can be used for both primary and secondary accessories to beautify your round table. Just don't put a plain bowl. Some aesthetically designed bowls would work like charm.
3. Placing a chandelier
Maybe a chandelier could be overkill for rooms that have a simple structure with the simplest interior designs. But you can still make it work with a chandelier with basic structural designs.
You will see a chandelier's value at night time when the chandelier is the only source of light for your entryway. But it's wise to have other lights, relying on the chandelier's light would be dull.
If you want to put more attention to your ceiling, you can check this guide, entryway ceiling ideas. Here I talked about 10 easy ceiling decoration tips for entryways.
4. Building stylish staircases
Curvy entryways work best with round-shaped staircases. But you won't be needing a staircase if you don't have the first floor. So, it's only applicable to people who have multiple floors in their houses.
5. Placing a desk
A linear desk would be tedious, so don't even think of using a plain desk. Try a curvy desk that would add volume to your entryway. IKEA manufactures desks like this to fit into a round entryway. You can even make your customized round table from IKEA.
How to decorate a small round entryway?
| | | | |
| --- | --- | --- | --- |
| | 20-29 square feet | 30-39 square feet | 40-45 square feet |
| Furniture | A round table | A round table, a chandelier,  | A round table, a chandelier, a desk |
| Staircases | Won't be sufficient space | Curvy staircases | Curvy or linear staircases |
| Showpieces | A vase, an antique, some books, a beautiful bowl | A vase, an antique, some books, a beautiful bowl, photo frames | A vase, an antique, some books, a beautiful bowl, photo frames, a table lamp, a sculpture |
| Carpets | Round-shaped only under the round table | Round or rectangle-shaped only under the round table | Any shaped can be placed anywhere. |
| Additionals | No additionals | A coat/umbrella stand | A sculpture separated from the round table or desk |
20 to 45 square feet is considered the ideal measurement for a small round entryway. Let's see how you can decorate those small areas.
For a 20 to 29 square feet area, you need to be very picky with the showpieces. The only furniture that should be the nicest one there is a round table. Pick either a vase or antique for primary decoration, then choose some books or a bowl. Round-shaped carpets work best with these small rooms.
As for rooms of 30 to 39 square feet, you have a variety of options. You can add a chandelier along with your round table. If you have staircases, try to make them curvy. You can put photo frames along with your primary decorations. You can add a coat stand for the guests if you like.
40 to 45 square feet rooms are a bit larger, thus, you have flexibility. You can throw up a desk with a chandelier and a round table. You have the option to make stylish linear staircases. You can put a sculpture on your round table. You can pick any shape for the carpets.
Final Thoughts
Now imagine once you've thrown in all those items mentioned above to your round entryway, how it looks. Your imagination is the key here. We just helped you a lot with what items might look good in your round rooms and how you can organize them.
But your taste and liking ought to be different from ours. So, make variations when you start decorating the entryway. And if you run into any other problems, contact us.