10 Easy Entryway Ceiling Ideas For A Grand First Impression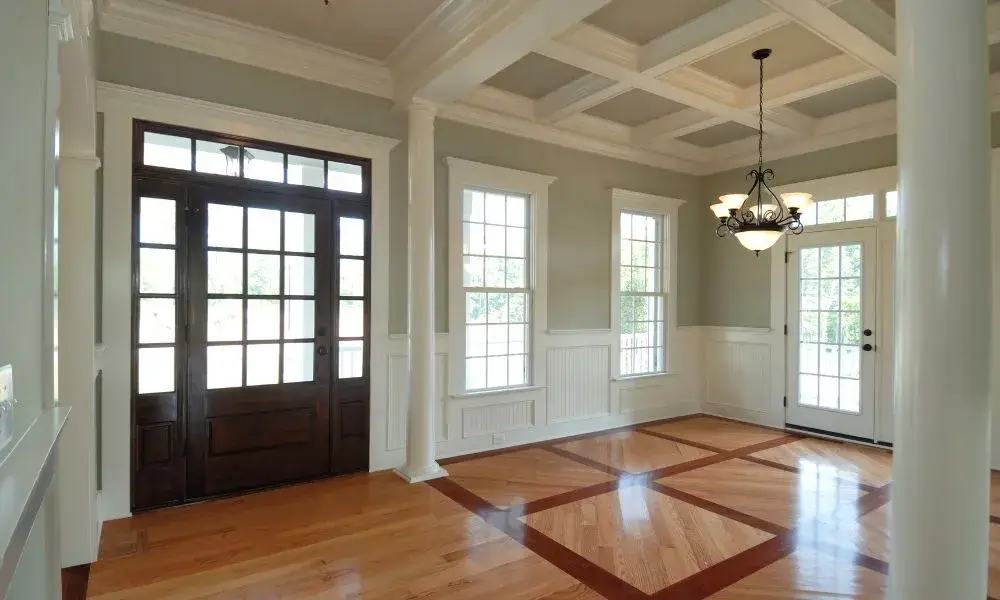 Everyone wants to walk through a warm and cozy entryway upon returning home. But it's not
only enough to decorate the hallway itself. You have to pay enough attention to make the
ceilings look just as tempting and attention-worthy.
To decorate entryway ceilings, follow the rule of three P's. Practicality, pristineness, and lastly,
purposefulness. Decoration ideas should involve resourcefulness and coherent artistry. But the
furnishings should also be practical so as to avoid improper use of space, time, and energy.
In today's write-up, we'll attempt to go over the 10 most impressive entryway ceiling ideas to
dazzle all visitors. Take proper notes, and don't forget to incorporate your personal ideas with
the existing ones to ensure individuality.
10 Impressive Entryway Ceiling Ideas For Maximum Effect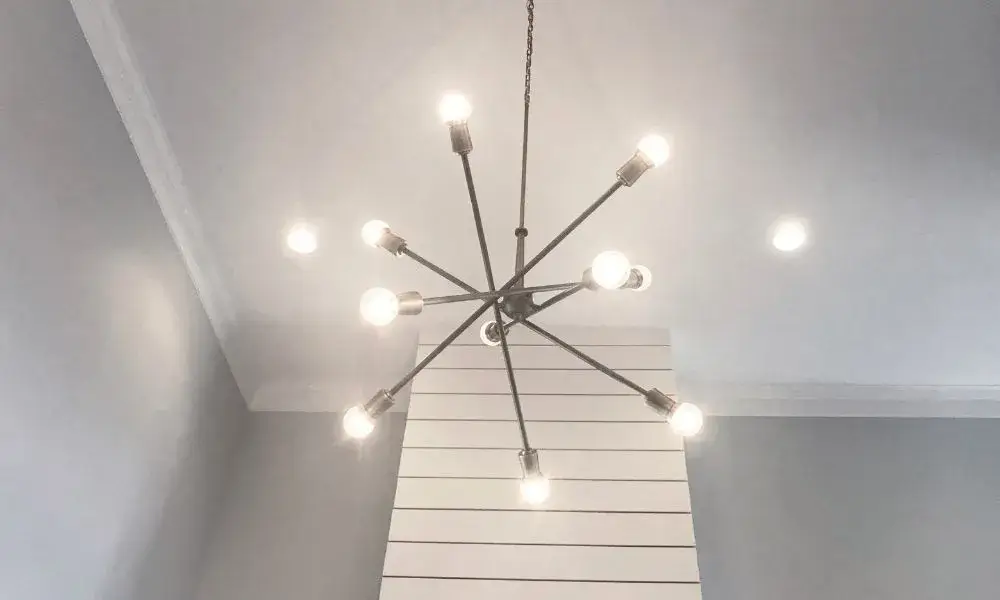 A house is an empty canvas. And you are the artist. Like Michaelangelo painted the Sistine
Chapel ceiling, use the following decoration ideas to paint your own dream ceilings!
1. Arched Ceilings
Arched or dome-like ceilings are already architecturally gorgeous enough as is. But you can
make these ceilings look even more appealing with three easy steps.
One – stick to light-hearted colors. It's best to limit your options because using too many
colorful patterns might make the domes look deformed to an extent. If you stick to one color,
such as plain white or beige, the arched shape will look more defined. It's a classic traditional
trope for homes.
Two – Don't use accessories all over the ceiling. Leave the ceilings alone and adorn the adjacent
walls instead. Use minimalist paintings, statues, plants, etc., alongside the walls.
Lastly, don't pick any crest points to hang ceiling fans, chandeliers, etc. If there's a common
trough between adjacent domes, use that as a center point instead.
2. Starry Ceilings
Who doesn't love the Starry Night painting by Van Gogh? Even as kids, everyone loved to watch
the night sky to witness all the celestial mysteries in awe.
So, why not make that a reality with entryway ceilings? While monochrome ceilings with
traditional furnishings are already quite pretty, they can't beat starry ceilings.
You can use galaxy projectors with soft night lights to transform the ceilings into dimensional
gateways in a jiffy. Add some pleasant music to serenade the guests as they enter the hallways
for a complete sensory overload.
3. Minimalist Ceilings
You don't always have to go overboard to make the ceilings look enticing. Minimalist ceilings
can make or break an entryway with the right approach.
For instance – hold back on the furnishings completely. Refrain from using string lights,
chandeliers, etc. Instead, decorate the ceiling itself with colorful patterns.
Use geometric or artistic patterns so that the place looks like it's brimming with life. Again, ditch
the artificial lights and use tinted windows to accessorize the sunlight itself.
4. Commemorative Artworks
If all else fails, you can always take the Michaelangelo approach and paint the ceiling itself.
However, considering it'd be too expensive and unnecessary to hire actual artists, it'd be wiser
to take the easy way instead.
Buy murals of your choice or fresco paintings to decorate your entryway ceilings with
commemorative artworks. Renaissance pieces to random oblique patterns – you can decorate
the ceilings however you like.
Again, if you're an art historian or enthusiast, you can get custom replicas of famous ceiling art such as the Creation Of Eve, the Last Judgment, etc. They'll cost you accordingly.
5. Illusive Ceilings
This one's quite an out-of-the-box idea but a great one if you're bold enough to pull it off.
Instead of murals, fresco paintings, chandeliers, etc., use mirrors on the ceilings instead.
Some truly bold homeowners attempt to put the ceilings horizontally across the ceilings. Guests
can see themselves in the ceilings as they enter the hallways of the home.
While the horizontal mirrors are certainly striking in nature, they can also be quite disorienting.
We'd suggest going for tinted mirror windows on the sides instead.
During the day, you can open up the windows to let the natural light in. And once it's evening,
you can close them up, turn on the night lights and watch the colorful patterns play out in the
ceilings and adjacent walls.
6. Rustic Entryways
If you've got a farmhouse, then there's no need to go for anything too traditional or abstract.
Play to your interests and use everyday objects to make your ceilings special.
For instance – you can design tier-wise furnishings for high ceilings and decorate the tiers
accordingly. You can even use them as makeshift drop zones to store day-to-day items. Again,
you can get lanterns or traditional lamps instead of bright lights to preserve the farmhouse
ambiance.
7. Doorway Effect For Long Hallways
If there's a long hallway after the entryway, take the time to arrange the ceilings accordingly.
You can use suspension lamps with geometric exteriors for a subtle candlelight effect.
Again, if there's air conditioning, make sure none of the wires or fixtures are visible. You can
decorate the ceiling-adjacent walls with bead curtains to hide the unpleasant sections.
Alternatively, you can use bohemian hangers to separate different sections throughout the
hallway. Such as, if the hallway opens up into a drop zone from the entryway, you can use these
bead curtains or hangers to sectionalize them.
8. Elegant Chandeliers
You can hardly ever go wrong with elegant chandeliers in a traditional set-up with ample space.
Before placing a chandelier, take the height of the ceilings into account.
Here are a few common ideas for chandeliers in entryway ceilings. If you truly want something
traditional, get one of those antique crystal chandeliers for the ceilings.
But nowadays, modern and abstract-looking chandeliers look better than old-fashioned ones.
Again, go for sputnik chandeliers if you want a mix of the two styles.
Whichever chandelier you choose, make sure it doesn't look out of place with the rest of the
furnishings. Also, if you live somewhere where earthquakes occur frequently, it's best to avoid
glamorous glass chandeliers completely.
9. Complementary Light Fixtures
Let's say you've got a long hallway and you've decorated the walls with precious (and
expensive!) artworks and paintings. Or maybe, it's simply a hall of fame for your personal and
professional achievements. If that is indeed the case, then the guests may stick around longer.
In these circumstances, you should follow an elegant but minimalist approach with the
entryway ceilings. You should refrain from placing too many decorative and flashy objects up
high when you've already got an overwhelming hallway. Instead, use plain and monochrome
colors on the ceilings so that the guests can pay more attention to the artwork
Additionally, use complementary light fixtures to bring out the best features of the artworks
after dark. For instance – instead of bright white lights, use soft night lights to maintain a tone
of mysteriousness throughout the hallway.
10. Lawyer Foyer
Lawyer foyers are exactly how they sound like. Minimalist, calculated, and practical with no
fancy counterparts.
These are fit for office entryways. Stick to a monochromatic theme for both the ceiling and the
surroundings. Install internal light fixtures for a soothing walk down the halls.
Lawyer foyers usually involve corporate spaces without too many windows or open spaces. So,
make sure to arrange for ample LEDs to increase personnel morale and productivity.
Decorating Entryway Ceilings: Important Factors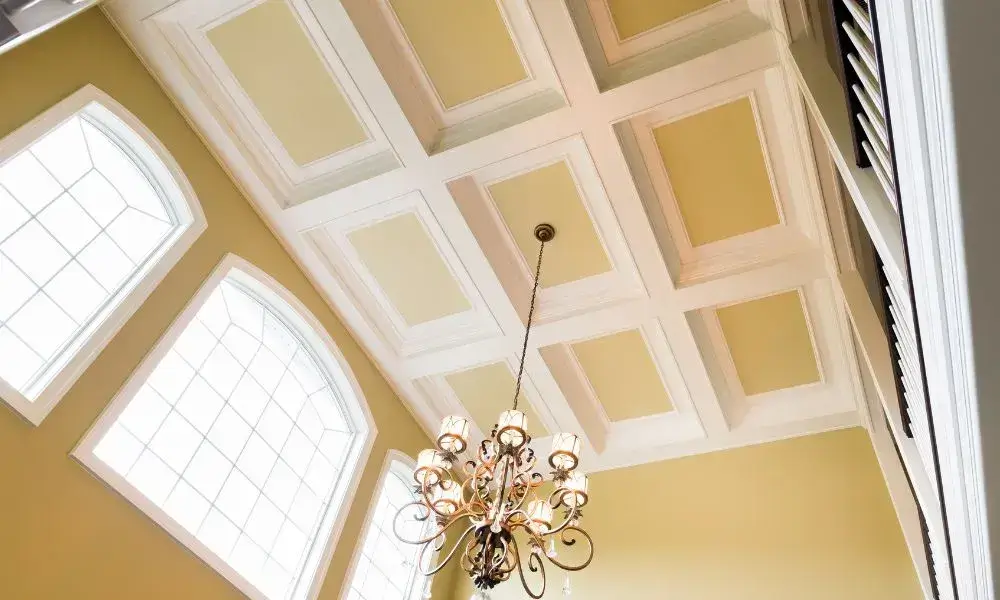 We've gone over 10 amazing entryway ceiling ideas thus far. Now, let's go over the common
denominators that make these ideas as impressive in the first place –
Lighting
Surprisingly enough, lighting is one of the top factors that can either make or break a ceiling. No
one wants to look at a damp and deserted ceiling with cobwebs all around after stepping one
foot into the entryway.
There are two ways to ensure proper lighting in entryway ceilings. During the daytime, arrange
for appropriate and ample sunlight throughout the hallways. For instance – clerestory windows
can thoroughly transform full hallways. They'll allow more natural light into the hallway spaces,
which will both brighten up the room & prevent dampening.
Skylights can also work wonders in these cases. Again, from evening till dawn, you can use night
lights to provide an eye-soothing environment. And for normal usage, you can simply mount
ceiling light fixtures with integrated LEDs.
Paint Quality
Since ceiling paint is a lot thicker than normal wall paint, quality is of utmost importance. Don't
go cheap unless you want the paint to slowly peel off barely months later.
Again, it's generally a good idea to go for at least two coats of paint for entryway ceilings. That
way, both the paint and color will set in really nicely. And make sure to not insert any
fixtures/furnishings until the paint has dried off completely.
Color Schemes
It's very important that whichever colors you use, end up complementing each other
thoroughly. Abrupt and incoherent color schemes can not only ruin the decorative standards
but may also affect dimensional stability.
For instance – dark colors absorb a lot of light. So, if you decorate the ceilings with black or
black-adjacent paint, there's a chance the rooms will look much smaller.
Again, bright colors work well with open entryways with lots of air and sunlight. Soft beige
colors complement the high-rise windows or ventilators really well. Hence, if you're looking to
decorate entryway ceilings, take your time to come up with perfectly complementary color
schemes first.
Proper Use Of Space
Here's the thing. No matter how big or small the entryway is, it's not a place where you'll spend
a lot of time. Hence, everything that you use to decorate the ceilings needs to involve
practicality and purposefulness.
But what's the difference?
Let's say you want to go big and hang a really lavish chandelier from the ceiling. Practicality will
stop you from doing so if you've got a compact entryway.
And purposefulness will make you figure out an alternative. Such as – instead of huge
chandeliers, you can use multiple cordless lamps or string lights to light up the room!
Every inch matters when you're dealing with entryways. With proper use of space and
furnishings in the ceilings, you can make your entryways look more inviting and lively.
Avoid Clutter & Debris
Lastly, none of the above factors will matter as much if you manage to avoid pristineness
throughout it all. It won't matter how expensive the furnishings are if they're full of cobwebs.
Granted, it's not easy to dust off the ceiling counterparts regularly. But if you live near a busy
street, or if the skylights bring in a lot of dust, then you have to clean up. Maintain a two-week
schedule for general sweeps and go for deep cleaning sessions every couple of months or so.
FAQs
Are false ceilings better for light fixtures?
False ceilings, in most cases, are much better for light fixtures. It's easier to hide the unwanted parts so that only the light can shine through the ceiling. However, if it's a small room, false ceilings can make the room seem much smaller. It's better to protect the dimensional integrity in these cases.
Is it a good idea to use chandeliers in entryways?
If you've got a spacious hallway, it's not a bad idea to put chandeliers in the foyer. However, you'd need to take extra precautions to ensure the safety of everyone involved. Alternatively, it's best to avoid chandeliers in compact hallways and entryways since they take up useful space.
How can I brighten up the corridor alongside the entryways?
Avoid colors like black, brown, etc. on the walls and the ceilings if you're looking to brighten up the corridors. Alternatively, if you're open to constructive ideas, you can install high-rise windows near the ceilings for more sunlight.
Final Word
So, there you have it. Hopefully, these entryway ceiling ideas offer enough inspiration to dazzle
the guests with a grand first impression next time.
And if you have got the resources and patience, you can always get in touch with a renowned
interior designer instead. Especially if you're looking for a bold set-up with lots of expensive
ornamentation. Try not to settle for cheaper options in these instances unless you want to put
yourself or your guests in harm's way every day.