15 Small Victorian Hallway Ideas: Transform your space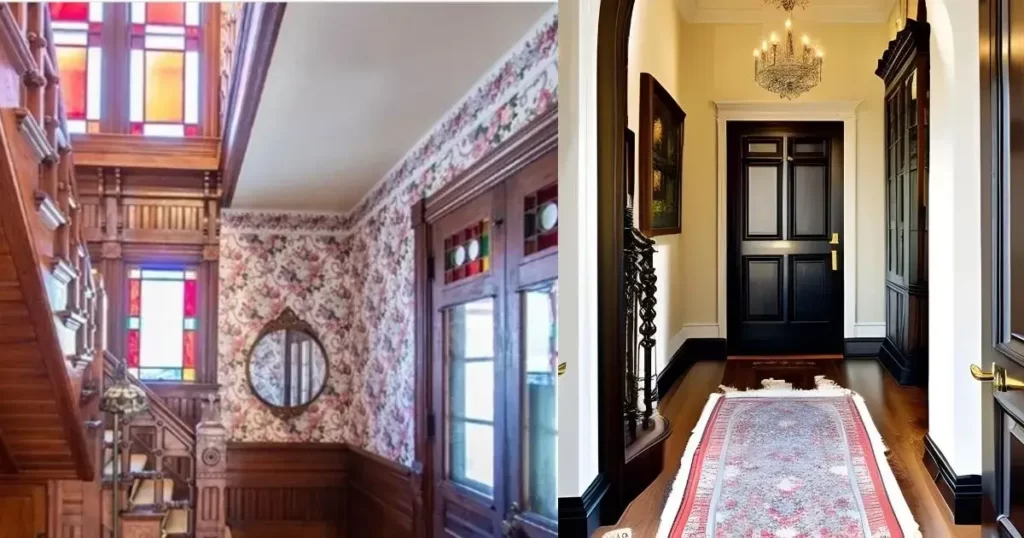 Let's explore the captivating world of small Victorian hallways. Victorian architecture is renowned for its intricate details, ornamental decorations, and coziness. However, many Victorian homes have narrow hallways that face unique design challenges.
In this article, I will discuss some innovative ideas that will help you optimize your narrow hallway by embracing Victorian style, creating a functional and stylish space that welcomes you and your guests.
Understanding Victorian Hallways
Victorian hallways typically display high ceilings, decorative moldings, and narrow proportions. These hallways were designed to serve as transitional spaces between rooms, often incorporating practical features like coat hooks, hat racks, and umbrella stands. However, their limited size can create challenges when it comes to storage and functionality.
Let's see the stunning transformation ideas!
1. Embrace the Victorian Aesthetic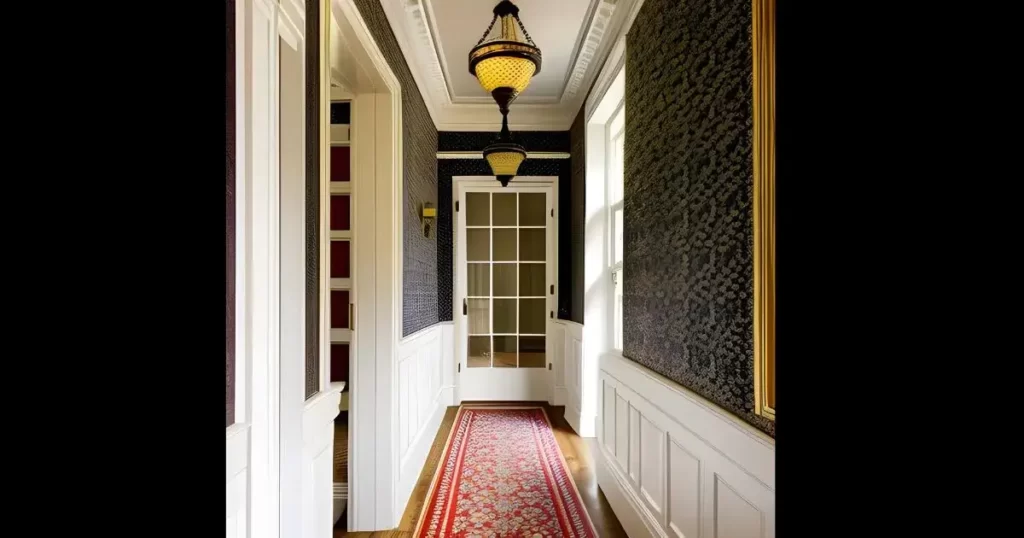 Victorian hallways possess a distinct character that can be enhanced by embracing the era's design elements. Consider restoring or highlighting original features such as decorative framework, dado rails, and intricate tiles. By doing so, you can add a historical context to your home and also add an authentic touch to the hallway's appearance.
2. Maximizing Space and Functionality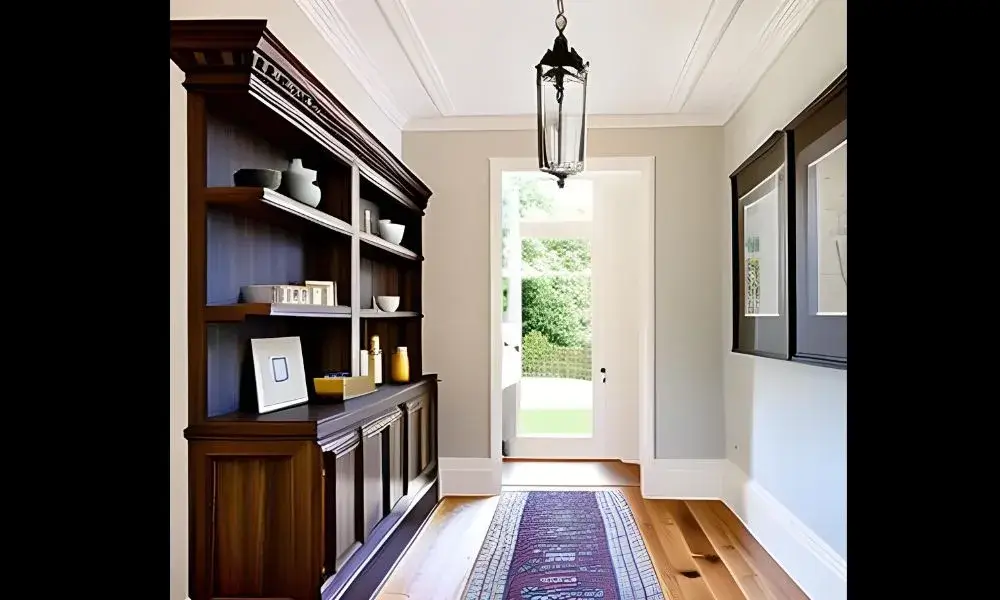 Maximizing storage is so important in small Victorian hallways. Explore various storage options to keep the area clutter-free while maintaining the real beauty of the space. Utilize wall-mounted shelves or alcoves to display decorative items, books, or family photographs. Incorporate furniture pieces, such as narrow console tables with drawers, to store keys, mail, or gloves.
3. Enhance Natural Lighting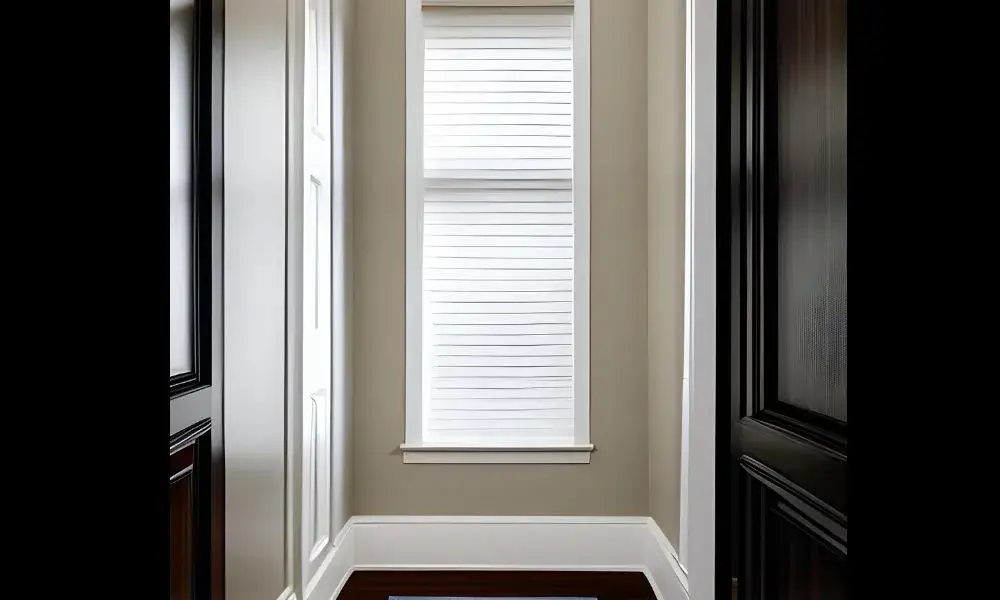 Boost up the space in your small Victorian hallway by maximizing natural light. Keep windows uncovered or opt for translucent blinds or curtains that allow light to filter through. If your hallway lacks natural light, consider installing skylights or strategically placed mirrors to reflect and distribute light effectively.
4. Create an Illusion of Space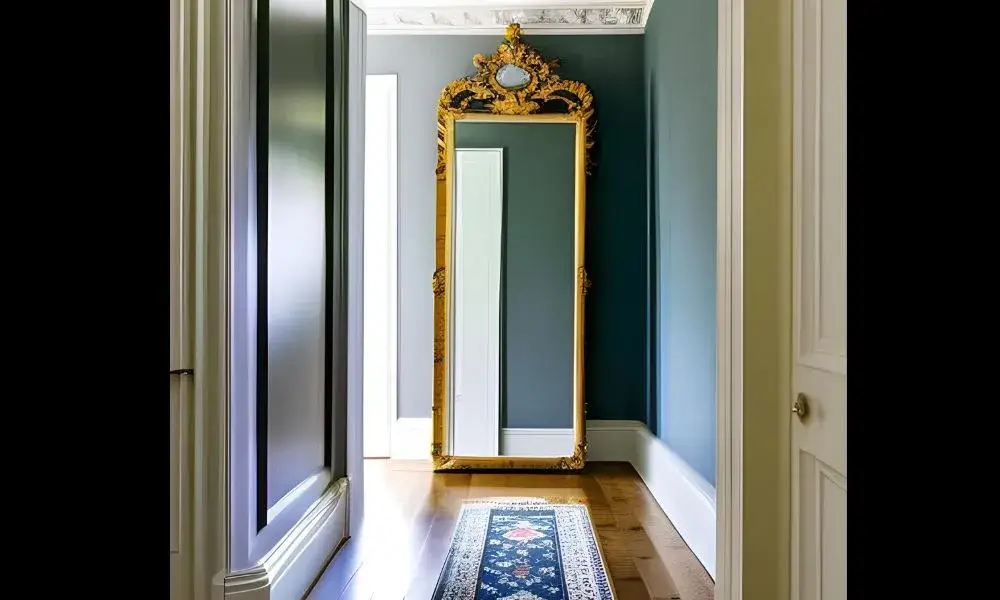 Small Victorian hallways can be visually expanded with a few clever tricks. Choose light and neutral paint colors to brighten up the space and create an illusion of openness. Use wallpaper with vertical patterns or stripes to draw the eye upwards, making the hallway appear taller. Install a large mirror on one of the walls to reflect light and create the impression of a more extensive hallway.
5. Optimize Flooring Choices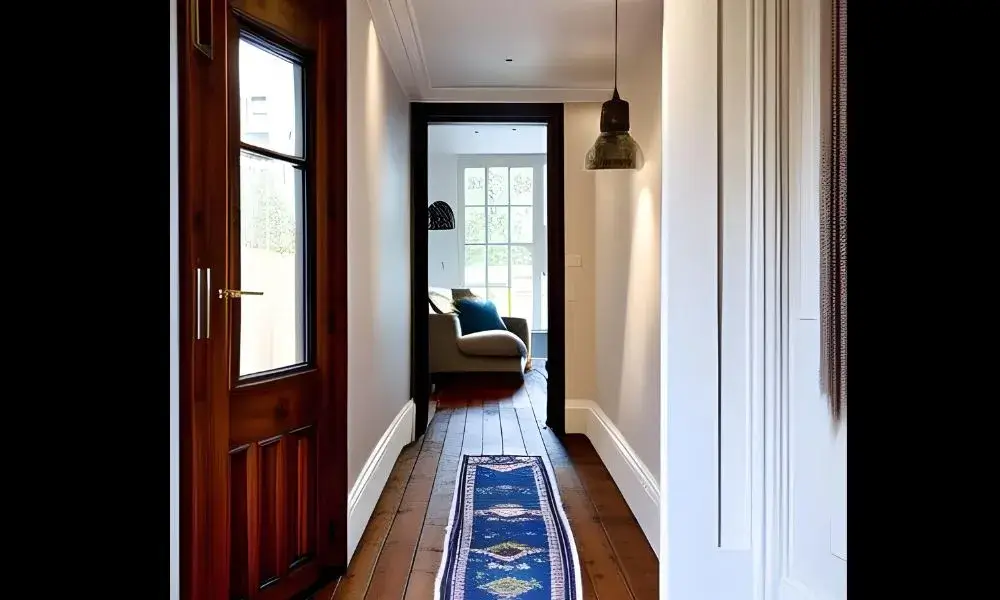 Flooring plays a vital role in the overall appearance of a small Victorian hallway. Consider restoring original wooden floorboards for an authentic look or install engineered wood or laminate flooring that replicates the charm of Victorian-era materials. Incorporate a stylish runner rug to add warmth and texture while visually widening the space.
6. Lighting Fixtures and Accessories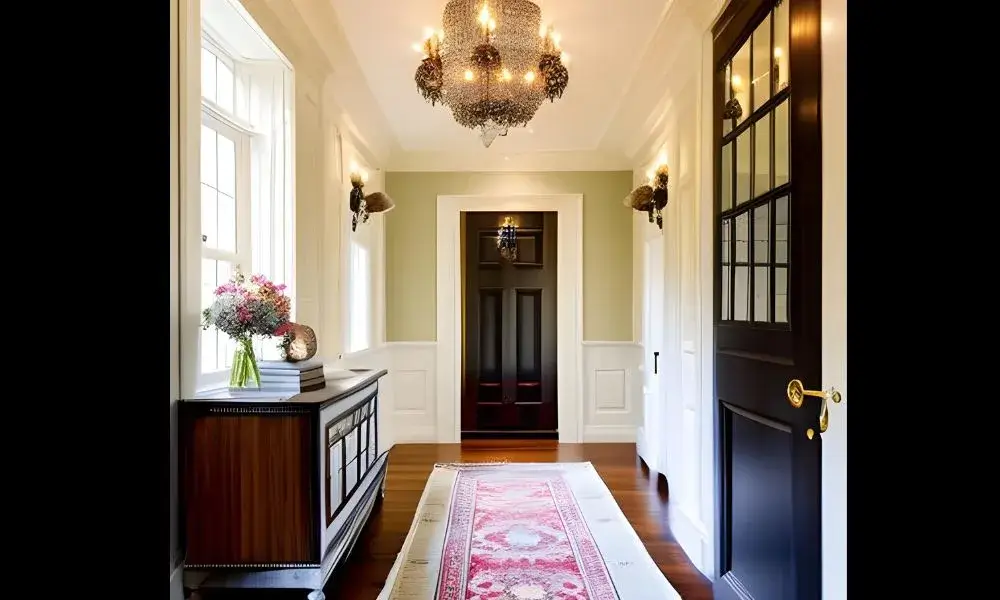 Choose lighting fixtures that complement the Victorian style to provide adequate embellishment. Chandeliers or pendant lights with ornamental detailing can serve as stunning focal points in your small hallway. Wall sconces can add a touch of elegance and also provide beautiful lighting. Don't forget to incorporate practical elements such as coat hooks, umbrella stands, and shoe racks that seamlessly blend with the Victorian aesthetic.
7. Door With Decorative Glass Panels or Intricate Carvings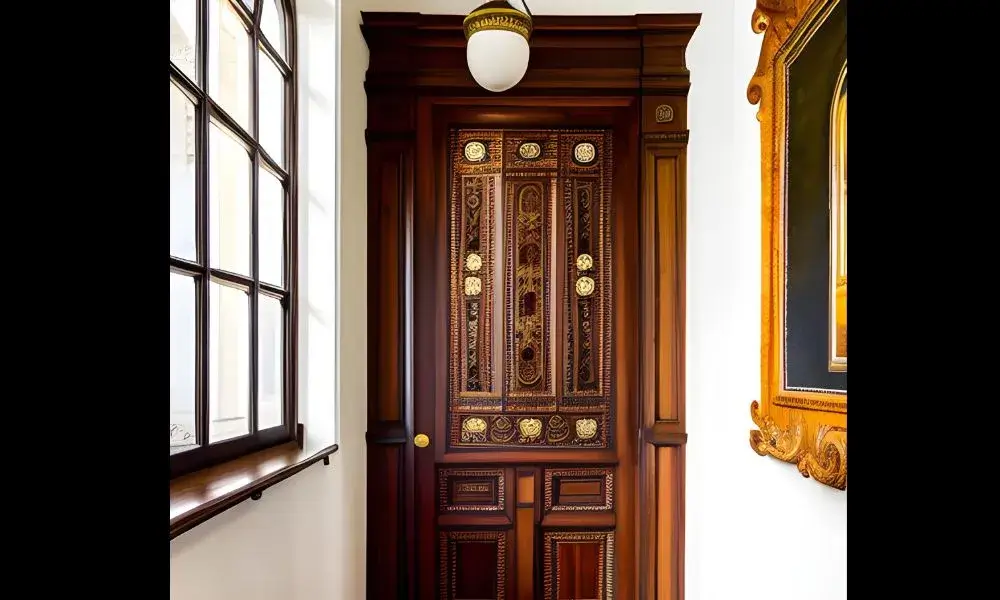 A door with decorative glass panels or intricate carvings can be a stunning focal point in your small Victorian hallway. The addition of decorative glass panels allows natural light to filter through, creating a warm and inviting atmosphere and also maintaining privacy. These panels often feature complex patterns or designs, adding a touch of elegance and charm to the hallway's entrance. 
On the other hand, a door with intricate carvings showcases the art of the Victorian era, creating a sense of grandeur and sophistication. Whether you choose glass panels or carved details, a beautifully embellished door can enhance the overall aesthetic of your small Victorian hallway.
8. Creative Wall Decor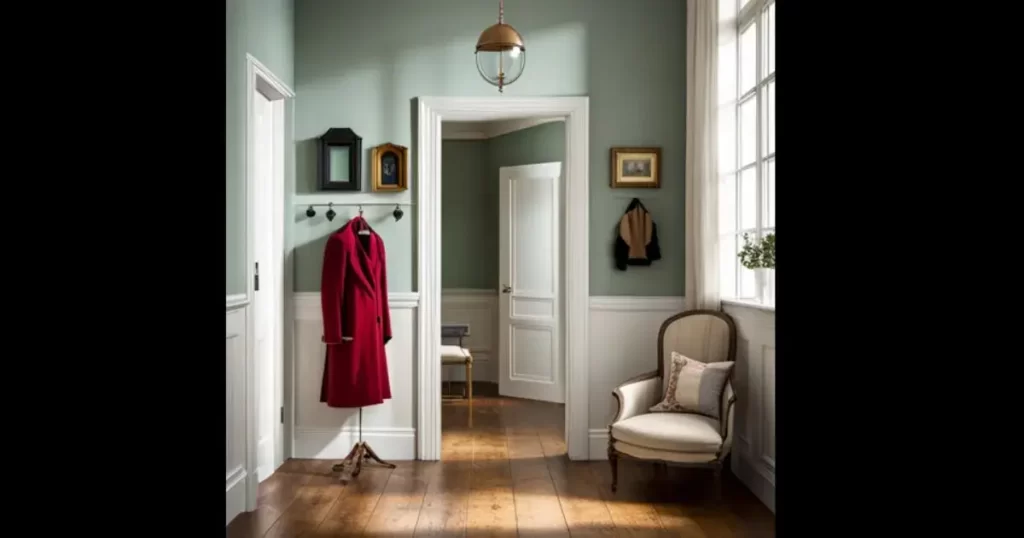 Utilizing the walls effectively can maximize the style and functionality of your small Victorian hallway. Install wall-mounted hooks or a decorative coat rack for hanging coats, scarves, and bags. Display vintage-inspired mirrors in ornate frames to add depth and elegance to the space. 
Additionally, consider incorporating a wall-mounted mail organizer or a chalkboard for notes and reminders, ensuring that your hallway remains organized and efficient.
9. Incorporate Natural Elements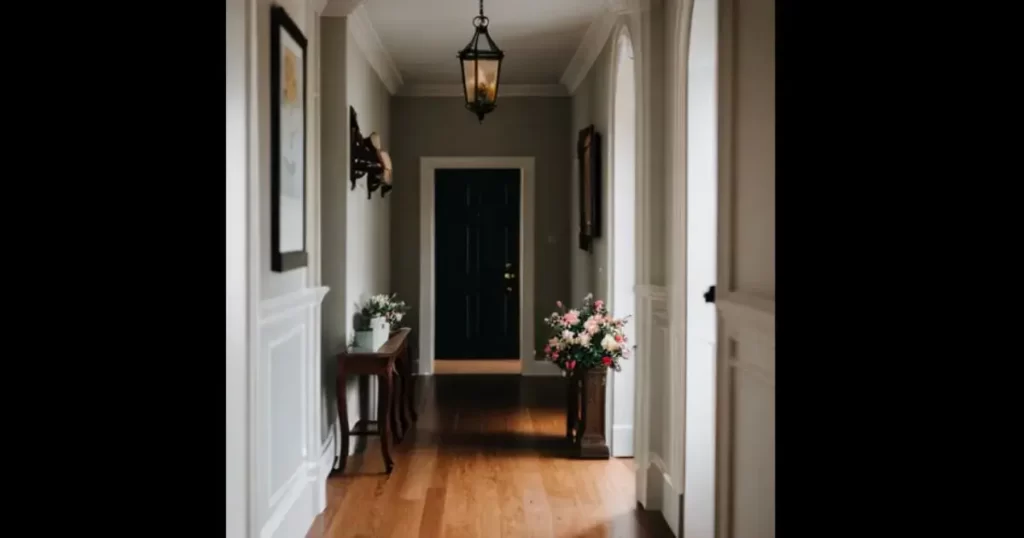 Bringing natural elements into your small Victorian hallway can create a soothing and organic appearance. Consider adding potted plants or fresh flowers to introduce a touch of greenery and vibrant colors. 
10. Pay Attention to Windows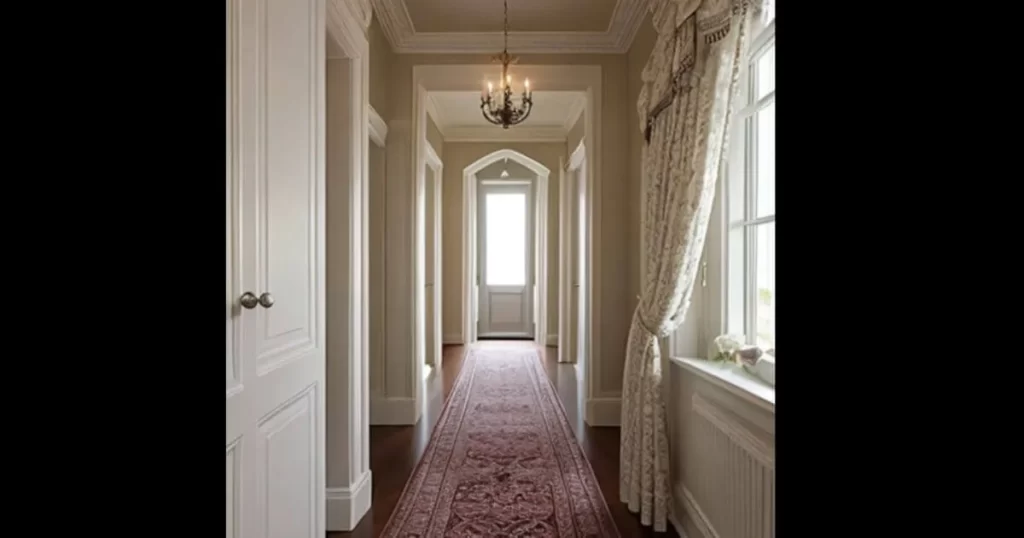 If privacy is a concern, select window accessories that enhance the Victorian aesthetic by providing functionality. Opt for lace curtains or sheer fabrics that allow ample light to filter through while maintaining a sense of privacy. Pair them with ornate curtain rods or tiebacks to add a touch of elegance to your small hallway.
11. Select Artistic Wallpaper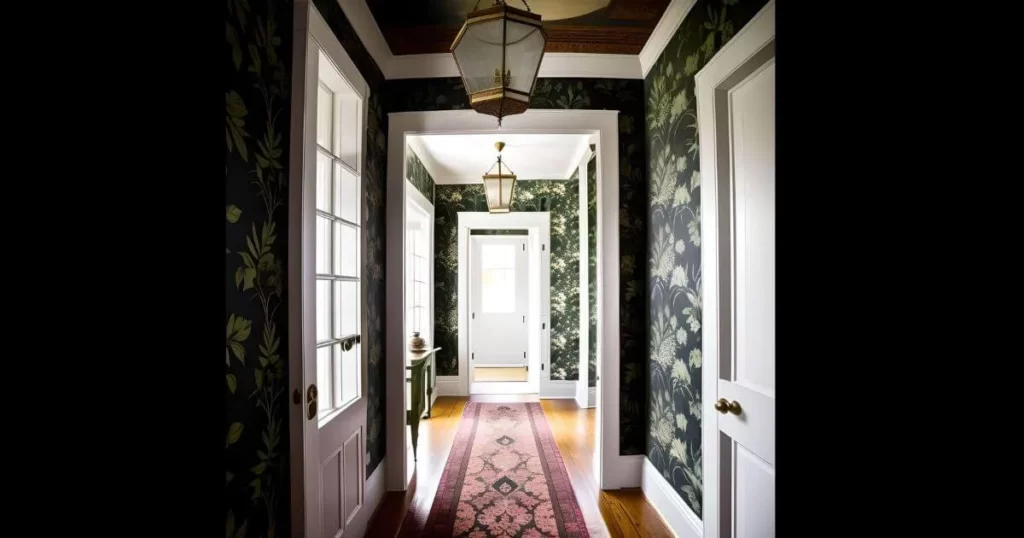 Wallpaper can be an excellent way to add personality and style to your small Victorian hallway. Consider using wallpaper with botanical prints, intricate damask patterns, or Victorian-inspired motifs to create a striking visual impact. Choose colors that complement the overall color scheme of your hallway and ensure that the wallpaper complements the architectural features.
12. Hallway Runners with Bold Designs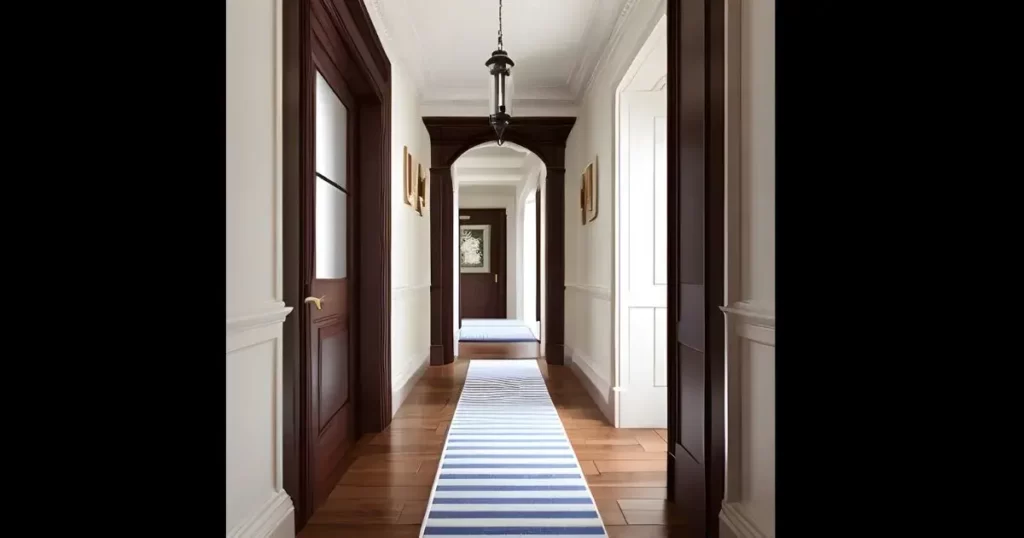 To make a statement in your small Victorian hallway, choose a runner with a bold and eye-catching design. Go for patterns such as complex geometries, classic stripes, or traditional oriental motifs to add visual interest and create a focal point in the space. Ensure that the colors of the runner harmonize with the overall color palette of the hallway for a cohesive look.
13. Space-Saving Entryway Benches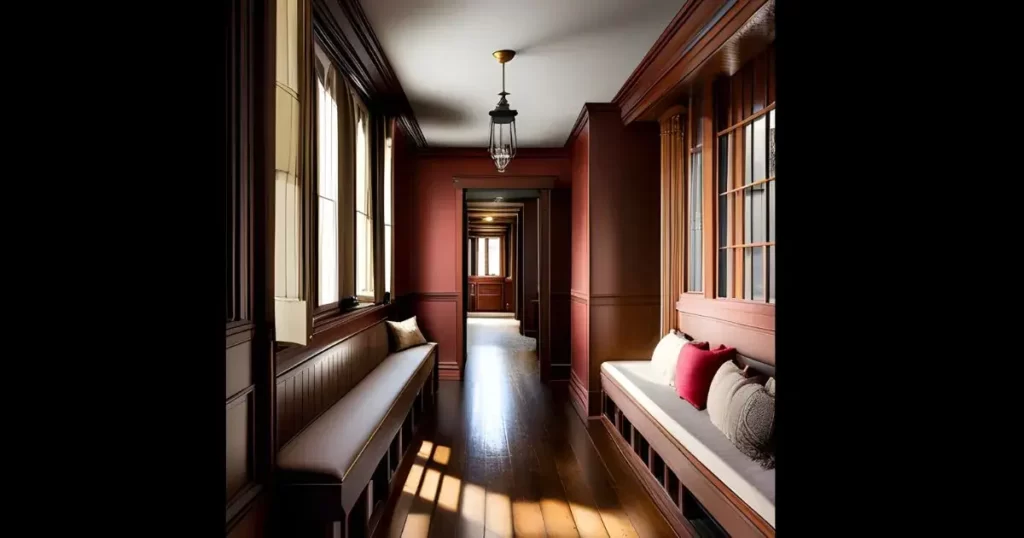 If space allows, incorporating a small entryway bench can provide both seating and storage solutions. Look for benches with built-in compartments or drawers to store shoes, gloves, or other accessories. Add a cozy cushion and decorative pillows to create a comfortable and inviting spot in your small Victorian hallway.
14. Victorian Hallway Paint Colours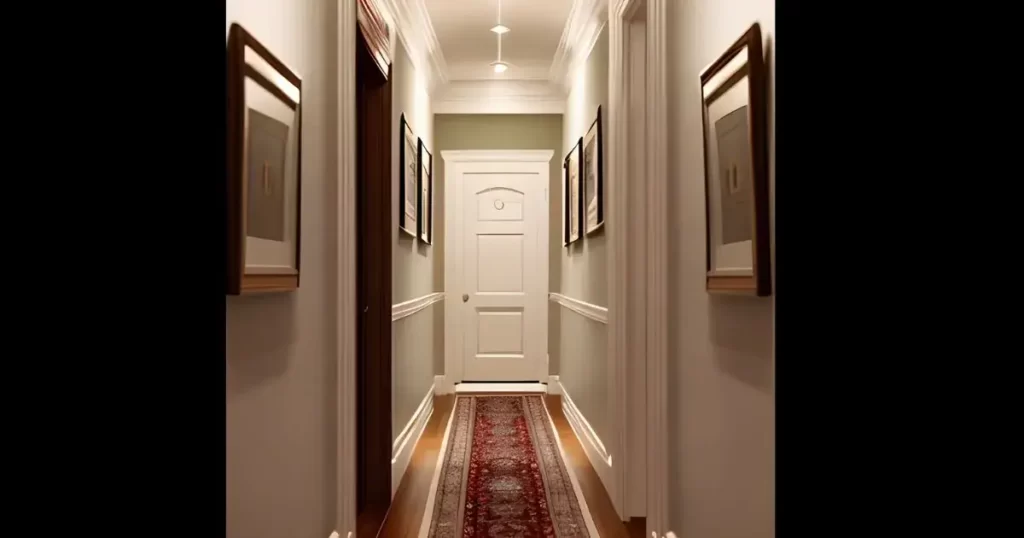 Color selection is important when it comes to narrow Victorian hallways, as it can significantly impact the size and appearance of the space. Opting for light and neutral colors, such as soft creams, pale blues, or subtle grays, can help create an open and airy feel. These hues reflect light and make the hallway appear more spacious.
If you prefer to incorporate bolder colors, consider using them as accents or in small doses to add character without overwhelming the space. Additionally, pay attention to the overall color scheme of your home and choose colors that harmonize with the adjacent rooms, ensuring a cohesive flow throughout the entire house.
By carefully considering color selection, you can enhance the beauty of your small Victorian hallway and create a visually pleasing transition by preserving the historical vibe.
15. Choose Furniture Carefully for your Victorian Hallway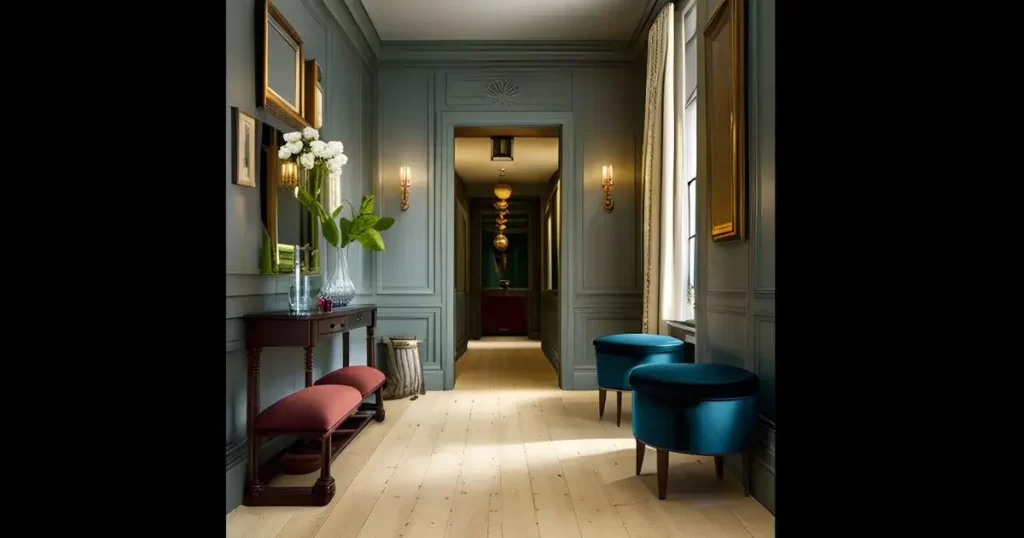 Victorian hallway furniture plays a vital role in enhancing the beauty and functionality of your space. Opt for furniture pieces that complement that era's elegance, such as decorative console tables or hall stands with fantastic carvings. These provide both storage and place for decorative items or practical essentials.
Incorporate a stylish umbrella stand that adds a touch of elegance and also keeps your hallway organized. Victorian-style benches or ottomans with plush upholstery can provide seating options while offering hidden storage compartments. Choose furniture with slender profiles to maximize space without overwhelming the hallway. By selecting carefully curated Victorian-inspired furniture pieces, you can elevate the appearance of your hallway by ensuring practicality and maintaining the timeless elegance of that time.
What are the best colors for a Victorian hallway?
The best colors for a Victorian hallway are typically light and neutral tones. Soft creams, pale blues, subtle grays, and delicate pastels are popular choices. These colors reflect light and make the space appear more spacious. However, if you prefer bolder colors, they can be used as accents or in small doses to add character without overwhelming the hallway. 
What are the features of a Victorian hallway?
Victorian hallways are characterized by high ceilings that create a sense of grandeur, ornamental moldings and trim such as crown molding and intricate baseboards that add elegance, dado rails positioned at waist height for both decoration and wall protection, decorative cornices at the ceiling-wall junction that exude opulence, stained glass or leaded windows that allow filtered light and add traditional charm, and either tiled or wooden flooring, often with mosaic tiles or richly stained hardwood floors, that contribute to the era's distinct aesthetic. Practical elements like hat racks, coat hooks, and umbrella stands are also commonly found, providing functional storage solutions. Together, these features capture the timeless charm and character of Victorian hallways, creating an atmosphere of nostalgia and sophistication.
Final Words
Transforming a small Victorian hallway is a great idea that requires careful consideration of design elements and practical solutions. By understanding the characteristics of Victorian hallways and the challenges, you can make informed design decisions. 
Whether you choose to preserve the authentic charm or infuse modern elements, the key lies in maximizing space, enhancing lighting, creating illusions of space, and adding personal touches. 
Embrace the rich history of your Victorian home while making the hallway a welcoming and stylish passage. With the ideas presented in this guide, you can transform your small Victorian hallway into a timeless space that reflects your unique taste and captures the essence of Victorian design.