Can You Put A Chair In An Entryway? [Entryway Chair Ideas]
The entryway is the first thing people see when they come to a house. Some people try to make their entryway look nice, but if you design it well, you can put it to good use. So, entryway seating is the key to creating entryways that are useful and convenient.
You can put chairs and benches in an entryway. A compact bench or perhaps a chair is sufficient to create the desired mood in your entryway. It is rather an issue of how to organize and decorate your seating option such that it does not interfere with the vibe.
This article shows how to arrange and decorate your desired entryway with various seating options. I suggest you read the article till the very end to know about entryway chair ideas, even if you have a small entryway space.
Can You Put A Chair In An Entryway?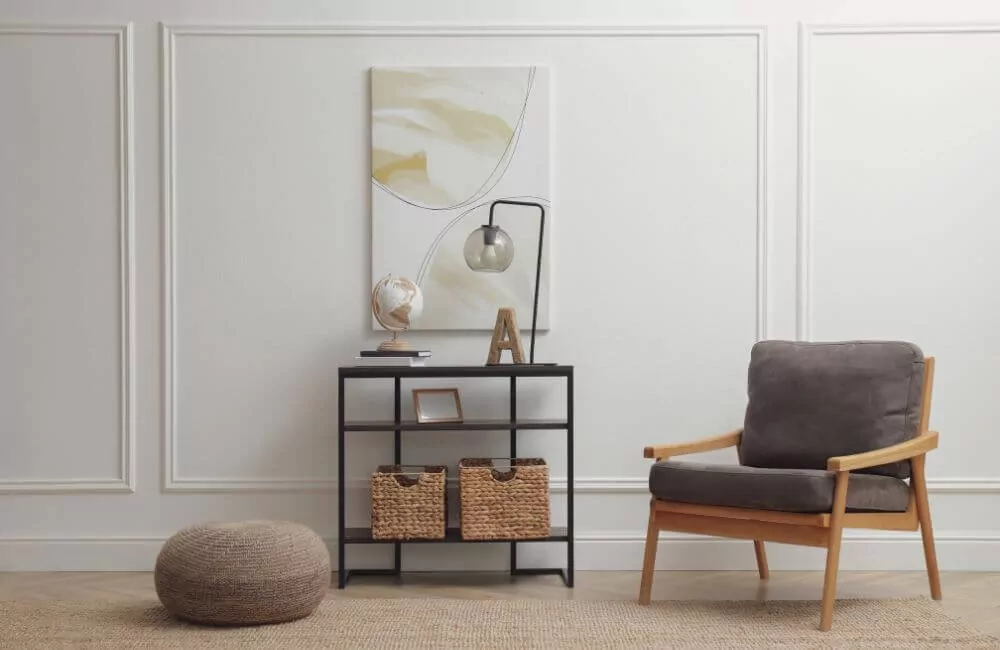 A chair in your entryway is a great way to include an accent item that will not require much room. If you have visitors around, this chair can simply be converted into extra seats or a place for guests to put their outerwear. It's convenient to sit in the chair to put on and remove shoes.
You don't have to have dull foyer chairs just because you intended to have them. A bench, stool, or chair by your front entrance must be able to represent your style. You may purchase a variety of seating alternatives.
It not only looks good but also offers sufficient space for shoes and other items to keep your entryways fresh and dust-free.
6 Small Entryway Chair Ideas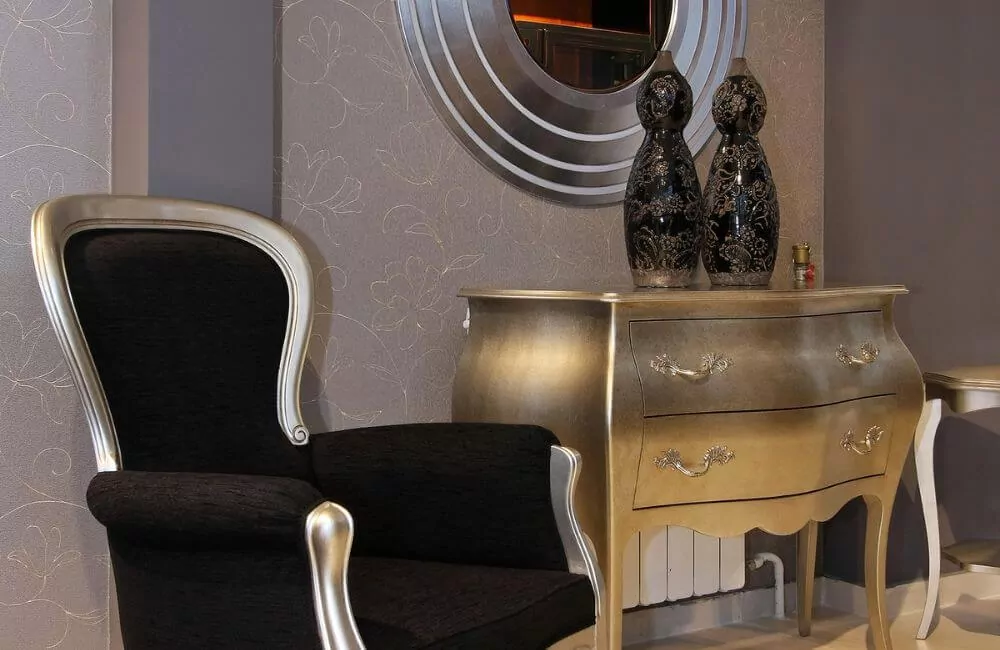 There is a selection of chairs available for purchase that will suit your entryway. Even if you have a smaller foyer, you don't need to worry about it. A simple chair or even a bench is enough to match the right feel. It's more a matter of strategically placing your chosen seats to avoid distractions.
Here is a list of small entryway chair ideas you can implement in your entryway.
1. A Pair Of Complementary Chairs
Arranging a pair of identical everyday chairs in a rather plain corridor is a classic arrangement that provides the illusion of a lived-in area. Ensure that if the chairs are both seated, you can still pass by the area without any issue. If your entryway is long and narrow, the best way is to put them in at 90 degrees to your foyer wall and each other.
To achieve a well-planned look, divide the entryway's longest wall into equal thirds.   A cabinet, a chest of drawers, or a plain table might be used. The complementing pair of seats look works particularly well in a space with few other elements competing for your attention.
If you have a curved wall and you are struggling to decorate it properly, check out How To Decorate A Curved Wall? [Design Ideas]. This may help you.
2. Put An Accent Chair
If you don't possess enough room for a couple of chairs, a very well-chosen solitary chair may nevertheless impress your guests. If you go this way, consider a statement piece, such as an accent chair. A smart place to start is with a bold hue that fills the area.
If there is room for it, a seat that is bigger than the typical one would be an excellent choice. However, whatever chair you go with, it should be one of a kind and not something that you might normally locate in your living room.
3. Banquette Seating
When space is limited, banquette seating is a good choice. Given that several foyers are not much more than corridors, selecting banquette seating might be the most appropriate option. Remember to put a few pillows to make the banquette seat as adjustable as possible.
A banquette seat is not movable like other chairs, so this is something you need to keep in mind. The ever-popular banquette seating, which is installed in the recess below a window, works well in a variety of different sorts of entryways.
4. Classic Rocking Chair
Make effective use of your entryway if you have just come into possession of a classic rocking chair or a seat in the style of the Queen Anne chair. 
Instead of rearranging the furniture in your living room to make place for a unique and treasured piece, consider placing it in the foyer. The entryway of a house is the ideal location for experimenting with unusual seating arrangements.
5. Slipper Chair
A slipper chair is an armless cushioned seat with a large back and small legs, allowing it to rest closer to the floor. The chair's modest height differentiates it and makes it a suitable alternative for many who seek a comfortable area to sit in their entryway.
A slipper chair is available in a variety of sizes, ranging from miniature to somewhat bigger to match the scale of a space. A slipper chair's legs might be boxy and flat or curved and flared as a design feature. The backrest of a slipper chair could be gently inclined or curled to cuddle the guest.
6. Klismos Chair
A klismos chair is a one-of-a-kind occasional chair with a timber frame that is completely or partly cushioned. It is regarded as a classic form of design that has persisted in the history of furnishings.
If you have a small entryway space, you can use a single Klismos chair for your convenience. It will not take much space and will offer a classic vibe to your compact foyer.
How To Choose The Right Chair For Your Entryway?
In almost any area, entryway chairs may provide charm, flashes of color, and more sitting choices. These chairs are a practical way to add some character to your house. Learn how to pick chairs for your entryway.
Consider The Chair's Function And Purpose
Before you go chair shopping, consider why you want to add a chair to your entryway. Is the space looking boring and in need of a bright flash of color?
As you begin to narrow down your alternatives, keep the chair's function in mind. If you care more about fashion than functionality, you may put aesthetics above comfort.
In summary, a chair utilized as a decorative element, a chair used for regular relaxing, and a chair in use for additional seats during dinner have quite distinct functions. Their shape, material, and functionality will differ as a result.
Figure Out How Much Room You Have
If your chair is too small, it will give the impression that it does not belong in the entryway. If it is very huge, it may come off as uncomfortable and overwhelming. It is essential that you choose a chair for your doorway that is the appropriate size.
Evaluate the area where the chair will be placed to ensure there is enough room to maneuver around it. Remember that the chair may fill up more room when someone is seated on it.  Measure the other pieces of furniture in the entryway to make sure the seat isn't much bigger or smaller than the rest.
Match Your Style
Selecting a design aesthetic for your entryway chair may be a daunting task. However, you don't need to be a skilled interior decorator or a brilliant artist to figure out which sort of chair would look best in your foyer.
If you stay to the overall ambiance of your home's present design style, choosing the proper entryway chair selection will be very simple.
Choose A Fabric That Complements The Purpose
Choosing the right material for your entryway chair is just as crucial as picking out the right color and design. Some fabrics, such as suede leather, are best suitable for large areas. If your entryway chair will not be used often, choose a more delicate or aesthetically attractive alternative, such as silk or upholstered piece.
If you have children or dogs, you should look for fabrics that are resistant to stains and hair from pets. Check if the chair can accommodate the needs you had in mind when you purchased it.
Final Say
It's a smart move to put a chair at the entrance of your home. You may improve your life a little bit by making use of an entryway chair in a variety of different ways to make it more convenient for you.
For instance, this is an excellent spot to change into your sandals before you leave the house. In a similar fashion, you can use an entryway bench as a place to sit before entering the house in order to remove your shoes and keep the dirt off of your carpets.
When you put a seat in the entryway, it gives you a spot to sit and unwind if your spouse or other family members need a few additional minutes to get dressed for the evening. A seat in the foyer enables you to provide them a place to sit without giving the impression that you are being impolite by leaving them standing outside on the porch.
However, this does not give the impression that you are welcoming them into the house. A small bench or chair is all you need to set the mood you want in your entryway.