16 Front Entryway Decorating Ideas For Small Spaces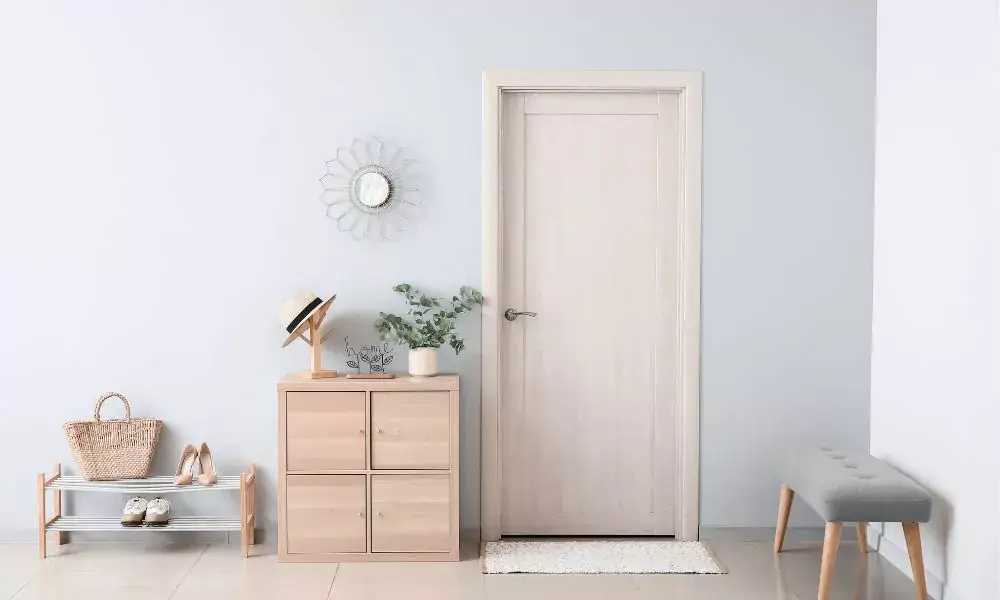 If there's a thing we'll never get tired of discussing, it's the compact interior decor. Considering the amount of time people spend in this issue, it's reasonable to say people want to maximize their entryway space with proper decorations to make a very good first impression.
There are a lot of cheap and sleek hangers and hook rails sold in the market that you can use to keep your hoodies and bags in your entryway. You can put your keys and courier on a wooden wall shelf. Adding a vanity mirror is excellent for the decoration and will make the entryway appear bigger.
In this article, I will share some effective tips for your front entryway decoration. Keep reading for decoration ideas for your small entryway that will surely leave a long-lasting and positive first impression.
16 Small Entryway Ideas For A Better First Impression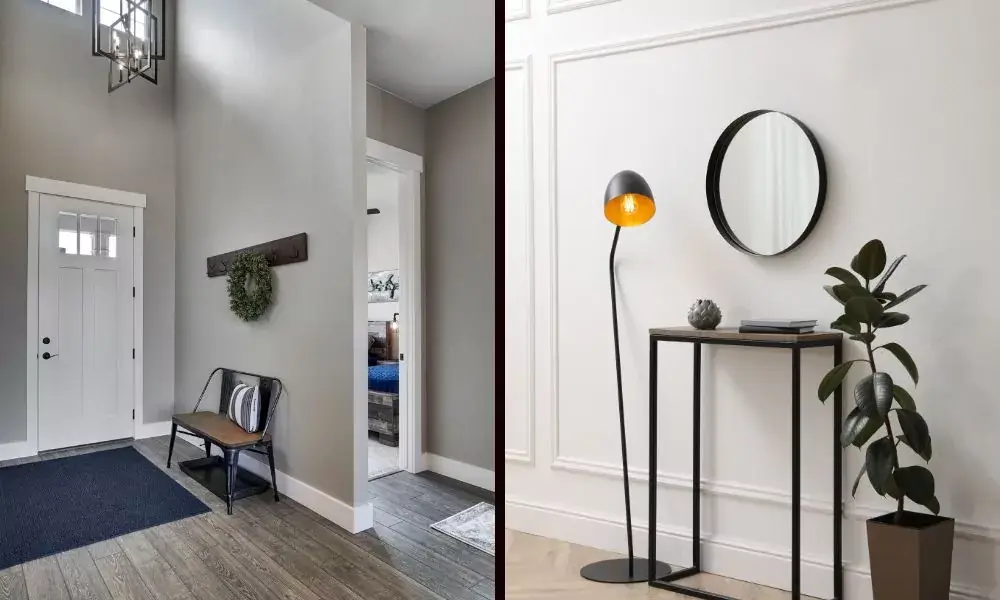 If you have a small entryway and you want to make an excellent first impression you must have the accessories listed below. These decors will not only make your entryway look elegant but also make the entryway appear bigger. Here is the list of decoration tools you will require:
1. Keep Stylish Hooks To The Wall
While plain wall hooks are fine, a more stylish version will take your entrance to another level. One that also functions as a shelf can be an excellent example. By placing it over some plain wallpaper and finishing with a simple gray rug, you can keep things discreet but attractive.
If you have a curved wall and you are struggling to decor it properly, check out How To Decorate A Curved Wall? [Design Ideas]. This may help you.
2. Add A Set Of Big Plants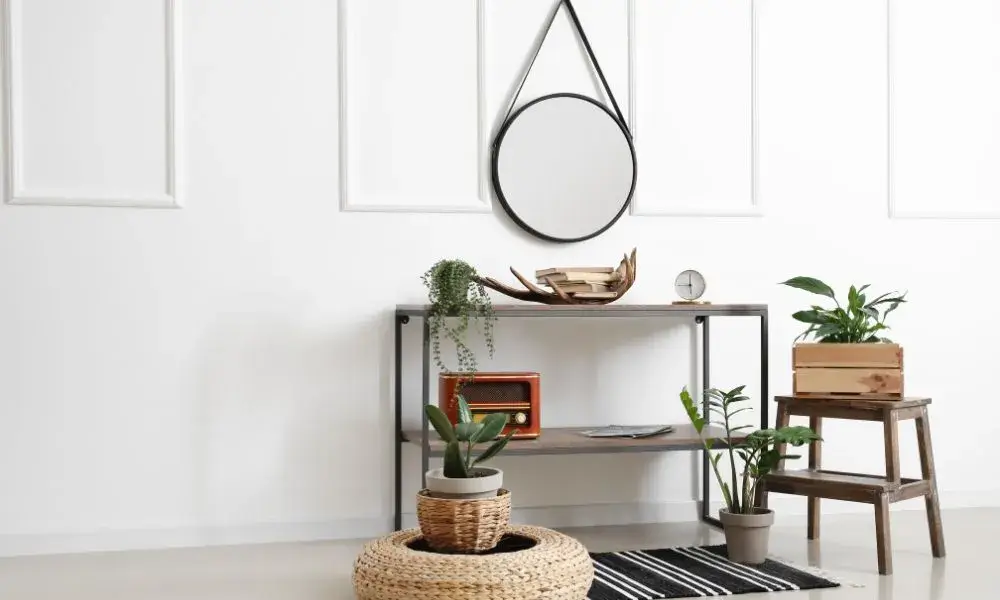 A set of big plants is the easiest way to improve your entryway appearance. Mirrors and seats are great starting points, but the inclusion of a houseplant completes the concept. It feels like a refreshing change. Implement a set of happy plants that are as beautiful as any painting. Furthermore, you may switch and alter individual plants or containers as your whim dictates.
3. Make Space By Using Natural Materials
When dealing with a narrow entryway, it may be advantageous to make it look bigger than it is. Begin with a neutral hue for the wall, then add a hardwood pallet to offer depth and break up the uniform appearance. Mounting a round mirror with half on the hardwood and the other on the walls is a unique design decision that will only add to the sense of a bigger space.
4. Design A Bohemian Welcome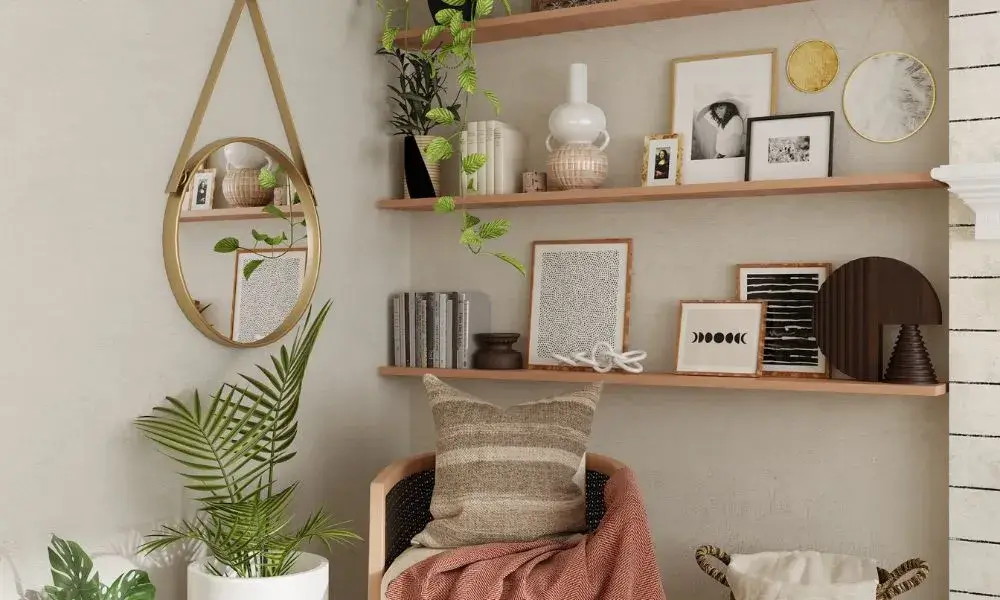 When you walk in the door, you'll see a beautiful sight if you use wood and gentle colors. Bohemian styles are great at putting all of these things together to make a beautiful space. A round mirror made of wood, floating shelves made of light wood, and a group of plants can make any space feel like a warm reception.
5. Bench With A Large Mirror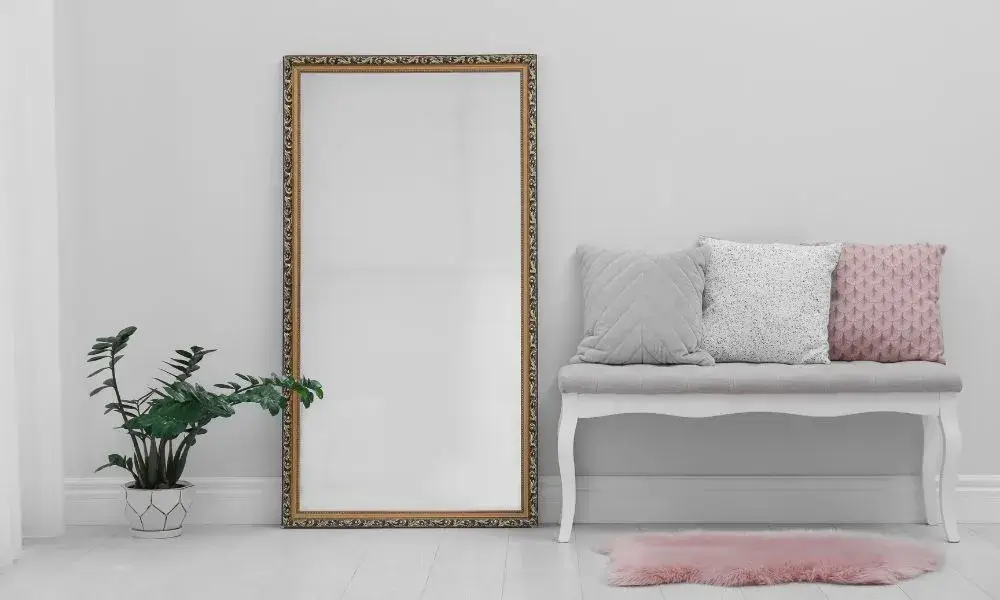 A big mirror may take up the ideal proportion of wall space while making tiny interiors seem larger. Buying one with a distinctive form makes an aesthetic statement. Add several round metal wall hooks which are both decorative and utilitarian.  After that, Finish the theme with a neutral cloth bench.
6. Make Interesting Wall Designs
Instead of just 1-2 pieces of artwork, make the whole wall into an artistic showcase. The results are amazing whether you color it by yourself or use reusable wallpaper. On the other side, use a small table to exhibit a few more personal belongings.
7. Experiment With Symmetrical Frames
A modest but longer entryway provides benefits, such as the ability to display many works of art all along the walk. Whether the artwork is related or different, ensure that they are all hung at the same spacing apart while being at the same height to generate a gallery appearance. A longer rug and colored seats complete the look.
8. Consider Your Stairs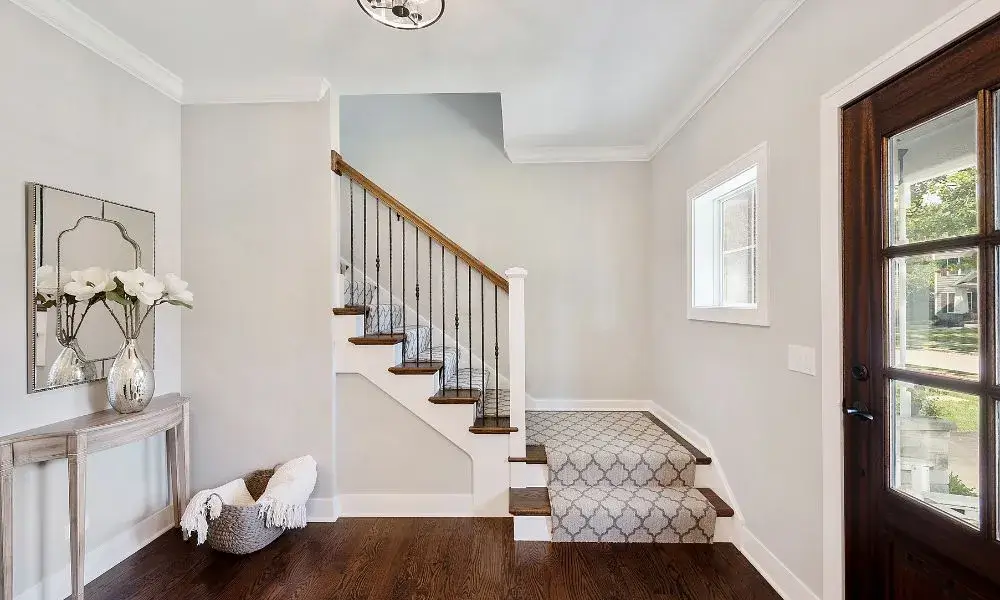 If you possess an unusually small entryway, you may feel limited in your options. If your entrance leads straight to a stairway, consider displaying a wooden table or dresser beneath. Given that your visitors will most likely pass right through this space, it serves as an extension of the entryway you currently have.
9. Consider Light Colors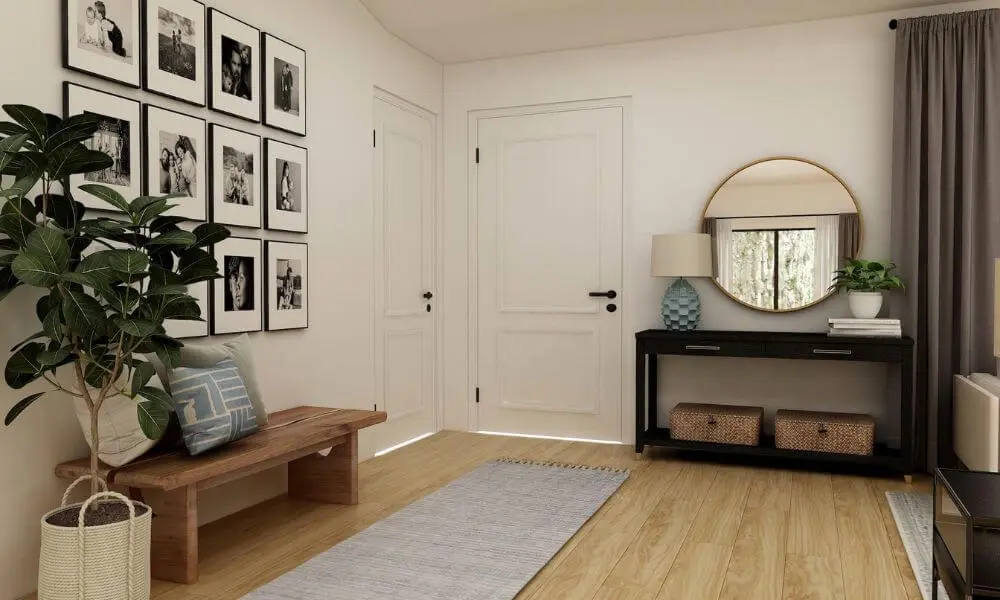 Designing and accenting using white may make a tiny area look bigger, which is ideal for your small entrance. The dazzling white walls and gates are balanced by majestic contemporary farmhouse décor in light colors creating an open, expansive atmosphere. The seats and baskets hidden under the steps make excellent use of available space.
10. Introduce Cubbies
Never doubt the capacity of fashionable storage solutions. A cabinet with open drawers—or cubbies—allows you to exhibit diverse objects while keeping crucial ones close at hand. Using baskets as cabinets may help you keep certain objects out of your eyesight. Installing a floating shelf with simple item hooks connects the other pieces.
11. Use Mix Patterns
Mixing various designs and patterns is a basic way to add interest and richness to your entryway. A braided rug on the floor, floral accent cushion, sheer white cotton cushion, and gold glass floating above can bring what you are looking for. Even though just a few objects are there, all of the components work together to produce a wonderful scene.
12. Accept Your Compact Entryway Space
Try to be innovative with the small space you have if you possess an entryway that leads directly to a short set of stairs. A compact bench will provide necessary seating without taking up too much room. To finish the design, a tiny ornamental table fits well into the remaining space.
We wrote an article on Entryway Bench Ideas For Small Spaces In 2022 [Maximum Practicality]. If you want to get more ideas about the compact bench, you can check it out.
13. Hide Clutter From Sight
You need to get rid of all the unnecessary stuff. If you hide all the clutter in a corridor, it will appear much bigger than it is. Storage that is color-coordinated with the walls will help to maintain order in the cramped quarters.
14. Wall Lights Enhance Space
Lighting is crucial in completing a space nicely. It's critical to have enough light in a short hallway area to make the most of the limited space. As the entryway serves a utilitarian role, don't forget to incorporate lamps or stronger bulbs in places where required.
Consider adding wall lights to a short, narrow corridor to offer additional lighting effects and open up the room. Spaced wall lights will lead the eye outside to the point of attention, as though extending the walls apart to make them seem more distant. To achieve enough lighting, combine wall lights with directed above lights.
15. A Stair Runner Adds Depth
A minimalistic oak stairway in this dark corridor looks stunning, and it serves as a visual counterpoint to the dark-painted wall paneling on each side. Install a stylish stair runner with bold linear stripes that attracts the eye higher to the brightly lit landing above.
16. Make A Modest Space Seem Cozy
In a tight corridor, maximize the 'snug' factor. Bring furnishings and shelves together for a calm rather than overcrowded appearance for a rustic vibe. Divide two light blue hues on the walls with a traditional unfinished dado rail that catches up on the wood grain finish of a chair for a rustic accent.
If you are confused about whether a chair will look good or not in the entryway, you can check, Can You Put A Chair In An Entryway? [Entryway Chair Ideas]. This may help you.
5 Entryway Design Mistakes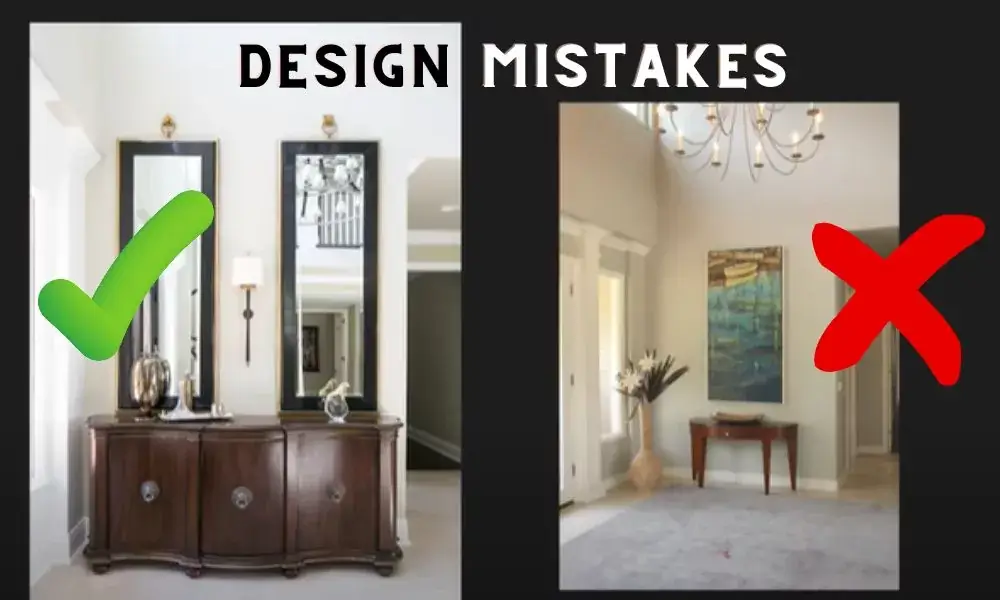 The entryway gives guests the initial impression and deserves some attention. Design mistakes might limit your entrance in many ways. Here are 5 entryway decoration blunders that are keeping you from building your ideal entrance.
1. Ignoring The Fragrance
You'll like your house to smell peaceful and inviting to both you and your guests. A better fragrance may add a touch of refinement to your apartment. The ideal aroma will be determined by your tastes and will most likely alter depending on your mood. It adds atmosphere, sets the tone, and may even change your mood.
2. Not Making Use of Available Space
Among the most typical entrance mistakes that designers see is failing to create a useable doorway, with the primary reason being that the area is too tiny. We understand that some people are fortunate enough to have a great doorway but failing to create even a basic and tiny effective entryway is a waste of space.
Remember, our major aim is to produce a great first impression, which you won't be able to do with an empty entrance.
3. Lack Of Character and Personality
A monotonous entryway has been added to our list of frequent entryway mistakes. Your entrance, no matter how large or tiny, will be the first sight you and your visitors will notice when they step into your house. Therefore, it's crucial to express yourself via the design of your entryway.
4. A Congested Entryway
This entrance blunder always raises an eyebrow. Yes, it's crucial to create a good first impression of your house, but claustrophobic people might find your hallway overcrowded. If you're making this entrance rookie mistake, my recommendation is to tone things down. In another sense, if you have got a tiny entryway, less is more.
5. Not Utilizing Baskets
The use of baskets in entryways is a savior and a simple method of organization. When you enter the door you can place helmets, your children's lunch boxes, footballs, etc. in them. With baskets, you will know just where to locate them.
Final Say
Entryways are sometimes overlooked areas of the house, hardly redecorated or given any design attention. However, this place welcomes you and your guests to your home and is critical to decorate and style as well.
Balancing practicality and appearance is one of the fundamental challenges of putting together some wonderful entryway ideas. A functional entryway cabinet or some shelves may assist with functionality, but you'll need to combine your entryway design with a sense of character. It will make your entryway a pleasant area to greet your visitors or family.