6 Dining Room Entryway Ideas That'll Surprise Your Guests!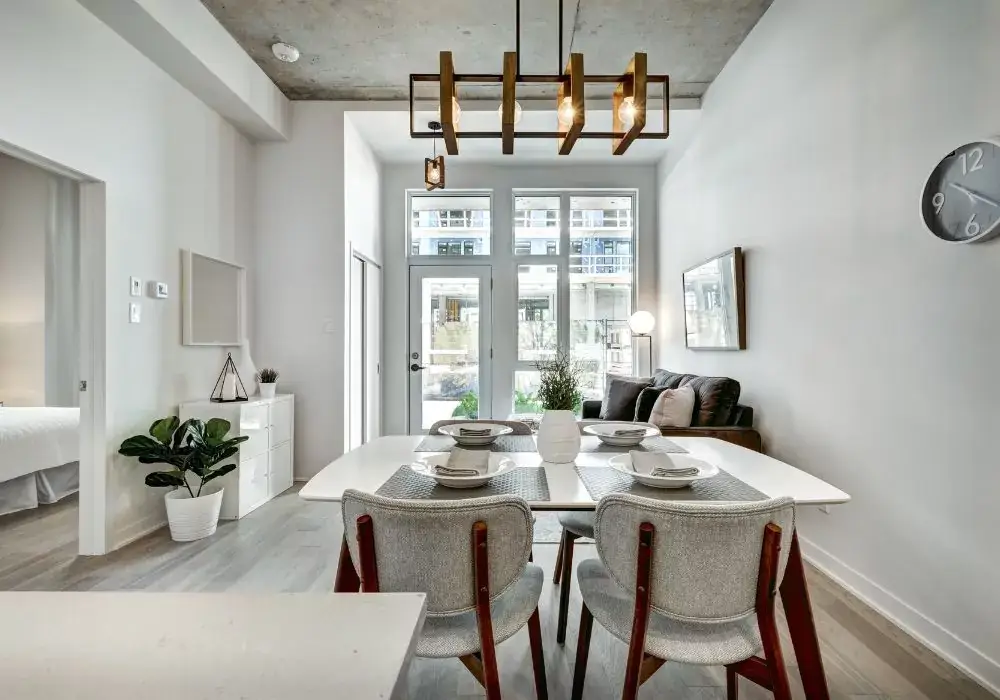 Whether you have just purchased a new house or moved into a new flat, the very first step you will take is to choose the layout. As you begin to visualize your ideas, you may find that there is no other place to place your dining room except the front entrance. But how should you arrange the entryway to your dining room?
It is feasible to have a dining area next to the front entrance while retaining the rhythm of the home, but this is not the standard. In such circumstances, it is crucial to choose the appropriate color, size, and shape of furniture for the dining room.
In most of the houses, you'll likely have limited space. Older homes may have unusual layouts. These items may leave you with a dining room near the front entrance, but that problem can be solved.
To know more about dining room entryway ideas, I suggest you keep reading this article till the end.
Can A Dining Room Be Located In The Front Of Your House?
A traditional living room is generally placed in the front room of the house. Which is usually the biggest room in your house. The problem is that if you have a large family or family room, the capacity could be wasted.
If your present dining space is too tiny to handle your regular dinner parties, converting your living room to act as a dining room is an excellent solution. It shouldn't have to be an unnecessary expense to move your dining room to the front room. However, you will need to make a few adjustments to get a perfect style and feel.
6 Dining Room Entryway Ideas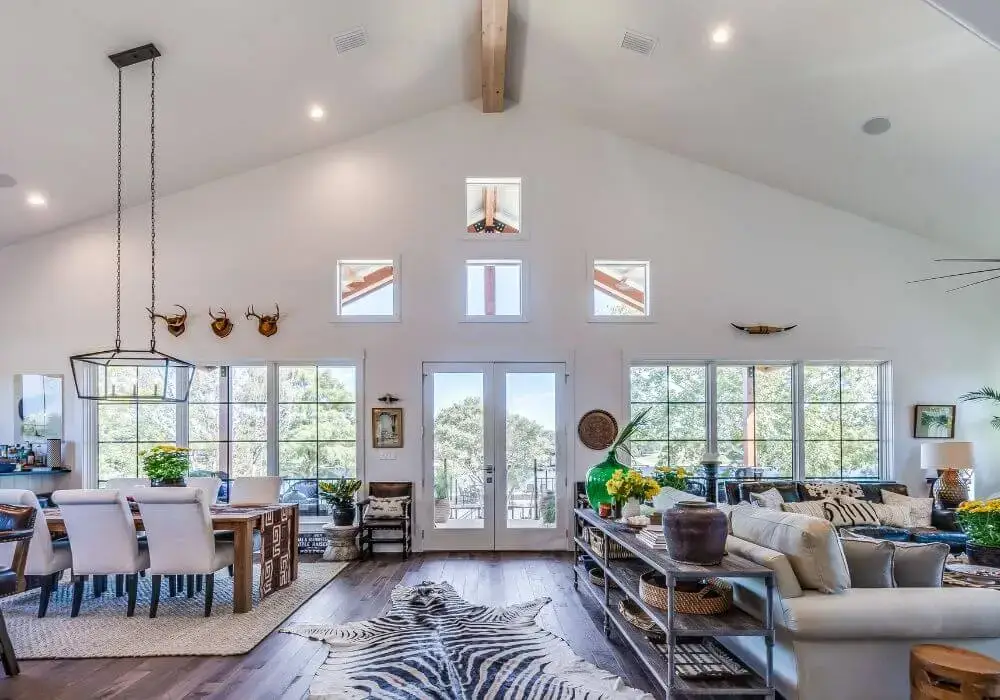 If you are planning on keeping your dining room bayside the entrance, you should consider a lot of things before putting your furniture. The idea is to make the most of the space you have.
You can still create a house that is warm and inviting while doing so. During my research on this topic, I came across several significant ideas that can help you decorate and arrange your dining space beside the main entrance. Such as:
1. Draw the Area Boundaries
You can make your apartment appear as if it possesses a living room, a kitchen, and a dining hall by deliberately picking and putting furniture in the correct spots. If you're not cautious, especially in tiny flats, you could give the impression that you just have one huge, overwhelming dirty room.
However, if you want to keep your dining area and main entrance together, we have the solution for you here. So, what can be some options for room separation?
A simple welcome mat by the entrance is an excellent place to start. This will highlight your home's entry and make it seem less like you're already near the dining table. A carabiner clip and a little seat near the entrance may also be useful.
Put up the back side of your sofa towards the dining room to divide the living area from the dining hall. This will inevitably result in a feeling of separation. Especially if you possess a sectional. You may even put up various lighting in each area to further separate them.
2. Locate a Focal Point
Not paying enough attention to the dining area is something that may easily happen while decorating your house. Because the living room normally has a lot of extra furniture and décor (TV, paintings, side table with decoration). It might naturally overshadow the dining space and make it seem 'trying to fit in.'
To prevent this, you should return the emphasis to the dining hall. But how will you make it happen? The previously indicated variation in lighting is an excellent starting point. You need to place the dining set with flair without being too excessive. Painting the walls around the dining room table a brighter, bolder color is a nice idea.
I understand that if you're renting a flat to live in, you'll have to take a different approach. Adding a good, larger artwork behind the dining table may also draw attention to the dining area.
Mixing and matching the chairs in the dining hall is another approach that may be used to provide a focal point. These chairs have the potential to stand out and attract the kind of focus that is desired.
Having said that, it is essential to be aware of what you are doing and steer clear of certain errors if you do not want to seem disorganized. Putting up a chandelier is yet another viable alternative to consider. You may add big standing lights which make a bold statement.
3. Suitable Furniture Size
When working with restricted space, it is essential to select the furniture of the proper size. You do not want to wind up with a dining table so large that it invades your living space.
If your dining area has more of a "squared" aspect to it, a circular table that seats 4 people would work well in the space. The fact that it is spherical also makes it simpler to add more seats whenever required.
A square dining table may work better in your living area if it's longer and narrower. Based on the quantity of area you have available, it is proposed to select either a table with four seats or a table with six seats.
It is essential to get a sofa that is the appropriate size for the room. Be careful to avoid choosing one that is very large and will take up too much space in the dining area.
4. Proper Dining Room Flooring
Perhaps you are staying with the flooring you received, but as logical as it may appear, dining room flooring is an important component to compliment the entryway as well. A dining area flooring can not only look nice, but it should also function well as they are high-traffic areas that are vulnerable to spills and spots.
There will almost certainly be stains and spills from snacks and drinks, so selecting a suitable material is critical, especially when hosting. Darker patterns and styles will be more tolerant of minor spots.
5. Plenty Of Lighting
Consider your dining room entrance lighting in the design stage since it is a critical aspect that will establish the vibe for the entire room. You want enough light, so your visitors don't feel like they're sitting in a cave, but you also want it to seem casual.
Avoid using powerful downlights since they will not only cast weird shadows but will also focus on a specific area rather than dispersing a low light evenly around the room. If the dining room is made for more practical purposes, consider installing power strips so you can simply adjust the tone of the room based on what it is utilized for.
6. Choose Your Layout Properly
It may seem that your options for dining room layouts are restricted – dining table in the middle, seats around the perimeter – is there anything more to it?
Yes, this configuration makes sense, but it isn't the only choice, particularly if your dining area is tiny, and it's necessary to consider other furniture as well.
In a tiny dining hall, you may wish to add to the comfort by locating the eating area on one side and combining a round table with a handful of seats.  You then have the option of including a second sitting space with a reclining chair and a beverage cart that seems like a separate zone inside the room.
And in bigger dining rooms, hover the dining table in the middle and add bookcases or a coffee table that acts as storage for glasses throughout the room's perimeter. The fundamental guideline for dining room layouts is to always leave 30′′ to 36′′ of space between major furniture pieces.
Measuring out Your Entryway
With the size of your entryway in mind, the correct furniture and rug size may be determined for your doorway. However, dividing a space that is too tiny reduces its usefulness, while using a space that is too huge disrupts the rest of the design.
Open floor plans might benefit from this simple rule of thumb when it comes to creating entryways. Multiply your total floor space by 0.02 or 0.04 and afterward divide the space proportionately to obtain the number of square feet.
What Does Your Entryway Need?
The placement of furniture is a vital part of any entrance design. Of course, you are free to fill the room with anything you like. Only a few items, however, maintain the entrance both aesthetically pleasing and functional for you and your friends.
Seating
The presence of a seat at the entryway is a necessity. There are a variety of ways to do this, including a bench, a beautiful side chair, or even an ottoman. Providing a space to sit and take off your shoes is both practical and kind.
Storage Unit
No matter what kind of shelf you choose for the entryway, you'll need some kind of storage for your keys and other small items.   As it is a wall-mounted shelf, it will not occupy valuable floor space. Place it next to the entrance to further define your entryway's look and feel.
If you want to designate your entryway, you may utilize larger furniture as a temporary wall. The length and width of your doorway may be defined by placing a seat against the wall adjacent to the door and an accessory table parallel to the walls on the opposite side of the door. The look is completed with a rug.
Rugs
Adding a rug to the floor may help distinguish an entryway, regardless of whether it's a large area rug or a welcome mat. Depending on the amount of available space, you may choose to go with one of the two options, or you may prefer one over the other. There are a wide variety of area rugs to choose from for studio flats.
To get the best quality rug, you can check Rug Source
Adding Accessories To Your Entryway
Once the most important functional pieces fit, you would like to give your entryway a little style. Adding a throw pillow to your corner chair can be a simple way to do this. Greenery could also be used as a decorative element. One plant in a pot brings life to the whole house.
Lastly, a mirror is always a nice accessory. If you want to put a mirror in your entryway, make sure it doesn't take up too much space in the entrance walls.
Matching Colors
Visual coherence may be achieved by using matching colors. Accents, such as cushions or lamps, may be used to match the colors of your sofa and dining table. Metal, golden, and bronze artwork will tie your entryway's color scheme together if you like metallics.
Patterns
Using similar patterns all through the interior is another easy way to link your theme together in a casual way. If you like polka dots, keep in mind the pot you buy for your hallway plant has polka dots to compliment the pillows on your sofa.
Final Say
Think of the entryway as your moment to amaze your guests. If you are thinking of having an open floor plan, you need to have a detailed design for how the dining room will be connected to the entryway.
It is possible to have a dining room near the front entrance of the house while still maintaining the apartment's rhythm, although this is not the typical arrangement. When this kind of scenario arises, it is necessary to choose dining room furniture that is the suitable color, size, and form for the space.
Whatever method you choose to create a dining room entryway in the open floor concept, keep in mind that this area is designed to be functional as well as the first impression visitors get of your house. Use your interior designing skills to add interesting items while also making your visitors comfortable and reducing difficulties at the beginning of your day.