Floating Furniture: 7 Clever Tricks To Float Your Furniture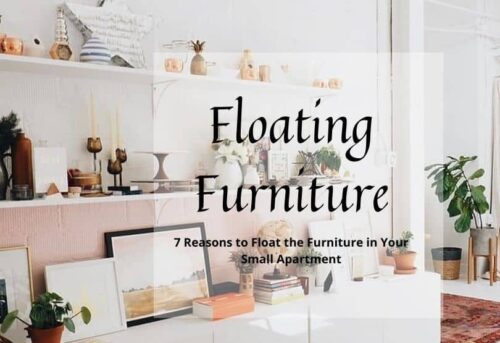 Living in a place that follows the open floor plan is quite disastrous and frustrating. It's almost impossible to decorate rooms that follow such plan. One of the disadvantages of the open floor plan is the lack of walls that define the rooms or against which can be placed. The only way you can protect yourself from dealing with horrendous disadvantages is to apply floating furniture ideas.
What Does Floating Furniture Mean?
The term floating furniture simply refers to the idea of placing pieces off the wall, sometimes in the middle of the room. By floating your furniture, you'll be able to create the illusion that your room has more space. You'll also make your room look more inviting to people if you float your furniture.
Floating Furniture Rules You Should Follow
1. Create A Hallway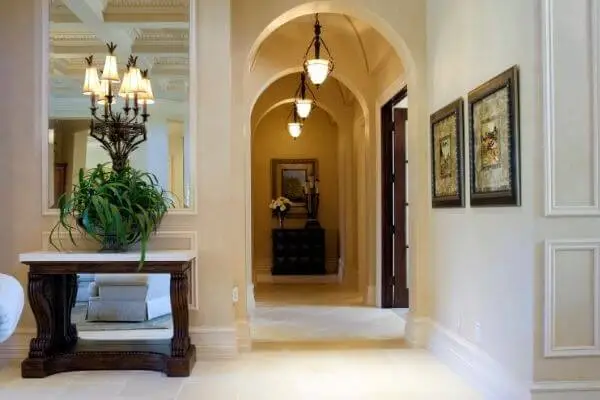 One of the setbacks of the open floor plan is the lack of halls or clear patterns. This causes a lot of decorative issues, especially in smaller homes. So, if you float your furniture, the back of it will create a hallway that will start from the entry to the entire house; therefore making it obvious where foot traffic should flow.
2. Divide a Small Room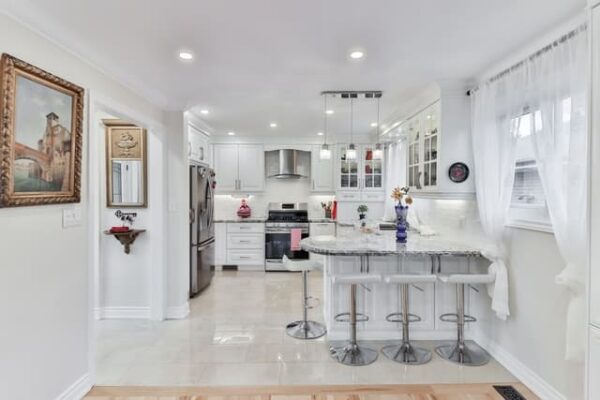 The best way to divide a small room is to float the furniture. Room division might seem almost impossible at first, especially on an open floor. However, with the appropriate placement of furniture, you'll have no problem creating distinctive lines between the living room and the kitchen. By floating your furniture, your open floor plan will look less disjointed and more cohesive.
3. Create An Intimate Atmosphere
If you decide to float your furniture, you'll be able to create a more intimate atmosphere in your small room; which, as a result, will make your guests feel more encouraged to engage in a friendly conversation. If the furniture isn't floated in your small space, it'll be difficult for them to get comfortable and friendly.
4. Pick A Focal Point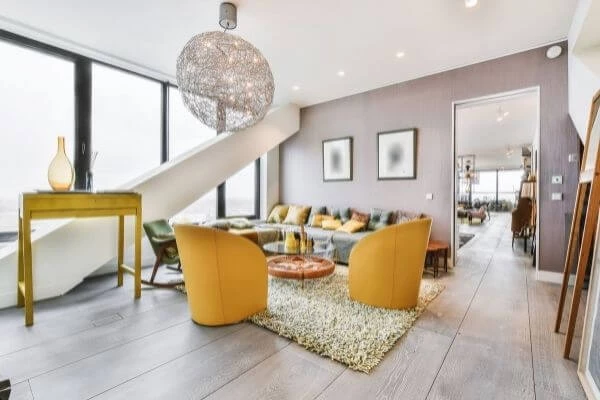 Designers will always advise you to pick a focal point in a room and arrange your furniture around that particular feature. In smaller rooms, the focal point is generally in the middle. The only way you can emphasize the focal point is by floating your furniture. Floating them will not only let the focal point shine but will also make the room appear more spacious and more attractive.
5. Find Some Extra Wall Space
One of the most frustrating outcomes of putting furniture against walls in an open floor plan is that sometimes you might not have any extra space left on the wall. Having extra space on the wall is a necessity in a small room. The only way you can have extra wall space in your small room is by floating the furniture.
When you float the furniture, you'll find some extra wall space behind the furniture. You can use this wall space to step up the elegance and beauty of your small room to another level.
6. Don't Forget About Scale
Resist the temptation of putting an oversized ottoman or a sofa into the room. In doing so, you will be killing off the illusion of grandeur you had worked so hard to create in the first place. A piece of furniture that takes up too much space in a room will look like a round peg in a square hole. For floating to work, the furniture should complement the room dimensions.
7. Prioritize Versatility
Every square inch matters when you don't have sufficient floor space to work with. To maintain a spacious look, try to bring in furniture pieces that offer additional functionality. An ottoman, for example, with a removable top and a hollow body for storage. In doing so, you will minimize furniture footprint without compromising efficiency.
Floating Furniture In A Small Living Room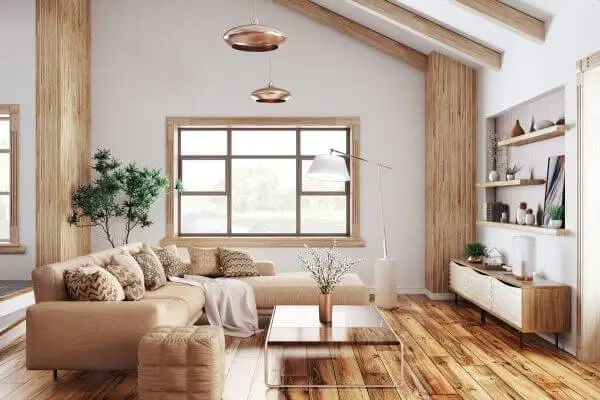 Floating furniture is one of the smartest layout tricks you can take advantage of to carve out some extra space. If you have been struggling to decorate your small living room, you should consider floating. It will allow you to add more depth to the room, create pathways, and break up the space into several zones.
Here are some furniture floating ideas that you can exploit to transform the look of your living room:
Install Floating Shelves
Installing floating shelves in an entryway or living space is a great way to save on floor space. By leaving the floor area open, you create the impression of a larger space and give yourself more room to move around in it.
Bring In A Writing Desk
The result could be fascinating if you try sandwiching a writing desk between two chairs in the living room. Set the chairs so that they face each other and are about 6 feet apart. Once you have done that, position the desk to face the side of the chairs.
Use Lighter Color Pallets
The use of lighter color pallets is a well-known technique to make a room seem brighter and bigger than it truly is. Lighter colors are more efficient in bouncing off the light. As a result, a lightly colored room will make the best use of available natural light. So, the room will appear more open and spacious to the eye.
Try A Variety Of Seating Options
Use a variety of seats in your living room and arrange them in a ring around one another in the middle of the space. This is an example of how you may use furniture to create a focal point in the space, such as a chair, loveseat, and sofa. As a final layer, you might place an area rug under them as well.
Have A Mantle? Make Use Of It!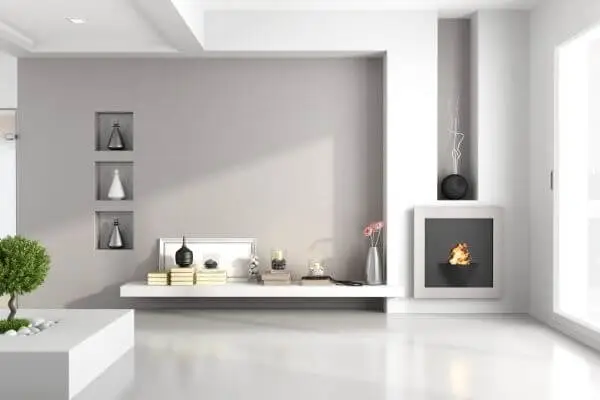 Fireplaces can double up as storage shelves. If you have one in your living room and you have left it empty, you should consider putting some plants there. It could be the perfect place for the family photo, or you could choose to stack some books.
Go For Ottomans
Need to decorate your space without overcrowding it? A very few items can match the utility of ottomans in that regard. They can add both functionality and glamor to the room. If you have a sofa and loveseat in your living room, consider adding a few ottomans in front of them. Go for an oval or a rectangular layout to make the area visually bigger.
A Sofa-Loveseat Combo Works Great For Floating
Loveseats made a glorious comeback as a trendy interior décor piece because of their practical design. They can serve as excellent sofa alternatives in tight spaces, thanks to their minimal footprint. While sofa and loveseats are great for different reasons, you can pair them up in a small living room and produce some excellent layouts.
Put the sofa right across from a loveseat and place a small coffee table in between. This is a simple yet eye-catching approach to floating a sofa. A couple of end tables could also work in this setup.
Do Look Up
Stacking instead of spreading out is one of the simplest and most effective strategies for finding storage space in small rooms. We can conserve room by storing books and other stackables vertically. Look for tall corner shelves to keep your showpieces, plants, books, and other stuff. These won't take up much space and blend in with the minimalist look you are trying to get.
What Is A Floating Sofa?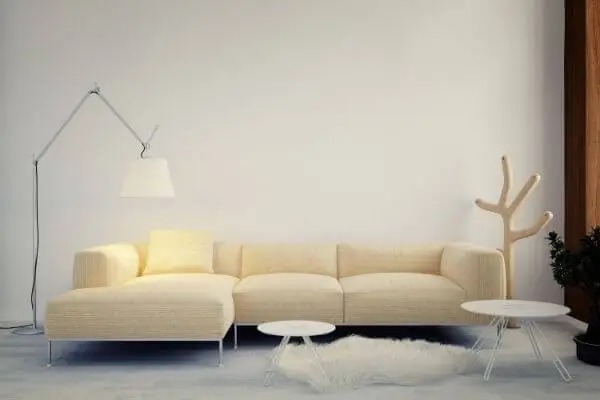 A floating sofa refers to the furniture arrangement that drags the sofa away from the walls and puts it in the middle of the room. This is an innovative approach to divide up the space and establish corridors that help the traffic flow.
When should you consider floating your sofa? It works great when you have an open floor plan. The sofa serves as the divider to designate activity-based zones. Also, it's a fantastic layout technique for smaller living rooms.
Benefits Of Floating A Sofa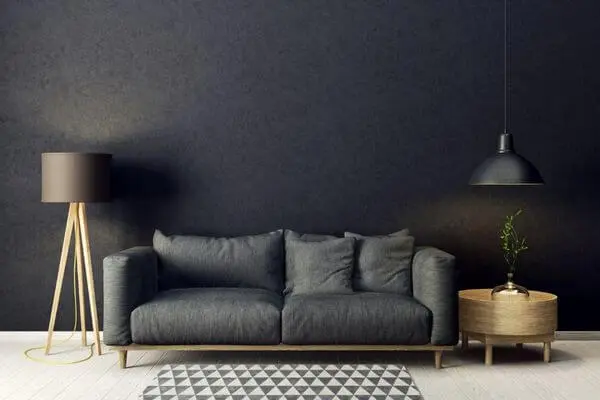 It Creates More Room For Movement
You squeeze the walking room out of the space when you push the sofa against the wall. Since it's the biggest piece of furniture in your living room, you can free up significant space around the corners when you move the sofa towards the center. As a result, it will be easier to walk around the room.
It Creates The Impression Of Space
Moving the sofa to the middle will evacuate the peripheral regions of the room. Because of this, it appears that there is a lot more floor space than there actually is.
It Creates A More Intimate Atmosphere In The Room
It is easier to create an atmosphere conducive to meaningful interactions between family members and guests with a floating layout. If you want to meet up with old friends rather than have a formal talk, this is the way to go. For a friendly social conversation, the gap between people should be six or seven feet. A floating sofa layout is perfect for such proximity.
How To Float Furniture?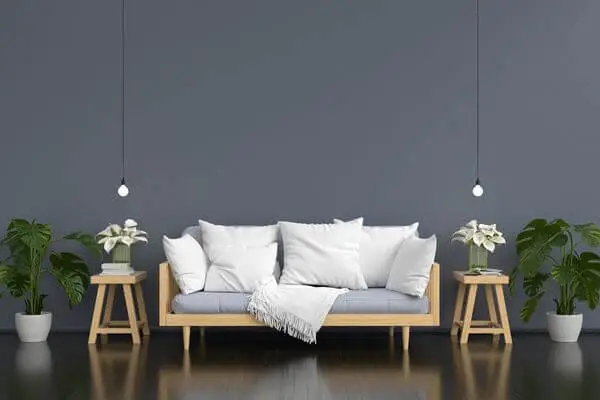 Don't Store Anything Behind Your Furniture
The primary goal of floating furniture is to make the room appear less cluttered. When you move the furniture away from the walls and create a furniture island in the center of the room, you create visual space. With the empty spaces along the walls, the room appears much bigger than what it used to look before.
If you put something behind the furniture, it ruins the core objective of floating. You make an effort to move the furnishings towards the middle and open up empty space. But, you let that go in vain when you occupy that area with other stuff. So, make sure to keep the floor uncluttered outside the floating zone.
Consider The Size Of The Room And The Traffic Pattern
So, you have moved your furniture to the center. But, how much area should you take to spread the layout? That depends on two factors. Number one is the size of the room. The bigger the room, the more generous you can be with the size of the layout. The other factor is the traffic pattern.
Traffic pattern, aka traffic flow, is how people naturally move through a room, including how they get in and out and where they walk the most. You can also describe it as the connection between the doorways of a room. Depending on doorway locations, the traffic pattern of a room can be easy or a bit problematic.
If the doorways are at one end of the room, it will not interfere with your furniture arrangement. However, if the doorways are in places that make the traffic go through the middle, you need to get more creative to solve the issue.
Your furniture arrangement can influence the traffic room. So, you need to float the pieces so that it leaves clear pathways to the entrance and exit points of the room. Consider a dining space, for example. Place the dining table and the chair in the middle if it has multiple doorways.
Therefore, people can easily move around the table and get in and out of the room without difficulty.
You can also leave the middle of the room vacant if the traffic pattern heavily goes through that area. This usually happens in larger rooms. So, you will have enough space to have two different zones in two parts of the room. At one end, you can create a reading nook or a gaming station. And in the other, you can set up a conversational area with sofas and chairs.
Create Visual Barriers
If you have an open floor plan but want to separate two parts of the room, floating furniture can be an excellent tactic. You can use a desk, a bookshelf, or set up a conversational area to separate the two parts of the room.
Try Different Layouts On Paper
Before moving around the furniture for real, try out some different layouts with some scale drawings of your room and furniture. Once you settle on a final layout, implement it.
While arranging the seating, we commonly line them up parallel or perpendicular to each other. It's not a steadfast rule to stay perpendicular to the walls. So, you can experiment with some angled positions as well. 
Arrange the furniture in a circular or oval-shaped layout, especially if you are designing a conversational area. Make it easier for everyone to see each other's faces and create a more intimate setting for a conversation.
Are Floating Shelves Strong?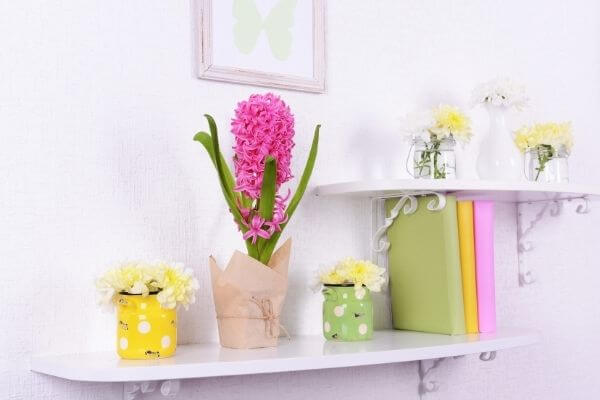 Floating shelves are wall shelves that have no visible support mechanism. They stay in place with the help of internal brackets. You can expect a floating shelve to hold between 25 to 100 pounds. A floating shelf that comes with a higher rod and screw count will offer a sturdier performance. So, yes, floating shelves are quite strong despite their minimalist look.
Should You Put Furniture Against Walls?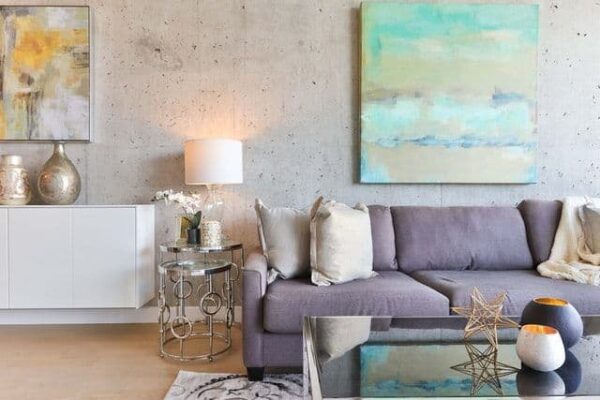 Read More: Grey Couch Living Room Ideas
No, you shouldn't put furniture against walls ever. In fact, don't even think of doing such. It may seem a counterintuitive step at first, but it's not the best approach for making your small room look more spacious and bigger.
If you put your furniture against the walls, you won't give your items any breathing room. In fact, you'll make the area in the middle feel more cavernous and congested. So, instead of putting them against the walls, you should pull them away from the walls. By doing so, you'll make the conversation areas more intimate, as well as create a better sense of balance. Even in a room that is so small, you'll be giving your furnishings some decent place.
Can You Put A Couch In The Middle Of The Room?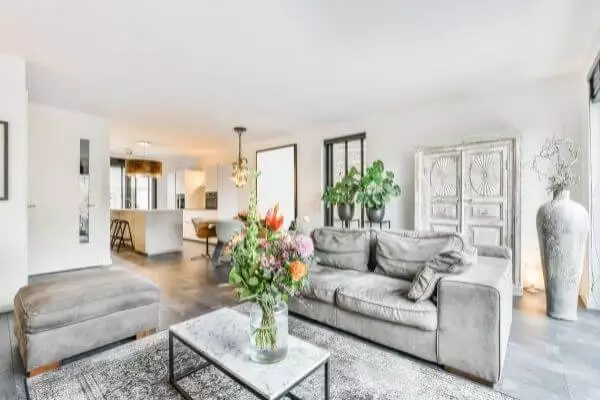 Yes, you can; but only if your room is large. Putting a couch in the middle of the room is the best way to make your large room look more elegant and attractive. By putting a couch in the middle of a large room, you'll be creating a room within the room. In this way, you can delineate different areas in a large space; which is great for centralizing the focus.
However, if you have a small room, then it's better to float it. Another thing you must remember if you're considering putting it in the middle of the room is to check out whether its back is supported or not. If the back is unsupported, then you must opt for floating it even if your room is quite large.
How Far Away From The Wall Should A Sofa Be?
A sofa should be approximately eight inches away from the wall. If you pull the sofa away from the wall about 6-8 inches away, you'll be doing all sorts of wonderful things to the room. For starters, you'll make your room bigger, cozier, and will be able to avoid making your room appear more formal. So, make sure that you're putting your sofa at least 6 inches away from the wall.
What Do You Put Behind A Floating Couch?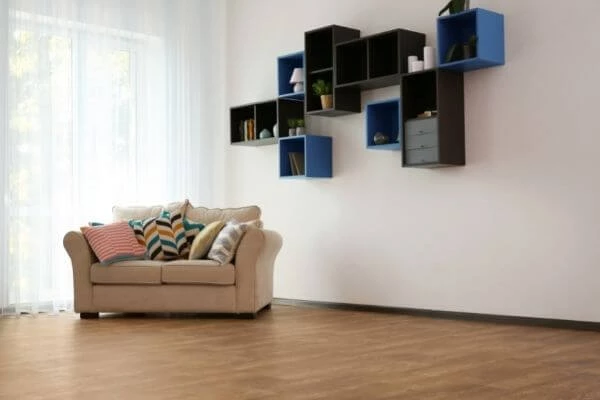 Behind a floating couch, you should try installing some shelves. It's the best and most fantastic way to make the most use of the available space. By installing them, you'll have some support for decorations. You can also store books on the lower shelves. As a result, you'll have easy access to them and have something to do to kill your time while you're lounging on the couch.
Final Words
Pushing your sofa, lounge chair, and end tables up against the wall might be the standard living room setup. However, that's not the only arrangement option. There's the option of floating furniture. So, if you want to make your small space look more inviting, extravagant, you can't but float your furniture. It's worth trying and we hope the aforementioned reasons convinced you why.