What Kind Of Furniture Should Be Kept In A Small Room?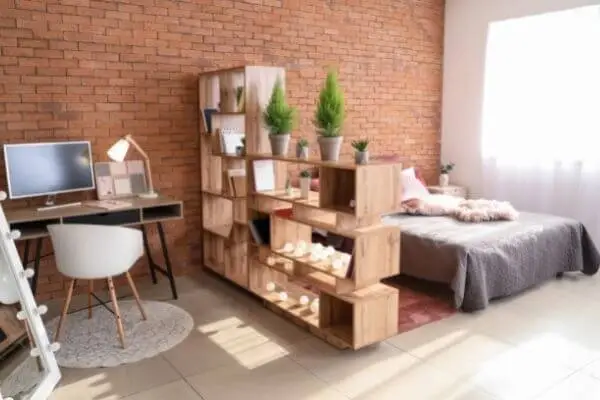 Having a small space should not stop you from sprucing up your interiors. With the right furniture choice, you can make the smallest rooms in your house incredibly chic and functional. If you have the right approach, your interior arrangement will be nothing short of impressive. So, what considerations should you have in mind to selecting furniture for a small room?
For a small room, you should choose the type of furniture that has a minimal footprint but offer enough functionality. Multipurpose furniture pieces are the smartest options for decorating a tiny room.
When floor space is scarce, every square foot matters. So, don't waste premium real estate squeezing in every piece of furniture you get your hands on. Take your time to figure out what will work and what will not. Then, shop accordingly.
Essential Furniture Pieces For Small Rooms
What are the must-have furniture items in a small room? The answer depends on which room of the house you are talking about. The layout that works for the living room will not work for the bedroom, and vice versa. So, we have made an effort to discuss ideal furniture arrangements for different rooms.
Living Room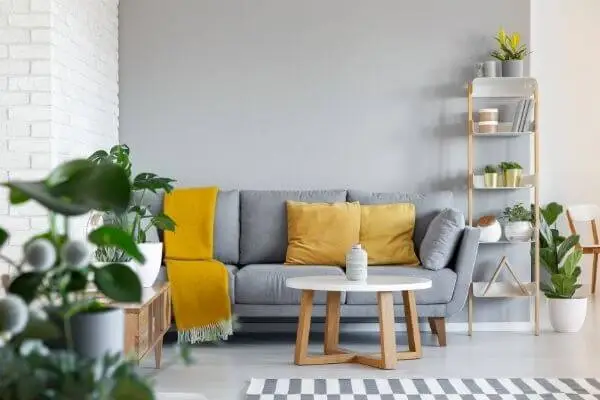 Coffee tables have become an almost indispensable part of the modern living room setup. But, if you don't have a spacious enough lounge, we would recommend settling for accents instead of a bulkier coffee table. Accent tables can serve as coffee tables. The extra benefit you would get is that you can remove them or repurpose them whenever necessary.
But still, if you want to put a coffee table, you can check the article best coffee tables for sectionals. This will help you to choose the best one.
Similarly, a bulky sofa could be a waste of money and floor space. Ditch your traditional sofa for a loveseat. Loveseats are as comfortable as a traditional sofa, but they will take up a lot less space. These are perfect for accommodating two adults and come in several fashionable, contemporary designs.
We often keep shelves in living rooms to display showpieces and keep essentials. Using ladder-style shelves is an excellent idea. Ladder shelves allow you to exploit the vertical space of the room and free up the floor. If you are not sure how a ladder shelve would look in the living room, let us assure you that it would be one of the most tasteful inclusions you made.
Many of us had to set up a home office in our living rooms during the pandemic. If you regularly work from home and want to make the living room your designated working area, you should invest in high-quality accent chairs. While traditional office chairs offer more comfort and ergonomics, you will lose floor space. So, accent chairs are the way to go.
Don't try to pack in too many pieces of furniture in a small living room. To get additional seating, opt for stools rather than a sofa that is too large for the room. Apart from having negligible footprints, they'll be much easier to move around. Also, you can use stools as footrests.
Bedroom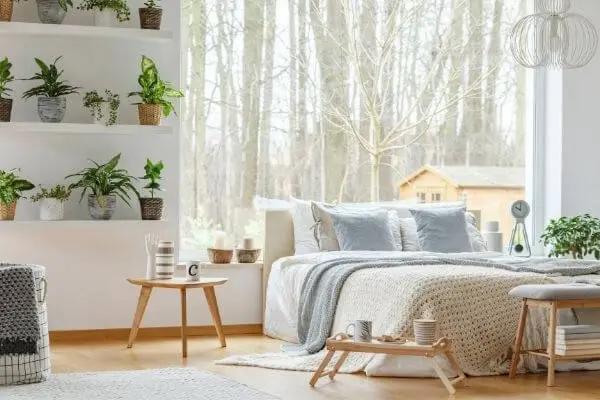 It's impossible to get a good night's sleep in a small, cluttered room. However, the appropriate furnishings can make you feel at ease at night. The first step is to figure out how big a bed you need to feel comfortable. Instead of a hefty headboard, opt for a basic platform bed frame.
You can go for a multifunctional bed that comes with its own storage facilities. A storage bed will eliminate the need for dedicated storage units and make room for other furniture. These beds have drawers below the mattress cavity and shelves on the headboard.
Alternatively, a pull-down bed will be a nifty pick for a small bedroom. When the bed is not in use, you can store it upright against a wall. You can also choose to fold it down and hide it away in a cabinet. These types of beds often go by the name ''Murphy Bed''.
A Murphy bed is the ultimate hack to carve out some space in the bedroom for yoga, exercise, music practice, or any other activity. However, these beds are more expensive than traditional beds. On top of that, they could become a safety hazard if the installation is not done right.
Once you decide on the bed, assess what else you can put in the room. You should prefer wall lights and cabinets if nightstands and floor lamps make the room appear overstuffed. A dresser is not a necessity in a bedroom that lacks abundant space. You will have to focus on bed and wall storage.
Saving the dresser space can give you the go-ahead to bring in a bookshelf. The bookshelf can double as a showcase too. You can perhaps put a table clock there, a vase of flowers, and some memorabilia that you like to keep within your eyesight.
Dining Room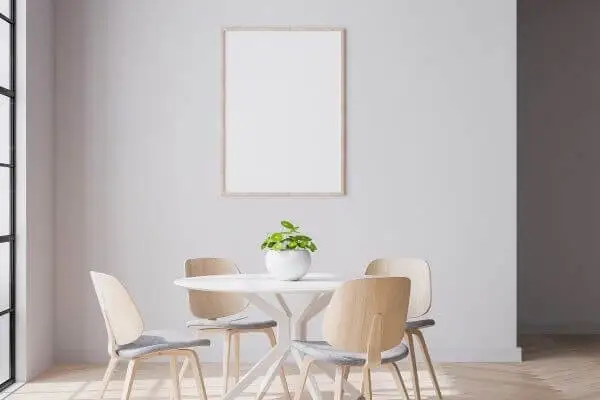 Usually, we don't need the full length of a dining table for our daily meals. So, wouldn't it be great if you could fold the table down or expand it per your needs? An extendable dining table gives you this marvelous flexibility. Why spread out the full table and waste all that space when you don't need it?
Round or oval-shaped dining tables work best in small dining rooms. The edgeless design is convenient for seating more people in a compact space. Not to mention, the footprint is quite minimal. These tables are also great for socializing with your guests as you dine. Everyone sits closer to each other, which adds a sense of affinity to the dining room atmosphere.
Another brilliant way to get around the space scarcity in the dining room area is to use stowaway tables. These tables come with chairs or tools that fit underneath the tabletop. You can drag them out and put them back in after use. So they will never take up unnecessary space.
How To Choose The Best Furniture For Small Spaces?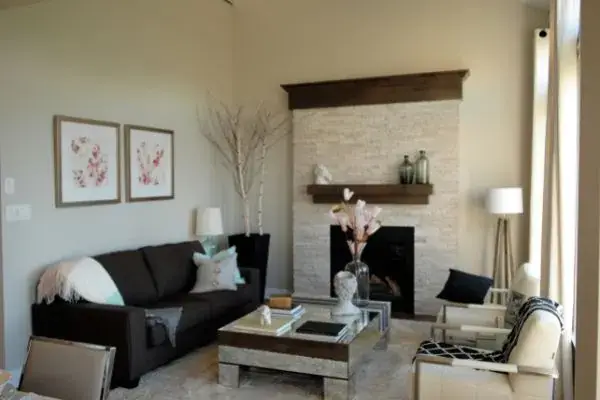 You need to concentrate on these factors to find the best space-saving furniture to make the most out of your cramped space:
Don't Put Unnecessary Stuff In The Room
You might feel tempted to get a king-size sofa bed for your living room. Let's say it will fit through the door, and you can engineer enough floor space to set it up as well. But, ask yourself this; just because you could, does it mean you should? You've shoehorned the sofa into your living room, but if it makes the room look cramped and suffocating, what's the point?
You should leave enough breathing room while decorating a space. Avoid overstuffing with furniture. Try to improvise with a few big pieces of furniture rather than bringing in a large number of smaller pieces. Many of us have this wrong idea that smaller furniture has a less conspicuous presence. In reality, they make the room seem more cluttered.
If you want to know, the difference between a sofa bed and a sleeper sofa, check this guide- Sofa Bed vs Sleeper Sofa: 6 Differences Explained
Take Proper Measurement Of The Room
Instead of speculating, take out the measuring tape and spend a few minutes taking measurements of the room. After having the precise dimension, you can determine what type of furniture you can have in the room. Proportions matter. Don't get a piece of furniture that looks overly big or small in the room's backdrop.
Prioritize Versatility
If you are really struggling to grind out some space, there's no alternative to investing in multifunctional furniture. We are talking floor lamps with shelves underneath for storage and display, stools that doubles a storage bin, chairs that convert into full-size beds, and beds with drawers to act as a substitute dresser.
These versatile furniture pieces serve several purposes rather than one. So, you can use one of these instead of two or three separate units. For this reason, we highly recommend looking for additional features when choosing furniture for a small space. The functionality of these items makes a great difference.
You should also look into collapsible and stowaway furniture. While these would not give you extra utilities, they offer excellent floor space economy. They use up nominal floor space when you are not using them. You can expand them to a larger shape when you need them. You can easily put them away once you are done by minimizing their structure.
The Smaller, The Lighter, The Better
You should furnish a small room with pieces that are light or made of materials like glass. Don't hesitate to go for something that appears low-key but perfectly blends in with the surroundings. 
A minimalistic furniture approach will allow you to get more creative with the decors. Flashy furniture will overpower the tone of your decorative efforts. The smaller the footprint, the more desirable the piece is for adorning your space.
Closing Remarks
Small space owners struggle to finalize their list of priorities while furnishing their rooms. When space is at a premium, you have to choose the pieces carefully. The sole purpose of this article is to provide you with the necessary information before you make such an important decision.
Hopefully, our room-by-room breakdown has made the task less challenging than it previously appeared. Cover the priorities first. Afterward, try to improvise to add something more. Under no circumstances, however, fill the room with too much furniture. Otherwise, you will be sacrificing flair and functionality both.