What Color Sofa Is Suitable For Small Living Room?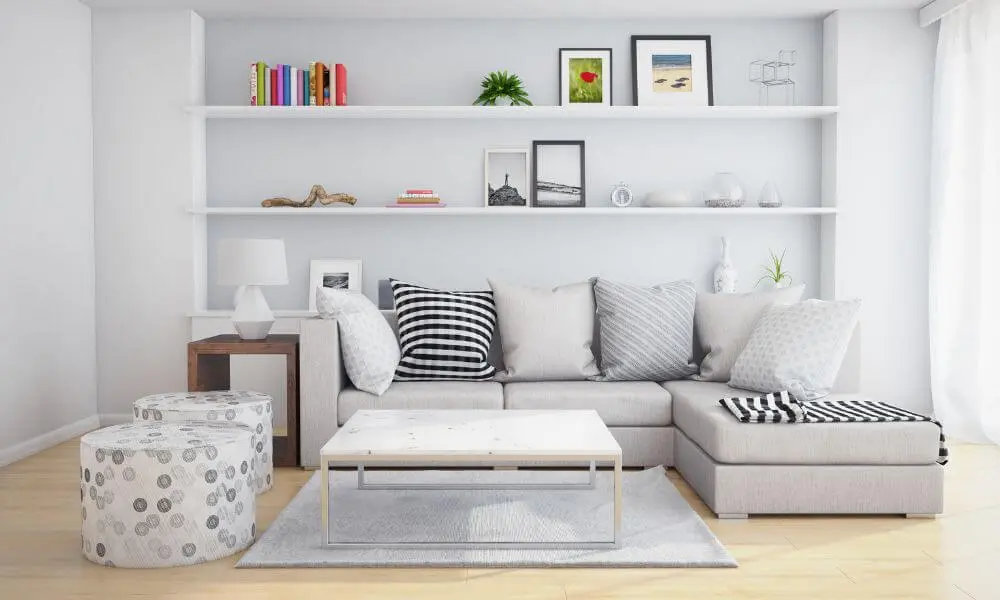 If you have a small living room, you have to be careful before picking anything for that room. One tiny mistake can ruin the entire outlook of your living room. We will discuss everything in this article. But first, let's get to what you came for: what color sofa is suitable for a small living room?
It's best to keep your sofa color neutral. You can choose lighter shades of ivory, gray, or tan. However, the options are not limited to these. If you can optimize the room in another way, you can also go for darker shades.
To understand the color-choosing process better, make sure to go through the whole article.
Why Neutral Color Sofa Is Suitable For Small Living Room?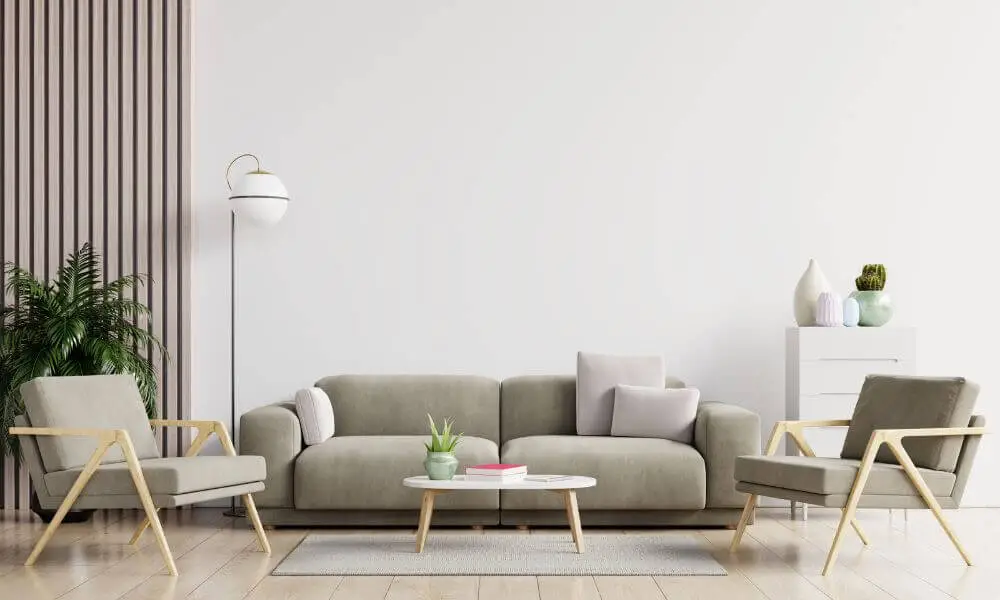 In a small living room, you need to neutralize the presence of the sofa, or it will be the only thing that catches the eyes. So, choosing colors that are not very bright but more on the neutral side will be most suitable for the sofa.
If you're looking for specific examples, consider shades of light grey or tan. You can also consider ivory for the sofa. It's better to stick to solid colors when it comes to choosing the sofa. When you're decorating a small living room, something other than a solid color may not set well with the interior of the room.
The thing is, these are not ironclad rules that can't be broken. You can customize the color as you like. However, if you are trying to improve the overall outlook of the living room, you need to be careful about decorating it.
You can choose a darker sofa if you like. If you decide to go with a dark color, there are other things to do to make the sofa look smaller. For instance, choosing a sofa with narrow legs will allow the floor beneath it to stay visual.
This will make it look like there's more space available in the room, and the sofa won't catch the full attention. Another thing you can do is to make other elements comparatively bolder so that the sofa does not look bigger.
Other elements may include the walls, curtains, decorative items, lighting, etc. When you bring everything together, the living room will look amazing regardless of how small it is.
The goal is to create a perfect combination of the elements you have inside the room. One piece of furniture shouldn't be the primary attraction of the living room. Instead, you need to organize the room so that everything comes together well.
How To Choose A Sofa For Small Living Room?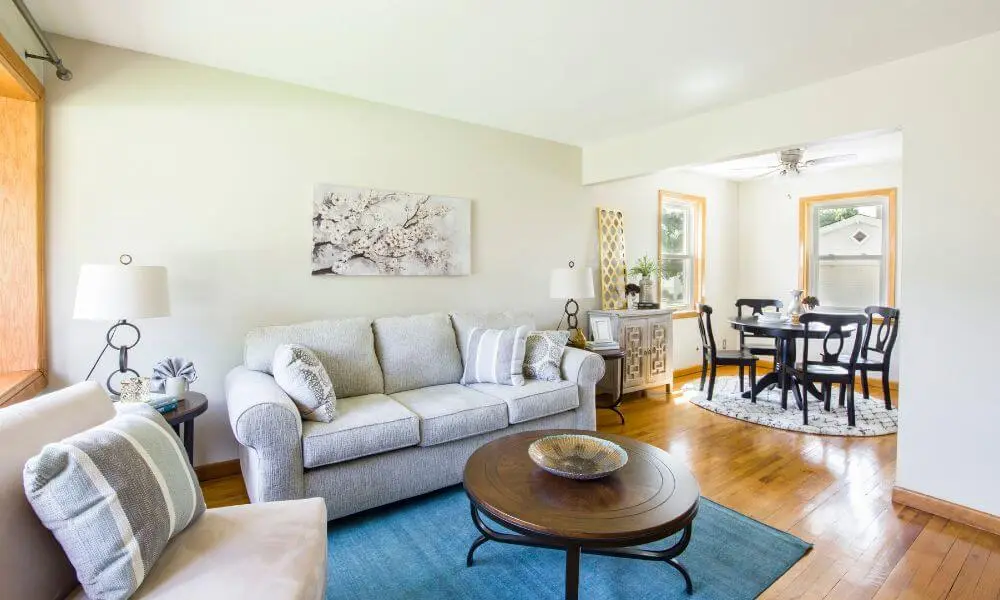 Regardless of some specific suggestions, there are a lot of factors that may get involved in deciding what sofa is suitable for a small living room. So, let's take a tour and see what those factors are.
Users Of The Sofa
First of all, you need to consider who will be using the sofa you're getting. If you have kids or pets in your home, you wouldn't want to go for a light-colored sofa. Instead, choose a dark-colored sofa.
This way, even if you get spots or stains, they will be less visible. Also, consider materials that are comparatively easier to clean than others. If you have pets and kids, the sofa will get dirty more often than you think. It's better to be prepared than regretting later, considering that a sofa is a large investment.
Surrounding Decorations
When decorating a small living room, you have to match all the elements. If you choose a neutral-colored sofa, you can go for vibrant decorations. Similarly, if you're choosing neutral decorations, you can go a bit wild with the sofa to restore balance.
Whatever you do, make sure everything comes together well. Try to keep everything in one theme so that nothing looks odd.
Cost
One significant factor that plays an important role here is the cost of the sofa. Because sofas are a long-term investment, you need to think it through before investing in them. Create a design in your head before buying everything, and then invest in it.
The sofa also depends on your budget. If you have a large budget dedicated to the sofa, it shouldn't be a concerning matter. However, if you have a tight budget, your options will be limited too.
How To Decorate A Small Living Room?
Now that you've got your sofa sorted let's talk about some relevant things. Smaller living rooms require more planning to organize. We've shared some tips below so that you can generate some ideas about how to decorate a small living room.
Increase Storage
One significant issue with a small living room is the lack of space. To make sure that your room looks clutter-free, you need to increase storage without making the room look crowded. For instance, you can utilize the space beneath your coffee table.
Install hooks and shelves on the wall. If you have a TV, try installing it on the wall instead of adding an extra table to the room.
It's never a good idea to try to fit everything in one room. Even if you have a lot of things that you would love to have in your living room, try to reduce the items. Move them to another room or store them away to declutter the living room.
Instead of installing storage cabinets, consider built-in options. They're more space savers compared to others. Also, try installing floating furniture if possible. It keeps the flooring free and makes it look clutter-free.
Avoid Visual Clutter
Visual clutter means using too many colors or patterns in the same room. Try to create a theme using all your furniture and wall decorations. For instance, you can use light neutral colors for the entire room.
If you're into patterns, stick to smaller patterns in bright colors for the living room. Make sure the sofa you're choosing is of solid color. The motive is to ensure that nothing looks mismatched. Because the living room is small, one small item that doesn't match can ruin the entire outlook of the room.
Reduce Furniture Pieces
If the living space is small, avoid as much furniture as possible. Get a small sofa, table, and other necessary pieces. However, do not add anything that's not entirely necessary. It will certainly make your room more crowded and cluttered.
You can consider things like a floating shelf or built-in storage if you must have these things in your living room. This way, you will be able to remove unnecessary furniture and still install the things you need.
Bright Lighting
Another essential thing for small living rooms is sufficient lighting. You have to make sure that the room doesn't look dark. Better lighting will make the room look better and bigger. Because it's a living room, the brighter, the better.
However, make sure that you're not blocking too much space with lights. Instead of freestanding lamps, use wall-mounting lamps. This way, you will have enough brightness without taking up space.
Frequently Asked Questions
What is the most popular color of sofa?

The most popular color for a sofa is gray. Nowadays, people are considering bolder choices too. For instance, pink, blue, deep green, and red are also some of the colors to be considered for a sofa. Nonetheless, the ageless option for sofas remains to be gray and cream.

How do you make a small living room look bigger?

There are a few tricks you can try to make your small living room look bigger. For instance, choose neutral colors for the theme of the room. Paint the floor the same color as the walls. Avoid placing too many pieces of furniture in the room.

Choose furniture that is functional but takes less space in a room. Consider built-in options, even though they're not permanent. Last, of all, make sure to increase storage without making the room look cluttered.

Which type of sofa is best for small living room?

The best type of sofa you can go for is a thin low armed sofa. You have to make sure that the sofa offers most of its space for seating. Many options are bulkier in size, but the actual seating area is comparatively a lot smaller. Those are not suitable for small living rooms.
Final Say
As you can see, what color sofa is suitable for a small living room depends on many things. It can be a bit challenging to execute the best outcome in a living room. However, if you're planning ahead, there's no reason why you can't make a perfect living room full of amazing elements.
The sofa is one of the primary elements of your living room. Nonetheless, you don't want to be looking only at the sofa. So, choose the color wisely. This way, the attention will not be captured by one single piece of furniture. Instead, it will be divided among everything that's placed inside the room.