How to Fit Two Twin Beds in a Small Room: 7 Epic Smart Ideas
We have got some super cool ideas so that you can easily fit two twin beds in a small room. You probably have lost some brain cells while struggling through the process. We have kept it simple and super convenient so that you can easily rock the ideas.
Steps To Set Up Two Beds In A Small Room
You can follow different steps or setup ideas to fit into two twin beds in a small room. Here are some efficient ways to set the twin beds in a small room.
Side By Side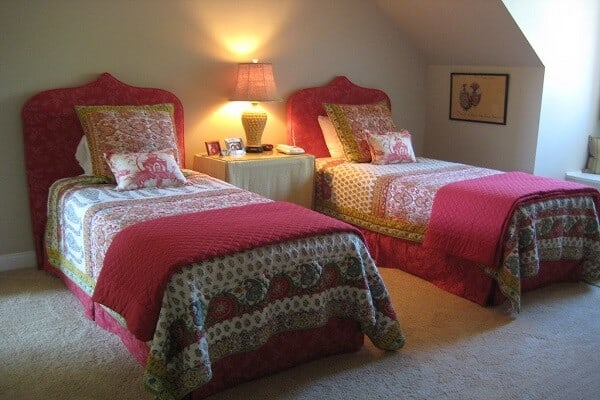 This method is probably the most common way of setting up the two twin beds. This is a highly practical and fashionable choice when you're arranging it for guest rooms. You can put a table or nightstand between the two beds to offer them some space.
End To End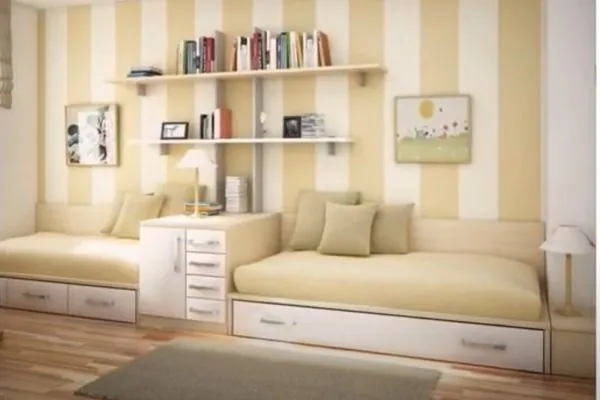 You can follow this style if the kids don't mind butting against the wall. This will help you preserve ample space in the middle and create a small play area.
Bunk Bed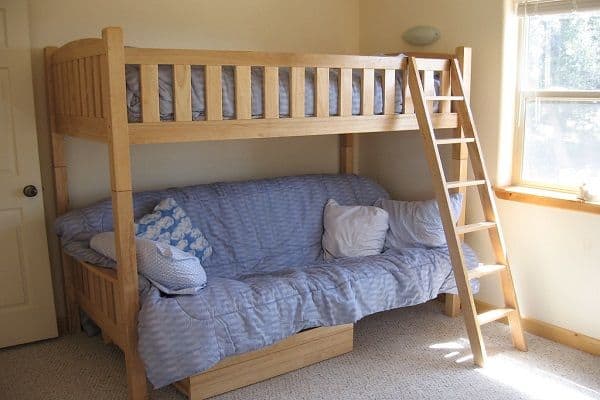 Bunk beds are a great idea for small bedrooms if you can manage to resolve the dispute about who will get the top bunk. They're super fun and kids will love the idea for sure.
There are two bunk bed ideas: two beds with or without a trundle.
Bunk Beds Without Trundle
It is frequently seen as the best choice for a room of two children. However, if the spacing between two beds is not enough, the one lying in the low bed would easily get bumped.
Bunk Beds With Trundle
It is space-saving and the perfect for a multi-functional room, e.g: small bedroom, study, or guest room. It can be usually used as a single bed or sofa or sometimes as twin beds when the guests visit your family and you need to give them a bed for night.
Opposite Walls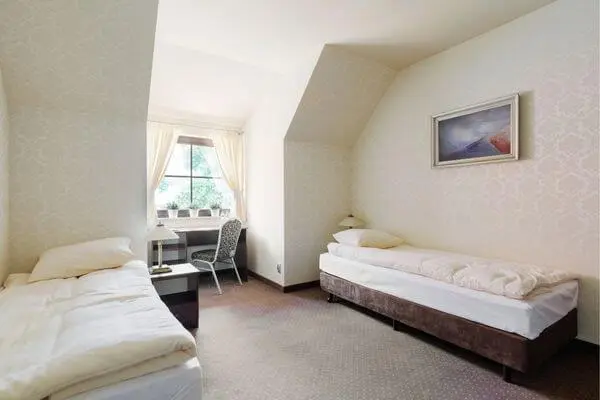 This will help you maximize the area in the middle and make a nice open space. You can put a shelf or even put small study tables in between the two beds for separating the two beds. This idea works well for both children and guest bedrooms. Try putting a cupboard in between the two twin beds if you're decorating for a guest room.
Warnings
The rule of thumb is to measure the size of the room before you move on to designing it and buying the furniture. Make a sketch to an accurate idea of how the room will look once you set it up as per the design you have in mind.
References
We have gathered these ideas from different pins from Pinterest. All of these ideas are easy to follow and practical as well. Do give these a try if you're trying to fit in two twin beds in a small room. We bet you will not regret these choices.
About This Article
Twin beds are a highly practical choice for both guest rooms and children's rooms. The article is catered towards those who are struggling to find feasible ideas to accommodate two twin beds in a tiny room. We have found some awesome ways to do so. These ideas are easy to conduct and we have tried picking up some out-of-the-box ideas to help you make the most of the room size.
Did This Article Help You?
Well, you are the one to decide that. Do leave us a comment and share these ideas with your friends who are looking for a solution to similar problems.
How To Fit Two Twin Beds In A Small Room?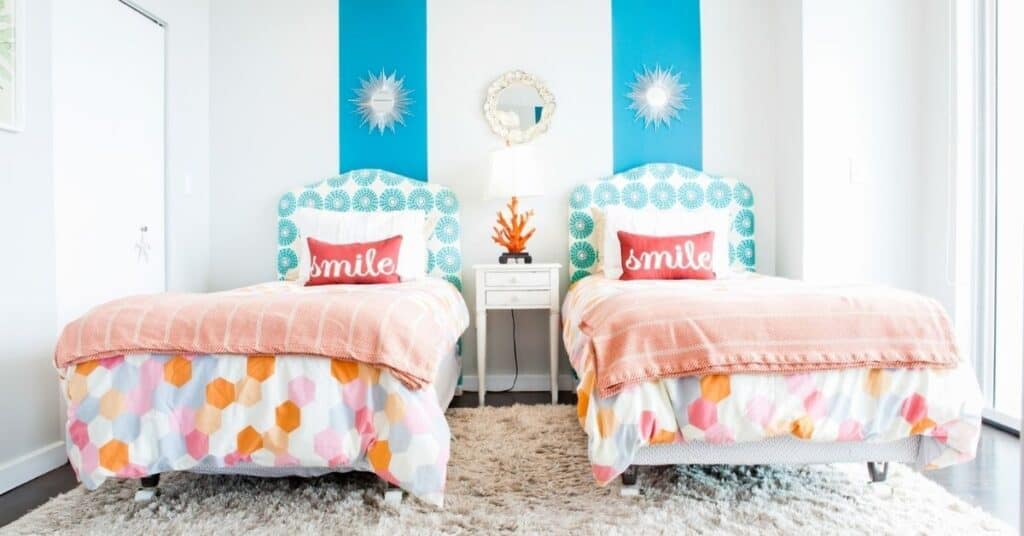 In order to fit two twin beds in a small room perfectly, you must put them lengthwise against the wall in a long room. Twin beds can fit better in a room that is long and narrow. Rooms of this shape are capable of fitting their proportions better than the square size bedroom. You should also include a small table, chest of drawers, bookshelf, and wardrobe between the beds. With their addition, you'll be able to create privacy for each person living in the room.
Space Theme Bedroom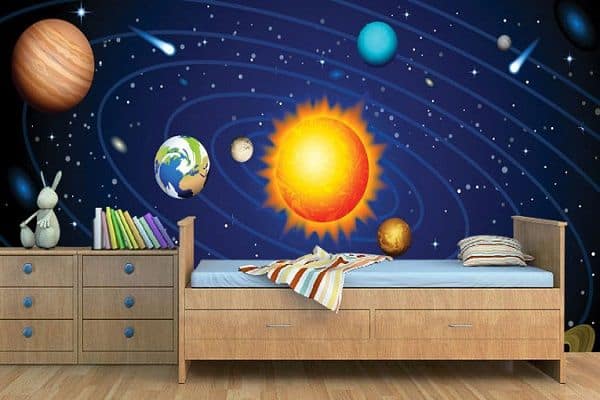 Outer space never stops to amaze and fascinate people. If your child has a passion for space and its strange yet wonderful nature, you should use it as a decorating them. The space theme is flexible and fun. It can spark and encourage your kid's imagination. You can start creating a space-theme bedroom by purchasing astronaut suits, constellation wallpapers, planet ornament, telescope, spaceships, and rocked shape units.
Go for a dark blue color scheme. It'll inject visual depth and energy into the bedroom. Try to add red accents. They'll enlighten up the interior even more. Use LED lightings to create a magnificent space effect. Place some rocket-themed furniture. They'll transport your child's imagination to the galaxy.
Treehouse Bedroom For Kids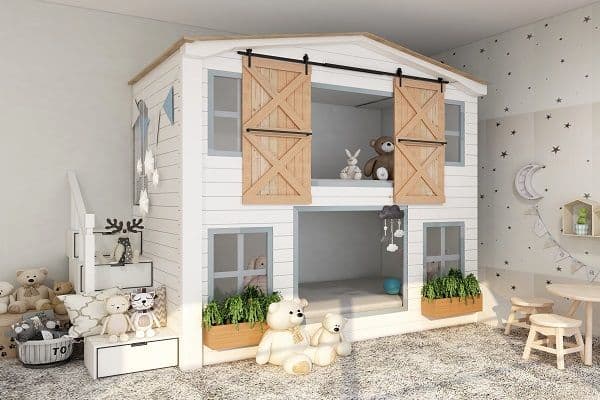 Every kid wants to live in a treehouse. Fortunately, you can now bring it under your roof. For a tree house-themed bedroom, put in items like climbing ropes and other activity-related items which kids can use to have fun. Place the treehouse in the middle. This will allow you to have apparent 'outdoors' space which will allow the kids to play., as well as make it a self-sufficient home at the same time.
6 Tips For Kids' Bedroom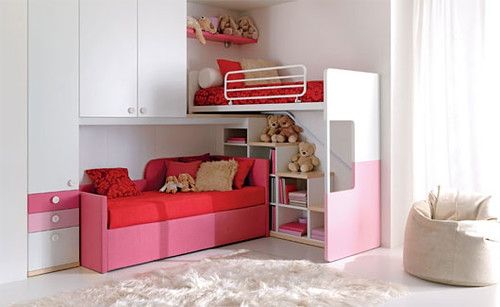 When you break the news to your kids that they're getting their own bedrooms, they pretty much tend to think they're getting one that's made according to their likes. So, when you are designing, be sure to ask them what they would like to have in their bedroom. From there, you need to piece together how you are going to execute a plan and what items you need.
However, as you're done designing your kid's bedroom, it'll need altering once your kid starts growing up. In this case, we're giving you 6 helpful tips for designing a kid's bedroom. With these tips, we hope you'll be able to please your child.
1. Use Bright Curtains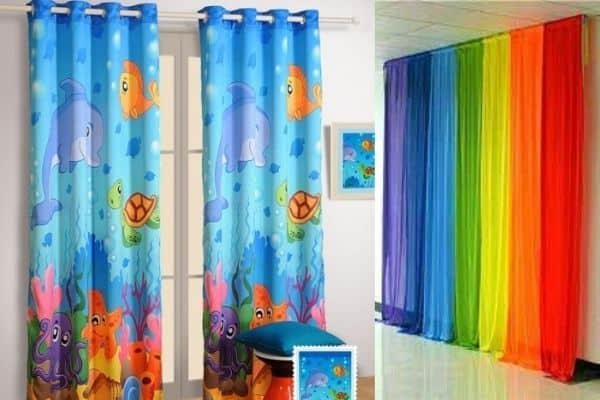 For your kid's room, use brightly colored curtains. This will give the room a lighter feel and an appropriate playful theme.
2. Use A Child's Toy As Décor
Children's toys can be great pieces of decorations. They are colorful and cheerful which makes them a perfect piece of souvenir in kid's rooms. By using toys as decorations, you also save on storage space reducing the need for a cabinet or an ugly box.
3. Add Prints And Paints
children's rooms should always have light-colored walls. Not only will a brightly colored wall give a happy feel, but also in general just keep a good mood. You should also add various kid-focused designs like flowers and superheroes which will keep the child happy.
4. Make Use Of Fabrics That Fit The Room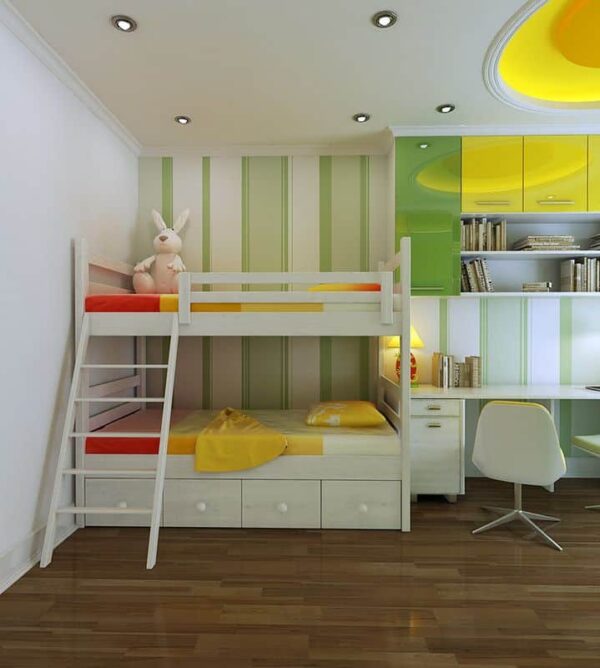 when choosing beddings etc. you should go for fabrics that have a lighter color palette. You should also try and match the curtains and bedsheets to create a certain theme. As usual, you can have items like excess pillows for accent purposes.
5. Decorate The Ceiling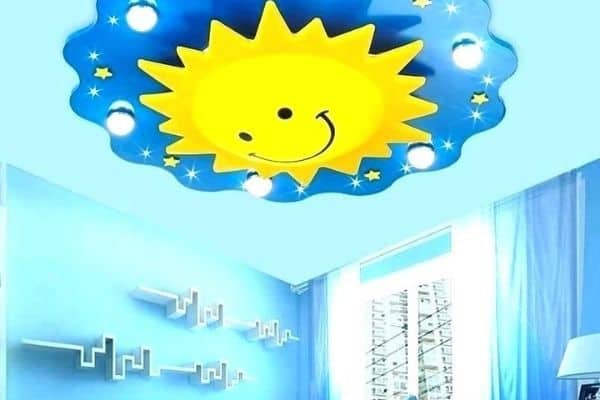 Whilst a decorated ceiling might look weird in an adult room, it is absolutely perfect for a child's room. Decorate the ceilings with glow-in-the-dark items or wind chimes. These will give your kid something to look at and also add a proper 'child's room' feel to the place.
6. Place Educational Things In The Room
Placing educational items in kid's rooms are a great idea. Place items like tables and fun toy projects like LEGO. This will keep the little ones occupied and also help them learn and pick up valuable skills like following instructions.
Boy Girl Shared Bedroom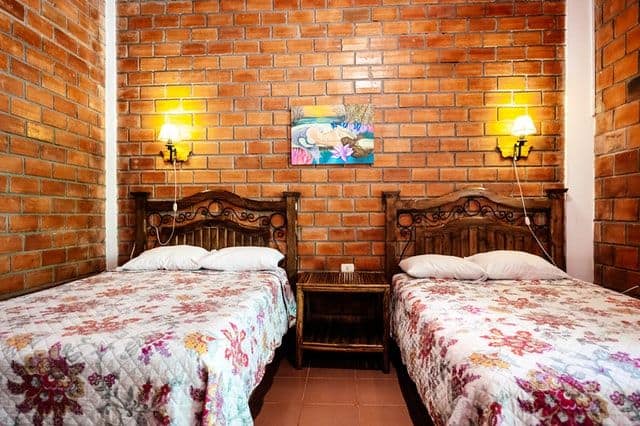 It's easy to design a small bedroom when you have two kids; where both of them are either boys or girls. However, the job becomes tricky when one of them is a boy and the other one is a girl. To make your job less complex and easy, we're suggesting some ideas that can make designing a boy girl shared bedroom possible:
1. Use Hanging Beds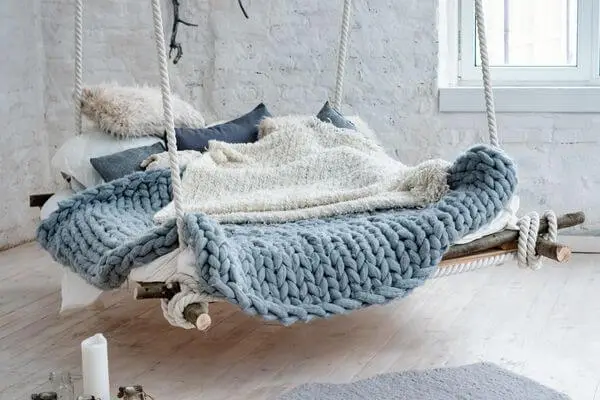 Add hanging beds in your kids' bedrooms. These beds are crafted from basic lumber and heavy rope. They can hang at different levels to make the most of the tiny space. Your kids will have no problem sharing this bed with each other.
2. Use Bunk Beds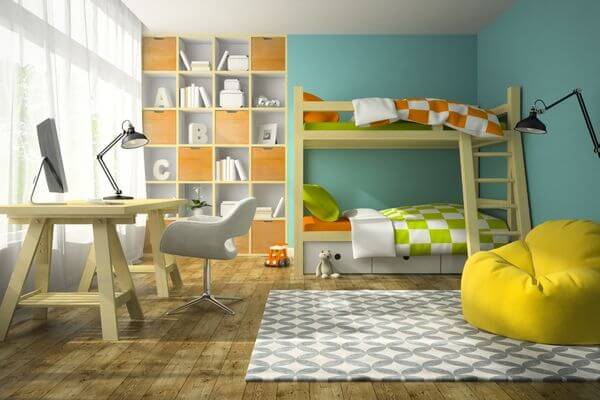 You can use bunk beds as an alternative to hanging beds. The greatest thing about bunk beds is that they come with storage-saving cabinets under them. In these cabinets, your kids can store their own things.
3. Portable Partitions
The most economical way to divide a room for two siblings is to invest your money in a movable partition. A portable partition is easy to relocate; they don't need any drilling or screwing.
4. Two Different Wallpapers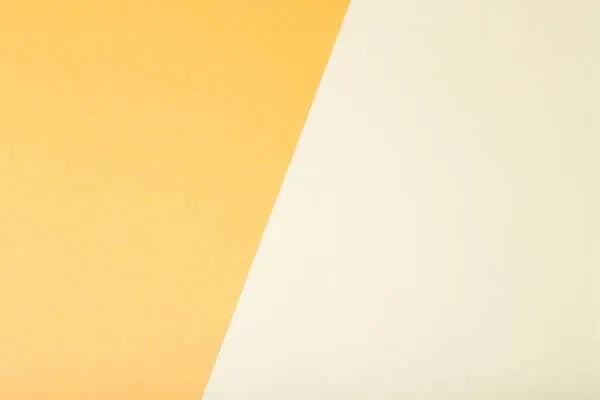 Another cost-effective way to decorate a boy-girl shared bedroom is to pick out two different wallpapers and plaster them on each side of the room. It'll leave a clear distinction of who belongs to which room and may prevent future fights from escalating.
Factors you should consider before arranging two beds in one small bedroom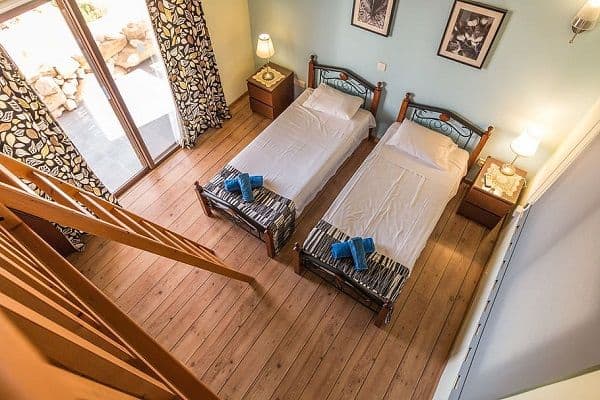 It's a little bit difficult to arrange 2 beds in a kid's small bedroom. Luckily there are some steps that can make arranging them easy. For starters, use simple bedding and window treatments. They'll let the design and view outshine. Apply soothing colors to make space very inviting.
Add a cabinet or a drawer between the beds. By adding them, you'll be able to ensure privacy for those who're going to use the room. You can also add a mirror between the beds. It'll help you reflect the sunlight in the entire room. Moreover, you should place the beds in the corner so that the head and its side are up against perpendicular walls.
Measuring And Sketching The Room
Draw out the rough outline of your room's shape on paper. As you're drawing it out, start adding doors, windows, and the directions that they open, along with all arches and coves. Having a sketch will let you organize furniture based on how many doors there are in the room. In this way, you'll be able to prevent putting beds or a desk in front of a closet door or the exit.
You should also measure between each fixed point in the room. So, you must pick a starting point first and work clockwise from it; therefore you won't leave anything out. You must remember to measure the height and all vertical distances until the entire room is mapped out onto your sketches. Moreover, it's important to measure the size and dimensions of all fixed objects.
Selecting Two Twin Beds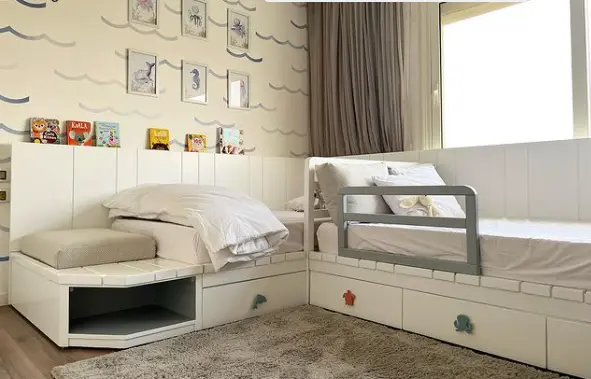 Try to build a corner unit with twin beds. In this design, your kids will be able to benefit a lot. They'll get the same amount of storage space. Besides, since both of them are going to be in one unit, fit them together in the shape of an L. Therefore, each person will feel like they have ownership over their own space.
Also, attach bed rises to each of the beds to create extra space. They can elevate the bed a couple of feet off the ground; which will then create storage space underneath. You can use this space to preserve seasonal clothes when they're not being used and simultaneously, free up space in the closet and dresser.
Arranging the Furniture
Before you hastily arrange your furniture, you must make a decision on where you want to put them in the room. You should make this decision on the basis of the size and shape of the room. You must place the furniture in such a place that will allow you to get the most out of your space. If the shape of your room is square, place the beds parallel to each other. If the room is long, place them lengthwise against the wall. On the other hand, if the room is L-shaped, you should put the beds on opposite ends of the L-shape. That way, you'll be maximizing privacy.
Great Shared Bedroom Ideas For Kids: Watch A Video
Final Words
Fitting two twin beds, that too in a small room is quite tricky and overwhelming to do. We hope these ideas have made the task a little less intimidating and easier for you.