How To Arrange Furniture In A Small Bedroom Like A Pro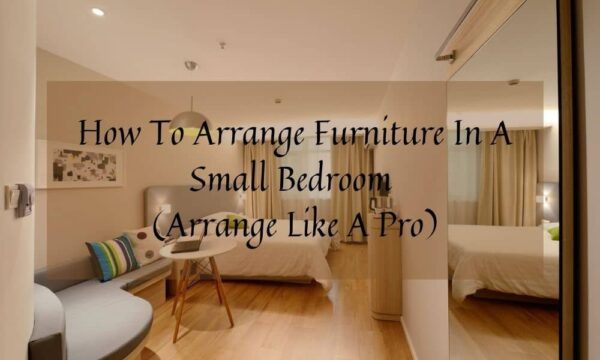 Arranging furniture in a small bedroom can seem like a challenge in the beginning, but it can actually turn into a fun and exciting project if you enjoy designing and home decor. A common question is how to arrange furniture in a small bedroom? This article will give tips and hints on arranging furniture in a small bedroom, and help to highlight the layout and arrangement of your small bedroom.
How To Arrange A Small Bedroom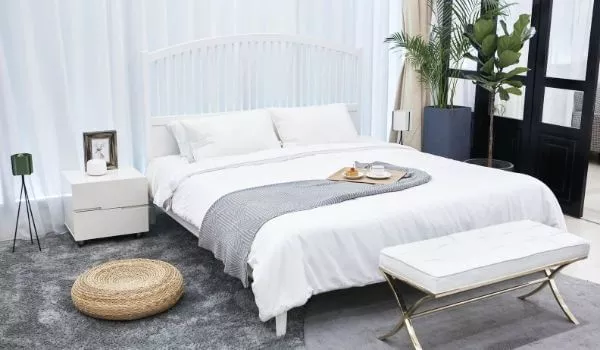 The key to any bedroom is comfort. A bedroom is your sanctuary and place of rest in the world, so it should be where you go to be comfortable. You should ensure the bed has at least two feet of walking space around it, and that there isn't any clutter that could impede your comfort while laying in bed.
How To Arrange Bedroom Furniture In 7 Steps
Arranging a bedroom should be a methodical and sensible task. It should follow the logical order of area rug placement, items that are large being placed next, then smaller furniture followed by decor items. This ensures that the biggest items are already moved in and settled in their permanent space prior to smaller items and items that aren't necessary in the room but are there for aesthetic reasons.
Don't Be Afraid To Experiment
Once you have a tally of the items that are going to be placed in the room, grab a pad and pencil and do a few sketches of your idea for the room setup. If you would like, you can upload the dimensions of the room into one of many apps that will develop a simulation of the room after you've placed the furniture and decor so you can have a realistic-looking picture of what the room will look like when it is completed.
Method 1 Of 4: Placing Your Bed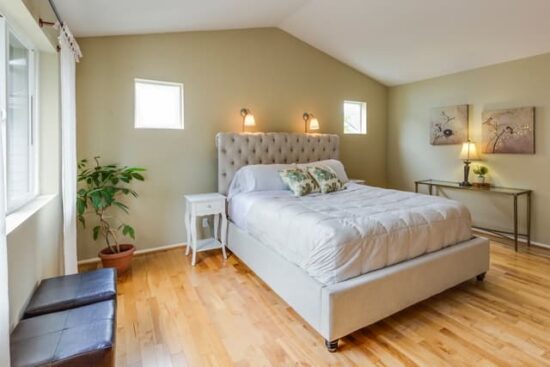 When placing your bed, you should try to place it away from all walls and windows. Ideally, the placement should be in the center of the room, although when it cannot be placed there because of size constraints, try to choose a corner of the room where the bed will be framed by two intersecting walls. This essentially means that the bed will fit snugly with half of it placed in a corner.
Method 2 Of 4: Arranging Nightstands And Dressers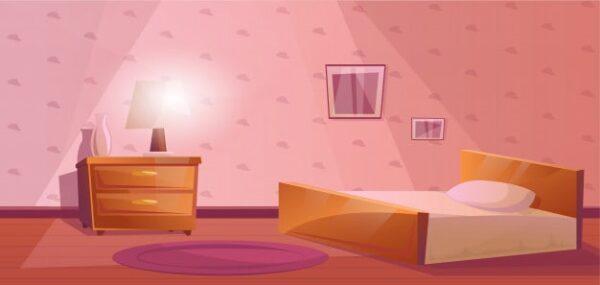 Place the larger chest of drawers, or bureau, first. Ensure that it has enough room to open the drawers fully and that no doors or closets are blocked by their placement. Although it is ideal to place the nightstands on opposite sides of the bed, in small bedrooms, this simply isn't feasible. If you can fit one nightstand directly next to the bed, and need to place the other nightstand further away from the bed, that can also serve a purpose in the bedroom.
Related Read: Vanity Ideas For The Small Bedroom
Method 3 Of 4: Prioritizing Functionality
Items that need room to open, like closet doors, need to be taken into account. Similar consideration needs to be given to dresser and nightstand drawers. Ensuring all items can function as they're intended is more important than trying to fit a larger number of items into the bedroom.
Method 4 Of 4: Making Your Room Look And Feel Bigger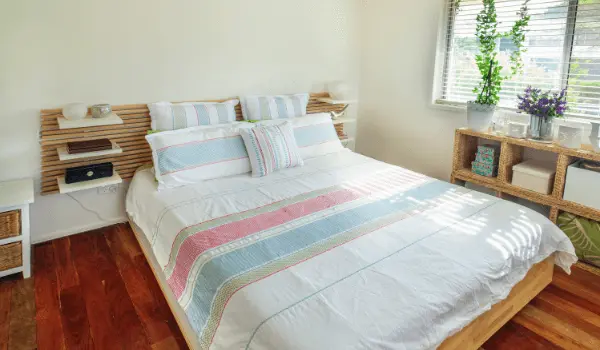 Here are a few additional guidelines on how or make the room look and feel larger by adhering to the checklist below:
Use Only Necessary Furniture
When you're arranging a small bedroom, you should consider aiming for a minimalist style of decor. Only the basic and necessary furniture items, and limited decor items, so That the room doesn't start to feel cluttered and stifling. If it isn't something used at least Once a week, then you probably don't need to own it. Also, is there a smaller version of The item that could better suit the purpose that you need it for?
Think About Function
It doesn't matter how chic a bedroom is if it isn't a comfortable sleep area with room to move about freely to ready yourself for your day. That should be the number one consideration when arranging the small bedroom. Benches that double as storage, Storage ottomans, and mirrors that are also jewelry cabinets and storage are Invaluable items in a small bedroom because of the added storage that they lend to minimal square footage. Vertical shelving and cabinetry is also a major plus in any small bedroom layout, and they can provide a surprising amount of storage space that is off of floor level, minimizing the appearance of clutter.
Draw It Out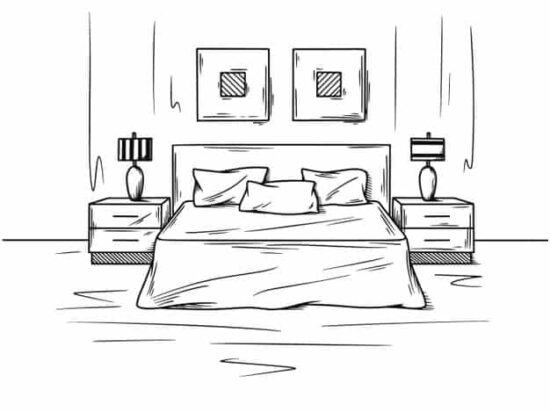 A quick sketch of the layout you're envisioning can assist you in taking and applying measurements so you don't get midway through and discover that you only have enough room for half of your items.
Start With The Bed
The bed will be the largest and most important piece of furniture in the room. It needs to be placed first, and everything else should be arranged according to the location and set up of the bed.
Go Big To Small
By placing all of the large items first, you ensure that if you do end up running short on Space for everything, the most important furniture items are in place. Also, placing the larger furniture items first helps to get the backbone of the room put in place before the decor items are added, and if you run out of viable space, the decor items can be left out to keep the room from becoming cluttered.
Place Your Area Rug Properly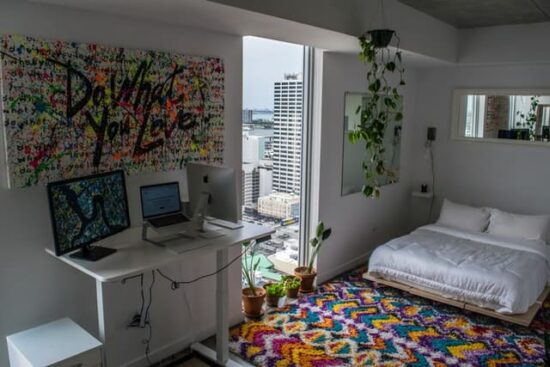 Your area rug should be near the center of the room and should be beneath the bed if at All possible. Ideally, it would be directly centered in the bedroom prior to other items of furniture being placed. For optimal visual benefit, the area rug should be squarely in The center of the room, with the bed placed directly over the rug.
Arrange The Furniture You Have First
If you are planning to purchase additional furniture items or decor items in the near future You should still place all of the items that you currently have for the time being. Don't Leave space open for future furniture, because you can make room for the new furniture Items once you physically have them there.
Common Mistakes
One of the most common mistakes that are made when arranging furniture in a small bedroom is forcing all of the furniture that they could into the space. If the item isn't necessary and functional, don't steal your valuable square footage in the bedroom by adding unnecessary furniture and decor.
Related Read: How To Arrange A Small Bedroom With A Queen Bed
Rules You Should Follow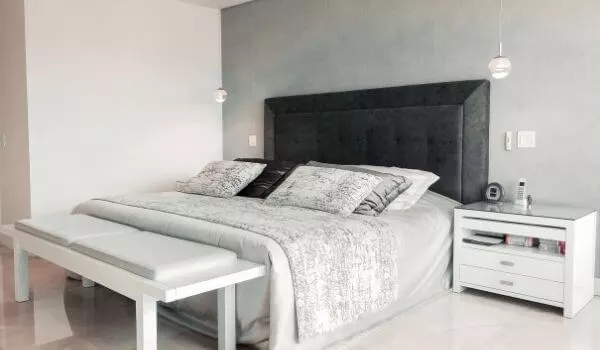 You should always follow the less is more rule when it comes to room decor, specifically when decorating small bedrooms. Choose one large decor piece and two or three small decor pieces. By having a smaller number of decor pieces, you prevent the small bedroom from starting to feel crowded, cluttered, and stifling.
FAQ
How Do You Arrange Furniture In A 12×12 Room?

In rooms that are very small, you may want to consider looking into collapsable furniture options. The reason, of course, is that any furniture that can be folded and stored away until it is needed is going to provide some square footage for living space when it is folded and stored.

Can You Put Large Furniture In A Small Room?

Sure you can. However, in a small bedroom, you may only be able to place one large item of furniture. The remainder of the furniture would need to be smaller to prevent the room from looking too busy or cluttered

How Do You Organize A Small Bedroom With A Lot Of Stuff?

The best option is to minimize the stuff. Go through closets, and donate anything that hasn't been worn in 6 months. Anything that isn't fully functional needs to be tossed, and furniture that doubles as storage should be sought if possible. The best option is to start storing things in vertical storage areas. This can be created with shelves, cabinets, or ceiling hooks. Floating shelves, curio cabinets, and bookshelves are great options. In addition, benches that double as storage space are great for getting some items out of sight without stowing them away from the place they're often needed for use.

Where Should I Put My Bed In A Small Room?

Ideally, your bed should be directly in the center of the bedroom. However, if that just isn't a viable option because of the layout of the room, pick a wall that has no windows or doors in it. Place your bed against that wall, with the head/foot side against the wall, the longer side of the bed away from the bedroom wall.

Should You Store Things Under Your Bed?

Under-the-bed storage is a great use of otherwise wasted space in a small bedroom that already has limited space to work with. There are a number of storage mediums for under-the-bed storage of your items, making it easy to keep your things sorted, organized, and easily accessible while it's being stashed out of sight.