Small Bedroom Furniture Ideas: Buying And Layout Guide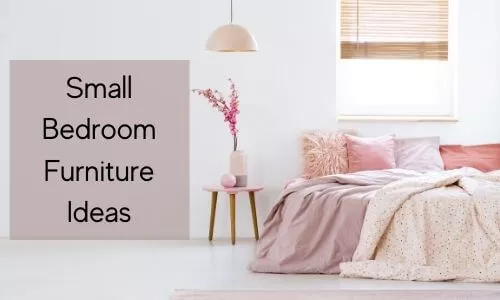 How to decorate a small bedroom? With space at a premium, you have to come up with the perfect layout to maximize space and reflect your personal taste simultaneously.
In this piece, we will talk about some small bedroom furniture ideas that will transform your bedroom into a chic sleeping space regardless of its compact size.
How Do You Decide Where To Put Furniture In A Small Bedroom?
To decide where to put furniture in a small bedroom, you have to think about the bed first. It is the biggest piece of furniture in your room. Once you have that sorted out, you can finalize your layout by arranging the remaining pieces around the bed. 
We have a detailed guide on How To Arrange Furniture In A Small Bedroom. You can check.
Where To Put The Bed?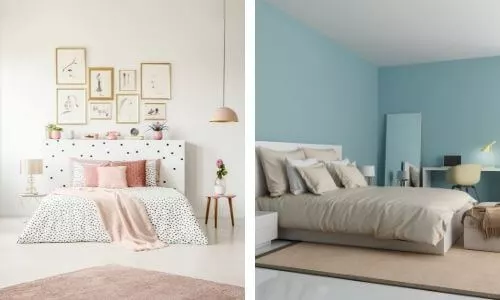 So, challenge number one is to determine the bed placement. To begin, figure out which wall should be behind the headboard. Several parameters can dictate this decision. Door to bed distance, electric outlets, ceiling fan location, window position to name a few. Set it on an angle only if you're following an inclined wall, as this will take up valuable floor space.
Do you prefer ample moving space on either side of the bed? The ideal solution will be to center your bed along the wall, keeping room on both sides. Anyone going with this arrangement must keep in mind that the rest of the layout should not make the bed positioning seem asymmetrical.
Who will benefit from placing their beds like this? It will make sense if you share the bed with someone who wakes up at a different time. Your partner will be able to roll out the bed without disturbing your sleep. Also, this setting makes changing sheets and making beds incredibly effortless.
Not all small bedroom furniture ideas are necessarily minimalistic. It is possible to have an in-vogue small bedroom with a maximalist theme. In that case, you will have to be smart about exploiting space. A centrally positioned bed won't make the cut in this particular bedroom scenario.
Push the bed to a side so that you can free up space for more furniture. If you have a large chest of drawer, for example, you can't expect to fit it into the room when the bed is occupying center stage. The asymmetrical setup will suit your room the best if it has multiple doors, storage units, or angular walls.
Sloped ceilings might look cool but they can squeeze out even more space from the room's already limited area. Smart placement of the bed, however, can alleviate this issue.
Position your bed in such a way so that the lower point of the slope rests above the headboard. This will compensate for the lost headspace.
Building The Rest Of The Layout
After positioning the bed, bring in the other pieces. Before you do that, measure the dimensions of every item and make sure you can accommodate those in your bedroom.
A great idea would be to create a floorplan of your bedroom and try out various layouts on paper before you set your mind on a specific arrangement.
If you have a pair of matching nightstands or bedside tables, you can put one on either side of the bed's headboard. This could cover your wall completely, but it will feel in tune with the symmetrical theme you are aspiring to get. To get the most out of this plan, choose practical bedside tables with cabinets or shelves.
You can settle for only one nightstand to make room for heavier and bigger pieces of furniture. If you have put your bed in a corner of your room, you won't need more than one nightstand. Swapping the additional nightstand for a chest of drawers will give you more storage capacity at basically the same floor space.
Are nightstands a necessity? Absolutely not! You can make better use of the limited space by bringing in more functional furniture items like wardrobes or dressers.
If you want to ditch beside tables altogether, put floor lamps beside your bed for lighting and maintaining a balanced look. You can convert a windowsill into a storage unit as well to make up for nightstand storage.
How Do You Maximize A Small Bedroom?
To maximize in a small bedroom, you have to be a bit creative while designing the layout. The challenge is to find a balance between utility and visual appeal.
Not sure how to do that? Here are some nifty interior design hacks that can free up space in your bedroom without making much of a storage compromise.
Think Vertically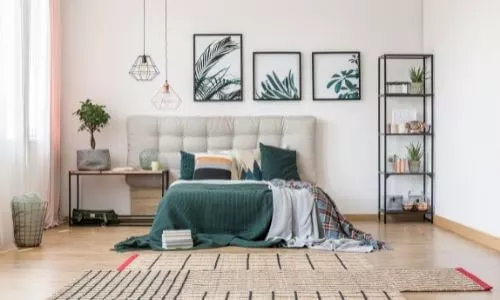 Since floor space is scarce, you can make the most out of the interior space you have by opting for vertical storage. You can get a wall-to-ceiling bookcase to keep your books, showpieces, and other items.
Tallboy dressers can be a good pick as well, instead of conventional dressers, as they come with more drawers, but take up minimal space horizontally.
Going for cube bookshelves in place of standard bookshelves is a clever way to add some vertical storage. The cube portions appear more orderly than open shelves, and they also have the added benefit of separating places for untidy storage.
Floating Shelves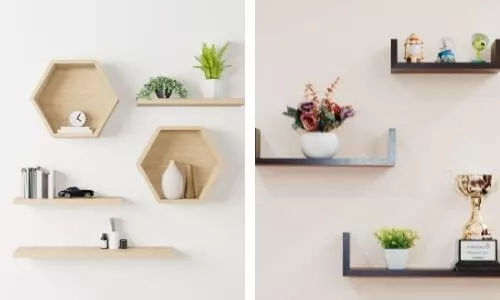 Installing floating shelves on the wall is one of the best small bedroom furniture ideas that can effectively solve your room's storage scarcity. What we like best about floating shelves is that these will not look out of place anywhere. You can keep your knickknacks, indoor plants, books, and other belongings utilizing zero floor space.
We talked about Floating Furniture in another article. If you want to know about it, you can check.
Use Multi-Utility Furniture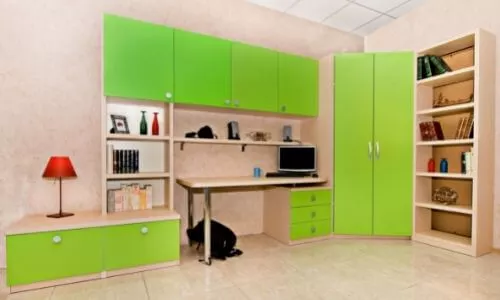 Small bedrooms don't have a lot of room for furniture, but that doesn't mean you will have to give up storage capacity. Choosing pieces that serve many purposes is one of the simplest and budget-friendly ways to increase storage in a compact bedroom.
For instance, you can use a bookshelf as a room divider or a dresser as a nightstand.
Make Use Of The Headboard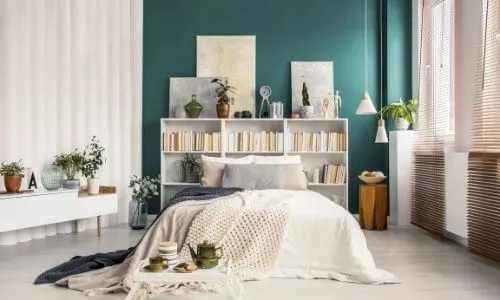 You can transform the headboard of your bed into a storage shelf and eliminate the need for an extra nightstand. You can keep your phone, wristwatch, and other essentials there. Concerned about the aesthetics? Don't worry! The bed will look just as stunning as it did with a run-of-the-mill headboard.
Keep 'Em Hanging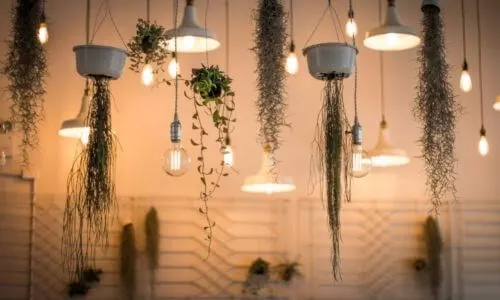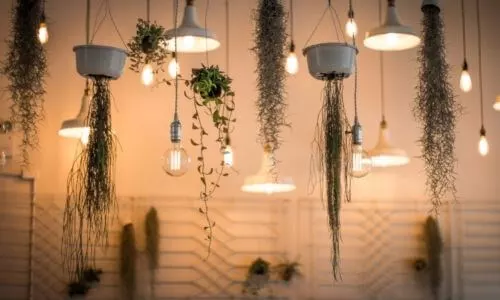 Small bedroom furniture ideas revolve around saving floor space, and this particular approach requires no floor space at all! You can hang the lights from the ceiling instead of floor or table lamps. You can also hang your indoor plants rather than keeping them on the floor, shelf, or table.
The usual way to do this is to install individual hooks for individual fixtures. Alternatively, you can attach an extension pole just below the ceiling. The pole will run across the room and serve as the hanging platform for your lights, plants, and other decors.
By doing this, you can free up a substantial amount of floor space and create a stylish appearance at the same time.
Use The Foot Of Your Bed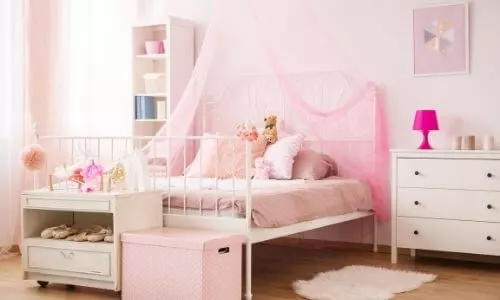 It's time to make use of the area at the foot of your bed if you haven't already. You can put a bench there to act as an additional seating arrangement. Throw in some cushions to make it more comfortable. 
If you don't think a bench would be a sensible addition to your bedroom, you can place small side tables by each foot for extra storage.
Storage boxes are another consideration for this area of the room. These boxes add value both in terms of utility and decoration. They can hold anything from scarfs to jackets, and if you choose one with a hard shell, they can also serve as seating.
The Radiator Can Be A Piece Of Furniture Too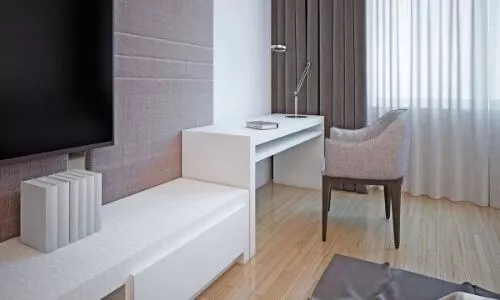 If there's a radiator in the bedroom it will take up a sizable chunk of your floor space. Why not make up for it by using the radiator as a makeshift table?
All you have to do is to buy a good-looking radiator cover, put it on top of your radiator, and voila! You now have a tabletop where you can put your flower vase and other stuff.
Your Door Can Open Up A Door Of Possibilities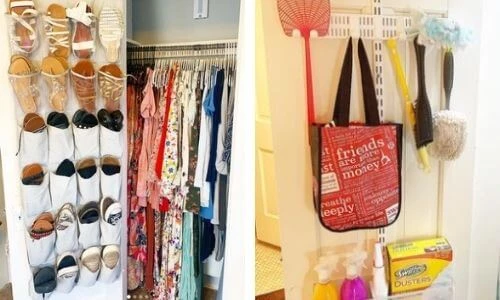 Small bedroom furniture ideas are all about storage economy and making use of the door can be a brilliant way to liberate space. You can hang a decorative piece from the door. Many interior decorators install door baskets for decorative purposes. You can also use these for storage.
Wall Cabinets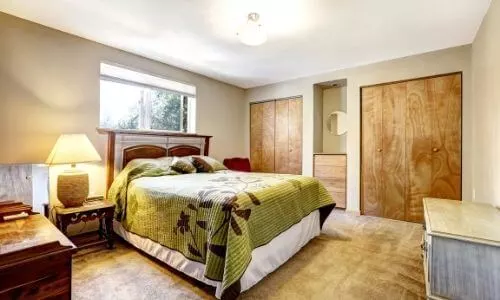 Move your cabinets and dressers to the wall to make room on the floor. Build wall closets around your bed without using bulky pieces of furniture inside the bedroom. In doing so, the room will appear clutter-free.
How To Determine The Best Small Furniture Layout?
To come up with the best small bedroom layout, you will have to plan according to the size and positioning of the bed.
The bedroom should be our happy place. It's the place where we come to at the end of the day to wash away our tiredness and revitalize ourselves for the next morning.
Unfortunately, not all of us have palatial suites to retire to at night. It's a daunting task to furnish a small bedroom since you won't have much floor space to work on.
Thankfully, you can recreate the vibe of a spacious bedroom with the correct layout. By carefully choosing the furniture and implementing ingenious ideas to free up space, you can find space for almost everything you want to fit into a bedroom, no matter how small it is in size.
Here are seven small bedroom layout recommendations that you can try out:
Layout 1: For A King Size Bed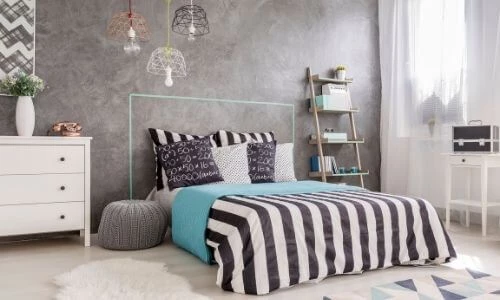 As we keep on saying in our small bedroom ideas article, the bed is the centerpiece of your bedroom layout. So, we will suggest layouts based on the size of your bed. In the first scenario, we will consider a bedroom with a giant king-size bed. How can you make this work in a small-sized bedroom?
When you push the bed against the rear wall, you open up space for closet doors. Placing the bed under the window will also give you the same advantage. In a compact bedroom, you won't want your bed to obstruct any doorways or passageway.
So, you should leave enough room on all sides of the bed to get in and off the bed easily.
Place a dresser on the wall closest to the closet or go for a bench at the end of the bed. The latter would be the best option if your bedroom is too small. You can use lofted shelves and storage baskets to add more storage options. As the floor space will be scarce, you will have to utilize the walls for storage efficiency.
Layout 2. For A Queen Size Bed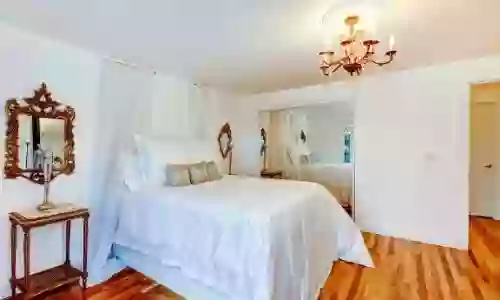 A queen bed is a perfect size for many tiny bedrooms: it's large enough to feel elegant, but it's manageable at the same time. This plan allows for the bed to be placed parallel to a closet. The queen bed is bordered by two modest nightstands and topped by a large dresser in this setup.
Based on space availability, you can go for floating shelves or skinny dressers instead of nightstands. For better space management, use the farthest corner of the room for a little reading area or a small workstation. For added comfort, place an area rug on the floor.
We have a detailed guide on How To Arrange A Small Bedroom With A Queen Bed. You can check this to know more about it.
Layout 3. For A Full Bed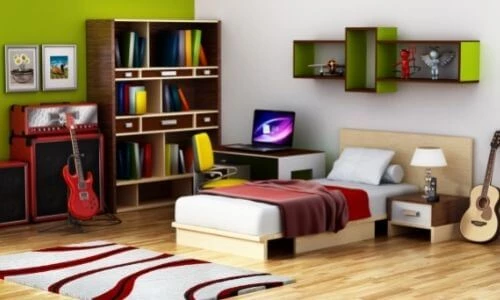 If you are a single person with one full bed, you can create a functional bedroom space by positioning your bed top corner against the wall. After setting the bed, there should be enough space to accommodate a grand size dresser or a bookshelf.
Even though you can choose to float the bed if you have enough room, it makes more sense for a single person to move the bed against the wall. It will leave you with only one entrance option, but it gives you extra lodging for a chest of drawer or a desk.
Layout 4: For Two Twin Beds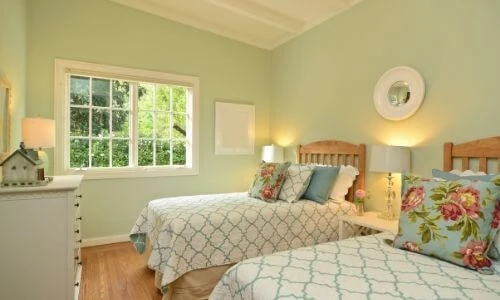 You might have to fit in two twin beds in a room for creating a kids' bedroom or a guest bedroom. A desk will be at the center of the room, with the beds situated on either side of it. When you have two beds in a room, try not to go with separate nightstands. It makes the room feel cluttered.
There is no need to use nightstands at all. Convert the headboards into storage shelves, add extra floating shelves if necessary. Avoid using bulky pieces of furniture. It does not go with the setting. Hanging decors, plants, and floor rugs can add visual charm to the room's appearance.
We have talked about 7 smart tricks on How to Fit Two Twin Beds in a Small Room. If you want to arrange a bedroom with two twin beds, this article may help you.
Layout 5: For Lofted Beds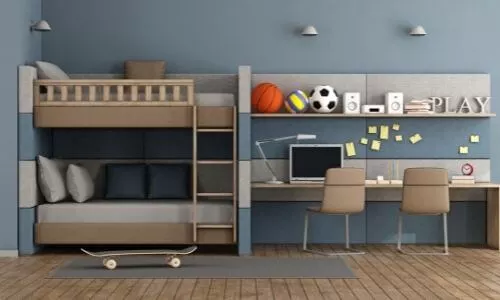 Among all the small bedroom furniture ideas we discussed here, this one seems the most suitable for a college dormitory room. To create a loft look, we recommend stacking a bunk bed over a desk. This will provide greater floor space and leave enough room for setting up a study table or other furniture.
Apart from a full loft bed, you can also try out this arrangement with a twin bed. However, a lofted bed will give you more space on the desk. So, we would say it is the more efficient option.
A side table or a thin chest of drawers would go well with the bed arrangement. A floor lamp or a plant in the corner would be a nice addition.
How Do You Furnish A Small Bedroom From Scratch?
To furnish a small bedroom from scratch, you have to prepare a plan that meets your storage and functionality demands.
Think About Functionality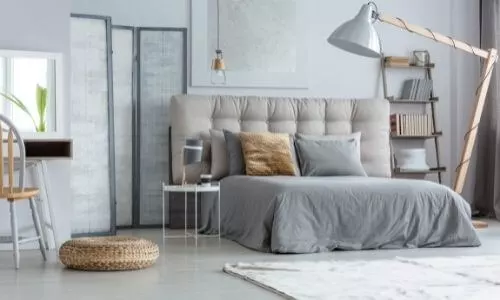 Not everyone has the same priorities. So, before getting started ask yourself this: ''How am I going to use this space?'' The answer will vary from person to person, so there will be no universal layout. 
Here are some activity-based furnishing tips:
Do you like to make your bed every day? If the answer is yes, you have to have enough space all around the bed. For those who make their beds occasionally, you don't necessarily have to have enough room on all sides.
If you like watching TV on your bed, make sure the TV faces the headboard of the bed. Otherwise, you would be waking up with a neck strain regularly.
For those who love to work on their bed a lot, the electric outlets should be nearby to charge your gadgets. There should be ample lighting and a nightstand to hold your water bottle, note pad, and other essentials.
A Cluttered Room Is Never Fashionable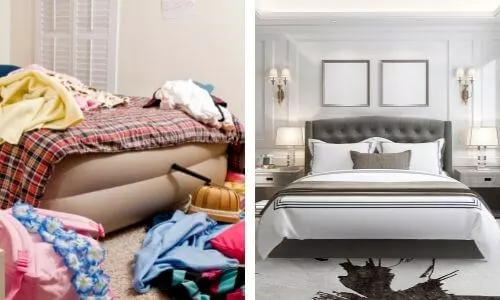 A cluttered room is not only a storage nightmare, it's also quite unpleasant to live in. Making a few layout fixes can make your room seem a lot more orderly. Here are some simple tricks to consider:
Go for double-duty furniture. In that way, you will get the service of two pieces of furniture with the space of one.
Storage baskets, floating shelves, and wall cabinets do wonders to take care of storage issues in a mini bedroom. You can swap a dresser for a combination of these storage options. It will make your stuff more accessible and organized. Not to mention, your room will also sport a cool, minimalist vibe.
Why waste premium headspace when you are running low on storage space? You can put away a lot of things in vertical storage options like tall dressers and cabinets.
Final Say
Hopefully, reading this article, you have realized that utilizing these best small bedroom furniture ideas will enable you to enjoy the perks of a spacious bedroom in the confines of a city-sized bedroom. Start with the bed and work your way to the other pieces. Follow a proper plan, and the results will surprise you.