Small Bedroom Ideas For Couples: How Do You Furnish & Style?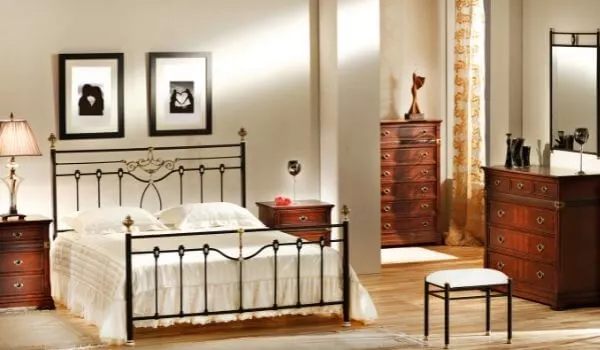 Couples find it difficult to get their interior décor right when they start staying underneath the same roof. The bedroom layout, in particular, calls for a lot of planning before you reach a final decision.
It's even more challenging for a small bedroom since the floor space is at a premium. Here are some small bedroom ideas for couples that can come in handy in such a scenario.
While furnishing and styling a small bedroom, you need to be mindful of the fact that the room reflects the personalities of both you and your partner. It's essential to find a balance so that none of the inhabitants feel out of place there.
In the following paragraphs, we will introduce you to some small space hacks that will help you make the most out of your tiny bedroom. We don't expect you to like all of them, but we are pretty sure you will come across some suggestions here that resonate with you. So, keep on scrolling to find out what we have in store for you.
The Bed Matters The Most
When you are browsing through small bedroom ideas for couples, you usually make up your mind to find mini furniture pieces to put in the room.
In reality, too many items, no matter how small they are, might make the room appear congested. Practicality is a big concern while furnishing the bedroom, but you have to emphasize comfort as well.
We would advise you to go for a big bed at the expense of trivial pieces. If the headboard of your bed has storage space, you wouldn't mind sacrificing the nightstand.
As a matter of fact, you would be saving space by picking a king-size bed. A multifunctional bed will eliminate the need for multiple bedroom items and add a substantial wow factor to the room.
Light Colors Create An Illusion Of Grandeur
Light shades like white are a versatile and sensible pick for not-so-large bedrooms. It prevents the room from appearing overly crowded or confining.
By simply painting your bedroom white, you can make it seem larger to the eye. Light color tones compensate for the minimal wall surface and lack of windows.
Is white too bland of a color choice for you? You can try combining some contrasting colors to make the bedroom walls livelier. You would be surprised to find out how effective of an approach layering colors is to transform a dull room environment into something far more uplifting.
A Sofa Bed Could Be More Up Your Alley
In small apartments, every square inch matters. You can be smart about it by buying furniture that offers multiple functionalities.
If you are having a hard time accommodating a double bed in the bedroom, don't try aligning two single beds against each other. A sofa bed could present a much better solution.
You can use the sofa bed as a living room accessory during the day. Once it's time to hit the bed, take it to the bedroom and pull it out. Sofa beds can be pretty spacious and comfortable. So, you wouldn't be making much of a compromise by swapping a regular bed for a sofa-to-bed convertible.
Have You Considered Corner Beds?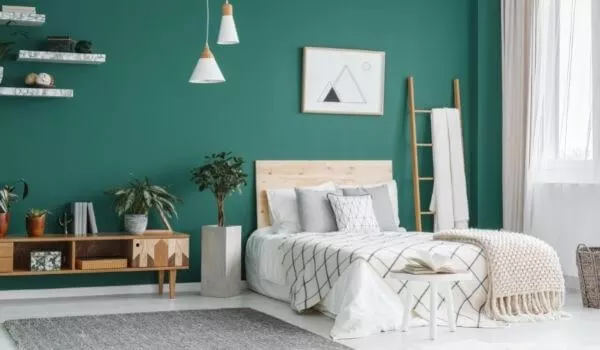 Most small bedroom ideas for couples involve the bed taking up a central position in the room. From a decorative perspective, beds do look great in the middle of the room, but that's necessarily not the only place you can position your bed to make your bedroom look in vogue. Introducing corner beds!
Push your bed to a corner or against the wall to release floor space. As a result, you'll have a nice and comfy setting to catch some z's whenever you feel like it.
Incorporate a double headboard corner system to produce a polished, designer aesthetic if you feel the room is giving off too much college dorm room vibes.
Float Your Furniture
Many items can squeeze out some space inside a bedroom. Lights suspended from the ceiling and floating shelves are some of the most popular choices to do so. Did you know floating your furniture is also an option? As far as small bedroom ideas for couples go, this one is pretty intriguing.
So, what does floating your furniture mean? It simply refers to the act of pushing all the bedroom furnishing to the middle.
In doing so, you will free up spaces on the edges and make your room appear far larger than it really is. Forming a furniture island in the center is a nifty trick to apply in a mini bedroom.
The Mirror Is Your Best Friend
For a small space bedroom, this mirror cabinet would be a perfect choice.
Mirrors give the sense of a larger space in a compact area. The best thing you can do to boost natural lighting inside the room is to use mirrors, which bounce the light to all corners of the room.
What's the most straightforward way to introduce a big mirror into the room? The simplest strategy would be to lean a full-length mirror against the wall.
Drilling it to the wall would be problematic, and if you are living in a rental, the landlord might not agree to that anyway. Use a non-slip adhesive to stick the mirror on the wall.
You can consider using mirrored furniture if you feel a stand-alone mirror does not go with the setting of the room. You can find wardrobes, closets that come with a mirrored panel. It will be equally effective to create the impression of a larger floor plan.
Loft Living Is Stylish And Practical
Can't figure out what you can do to find some space in your bedroom? While no spell will magically multiply your home's square footage, a loft bed can do wonders in freeing up floor space.
A loft bed allows you to use the areas beneath the bed for storage or other purposes. Many parents choose loft beds for their children's bedroom, but that doesn't necessarily mean it will not work in an adult's bedroom. It's one of the smartest small bedroom ideas for couples that you can deploy to make your room less congested.
Underbed Storage
Consider a bed with drawers below for more storage when shopping for a new bed. If you don't have enough room to open a drawer, place storage baskets under your bed. You can buy some colorful, stylish storage bins at affordable prices. These are both functional and attractive.
Wall Closets
Custom-made furniture, specifically built-in closets, is another trick in the small bedroom ideas for couples book that you can contemplate.
Of course, there are both benefits and drawbacks to this approach. While built-in furniture is an excellent way to maximize space, it will present a problem when you intend to move to a new house.
Anyway, because the items will be tailor-made to fit into your room, your storage arrangement will be the best. If that's what you want, you can give this idea a serious thought.
A Workstation Is Non-negotiable
As remote working is becoming a regular part of our life, it would be wise to keep a workstation in the bedroom. If both of you work from home, one of you will have to set up shop in the living room.
Keep a fold-down table and set it up whenever you need to work. Designate a space in the corner for this purpose.
We have an article about the best corner desk ideas for small spaces. You can check it out. It may help you to set up a modern workstation.
Let The Walls Reflect Your Artistic Side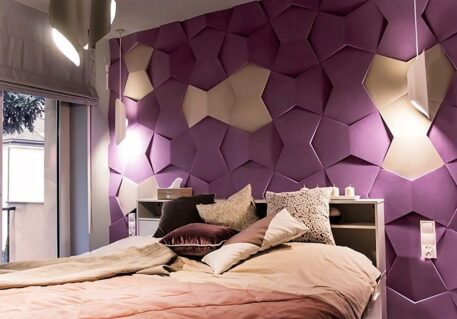 You can transform your walls with these types of styles from Articture. These styles are easy to do and affordable also.
Small spaces are ideal for setting up the tiniest art exhibition. Hang some paintings on the wall to freshen up the ambiance of the room. You can source the artwork without breaking the bank from local art and thrift shops. You can also find some amazing deals on Etsy or similar e-commerce sites.
Display a number of them on the same wall to create a mini art gallery of your own. A diversified collection of artwork is a tasteful detail that sets a relaxing tone in the bedroom.
High Contrast Shades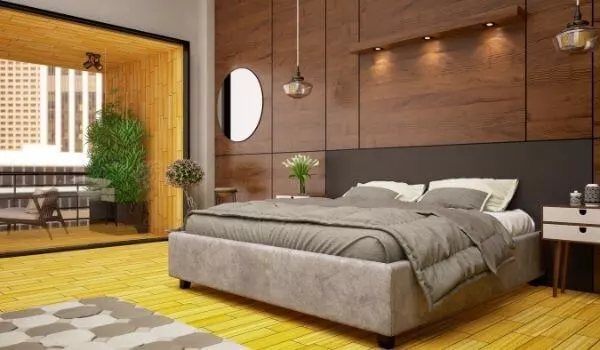 One of the most effective changes you can make in a bedroom is to create a combination of white and high contrast colors. We have already talked about the effect of white on the appearance of a room. When you mix it up with shades that belong to the opposite end of the spectrum, the result is quite intriguing.
To achieve this fascinating effect, select any one of the vivid hues and combine it with a lighter color, preferably white. Besides wall paint, you can also consider this color pairing for your bedsheets, rugs, and decorative pieces.
String Lights Are Not Just For The Holidays
Many people have no use for string lights other than festive decorations. They can add a unique touch to any space, not just small bedrooms, on a day-to-day basis. Hang them all around your room, switch them on, and turn off all other lights.
It will feel like you are sleeping underneath the open sky with thousands of fireflies lighting it up. Who'll say no to that?
If you love a sense of buoyancy in your bedroom, string lights can be a cost-effective way to bring about a cheerful mood. Place the lights next to the artwork on the wall. The lighting will make your decors even more appealing.
String lights are available in a variety of colors. Mix up the colors to create an enchanting in-house atmosphere.
Curtains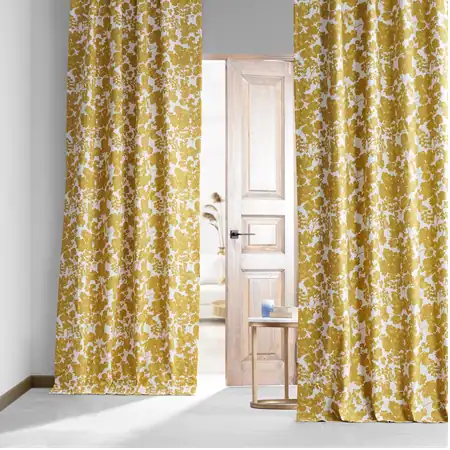 I found Half Price Drapes has a great curtain collection. You can check.
Curtains are a must for windows to protect your privacy. However, curtains can still be a relevant inclusion to your sleeping space even if it doesn't have any windows. Man small bedroom ideas for couples involve the use of curtains in a window-less bedroom. How does that work?
One non-window application of curtains can be as a room divider. It's an ingenious way to split up a room into multiple sections. Do you want to set up a dining table inside the room? Hang a curtain between the bed and the table, and you are good to go. Also, you can use them in front of closet doors.
Go Green
At the end of the day, human beings are natural beings who love to live in a natural setting. It's not an easy ask in an urban apartment, but you can make some room for greenery in your bedroom. 
No matter how small your bedroom is, it is never a good enough excuse to not have plants. Plants, as trivial as they might seem, are impactful additions to a room.
Several studies have linked indoor plants to stress-free livings. Nature has a profound psychological effect on us, and having some plants in your bedroom can help you and your partner to stay in joyful moods and enjoy life to the fullest.
Snake plants, aloe vera, Chinese Evergreen are some of the indoor plants you can consider for your bedroom. They are easy to maintain and survive very well under the roof.
Swap Your Nightstand For Floating Shelves
Installing floating shelves is one of the most common small bedroom ideas for couples and it's a very fruitful approach to save space without sacrificing utility. Floating shelves can be the perfect substitute for nightstands.
This is a very simple DIY project to take on. You can position them at easy-to-reach heights and grab your phone without leaving the bed.
Since they are made-to-measure, floating shelves are perfect for small bedrooms. They will take up as much space as you want them to take.
Liven Up Your Floors With Rugs
Up until now in our small bedroom ideas for couple article, we have talked about decorating your bedroom walls. But, your floor deserves an embellishing touch as well.
An eye-catching area rug may instantly bring comfort and splash some color to a bedroom. Experiment with the texture until you find something that is equally comforting and stylish.
A Chandelier Can Add A Palatial Vibe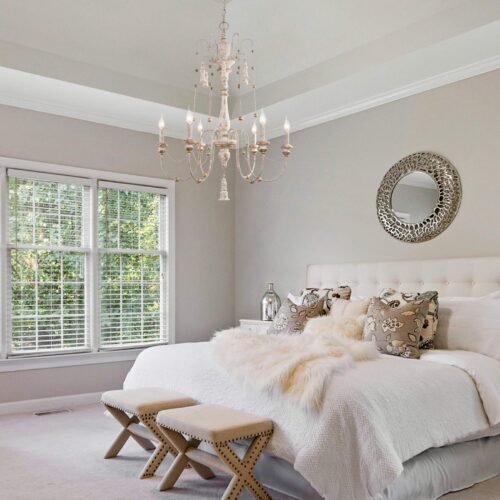 For chandelier I like LNC Home. You can check their collection.
Going for a chandelier is not a wise thing to do if you are trying to decorate on a budget. But, if you don't mind the expense, a chandelier can transform the look of your room.
Undoubtedly, it will be the center of the room, so it will help you atone for some of the other compromises you might have across the room.
Vibrant Throw Pillows
Earlier, we talked about the effectiveness of white and other light colors to make a small bedroom look more spacious. Many of us, however, love to have the presence of more colors in our rooms.
Throw pillows offers us a great way to enjoy the best of both worlds. Add some color to your room by choosing vibrant throw pillows for your bed.
Wall Niche
A wall niche is another in-wall storage option that can free up some precious floor space. Nowadays, contractors keep the drywall hollow and reinforce it with horizontal 2 x 4 beams made of wood. Locate the beams with a stud finder, and carve out a nook in the hollow region of the wall.
Making a wall niche is a pretty simple task. It will not hold a lot of stuff, but you can keep your mobile phone, wallet, and other small items there. If you can find the right spot, a wall niche can effectively replace a nightstand.
Choose Floor To Ceiling Storage Pieces
Buy a closet that almost reaches the ceiling of your room. Since floor space is scarce, it would be smarter to take maximum advantage of vertical storage as well.
You can put some storage bins on top of the closet, where you can put away some more stuff. Try to utilize the complete space from floor to ceiling.
Make Use Of The Alcoves
Devise some clever storage fixes by planning to utilize the alcoves in your room. These recesses are byproducts of the room's structural design, and they can be a great place to host a series of cabinets, which you can use as a display rack as a whole.
Dressing Table Cum Workstation
Gone over with a fine-tooth comb, but still couldn't find a place to put your work desk? In such a scenario, try to make some room in your dressing table for your computer and notes. Alternatively, install a floating desk. Bring it down when necessary and use it for work and make-up both.
Ladder Storage
Put a ladder in the room and use its steps as storage shelves. Ladder storage is a terrific method to have the benefits of wall shelves while still having the freedom to move it around when you need to. Apart from bedrooms, this could be a great idea for your living room and bathroom too.
Repeat Patterns To Establish A Theme
A small bedroom should not keep you from playing with patterns. For a thoughtful & strictly regulated aesthetic, pick one design, like stripes, and apply it to the walls, sheets, throw pillows simultaneously.
If you have the budget, you can take professional help to interior your room. In that case, I will recommend Modsy.
Final Say
You don't have to forgo style because you have a small bedroom. There is a myriad of small bedroom ideas for couples that can organize a tiny bedroom efficiently and fashionably. We have handpicked some of the finest small bedroom design tips here to help you furnish your sleeping space.