What Should A Master Bedroom Have? [9 Essential Items]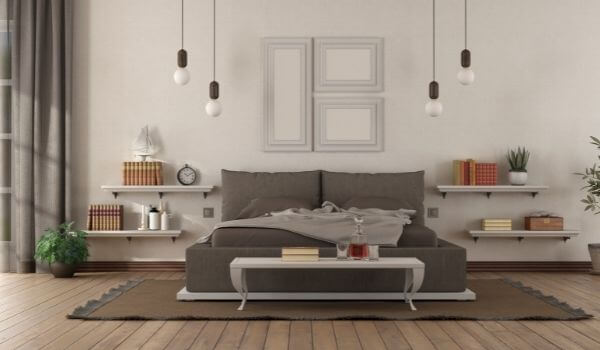 The master bedroom is a sanctuary where we rejuvenate ourselves from the daily grind. Since it's the highlight of your house, you should put a decent amount of thought into modeling your master bedroom.
What should a master bedroom have? Today, we will talk about 9 master bedroom essentials that will transform your sleeping space into a true nirvana.
What Should A Master Bedroom Have?
A master bedroom should have the best amenities of the house. It should be the magnum opus of your interior décor. That said, you must also make sure the room doesn't appear cluttered.
Here are some of the components we believe are necessary for a premium master bedroom experience:
1. A Serene Color Palette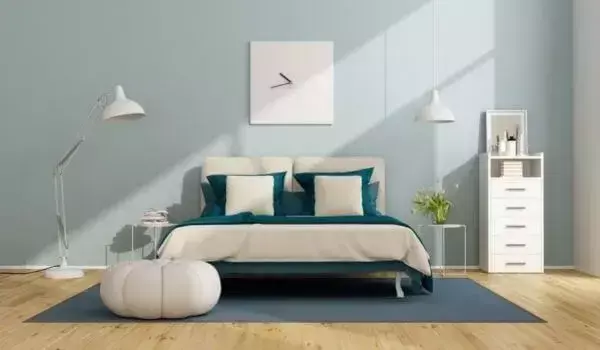 The color scheme of a bedroom mostly depends on personal choice. But, if you are confused about picking up the right shade for your sleeping space, we will recommend choosing a tranquil mix of colors. If you want to get a good night's rest, you should pay attention to the colors in your bedroom.
A bedroom would benefit greatly from the use of soothing hues such as blues, blue-grays, blue-greens, and silver. Color psychologists associate these colors with serenity and refreshment. Therefore, they would put your mind at ease and help you fall asleep faster.
On the contrary, brown, gray, red, and purple are the colors you would like to avoid. Brown and gray have a depressing tone to them and are said to evoke negativity in our minds. Red and purple boosts anxiety and keep our nerves on alert. As you can see, none of these attributes are helpful for sound sleep.
2. A Personal Touch
It's essential for the bedroom to reflect the personality of its inhabitant. Since you spend most of your private time here, you should personalize the room as much as you can so that you feel a genuine connection to it. If you share the room with your partner, it should have the details that make both of you feel at home.
 The easiest method to make your bedroom feel more like "yours" is to establish a theme that says "you" throughout the space. Having your family photographs on the nightstand is the most obvious way to do it.
Other than that, you can add items that bear particular significance to you, like a vintage gramophone, if you are a music lover or rugs and artwork that captures your taste perfectly.
3. An Eye-Catching Headboard With A Complementing Bed Frame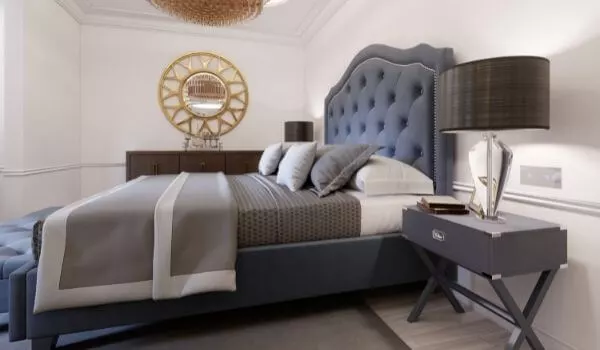 Many people don't think a lot about headboards while furnishing their bedrooms, but the truth is, a headboard that looks good simultaneously elevates the comfort and aesthetic appeal of the room. Having a headboard behind your bed seems way more fashionable than a barren wall.
If you want a separate headboard for your bedroom, you will have to deliberate over a few factors. First, you need to decide on the material. Upholstered headboards are the gorgeous ones in our book, but you can find some fantastic wood, natural fiber, and metal headboards that will fit right in your bedroom setting.
You also get installation options. You can choose to mount the headboard on the wall or attach it to the bed frame. There are also some free-standing ones that will save you the installation trouble.
To complete the look of a high-end headboard, the bed frame must also be stylish and unique. If you buy an upholstered headboard, an upholstered bed will add more character to the arrangement. Wooden and iron bed frames are also popular, and they also look elegant paired with the right headboard.
4. Premium Mattress
Per CDC reports, one in every three US citizens is sleep deprived. That means more than 100 million Americans struggle to get some shut-eye. Sleep is necessary for proper brain function, and it is one of the primary reasons many people are experiencing underperformance in their professional lives.
For improving your sleep cycle, you need a mattress that is both comfortable and well-made. Make sure you spend a little extra money on yours, and you upgrade if it wears out quickly. The mattress should be the keystone of a master bedroom layout. Unless you feel cozy in the sack, nothing else matters, right?
5. An Ergonomic Workstation
A desk and a chair have become bedroom norms in the post-pandemic world. Even though the covid restrictions are over, we often need to get some work done at home.
So, set up a workstation inside your master bedroom. The relaxing surrounding of your master bedroom could be the ideal place to trim your workload.
6. Deluxe Bedding
The bare mention of silky bedsheets and plush pillows makes our eyes sleepy. Treat yourself to deluxe bedding items that will prove well worth the money over time for getting the best sleep. Designers hail white linens for their sense of novelty.
To add a splash of colors, you can throw in some vibrant pillow covers.
7. Exquisite Lighting
Lighting is a pivotal detail in any interior décor endeavor. You can impose a sophisticated ambiance into any indoor space utilizing it, and the bedroom is not an exception. Apart from the artificial grace of chandeliers and accent lighting, you can consider putting skylights on the roof and let in plenty of natural light.
8. Spacious Closet
A huge walk-in closet might not be on the top of everyone's master bedroom wishlist, but trust us, it will not be a wasteful investment. Even if you intend to have a minimalist wardrobe, you can use the closet space to store your other belongings, like the Sega Genesis console you refuse to say goodbye to or your tennis equipment.
9. Ensuite Bathroom
An ensuite bathroom gives you an additional sense of privacy. You can take a shower or respond to nature's call without making the rest of the household wait. It's a personalized space within a personalized space.
So, it's not difficult to understand why ensuite bathrooms remain one of the biggest master bedroom trends to this day.
Final Thoughts
What should a master bedroom have? We have attempted to shed light on the most important considerations you need to make while overhauling your bedroom layout. Don't lose sight of these critical factors, and we guarantee you will have the master bedroom of your dreams.