Serta Luxury 12 gel Memory Foam Mattress Review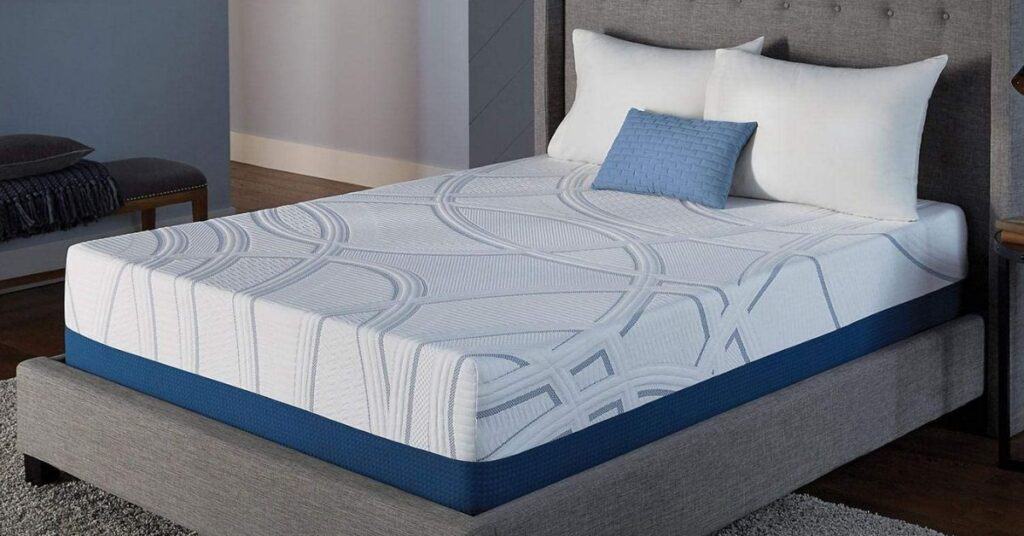 Memory foam mattresses are all the rage nowadays. Because who doesn't like to sleep comfortably? While there are many options for such mattresses available in the market, some brands tend to stand out more than others.
Serta is one of such brands that produce high-quality memory foam mattresses. Having doubts about their quality? Well in this Serta Luxury 12 gel Memory Foam Mattress Review, we are going to show you the reasons you should purchase this mattress.
We will be discussing the benefits and the issues regarding this memory foam mattress and come to a reasonable conclusion to help you decide. So if you are interested in learning our opinion on this, continue reading ahead.
Serta 12-Inch Gel Foam Mattress Comes With Three Layers of Foam to Provide You a Tuned Support!
The Serta 12-Inch Gel Foam Mattress does not come with 2 layers of foam similar to most memory foam mattresses (that generally place a few inches of memory foam on top of resilient base foam), but 3, forming a custom surface to provide you a good night's sleep.
The top layer has 2.5 inches of memory foam that is filled with gel beads that offer tremendous comfort and support. Under this layer, there is another 2.5-inch layer made of convoluted foam for air circulation and bounciness.
As the convoluted foam comes with peaks and hollows, there's a lot of air space beneath the main foam layer. This aids in keeping the bedding fresh while also drawing excessive heat away, as a result preventing uncomfortable buildup.
Features of Serta 12-Inch Gel Memory Foam Mattress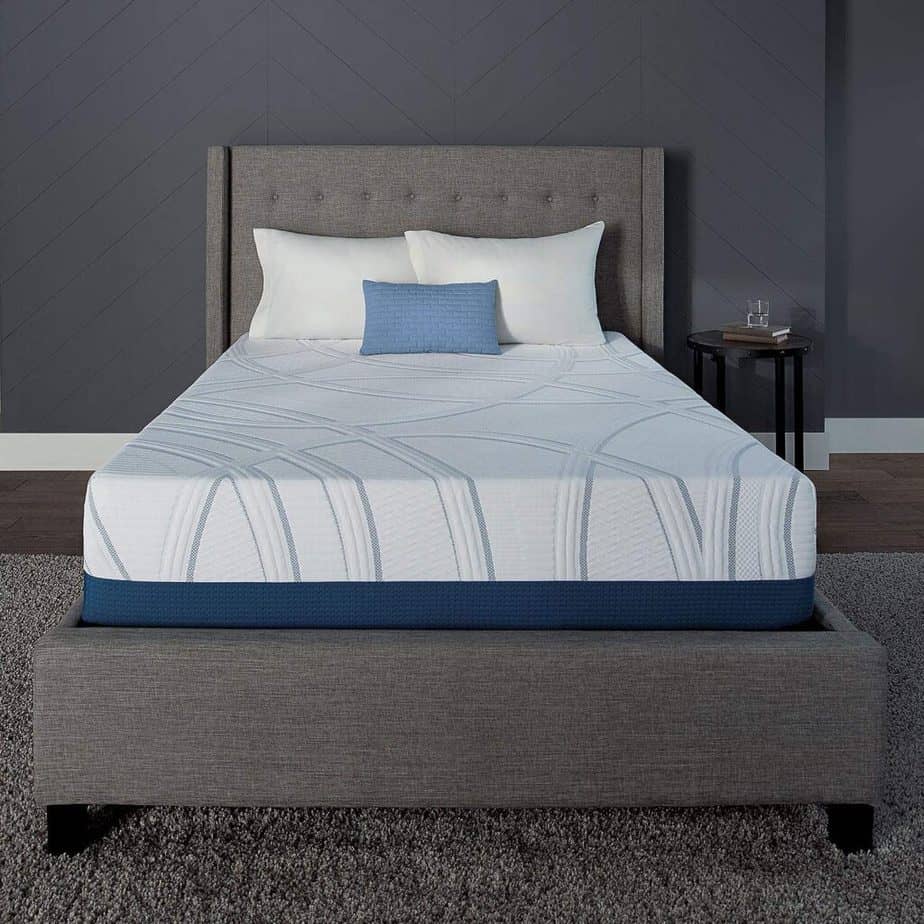 The Serta 12-inch Memory Foam Mattress features a 12-Inch 3-layer memory foam and gel bead mattress that has remarkable airflow for cooling.
As we mentioned previously, the top layer is a 2.5-inch gel bead memory foam, the second layer is another 2.5 inches of convoluted foam, with 7 inches of base foam. It also comes with a deluxe cover for a luxurious look and added comfort.
This foam can set itself up, and expand completely within 72 hours after the packaging is removed. On top of that, it also comes with 20 years of limited manufacturer's warranty. It typically does not form any permanent impressions that is deeper than an inch over the course of 20 years, so you need not worry too much.
Issues of Serta 12-inch Gel Foam Mattress
There aren't that many issues with this product; however, it isn't completely flawless either. This memory foam mattress has some chemical odor.
It has a strong odor when you take it out of its box. This is a big issue for people who have a sensitive nose. Our advice would be to let the mattress air out for a couple of days to let this odor vanish.
Helps To Make You Feel Relaxed, Refreshed Comfortable!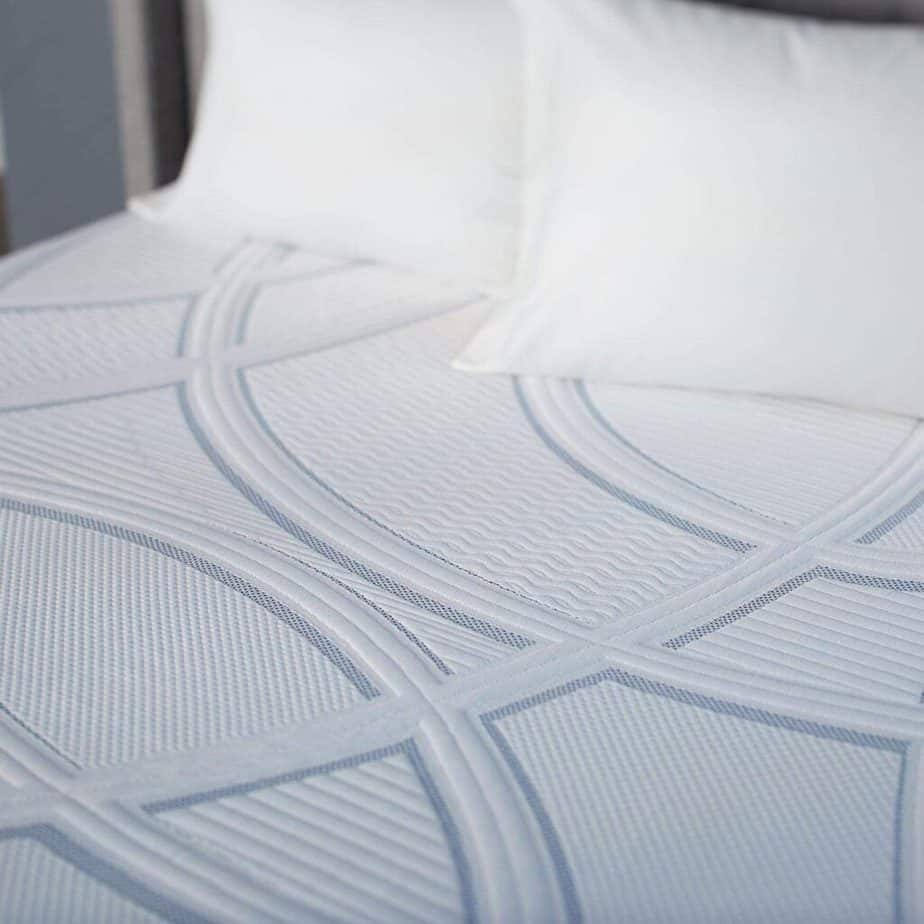 The overall sleeping experience on the Serta Gel Foam mattress can be described as a mix of relaxing softness and adequate support.
In most memory foams, additional pads tend to block body heat from memory foams and prevent them from softening, which leads to a hard and non-conforming bed. You face none of that with this mattress.
The sinking effect on this mattress is pretty moderate. You won't be sinking into this mattress that much, but there is a moderate sinking effect that provides support and comfort for your entire body. You will love the gel on the topmost layer of the foam! This gel makes the Serta 12-Inch slightly more luxurious overall.
Cozy Warmth With Perfect Heat, Fewer Aches, And Pains!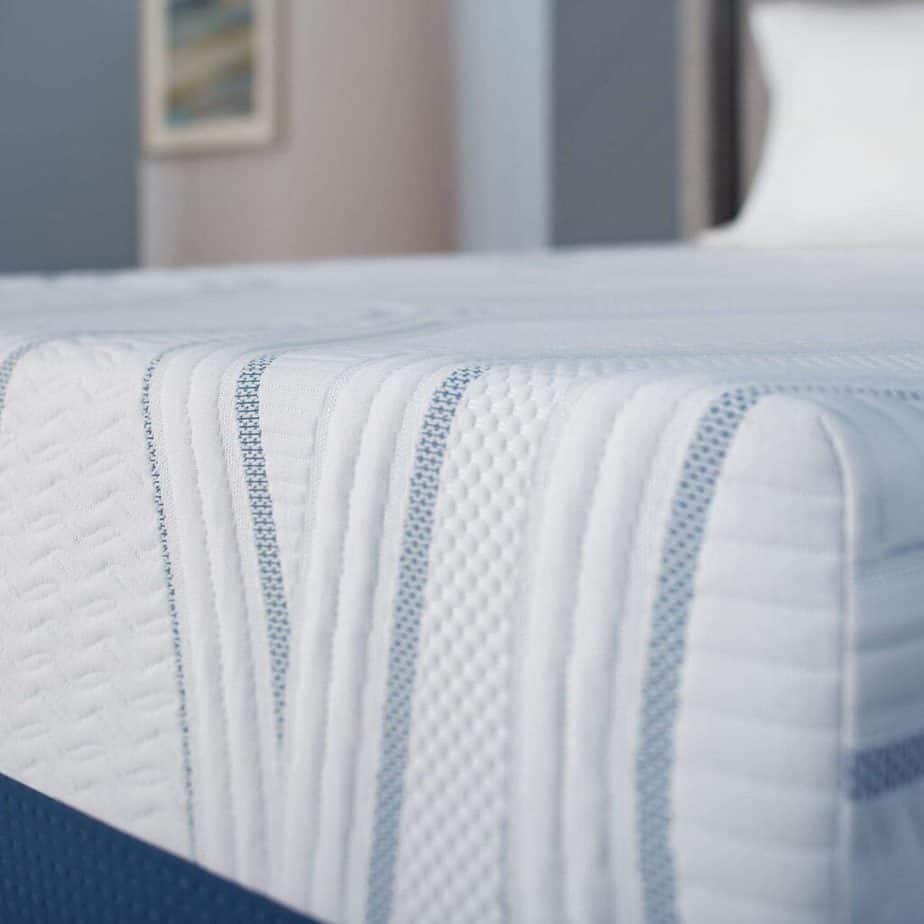 No material on Earth exists that does not absorb any body heat when you lie on it. As a matter of fact, if there existed a material that would be completely warmth-free, it would be equally uncomfortable and probably harmful to a slab of ice.
The Serta does actually warm up a bit when you have been laying on it for a while. However, it offers enough air circulation to never get to the point of being hot and sweaty. So a pleasant and cozy warmth is what you experience.
In fact, it is a bit cooler in hot weather compared to most memory foam mattresses due to the additional cooling effect of the gel beads that is embedded in the topmost layer. This gel layer can sort of adapt to the weather and offer cooling or heating as necessary.
In terms of comfort, it offers just the kind of surface you need in order to ease back pain, neck pain, and hip pain. It has the ability to relieve the pressure points, as well as support joints and the spine at the natural angles.
Say goodbye to the pushed-up or sagging down thingy that most other mattresses do! This mattress allows you to wake up every morning feeling refreshed and relaxed as opposed to stiff or sore.
Read Next: Comfy Sack Review
Quick and Easy Setup Process
The Serta 12-Inch Gel Foam mattress happens to be a bit heavy, so you might need two or more people to bring it to the foundation or box spring where it is supposed to be set up. Once there, the setup process is very easy and even kind of fun!
As soon as the highly compressed mattress is taken out of the packaging, it expands a lot.  It takes about 72 hours to reach its full size. Note that you should not sleep on the mattress before those 72 hours as it may feel too hard and uncomfortable.
As we mentioned previously, there is some chemical odor that takes a few days to go away, but this is not a flaw of the Serta in particular. The smell is mild for most people, and soon decreases and vanishes when some fresh air is exposed to it.
Read Next: Ikea Ektorp Sofa Review
Setting up the mattress is simple:
Take it out
Position it
Wait for it to expand and soften for 72 hours
Sleep.
Decent Warranty Period Protects Your Savings!
This amazing memory foam mattress comes with a 20-year warranty. This warranty backs you up with one full replacement of the mattress.
A permanent dent, mark, or body impression on the foam that is deeper than 1.5 inches is a defect that qualifies for a replacement. This is important information as it also shows that a regular Serta 12-Inch Gel Foam mattress will have only shallow permanent body impressions in its 20-year lifespan.
Adapts Quickly To Your Pose When You Want To Crash Out Fast!
The Serta 12-Inch Gel Foam Mattress takes a very short amount of time to conform to your body contours. Every time you roll over, you will be moving out of a bit of a dip, which takes some time to get used to.
However, the mattress adapts to cup your body comfortably within a few seconds when it warms up, so you will be staying equally comfortable even after changing your sleeping positions several times.
What I Like
Multiple layers of foam and gel to provide maximum comfort
The gel can adapt to the temperature of the environment
The mattress can adapt to the position of your body
It is very easy to set up
The product comes with 20 years of replacement warranty.
What I Didn't Like
There persists some chemical odor for the first few days
It is a bit heavy, so installation is slightly tough.
Frequently Asked Questions
1. How Long Do Serta Memory Foam Mattresses Last?
Serta memory foam mattresses last about 20 years. And when taken care of properly, they last even longer!
2. Which Is Better Gel Or Memory Foam Mattress?
How about a mix of both? The Serta Gel Memory Foam Mattress offers the best of both worlds, making it an excellent choice.
3. Should I Get A 10 Or 12 Inch Mattress?
Both are great, but we recommend going for a 12-inch mattress.
4. Do Memory Foam Mattresses Sag?
Yes, some memory foam mattresses have a tendency of sagging.
5. Does Gel Memory Foam Mattress Need Box Spring?
Yes, gel memory foam mattresses need a box spring to be set up on.
Related Read: MAXYOYO Japanese Floor Futon Mattress – My Honest Review
Final Words
So there you have it, folks! Are you still confused about whether it is the right choice to buy this mattress or not? We hope this Serta 12 gel Memory Foam Mattress Review was able to help you decide if you want to make the purchase.
Judging by the features and benefits that you get from this mattress, we only see many reasons to buy this product and almost no reason to not buy it. The pros outweigh the cons.
But we leave the choice to you. We hope this article was informative enough and was able to provide all the details on this amazing mattress. That was all for this article, see you next time!