Ikea Ektorp Sofa Review: Impressive Ideas With Pros And Cons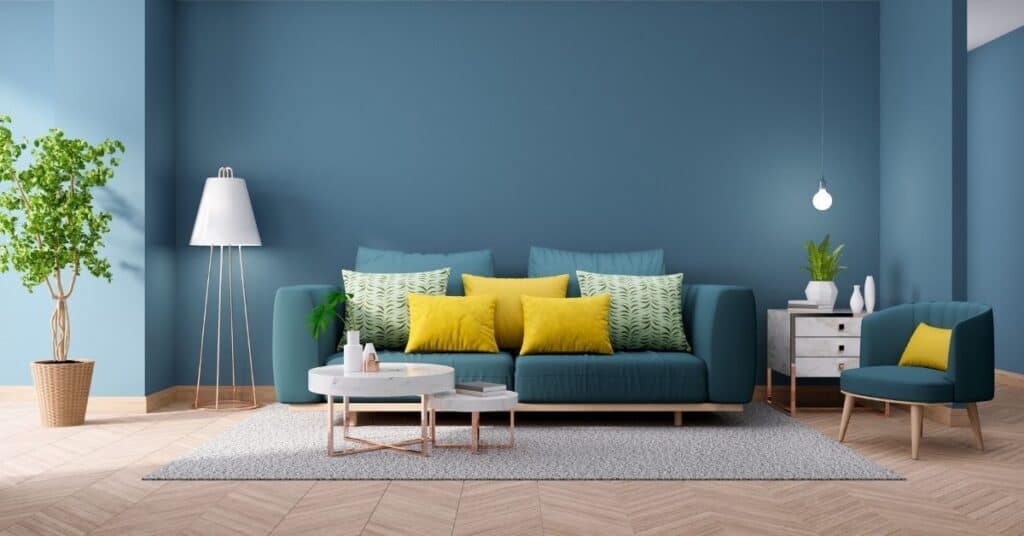 Sofas are an integral part of a modern man's (or woman's) life. We underappreciate them and often take them for granted but these seats are a staple of human innovation and an important component of every household.
Ikea is Sweden's finest export (sorry PewDiePie). They have been the world's leading furniture retailers for the past decade and their standards are at a legendary status now. We go to them for almost all our furniture needs. As such, it's only natural we go to them to find the perfect sofa.
The Ektorp sofa series is a premium series of sofas offered by the Swedish giants and many have sung their praises for the furniture but let's take a deep dive into their most famous products and analyses them thoroughly to answer to questions: "Are they really the perfect sofa set for the modern household?" And "How well do they hold up after prolonged usage?" Let's take a look at the Ikea Ektrop Sofa Review.
Ikea Ektorp 3-Seat Sofa With Chaise Review
The short answer to both those questions for this product? Yes. This sofa meets all expectations and goes beyond them.
These sofas look absolutely stunning, that's for sure. They are made of wood and covered with comfortable high-quality polyurethane foam. It looks like it costs a million bucks and yet it doesn't overdo it. (Funnily enough, it is also really cheap.)
The sofas are simplistic yet elegant and have a hint of aristocracy in them that livens up any living room. It comes in many vibrant and refreshing colors such as Remmarn light grey, Totebo dark turquoise, Totebo light beige, Virestad red/white, Hallarp beige, and Hallarp grey. You can even buy multiple covers and switch them up.
We have an article about 30 Super Cool Grey Couch Living Room Ideas. If you already have a grey-colored sofa or wish to have one, you can check this out.
The chaise blends in naturally with the set and is made of the same material as the sofa. It looks just as beautiful as the sofa set and fits in with any decor.
The number of seats is reasonable as it's not too few and at the same time, it doesn't overcrowd the living room. It caters to the minimalistic design and really drives home the message "more is less."
The seats are very comfortable. The polyurethane foam is firm enough so you don't just sink in but not so firm that it feels like you're sitting on a rock. It is soft and feels expensive, nothing like the poor material you find on knock-off cheap sofa sets.
This is a durable sofa set. Over the last two years, this sofa has withstood a lot and suffered virtually no damage. It really is a well-built unit. Very few sofas can survive so much action.
Finally, in case, your sofa doesn't make the cut like ours, there is a 10-year warranty on these babies so you can always redeem it if things go south.
On the negative end of things, the set-up process is a real drag as with most Ikea products. Not a fan of DIY personally.
Read Next: Microfiber Couches Review
Ikea Ektorp Armchair
Similar to the sofa, this armchair well and truly does not disappoint. This armchair can be considered the archetype for the perfect armchair.
Much like the sofa, it looks gorgeous and is built with top-tier wood and finished off with polyurethane. It achieves a similar "I'm rich but I'm not going to throw it in your face" vibe as the sofa.
Unlike the sofa, it doesn't come in multiple colors and does not include a slipcover. But I didn't find that to be much of an issue as the Skrea dark brown color goes with anything.
Here's an aspect where it beats the sofa: the comfort. The armrest makes a world of difference and the seat is really big so it is super relaxing to sit on as it doesn't constrict your body in any way.
The seats are made of the same material so firmness is perfect here as well if you are not better thanks to the addition of metal components that improve support.
It is really easy to clean as it is just a single and it disassembles pretty easily, each part can be polished up with a damp towel.
In terms of durability, we'd rank it similarly to the sofa set as, after 2 years of usage, we haven't seen any considerable damage.
The negative here is its price. It is head and shoulder above its fellow armchairs in both quality and cost. This may turn off a lot of buyers because lets be real, no one wants to spend that big on an armchair.
Read Next: Couch Vs Sofa
Ikea Ektorp Ottoman
Ikea is the best in the business for one reason only; its simplicity. This ottoman exemplifies that. No showy qualities. Just a simple ottoman without any fancy decorations.
This ottoman, like the other two products, is astonishing. It looks absolutely brilliant and it is made, again, of the same material. "Don't fix it if it ain't broke", am I right? And this formula works again as the ottoman doesn't look pretentious nor does it look plain. It walks the line between snooty and typical and we love that look.
Similar to the sofa, it has a variety of options in terms of color schemes; Remmarn light grey,
Totebo dark turquoise, Totebo light beige, Virestad red/white, Hallarp beige, and Hallarp grey. These color options allow you to pick the perfect footstool to suit your decor.
Ottomans are cheap and this one is no exception except that this little footstool packs a bigger bang for its buck than most other top-tier branded ottomans in the market. That's why Ikea is leading the market. Better quality at similar prices.
The storage capacity of this piece of furniture is also impressive, you'd be surprised how much it can hold. It's super convenient to have another storage space in the house. Everyone knows you can't have too many of those.
Additional Read: Comfy Sack Review
Ikea Ektorp Couch Review
For this product, we're going to switch the style up a little bit, rather than tell you why we like the product like the previous 3. For this, we'll do a pros and cons list.
The reason why we're doing this is because well, that format is getting boring and this review will be the same as the one for the 3-seat sofa with a chaise except it doesn't have the chaise.
But we believe this product deserves its time in the limelight as well as we've been using it for 3 years. So without further ado, here are the pros:
5 Pros of the Ikea Ektorp Couch
This couch is pretty swell. We mean we've been using it for a while now and we're not looking to make a change. What makes it so good you ask?
Comfortable: Soft cushions
As with all the products in this line, the couch is also made with wood and polyurethane. These materials make a sturdy and firm yet soft piece of furniture that is very soothing to sit on. The cushions are of good quality and do not get damaged after prolonged usage.
Cheap: Premium Quality At A Reasonable Price
Like the sofa set, the couch is also really cheap and it's worth every penny. You will not find a better sofa for any cheaper. It provides top-tier quality at an affordable price. 
Customizable: Make It Your Own
The couch, as with the sofa, has slipcovers that can be changed to match any decor or occasion. These slipcovers come in a variety of vibrant colors that catch the attention of any guest and never get boring to look at.
Classy: Elegant and Timeless
Speaking of boring to look at, you know what's not boring to look at? This couch. It is classy and elegant without being boujee in any sense of the word. The shape is inventive and unique and the aforementioned slipcovers add a really nice touch of sophistication to your decor.
Cleanable: Washable Slipcovers
This last one is a little bit of a double-edged sword; the slipcover can be cleaned. We'll get to why it's a problem later but first let's look at the bright side, you will not look like a slob.
The trick to making any house look better is to keep it clean and these slipcovers allow you to do just that. Also, did you notice all these pros started with a C? We wonder what letter we'll use for the cons.
4 Cons Of The Ikea Ektorp Couch
As with all things, there's a good side and bad side to this product and 3 years of use brought us plenty of good but the bad did follow. Perhaps a few of these cons are a little too harsh but we think we've complimented this product enough.
Small
This couch is pretty small. The chaise was a needed addition to the sofa set as this sofa only seats 3 and that simply is not enough for parties or any social gatherings really. Some of your guests may have to sit on chairs or even stand. Or you could just buy another couch. Either way, the couch is annoyingly tiny.
Setup
Setting up this sofa is a pain in the neck. Ikea is amazing and we're huge fans. But what is the deal with all this DIY?! Like why is it never ready-made? We can build these sofas, chairs, and tables, sure, but why would we?
It's just so tedious. I can just imagine a lumberjack reading this laughing at us. Well, hey, buddy, we all have our weaknesses.
Slipcover Maintenance
Speaking of tedious, this is the absolute worst. Not only do you need to wash them every so often, but you will also need to iron them to make sure they don't look wrinkly and just straight-up awful. Don't even get us started on dealing with pilling (lint). We mean sure, it looks really nice, but the touch-up is far from easy.
Sloppy Cushions
The last flaw really doesn't last long but it is annoying. Every time you sit on one of the cushions it leaves an imprint. Without fail, every time. It is embarrassing and an issue that has no real solutions other than flipping the cushions over but before you flip the cushion, the guests have already seen the unflattering outline.
Frequently Asked Questions 
Now that we've reviewed all the products, let's take a look at some FAQs.
Is The IKEA Ektorp Sofa Comfortable?
The IKEA Ektorp sofa is super comfortable. The pillows are of high quality and firm so you never really into your sofa but at the same time, you won't break any bones jumping onto it.
Is This Ikea Sofa Good Quality?
This is a no-brainer, this sofa is still one of the best in the market despite it having been years since its release. It really is a fine piece of furniture that deserves all the plaudits it receives.
Is Ikea Ektorp Discontinued?
No, it is not. You can still find it on their website, in fact, if you liked what you read and need a couch, go buy it now. I promise you won't regret it.
Is The Ektorp Sofa Hard To Assemble?
Depends on how crafty you are. With our handiness, assembling that sofa was the most grueling task we had ever done.
Where Are IKEA Sofas Made?
Well, the contents in the box are made in Sweden but you assemble it yourself so you could say they're made at your home? Just kidding.
Conclusion
A sofa is a big investment. Before buying you should read multiple reviews and scout the market for the best products and the best deals. It should never be an impulse buy because trust us, you'll be stuck with it for years and a rash decision could be one your kids are sitting as you tell how you met their mother. Sorry, we love that show.
Our point is, please take our ikea ektrop sofa review with a grain of salt because even if this couch worked for us, it may not be the one for you. Just follow your gut and pick the couch which is the most comfortable for you.