MAXYOYO Japanese Floor Futon Mattress – My Honest Review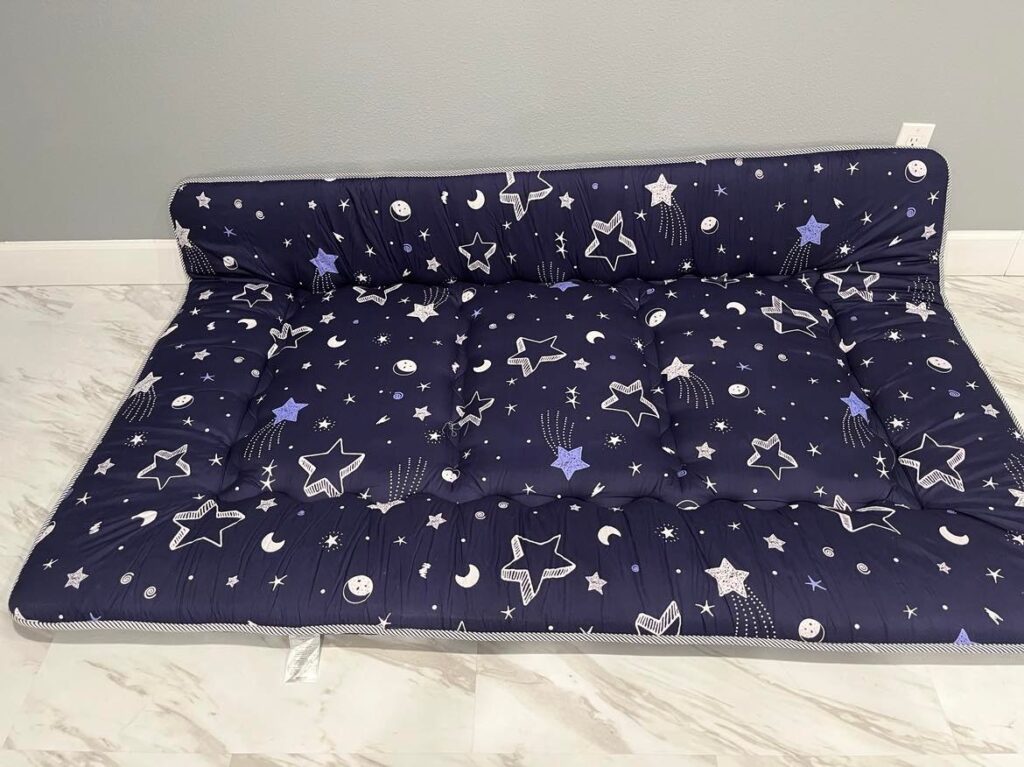 Owning a Japanese floor mattress comes in handy if you live in small apartments with limited space. It is easily transportable, versatile, and space-saving. Some people use it for travel purposes or guests, while some choose it as a traditional piece of furniture. 
Regardless of which purpose you want a mattress for, the one inherent priority is that it has to be comfortable. You do not want to come home after a long day to rest on something that cannot relieve your exhaustion. But how would you like it if offered more than that?
Japanese floor mattresses are well-reputed for providing many health benefits. After researching a bunch of them, I picked the one with the most to offer you: the MAXYOYO Navy Starry Sky Japanese Floor Futon Mattress. 
I will review the mattress and illustrate why I chose it and why you should consider having it. There will also be its strengths and weaknesses. Finally, you will have the most pronounced queries about Japanese mattresses addressed. 
Maxyoyo Navy Starry Sky Japanese Floor Futon Mattress Review 
The Maxyoyo mattress is a fantastic choice for everyone because it gives no chance to its rivals in terms of comfort. It is a mat-like futon that stows away effortlessly. It comes with a storage bag within a reasonable price range. Anyone living in a narrow space or looking for a travel floor mattress will find it worth a shot. 
Features And Benefits 
Materials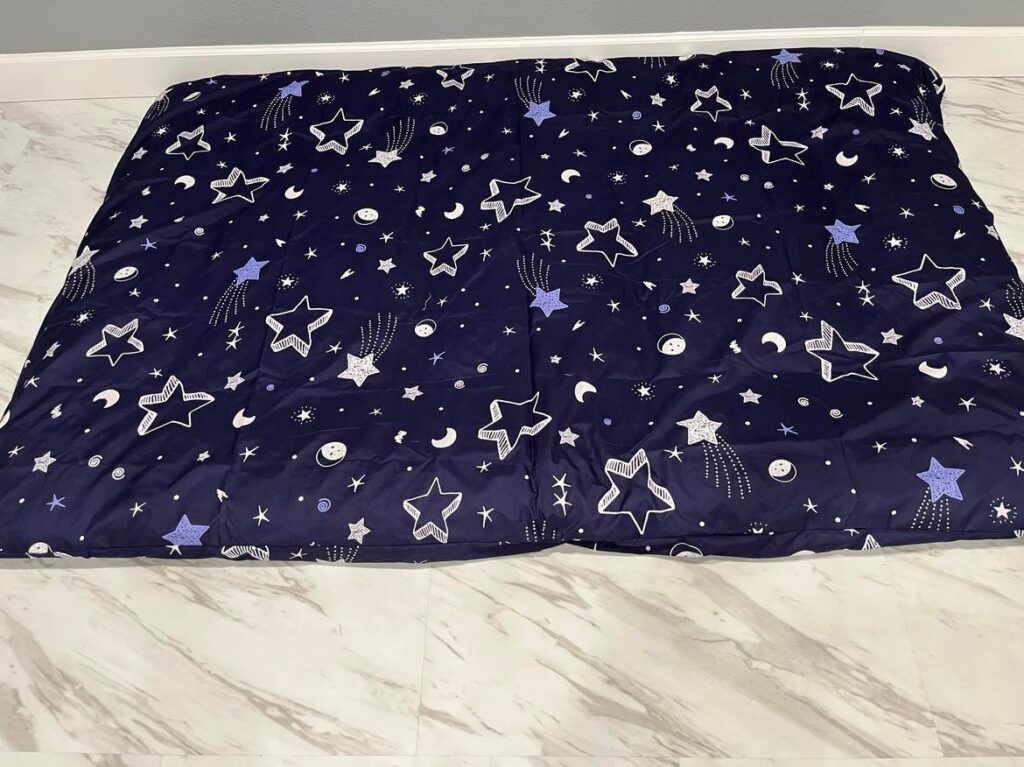 The core of the mattress is high-density foam inserted between coats of mushy polyester on either side. It has a length of 4 inches, with stitching stretching through all the layers to prevent its components from bunching or shifting.
Performance
Stomach sleepers will get all the support they need from the Maxyoyo futon, particularly those weighing more than 130 pounds. It has a firmness score of 7. So you get an idea of its capability. It serves back sleepers, too, providing them with spinal support. People with a weight above 230 pounds are welcome to try it. Back and side sleepers below 230 pounds may find it too firm due to its pressure points.
Motion Isolation
The support core of the form can isolate motion fairly enough so you do not wake up when your partner changes their side. Light sleepers should take point of that.
Versatility
There are different uses for the futon mattress apart from an apartment or travel accessory. You can have it in your living room, keep it as a tatami mat, or take it as a tent mat when camping.
Designs
There are 26 patterns and color combinations of the mattress. Maxyoyo designed a lot of them, especially for kids. My review names the most liked version of the mattress, the navy starry sky design. But check out the others, too. The colors and patterns are very pretty and soothing. 
Note that anyone preferring to save some money can order through Amazon and get free delivery! 
Durability
This futon mattress does not score highly concerning durability. But it IS durable enough, as much as you can expect, within its affordable price. That said, it does a decent performance. 
The Package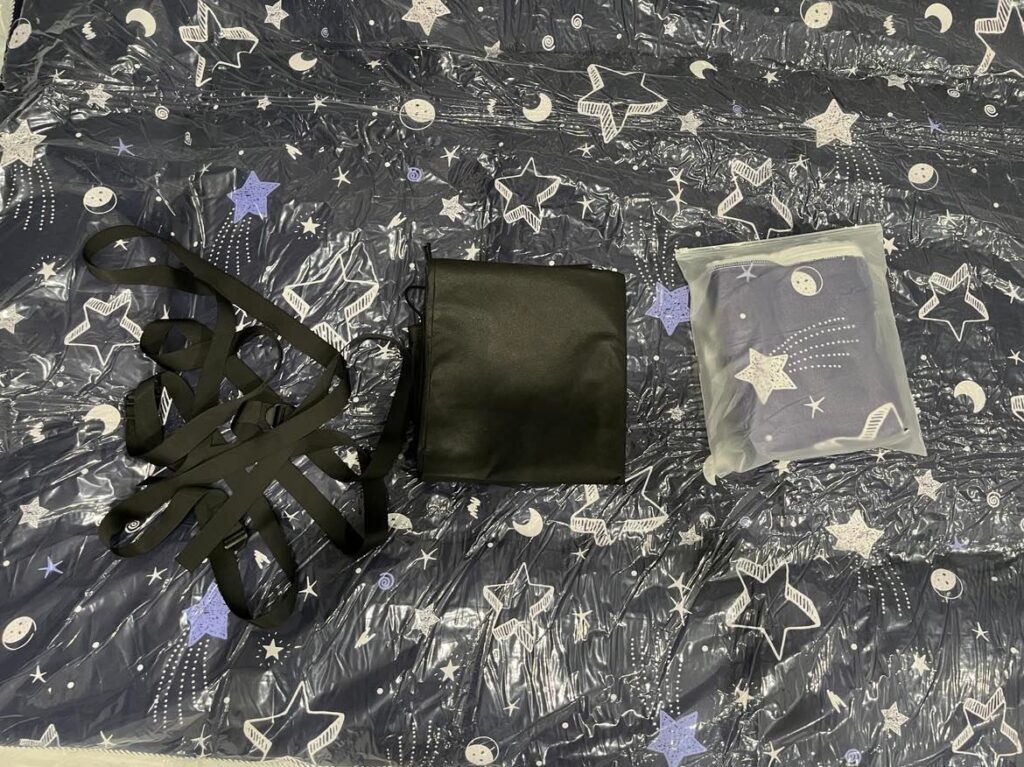 The mattress has a cover of the same color, a couple of bandages, and a storage bag. The layer will secure it from stains, and you can easily fold and store it in the storage bag. It will make the cover maintenance simpler.
Easy Care
Most people worry about the fluffiness of their mattresses, thinking continuous usage will make them less comfy. But you will not experience that with your Maxyoyo mattress. Let it rest under the sun, and it will recover its fluffiness quickly. 
Pros 
Quality materials with a sturdy design 
Plenty of uses 
Comfortable and affordable 
Space-saving and perfect for small apartments 
Capable of providing sufficient support 
Simple upkeep
Suitable for stomach sleepers, couples, and people weighing more than 130 pounds
Effective isolation of motion
Available with a cover and a storage bag in various colors and sizes
Cons 
Not the most durable futon mattress 
Unboxing Video
Are Japanese Mattresses Comfortable? 
Yes, Japanese mattresses are comfortable, remarkably more than modern ones. The natural materials and traditional Japanese fabric used to manufacture them are comfy and soft. They are also very firm compared to others. So, you get the utmost comfort when firmness and softness meld with well-crafted natural cotton.
Besides, the make of Japanese mattresses enables them to move freely, allowing for coolness and breathability. It is an excellent choice for users living in tropical areas or looking for bedding that does not get hot during nighttime. 
There is a bundle of other benefits of using a Japanese mattress, like the Maxyoyo Floor Futon Mattress. Users are often curious or somewhat dubious about their capability of actually assuaging one's physical discomfort caused by poor sleeping position or poor-quality bedding. The following sections should cater to that curiosity. 
Are Japanese Mattresses Good For Back Pain? 
Yes, Japanese mattresses are good for back pain, specifically for back sleepers. They can be a cozy means to improve your spine alignment because they are firmer than regular ones. 
Since they keep your entire spine aligned, the sleeping surface minimizes physical obstructions. Sleeping in a neutral position will allow your spine to rest without making knots in the back. That, in turn, will promote better blood circulation.
Additionally, sleeping on them means staying closer to your room's floor. That regulates your body temperature. So if you are a hot sleeper, your sleep will get significantly sounder with Japanese mattresses.
Nonetheless, anyone with severe back problems should consult professionals instead of relying on them on Japanese mattresses. Being good for back pain means they will help with some internal physical conditions so you do not wake up with a sore neck and back. But they are not alternatives to medical treatment. 
Is It Good To Sleep On A Japanese Mattress? 
It is GREAT to sleep on a Japanese mattress. Besides being comfortable, the Maxyoyo Japanese Futon Mattress has additional advantages anyone would like to enjoy. Let's talk about some. 
Helpful For Insomnia 
Manufacturers use organic materials, i.e., rice straw, to make Japanese mattresses. That associates them with a distinct scent, which actually helps people feel relieved and bed down faster. People with insomnia or sleep issues will surely benefit from it. 
Reduced Anxiety And Stress 
Another advantage of using Japanese mattresses is enjoying less anxiety and sleep. Since they keep you close and connected to the floor, therefore the earth, you begin to feel calmer and more relaxed when lying on it. 
Reduced Fatigue 
What could be worse than returning home to bedding that cannot cozy you up after a bad day at the office? Japanese floor mattresses are designed to do just that for you and minimize exhaustion and fatigue by improving oxygen flow and blood circulation. Meanwhile, you get a better posture and feel more relaxed with alleviated joints. 
Higher Energy Levels 
When your body stays grounded and aligned, it soothes your mind, giving you a feeling of calmness. All of that translates into boosted energy levels. 
Any Other Advantages? 
While ameliorating your physical conditions, it also solves other issues for you.
Budget-Friendly 
Buying Japanese mattresses comes at a more budget-friendly price than regular ones, even if you pick a premium-quality one.
Although placing a regular mattress on the ground is possible, flipping and cleaning beneath it is laborsome because of its weight. So it will require additional investment to get a bed frame. Fortunately, you will not need a bed frame for a Japanese mattress. 
Space-Saving 
You can fold a Japanese mattress easily or push it into your room's corner. You can choose one among foldable, tri-fold, and rollable mattresses. As it does not need a bed frame, it will occupy a short space. 
Low Maintenance 
Japanese floor mattresses absorb moisture and prevent themselves from getting permeated with the flooring underneath. They can also trap dust effectively to help you keep your floor clean.
Moreover, their textured surface grips shoes and deters debris and dirt from getting stuck to the mats. So, overall, the low maintenance heightens their appeal even more.
Final Words
Japanese floor mattresses are popular for the sleep benefits they provide while improving your sleep quality. They are so comfortable, supportive, and soft that more and more people are leaning toward them, not to mention their affordability. 
Evidently, the Maxyoyo Navy Starry Sky Japanese Floor Futon Mattress review has all the features and benefits of a superior-quality mattress within a very reasonable budget. It is high-performing, aesthetically pleasing, and versatile. You can save huge space by storing it in its bag. Furthermore, it has the best cleaning rules.
So if you are browsing online or shopping for a mattress, strongly consider Japanese mattresses, especially the Maxyoyo one. It will bring positive changes to both your physical and mental health, being one of your best investments.