Can You Put A Dresser In An Entryway? [4 Stylish Ideas]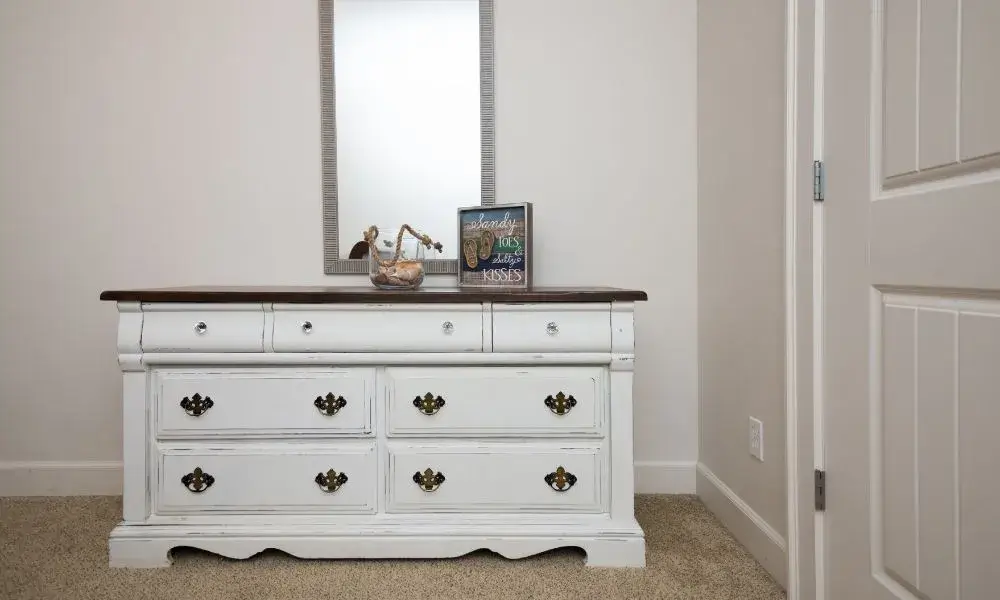 To make an entryway stylish and functioning, it is important to choose the right furniture for the place. In your quest for the right furniture, you might have come across the idea of a dresser. So, you might be wondering: can you put a dresser in an entryway? 
You can absolutely put a dresser in an entryway. Putting a dresser in the entryway is not just practical. It can be a highly stylish set-up as well. A dresser can be a great addition to your entryway to keep the place clutter-free.  
Truly, there are multiple ways you can utilize a dresser in your entryway. In this article, I am going to elaborate on this idea and share with you 4 stylish ideas for putting a dresser in your entryway. So, read along and find out which style suits your entryway the best. 
What Is A Dresser?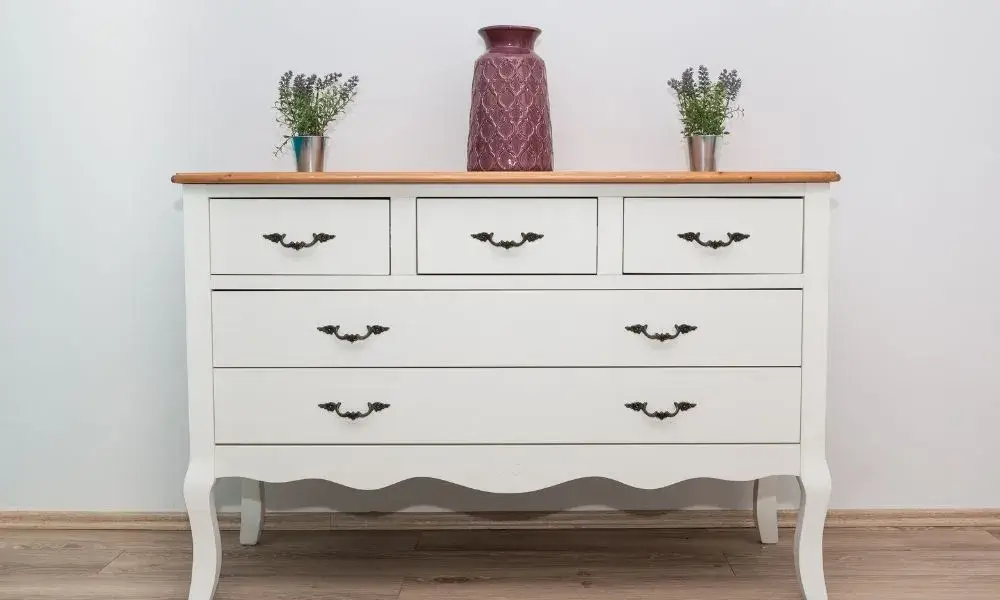 A dresser is basically a piece of furniture that comes with several drawers. Sometimes it can have a mirror on top. However, it is not strictly necessary. People generally use dressers to keep clothing items.
However, when it is your house, you are the rule maker. You can use a dresser to store practically anything and place it practically anywhere. 
Dressers come in various shapes, sizes, and designs. Consider the available space in your entryway when getting a dresser. Choosing the right dresser and putting it the right way can really influence the overall decoration of your entryway.
4 Stylish Ideas To Put A Dresser In An Entryway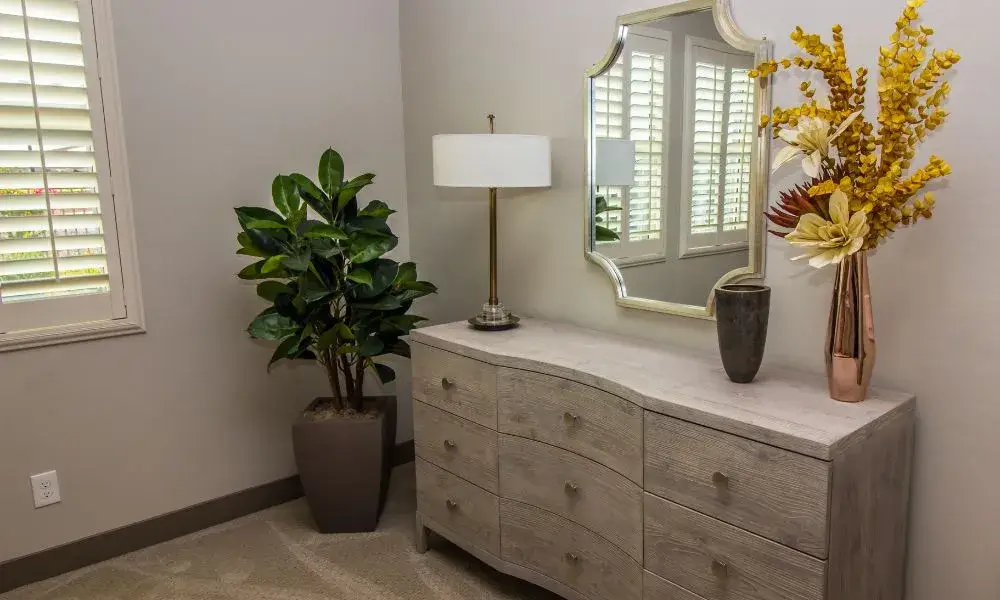 An entryway is where people get the first impression of the interior design of your home. That's why getting the right piece of furniture for your entryway is very important. Remember, the type of design of the dresser depends highly on what type of entryway design you want to have.
Now let me discuss some stylish dressers to put in your entryway:
1. Antique Dressers For A Timeless Décor
Antique items of furniture are always classy and timeless. While considering various design options, you might not have thought to put an antique dresser in your entryway. But that is a mistake. If you have the space, an antique dresser can be the perfect piece of furniture for your entryway.
An antique dresser may sometimes look rusty, but they add character to your entryway. Besides, such dressers often come with deep storage space. This is always a good thing as it will help you to keep your entryway clutter-free.
For added decoration, you can consider putting up a nice painting or some other art piece on the wall. Putting an antique lamp on top of the dresser might also be a nice touch. Place a wooden chair or stool beside the dresser to complete the look.
2. Antique Lowboy Dresser For A Unique Look
If you are familiar with it, you can imagine how an antique lowboy dresser can be a charming addition to your entryway. 
A lowboy dresser is one kind of dressing table or vanity. Normally, a lowboy dresser is like a short table that is much shorter and smaller than a typical dresser. It usually comes with one or two rows of drawers. 
A lowboy dresser is not a piece of furniture you see around you often. This is exactly why a lowboy dresser can be used to give your entryway a very unique look and style. It provides your entryway with a distinctive appearance as well as just the right amount of storage space to keep the entryway clutter-free.
I would recommend putting up a nice antique mirror on the wall above the lowboy dresser. It will be a great addition to this stylish décor. And if you have the resource, you might want to consider investing in a dainty carved chair and an alabaster lamp with a black drum shade. 
Complete the look by putting a tall potted plant beside the lowboy dresser. The whole décor will now speak of class and style with a touch of uniqueness.
3. Decorating The Dresser In A Boho Vintage Look
To give your entryway a charming look, you don't always need to find a unique-looking dresser. Sometimes, you can reutilize your everyday dresser. All you have to do is decorate it properly to match the style of your entryway.
To give your entryway dresser a boho-vintage vibe, put a textured tear-drop lamp on top of it. You can get vases decorated in globally inspired details. The vases will add texture and visual interest to the set-up.
You can fill up the vases with flowers or dried eucalyptus (if they are available). Complete the look by putting a mirror in the background.
4. Dresser Under The Stairway
Sometimes entryways lead directly to the stairways, and you might have some extra space available under the stairway. Well, there are many ways to utilize this space. But one of the most common and well-used options is to put a dresser in the space under the stairway. 
Putting a dresser in the space under the stairway is a great way of ensuring a neat and clean, clutter-free vibe for your entryway. This is especially helpful when you have a small entryway. The dresser can be used as a storage space. 
You can either match the dresser with the other decoration of the entryway. Or, keep it hidden away under the stairway by adding sliding doors in front of it. 
Why Should You Put A Dresser In An Entryway?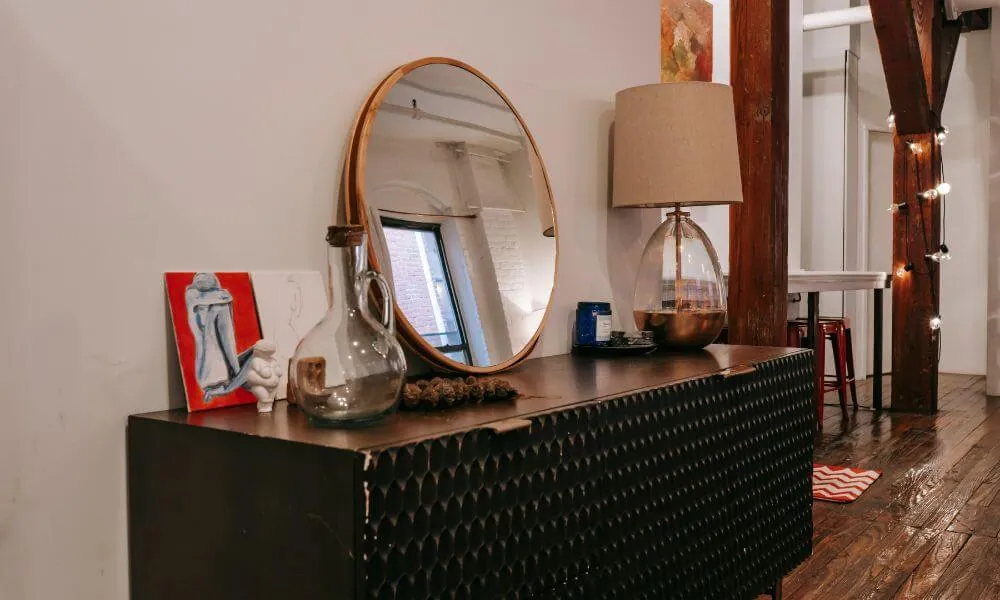 One of the main reasons behind putting a dresser in the entryway is to keep the place organized. In order to keep your entryway organized, you need to make sure that the place remains clutter-free. A dresser can be a big help in that regard.
An entryway is basically a drop zone for whoever comes into the house. From your keys to casual shoes and random clothing items, everything eventually makes its way into the entryway. It is very easy for your entryway to get cluttered and messy. 
If you want to know some entryway shoe storage hacks, check out this guide- How Do You Store Shoes In A Narrow Entryway? [14 Hacks]
However, cluttered and messy are not the impressions you want to give to people when they first enter your house.
Putting a dresser in your entryway gives you ample space to store all your necessities. With a dresser, you can have a separate space for all items. This will not only keep the place clutter-free but also keep everything well-organized. You won't have to spend your time looking for things. 
Besides, with proper decorations, your entryway dresser can easily become a stylish art statement as well.
Are Entryway Dressers Budget-Friendly?
The cost of an entryway dresser depends on you. The price range will vary according to the size, the number of drawers, and the quality of your dresser. The bigger it is, the pricier it will be.
However, there are other ways of staying within budget while getting a dresser for your entryway. 
The most obvious option is to recycle and reuse your old dresser. You can very easily give your old dresser a new look by applying a fresh coat of paint and adding new upholstery or upgraded hardware. You can then decorate it with one of the ideas I discussed in this article. 
And now you have a classy and beautiful dresser for your entryway without going over your budget.
Another way is thrift shopping. You can sometimes find amazing pieces of furniture while thrift shopping. You can upcycle a dresser from a thrift shop to suit the design of your entryway. Moreover, you can also try surfing the online market. Sometimes you can find gems there at the price of rocks.
Final Words
Finding the right style as well as the right piece of furniture for your entryway can sometimes be a daunting task. But when you have enough space, putting a dresser in your entryway is never a bad design choice. 
With the right decoration, a dresser can offer the perfect balance between style and practicality. In this article, I discussed some such decorating ideas. I hope after reading them, you will find the style that suits you best. Or, at least, they will inspire you to find your own style.