Can You Put Wooden Shelves In The Bathroom?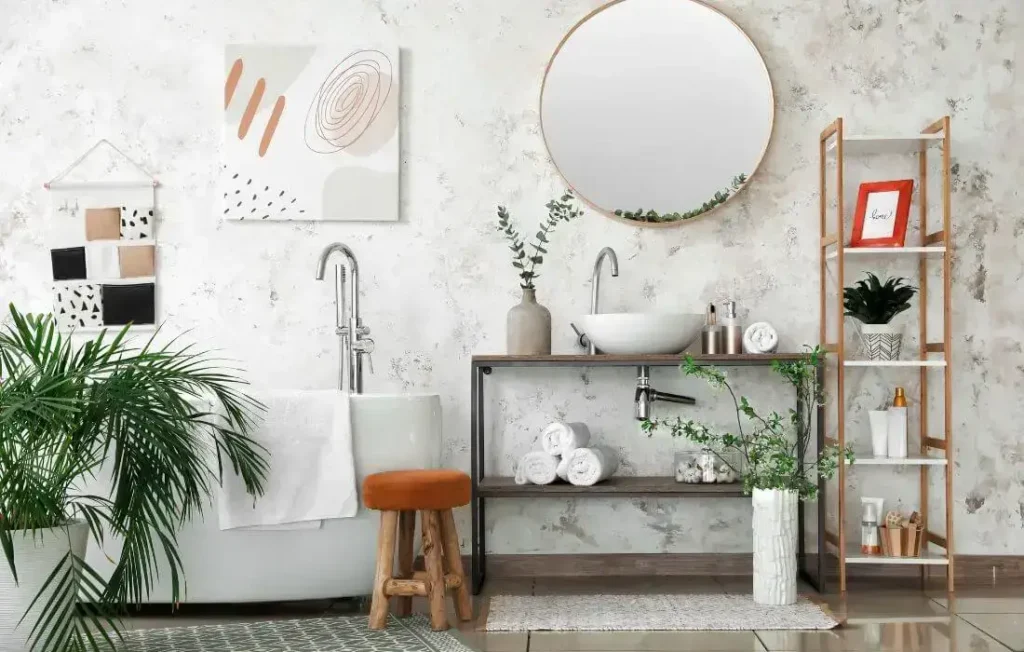 Having a compact bathroom doesn't mean that you must live with limited storage capacity. Hand towels, skincare products, toilet tissue, and even decorative items like candles and plants can have a place in your bathroom. Utilizing your unused walls is among the most effective methods to make storage space for them.
You can put Wooden shelves in the bathroom. Wooden shelves can be an excellent choice to increase bathroom storage capacity. It can also provide a decorative and functional purpose for your bathroom accessories or home décor.
Regardless of your bathroom size and style, wooden shelves are highly adaptable and may complement a variety of styles and designs. If you want to know more about wooden shelves in the bathroom, I suggest you read this article till the end.
Which Wood Is Best For Bathroom Shelves?
If you have wooden shelves in your bathroom, you can keep toilet tissue, bath towels, skincare products, and many other decorative items on them. So, you might be wondering what kind of wood is ideal for this.
Consider that bathrooms can be wet and humid most of the time. Therefore, it is essential to consider how moisture might damage wooden bathroom shelves. Because of their porous, water-absorbent qualities, neither solid wood nor softwood are waterproof. Some wooden shelves are just more resistant to water than other kinds.
Here are some of the finest woods for making bathroom shelves at your home.
1. Pine
Pinewood is an affordable softwood than solid wood. It's an excellent alternative if you're more concerned with appearance and color than strength. You have to be careful about putting heavy objects on your pine wood shelves. Bathroom shelves should be made 3 inches thick.
There are various qualities of Pinewood available in the market. Each with a different level of smoothness. There are four separate grades, each with a distinct level of quality. The grading scale specifies features of the completed appearance of the wood.
You must choose which grade level is appropriate for you. Furniture-grade pine wood is perfect for bathroom shelves. Pinewood absorbs moisture. Applying glue or white sealer will protect it from humid conditions, wetness, and boiling temperatures.
2. Koa
Koa wood is among the most resilient hardwoods on the market. Koa-wood-made bathroom shelves can last for many years. Koa wood is renowned for its varnish qualities. It is also very lightweight.
Koa is non-toxic, easy to handle, odorless, pressure-resistant, and lightweight. Furthermore, Koa wood shelves are resistant to bending, denting, and cracking. The beautiful moderate reddish hue gives your bathroom a unique look that other varieties of wood cannot match.
Unfortunately, Koa wood is not waterproof. That's the one drawback it has. Water may damage Koa wood, so it's best to cover the shelf with a clear sealer.
3. Plywood
Plywood is an inexpensive softwood. If the appearance and color are more important than the wood's durability, plywood is a viable alternative. 2.5 cm thick plywood is suitable for bathroom shelves
Plywood is considerably more durable than Pine. Dark-colored veneered plywood is a nice alternative. Humidity can be soaked by plywood. Applying glue that is resistant to moisture, wetness, and high temperatures is preferable.
4. Cherry
Cherry wood has gained popularity on contemporary bathroom shelves. Cherry is similarly lightweight and simple to work with as Koa wood. This is a hardwood that provides your bookshelf with incredible strength.
If you're more concerned with durability, cherry is indeed an excellent choice. It has a lovely, dark, crimson hue that is very attractive. Cherry helps you to get both durability and aesthetic appeal to your bathroom. That's why its popularity has increased in the modern era.
Cherry wood is not waterproof. But it has a greater degree of water resistance than other kinds of wood due to it is very durable. However, you should apply a white sealer layer for enhanced protection.
5. Red Oak
Red Oak is a durable hardwood that is very simple to stain. It is simple to work with. Utilizing Red Oak for bathroom shelves increases your productivity due to its simple handling, chopping, and polishing capabilities.
Red Oak is extremely user-friendly with low weather resistance. It is without question one of the finest premium woods for bookshelves.
Red Oak has horrible waterproofing properties. White Oak, on the other hand, has high water resistance. It is strongly advised to use a topcoat.
6. Padauk
Padauk is a dark red hardwood that may provide a different look for your bathroom shelf. It is strong and heat resistant, and it does not disintegrate in a short time. It is perfect for a bathroom shelf to hold a big load for a long time. It is the same price as black walnut wood.
Due to its low water resistance, the material should be polished and added a top layer of sealer.
7. Mahogany
Mahogany is a beautiful and long-lasting hardwood, although it is tough to work with. It's not quite lightweight. With its one-of-a-kind deep reddish-brown tone, mahogany bathroom shelves give a room a more antique appearance.
Mahogany is recognized to be a premium form of wood due to its high-level qualities. The bathroom shelf that is built from mahogany possesses a luxurious appearance that cannot be achieved with any other kind of wood.
Furthermore, Mahogany wood is very water-resistant. This makes the wood very durable.  Mahogany is among the most durable and long-lasting woods for bathroom shelves. Its water protection quality has been one of the reasons it has become somewhat pricey.
8. Teak
Teak wood has many similar qualities to mahogany. It has a golden hue to it. This hardwood also is very durable. Teak has many of the same qualities as mahogany. It is a golden-brown hardwood that is very durable.
Teak possesses good bending strength, toughness, acid resistance, and high stiffness. Because it has such great qualities, teak wood is just as costly as mahogany. While sanding Teak wood for bathroom shelves, beware of its irritating dust. Teak wood resists insects and bugs, making it ideal for bathroom storage.
When compared with other types of wood, Teak offers exceptional water resistance. It is not vulnerable to warping, deterioration, cracking, or rotting. If you can spend sufficient money on your shelves, this is the perfect option for you.
We have listed 15 perfect vanities for small bathrooms. You can take a look!
How High Do You Hang Wooden Bathroom Shelves?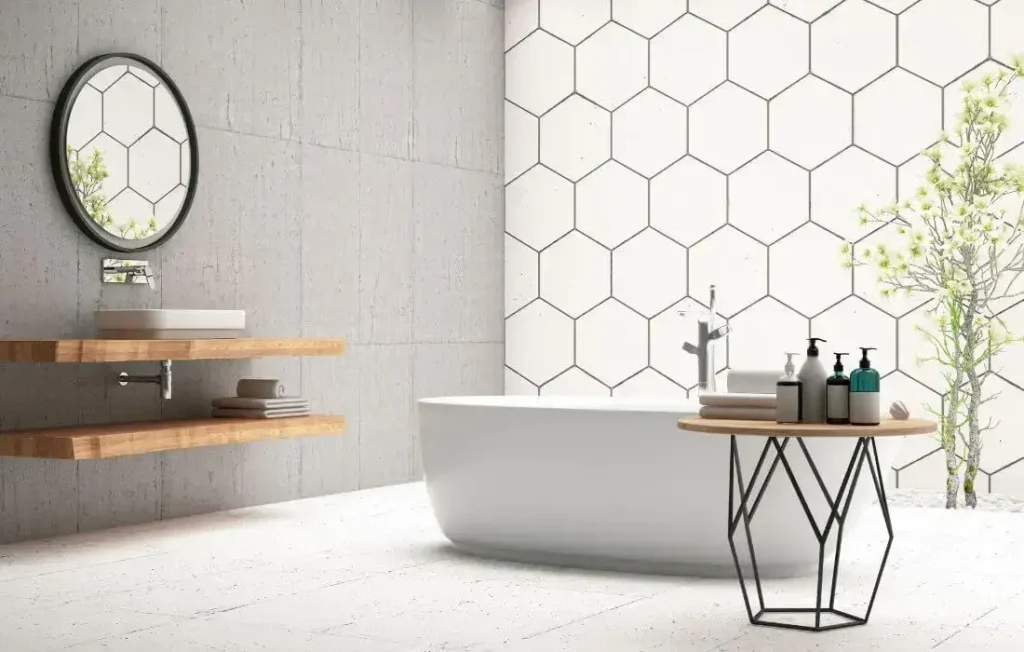 In most homes, a shelf is positioned around two feet above the tank or commode. If you are going to have more than one shelf, you should hang the lowest shelf about 25 inches from the ground, and you should place the following level anywhere from 10 to 15 inches above the first shelf.
How Thick Should the Bathroom Shelves Be?
Whether the wooden shelves stay for long or bend will depend on the material you use and the thickness it has. If you use the thin and cheap wood to hold something heavy, you're going to be disappointed.
The best way to choose shelves is to complement the length and depth of the shelves to the things you want to store on them. Toilet papers, skincare products, and other small things can be kept on a 2.5 cm thick wooden shelf.
Which Paint Is Best For Wooden Bathroom Shelves?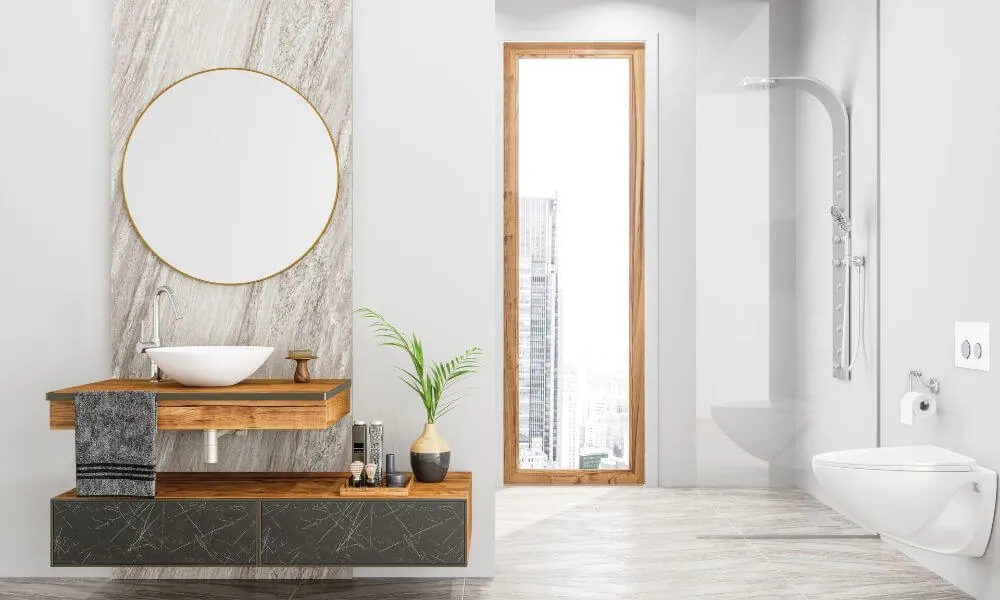 Wooden bathroom shelves will look very good in semi-gloss or high-gloss paint sheen. These paint sheens have a non-porous, smooth surface that is simpler to maintain.
Additionally, moisture does not get absorbed in this case, which prevents the paint coat from deteriorating or fading over time.
Final Say
Small bathrooms don't imply limited storage. Using spare walls to create storage is beneficial. Wooden shelves are a fantastic option to increase bathroom storage.  It may serve both a useful and beautiful role for your bathroom items.
Since bathrooms are often damp and humid, it's important to think about how moisture could damage wooden bathroom shelves. Some of the wooden shelves are just more water-resistant than others because of their material.
There are several wood varieties to pick from for your wooden bathroom shelf. If you keep this article in mind, you should be able to make a better decision for your wooden bathroom shelf.