Smart Storage Ideas for Small Bathrooms- 50 Creative Hacks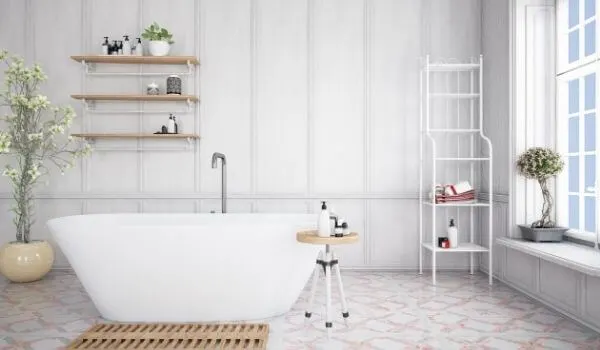 One of the worst things that could happen to any new homeowner is being stuck with a small bathroom. Whether you live in a college dorm or an apartment that you bought with your own money, a bathroom can make a lot of difference in your homely adventures.
Below, we have listed down 50 and more unique hacks that you can use to organize a small bathroom to make it seem more appealing and visually aesthetic for you, and your guests.
Let us get right into it!
1. Mount a Towel Rack
The easiest way to organize a small bathroom is to mount a towel rack onto the wall. A towel rack will keep everything organized, as well as neat and clean. It will also increase the rack space in your bathroom while allowing easy access to what is required the most after a shower.
2. Add Storage to the Medicine Cabinet
You can add storage to the medicine cabinet by sectioning the units according to your needs. This will allow you to store more stuff in the cabinets, other than just meds and ointments.
3. Hang Basket Shelves
Basket shelves are a great addition to small bathrooms these days, as these baskets look visually pleasing. The baskets tend to be made out of bamboo, therefore adding a hint of softness to the bathroom, while also allowing space to be created for shampoos and other pharmaceutical needs.
4. Separate Bathroom Storage Items
It is important that you separate the storage items designated for your bathroom so that you do not mix stuff up with other organizing tools.
Bathroom storage items should stay inside the bathroom, and kitchen stuff should be in their designated areas.
5. Designate a Cleaning Supply Cabinet
It is both important and a fantastic idea to designate a specific cabinet that will consist of all your cleaning and organizing supplies for future needs. A specific cabinet will save you from looking through tons of items and also reduce the chances of mess-ups and untidiness.
6. Use Adhesive Hooks for Tools
You can use adhesive hooks to store your tools on the doors of the supply cabinet, or simply in your basement or pantry. The adhesive hooks take up on space at all and are a great way in keeping things in check.
7. Hang an Organizer in the Bathroom
An organizer is affordable, therefore requiring minimal splurge on your end. The best part about an organizer is that you will not be required to call a mechanic to install everything for you, as most organizers are DIY-able.
8. Mount Magnetic Strips
Magnetic strips can be attached to any metal surface and will hold onto whatever metal item you throw at it. From your razors to bobby pins, magnetic strips will keep everything in one place for you.
9. Find Unusual Storage Spaces
You can easily find spaces between the tub, under the sink counter, or even over the showerhead if you look closely enough. Once you find a place like that in your small bathroom, make sure to utilize it accordingly and do not let it go to waste.
10. Choose a Dual-Purpose Mirror
What is better than a normal, pretty bathroom mirror? Why a dual-purpose one! A dual-purpose mirror will usually come with any other function combined with the basic operation of a usual mirror, therefore allowing you to either hang a towel, or maybe include LED lights, and so on.
11. Store Bathroom Essentials on a Cart
You can easily keep all your bathroom essentials on a wooden or plastic cart if you want. 
A bathroom cart usually comes with three shelves, so space will be in abundance and you will be able to store a lot more than just 3 shampoo bottles and two towels!
12. Add Cleaning Product Storage
You should add a storage system for all your cleaning products as well, where you can store away your window cleaners, Clorox, and all other disinfectant items. This will reduce the clutter from the bathroom counters, while also keeping everything neat and clean in the cabinets below.
13. Repurpose Furniture in the Bathroom
A great way to save up on space and organize a small bathroom is to repurpose furniture for the bathroom. Instead of throwing away your makeup brush holder, you can use it to store your bathroom toothbrushes and flosses.
14. Utilize Kitchen Items
Similar to other furniture, you can also utilize your kitchen items for good here. For example, you can easily throw a paper towel holder in the bathroom for decorative and functional purposes.
Popular in Bathroom Storage Solutions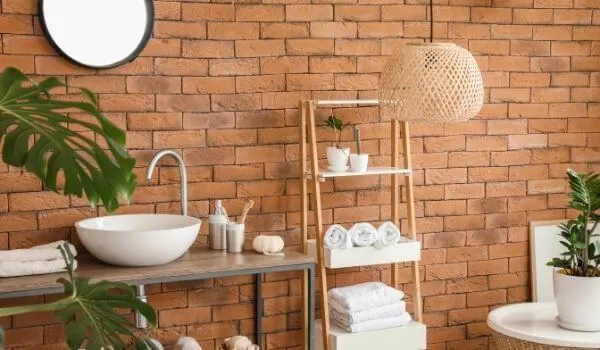 Below are some of the most popular storage solutions for a small bathroom. You can incorporate these top solutions for your bathroom makeover, and unravel a whole new room that you had no idea even existed!
Bar stools- You can add bar stools in the corner of your bathroom, in order to add a touch of modernity to the place. However, a bar stool is also a great place where you can store other items, such as baskets with shampoos or other bathroom essentials
Trays- Trays are a great way to keep all those small items organized and in one place. You will definitely want to invest in such items if you deal with lost pins or hair clips on a daily basis
Hands-free drawers- Hands-free drawers are the next best thing in the market, due to their efficiency and space-saving features. You can install such drawers right under the sink as well, therefore maximizing space.
All Topics in Bath Storage Solutions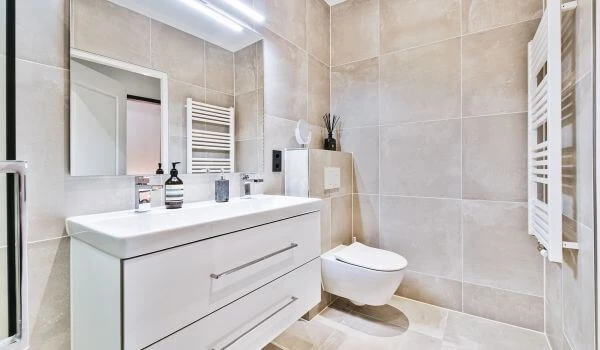 Other than the popular no-brainer solutions to organizing a small bathroom, we thought adding the less popular, albeit common ideas will also be a great idea. We hope the list below helps you re-decorating your dream bathroom in the way you desire the most!
1. Over the Toilet Wooden Background Shelf
You can easily install a wooden background shelf or two over the head of the toilet to create more space where you can store your toilet paper, hand towels, and even a pretty flower vase.
2. Slanted Shelf for Ease of Access
A slanted shelf is the perfect installation for small bathrooms, as it leaves enough space to install other shelves or racks without compromising on the décor. You will love the idea of storing books you prefer reading in the tub in such shelves. You might even want to throw in a scented candle or two for a better ambiance.
3. Wide Flat Shelving Between Bathroom Fixtures
Wide flat shelving in between the fixtures in your small bathroom might be a great way to maximize the lack of space. Opt for monochrome shelves or racks to install between the toilet and the tub of your bathroom, where you can store items that cater to both furniture.
4. Mounted Shelves with Wood Panels
Another kind of shelf that you can opt for are mounted ones that usually come equipped with wood panels and wiring on the sides and bottoms. Such shelves take up very little space and do not require additional man-handling during the installation either.
5. Dark Stained Floating Wooden Shelves
Not only will such shelves help create space in the bathroom while allowing you to organize your cosmetics accordingly, but the dark-stained look of the shelves also allows a pop of color in the room without making it look too cluttered.
6. Cabinet with Glass Doors
You might want to opt for cabinets made of raw wood and glass doors to compartmentalize your everyday items from your luxury items. It adds a great statement to the bathroom while letting you organize your essentials in the prettiest way possible.
7. Mesh Basket Sink
Wire mesh baskets that you can attach to the side of a sink are great for holding everyday essentials such as loofahs, hand-washes, and even candles. You can even throw in an exfoliator or two if the basket is placed towards the direction of the bathtub.
8. Built-in Jumbo Medicine Cabinet
A jumbo medicine cabinet is great for storing and organizing all your important meds and supplements. A jumbo-sized cabinet can act as a multi-purpose one for your small bathroom, as you can store much more than just meds in one.
9. Hanging Rustic Labeled Soap Shelf
A rustic hanging shelf for soap specifically can become the next best statement piece for your monochromatic and minimalistic small bathroom. There are plenty of rustic labeled soap shelves that will allow you to customize each soap by name as well, therefore allowing better organization into the mix.
10. Elevated White Multilevel Bathroom Shelving
You can store so many things in an elevated multilevel shelf, starting from your favorite magazines to read in the tub to even scented candles and flower vases.
11. Muted Color Step Shelves
Such kinds of shelves are great for hanging your everyday towels and bathrobes. This space-saving hack is perfect for college dorms and small bathrooms, as everything stays at eye level without making the room look too cluttered or untidy.
12. Personal Sized Wooden Product Box
A personalized wooden product box for your cosmetics or sanitary items is a great hack for keeping everything organized, clean, and looking aesthetically pleasing in a small bathroom or dorm room.
13. Over the Door Product and Towel Rack
This amazing hack is perfect as it simply hangs behind the bathroom door, and takes up virtually no space. A perfect hack for small bathrooms filled to the brim with many items, this kind of rack is your best bet at re-decorating.
14. Lightweight Caddy for Over Showerhead
A lightweight caddy that you can install over the showerhead is one of the best ways to keep your shampoos, conditioners, and other bathing products organized and in place.
You can even store pretty flower vases or toothbrush holders in such lightweight caddies.
15. Under Sink Shelves with Pipe Out
You can even install under-the-sink shelves, which do not actually come with doors! Starting from freshly rolled towels to even bathing products or cleaning supplies, you can store anything and everything in such shelves.
16. Hangers for Brushes and Miscellaneous
You might even want to invest your cash in plastic toiletry hangers for your hair or toothbrushes and other extra items.
The hangers usually go behind the door, while some people go as far as setting them up on the wall of the tub.
17. Gray Wood Grain Wall Shelf
Another pretty shelf design is a gray wooden-grained one, which has a monochromatic look to it and can easily blend in with any surroundings. Such shelves look best under the sink or on the walls behind the skin, therefore allowing you to store items accordingly.
18. Sink Side Cosmetic and Skincare Organizer
Similar to an over the side of a sink mesh basket, a sink-side cosmetic and skincare organizer is your best bet if you lack a dual-purpose mirror in your small bathroom.
Such organizers are also really handy for those living in small college dorms shared with many other tenants, as you can easily take your organizer with you once you are done with your bathroom activities.
19. Over the Sink Space Saver Shelf
This kind of shelf is perfect for those lacking a cabinet and under-the-skin shelves. You can store all your essential cosmetics and skincare on such shelves without compromising on the sink itself and the space around it.
20. Hanging Crochet Bathroom Organizer Basket
A hanging crochet organizer for your small bathroom is a really pretty item to hold and store all your personal belongings and skincare. Such a basket is usually large enough to store shampoo bottles and other toiletries as well. You can even take it with you if you live in a college dorm.
21. Hanging Cabinet Door Styling Organizer
Similar to the previous organizer, this one is a cabinet-style one that you can install on the back of the bathroom door. The organizer can hold all your belongings and other personal items without taking up too much space and making everything look cluttered.
22. Mini Mounted Over Toilet Cabinet
An over-the-toilet mounted cabinet is great for holding items such as paper towels, tissue paper, and even books if you want. You can also store items such as candles and air fresheners in such cabinets for ease of access.
23. Wooden Trough Mounted Sink Organizer
From little cacti to even room fresheners, you can store a lot of things in a wooden trough-mounted sink organizer. The slim design of such an item allows you to store whatever you want, including toothbrush holders, face wash, and scrubs without taking up too much mirror space.
24. Tree Style Multi Size Towel Organizer
You can find such a product in many different sizes and shapes, therefore catering to the amount of space left in your small bathroom. You will want to go for such a product as it comes with a lot of storage space for your paper and fabric towels.
25. Roll Organizer With Magazine Rack
From paper towel rolls to magazines you love reading in the tub, such a rack is perfect for those who find a hot bath in a bathroom to be an experience and not a mundane activity.
26. Polished Gray Shelving with Security Railing
A polished gray-colored shelving equipped with a security railing on the side is the perfect item for your small bathroom organizing sessions. You can install such a shelf wherever you want, including right beside the toilet or the bathtub for easier access to the items.
27. A-Tisket, A-Tasket, A Green and Yellow Basket!
Much loved like the famous nursery rhyme almost all kids grew up learning, a green and yellow basket can never go wrong in a small bathroom. Install a pretty green and yellow basket to your kids' bathroom and help them learn how to stay organized while memorizing their rhymes at the same time!
28. The Hierarchy of Bathroom Needs
While this may sound like we are talking about some capitalist society, what we actually mean to say is that every bathroom requires a special ladder-kind shelving system where you can store all your essential goods, in a hierarchy system.
29.  An Example of Vertical Space
As mentioned before, a ladder can be a splendid towel rack hack for small bathrooms or people who cannot afford to purchase an expensive rack for their towels.
30. Stuff Your Worries in a Corner!
Instead of letting items stay loose here and there, stuff all your worries (and personal belongings that you might not require any longer) in the corner of a small bathroom. Installing a vertical shelving system on the wall in the corner will leave you a lot of space in the bathroom.
31. Consider a Rack for your Cosmetics
A woman can never have enough makeup brushes, and that is a fact! So there is no need for you to compromise on this matter. All you do need to do is purchase a rack for your cosmetic products that you can store in the corner of the small bathroom.
32. Bottoms Up and Bottles Out!
When you want to organize a small bathroom, take a sip of your favorite beverage for the stress and let go of the useless shampoo and conditioner bottles lying around in the cabinet over the showerhead. Seriously, if you haven't used them in more than 5 months now, you do not need them.
33. Build it Right Into the Wall
Forget installing racks and shelves onto the sides of sinks and doors. Try installing an entire cabinet onto the wall instead! This will save you a lot of space and also make organizing a whole lot easier for the future.
34. Cheap and Easy DIY Shelves
If you have not got the budget to invest in the fancy shelves that we mentioned in this article, you can take a look at making one for yourself, using a few items that you probably have lying around anyway.
35. Use drawers
The whole point of organizing your small bathroom is to make sure the items that you store away are not seen by people or even yourself once you close that drawer. This is why you will want to organize your bathroom in such a way that nothing is left outside once you are done using it.
36. Just Hanging Out
You can store your daily essentials in different hanging organizers as well, therefore allowing lots of space around the bathroom and better compartmentalization.
37. For All The Little Knick-Knacks
Ever felt like showcasing those pretty knick-knacks that you own in your small bathroom, but you do not have the space? Special mason jars meant for such items, and even more will allow you to display your favorite little knick-knacks and even jewelries if you want.
38. Contrasting Colors for Your Convenience
Having contrasting colors in your small bathroom can make the room appear much larger than it really is, and even give the illusion of spaciousness.
39. Framed Like a Family Photo
You can keep all your personal items such as facemasks, beauty care and other items perfectly framed like a photo behind the door or over the showerhead of a tub. However, unlike an actual photo frame, this one will have enough space to hold 3D items inside and can also be opened whenever required.
40. Minimalistic is the New Black
You might want to consider going minimalistic if you have a small bathroom and do not know how to organize it any longer. Get rid of all unnecessary items that you may own in the bathroom, and keep what is solely necessary and actually used.
41. The Classics Never Go Out of Style
Classics are items or trends that never truly go away, simply because of how awe-struck they tend to leave us. Similarly, there are some small bathroom essentials that can never go out of style, nor should you get rid of them. Items like a free-standing tub or a classic black and white rug on the floor enhance the look and style of a small bathroom instead of making it look cluttered.
42. Marvelous Magnetic Magic
Invest in magnetic strips and holders to store away all your metal items such as earrings, pins, and hair clips for easier access and minimal cluttering. You can also hang straighteners and tweezers on magnetic strips if you want.
43. Unique Storage Ideas for a Small Bathroom
 Storage ideas such as finding unconventional spaces where you can keep belongings and skincare items are unique ways to organize a small bathroom.
Other ways include-
Using ladders
Under the sink shelves
Paper towel holders
Adhesive hooks, etc.
44. Hot Rods: Bathroom Style
Hot rods are great for hanging towels and shower curtains, and they also bring about a hint of coolness to the bathroom. This is a rather unisex idea that you can implement in your small bathroom area.
45. Tiny Cupboards for Tiny Toiletries
Forego installing a large cupboard that you just won't fill to the brim. Instead, invest in tiny cupboards for those tiny toiletry items that you tend to lose in the bathroom all the time.
46. Wicker Dreams to Keep You Clean
Wicker baskets made of bamboo are great for holding toiletry items and cosmetic products. They can be taken on the go, or placed on and under the counter of the sink if required.
47. To Make Everyone Stop Leaving Wet Towels on the Floor
Invest in towel holders or hangers to stop people from leaving used, wet towels on the floor. Also, you could get a basket where everyone would simply throw in their used towels for laundry.
48. Everything That You Need at Arm's Length
Keeping all that you might possibly require at arm's length is a great way in keeping everything organized and tidy in your small bathroom.
49.  A Different Kind of Basket Organization
Baskets are great for storing and organizing bathroom items, so you can never have too many of them! Get as many as you like and require, and stack them up over one another if required.
50. Re-Purpose That Old Bookshelf
Using an old bookshelf to store bathroom items such as shampoos, candles, towels, robes, and other essentials can be a fantastic way in keeping the entire bathroom clean, dry, fresh as well as organized.
51. For All of your Odds and Ends
Owning baskets where you will be able to keep all the miscellaneous items that you do not use very often is a great way to de-clutter your bathroom.
52.  Curly Sue Has Nothing On You
A wall hanger capable of holding a basket or two will be a great addition to your bathroom. Not only would this item help you keep your shampoo bottles and other essentials out of the way and neatly stacked, but it will also make your bathroom look more aesthetically pleasing.
53. The Future Is Here, And It's Shiny
If having wooden paraphernalia isn't your forte, you could always go for metallic ones. Having crush holders and racks made out of metal will reflect off more light, and as a result, your bathroom will also look bigger than it actually is.
54.  Rustic Wood for a Country Home
Vintage-looking interiors are all the hype these days, and one of the best ways to be a part of the crowd is to decorate your bathroom with rustic wooden furniture.
55. Bag It Up
Keep all your small belongings in a tiny pouch or bag that you can easily hang up with an adhesive hook on the wall or behind the door of your bathroom in order to save space and keep your tiny essentials organized.
56.  Harry Potter and the Invisible Bathroom Organization
You can install a hidden organizer or cabinet on the wall of your small bathroom. This way, your toiletries, and other personal belongings will stay out of sight but still safe and organized for you.
57.  Making Use of All Surface Areas
If you want to keep your small bathroom organized and tidy, you should make use of all surface areas available. This means utilizing the corners and borders of each wall and shelf respectively.
58. Gotta Keep 'Em Separated
You can keep your small bathroom looking in shape by compartmentalizing all your items into specifically labeled baskets and cabinets. You can easily find mesh side-over-sink baskets in many household and décor stores.
59.  Bringing the Pipes to the Outside
If you want to make the underside of the sink look more organized and cleaner, we would suggest you take the pipes behind and install them outside the bathroom. This will leave you with enough space under the sink for your own items.
60. For That "Dorm Room" Look
If you are living in a college dorm or if you want a similar look in your small bathroom, you can purchase baskets that you can take to the bathroom whenever you need to use it and therefore keep your bathroom clean and tidy all the time.  This is perfect for minimalism lovers.
61. Who Wants a Pedicure?
You can get magnetic strips where you can attach your pedicure items such as tweezers, scrapers, nail filers, etc. magnetic strips are all the rage for small bathrooms as you can install these on the inside of the door in any cabinet.
62. Sleek and Clean and Pristine
Another way to keep your small bathroom organized is to maintain hygiene and keep it clean every day. Make sure to put your used items back where you got them from and label them accordingly if necessary.
63. Tied With a Bow
Tired of that monotonous look that your small bathroom has? Lift the atmosphere of your bathroom by decorating your organizing baskets with bows and ribbons to make them look cuter than they already are.
64.  Never Again Run Out of Toilet Paper
Surround the tank of your toilet seat with a rack where you can keep multiple toilet papers at once beside one another. By doing so, you no longer have to fret over not having enough toilet paper at home or in your small bathroom.
65. A Touch of Green in Your White Bathroom
We all know how boring a completely white bathroom may seem. To make your small bathroom a bit more appealing, decorate it with green plants since the green color from these plants will create a beautiful contrast against the white background.
50+ Clever Toilet Storage Ideas that Make the Most of Your Space
We have tried to mention 45+ of the most incredible and unique organizing ideas for small bathrooms. All the ideas and methods mentioned are fool-proof and require minimal setting up.
Frequently Asked Questions
How do I add storage to my small bathroom?
You can either compartmentalize or create new space in your small bathroom with the help of baskets and hangers.
How can I organize my small bathroom without any cabinets?
An easy way to do this is to simply purchase many storage containers and boxes as an alternative to a cabinet.
What is the smallest area needed for a bathroom?
The smallest area required for a bathroom is generally around 40 feet.
How do I maximize a small master bathroom?
You can maximize on a small master bathroom by installing built-in cabinets and opting for wall and door hanging baskets and shelves. Adding greenery can also give the illusion of a bigger bathroom.
Where should makeup be stored in a small bathroom?
Makeup can be stored anywhere in a small bathroom, either in baskets or hang-on shelves on the walls.
Where do you put towels in a small bathroom?
You can put towels in cabinets or on towel holders in a small bathroom.
Conclusion
Organizing and finding storage ideas for a small bathroom is not hard at all, but that can only be done when you have enough knowledge about the many ideas there is to implement in the décor of a small bathroom.