30 Incredible Pantry Ideas for Small Kitchen: Hacks to organize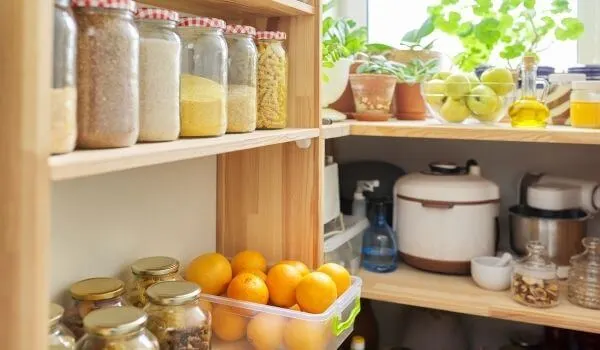 Have a small kitchen pantry? Fret not, all you need is just a little bit of creativity. There are a ton of ways that you can still make good use of that small space and have a fully functional, convenient, and efficient kitchen pantry.
Here are 30 pantry ideas for small kitchen that you may employ.
Merge it with your cabinets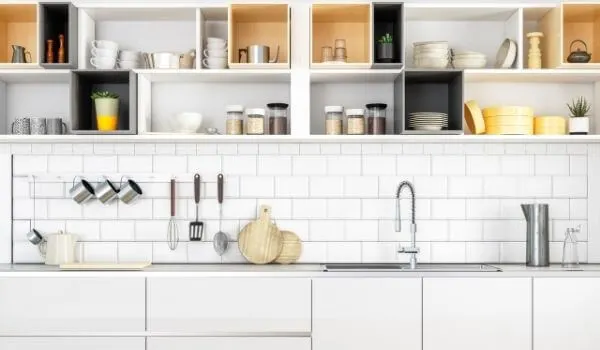 If you have very little kitchen space, to begin with, but think that you could really need a kitchen pantry then you don't necessarily need to have a separate space or shelf for it. You can situate it on one of your kitchen cabinets and not only will it then be always accessible but also can be tucked away neatly and securely when you don't need anything from it.
The old bookcase
Dust up the old bookcase that you're no longer using as they make for a perfect kitchen pantry. They have all the right tiers for organization purposes and just the right amount of space to cater to all your stuff.
Make use of the corners
We're pretty sure that you have a corner somewhere that's because its awkward space is not in use. So, go ahead and get a slim cart and make use of that space for your kitchen pantry instead.
Closet pantry
It doesn't have to be a walk-in closet but a narrow linen closet will do as a small kitchen pantry. Even with just a couple of tiers, you'd be surprised as to how much stuff it can hold and store for you.
Organize properly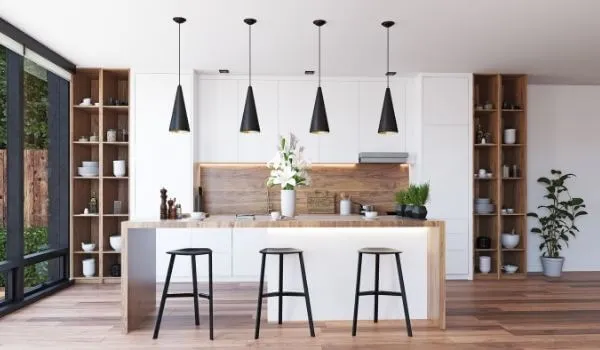 Don't just fill it up mindlessly or one after another. Make sure to organize what you put in your small kitchen pantry. Categorize and you'll not only have a neatly arranged kitchen pantry but you may easily access what's inside of it as well.
Think vertical
If you can't go wide then there's no other way but to go up. Utilize the vertical spaces in your place or kitchen and make the most out of them with a well-designed kitchen pantry. The only challenge here is how to reach the ones at the top so be sure to have a contingency plan for that like a ladder or stool or put the not-so necessary ones on the top shelf.
Utilize your doors
Utilize your kitchen door specifically. Use storage racks that you may easily install or hang on them and put all your necessities on them. It won't occupy space at all this way.  
Kitchen Island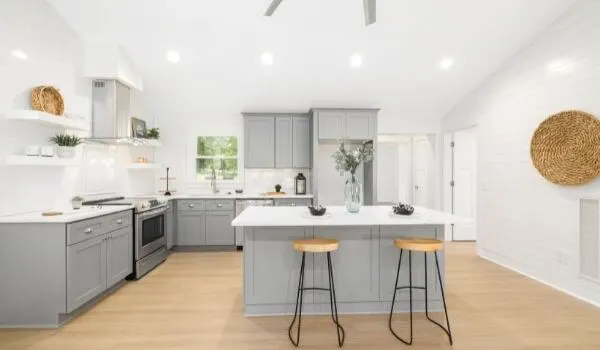 Have a very small kitchen space and none for a kitchen pantry? Well, why don't you swap your dining table with a kitchen island instead and have lots of room for storage?
Pegboard pantry
An open pegboard pantry is a great idea. You will have easy access to what you're going to need regularly and it will look stylish as it blends into the aesthetic of your kitchen space.
Fridge organizer
Why not try a spice rack that can be installed on your fridge via magnets. Like the racks you may install in your kitchen door they won't occupy space and are pretty convenient plus offers a lot of room.
The classic drawer
If you don't have any cabinets available then why don't you free up a couple of drawers and use them as your kitchen pantry? The contents will be securely tucked away and you'll have access to them easily too.
Mini-drawers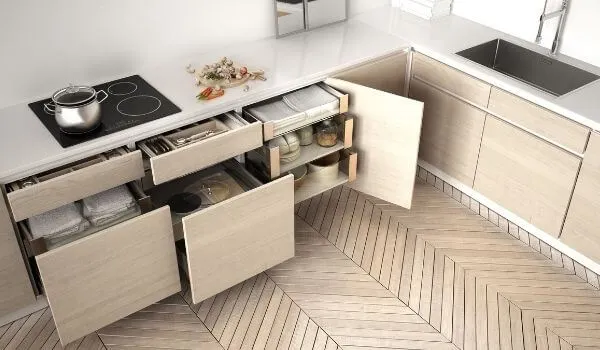 Here's a neat idea, install a mini-drawer underneath your kitchen shelves for a few items. Instant access and almost no space needed.
In-cabinet baskets
Open the kitchen cabinet and voila, there's a basket hanging behind its door and has everything you'd need from a kitchen pantry. Neat, secure, and convenient.
Pull-down rack
Don't have a lot of room but have some above your head? Well, why not hang a pull-down spice rack over there. The rack conveniently retracts and detracts as you need something from it.
Baker's rack
A baker's rack will occupy some space but it is space that's worth giving up. You can have a lot of things in it even appliances and it doubles as a kitchen pantry.
Corner organizer
Once again, make use of your corners. A corner organizer is a great piece of furniture to have on tight corners as it holds a lot of stuff down and makes use of that corner space efficiently.
Sliding drawer
If there's something you can pull down there's also the sliding drawers that you can pull on every time you need something from it. They don't occupy space if not in use and can be neatly tucked away.
Have an organizer with more or less 3 tiers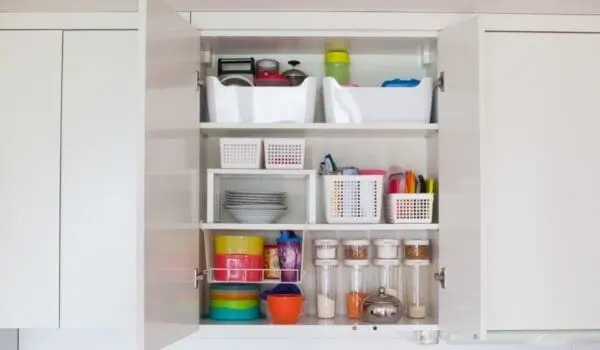 If you're going to make use of an organizer then at least make sure that it's got 3 or more racks for efficiency.
Know your kitchen
Knowing your kitchen's dimensions will always help as you decide what furniture, basket, drawer, rack, etc. to buy for it and be used as your pantry.
Clean clean clean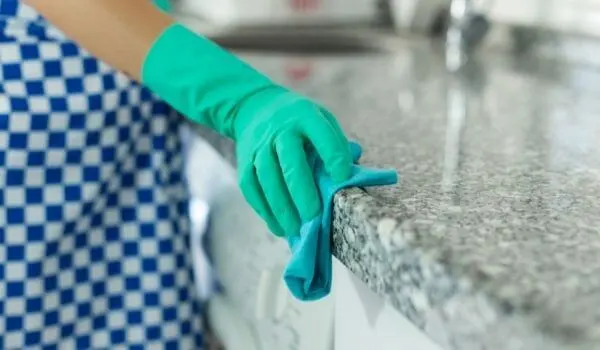 Sometimes, your kitchen looks small because there's a ton of clutter. Clean regularly and we're certain you'll find space for your pantry.
Countertop pantry
Make use of that extra countertop space and have at least a 3-tier pantry on it where everything is neatly organized.
In-cabinet pull-out drawers
Pull-out drawers that are neatly inside cabinets can give you double the storage capacity.
Make use of your walls
Nowhere else to put up a pantry and badly need one? Well, you have walls, right? If they are still bare then make use of them. Put up spice racks in them, there are a lot nowadays that are easy to install.
Modern organizer
What's a modern organizer? Well, it's something that's multifunctional, easy to assembled and disassemble, and moveable from one place to another. And, with many tiers, try one!
Underneath your kitchen table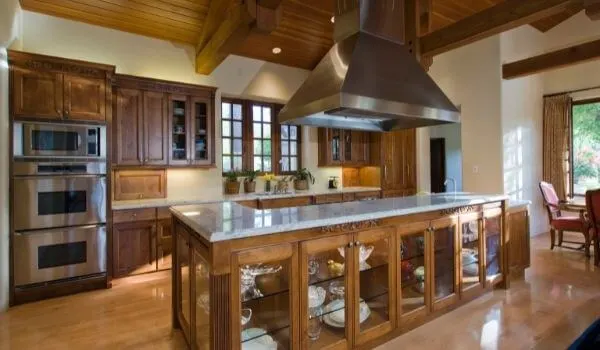 Might not be the sexiest idea but underneath your kitchen table is where there's most of the time a lot of space not utilized. Set up your pantry there.
Always think multi-purpose
Always buy multi-purpose spice racks. Not only things would be easier to organize but they have so much room and occupies very little space.
Have a pro assemble it all
If you're not so sure about how to efficiently install your small kitchen pantry then have a pro work on it for you.
Think long term
If you must buy something that will serve as your kitchen pantry in such a small space then be sure that it will be cost-effective and comfortable to utilize.
Don't hesitate to spend
Given that you'll make use of it consistently, don't skimp on the budget and have your kitchen pantry made well even if you have to spend for it or buy something a tad expensive. It will be beneficial in the long run.
Think out of the box
Adapt minimalistic concepts. Think out of the box. If you have such a small space then you will need to be creative and try the unconventional. That's how you'll come up with the best kitchen pantry ideas for small spaces.
These suggestions will not only make your kitchen pantry look livelier but also more convenient. Not just for all the functions it serves but also as a place where you will find everything that you need at all times.
Live life to the full, as they say, so why not be creative in all aspects of it and start in our humble yet stylish kitchen pantry.