What Do You Put On Top Of A Buffet Table?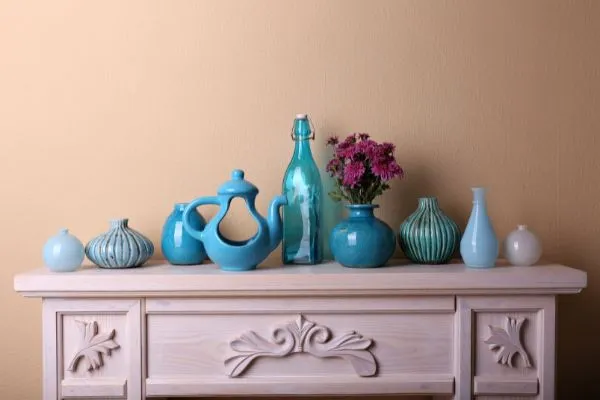 Buffet tables have evolved as multifunctional pieces over the years. Traditionally, they were used to display a spread of delicacies. While people still use them to keep food for serving, interior décor trends have repurposed buffet tables as display units for dining rooms.
By making the best use of it, you can spruce up your dining room environment big time! But before that, you first need to know what do you put on top of a buffet table.
Besides the cutleries and dishes, you can put accent pieces like candlesticks, lamps, glass jars, etc., on top of a buffet table. 
Through a tasteful buffet table décor, you can make a statement about your exquisite taste. We all love to make a very good impression on our guests when we entertain. A fabulous buffet table goes a long way towards impressing your guests.
Struggling for ideas? Read on to get some help!
What Accent Pieces Can I Put On Top Of A Buffet Table?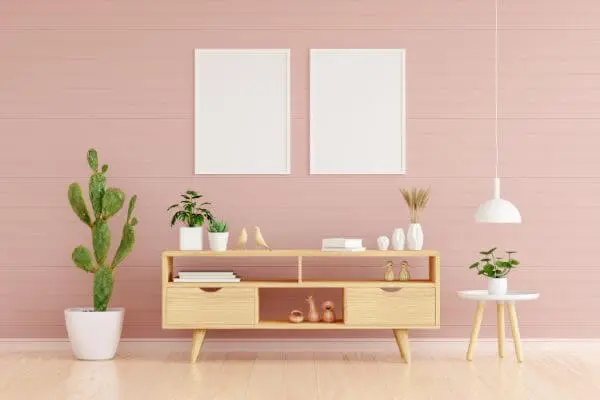 Table Lamps: Table lamps can be an excellent choice as buffet table accents since they remarkably enhance a room's vibe. We recommend using a pair of matching lamps to balance the look.
Candelabrum: A candelabrum is another sophisticated item you could consider putting on your buffet table. Since candelabra have a branched-out structure, using only one in the table's center will suffice.
Serving Bowl: A serving bowl looks great on the table. You can leave it empty or put some fruits there. It can go as the centerpiece. Alternatively, you can slightly put it off to the side if you have another centerpiece-worthy item on the table, like a flower vase or a candelabrum. Push them to the side a bit to break up the symmetry.
Flower Vase: Flower vases are a pretty safe bet as centerpieces. Nothing can be more welcoming than a bunch of fresh flowers, don't you think? Pick a beautiful vase that complements the beauty of the flowers. If you want to go with something simpler, we would recommend mason jars.
Plant Pot: You can add some greenery to the table with one or two plant pots. Go for some unique planter designs that let you artfully showcase your indoor plants. Creating a sense of proximity to nature can do wonders in boosting the appetite.
5 Buffet Styling Tips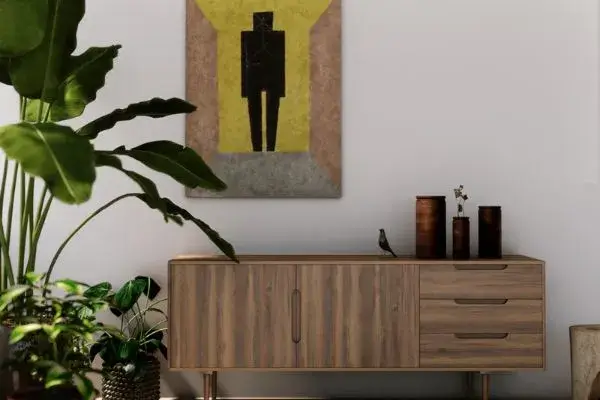 1. Add An Attention-Grabbing Background
The first buffet styling initiative you should take is to add a substantial background. It could be a pretty big piece that draws your attention as soon as you walk into the room. This statement piece adds to the symmetry of the dining space and centers the buffet on the wall. It could be a large painting or other forms of artwork. A big-sized mirror would also be a very good pick.
2. Your Dining Table Is The Star, Not Your Buffet
You should not forget that the dining table is the centerpiece of your dining room. It's the star of the show, while the buffet is a great supporting act, nothing more than that. So, don't overdo the buffet décor and undermine the statement item of the dining room. Try to create a combo that looks and feels coherent.
3. Put Taller Accents On Either Side Of The Buffet
If you have tall lamps, candlesticks, or vases, it would be a good idea to put them on either end of the buffet. The idea is to give the table a great sense of balance. We recommend candlesticks and lamps over other decors since they have the bonus offering of ambient lighting. Who wouldn't love some pleasant, soft light to set up the perfect dinner atmosphere?
If you go for this approach, try to match the height of the accent pieces you are using. They necessarily don't have to be the exact same pieces. Similar height is more important to achieve symmetry. If you feel like it, you can also experiment with putting only one tall item on the side. It's not the usual approach, but interior décor is subjective, and you might like it. Who knows!
4. Bridge The Peripheral Accents With A Central Accent
Keep a decorative piece in the center if you choose to put two accents on both sides of the buffet. Since the other two are tall pieces, you can counterbalance them with something smaller. We would say fruit baskets, bowls, and planters are the perfect candidates to bridge the side accents.
Should you stick to a single central accent item? You don't have to. Try a combination of various small items if you want. But don't make the space cluttered. A single piece will be easier to fit in, but if you feel more adventurous, you could try a variety of objects. Finding a combination that clicks could take a while, but you could discover something truly fascinating in the end!
5. A Cohesive Color Palette
Maintain the color theme of the space. If the walls have lighter colors, try to use some bold colors in your decorative pieces. For example, putting some vibrant marbles in a bowl would look quite aesthetic in a light-shaded room. However, if the room has darker, brighter colors, that won't be much of a good idea.
What Buffet Table Style Should You Pick?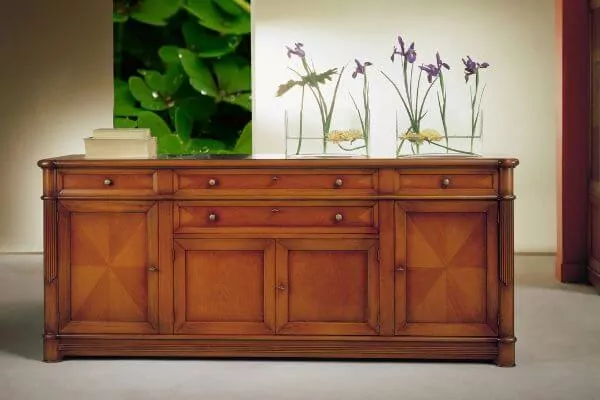 Buying buffets that match your dining room interiors is the safest route. You can opt for something vastly dissimilar for a more unique and contemporary style.
Consider incorporating a bright contrasting color into any dining room style by selecting a vintage, painted, or antique-style sideboard. A pastel or creamy white buffet or sideboard would look great in a French Country, cottage, or farmhouse-style dining room.
Final Say
A buffet gives you a host of functionalities. It can be an extra food serving area, a display unit, or even a storage option. It's a versatile piece of furniture to own and utilizing it the right way can transform your dining space.
You don't have to do a lot to make the buffet stand out. Choose the accents carefully, avoid overstuffing, and pay attention to the color scheme. That's all you need to do to get the perfect buffet setup.