5 Ideas To Style A Daybed With Trundle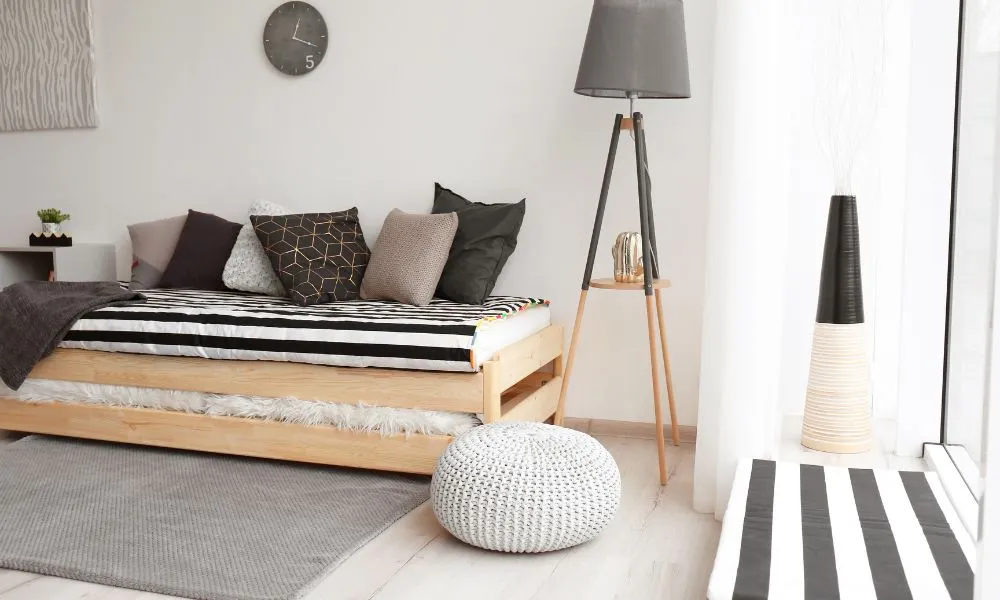 The secret ingredient of making a house home is comfort. And it is common knowledge that a spacious home is a comfortable home. A daybed with trundle is one such piece of furniture that promises to provide both comfort and space in your home. But you got to know how to style a daybed with trundle to get the best out of its use.
A daybed with trundle offers you solutions for many space-related problems. They are great for almost every room of the house. If you style a daybed with trundle properly, it can add a new layer to your room, all the while being comfortable and a space-saver.
Now you must be wondering about some ideas about how to style your daybed with trundle. Well, I am here to help you with that. In this article, I have listed 5 ideas to style your daybed with trundle. So, read along to find the style that suits you the most.
How To Style A Daybed With Trundle: 5 Ways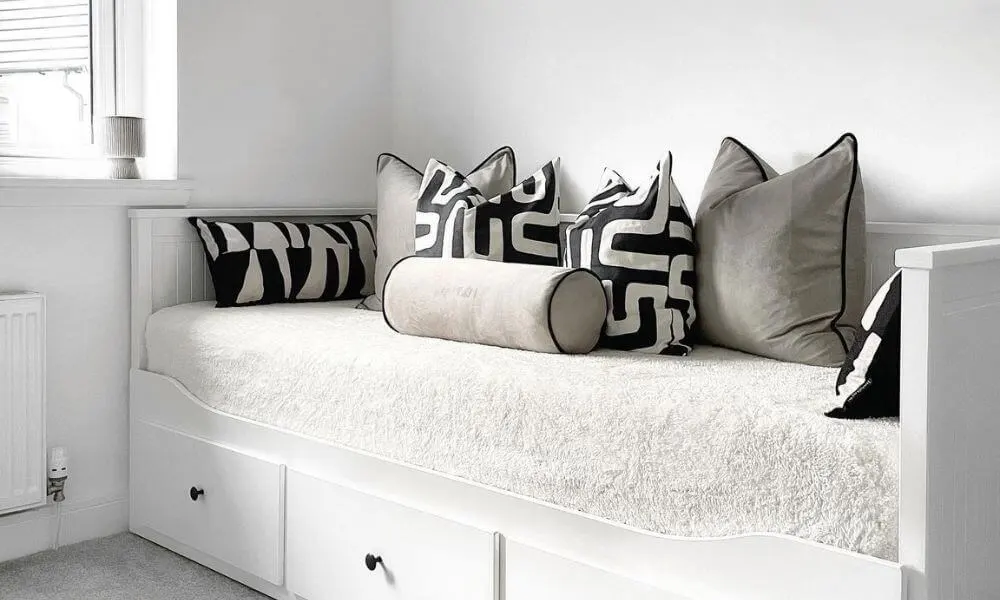 A comparison between a daybed and sofas or futons makes it clear that a daybed is the better investment. It is much more comfortable as well as a lot more affordable than a sofa or a futon. Besides, if you have a small living place, then getting a daybed might be the best option for you. 
Some daybeds have an additional bed attached to them. This additional bed is called a trundle, and it can be rolled down under the bed when it is not being used. 
A daybed with trundle is a great solution if you want a piece of furniture with enough room space despite not having enough space in your room. A daybed with trundle allows you to have more floor space as well as an extra comfortable place for you, your kids, or your guests to sleep on. 
In fact, a daybed with trundle is a versatile piece of furniture to have in your home. It is available in many styles. You can easily find a style for your daybed with trundle. You just have to figure out what style you want based on what and where you are using them. 
Here are some amazing ideas to style your daybed with trundle: 
1. A Trundle Daybed With Storage Drawers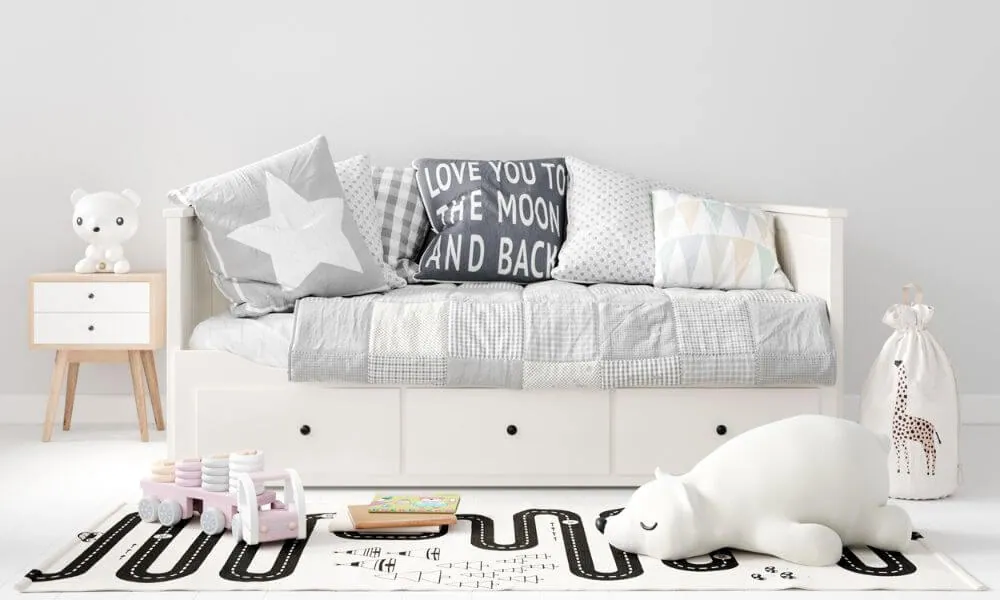 This is one of the most popular styles of daybed with trundle available out there. With this style, you get extra storage space along with the usual extra pull-out mattress bed. If you are wondering how this is useful, let me enlighten you:
What Are The Benefits Of A Trundle Daybed With Storage Drawers? 
If the daybed with trundle is in the kids' room, having the extra storage drawers will make it possible to store the books, toys, blankets, and trinkets of your kids in a neat and clean way. Moreover, this can also be used in case you are visited by some unexpected guests and have to find a sleeping space for them.
If you have the daybed with trundle in the guest room, you won't have to worry about providing sleeping space for multiple guests. Besides, on normal days, this can be used as a storage space for all the extra bedding and pillows.
This storage space can also be used to store necessary things like toothbrushes, towels, and toiletries for the guests to use.
How Much Can Be Stored In Them?
This actually depends on the size of the daybed you purchase. The bigger you buy, the more space you'll get. 
2. A Trundle Daybed With Couch Combination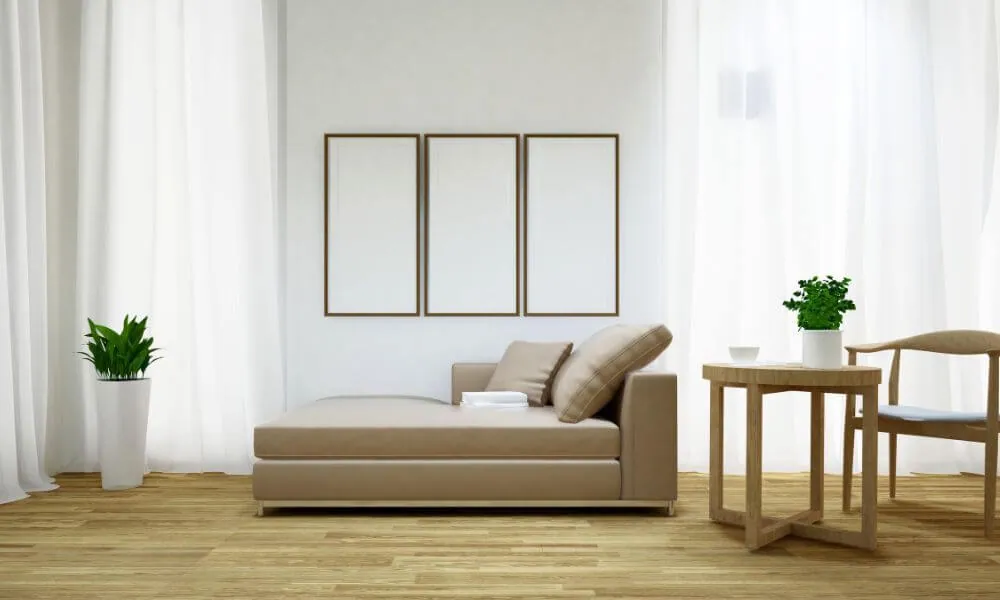 A daybed with trundle is a great choice for when you want space for both sleeping and sitting. It is a very practical choice. You can use it as a sleeping space during the night-time. During the day, it can act as your couch or sofa.
However, the couch combo style can be a bit uncomfortable due to the limited space. Besides, in a trundle daybed with a couch combination, the armrests are lowered, and it is very deep. So, it can be used like a couch, but sitting on it, can be quite awkward.
How To Solve The Depth Problem In A Trundle Daybed With Couch Combination?
A trundle daybed with couch combination measures almost the same as a twin mattress. This is a bit deeper than a normal couch. To solve this depth problem, you can use cushions and throw pillows to improve the look of the daybed. For your better understanding, I am adding a technique you can use:
Start with setting the main head pillow in the corner.
Now choose two pairs of colored cushions.
Set them on each side of the daybed.
Finish by placing a throw pillow at the center and another on the armrest.
You can also use a throw blanket. Adding cushions of different shapes and sizes might also help in providing some asymmetry and style to your daybed. 
3. A Pop-Up Trundle Daybed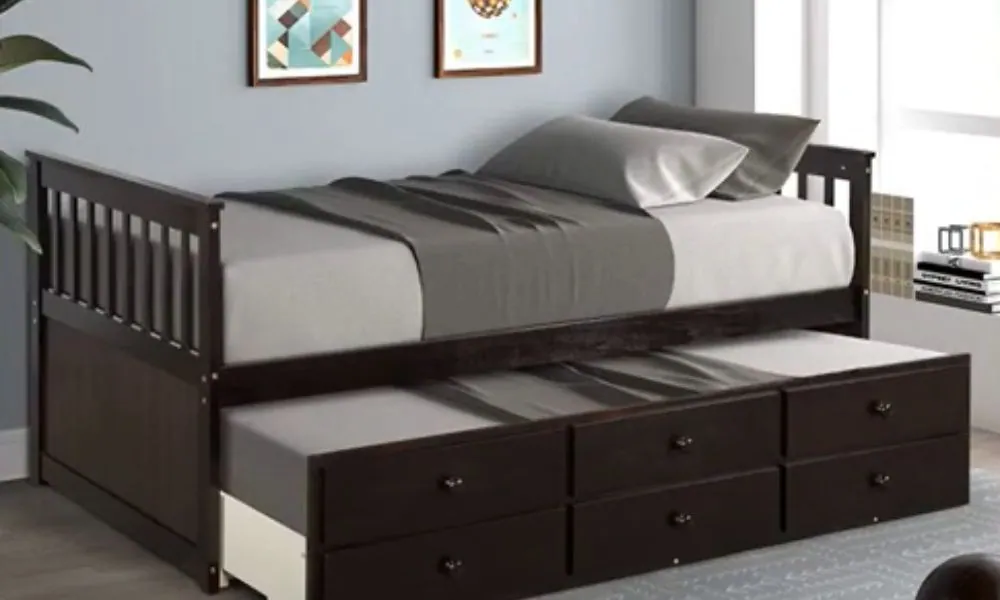 A pop-up trundle daybed is an interesting style. It allows the under-bed to slide out and pop up to match the upper bed in height. You can either keep the two beds separate or keep them side-by-side to get a bigger bed with more sleeping space. Once you are done using it, simply collapse it and slide it back in under the upper bed. 
A pop-up trundle daybed is a great choice when you have guests who are couples. You might also like it if you are one of those people who needs a very spacious space for sleeping.
How To Pop Up A Trundle Daybed?
For precise information, you need to see the handbook of your daybed manufacturer. However, here is a general guideline for popping up a daybed with trundle:
Choose a suitable position for the daybed. So that you can easily pull it out and pop it up.
Slide out the under-bed using the handles on the center of the bed frame.
Lift and pop up the bed using the handle.
Add bedding and cover up the bed.
To lower the bed, you can just reverse the process.
Problems With A Pop-Up Trundle Daybed
A pop-up trundle daybed is not as durable and long-lasting as a regular trundle daybed. You must be wondering why. Well, the reason is a simple one. In a pop-up trundle daybed, a lever is needed to pop up the bed. So once the lever wears out, the popping-up system is ruined. 
Besides, normally a trundle mattress is thinner than an upper-bed mattress. So, for a pop-up daybed, you will need to get a special mattress to ensure that the two beds align with each other when put together.
Another common problem with a pop-up trundle daybed is that the popup might get separated from the main bed.
4. A Metal Daybed With Trundle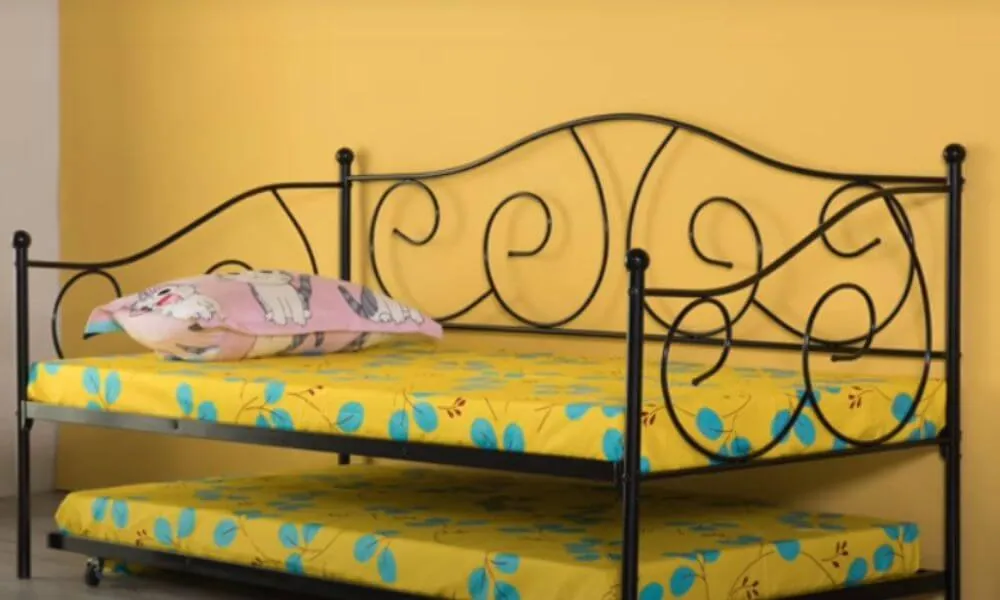 When it comes to the uniqueness of style, nothing comes close to a metal daybed with trundle. This type of daybed is very attractive, and it gives your home a touch of a traditional vibe. A normal white metal daybed with trundle is enough to give your home a fanciful and romantic look. 
A metal trundle daybed is used mostly for sleeping, but of course, it can be used as a sofa as well. A few throw pillows and multifunctional textiles are all you need for a simple decoration of your metal daybed with trundle. 
5. High-End Twin Daybed with Trundle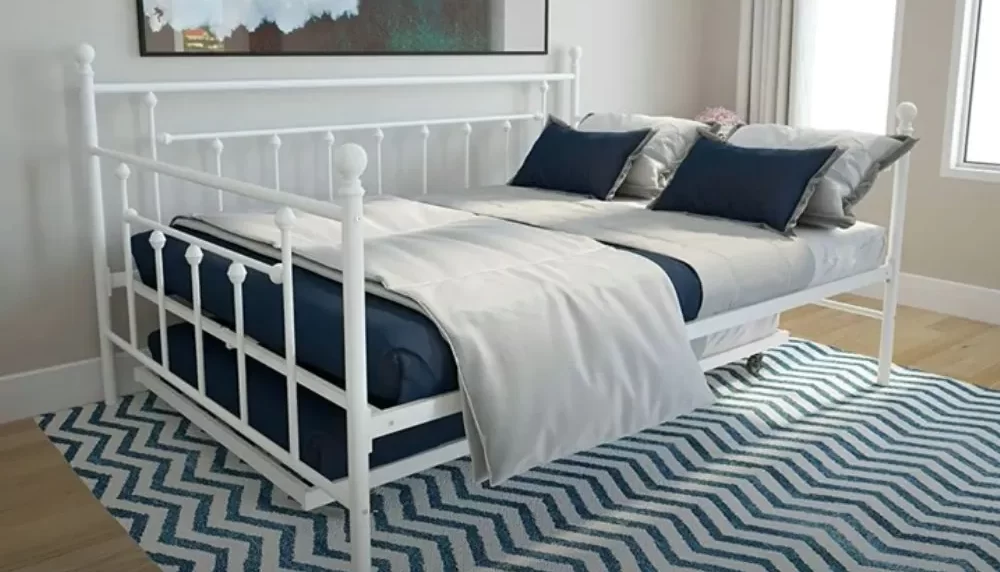 If you are looking for a daybed style that looks more formal than cosy, this is the one for you. A high-end twin daybed with trundle is a classy, contemporary piece of furniture.
Even though it won't work too well in a kid's bedroom, it can be a great addition in guest rooms, offices, living rooms, and such. However, as it is supposed to bring a formal look to your home, choosing the right color is very important.
Pros And Cons Of A Daybed With Trundle
A daybed with trundle comes with a lot of benefits. But like everything, it has some drawbacks as well. So, here is a discussion of the pros and cons of a daybed with a trundle:
| | |
| --- | --- |
| Pros | Cons |
| It is a great opportunity for space and cost savings. | Getting in and out of a daybed with trundle can be quite difficult (especially in the dark.) |
| It has multiple storage options. | It is not entirely safe for elderly people due to the unconventional height of the trundle daybed.  |
| By using a pop-up trundle, you can turn your daybed into a king-size bed. | A trundle bed makes cleaning a vacuuming quite hard. |
| It allows you plenty of sleeping places within a very small space. | In a pop-up daybed with trundle, one of the beds might get separated.  |
| Despite its versatile usage, it is actually quite comfortable.  | |
| Can be used by people of all ages.  | |
Frequently Asked Questions
What size mattress goes with a daybed with trundle?
The mattress size of a daybed with trundle is similar to a standard twin-size mattress.
However, the quality and type should depend on how you plan to use the daybed with trundle. The more you plan on using the daybed, the better-quality mattress you should get.
Can I use a regular mattress on a daybed with trundle?
This is one of the most asked questions, and the answer is yes. You can use a regular mattress on a daybed with trundle.
Normally, daybed mattresses are firmer and thinner than twin beds. But there is no absolute rule on what mattress can be used, and what cannot. You can use whatever mattress you want with your customized firmness and thickness as long as you are not crossing the daybed's weight capacity.
Can you sleep on a daybed with trundle every night?
A daybed is practically a single bed with 3 sides. So, there is no problem in using a daybed as a regular sleeping bed. In fact, if you are short of space, I would recommend using a daybed for regular sleep in teens' and children's rooms. 
Final Words
A daybed with trundle can be the saving grace of a home with limited space. It serves various purposes for you as long you know how to utilize them. That's why choosing the right style of the daybed is so important. 
This article attempts to show you some amazing ideas of how to style a daybed with trundle. Hope you find it useful.