Can I Put A Round Rug In The Entryway?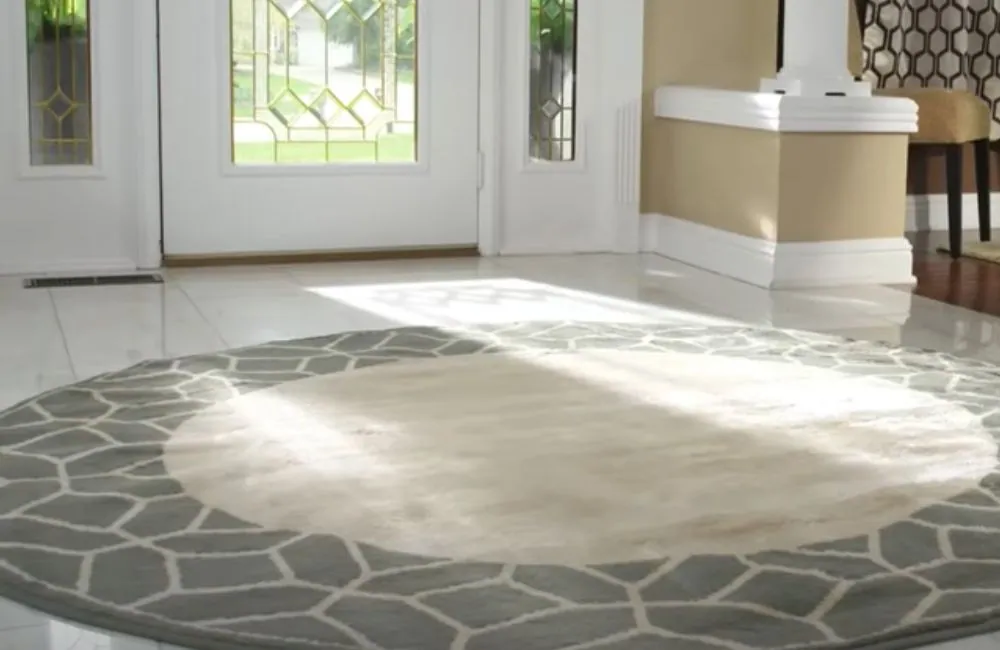 Using round rugs in the entryway is a fantastic and straightforward method for adding interest to the space. They provide a chance to experiment with different color combinations, patterns, and textures. In addition, round rugs provide a warm and cozy landing as one enters the house.
An entryway is a fantastic place for round rugs. The use of round rugs in an entryway can be decorated in various distinctive and unique ways. A great ambiance may be brought to your entryway by using a combination of different textures and accessories that go together.
Interior design is a way to show who you are, and being unique is one way to make an impression on your guests that will last. If you want to learn more about entrance rug ideas and the factors you need to think about before picking your rug, make sure you read this article till the very end.
Can I Put A Round Rug In The Entryway?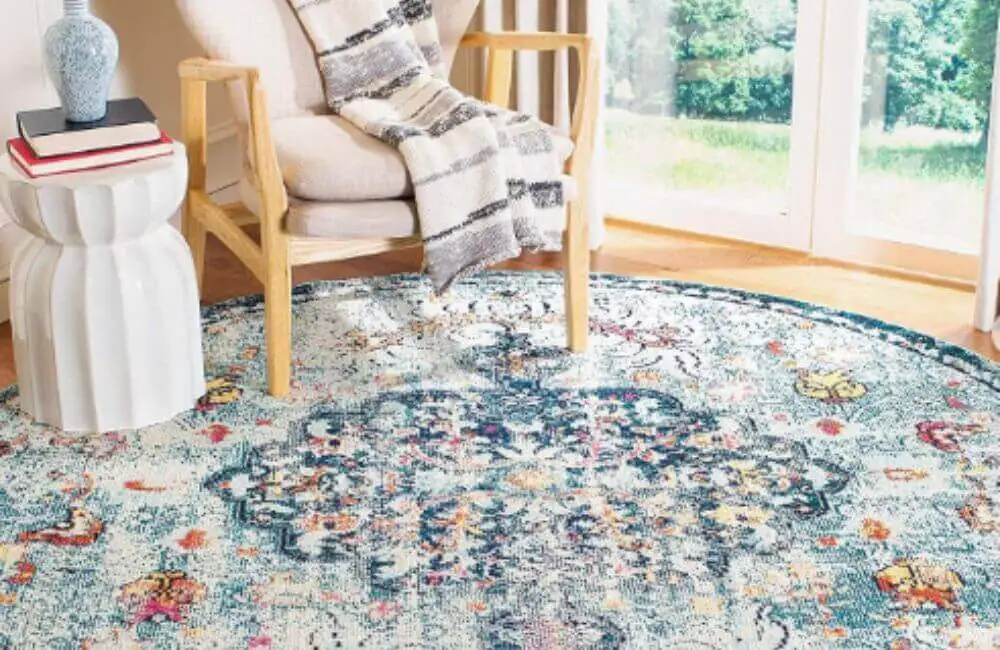 You can put round rugs in your entryway and make it look amazing. Round rugs may soften the borders while attracting your eye to a distinct, central region. In such a case, the circular form will undoubtedly make your entryway space seem larger, and it is an excellent choice.
Here is how you can decorate your entryway properly with round rugs.
1. Positioning Of The Round Rug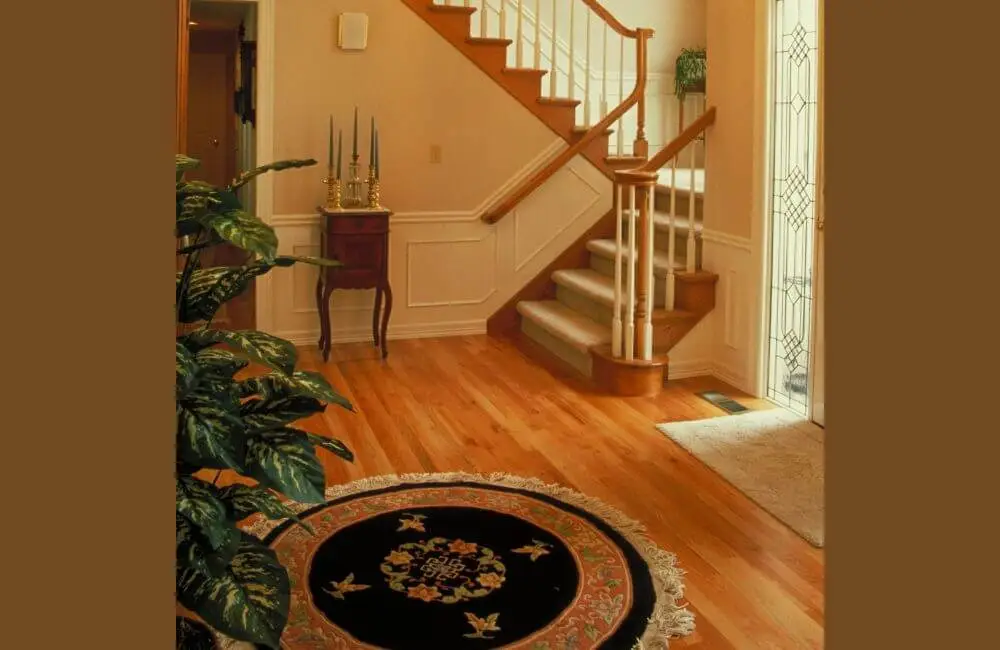 Round rugs look best when used in a space with a curved aspect. However, it does not need to be a circular wall. A round mirror in your foyer will do the job.
In this case, a circular rug will draw attention to the curving elements of any entrance and will enhance the decor of your home. If you have curving walls in your house, a circular rug is unquestionably the finest option for that room.
2. Complement Your Round Furniture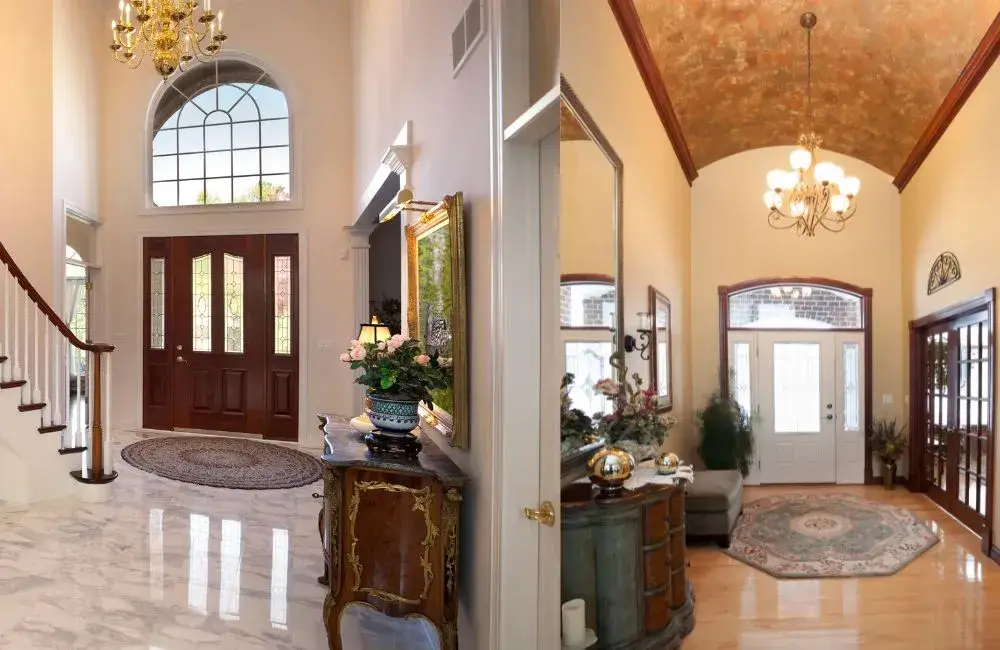 A piece of round furniture that you have in your home may be beautifully highlighted with the help of the round rug. A modest chandelier would look great in the foyer. If you utilize circular rugs to emphasize a piece of furniture, that is certain to stand out.
If you want to get furniture ideas for your entryway, you can check out, 34 Entryway Furniture Ideas: Make Authentic First Impression. This may help you.
3. Layer Other Oriental Rugs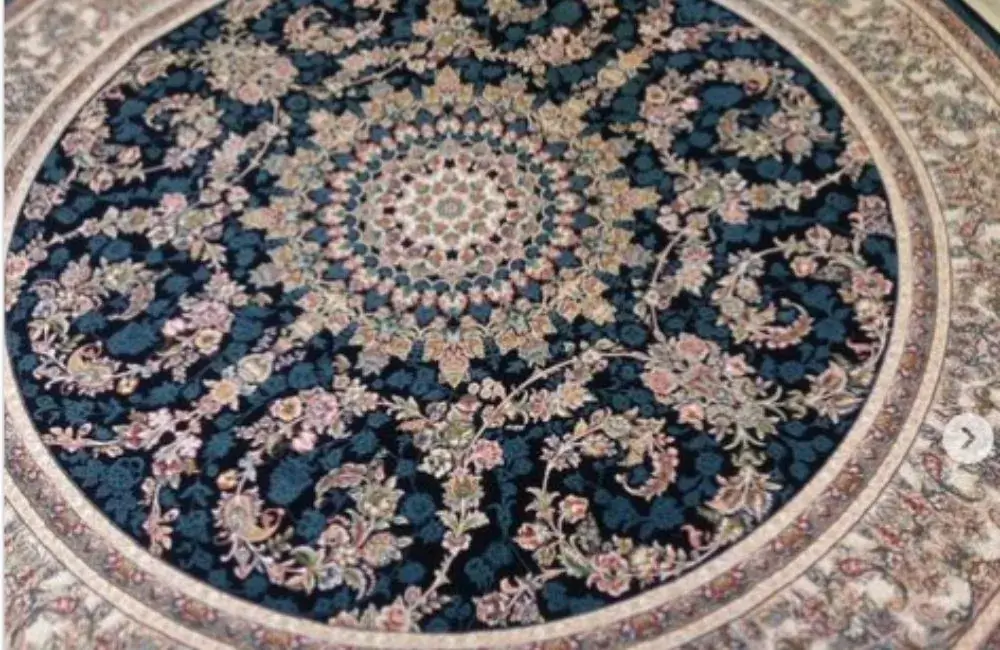 You may also put circular rugs on top of big basic rugs. This is a great way to create a unique look in your home. You'll be able to use the circular rug more as an aesthetic item.
This is the answer if you're looking for a solution to buy an oriental rug that is simple and attractive, while yet being kind to your wallet.  You will be able to maintain the functionality of a large rug while also benefiting from the style and elegance of a simple Persian rug.
4. Make Small Entryway Look Bigger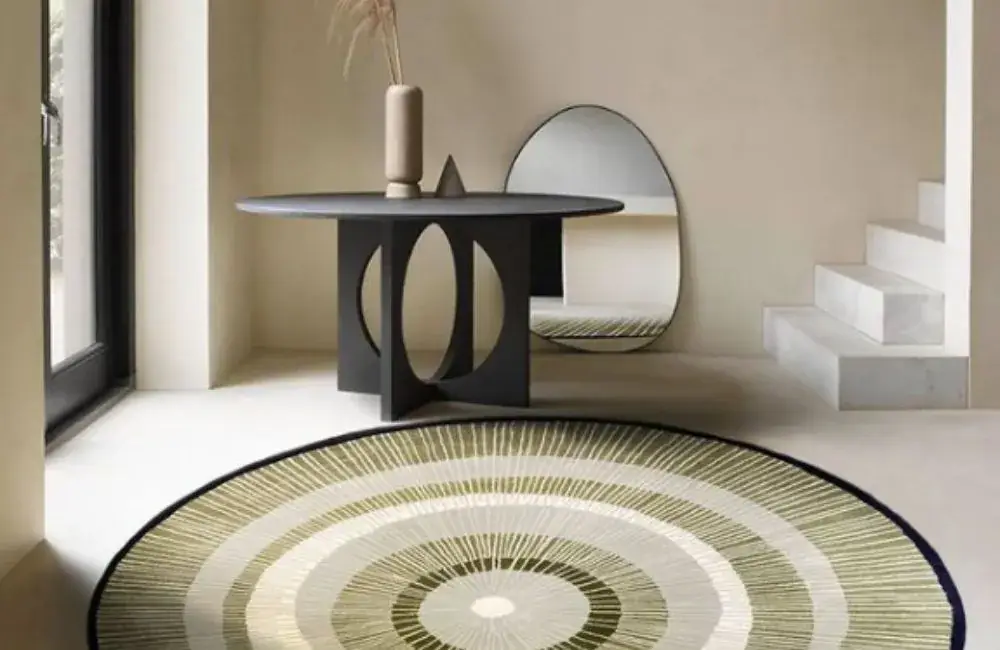 One of the many benefits that circular rugs have to offer is the ability to make modest entryways seem to be far larger than they are. The illusion that an entryway is much bigger than it is, is created by the round form of round rugs.
This is because the rug does not cover the whole floor area. You can make a tiny entryway appear like it has more space by using both large and small round rugs in the foyer. Round rugs are available in many sizes in the market. Because there is often not a lot of furniture in a foyer, round rugs are an excellent accessory to have there.
How Big Should A Round Entryway Rug Be?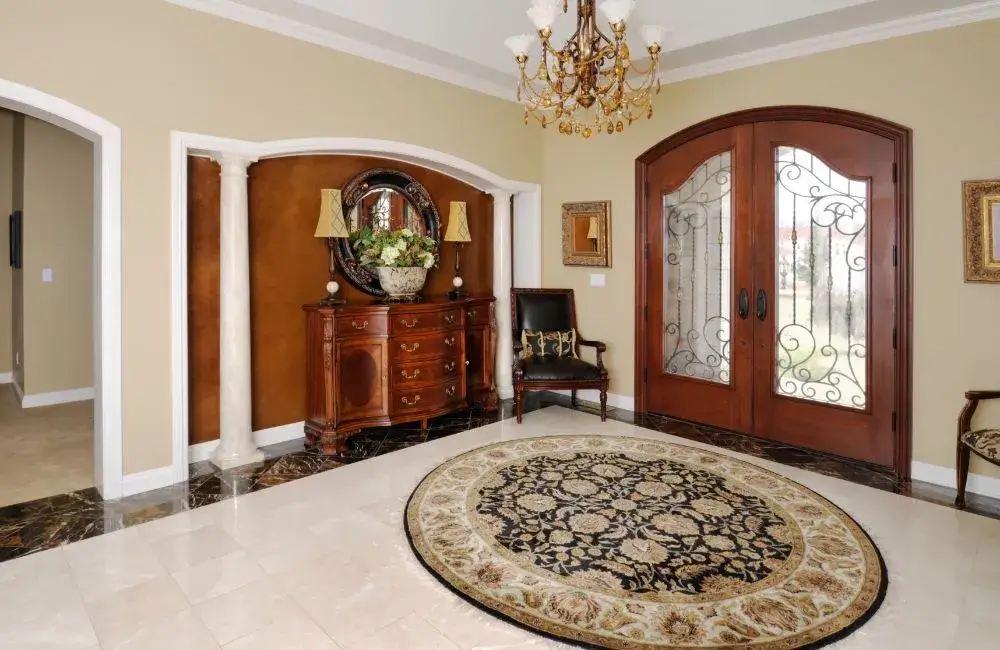 Consider the dimensions of the room before deciding on the size of the round rug you want to put in the entryway. You should always select the size of your rug before you choose furniture, draperies, and other accessories. This will complement each other well.
A room may be taken over by a large rug. To produce an appealing and well-balanced appearance in the area, the rug must work well with the other elements in the space. More often than not, smaller circular rugs are used as accent pieces. Choose them so that they blend nicely with the current decorations.
The rug would be the main attraction in lobbies and entryways. The most common arrangement for these kinds of rooms is to line all of the furniture along one wall, with the rug in the middle. Around the rug, at least 6 inches of the floor must be visible.
If you have a narrow or compact entryway, round rugs with a diameter of 6 inches could be a decent choice. You may choose a little larger circle rug if there are stairs immediately following the doorway. But keep in mind that circular rugs are mostly utilized for decorative purposes.
If you have a chandelier in your entryway, you should put your round rug right beneath that. It will add an aesthetic feel to your foyer. Round rugs between six to eight inches in diameter should be enough for most of the entryways.
Is A Round Entryway Rug Necessary?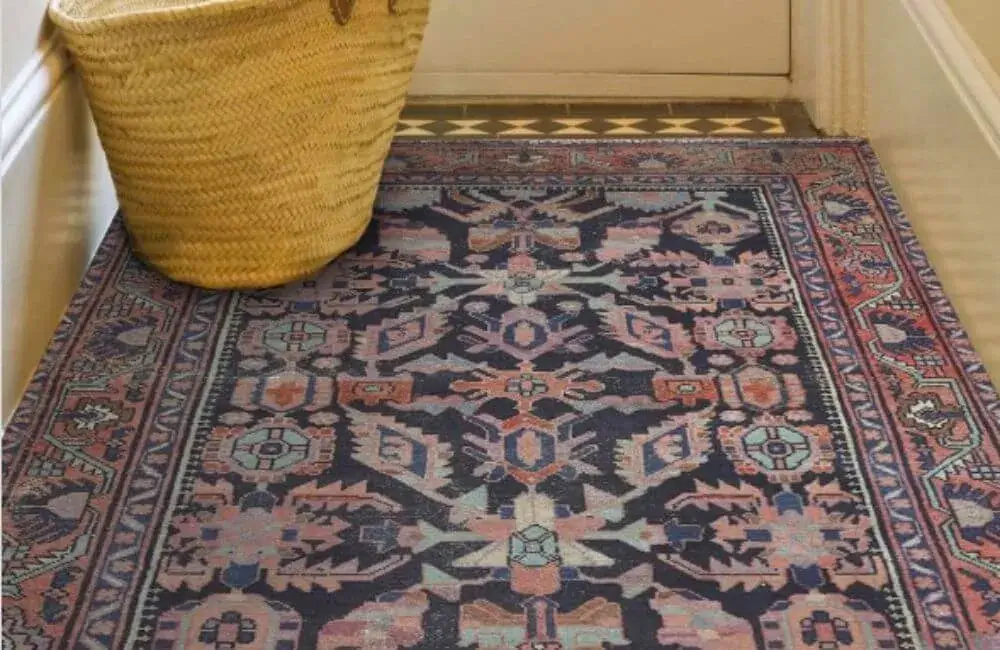 Even an entryway may be completely redesigned with the addition of a rug. You should remember it will be the first thing guests see when they come into your house. However, aesthetics aside, there seem to be situations in which an entryway rug becomes necessary.
However, the rug doesn't have to be circular in shape. You may also decorate your foyer with a huge rug in the shape of a square or rectangle. Obviously, they will convey a distinct atmosphere to your house.
Then again, you may find it simpler to clean your tile floors than a rug. Particularly if you are aware that your rug will be subjected to a great deal of wear and tear.
A rug, on the other hand, may assist offer an extra layer of protection to your tiled or wood floors. Additionally, it's a lot simpler to wash a rug than it is a carpet.
Frequently Asked Questions
Where Do Round Rugs Look Best?

This sort of rug should be placed in a heavy-traffic location like a hallway or entryway. A circular rug will also provide color and warmth to any entrance. This style of carpeting will make everyone who visits your room feel more welcome and comfier.

What Does A Round Rug Do To A Room?

A circular rug gives a place more color, warmth, and room. By making more room for people to move about without running into furniture, this kind of decorating will encourage greater engagement in your house. With the different colors and designs that are now on the market, it adds a personal touch.

How Do I Keep My Round Rug Clean?

You should clean your circular rug every week to remove any dust and grime that may have been collected over the previous seven days. If there are any stains or spots, be sure to clean them out right away with a wet cloth. Doing so will help maintain your circular rug in top condition.

Can I put a round rug with rectangular furniture?

You may certainly combine shapes that are in opposition to one another. Try to combine a round rug with a square table or a rectangle rug with a round table. The size of the rug must be chosen carefully to blend in with the furniture's contours and decorations.
Final Say
Using round rugs in the doorway is an excellent and simple way to add visual appeal to the room. They allow for the exploration of various color options, designs, and textures. Additionally, round rugs give a warm and comfortable entrance to the home.
You may even layer round rugs over large basic rugs if you wish. This is a fantastic strategy for giving your property a one-of-a-kind appeal to your entryway. You'll find that the round rug is best suited for usage more in an aesthetic capacity.