Decorating A Console Table In Entryway: 8 Chic Ways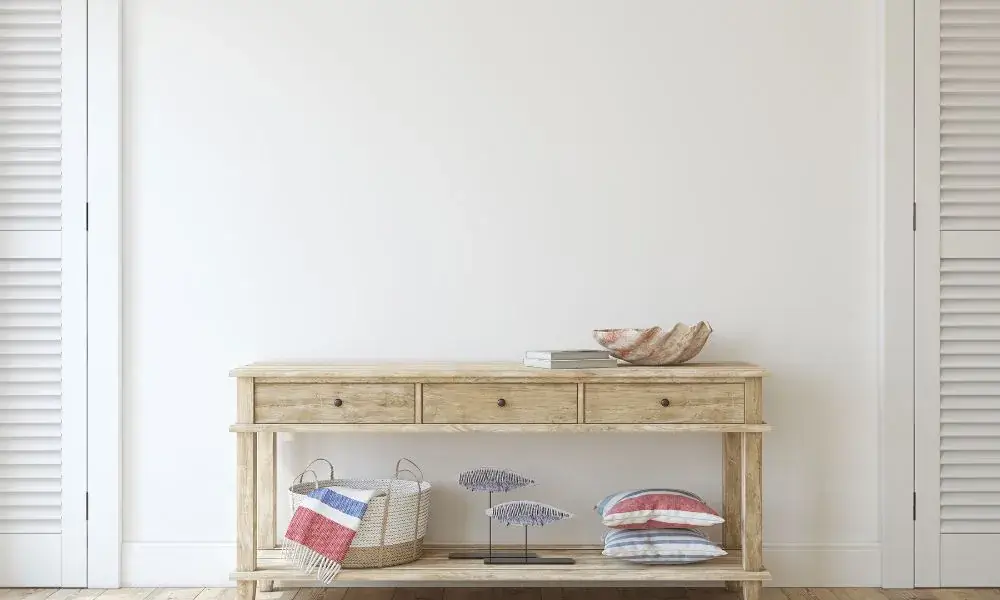 A proper entryway demands a proper console table to complement every other furnishings in the area. It's a simple but surefire way to introduce some much-needed elegance and sophistication into the decor style.
Decorating a console table in entryway passages requires a creative mind with refined thoughts. You can't be too abstract in the name of creativity. And alternatively, you can't make the piece look too uptight in the name of sophistication. Correct placement with coherent furnishings – that's the mindset to follow when it comes to decorating console tables.
Today, let's check out a few elegant yet purposeful ways to style a console table in entryways of all shapes and forms. After absorbing all the essential tidbits from here, stay assured that a few creative ideas of your own will kick in. Utilize all of these ideas to get the most out of the unsupervised console tables in your entryways.
8 Fashionable Ways To Style A Console Table In Entryways
A console table is one of the best ways to maintain a sleek and chic entryway. Use the following styling ideas wisely and creatively to spruce up your dull console tables right away!
1. Aromatic Plants & Accessories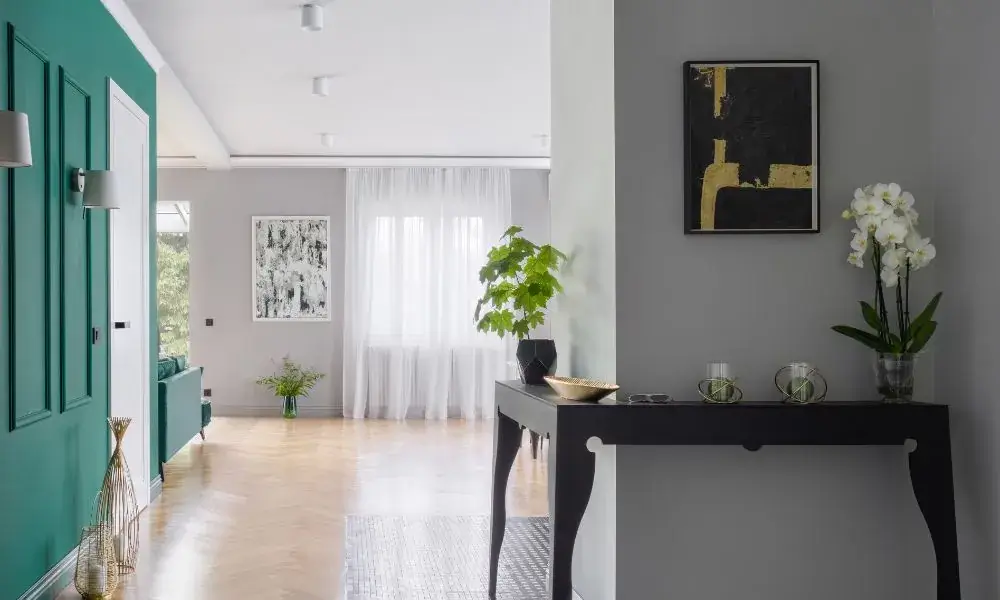 Console tables are usually placed near entryways, i.e., it's one of the first areas that your guests will pass through. Hence, it's not a bad idea to make sure the space smells amazing.
You can hang various flower pots for a subtle yet fresh aroma throughout the air. Again, you can keep scented candles on the tabletop and light them up to enchant everyone. 
2. Decorative & Functional Mirrors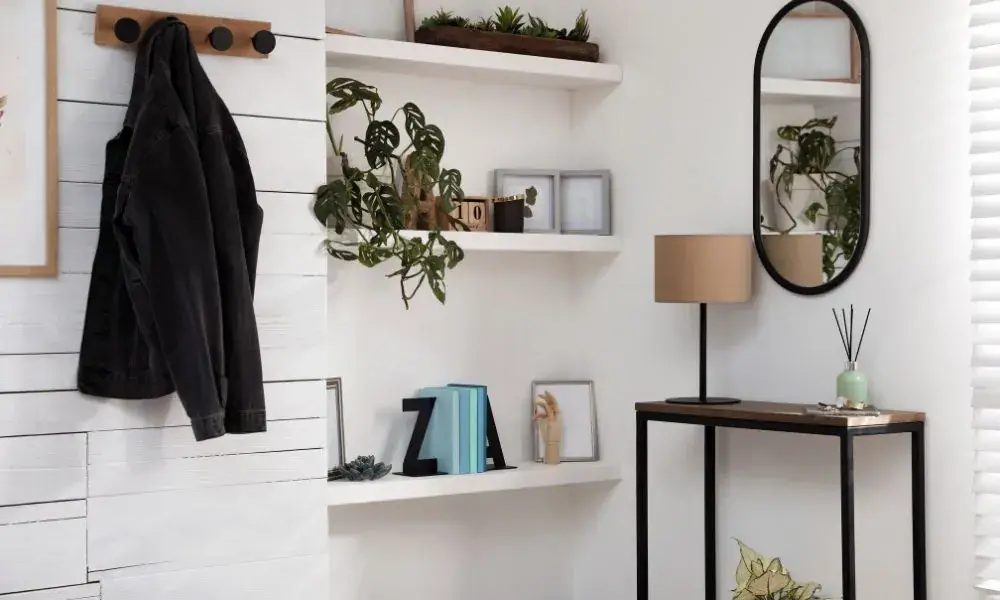 You can never go wrong with a pretty mirror to elevate the decorative standards. While the size of the mirror isn't always relevant, it's better to make sure it doesn't occupy more space and height than the actual table.
Again, if you're using a small circular mirror, make sure it's a good 5-6 feet above the floorboard. That way, kids won't be able to easily reach the glass. Furthermore, average guests will get to use it as a handy face mirror in the entryway.
3. Poufs Or Small Box Stools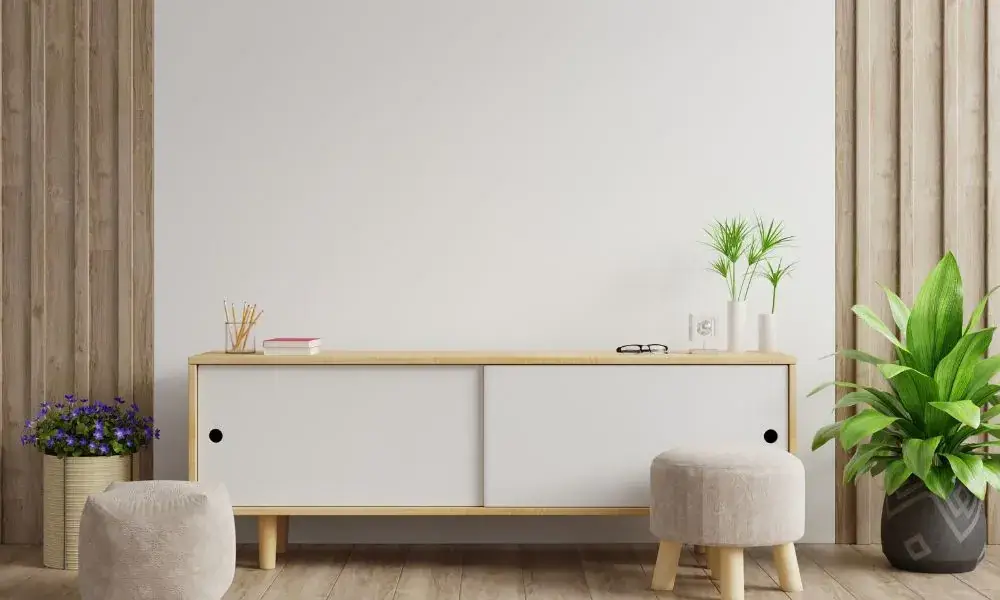 Poufs are a great way to decorate box-shaped console tables. These console tables can also double as coffee tables, depending on the placement and furnishings.
You can match the color of the poufs with the wallpaper in the background to achieve thematic coherence. And while they look like giant marshmallows, poufs can come in handy in real life as well. Guests can use them as temporary sitting stools while putting on socks, leg stockings, etc.
4. Miniature Entryway Bookshelf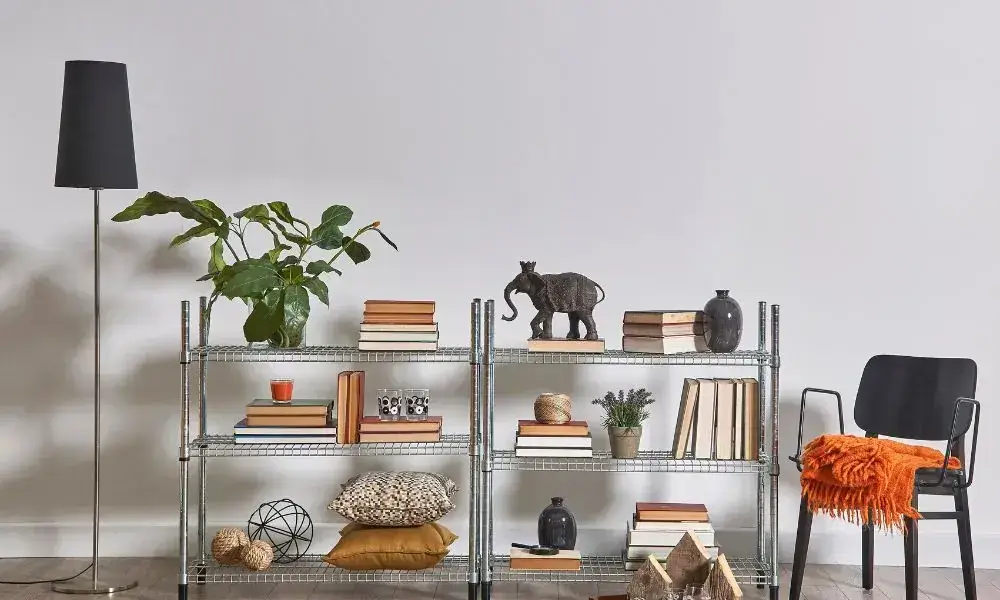 If you've got a large entryway with dedicated shoe rack spaces, drop zones, etc., it's time to think beyond the box. Purchase artistic console tables with abstract shelves to store some must-read books and magazines for visitors.
Not only will this miniature bookshelf setup bring about an intellectual and developmental essence around the house, but it'll also divert the focus of the guests entering the house. Instead of the wearisome drop zones, coat hangers, etc., their eyes will immediately focus on the well-decorated shelves.
You can also add a few glass cases on the walls to show off your achievements, i.e., important certificates, medals, etc. 
Here's a simple but important trick. Use bright or eye-catching lights in these cases and also near the console table and its surrounding area. Alternatively, use dim lights near the drop zones & other unflattering areas in the hallway. That way, the guests will have no choice but to check out the console table and its furnishings on the way in.
5. Buffet Style Console Tables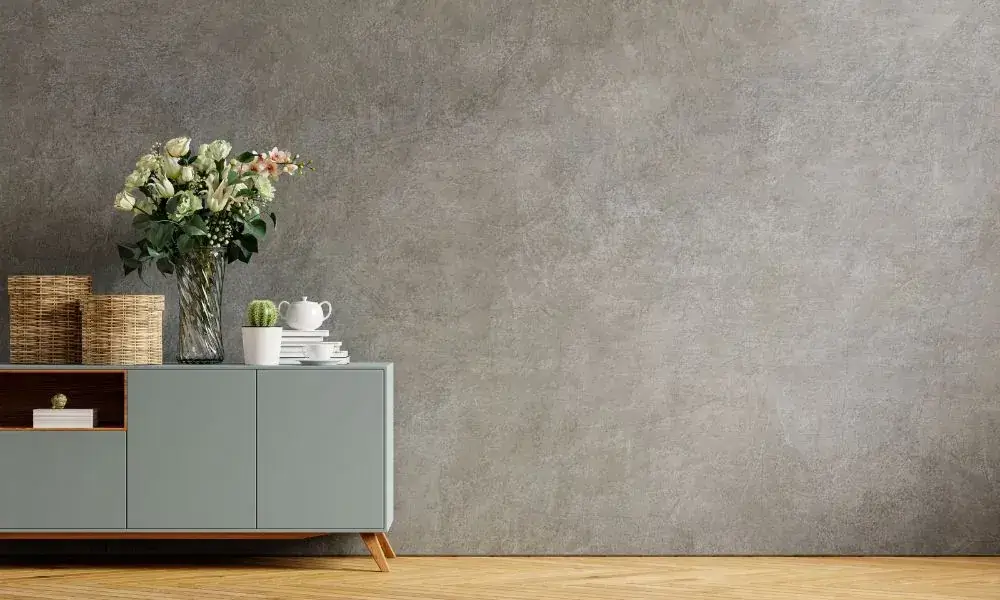 Thinking of having a party inside the house? If you've got a spacious enough console table, you can go for a buffet-style setup to impress everyone. If it's a trendy house party, you can use the tabletop to store chips, dips, one-time glasses, etc.
Again, if it's more of a refined party, then you can place a vintage table cover on the surface to protect it. If you've got multiple console tables, then you can place charcuterie boards, trays full of wine glasses, etc., near the entryway.
Similarly, you can place other mouth-watering desserts, finger foods, etc., in big serving bowls on the other tables. The guests can pick up whatever they need on their way in, and you won't have to hire extra waiters for the job.
6. All-In-One Drop Zone Set-Up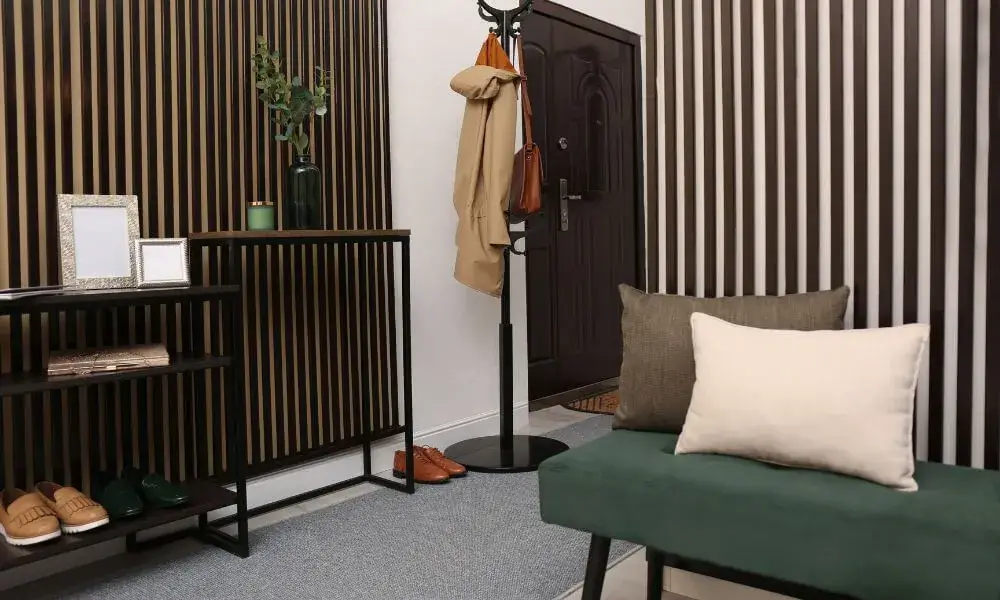 This one's a great idea for small entryways! Instead of providing extra space for a drop zone, use the console table to store unclaimed items around the house.
Use a drawer-based console table if you want to fully commit to this idea. Use personal labels on the drawers so you don't lose track of all the functional items.
7. Statement Artworks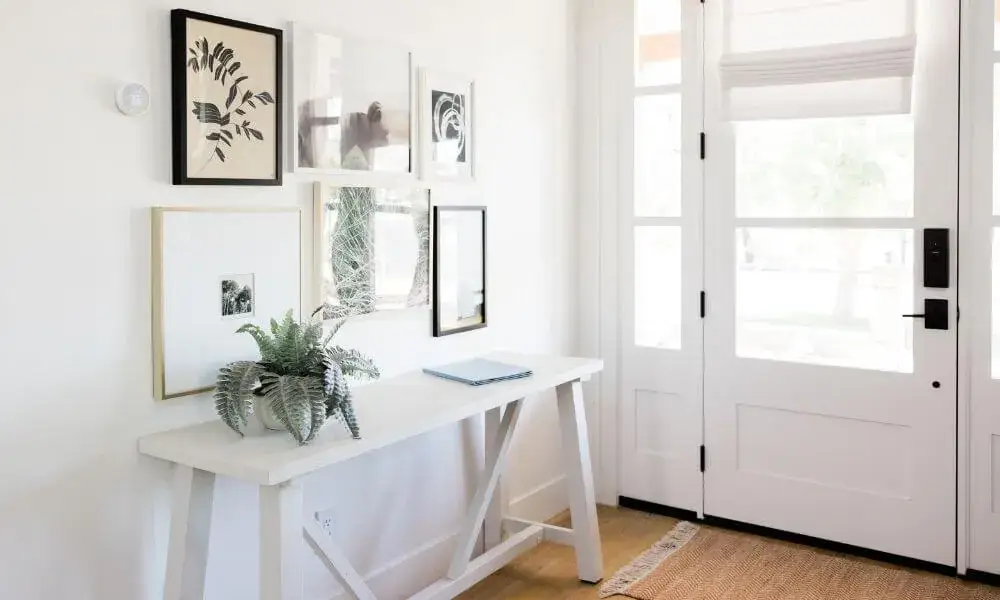 Statement artworks and console tables go hand in hand. And there's hardly a better way to subtly glamorize an entryway.
From antique multimillion-dollar paintings to 20-dollar thrift store artworks – with the right placement, both of them can revitalize the area above the console tables. You can also use a bunch of paintings to decorate the plain walls your way.
8. Shoe Rack With A Vintage Tabletop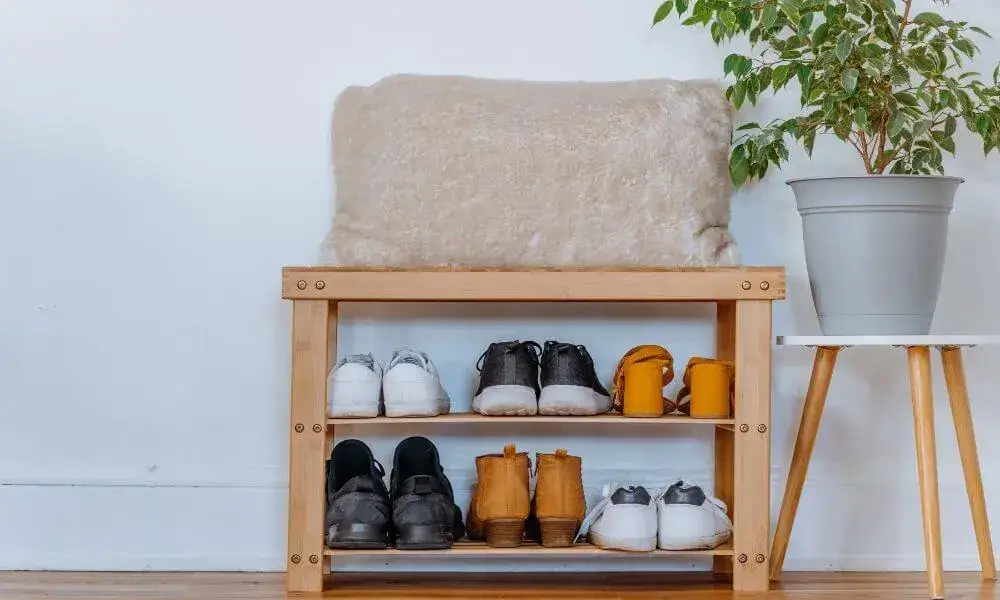 Lastly, you can use a large shoe organizer as a provisional console table in the entryway. That way, you can kill two birds with one stone. You can decorate the tabletops with antique furnishings, flower vases, plants, mirrors, etc.
Plus, you get to show off your shoe collection to the visitors and keep them safely organized in the process. Either way, it's a complete win-win in terms of both décor and functionality. 
Entryway Console Table Decor Ideas: Tips & Tricks
Now that you've gone over the preliminary ideas, did you happen to notice some common similarities in them? Although the ideas were quite different in terms of decor, all of them followed the same key principles. 
Let's take a look into these key factors to figure out what goes on behind a successful presentation of console tables –
Strategic Placement
You don't always have to go big and bold just to prove a point. Similarly, your entryways won't always require an extremely fancy and expensive console table to seem posh. Focus on the placement of the tables instead and see how it changes the game overnight.
For instance – if you've got a large hallway right after the entryway, you can place a bigger table instantaneously. 
Why?
Well, for one, the spacious table will offer better accessibility and enhanced storage space. Plus, it'll help you to sort out some of the negative spaces throughout the empty hallway.
Alternatively, if it's strictly a small entryway, then a simple hanging shelf or a few will do the job perfectly. When you don't have enough room to work with, a minimalist approach can end up being the classiest one. 
Put up a few macramé hanging pots for some greenery and a small decorative mirror to complement the shelf. If you're placing a small console table, then place it right by the entryway. That way, the guests can immediately notice it.
And don't overload the table tops with unnecessary items since you're working with a compact space. Keep a drawer for keys and other important stuff. Leave a few magazines on the top if needed. Refrain from keeping heavy items or stocky books on small console tables to avoid avalanches.
Thematic Coherence
Thematic coherence refers to the overall consistency within the internal ornamentation. For instance – it's better to not go for an abstract modern setup if the rest of your house follows a traditional antique theme. 
Instead, choose an antique console table for such entryways. With silver or brass hinges and knobs. You can place similar-looking archaic candle stands or lanterns to propagate the thematic coherence even further.
These antique furnishings, on the other hand, might not look as good in a modern setup. Factor in the color schemes of the overall apartment/house first. Afterward, choose a console table with a similar theme and design for a good fit.
Complementary Furnishings
Console tables wouldn't feel as amazing without complementary furnishings. Make sure the tabletop doesn't look empty or dull at any given moment.
There are a million different furnishings that you can choose from if you're thinking of decorating a console table in entryway passages. From water fountains to hanging plants to low-cost Macramé posters to expensive artworks to antique lanterns and statues – the options are endless.
Even a few fairy light strands alongside a few good books can change the look immediately. So, don't hold back while implementing these complementary furnishings. Choose only the best of the best to decorate the console tables gorgeously.
Freshness & 24/7 Tidiness
Last but not least, don't let the tabletop get dusty. You can get one of those decorative dusters if needed. Keep them in a flower vase on the tabletop itself alongside fake flowers.
That way, you can frequently dust the console table and nearby furnishings, so they look clean and tidy 24/7. Additionally, if you're keeping food or drinks on top, make sure to use coasters to avoid spots on the surface.
And not just the top, make sure to clean through the nooks and crannies as well to maintain spruceness at all times. Every few months, you should deep clean and refurbish the console tables to revitalize the entire setup completely.
FAQs
How to make a small room seem bigger with console tables?
To make a small room seem bigger than it is, use big mirrors. It's pretty much traditional at this point – to hang mirrors over the console tables by the entrance. 
You can use the reflection in the mirrors to accentuate the dimensions of the small room or the hallway. It's a simple optical illusion but quite effective in most cases.
How to use a console table to make my place seem like an expensive one?
Yep, you can definitely use a console table to make your place a lot more expensive than it actually is.
Simply make sure the console table is of good quality and matches the internal decor. Right placement and furnishings can go a long way as well. 
And lastly, always keep everything in top-notch shape alongside the rest of the apartment. Proper cleanliness can immediately translate into poshness/elegance in small places. 
Can I use a console table as a reading table?
In general, console tables are inherently decorative. Additionally, the surface area and design of most console tables aren't suitable enough for reading or similar purposes. Hence, it's not ideal to use a console table as a reading table.
Final Word
The mere presence of a well-designed and well-decorated console table can immediately elevate your living standards. As such, while decorating a console table in entryway passages, you should remember the three key points – placement, coherence, and spruceness. Even a simple setup can seem elegant if you implement these points effectively.