Velvet vs Linen: Which one is the best for sofa?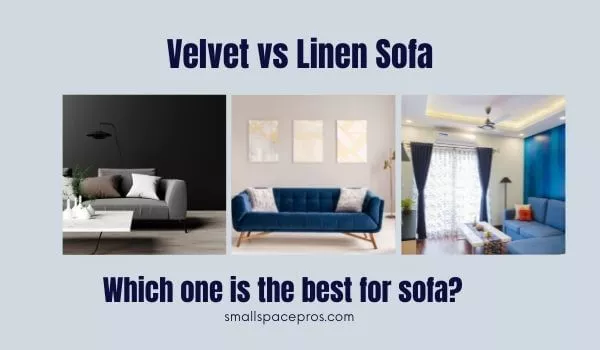 When it comes to upholstery, velvet and linen are the most popular materials. Velvet and linen both hit high scores in looks, comfort, and functionality. But, which one is the better fabric between the two for sofa?
Here, we will talk about velvet vs linen sofas and help you make the right decision.
Why Choose Velvet Sofas?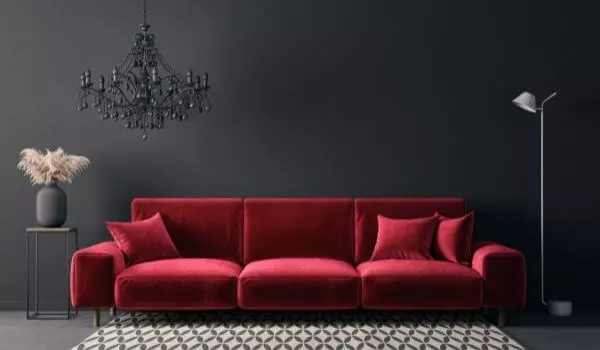 You can choose velvet sofas for their luxurious feel, longevity, and premium appearance.
Velvet sofas have been a la mode in recent times for their exquisite aesthetics and utility. Upon proper maintenance, velvet sofas can retain their glory for a long time. They effortlessly blend into the décor of almost any living room. On top of that, velvet sofas are exceptionally cozy, particularly during winter.
Comfort
The comfort factor is one of the primary reasons people choose to buy velvet sofas. It feels silky smooth when you feel the fabric, giving you a sense of instant relaxation. The incredibly soft texture of velvet gives velvet sofas an edge in the velvet vs linen sofa debate. A velvet sofa can add a calming ambiance to a living room setting with its inviting plushness. 
Velvet is the best upholstery fabric if you are looking for something that will add some warmth to the space during the winter.
Most warm fabrics prioritize comfort over fashion, but velvet is a glaring exception that strikes a good balance. A velvet sofa is just the thing you need to feel snug and warm in your living room all season long.
Durability
Durability is another important consideration when choosing an upholstery fabric. We have already praised velvet for its snuggly and sumptuous texture. For many users, however, this is not a deal-breaker! Since velvet is expensive, they want the assurance that it is capable of resisting wear over prolonged periods.
Thankfully, velvet is a strongly made material. If you take good care of velvet sofas, they will withstand decades of abuse. 100% polyester velvet is the sturdiest velvet variant available. These are as gorgeous and comfortable as cotton velvet but boast a longer lifespan. So, buy 100% polyester velvet for increased longevity.
Since velvet has no raised wefts or exposed threads, there is nothing for your clothes to catch on and accidentally rip the fabric. Also, velvet has high color durability, unlike most upholstery fabrics.
Polyester velvet also exhibits high resilience to stains. It will not get stained easily, and removing light stains from it is relatively unchallenging.
Flexibility
Velvet is renowned for its splendor and beauty. It doesn't matter whether the room is big or small, dark or bright, heavily or scarcely furnished, a velvet sofa guarantees to be a statement piece. Both in the home and the workplace, velvet sofas bring a sense of opulence and elegance.
It's hard to overstate the creative possibilities of velvet upholstery. It can be used in a variety of ways to decorate a room. Trying to implement a Bohemian style to the room? How about a minimalistic approach?
Check the article about 30 Super Cool Grey Couch Living Room Ideas for minimalistic living room ideas.
Or, perhaps, a rustic or mid-century vibe is more up your alley? Regardless of your styling vision, a velvet sofa will look gorgeous in the living room.
Velvet Sofa Cons
Not suitable for pet owners. It's susceptible to catching pet hair and getting hair out of velvet is no walk in the park.
Don't put velvet sofas in open spaces as sunlight exposure compromises the fabric quality.
These sofas need regular cleaning. They attract a lot of dust and without frequent cleaning they will discolor.
Why Choose Linen Sofas?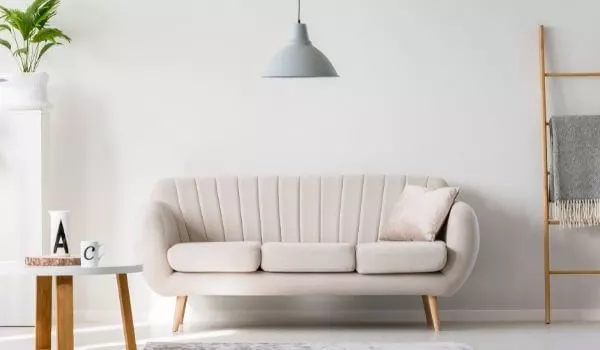 You should choose linen sofas because linen is a natural and eco-friendly material that holds up significantly well to regular use.
We have an article about Best Quality Sectional Sofas For Family. You can check it out to find out the best sofa for everyday use.
Linen is frequently used in clothing, bedsheets, and curtains for its breathability and comfort. It's also a great pick for upholstery since it's easier to wash, survives years of use, has antibacterial properties, and prevents dampness. Read on to find out more about line sofas and their benefits.
Natural
Linen is naturally hypoallergenic because it is made of natural fibers. It comes from flax fibers, which have a low carbon footprint because of their simplistic production procedure. Linen is biodegradable and has far less effect on the environment than velvet, cotton, satin, and other fabrics.
Suitable For Heavy Use
Flax fibers of good quality are sturdy and long-lasting, making them a superb choice for heavy-duty furniture like a sofa. Linen is more durable than cotton velvet, but it's not as strong as polyester velvet. That said, it's cheaper than polyester velvet, giving it superior value for money.
Easy To Clean
Linen sofas are easier to clean than their velvet counterparts. Machine washing and dry cleaning both are viable cleaning options for linen. Microfiber linens are water and stain-resistant. It barely absorbs moisture, so you can quickly dry out spills with a few paper towels. It doesn't require as frequent maintenance as velvet sofas.
Lower Price
Linen comes at a more affordable price range than velvet. So, if you are reluctant to spend big on velvet sofas, linen sofas present very good alternatives. The best thing is that you won't be downgrading on many features by going for a linen sofa instead of a velvet one.
Fashionable & Comfortable
Linen sofas whip up a tone of serenity and coziness in a space. They are available in a variety of colors and patterns, making it easy to find the perfect match for your home's interiors. Linen, similar to velvet, is soft to touch. Therefore, linen sofas are ideal for curling in and binge-watching your favorite show or listening to your Spotify mix.
Linen Sofa Cons
Linen is more prone to staining than velvet.
More susceptible to wrinkling.
Sunlight and hot water are damaging to linen.
If you want to know about microfiber couches, read our another article about 5 Best Microfiber Couches Review.
We have done a comparison between Microfiber and Velvet Couch also. If you are interested you can check it out.
Get Unique Sofa Collection Here
Final Say
In our velvet vs linen sofa discussion, we attempted to highlight the advantages and disadvantages of owning both linen and velvet sofas. As we have mentioned above, both fabrics are fantastic upholstery options for sofa. You have to assess the pros and cons and settle on the fabric that suits your needs perfectly.